Messaging apps are the de facto way most of us communicate today. Instead of using the traditional telecom infrastructure, they enable conversations over the internet, so their popularity has been growing sharply with the expansion of 3G and LTE networks.
Chat apps not just replace the more traditional SMS and phone calls, they radically expand the ways of communication, adding video calls, conference calls, group messaging, file sharing, payment systems, status updates, chatbots, and more.
By all accounts, the messenger market is getting more and more saturated every day. There's Facebook Messenger, WhatsApp, Skype, Telegram, Viber, Snapchat, Instagram, Slack, Signal, Line, and lots more. Quite often, an instant messaging app would have a near monopoly in a given geographical market. For China, for example, it's WeChat.
What Is WeChat?
WeChat is a messenger developed by the Chinese tech giant Tencent in 2011. By 2018, WeChat was described as the largest standalone app in the world, with more than one billion active users. Besides the network effects, the app's popularity can be attributed to its tight integration with nearly every kind of business transaction.
Users of WeChat can pay bills, purchase goods and services, send money to their contacts, and even pay in stores — all through the app. Since WeChat acts as a platform, more and more vendors are adding their services to the app, thus making it even more useful in daily life.
You can download WeChat for Mac, Windows, iOS, Android, and also use it online. Let's see why you'd want to have a WeChat app for Mac and how to use it best.
How to use WeChat Mac app
Before you use Mac WeChat, you need to download the mobile version of the app, since it's used for user authentication, similar to what WhatsApp is doing. The WeChat app is available on the App Store and Google Play.
Once you have a mobile WeChat app and create your free account, you can download WeChat for Mac, either from the WeChat website or via App Store. You should run OS X 10.11 El Capitan or later to launch the app.
When you open the WeChat app for Mac, you'll see the WeChat login QR code prompt. Open WeChat on your phone, select Discover in the menu at the bottom and then Scan QR Code. Point your phone at the code on your Mac and log in.
Now you can use WeChat on Mac, which makes it easier to not constantly switch between devices as well as share documents and files. Be aware, however, that WeChat for Mac doesn't support audio and video calls as well as Moments. But you can still send messages, files, and videos.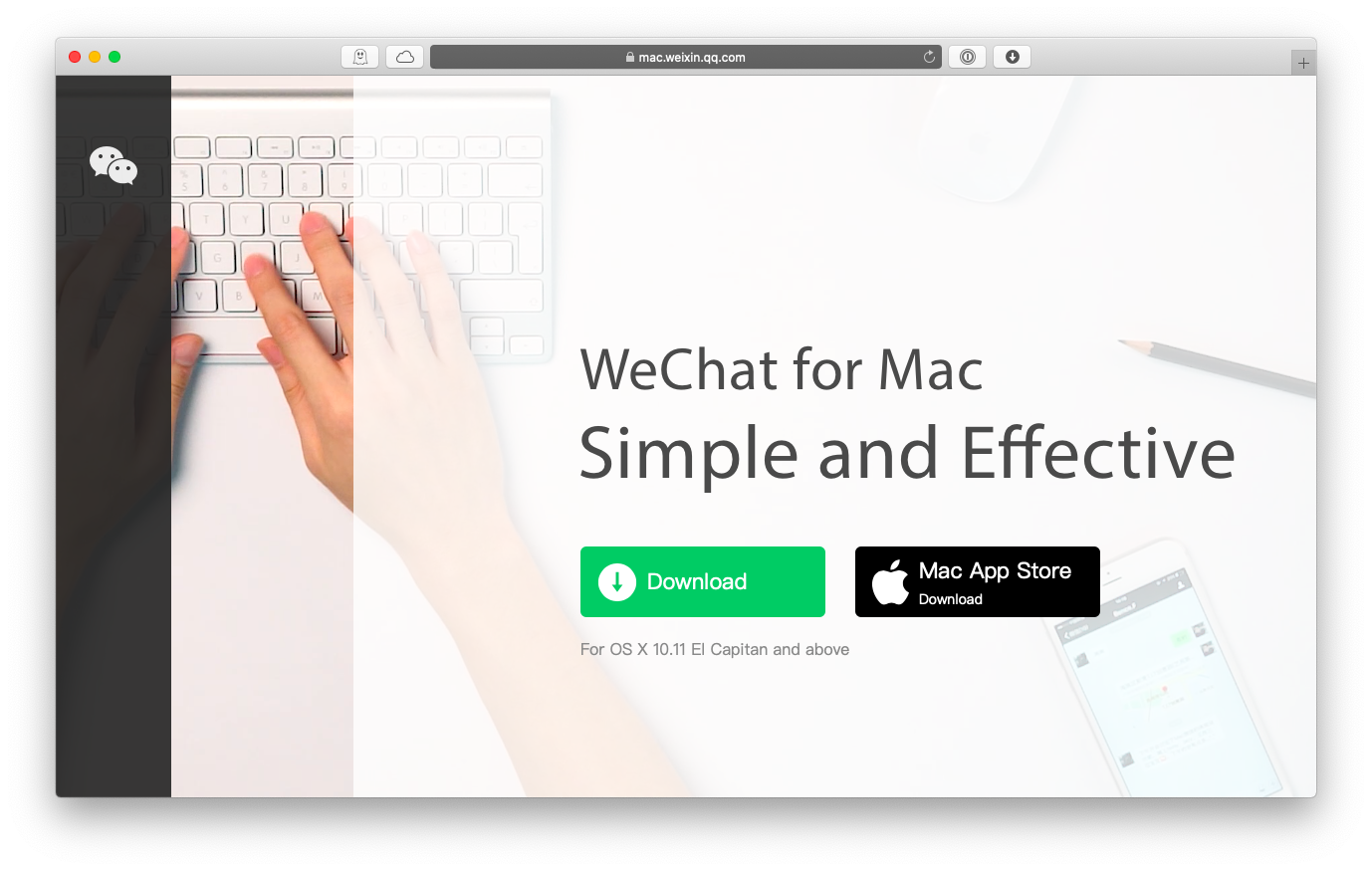 How to use WeChat online
If you're not excited about the WeChat for Mac download, you can also use the WeChat web app. The authentication process is very similar to the Mac one:
Visit web.wechat.com

Scan the QR code using your phone

Chat away!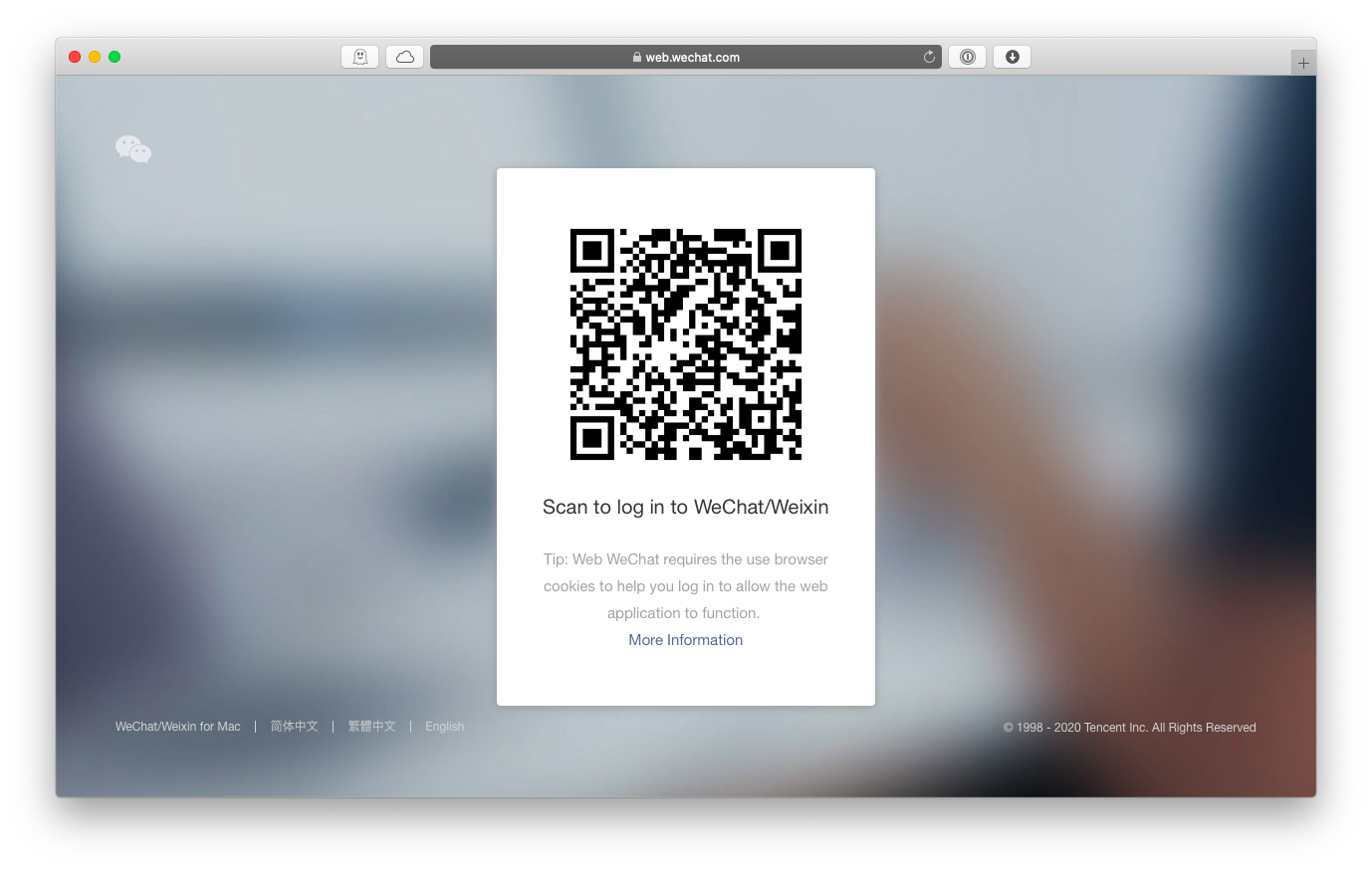 The WeChat web app supports the same functionality as WeChat on Mac and can be accessed on any computer, including public ones or at work if your downloads are restricted. In some cases, when you can't download WeChat for Mac directly, but would still like to use it in a native environment, you can port the web app to your Mac.
Unite is a unique tool for turning nearly any website into a progressive Mac app. Using Safari's WebKit engine, this utility strips the website of all the browser fluff and adds native appearance and functionality. You can customize the way your app looks, including the title bar color as well as the icon in the Dock.
To create an app with Unite, simply enter the name of the app with its URL and source the icon. Voila! Now you have a new fully functioning Mac app.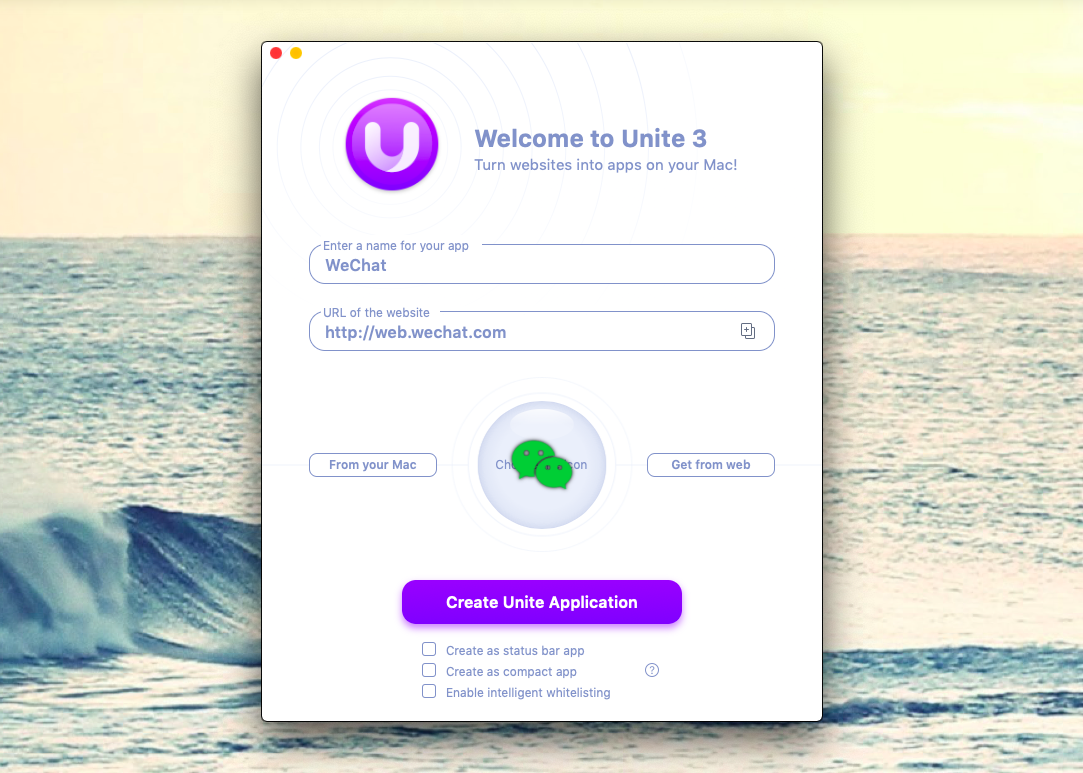 How to multiple messengers at once
Chances are WeChat is not the only app you use. Even in China, another messaging app QQ has nearly one billion users as well. In other parts of the world, WeChat has even less relevance when facing competition from WhatsApp, Facebook Messenger, and Telegram.
So if you're constantly switching between multiple apps and getting all kinds of notifications, life could get quite complicated. You don't need all that stress. Instead, just use a solution built specifically to merge all your messengers in one.
IM+ is the world's best messaging aggregator. Already supporting 18 chat apps and counting — including WeChat, WhatsApp, Facebook Messenger, Skype, Zoom, Slack, and Instagram — IM+ combines all the various interfaces under one convenient app window to free you of constant back-and-forth switching. At the same time, the app works with all the same functionality, shortcuts, and file sharing.
In addition, you can easily separate your work and home lives within the IM+ app by assigning specific tags, customizing notifications, and setting status updates.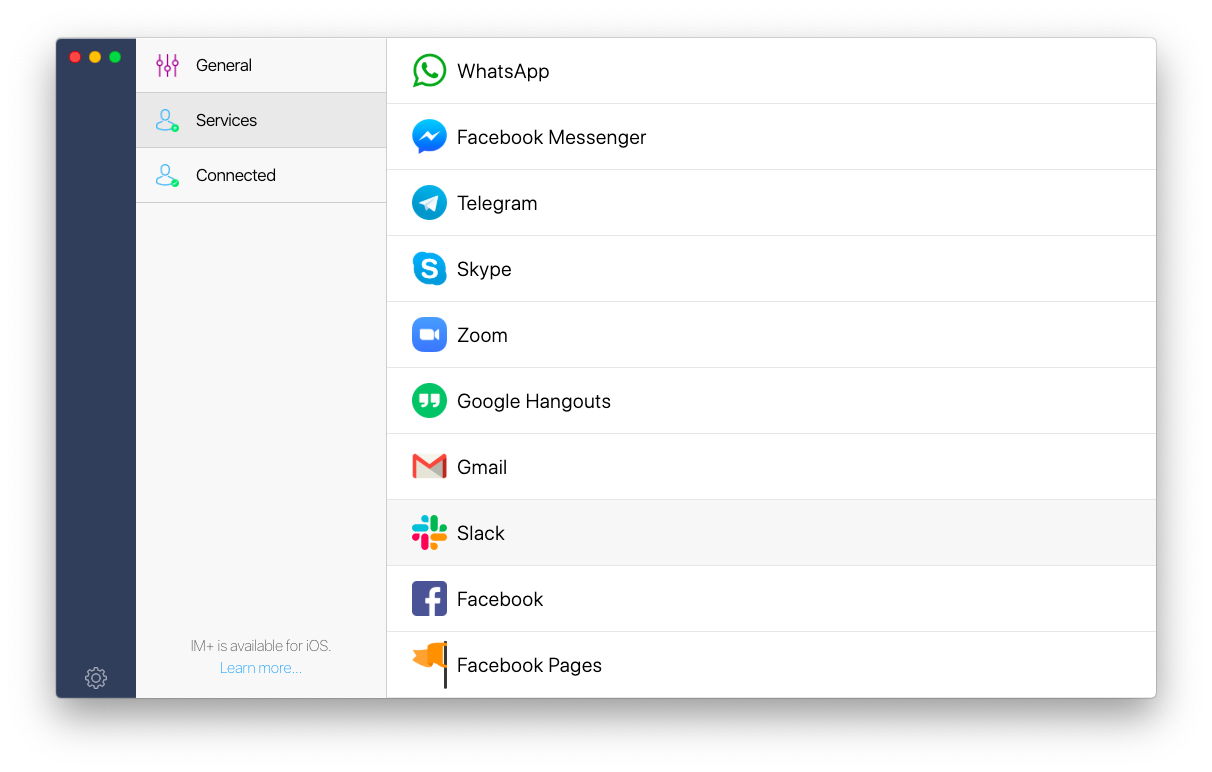 How to keep your conversations private
With WeChat app for Mac, just like with any other software that stores your personal information, keeping your conversations private and secure is of utmost importance.
Even though, during the pandemic, we don't use our Macs in public that much anymore, when we do use them, there tends to be not that many people around, which increases the chances of our computers being stolen if we happen to step away for a minute.
One Switch is the ultimate utility for your Mac. This simple app lives in your menu bar and locks your screen in a second. Simple as that.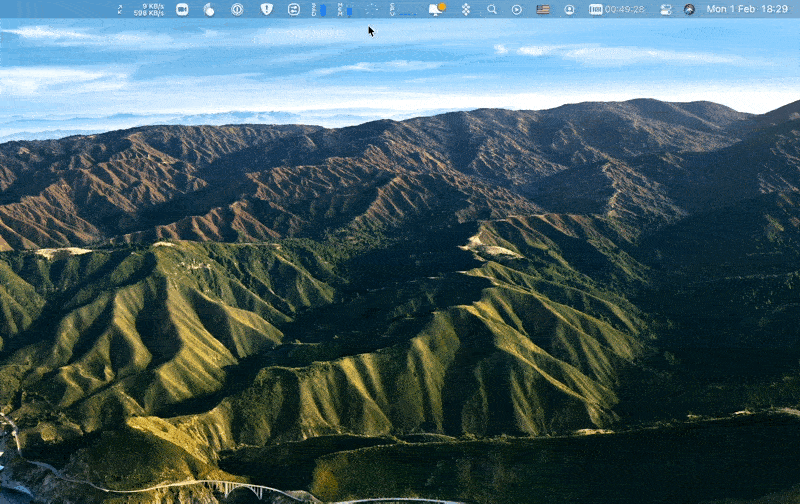 As you can see, WeChat is a leading messaging app in Asia, and getting a WeChat for Mac download is easy once you have the mobile app. Better yet, you can avoid any restrictions in your workplace by logging into WeChat online and creating a new native Mac app out of it with Unite. Alternatively, you can combine WeChat with all your other messengers in IM+. And don't forget to keep your privacy intact with One Switch.
Best of all, Unite, IM+, and One Switch are available to you absolutely free for seven days through a trial of Setapp, a Mac platform with almost 200 top-rated Mac apps for any occasion. Anytime you face a problem, simply open Setapp and look for a solution — you'll be surprised how many inefficiencies can be easily avoided when you have the right tool at hand. And check out all the companion iOS apps in Setapp as well, so you go anywhere without a single change to your workflow.