How to DM on Instagram: a guide for Mac users
Your computer and mobile phone live two different lives. There are apps so broad-gauge you can't limit their functionality to mobile or tablet only. And there's hardly a better example than Instagram. Focused on photo and video sharing, Instagram grew into a tool for recording every moment of your routine. While lots of communication happens around Instagram posts and stories, it was inevitable for the app to become a messenger as well. And so it became!
You can access Instagram on Mac via your browser — it covers the features like browsing through the feed, commenting, and liking. Since recently, you can also read and send Instagram messages on computer. What the web version doesn't support is the Instagram upload feature. This means you can not share your content to Instagram from a browser. But worry not, there are some workarounds — both inside the native app and with the assistance of third-party tools.
Instagram DMs: How does it work?
Instagram Direct was added to the platform in 2013, around three years after the launch. You can access Instagram direct messages (DMs) via the icon in the top right corner of your Feed from mobile or on the web. Here's what you can do with the Instagram messenger:
Share text messages, Instagram posts/photos/hashtags/locations, as well as photos and videos from your phone's library with people you're following.
Send a message to Instagram users you're not following — the recipient will see it as a message request.
Respond to stories in private messages (with text or instant emoji reactions).
Create group messages (up to 32 people can be invited to the group).
Video chat with up to 6 people via Instagram Direct.
You can read more about the capabilities of DMs on the Instagram Help Centre.
How to check Instagram messages on Mac
Once you receive a message on Instagram, you'll see a number count appear with your DM icon. Tap it and you get access to the message. For a long time, this was the only way to check direct messages on Instagram — by launching the app. Since 2017, Instagram has also added the notifications feature, allowing users to view messages right from a phone's locked screen.
Enable notifications for Instagram messages on Mac
How to check direct messages on Instagram on computer? To allow Instagram send you notifications, you have to do the following:
Click on your profile page (a person icon in the bottom right corner of the screen)
From your profile, go to the main menu in the upper right corner and click on Settings.
Select Notifications > Direct Messages.
Click "On" if you want the app to notify you about incoming messages, message requests, and video chats.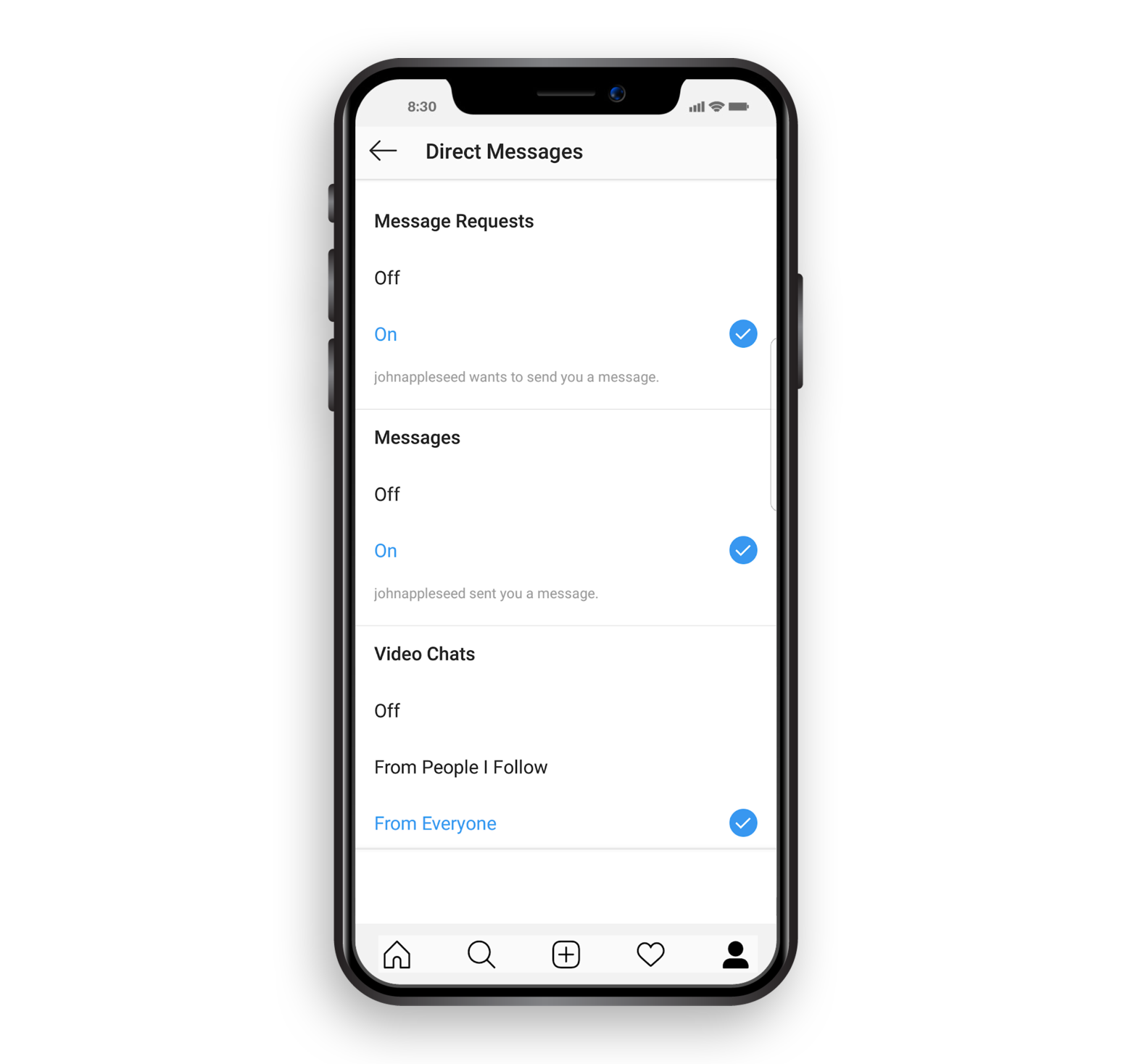 In the same menu, you can customize notifications settings for posts, likes, comments as well as pause all in a click.
IM+ for a flawless management of Instagram accounts
An all-in-one messenger for Mac, IM+ gives you the flexibility of choice in terms of how many messenger accounts you can handle from one spot. It also covers the DM feature of Instagram, along with other messengers of your choice. Basically, it's an aggregator of messengers that supports popular platforms, from Slack to Facebook Messenger to Telegram, and sits in your Dock for easy access to all communications.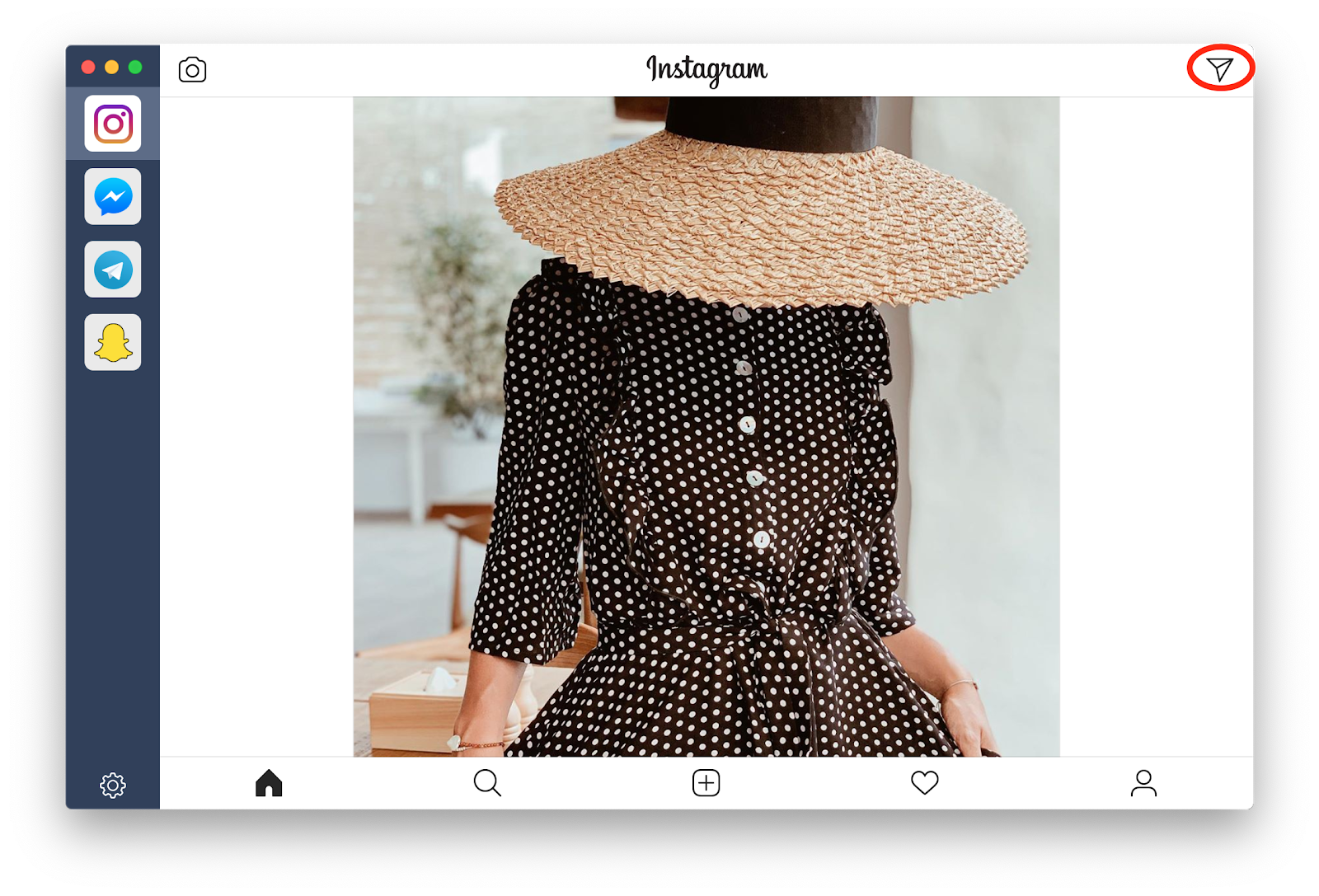 The key pain IM+ is solving relates to the number of accounts you can manage. The app simplifies your life if you need to toggle between business and personal accounts on Instagram. Plus, sometimes we all get into a messaging loop — switching between Telegram, Facebook Messenger, and Instagram. IM+ puts it all into a sidebar, so you don't have to dig around.
Here's how IM+ adds flexibility into your Instagram routine:
Instagram DM: If you use Instagram with IM+, the app will show you the DM icon — just as on mobile. You can use it to check Instagram messages from Mac as well as create and send the new ones.
Get notified: Enable notifications and IM+ will prompt you whenever someone sends you a direct message on Instagram.
Toggle across accounts: Add multiple Instagram accounts and set up hotkeys for an access to the most frequently used accounts.
Update your status: When your messaging time is over, or you simply want to take a break, change your status to "unavailable" across all accounts at once. You can also easily mute notifications from the menu bar.
Whether for different channels or multiple Instagram accounts, IM+ is a perfect tool for business communication. If you want to learn more about how to reap benefits from Instagram for Business, check out this guide.
Tweaking Instagram on a Mac
Without using any third-party software on Mac, your Instagram life is pretty much limited to viewing photos, liking, and commenting. But it's not carved in stone, though. You can make Instagram think you're accessing the platform from your mobile phone and thus get access to some of the features like Instagram DMs and photo upload.
What you can do is change browser user agent to iPhone or iPad to enable photo upload on a Mac:
Open Safari Preferences > Advanced.
Check the box next to "Show Develop Menu in Menu Bar."
Click on Develop in the top menu bar and select User Agent.
Choose the latest version of iPhone or iPad available on the list.
Reload or access your Instagram page at www.instagram.com — you'll see the mobile version with full-fledged upload functionality.

Well, it still has some limitations. If you change user agent to mobile, you'll be able to post photos and stories as well as do some basic editing — like rotate or add text and stamps to stories. However, you won't be able to upload video. Plus, there won't be any of the filters and color effects available.
Note: Instagram thinks you're using your phone, so it might occasionally give you mobile-related prompts. For instance, it can ask you to rotate your device. To fix the problem, you'll just need to make the window look narrower by dragging its edge inwards.
Cheating is cheating. You can use the option of tweaking Instagram settings for emergency cases, but it doesn't cater for frequent use. This is why we recommend having a native Instagram app installed on your Mac. This is the best way to bulk upload photos and videos and post Stories. If you need to use Instagram DM online, you can get it in the web version via your browser. For messaging on Mac, we use IM+ messenger (if you need more than one messenger in one spot) — both apps are part of Setapp. As a nice perk, you get around 180 other macOS tools in the same package for a flat fee.