How To Delete Text Messages On Mac
Text messaging is so ingrained into our days that it'd be difficult to imagine our lives without it. One can say texting is the perfect form of non-disruptive, asynchronous communication, since you only participate in it when convenient for you, as opposed to other real-time alternatives like calling.
Eventually, simple text messages (SMS) evolved to incorporate images and audio (MMS). In the meantime, the use of instant messaging (IM) software online, with AIM and Windows Live, was growing rapidly as well. Those two words collided and essentially merged with each other with the release of the iPhone.
Right now, most of us use at least a few messaging apps: Facebook Messenger, WhatsApp, Instagram, Telegram, Skype, Snapchat, etc. Apple's own iMessage, both on iPhone and Mac, remains wildly popular too, as well as regular text messaging. But, with so many services, how much data do we generate? And what's the best way to keep all this data private?
Why Delete iMessage History On Mac?
First of all, the most secure way to ensure your conversations stay private on your devices is to only use apps that allow for end-to-end encryption, which prevents anyone (including the service provider) from eavesdropping on anything you say. Apps such as WhatsApp, Telegram, Signal, and iMessage are already using end-to-end encryption to protect your privacy.
Second, it's better to be safe than sorry. Even with end-to-end encryption in place, someone who takes possession of your phone can read anything you've sent or received. That's where knowing how to delete all messages on Mac or iPhone regularly can help. Let's go through a somewhat comprehensive checklist for keeping your iMessage history clean from any unwanted correspondence.
How to enable iMessage across devices
As you know, regular text messages and iMessages share the same Messages app on your iPhone. One of the advantages of using iMessage then is not only getting the secure end-to-end encryption but also being able to use it across devices — on your Mac, for example.
To turn on iMessage on your Mac:
Open the Applications folder (⌘ + Shift + A) and launch the Messages app
Go to Preferences (⌘ + ,) and switch to the iMessage tab
Check "Enable this account" and "Enable Messages in iCloud"
Click Sync Now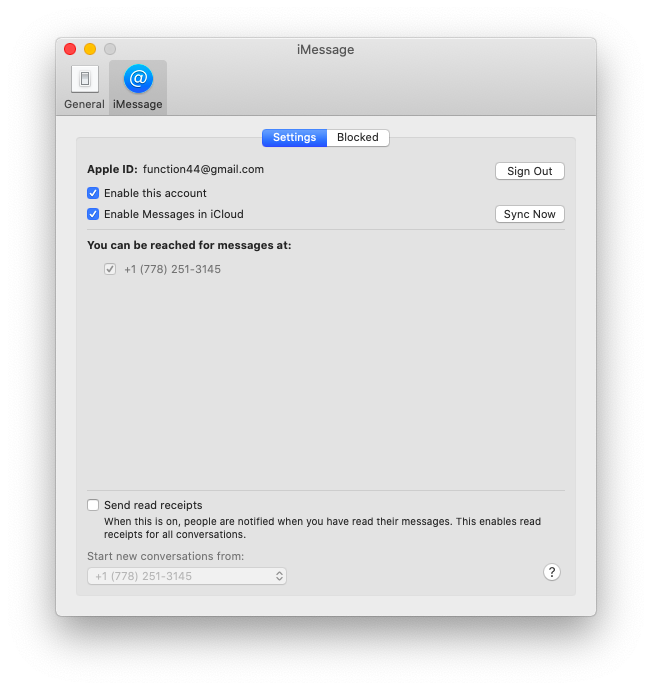 Now your iMessages will synchronize on your Mac and iPhone, so you can read and reply to any text from either device. Additionally, you can check the boxes in the "You can be reached for messages at" menu if you want to allow people to text you just by knowing your email.
If you're wondering how to turn off iMessage on Mac at any time, simply uncheck the "Enable Messages in iCloud" option.
How to delete iMessages on Mac
To keep your conversations private, iMessage has a simple way for how to delete messages on Mac. You can use this method to delete either yours or someone else's messages:
Open any conversation within your Messages app
Find a message you want to delete, right-click on it, and select Delete…
Click Delete to confirm
Note: When you delete an iMessage on Mac, it only removes the message on your side. The recipient will still see all the messages on their devices.
How to delete multiple messages on Mac
While knowing how to delete text messages on Mac is crucial to being able to occasionally hide sensitive data, sometimes you might want to find out how to delete all messages on messenger to leave little trace of whole conversations.
Here's how to delete all iMessages on Mac:
In Messages, click on the conversation you want to delete
Go File ➙ Delete Conversation… from the menu bar. Alternatively, you can right-click on the conversation on the left side and select Delete Conversation… from there. A third option is to highlight the conversation and then simply hit ⌘ + Delete.
Confirm Delete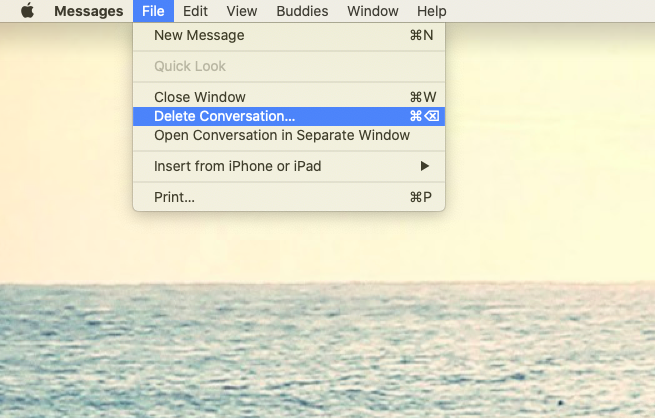 How to delete all messages on Mac automatically
As you can see, deleting occasional messages or whole conversations is easy when you have to do it just a few times here and there. But the process is still largely manual and it's very easy to forget to delete a specific message if you can be bombarded with new ones all the time.
Luckily, it's possible to set a sort of destructive timer on your iMessage on Mac, which would automatically delete everything past a certain date. Here's how:
Open the Messages app and then Preferences (⌘ + ,)

Click the "Keep messages" dropdown and select whether to let your messages stay in the app for 30 days, one year, or forever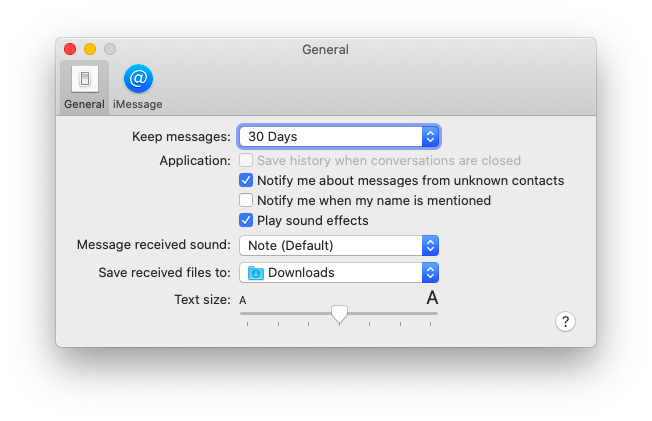 Now you don't have to worry about any messages lingering on for longer than they should.
How to clear iMessage transcripts
Sometimes, you might be having a private rapid-fire conversation with a few people at the same time and want to periodically delete all the messages so far but still keep the discussion going. Deleting the conversation outright wouldn't be optimal here as it would close the tab completely, interrupting the flow.
Surprisingly, iMessage has another function for that called Clear Transcript, which simply deletes all the messages in any given conversation but keeps the window open. To use Clear Transcript:
Open any conversation in the Messages app

Select Edit ➙ Clear Transcript (⌘ + Option + K) from the menu bar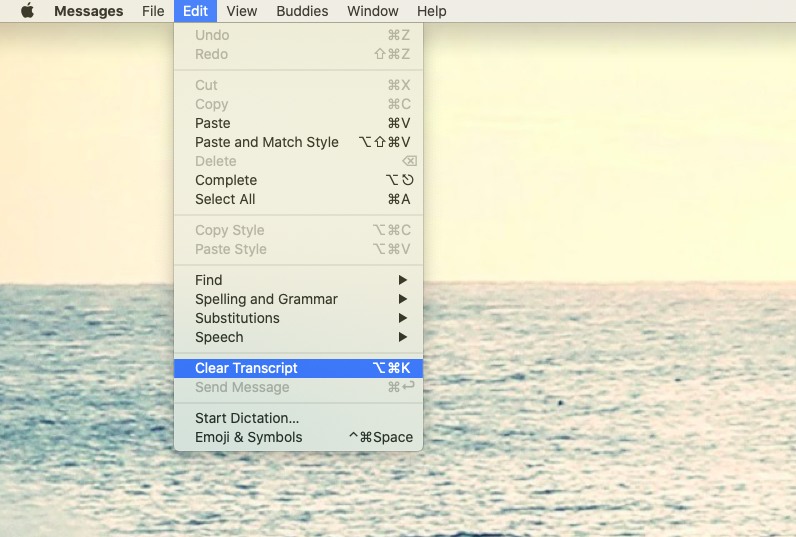 How to close conversations temporarily
Another option that the Messages app on Mac offers is to simply hide or close conversations without deleting any content in them. That way no one would see that conversations ever took place, but you'd also get the full history back once someone in the chat sends a new message.
To close any conversation in Messages:
Go to Preferences and then check or uncheck "Save history when conversations are closed"

Hover over the conversation on the left side and click the X symbol just below the date
How to delete all iMessages on Mac forever
Using any of the options above should be more than enough to help you keep your life private. But if you want to absolutely make sure that no trace of your messages is left behind, you might wonder where are iMessages stored on Mac?
Fortunately, your Mac makes it easy to dive straight into your Library folder and delete the Messages files (or back them up somewhere safe) manually:
Open Messages ➙ Preferences ➙ iMessage and then Sign Out
Quit the Messages app
From the menu bar, choose Go ➙ Go to Folder (⌘ + Shift + G)
Type in ~/Library/Messages and then Go
Delete Archive and Attachments folders as well as chat.db, chat.db-shm, and chat.db-wal
Restart your Mac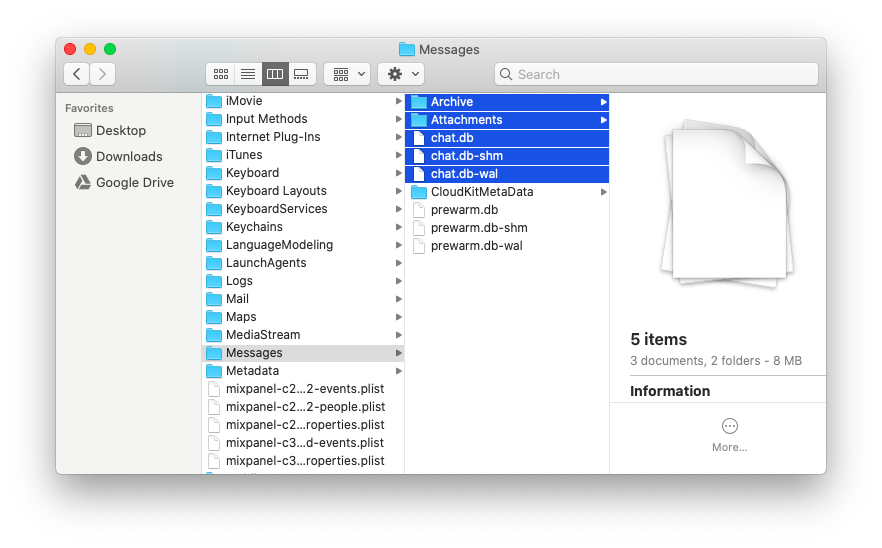 It might take some time for Messages to reconfigure itself the next time you use it, but all the files and conversations should now be gone.
What are the best messaging apps for Mac
Even though knowing how to turn off messages on Mac is quite invaluable, iMessage is just one type of an instant messaging service out there, and most of us use at least a handful of its competitors. What apps should we install to rule the messaging world?
ChatMate for WhatsApp is a powerful and blazing fast WhatsApp client for Mac that cares about your privacy by letting you hide text previews, tweak notifications, and enable Stealth Mode, which only displays messages when you hover over them. The app also locks itself, provides Touch ID supports, and features a truly customizable interface.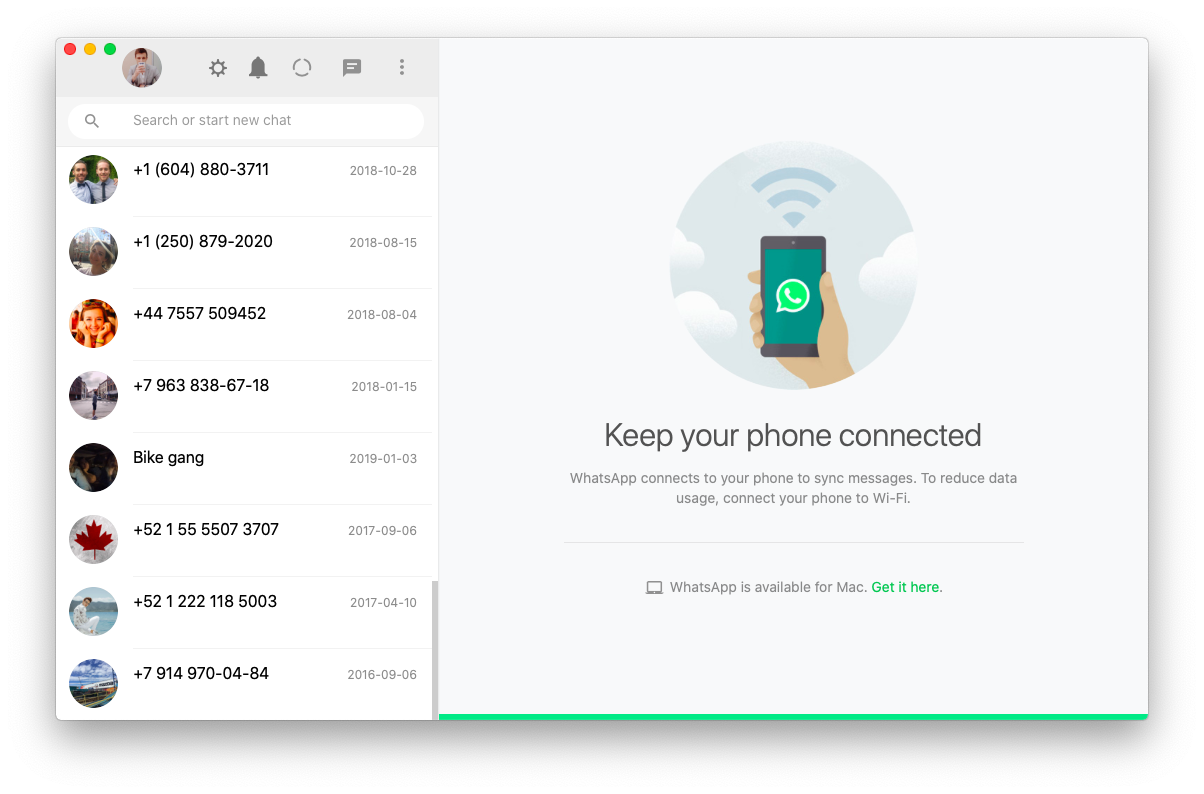 Grids is a lightweight Instagram app for Mac that lets you DM friends and do anything you usually do in your mobile app. Upload multiple photos and videos, add captions, locations, and emojis, search, post Stories directly from your Mac's desktop, and more. In addition, Grids supports multiple profiles, so you can maintain both personal and business accounts just by switching a single toggle.
IM+ is the dream for those who need to use multiple messengers and social media, and simply can't manage dozens of various apps at once. With IM+, you can add any messaging service you like, from Skype to Instagram to Slack, and then use all of them from one straightforward interface. What's more, you can define notifications for work and personal accounts, use shortcuts to switch between services, and update your status with ease.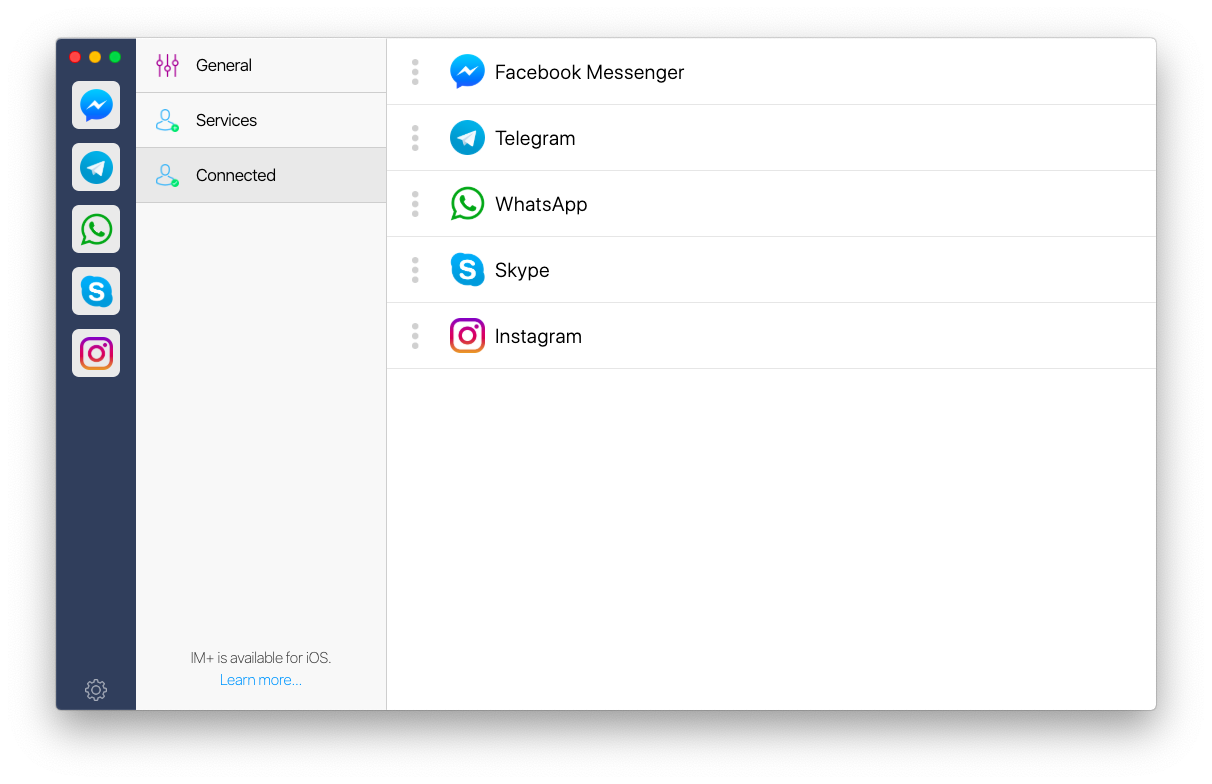 Best of all, ChatMate, and IM+ are available to you right now absolutely free during the trial of Setapp, a rapidly growing platform with more than 180 popular Mac apps to cover any problem you might have. Start by keeping your iMessages private, get a few apps to manage your other accounts, and see the immediate difference at no cost!