iMessage not syncing on Mac
If you use Apple's native iMessage app, your messages can easily travel across devices. Send from iPhone, open on Mac — no problem. Unless there's a syncing issue. Very often, users report the problem of Messages not syncing on Mac after updating their operating system. In this article, we explain the reasons behind iMessage not updating on Mac, and give you a step-by-step guide on how to resolve this annoying issue.
Why are my iMessages not syncing between iPhone and Mac?
So you open your Messages app on Mac and automatically reach for the recent thread. Then, oops, it's a wrong thread — probably some old one. You go back to your iPhone or iPad and find the thread you were looking for. What's happening? Text messages not showing up on Mac means they've stopped syncing from your iOS device.
Why are Messages on Mac not syncing? There might be numerous reasons:
Your settings are off after an iOS update
The email address you use with iMessage is deactivated
You have poor internet connection
You use the wrong Apple ID.
Luckily, there's a solution for each of them.
How to fix iMessage not syncing
Most of the syncing issues that relate to iMessage can be fixed easily. You might need to toggle the feature off and on or learn how to refresh Messages on Mac after your internet connection has improved. So let's start with the fastest one.
Sign out of iMessages and retry
Try signing out of iMessage on your iPhone and Mac. Then, sign back in and check if your messages sync from iPhone to Mac. You can also try sending a new message.
Here's how to sign out of iMessages on an iOS device:
Open Settings and scroll down to Messages
Tap Messages and disable iMessage.
Here's how to sign out of iMessages on a Mac:
Open Messages > Preferences
Go to the iMessage tab and click Sign Out.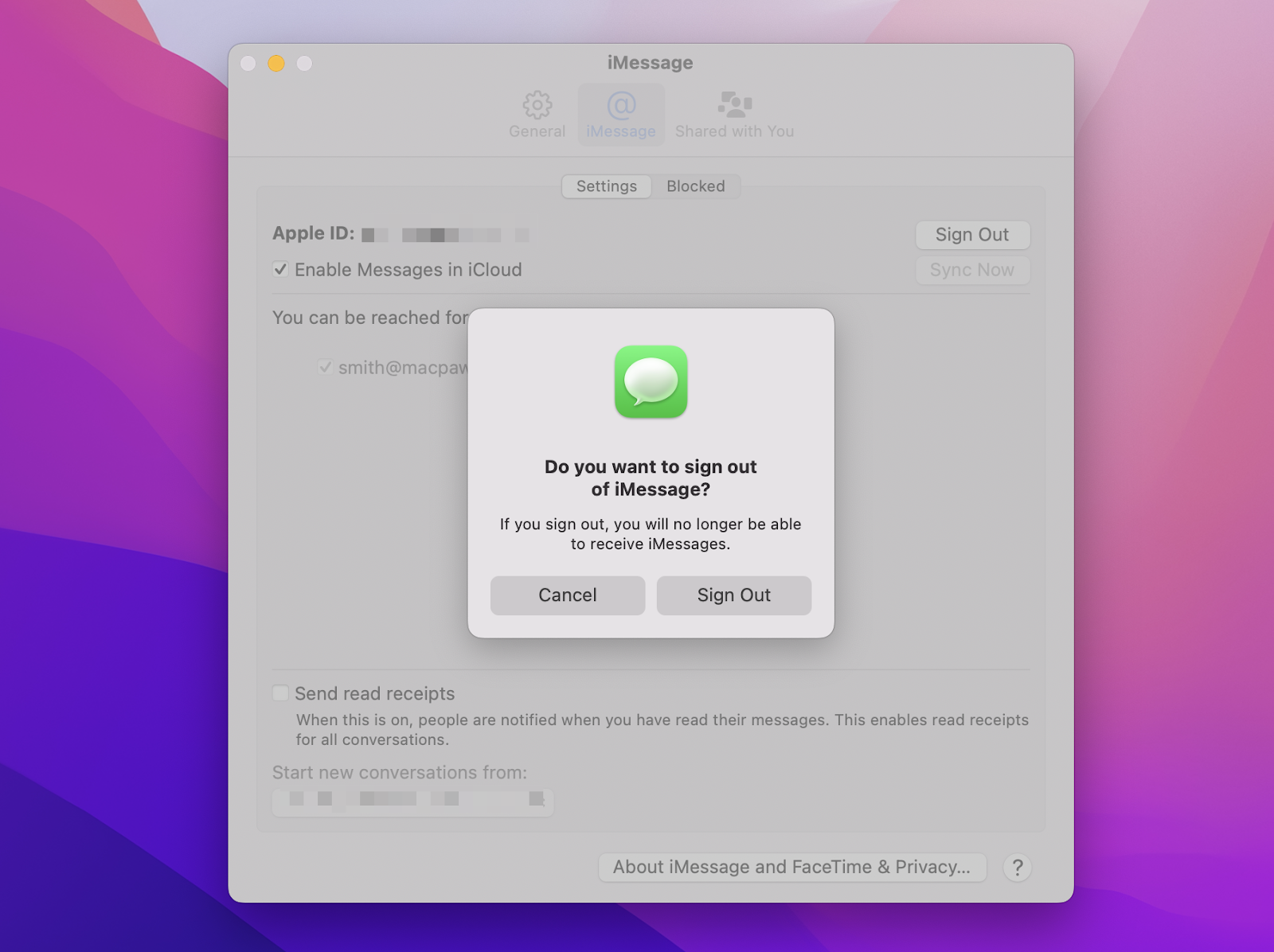 Sync messages manually
Find a solution that will never let you down. For example, you can use a content transferring app like AnyTrans for iOS to sync your messages across devices — either all of them or just the certain ones. Here's how it works:
Open AnyTrans for iOS on your Mac via Setapp
Connect your iOS device to Mac using a cable
Once your phone contents show up in AnyTrans, choose Messages
Select the messages you want to move from iPhone/iPad to Mac
Click To Mac.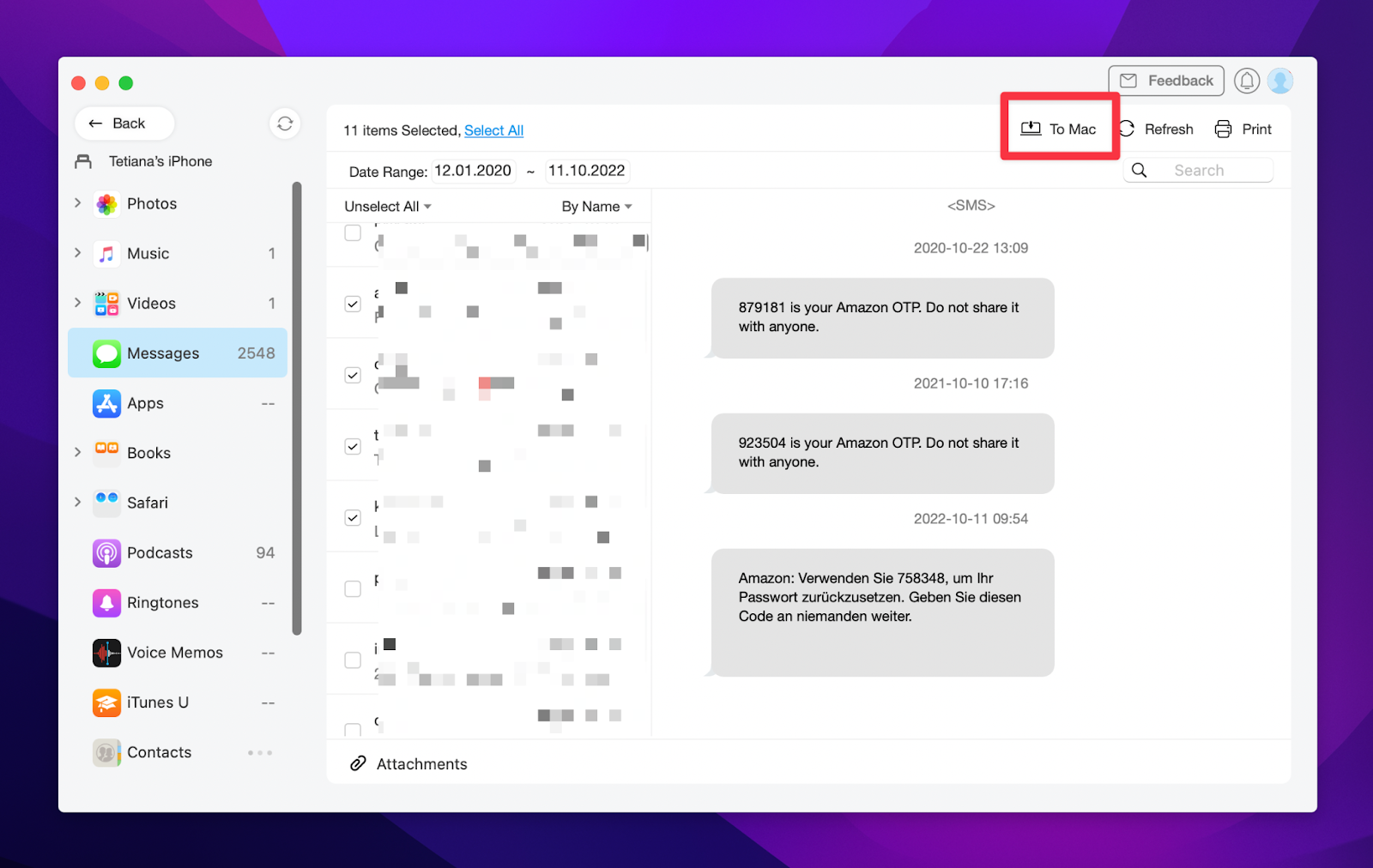 Check your internet connection
Unlike the old good SMS, iMessages require stable internet connection to be delivered from one device to another. It never hurts to toggle Wi-Fi off and on or run a speed check to make sure the internet connection is fine. If it seems like you're connected to Wi-Fi but the connection is sporadic or unstable, run a scan with WiFi Explorer:
Open WiFi Explorer on your Mac via Setapp
Find your network name on the list and click on it
Go to Network Details and check Signal Quality
It might also be useful to check Channel — just to ensure you're not sharing channel with too many other networks.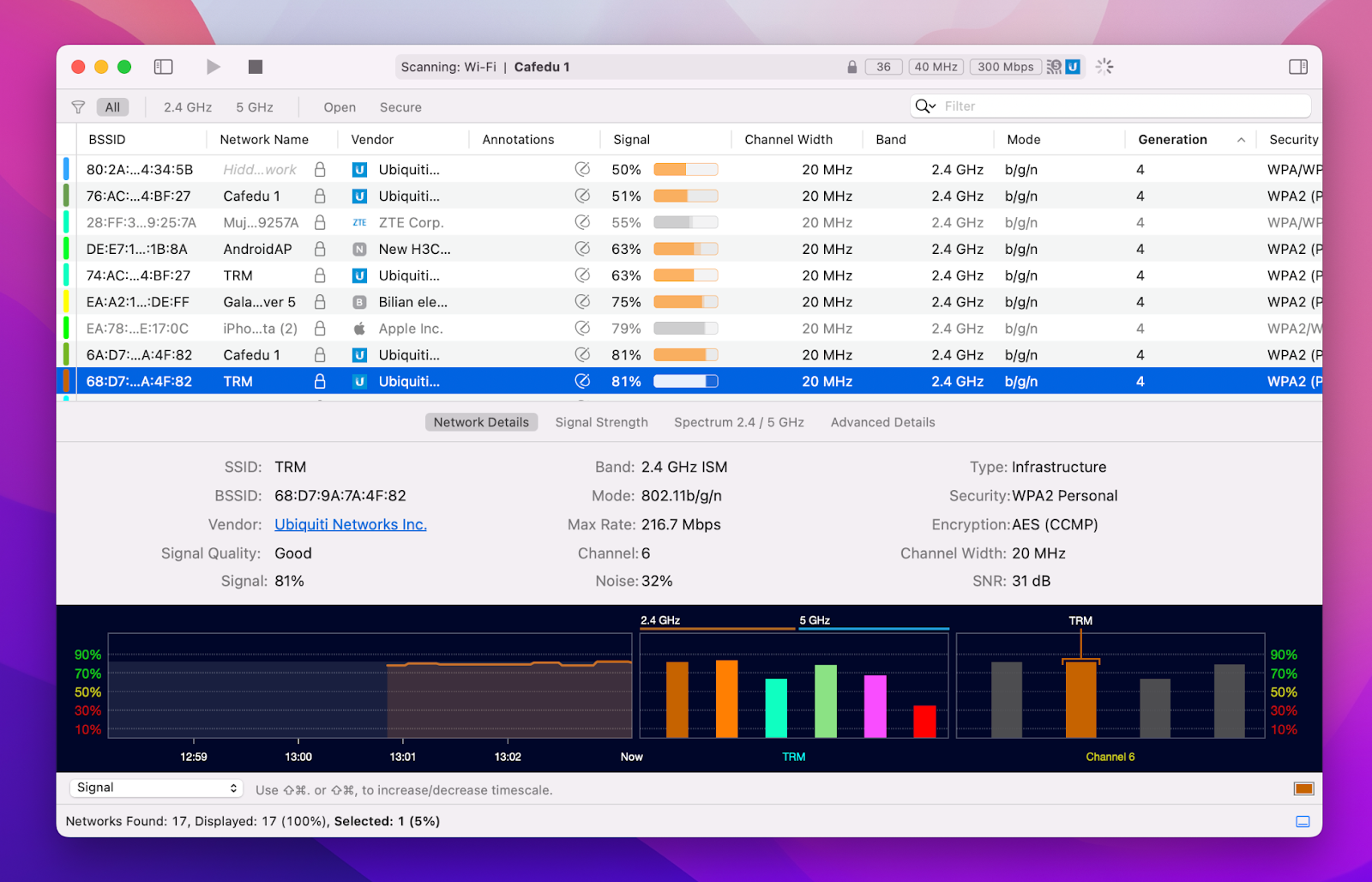 Check your email address
You need to use Apple ID with your iMessages to be able to send and receive messages across devices. There's an email address you can be reached at for messages assigned to your account — the one that is tied to your Apple ID.
It might happen that your iMessage lost the connection to your Apple ID and email address, due to a recent iOS update. So here it is — the reason for iPhone messages not syncing with Mac. Make sure it doesn't happen by checking your email in iMessage.
On your iOS device:
Open Settings and scroll down to Messages
Tap Messages
Go to Send & Receive and check if your email address is listed there.
On your Mac:
Open Messages > Preferences
Open the iMessage tab
Check if the right email address is listed under "You can be reached for messages at."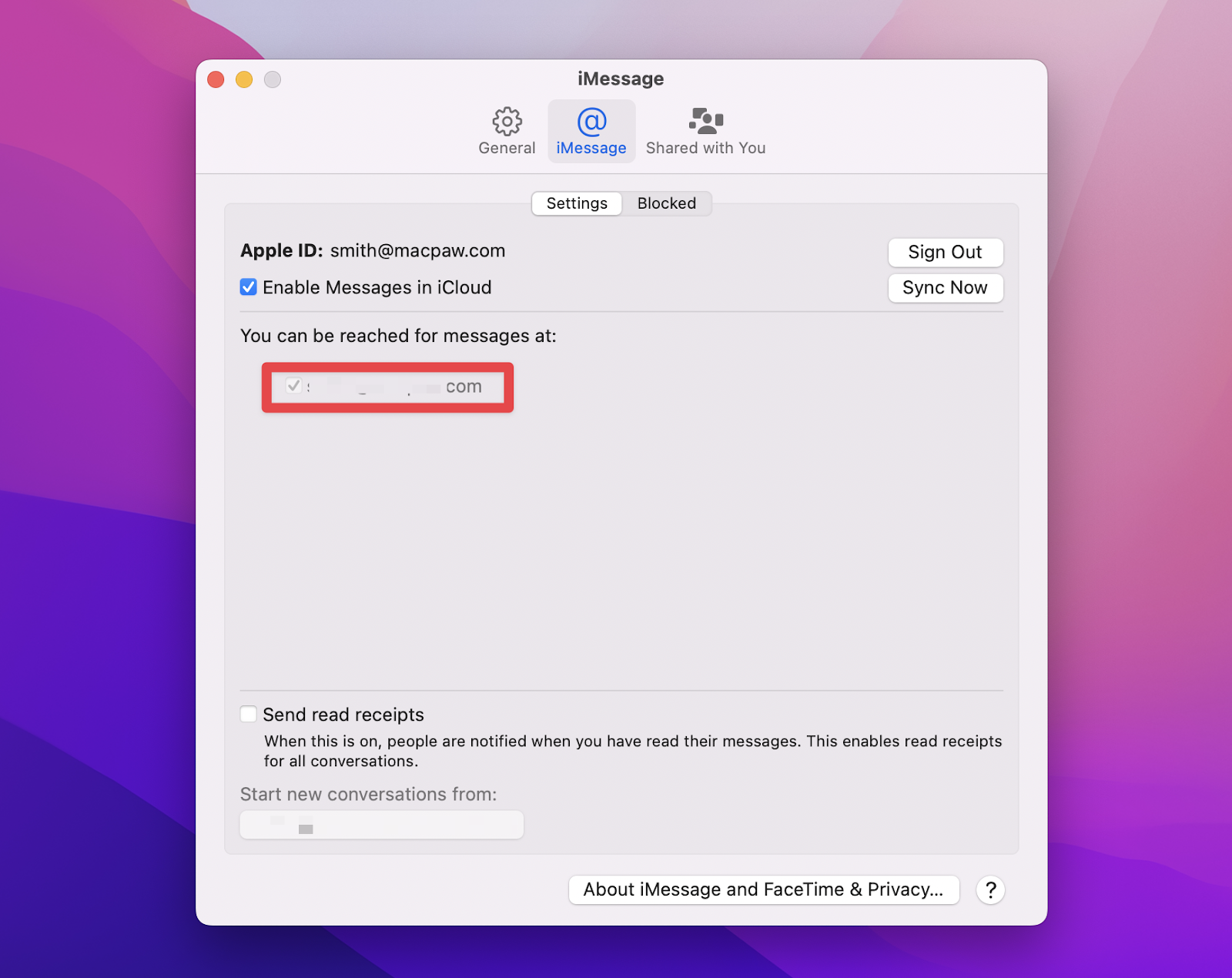 Enable iMessages in your iCloud
Did you know you can sync your messages to iCloud, just like you sync photos and documents? This is a surefire way to prevent losing messages on one of your Apple devices, since iCloud will make them accessible anywhere via your online account.
Here's how to enable iMessages in your iCloud from iPhone:
Open Settings
Tap your account name
Go to iCloud
Toggle on Messages.
You can also enable iCloud syncing for Messages from your Mac:
Open Messages > Preferences
Go to the iMessage tab
Check the box next to "Enable Messages in iCloud."
Confirm phone number with Apple ID
With iMessage, you can be reached at your email address, as well as your phone number. Provided your phone number is no longer tied to your iMessage for whatever reason, you might experience the issue of messages not syncing on Mac. Here's how to act on this:
On your iOS device, open Settings
Tap Messages > Send & Receive
If your phone number is listed but not selected, make sure you select it now
On your Mac, you will see a popup asking you to confirm that you want to add the selected phone number to your iMessage. Say yes.
If you don't find your phone number among the list of options in Send & Receive, you might need to add it to your Apple ID:
Open appleid.apple.com in your browser
Sign in with your Apple ID credentials
Go to Sign In and Security > Account Security
Click plus to add a trusted phone number
Verify the phone number via a text message or a call
Once it's verified, try adding the phone number to your iMessage.
Workaround for the macOS Messages not syncing issue
You have the right to be furious if you find Messages not syncing on Mac. This service is the primary messaging app for many iOS and Mac users. Many use it for work and business communications. This is why we recommend that you always have a backup plan.
AnyTrans for iOS can be such a plan. It will sync your messages from iPhone to Mac in no time, and you can always do it on request, without waiting for your devices to sync. The app is free for 7 days via Setapp, an app subscription for macOS and iOS. WiFi Explorer, the app we mentioned when we talked about internet connection, is part of Setapp, too.
Other than that, we hope we answered the burning question of "why are my iMessages not syncing between iPhone and Mac?" in this guide and you found the solution you were looking for.