Detailed guide on how to post to Instagram from Mac
Instagram is a brilliant tool for taking, editing, and sharing visual content with the world. It's also a great tool for marketing a brand on social media. However, very often, especially if you use it for marketing, you'll have the content on your Mac that you want to share — and transferring it to your iPhone is an extra step that can be inconvenient at best. In this article, we'll tell you how to post on Instagram from Mac.
Can you post on Instagram from Mac?
Since the previous paragraph had a spoiler, we'll say it right away: yes, we know how to post to Instagram from Mac. However, there's no easy way to do it. Instagram is a mobile-first service, so it doesn't bother much about helping you post from a computer. There's no "Instagram desktop app Mac." In fact, the only way you can even see your Insta feed on a Mac is through a browser. This is why we need a workaround. And we've found it!
Why is it better to post from a computer?
Before we guide you through the steps, let's answer the main question. Why would you even want to post on Instagram from Mac? Here are the top three reasons in our opinion:
Photo and video editors. A Mac does a better job preparing your content for posting than an iPhone. With apps like Luminar Neo, TouchRetouch, and CameraBagPro, you can fix imperfections, create a consistent visual style for all your content, and even experiment with AI effects.
Part of your work routine. If posting to Instagram is part of your job, you don't want to switch back and forth between computer and phone. You want a connected work environment, all in one place.
Additional features. To post content from Mac, you'll need to use a third-party app. These apps often have features that Instagram doesn't have. For example, IM+ allows you to post to multiple platforms and monitor incoming messages directly from the app.
How to use Instagram on Mac to post photos, videos, and stories
To upload to Instagram from Mac, you'll need an app like Grids or IM+. Both allow you to post photos and videos directly to Instagram. Grids can also post Stories and carousels. IM+ superpower is connecting to numerous social networks, including Facebook, Zoom, Twitter, Facebook Messenger, Skype, Whatsapp, and many more.
And, if you use apps like Luminar Neo to edit your photos, you have the perfect Instagram marketing platform right on your Mac. Even if you only use Instagram for fun, being able to post directly from your Mac is very handy.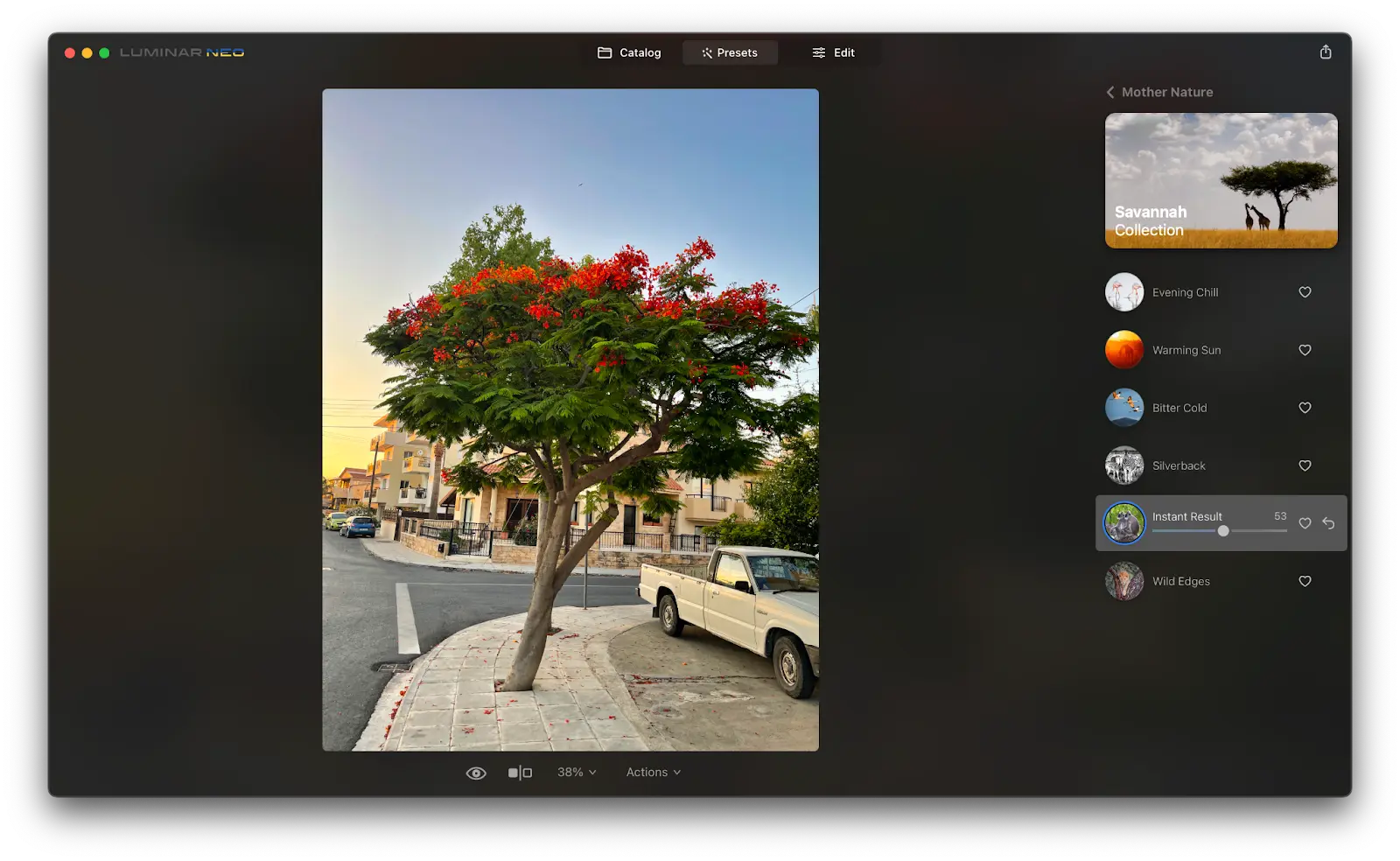 Instagram apps we'll discuss here also let you switch between as many accounts as you like, DM friends, comment, tag, and more — all the usual stuff you do on mobile. Here's how to use Grids and IM+ to post on Instagram from Mac.
How to post photos on Instagram from Mac
With Grids, you get a simple Instagram uploader for all your accounts:
Open Setapp > Grids > install and open the app
In Grids, log into your Instagram account or add multiple accounts
You'll be taken directly to the Instagram feed that looks awesome in Grids
To post a new photo, click the plus button.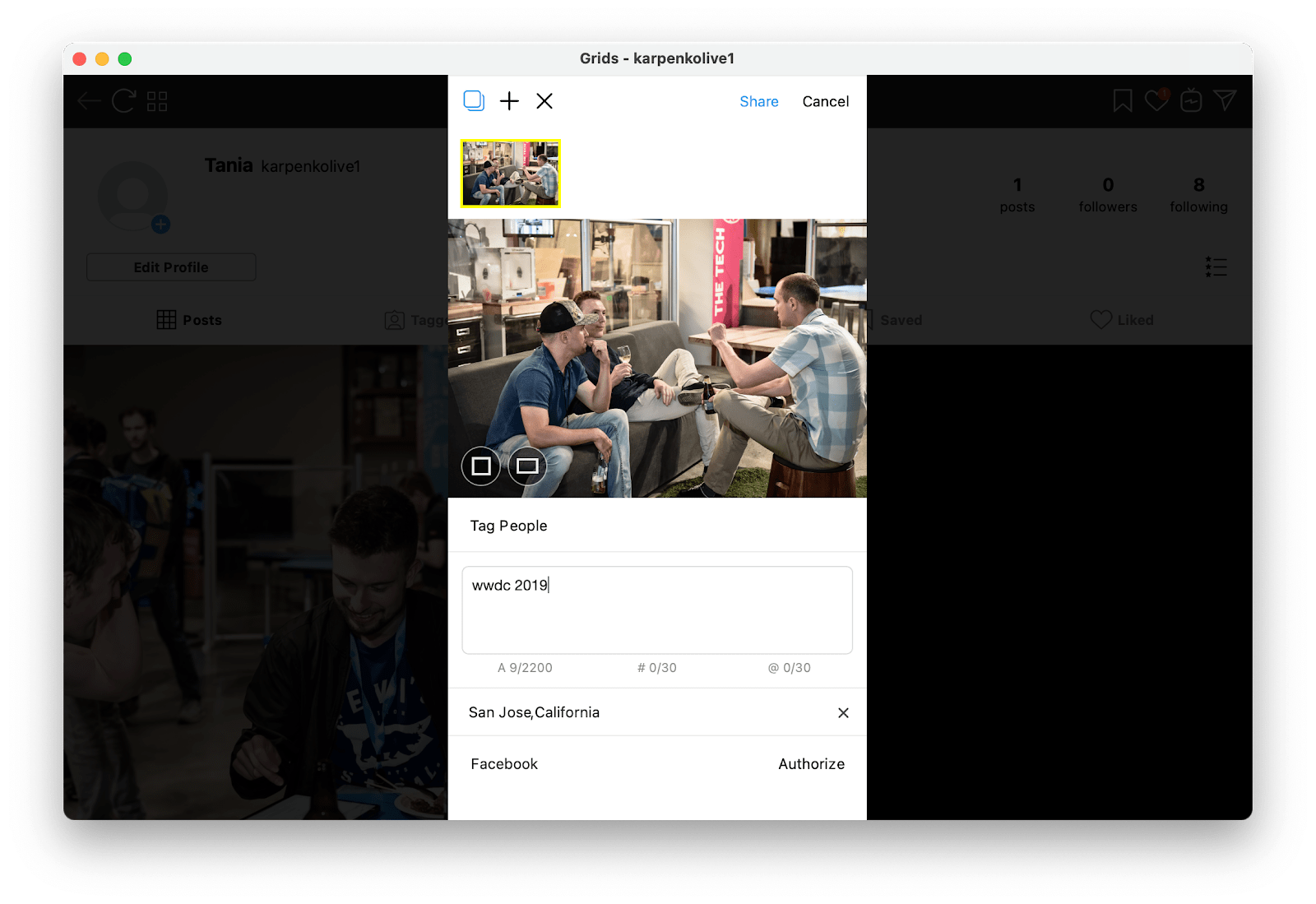 From then on, it's pretty basic: Adjust the size, add captions and location, tag people, and hit the Share button. You can choose to fit the uploaded content into a traditional square frame or go with the original size. Read more about Instagram dimensions and sizes here.
IM+ is a great tool to combine all of your messages and social networks into a single interface. To post to your Instagram page through IM+ follow these simple steps:
Open Setapp > IM+ > install and open the app
In IM+, log into your account
Click the plus button to make a new post
Pick the photo you want to post, click Open, edit or add filters if necessary, write your caption and add location, and click Share.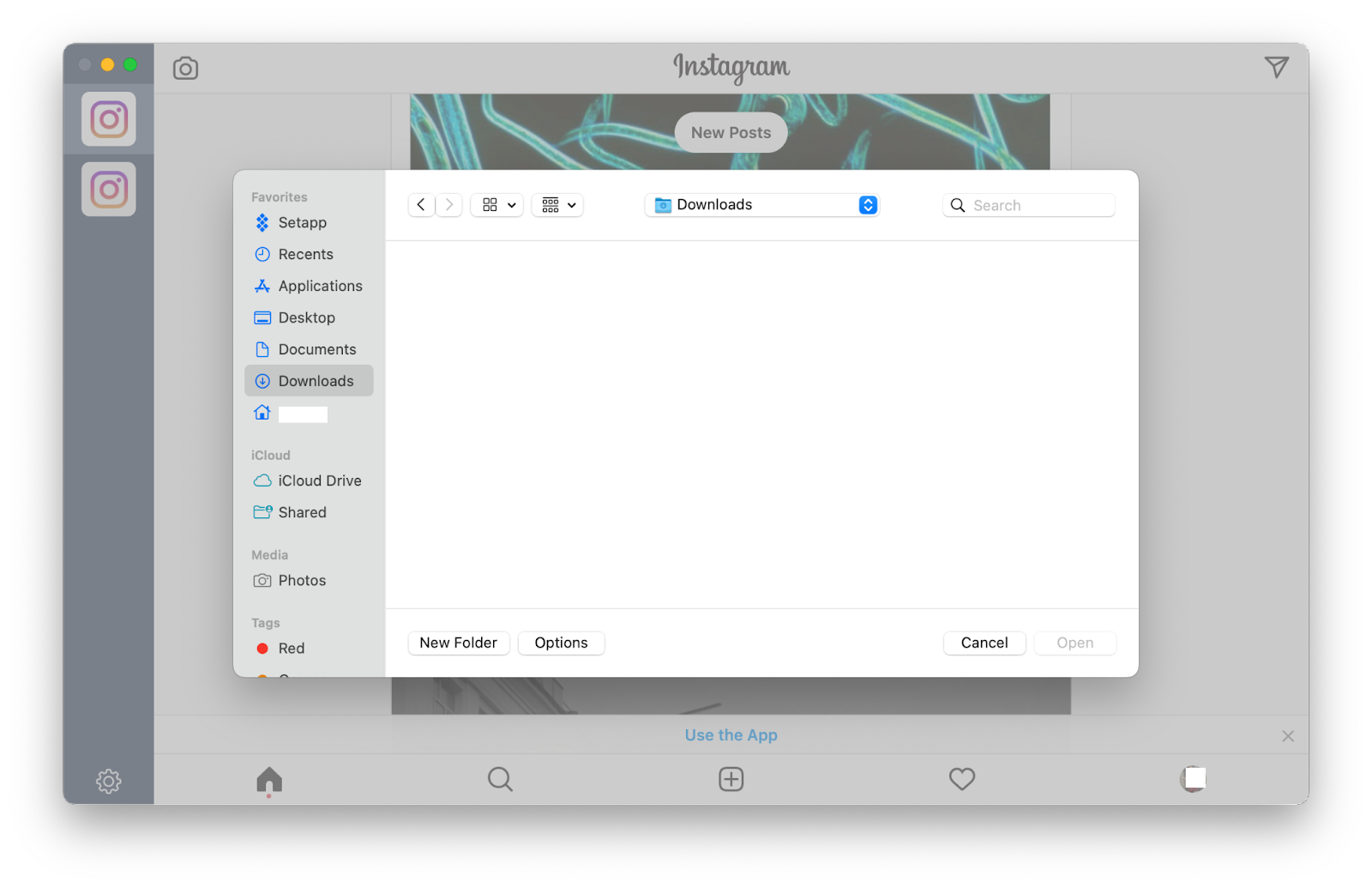 How to upload video to Instagram from Mac
Nothing of major difference from uploading pictures. Click the plus button in Grids and browse the target folder on your computer to find a video. Mac Instagram users are going to enjoy not having to move their videos to their iPhones to upload on IG.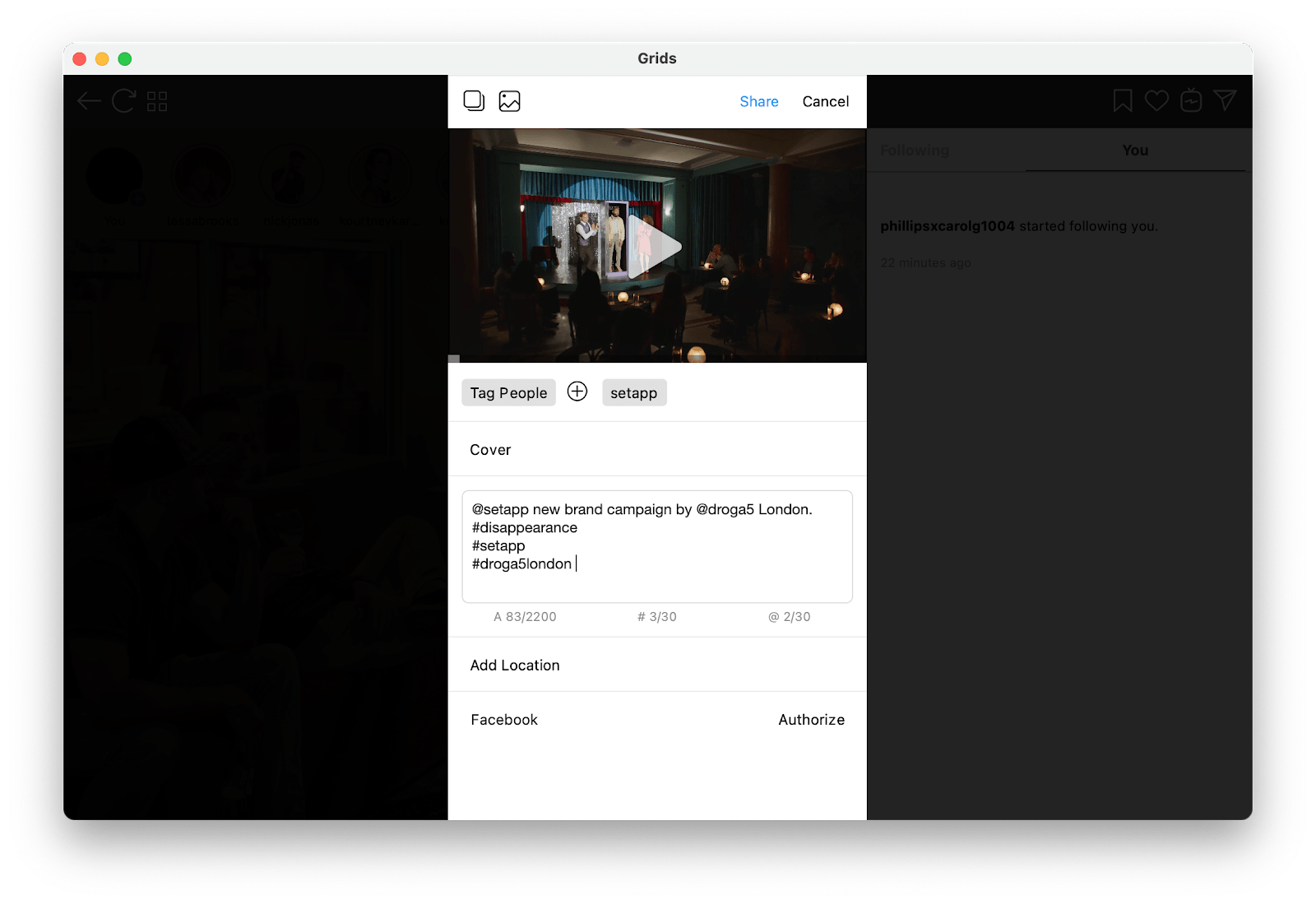 When you choose and prep your videos to upload to Instagram from desktop, keep in mind these two things:

Large videos will take longer to upload (duh).
Instagram only allows videos that are up to 1 minute, so if your video is longer, cut it before uploading or it will get cut automatically.
How to post Instagram Stories on Mac with Grids
What makes Grids truly unique is the ability to post Stories. No other desktop app can do it, and neither does the web version of Instagram. Here's an easy way to upload photos and videos to Stories on Mac:
Click your profile picture from the Instagram feed or your account page — just as you do on mobile
Click the plus button to upload photo/video
Add mentions, custom text, emojis, tags, and more
Click Send To > Your Story.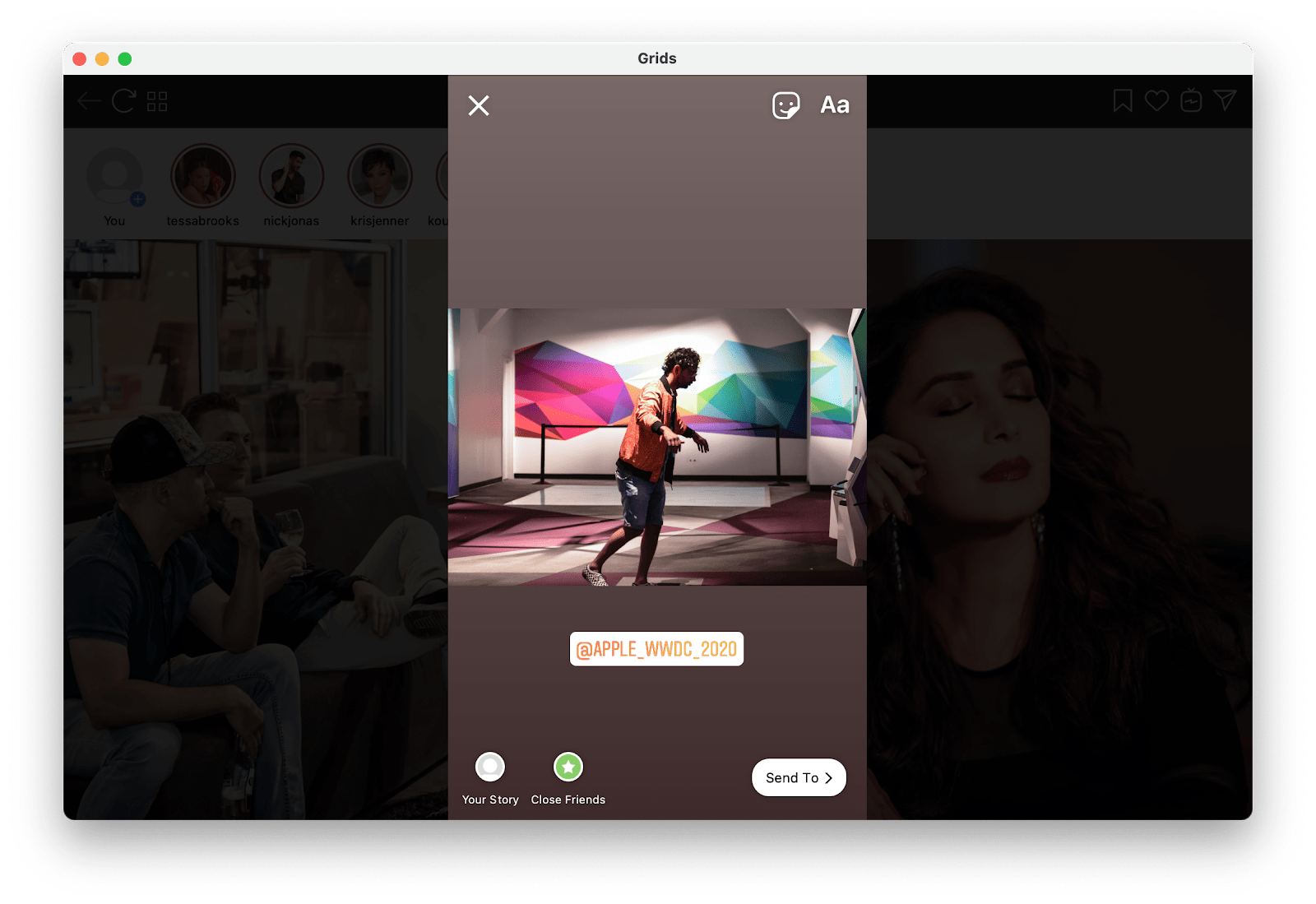 How to add and switch between multiple Instagram accounts
Grids allows you to post on Instagram from Mac, switching between multiple accounts. So if you're wondering how to repost on Instagram, you should know there's no need to do that. Simply add another account and post your content:
Click on your profile image > Add Account
Enter your credentials and log in
To switch across accounts, hit the account name you want to use. No need to log in and out again.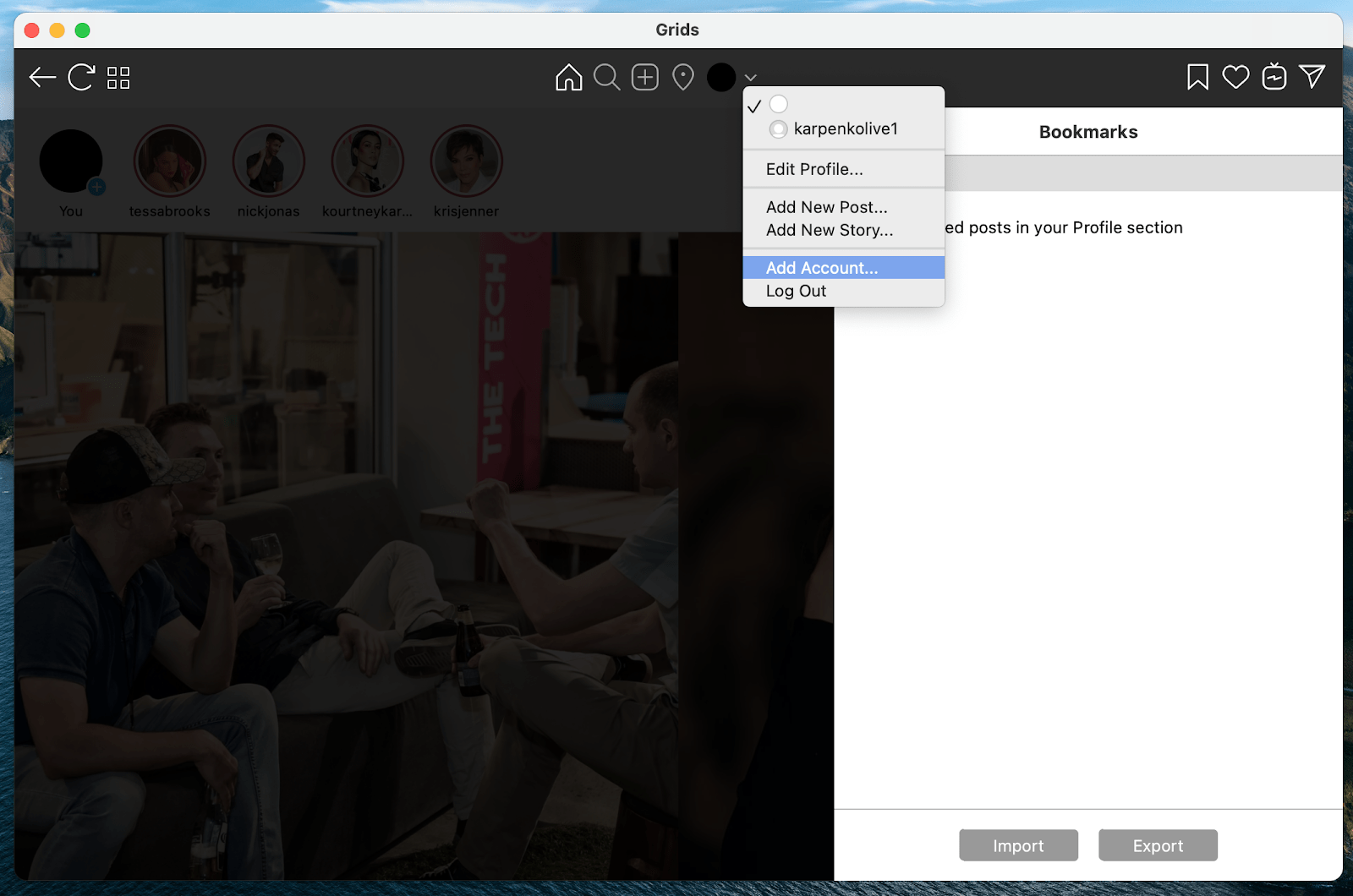 The screenshot above shows account switching in Grids. In IM+, you just add another Instagram account to your list of social media within the app and switch by selecting the account you want from the icons on the left side of IM+ app window.
How to edit your photos before posting to Instagram
Instagram is extremely limited in terms of image editing, so you might want to refer to better software. Well-edited images are the deal breakers on IG after all. Since you already have a Setapp account (Grids and IM+ are available with your Setapp subscription), you have access to many photo and video editors.
Here are the top three we recommend to try in Setapp:
If you already have some experience editing photos, try CameraBag Pro. It's an app that combines ready-to-use filters and ultra-detailed editing, including nuanced skin tone correction and eye-sparking tools.
For quick results, try Luminar Neo. An AI-powered photo editor that turns your images into magic with its smart noise reduction, image enhancement, sky adjustment, and a plethora of other tools for better images.
TouchRetouch will help you get rid of unwanted objects in the photo. It's a great solution if you need to cover up a logo or a company name, remove a person in the background, or...well, pimples.
How do I upload photos from my PC or Mac via browsers?
If you don't want to use third-party apps, how to post on Instagram from Mac? And if you don't have a Mac, how to post on Instagram from PC? The possible option is to do a few under-the-hood tweaks in the web version of Instagram. No worries, nothing too technical. Following are the instructions for uploading content to Instagram via Chrome and Safari.
Post to Instagram via Google Chrome
Open Google Chrome and paste https://www.instagram.com/ in the address bar
Click the three dots in the upper right corner of Chrome > More tools > Developer tools
In the developer panel, click "Toggle Device Toolbar" (an icon with two devices)
Click Responsive and select your mobile device from the drop-down menu




Refresh the page for Instagram to emulate the look, based on the device you've selected
After the refresh, you'll see the upload button in the lower bar (just as it looks on your phone)
Now you're ready to upload and post your photos.



Upload to Instagram via Safari
Open Safari and paste https://www.instagram.com/ in the address bar
Open Safari Preferences > Advanced
Check the box "Show Develop menu in menu bar"
As soon as Develop appears in your menu bar, click it, then click User Agent




User Agent shows the list of mobile devices Safari can emulate
Pick your device and refresh the page to switch to the mobile interface
Upload and post your photo.
After you upload your photo, you'll be able to apply filters, add location and captions like you do on mobile. However, this method doesn't guarantee you'll preserve 100% of the original quality. Plus, uploading via browsers can be glitchy, so if you can, we really recommend using trusted Instagram apps for the job.
That's about it. Using Instagram for Mac on desktop is nothing new. We're surprised that with such a huge audience and business behind it, Instagram still hasn't introduced a decent desktop client of its own. Luckily for you, there are apps that fix the problem with ease:
Grids is a powerful Instagram app that you can use to upload photos and videos, DM, comment, tag people, and do all kinds of stuff you do in the mobile interface.
IM+ is an app you can use to post to Instagram from your Mac that has a more limited functionality, compared to Grids, but it allows you to manage multiple social media accounts directly through the app.
CameraBag Pro and Luminar Neo will perfect your photos before posting — enhance colors, add filters, etc.
TouchRetouch will help fix imperfections and remove unwanted objects.
Best of all, these apps are all available through Setapp, a productivity service that solves your tasks with Mac and iOS apps. It's free for 7 days, then $9.99/month.
We hope this guide has been of help and now you know how to bypass the tricky Mac-iPhone file shifting. It's a pain to be forced to move every image to your phone when it's ready for posting, so Setapp apps to the rescue. Have a great day, post a lot, cheers!