How To Make A Social Media Content Calendar
Nowadays, social media is everywhere. It's the primary medium we all use to interact with each other and, more importantly, it's the lifeline for any business that wants to grow and acquire new customers.
Social media communication is easy, instant, and free. It's also very fast. You have to be quick to initiate a conversation or reply to a question. And you have to post a lot to stay relevant. Most people's feeds update so frequently that anything you posted yesterday is simply not visible anymore.
When you have to keep all your social media channels (Facebook, Twitter, Instagram, LinkedIn, and Pinterest) up to date besides actually doing your full-time job, going to meetings, and so on — it becomes really stressful and difficult to catch up and stay afloat.
To properly manage producing the never-ending stream of social media posts, you need to rely on a robust system and be able to plan into the future. In other words, you need a social media calendar.
What Is A Social Media Content Calendar?
Social media planner is essentially a schedule that outlines all your upcoming social media posts either for a month or a week. It helps you organize your workload effectively by proactively focusing on campaigns rather than being reactive and trying to come up with something that needs to be posted immediately.
When you know your social media posting schedule, you can improve the quality of your social interactions and engage more people: have designers create beautiful graphics, gather insightful reports, spend time on custom photoshoots, and more.
Working in advance means that you have more time not only to prepare and polish the outcome but also to respond to your audience in the moment, which also needs a tool of its own.
IM+ is by far the best way to communicate with your audience, regardless of the social media you use. This all-in-one messenger lets you combine all your social channels (from Facebook to LinkedIn) into one simple interface with custom notifications, shortcuts, media sharing, and more, so you never miss another message.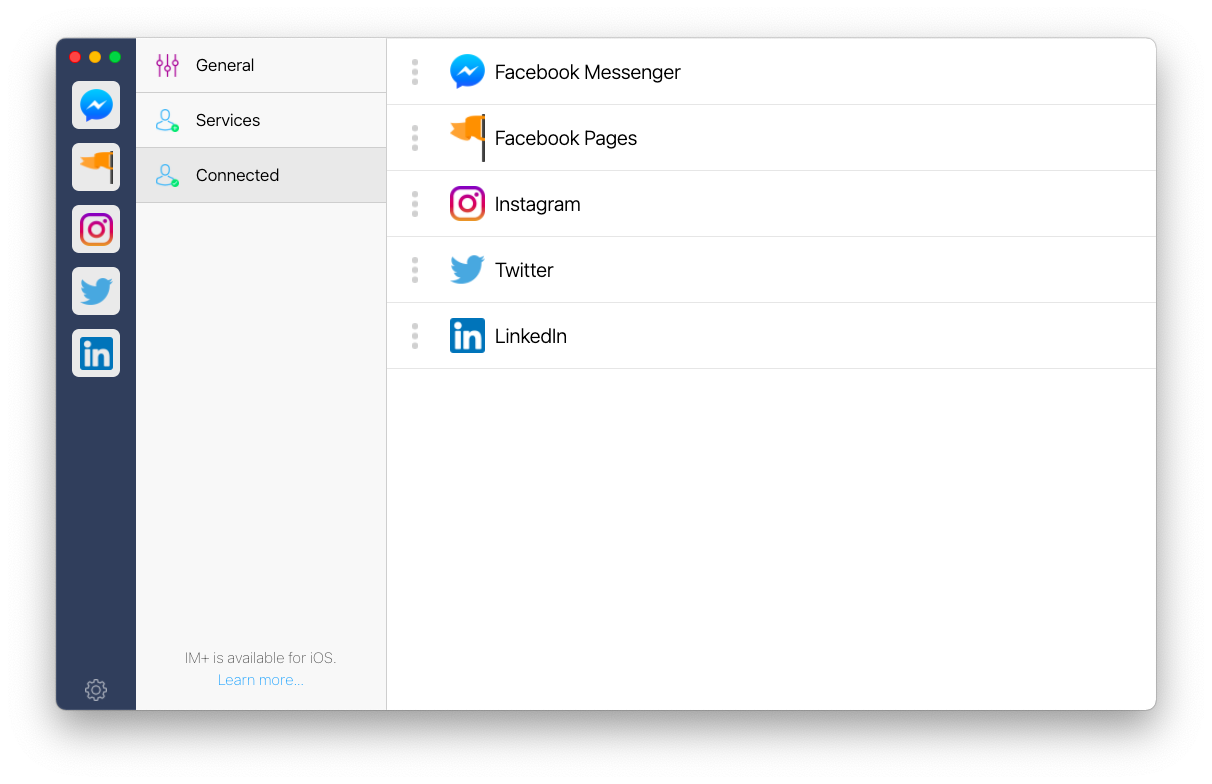 So replying quickly to anyone with IM+ and creating a social media posting schedule might sound like a good idea. But where do you start?
How to create a content calendar template
To be effective, your social media calendar template doesn't have to be fancy or complicated. Using Google Sheets would be good and flexible enough for almost all use cases.
A good way to start is to create a monthly overview that outlines all of your marketing campaigns, important deadlines, experiments, etc. Use color-coding to help distinguish different kinds of creative plans. This will give you a clear perspective of the resources you need to engage and visually warn you if you've planned too much.
Then, working off your new content calendar template, create new tabs right in Google Sheets to write down ideas and copy for the actual messages you want to send. So, for example, have one tab called "Twitter" and just have a constantly updating list of potential tweets, so take off the pressure of having to think about something creative right at the moment of posting.
Day to day, make sure to keep all the specific channels up to date, taking inspiration from your pre-written list. At the end of the month, revisit your calendar view with all the campaigns in place and see what was done well and what could be improved. Then just make a copy of the calendar in the new tab for the next month.
How to power up your social media planner with more apps
While creating a social media calendar template with Google Sheets is all you need to start tracking your marketing efforts, there's a lot more you can do, especially in terms of improving your targeted results, if you augment your strategy with just a few powerful apps.
How do you manage creating a white paper, for example? There are dozens of various tasks and people involved, from ideation to planning to writing to design.
Taskheat makes complex projects easier to complete on time and on budget. This app allows you to create to-do flowcharts that clearly outline all the dependencies with appropriate details as well as assignees. You can share your flows with others, add tags, and even create location-based notifications, so you remember to follow up with someone when you're leaving the office at the end of the day.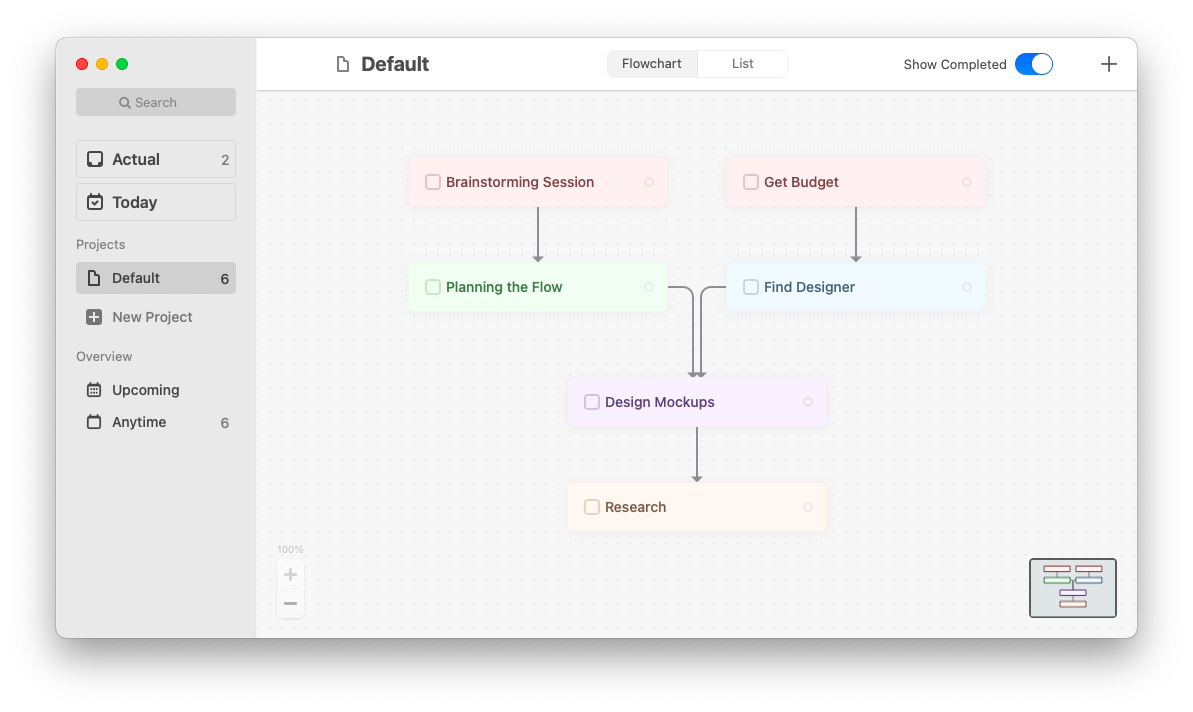 Your social media content calendar is only going to be as successful as the ideas you're able to come up with. Which means you need to organize proper brainstorming sessions and be able to record everything that was said in them too.
iMeetingX is by far the best way to take and organize notes from any kind of meeting. You can invite everyone to participate, create tasks on the spot, share minutes, reuse templates, and more. Whatever your goal is, you'll see iMeetingX adapting seamlessly to your flow.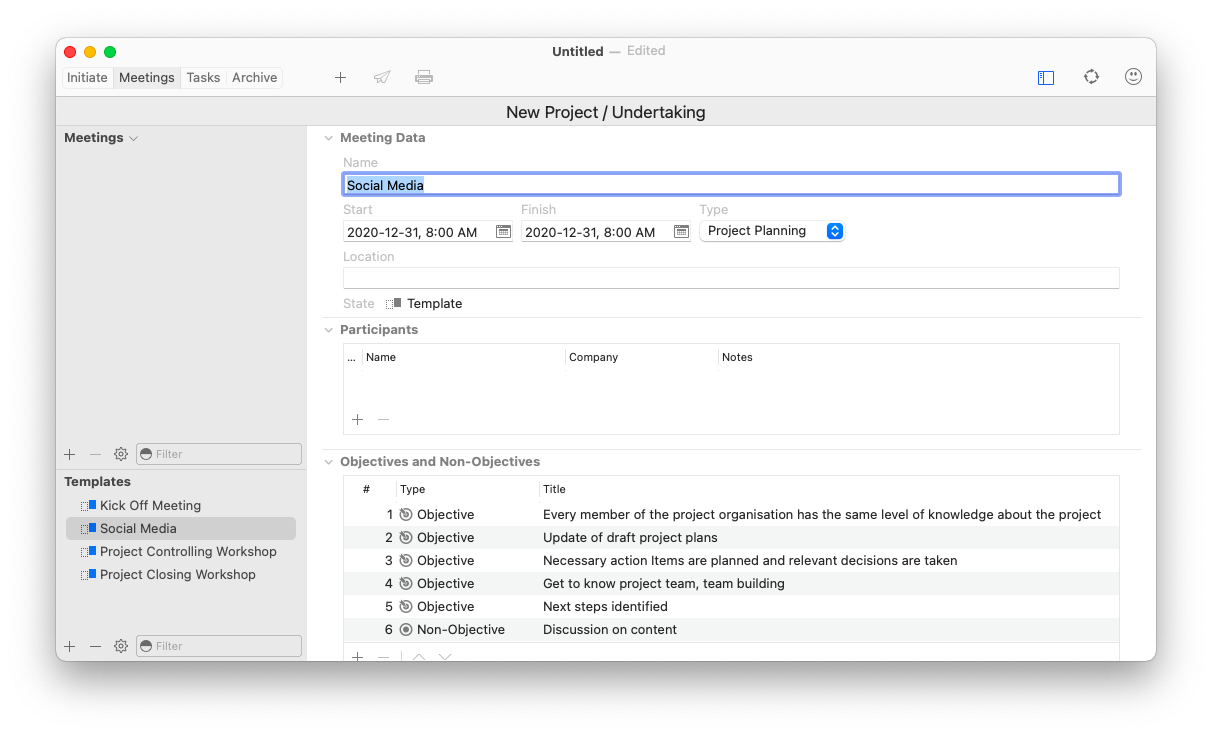 If you want to use an actual Mac-based calendar app for your content calendar template and feel that Calendar app might be a bit too minimal, look no further than NotePlan.
NotePlan is a note-taking calendar for the digital age. With a full calendar view, you're able to not only schedule meetings and set deadlines but also leave extensive notes, with tags, links, and checkboxes for tasks. The app also supports Markdown and integrates with both iCal and Google Calendar.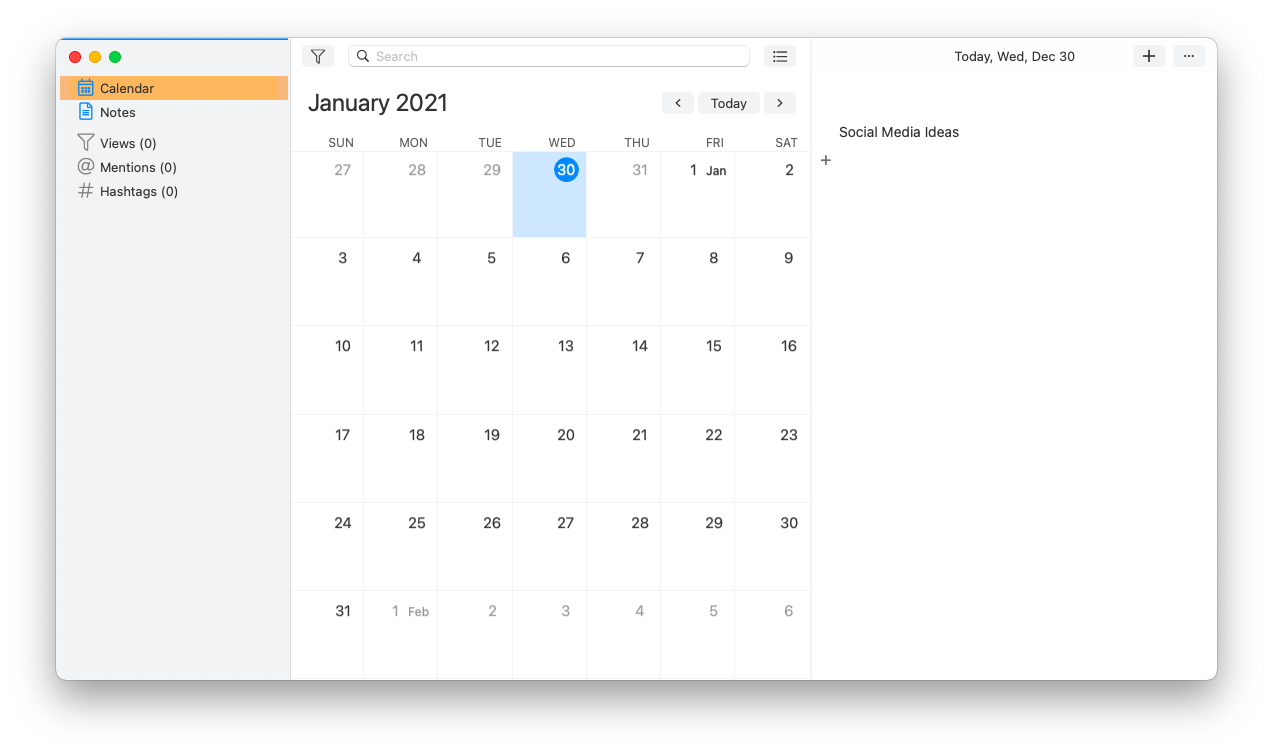 Not every time you'll have brilliant ideas coming to you during the brainstorm — occasionally you'll think of something you'd want to develop further later on, but where do you write it down?
SideNotes is one of those apps that seem like a good-to-have at first but soon enough become completely indispensable. This lightweight utility is made up of sticky notes that stay on the side of your screen and can hold any information necessary, from images to tasks to code snippets to notes. So when you need to reply to someone on social media, jot down anything to remember for later, or even just properly copy-paste content from your documents into tweets, SideNotes is right there to help you.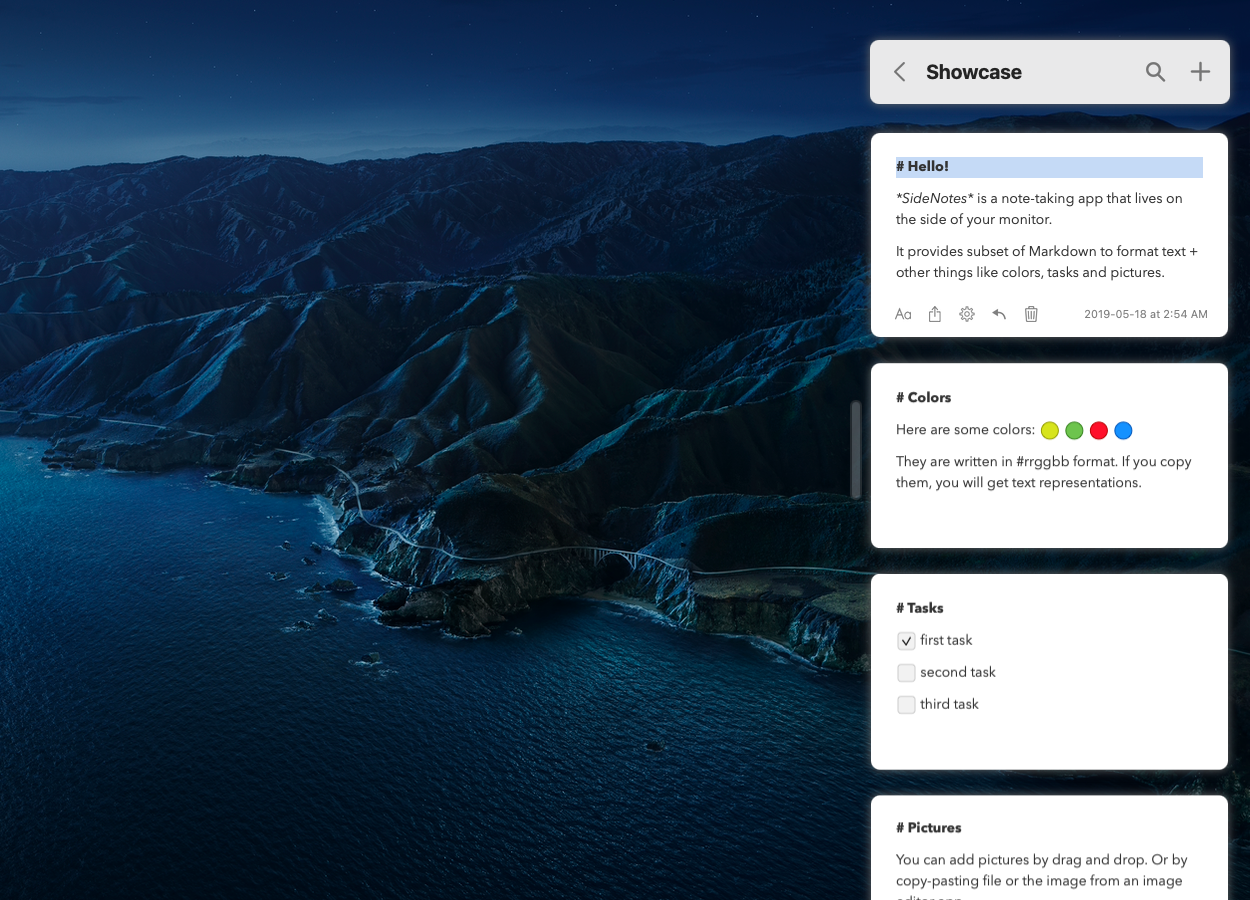 As you can see, creating a social media calendar template is essential and, luckily, not that difficult. You can start with nothing more than Google Sheets and upgrade your set up with your needs. Start by adding all your social media to IM+. Then plan your projects with Taskheat, record your brainstorms in iMeetingX, switch to social planning in NotePlan, and keep your ideas close with SideNotes.
Best of all, IM+, Taskheat, iMeetingX, NotePlan, and SideNotes are available to you absolutely free for seven days through a trial of Setapp, a platform with more than 210 world's best Mac apps for any task you can imagine. Explore everything that Setapp has to offer today and no cost and see how much easier your work can be.