How to delete an Instagram account
Sometimes a blessing, the other times a curse. This is how you can describe Instagram if it's both valuable and harmful for you. Facebook and Instagram addictions are becoming an important deal — and if you think "10 Weeks of Therapy for Social Media Addiction" is just another sales slogan, you're lucky to not know the truth. On the other hand, Instagram can be a solid — if not the best — platform for growing a business. The question is how to marry the two.
Whether you want a short digital detox or are seriously determined to put an end to Instagramming, we know how to delete Instagram accounts in the way you won't regret it.
How to permanently delete Instagram account
Before you take any steps, make sure you're ready for this forever decision. There's no coming back after you decide to delete Instagram permanently. You won't be able to sign up again with the same username and Instagram will not keep your photos, likes, or followers list. Everything will be wiped away for good. Here's how you say goodbye:
Navigate to the Delete Instagram account page via a web browser. It doesn't matter whether you use your phone or a computer, but you have to use a browser — you won't be able to delete the account from your mobile app.
Tell Instagram why you want to remove the account. You'll see a list of options in the drop-down menu.

Next, you'll be asked to re-enter your password.
Click on Permanently delete my account.
How to temporarily disable Instagram
If you're not ready to cut the cords just yet, Instagram is ready to disappear from your life for any period of time. You can decide when to reactivate it — or, if you like your Instagram-free life better, remove it temporarily.
Again, you can't do this from the app, so the journey starts in your web browser:
Log into your account via Instagram.com.
Click on the Account button in the top right corner > Edit Profile.
Scroll down to the very bottom of the page and select Temporarily disable my account.
You'll be again asked about the reason you're leaving. Choose one of the options in the drop-down list and confirm your decision.
To reactivate your account, you'll need to log back in with the same credentials.
What if you lost your credentials and can't reactivate the account?
So it must have been a long time since you've last opened Instagram. No judgment, you must have had lots of fun. If you no longer remember your password, there are a few solutions:
On the login page, tap Forgot Password and use your Facebook account, email address, or phone number to reset.
Make sure you don't use the @ symbol in your username.
Check whether you've received any messages about your username being changed, or access your account via another person's account to see whether the username has changed.
You can find additional information on how to reactivate your account on the Instagram help page.
How to make your Instagram account private or block accounts
Maybe — just maybe — the reason you don't want to access Instagram is that you don't want specific people to peek into what you're posting. In this case, you don't have to delete Instagram. Limiting access to your account will be enough.
If you want only approved followers to see what you're posting, set your Instagram to private. You can customize privacy from both your mobile app and web browser. In the Instagram app, go to the account page and tap the menu button in the upper right corner. Navigate to Settings > Privacy > Account Privacy. Agree to setting your account private. Note that only personal accounts can be private, so if you own a business account, you'll have to switch to personal first.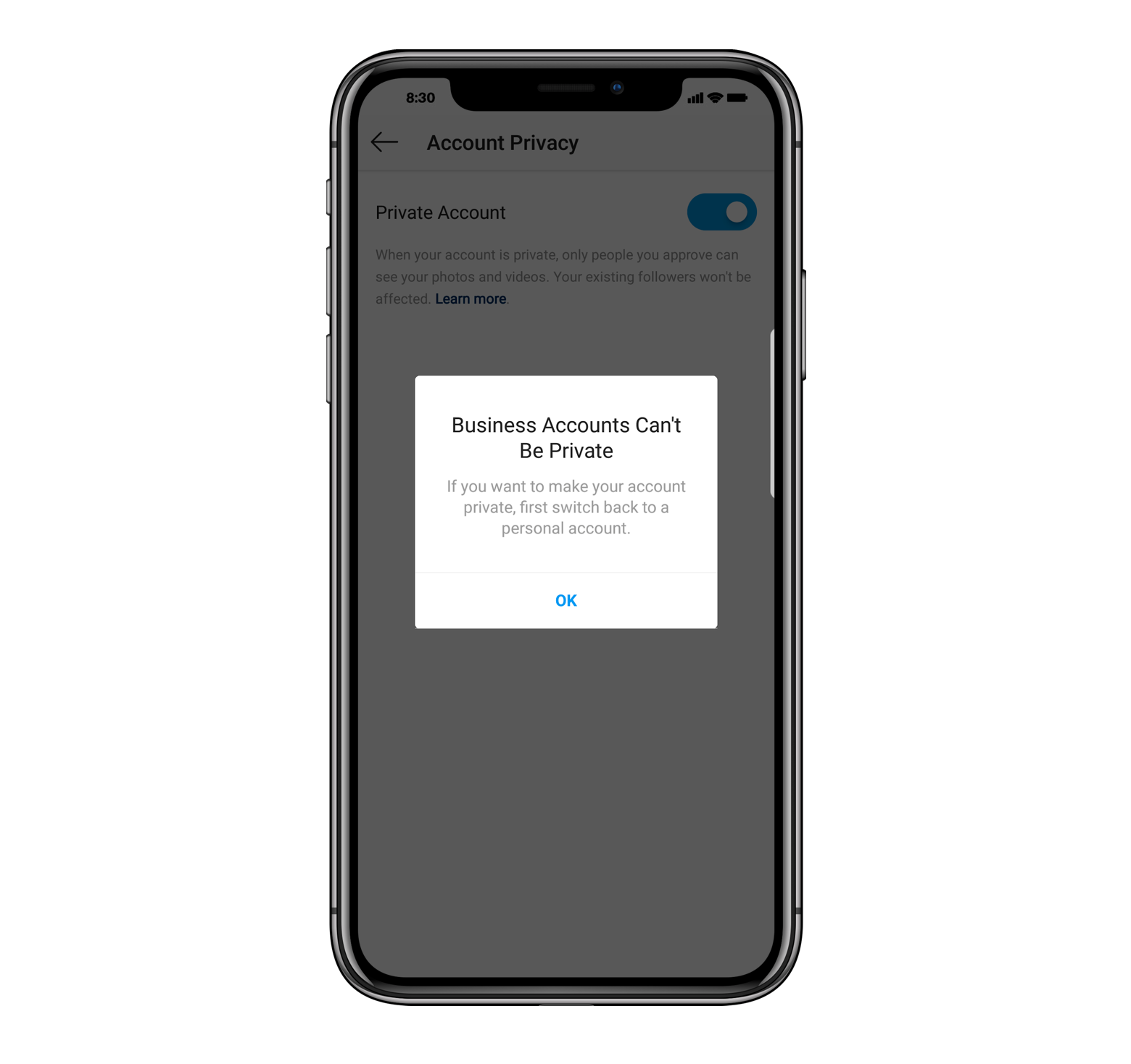 In a web browser, the flow is pretty similar: Click on the Settings button on your account page (next to Edit Profile). Select Privacy and Security > Account Privacy and check the box next to Private Account.
To prevent particular users from accessing your account, you can block them:
Go to a person's account.
Tap the three dots next to the account name.
Choose Block this user.

Once you block someone, they are no longer able to view, like, or comment on your posts. The same works for you — you won't be able to access a blocked account until you unblock it. People don't get notifications about being blocked.
How to download your Instagram data
The most precious thing about Instagram is that it holds your memories. This is why letting it go can be difficult. But in fact, Instagram is not asking you to. You can keep all your Instagram photos, videos, profile information, and even comments — without keeping your Instagram account alive. Here's how to securely download Instagram data in one package from your Instagram app:
Open your profile and tap the menu button in the upper right corner.
Go to Settings > Security.
Select Download Data.
Type your email address and click Request Download.
If you want to download data from a web browser, go to your account page and click on Edit Profile > Privacy and Security > Request Download. Enter your email, click Next, and type your password. Finally, click on the Request Download button.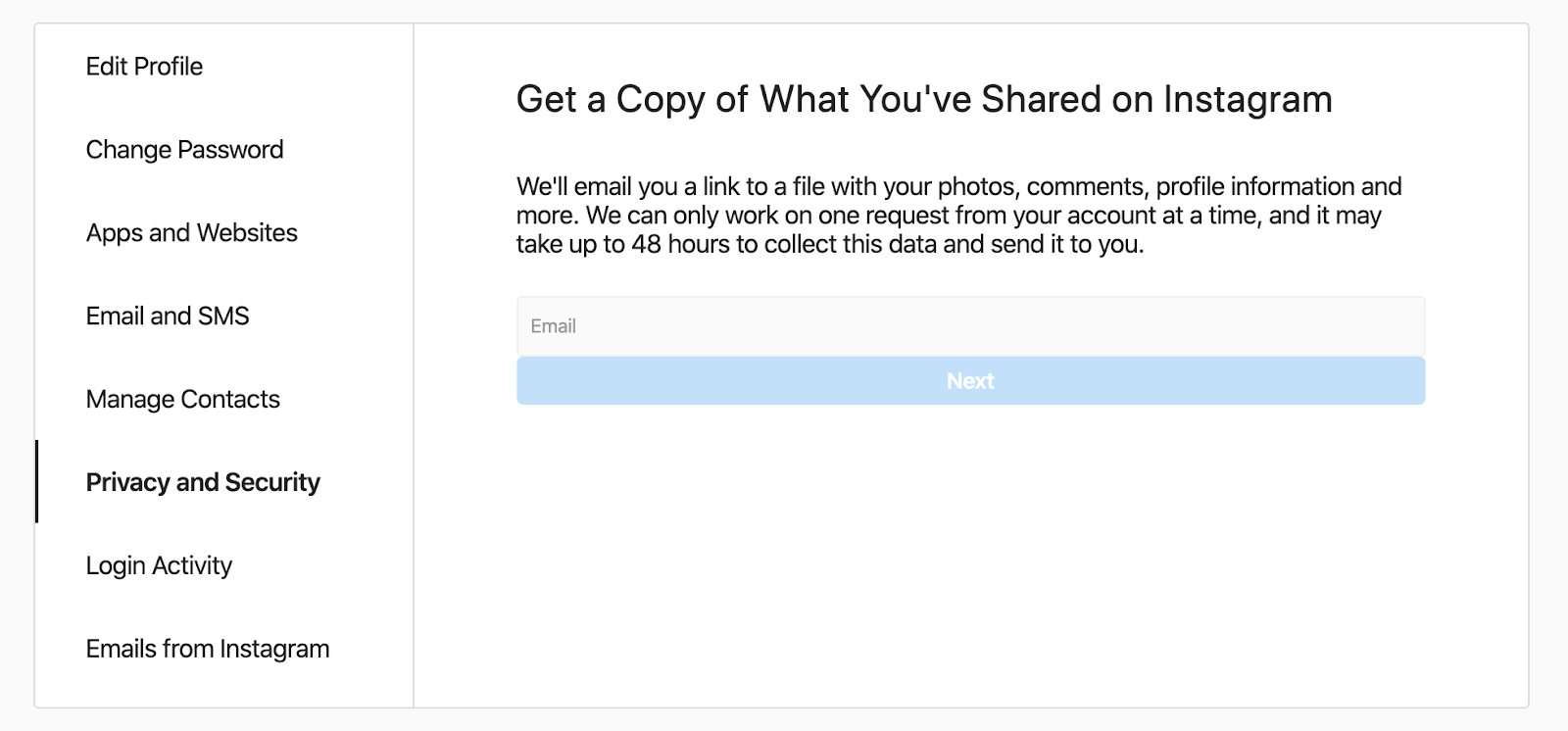 Within 48 hours after requesting data, you'll receive an email from Instagram. It will contain an active link to all your Instagram data. When you click on the link, you'll download a folder with separate JSON files that contain Instagram data. Note that the link will only be active for four days.
If your Instagram account has been hacked
Now when you know how to delete Instagram account, let us also mention how to keep it protected. In case you notice any suspicious behavior on your account — your friends say it's active when you don't use it, someone sends messages or comments on other people's posts — chances are your account has been compromised.
Here's how to secure an Instagram account if it's been hacked:
Reset your password by sending a reset link to your email address.
Check your third-party connections — if you've used any other apps to log into your Instagram account, you might need to revoke third-party app access.
Use a strong password — preferably, with numbers, uppercase, and punctuation marks.
Enable two-factor authentication, so that you'll be asked to confirm every login attempt via another device.
If you use a shared device, make sure you don't click "Remember me" when logging in.
Unlock extra features with Uplet, an Instagram app for Mac
If you're googling how to deactivate Instagram because its web version is too limited for you, there's an app that can save the day. It's called Uplet, and it's the best Instagram client for Mac out there.
While app experience is quite frictionless, accessing Instagram from a web browser on Mac is a whole different story. You can't post photos and videos to Instagram from a computer. Pretty painful — especially if you use your Instagram account for work. The problem is Instagram has no native application for macOS.
Uplet solves it in many ways. First of all, it looks good. The interface is centered around a single important feature — photo/video upload. You can simply drag and drop any number of items onto the Uplet window, edit, and share them right away.
Here's the vital functionality that Uplet adds to your Instagramming on Mac:
Upload photo and video content right from your Mac's screen. Click on the upload button and select the location you want to browse. Or, drag your photo/video in. That's it. A lifesaver if you use Mac for editing your visuals. Instead of transferring photos and videos to a phone, you'll be able to post directly to Instagram.
Edit it away. Uplet includes a basic editing toolkit that allows you to change the dimensions or post full-size images. The huge benefit is the capability for individual editing in case you bulk upload lots of content.

Switch between multiple accounts. Uplet makes it a breeze with a single toggle. Click on the account name and you'll be taken there instantly — no need to sign in and out.
The features described above are a part of the Uplet license that costs $19.95. Since the full functionality is retained in the Setapp version of Uplet, you can use it along with 180+ other apps in one subscription.
How to remove Uplet from Mac
In case you don't enjoy the Uplet experience, you can continue using the web version of Instagram on your Mac. You can remove Uplet by moving it to the Trash.
To get rid of logs and any associated files:
Open Finder > Go > Go to Folder and enter the path of the folder ~/Library — that's where all the leftovers are stored.
Search for any files that contain the app's name across the following folders: ~/Library/Preferences/, ~/Library/Application Support/ and ~/Library/Caches/.
Right-click all the files you find and move them to Trash.
Alternatively, you can use CleanMyMac X to remove all traces of Uplet in one click via the Uninstaller feature.
Delete or deactivate, that's the question
Ok ok, we've got it. You don't want any trace of Instagram in your life. And that's your choice, which will hopefully bring fresh and meaningful experiences into your routine. Whether you delete or temporarily disable your account — that's the decision that you need to make.
If you're very attached to your daily Instagramming rituals, keeping yourself from reactivating the account could be difficult. So go ahead and delete the account from your web browser. Make sure you request a download of personal data before cutting the cord.
If you want to challenge yourself and see how long you can go without checking Instagram, deactivate the account. Just as with chocolate. No one can ever make chocolate disappear from planet Earth, but you can actually stop eating it.
Finally, if you want more privacy or extended functionality for Mac Instagramming, try to customize your journey instead of killing it. Flume gives you a perfect Instagram client for Mac. Instagram's privacy settings allow blocking users and setting accounts to private. So make sure you explore all the options before leaving.