All Ways To Permanently Delete Facebook
You don't have to be overly concerned about your privacy to want to permanently delete your Facebook profile and close Facebook accounts for good. Today, lots of people are hopping aboard the #deletefacebook campaign bus for a wide range of reasons.
Whether you're deleting Facebook because you're suffering from platform fatigue, you're advertisement-adverse, or just believe the channel has sucked the social out of social media, here is a thorough guide to help you deactivate, close, and delete your Facebook account while still holding on to your memories.
So be it privacy, boycotting social media, or just practicing better data hygiene, for those wanting to know how to permanently delete Facebook account, considering some preventative measures first would be a good idea. Before making a rash decision to delete everything, try a few methods that will help you be less tempted to log in or reactivate your Facebook account in the future.
How To Deactivate Facebook Properly
It's important to know how to deactivate Facebook. Deactivating Facebook means that your Profile will become invisible (i.e. if people search for you, you won't show up). If you ask Facebook, "How do I close my Facebook account," Facebook will show you a way to deactivate it, so you can return to being a full user at any time.
So first, how to deactivate Facebook from its website:
Go to Settings ➙ General ➙ Manage Account

Scroll to the bottom of the page and click on "Deactivate your account"

Enter your password when prompted

Opt out of receiving future emails

Click Deactivate to confirm

"But I want to delete my Facebook!" You say. You're right — knowing how to deactivate Facebook is not the same as knowing how to get rid of Facebook. So below you can dive into easy-to-follow steps you may not have tried yet that will allow you to permanently delete Facebook.
How to download your Facebook data
Before you delete Facebook, you may want to get your photos, conversations, and memories off the internet and on your Mac. This can be done by downloading your Facebook data. When you download your data, you can download all of it at once or you can select only the information (or date range) you need.
How to download all your data from Facebook in one go:
Find the down arrow in the top right of the Facebook screen and click it to open the dropdown menu

Select Settings

Choose Your Facebook Information from the navigation bar on the left

Select Download Your Information ➙ Create File to begin the archiving process (you'll be notified when the file is complete and ready to download)

Click on the notification you received, then Download to download all of your Facebook data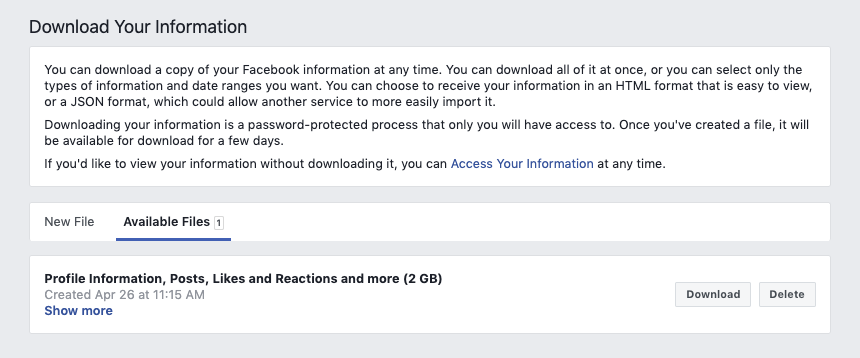 Although you may be gung-ho about wanting to permanently delete Facebook, future-you will thank you for pressing pause and taking a few steps to keep hold of all your stuff.
Back up and protect your Facebook data
While it's smart to do a backup of your online information and store it on your Mac, it also makes sense to back up the information on your Mac and store it on an external hard drive.
As the data file may be large and slow down your computer, using a robust backup app like Get Backup Pro will help speed up your Mac's archiving process and store your information in a secure location at the same time.
To securely back up your Facebook data:
Open Get Backup Pro

Click the plus button to add a new backup project

Enter the project name, such as "Facebook data," and hit OK

In Select A Destination, choose your external hard drive

In Folder, select the downloaded Facebook data file

Hit OK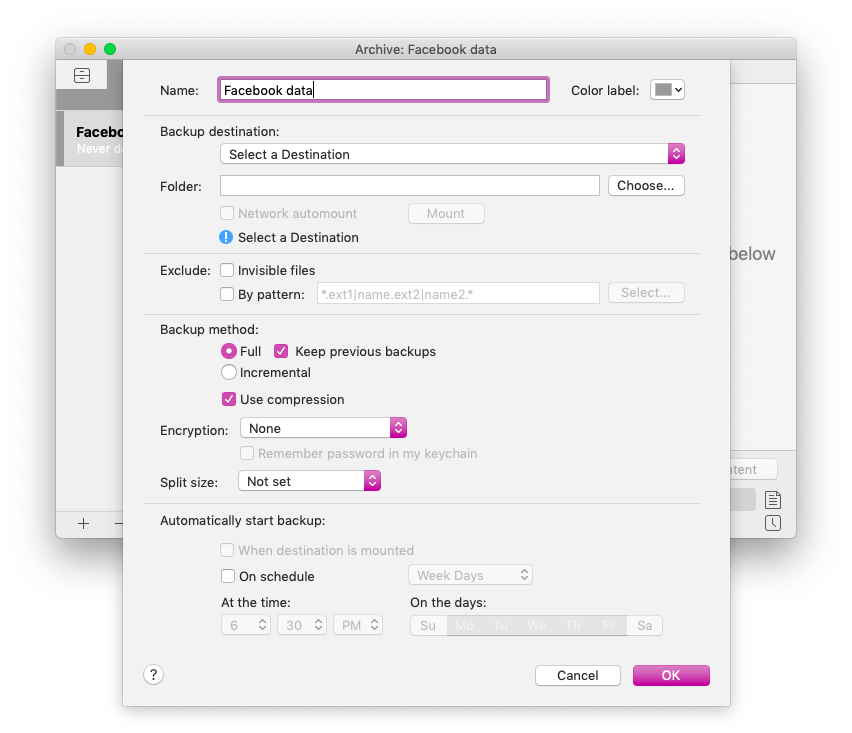 However, should you have accidentally deleted any data you want back, or accidentally deleted anything else for that matter, Disk Drill is the recovery software that will help you restore the files you need.
Open the Disk Drill app

Type in your Mac account password to allow Disk Drill to make changes

Choose the drive you want to recover

Hit Recover and configure the settings to suit you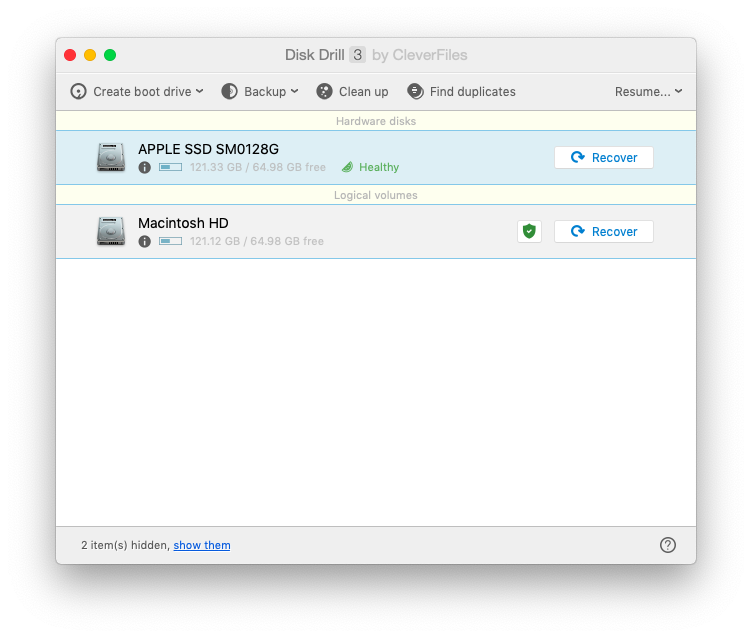 Delete Facebook posts
Now that you have secured your data offline, the next step you need to take before deleting your Facebook account is to get rid of any recent posting activity. When you delete Facebook account, recent activity may stick around for up to 14 days, as often it needs to be scrubbed from other people's profiles as well as your own.
Keep in mind you can only delete posts that you have posted. For posts that you have been tagged in or others have shared on your timeline, you can either remove tag or hide from timeline.
How to delete Facebook posts in bulk:
Go to your Profile page on Facebook

Scroll down and, from the pop-up navigation bar, click Manage Posts

Select Posted By You from the menu on the left

Tap the square (in the right-hand corner) to select each post you want to delete from your Profile

Click Next ➙ Delete Post ➙ Done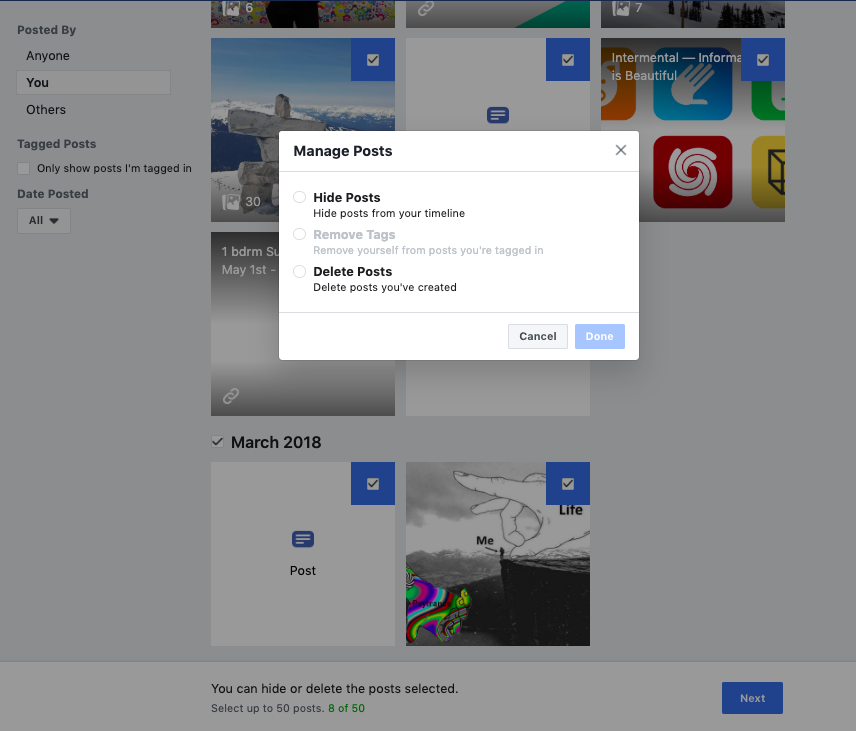 Delete Facebook photos
To continue deleting your Facebook, a quick and efficient way to remove photos is to delete whole albums at once.
How to delete Facebook photos in one go:
Go to your Profile page

Select the Photos tab ➙ Albums

Click on the Album you want to delete

Look for the Gear icon in the corner, click it, and then select Delete
The two albums you cannot delete using this method are Profile Pictures and Cover Photos. To remove the photos there, you must do so individually.
How to delete your Facebook Profile photos one by one:
Open the Photos tab on your Profile page

Click on the Pencil icon on each photo you would like to delete

Select Delete This Photo from the dropdown menu

Hit Delete to confirm
Change your Name and Profile Photo
The final precaution you should take to delete your Facebook account for good is to change your Name and Profile Photo.
As it takes a while for the Facebook deactivation to complete, your name will remain on Facebook for that period. So change it to something unrelated to you if you're trying to covertly remove yourself from Facebook.
How to change your Basic Information:
Go to the Settings page

Click on Edit (next to your Name)

Change the information in First and Last Name fields

Enter your password and click Save Changes

Return to your Profile

Hover the mouse over your photo, then click Update Profile Picture ➙ Remove
How to permanently delete Facebook account
Now it's time to take the final step and leave Facebook forever.
How to delete Facebook account:
Click Delete My Account

Enter your Facebook password and click Continue to confirm
And that's your Facebook account deleted. Well, it will be deleted in 14 days' time, as long as you do not log in again. Logging in will reactivate your account, so don't be tempted to take a peek.
As you can see, the complete deletion of your Facebook profile is quite a complicated process if you want to do it right. The same happens when you try to delete apps on your Mac — often you're left with software still installed and hidden in your drives. Luckily, there's an app called CleanMyMac X that will completely uninstall and move any unwanted apps files into the trash in one click.
How to remove apps using CleanMyMac X:
Open CleanMyMac X

From the menu bar on the left, choose Uninstaller

Starting with Unused, select any unwanted apps

Hit Uninstall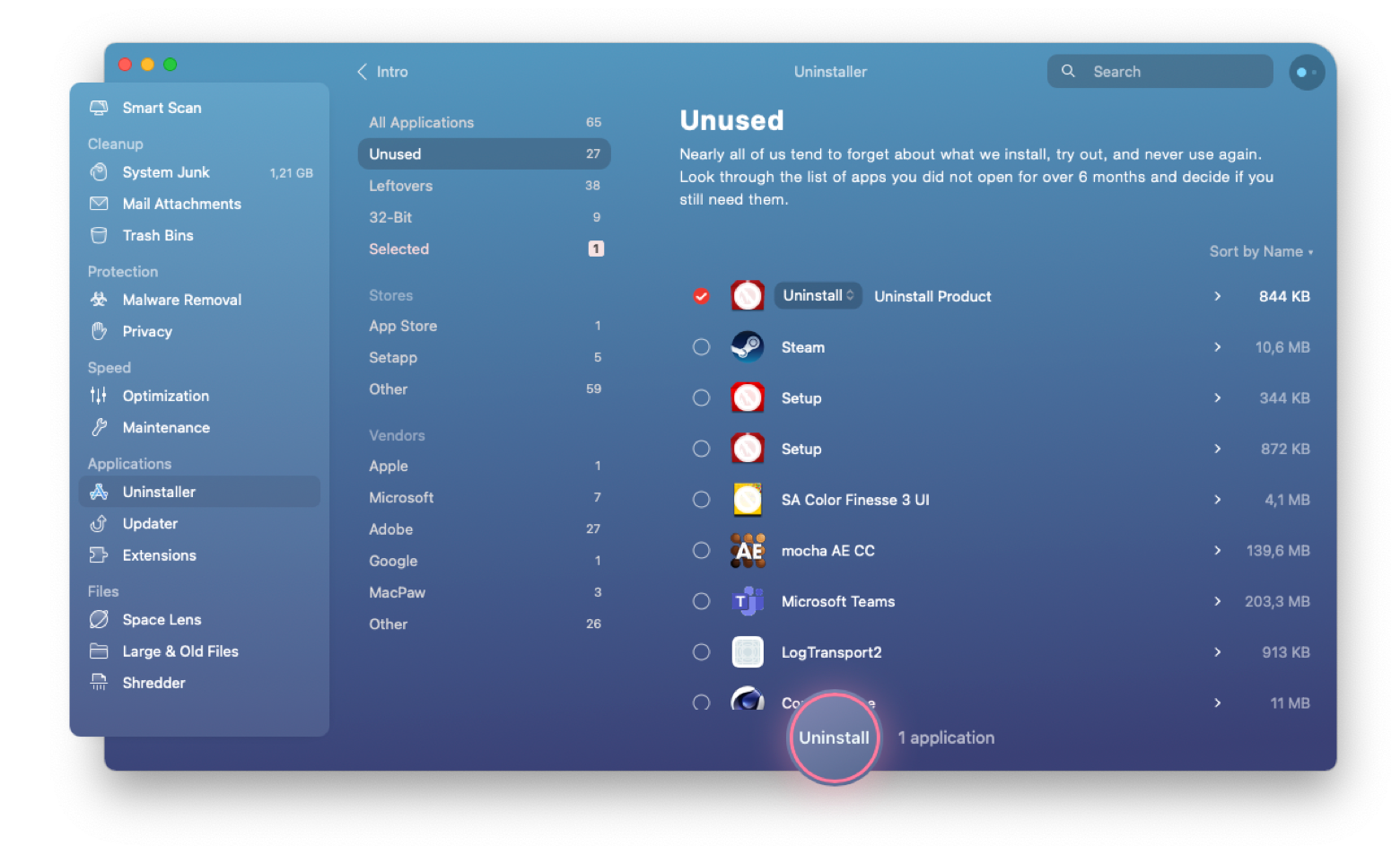 For a thorough cleanup of your Mac, go through All Applications. Turf up and uninstall apps you didn't know still existed on your computer.
Stay protected while you browse online
Keeping your Mac clean and ordered is a helpful way to keep on top of your privacy. When you browse online, you should be taking the same precautions. You may have heard of using VPNs to protect your IP address when you browse. If not, Shimo is an example of a robust VPN client that uses military-level data encryption to mask your computer's identity. You can set Shimo to automatically run in the background, so you don't have to think twice before going online.
To autostart Shimo every time you browse:
Open Shimo from your desktop Mac

Select the General tab

Ensure the checkbox Launch On Startup has been ticked

You're away!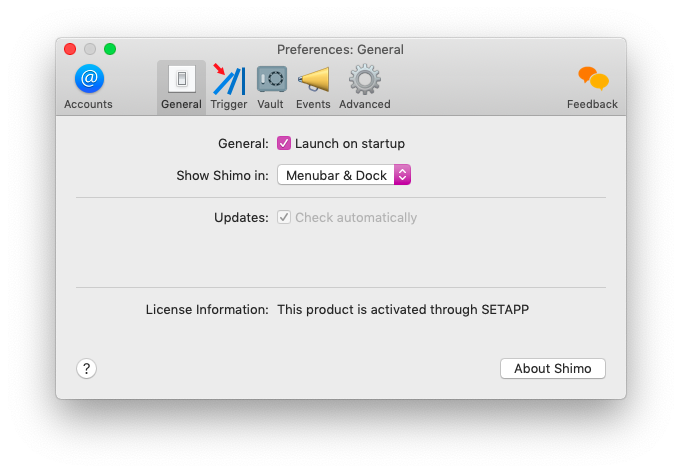 What's so amazing is that all the apps mentioned in this article: CleanMyMac X, Shimo, Disk Drill, and Get Backup Pro are available on Setapp, the app subscription service with over 150 apps to choose from. Setapp is free during a 7-day trial — so try it for yourself and discover all the ways it can help you keep your computer in order with ease.