How to post a GIF on Instagram
If you're using Slack at work, you already know how much everybody loves GIFs — short animated images that are most frequently used for reactions to something else being posted. Indeed, there seems to be a perfect GIF for everything.
Moreover, using GIFs is a fun and easy way to break up your content or even explain how to do something. If we say that a picture is worth a thousand words, then GIFs should be really invaluable.
GIF (graphical interchange format) was developed back in 1987 and is just another image format, like PNG or JPG, but that does support animation. Unlike videos, GIFs are also lightweight and perfect for sharing in messengers or on social media.
Instagram, in particular, would be a great place to share GIFs, since they are quickly digestible and tend to attract attention right away. Unfortunately, you can't just upload GIFs on Instagram from your camera roll like you'd do on Facebook or Twitter.
So can you post GIFs on Instagram? Yes and no. While Instagram GIF posting isn't directly supported, there are a few workarounds you can use, just like everywhere else — mostly by using third-party apps or turning your GIFs into short videos.
Let's see how to post a GIF on Instagram exactly and which apps you should use to do it.
How to upload GIFs to your Instagram feed
Finding the perfect GIF might seem difficult at first, but not when you use GIPHY. GIPHY is the largest collection of GIFs in the world, with a powerful engine to search for the exact GIF you need. Another benefit of GIPHY is its absolute integration with all the most popular apps in the world, including Instagram. In fact, sharing through GIPHY is the easiest way to upload GIFs on Instagram.
Here's how to do it on Mac
Visit giphy.com
Search for the GIF you like and open it
Pick Share from the menu
Select Instagram
Include your email and send yourself the results MP4 of your GIF
Download the MP4 on your Mac
Post the MP4 of the GIF to Instagram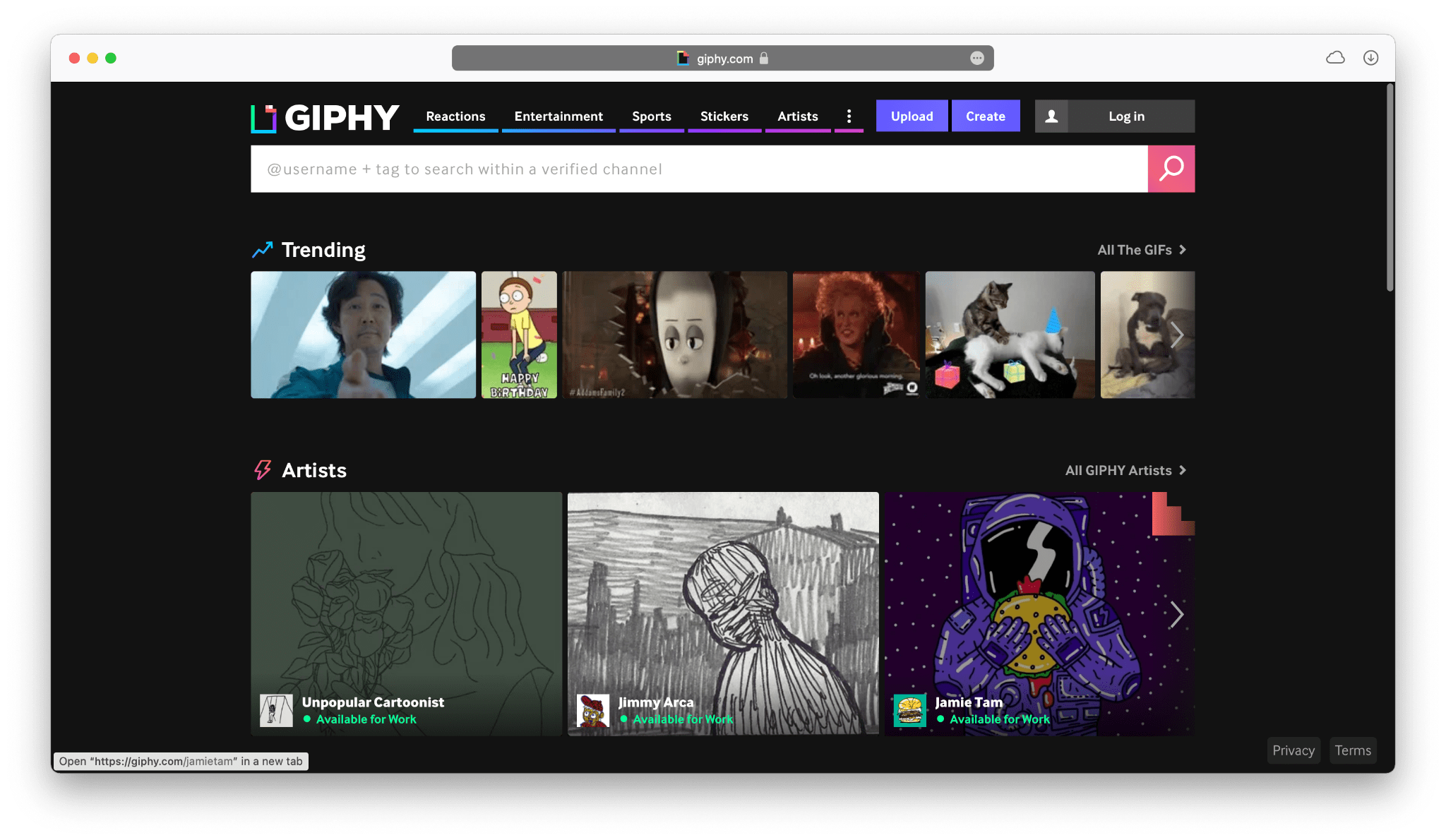 You might be wondering what's the best way to quickly upload GIFs on Instagram from your Mac? Use Grids!
Grids is one of the quickest and most straightforward ways to upload photos, videos, and even stories to Instagram using your Mac. This app is super fast and superior to the web version of Instagram you can access on Mac. Just upload your GIF in the best quality, edit on the spot, add all the necessary captions, and you're done!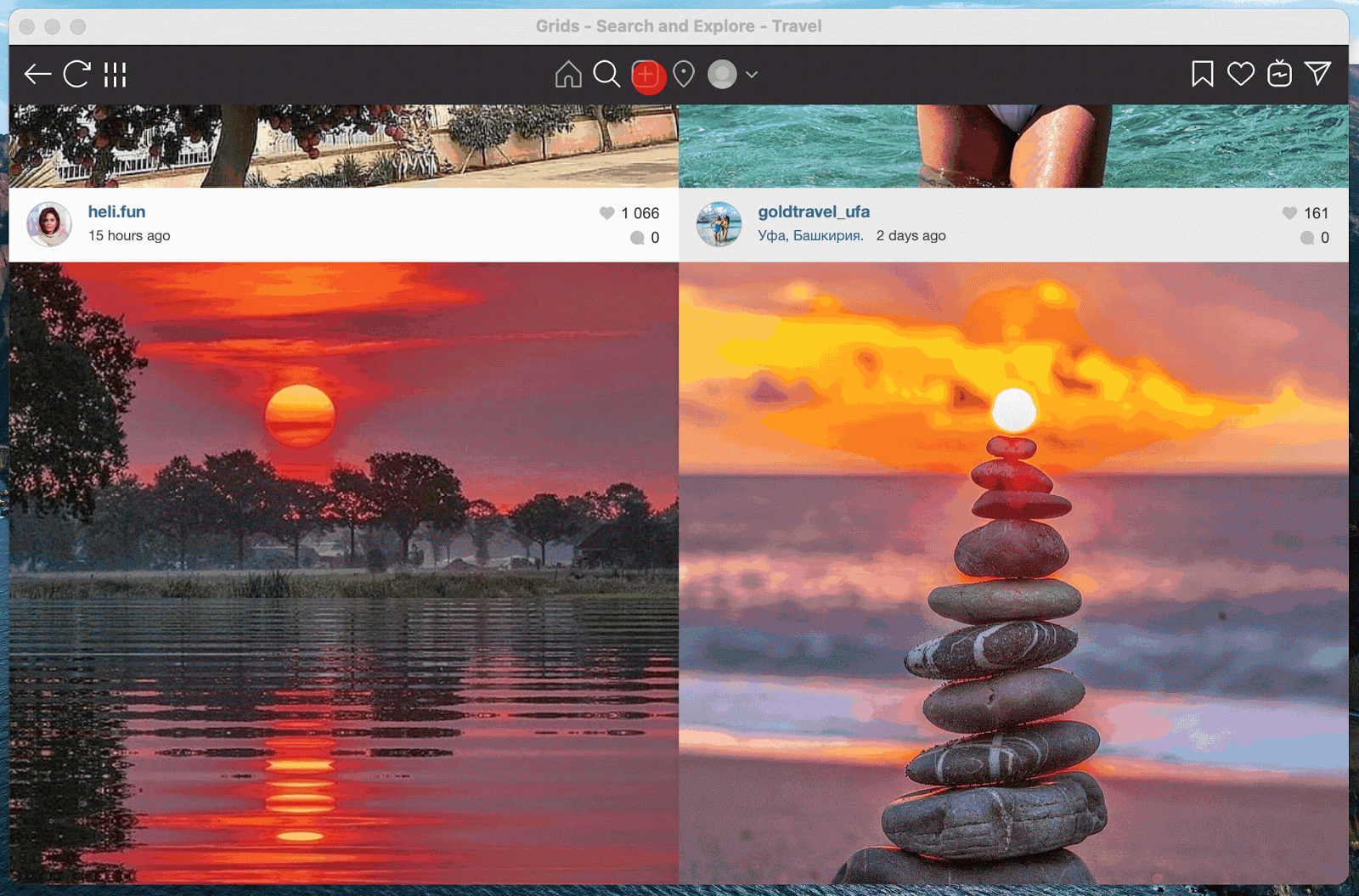 You can also use GIPHY for Instagram GIFs on your phone:

Download the GIPHY app
Find the GIF you like
Press the paper-plane icon next to the GIF to share it
Select Instagram
Choose Feed
Your GIF will be uploaded automatically.
How to post your own GIF to Instagram
Sometimes, what you're looking for in a GIF is not necessarily a funny reaction to something, but rather a useful piece of content, such as a walkthrough, a guide, a summary, etc. In this case, you might want to create your own GIF and then post it to Instagram.
The best and the fastest way to create GIFs on Mac is by using Gifox.
Gifox is a lightweight app that lives in your menu bar and extends the functionality of Mac's native screenshot-taking tool by adding GIFs to it. By default, you can either define a GIF-taking area or use an app window. Record your video as usual, and Gifox will automatically translate it into a GIF. Doing so with keyboard shortcuts takes mere seconds — Gifox is really good at adapting to your workflow.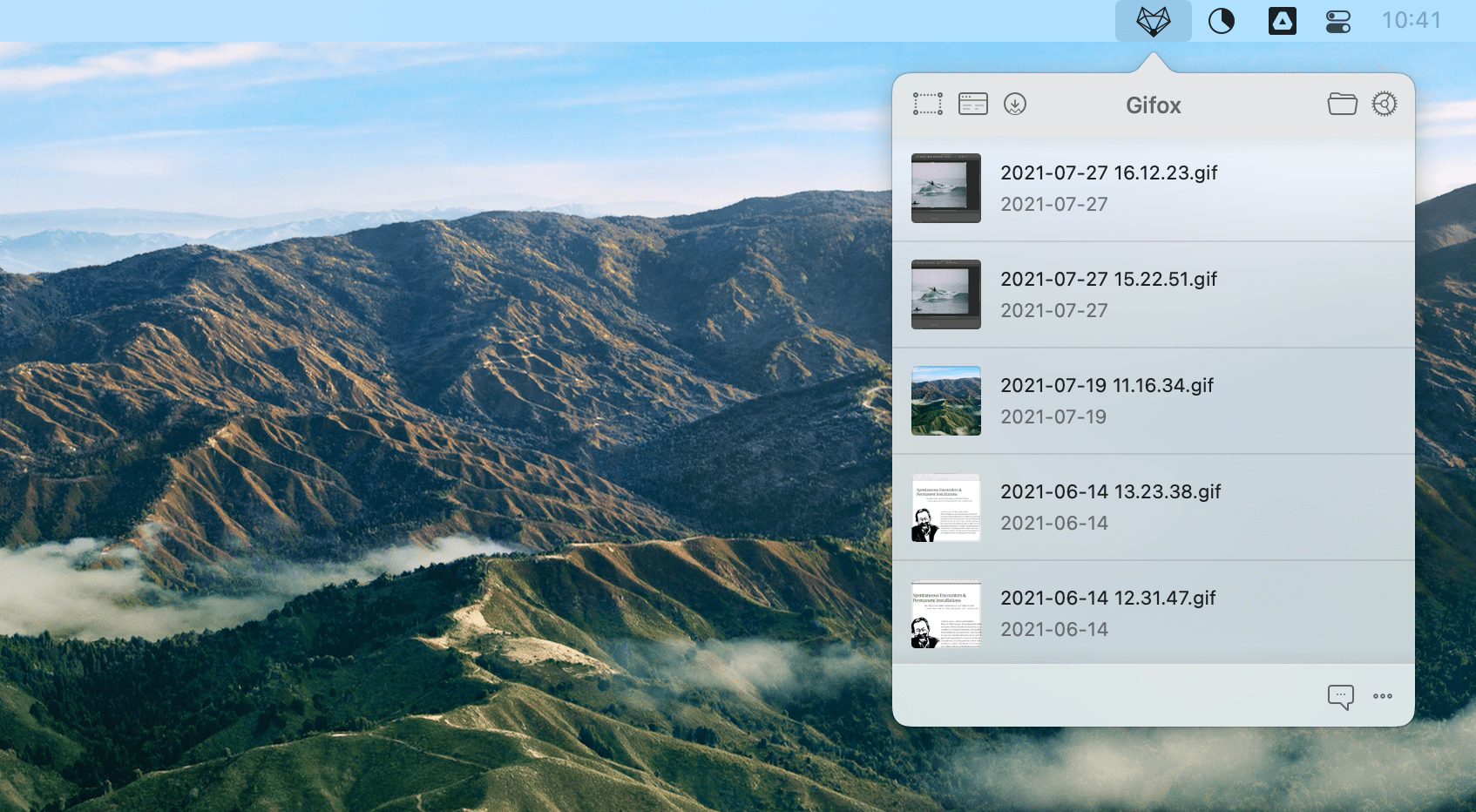 Once your GIF is ready, you can move on to the second step, which is converting your GIF into a short MP4 video. To do that, you need a fast and reliable media converter, such as Permute.
Permute is an essential app for your Mac, allowing you to convert any media format into any other, whether it's images, audio, video, photos, etc. What's more, the app is able to predict the likeliest conversions and preset them accordingly. It's really that simple.
To convert GIF into MP4 with Permute:
Launch Permute
Click the plus (+) icon at the bottom and find your GIF
Use the dropdown menu at the top to select MP4 format
Hit the play icon to run the conversion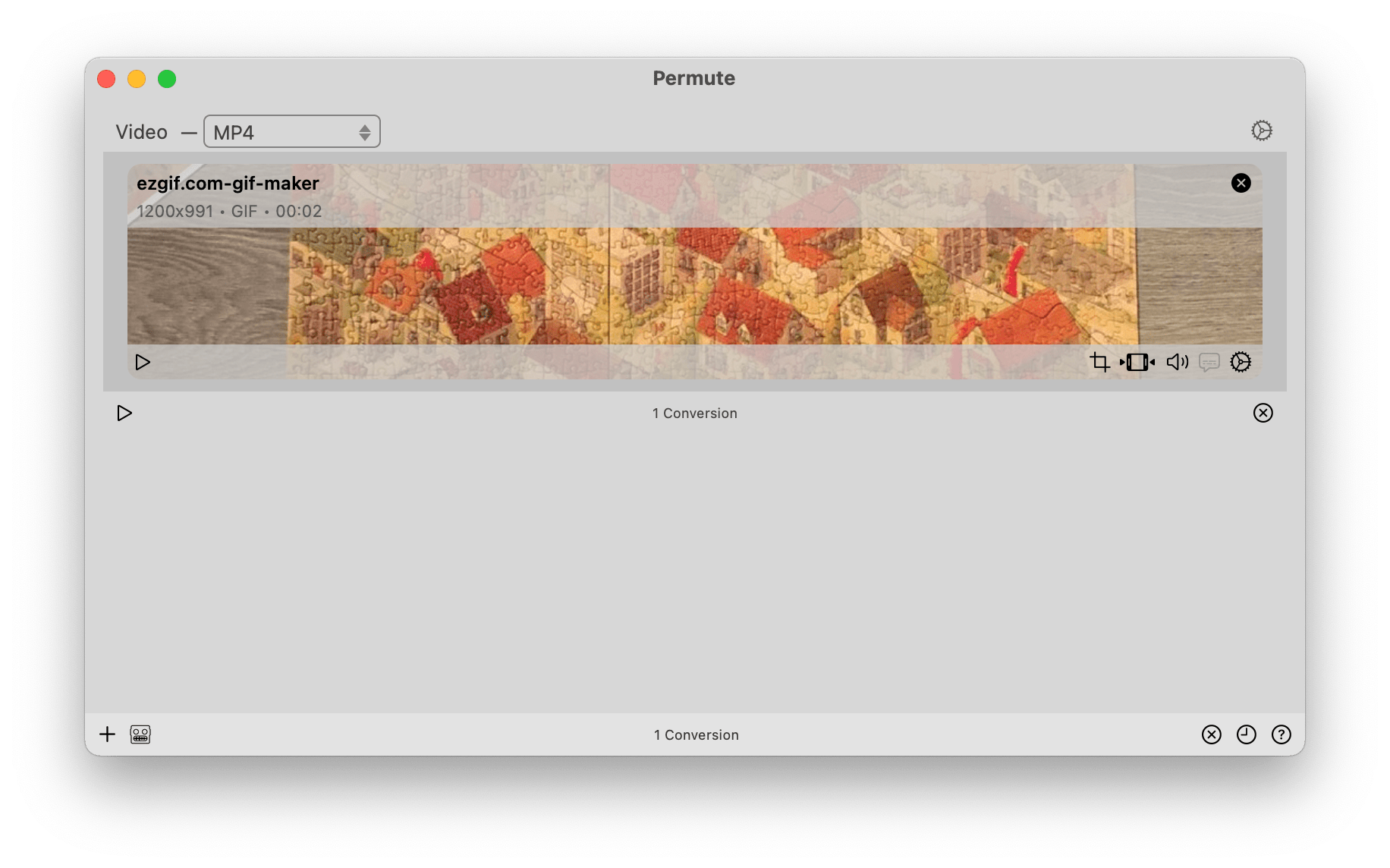 How to add GIFs on Instagram Stories
Now you know how to post Instagram GIFs to your feed. But is it possible to do the same Stories? Yes it is, and there are some other options here as well.
You can, for example, use Instagram's native Boomerang feature to create GIF-like short animations for your Stories. Boomerangs are really 10 photos stitched together that are sped up and played back and forth.
Here's how to do that:
Tap on the camera icon to start a new Story
Press the boomerang icon (looks like a symbol of infinity)
Film your Boomerang. Make sure there's some action going on!
Hit Your Stories to post your Boomerang
Alternatively, you can use GIPHY again to post premade GIFs to Stories, similar to the process described above:
Visit giphy.com
Find the GIF you like
Click Share ➙ Instagram
Email yourself the MP4 version of the GIF
Use Grids to post your GIF to Stories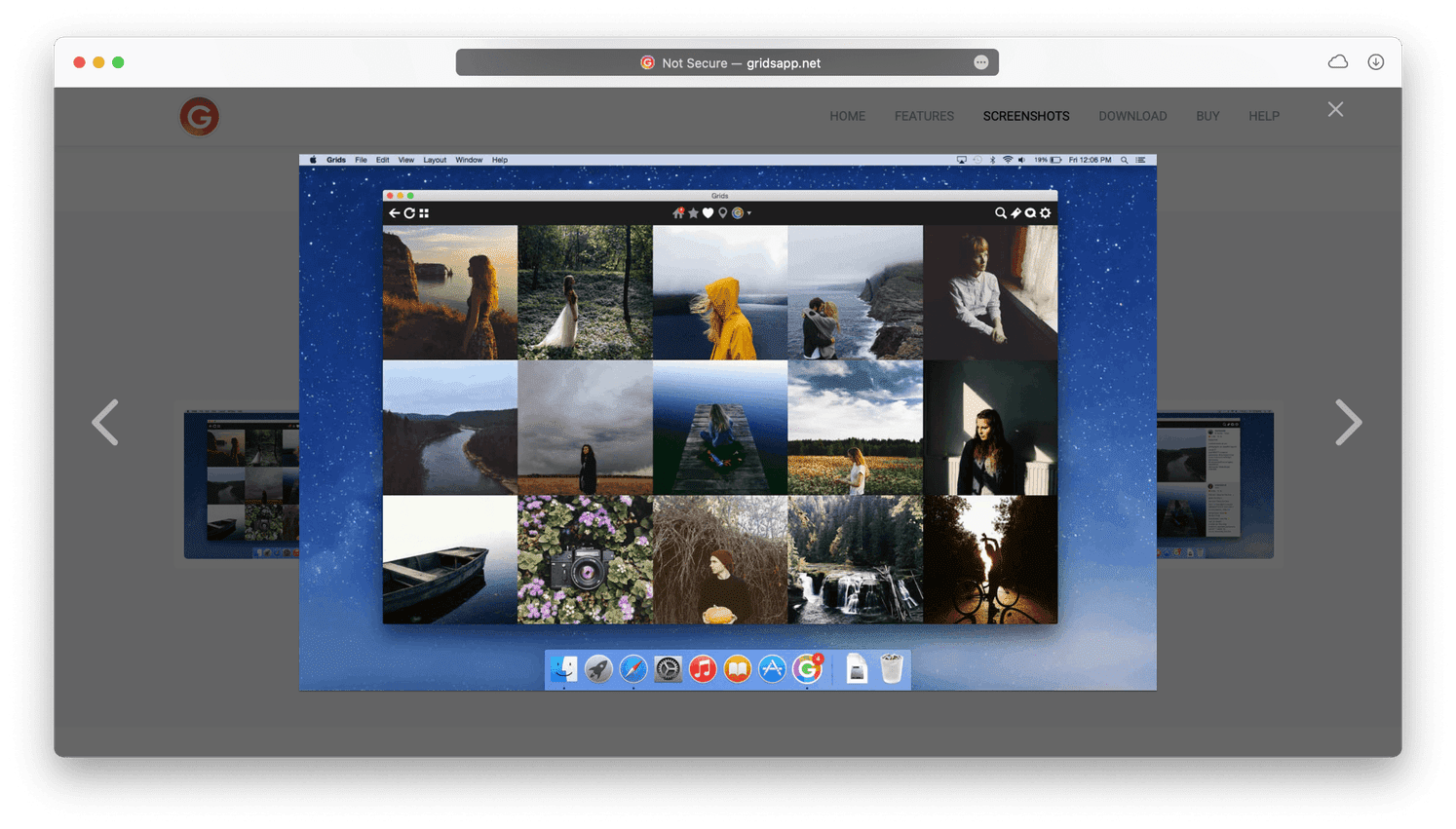 If you want to use a GIPHY app on your phone instead, it's just as simple as sharing a GIF to your feed:
Launch GIPHY
Look for the GIF you like
Tap the share icon
Pick Instagram
In the Instagram app, select Stories
Finally, there's one more option of how to post a GIF on Instagram Stories, and that's through animated stickers that are also sourced from GIPHY.
To do that:
Start creating an Instagram Story as usual
Press the sticker icon
Browse or search for a GIF you like
Choose a GIF you'd like to use
Change its size if needed
Tap Your Stories to post
How to upload GIFs to your Instagram DMs
If you can share Instagram GIFs with the world, why can't you send one privately in your DMs? Well, in fact, you can — by using the same sticker functionality from above:
Open your Instagram DMs
Find a conversation to send a GIF to
Press the plus (+) icon
Tap on the sticker icon
Find the perfect sticker through GIPHY
Tap on the sticker to send
What's great is that you can also do it on Mac, if you have IM+.
IM+ is just one of those apps that saves us hours a day by aggregating all the conversations and DMs from all social networks in one place. You can use Instagram, Slack, Telegram, Facebook Messenger, and more in a single app window. To keep yourself from being distracted, just set work and personal limits, so you don't get the notifications you don't expect. Now you can stay connected and send over messages and share files of any format with ease.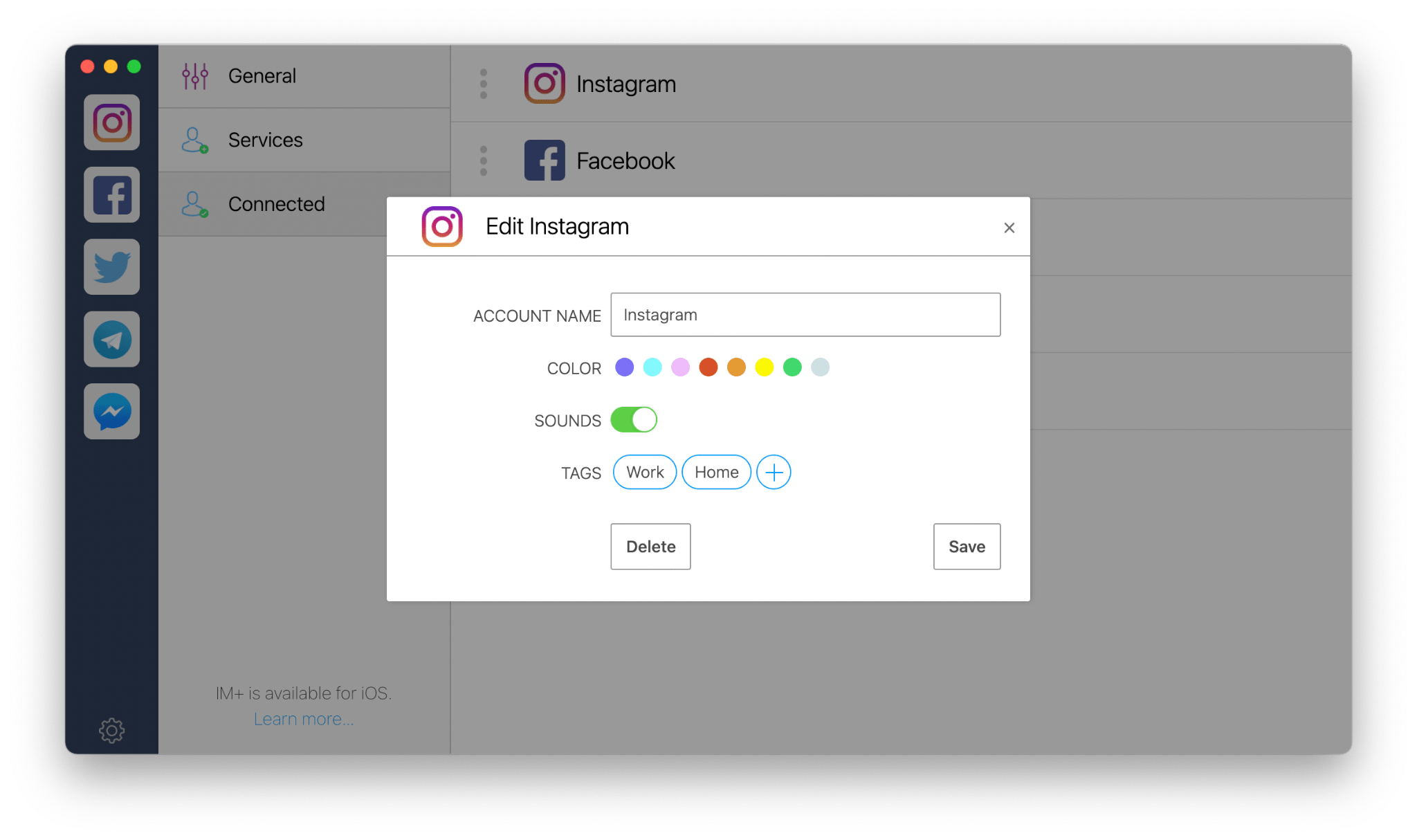 As you can see, you don't have to be boring on Instagram — GIFs make every conversation, post, and Story so much more fun. And sharing them doesn't take any extra time if you post with Grids, create them with Gifox, convert formats with Permute, and DM them with IM+.
Best of all, Grids, Gifox, Permute, and IM+ are available to you absolutely free for seven days through the trial of Setapp, a platform with more than 220 top-of-the-line Mac apps that make your daily workflow so much more productive. Try every Setapp app today at no cost and find your new daily favorites!