The top 5 best TikTok video downloaders
For companies and independent content creators alike, TikTok is serious business. It can help boost your brand, make you an influencer, or just entertain you and your friends.
But it's also hard work. You have to put in a lot of time and effort so that people notice your TikToks. This includes research, content planning, and content creation itself. Many people choose to work on their TikTok videos on a Mac, experimenting with different editing tools to make their videos stand out. It also really saves your time if you intend to share these videos to other platforms. This is why you need a reliable TikTok video download tool.

Here's what to look for in a TikTok video downloader:
Safe to use. First and foremost, make sure whatever you do with a TikTok downloader doesn't infringe any copyright rules. Also, choose dedicated Mac apps over random online downloaders — this will protect you from annoying ads and malware.
Built-in editing features. Macs are known for great video editing tools, from Apple's own QuickTime to third-party apps like CameraBag Pro. However, you'll be able to create content so much faster if your TikTok video downloader comes with editing features built-in.
Versatile file formats. Videos shot on different cameras will look different. To ensure consistency, get a TikTok downloader that can capture videos in different file formats and resolutions, up to 4K, and (ideally) comes with a built-in converter.
---
TikTok downloader essential features, at a glance
| | | | | | |
| --- | --- | --- | --- | --- | --- |
| Batch download | yes | no | yes | no | yes |
| Built-in search | no | no | yes | no | yes |
| Video converter | yes | no | no | no | yes |
| Download from other sites (YouTube, Vimeo, etc.) | yes | no | yes | no | yes |
| Ad-free | yes | no | yes | no | yes |
| Remove watermark | no | yes | no | yes | no |
| Extract audio from video | yes | yes | yes | yes | yes |
| Video crop | yes | no | no | no | no |
| 4K video support | yes | no | yes | no | yes |
---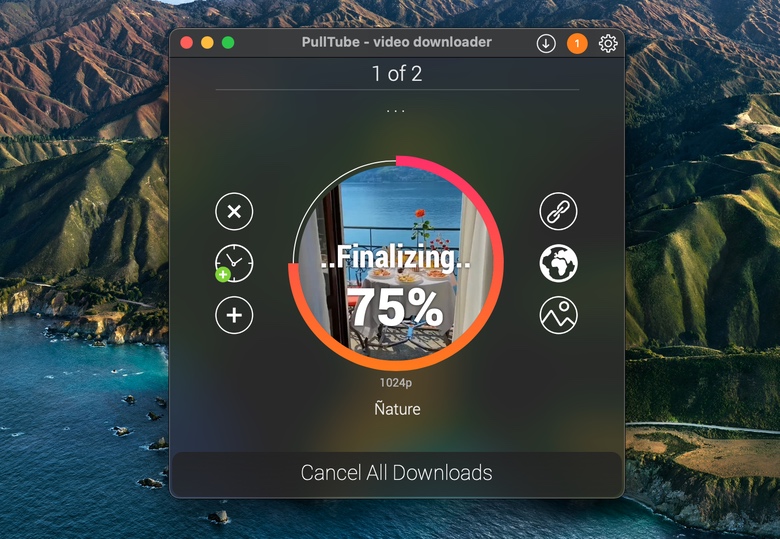 Pros
Convert to other formats. Save audio from your TikTok video or convert to other formats without leaving the app.
Download any TikTok video. Just copy the URL and paste it to Pulltube. The app supports 4K, 8K, HD, and a variety of other formats.
Trim your video. Adjust the length of your TikTok video right after downloading it. With Pulltube, you don't need any extra tools for editing.
Cons
No in-app preview. You can open the downloaded video in a browser, but you can't preview it in the app unless you want to trim it.
No watermark removal. Pulltube saves TikTok videos with the original watermarks.
---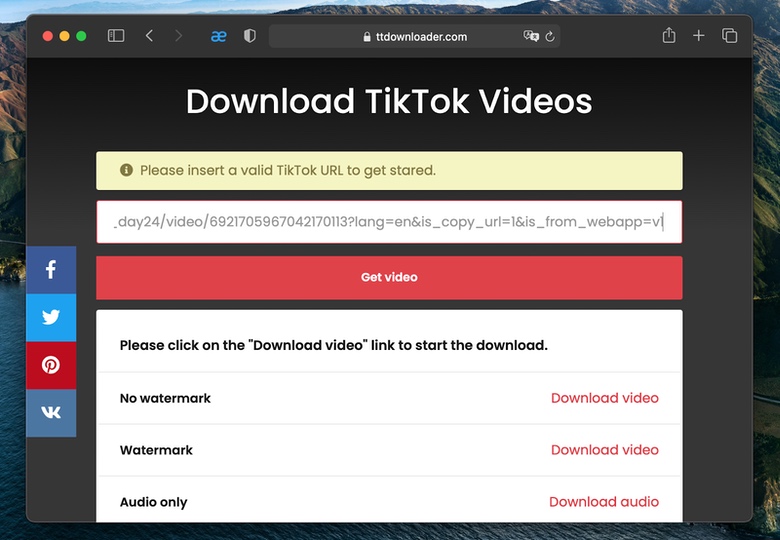 Pros
Download videos from TikTok without a watermark. Before downloading a video, you can choose to remove the watermark or save audio only.
Free access. TTDownloader is available for free in Safari.
Cons
TikTok only. If you're looking for a universal tool that can help you download and share videos across different platforms, TTDownloader is not a good choice.
Doesn't work in Chrome. We've tested TTDownloader a few times and didn't manage to get it to work in Chrome, so we recommend you use Safari for the job.
Security concerns. The risk with free online downloaders is that they might be packed with malicious files and ads.
---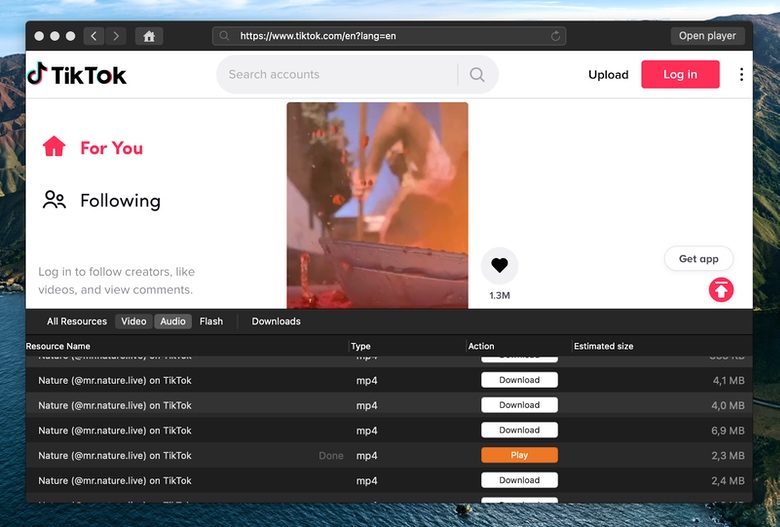 Pros
Mirrors web browser. You can search for videos in the Elmedia desktop app — it mirrors your web browser so you don't have to switch between windows.
Quick and personalized. As soon as you play a TikTok video or a playlist, Elmedia will offer to download it in the selected quality.
A great alternative to your media player. Elmedia can play virtually all known audio and video formats, from MP4 to MKV to MOV to SWF.
Cons
Automatic download. Although we love this feature because it speeds things up, sometimes you could accidentally save a video you don't need.
Limited device support. Elmedia Player doesn't work with some old Macs.
---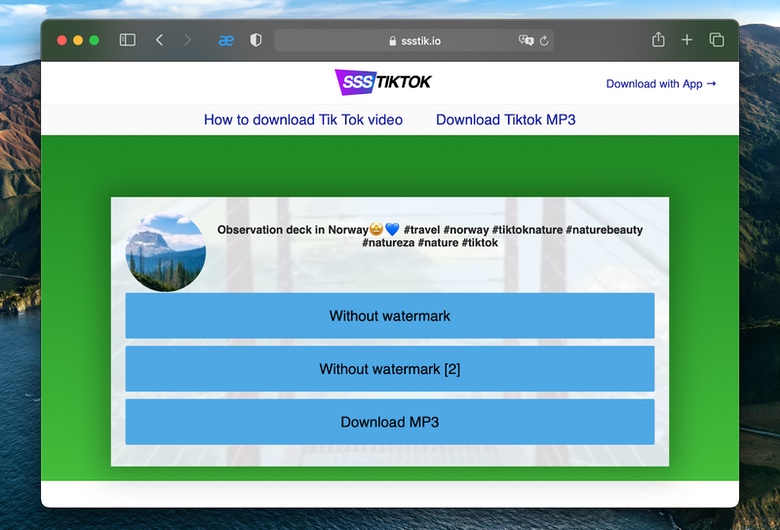 Pros
Download videos from TikTok without a watermark. You can choose to remove a TikTok watermark from your video.
It's free. You can download TikTok videos for free through Safari.
Cons
TikTok only. sssTikTok works only with TikTok and only in Safari. Unlike other video downloaders, you can't use it to save content from YouTube, Vimeo, etc.
Security concerns. Free online downloaders might use shady ads and malware to monetize the service.
Poor quality. You can't choose video resolution or tweak file format with sssTikTok. In most cases, the videos you download are of poor quality (limited to HD).
---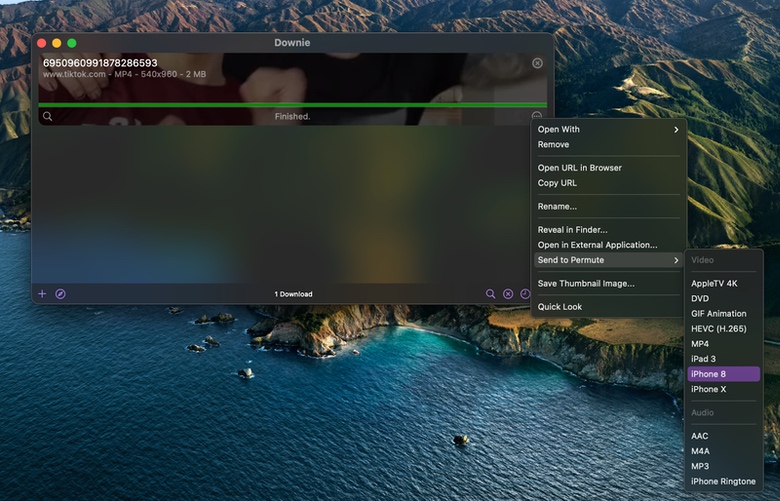 Pros
4K video support. Downie can download TikTok videos in excellent quality, up to 4K.
1000+ different sites. Apart from TikTok, you can use Downie to search for and download videos from websites like YouTube, Vimeo, Facebook, and more.
Post-processing. You can extract an audio track or convert your video to other formats by device (for Apple TV 4K, iPad 3, iPhone 8, etc.)
Cons
No video preview. You can't open a TikTok video in Downie after downloading it.
Requires Permute to convert video. If you use Downie outside Setapp, you'll have to additionally install Permute to be able to convert video.
---
Conclusion
TikTok video download tools help you have better control over your content, edit and share TikTok videos faster, and maintain your personal TikTok collection in one place. The choice of TikTok downloaders is huge, but the best deal you can get is Setapp, a subscription service for Mac and iOS, granting you access to Downie, Elmedia Player, Pulltube, and other reliable media downloaders. Give it a try for 7 days free, then $9.99 per month.