Twitter is a treasure trove of fun and unique GIFs, and you've probably wondered how to save them for later. Unfortunately, this social media platform doesn't let you download GIFs or videos natively, but it's still possible.
Read on to find out how to download GIFs from Twitter on a Mac.
Why does Twitter not let you download GIFs?
If you want to share GIFs with other Twitter users, the app's Tweet GIF feature allows you to do that. However, downloading these GIFs from the platform will be a little trickier.
Twitter wants to keep people on its platform to make money from ads and engagement. Allowing easy media downloads could cause people to leave the platform, which would be counter to Twitter's goals.
What are the different methods for downloading GIFs from Twitter?
To save GIFs, you generally need to use a Twitter GIF downloader, which can be a website or a standalone app. Let's explore a few options.
Download Twitter GIFs with an app
First, we will show you the method we use to save GIFs from Twitter. To start, you'll need to download and install Downie and Permute. The first tool is a Mac utility for downloading videos from any online source, including Twitter. The second tool is a reliable converter that converts anything to anything (almost). After you do that, follow the instructions below:
Open Downie and go to its Settings.
In the left panel, click Postprocessing.
You'll need to set Postprocessing to Send to Permute; and Permute's Preset to GIF Animation.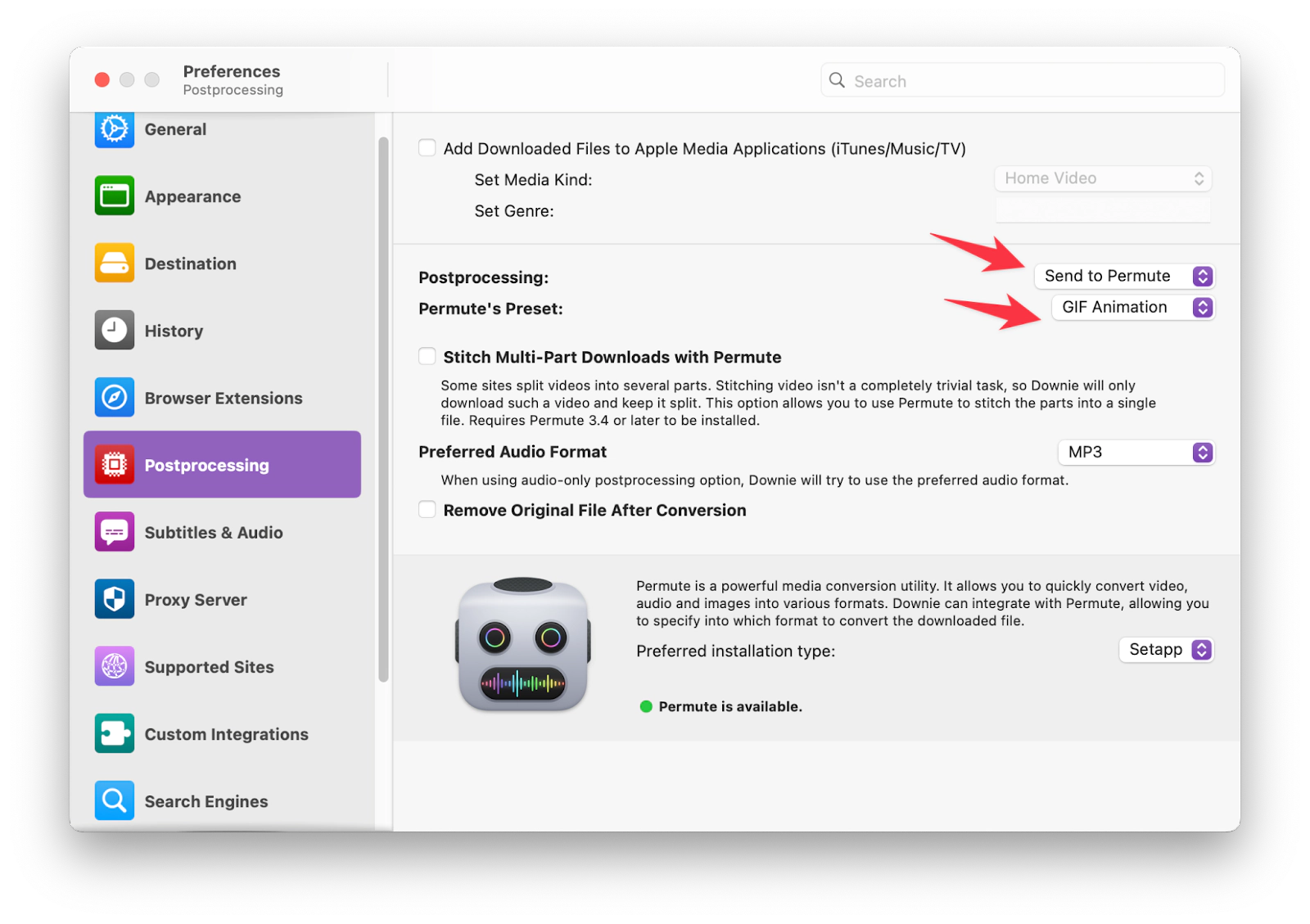 Close the settings window.
Then, find a GIF you like on Twitter.
Copy a link to the GIF via the share icon (share icon > Copy link).
Open Downie and just paste the link into the app.
The download will start automatically and be saved in your downloads folder.
That's how you download GIF from Twitter with the help of Setapp apps (Downie and Permute).
What is Setapp? Basically, it's a subscription service that offers an extensive selection of apps for your Mac, iPhone, and iPad, many of which fall under the categories of productivity, task management, maintenance, and creativity. Essentially, you get an all-access pass to over 240 apps when you become a Setapp subscriber.
With Setapp, you'll save a lot of money because most of the apps would cost more individually than a monthly subscription. It's $9.99 per month. Before you commit to a paid subscription, you can start with a seven-day free trial to understand the platform and see if it's right for you.
Download Twitter GIF using an online downloader
Alternatively, you can save Twitter GIFs through a dedicated website. Here's how:
Find a GIF you want to save on Twitter.
Click on the share icon and choose Copy link.
Visit the Twitter GIF download website.
Paste the tweet link into the field.
Click download.
The service will download the Twitter GIF (often in MP4 format) to the Downloads folder on your Mac.
You will notice that online Twitter video downloaders are usually free, but they bombard you with low-quality banners and start opening new tabs full of adware-like content. Please make sure that you do not click on anything there and simply close all tabs when the download is finished.
Download Twitter GIF in MP4
Downloading GIFs as MP4 files from Twitter is another popular choice among users.
To download Twitter GIFs in MP4, try Pulltube, which is also available on Setapp.
Pulltube is a video downloader that allows you to easily download videos and convert them into different formats. The app supports various video hosting platforms, such as Twitter, YouTube, Dailymotion, Instagram, and many more.
Here's how to save Twitter GIFs with Pulltube:
Download and install Pulltube.
Then, find a GIF you like on Twitter.
Copy a link to the GIF via the share icon (share icon > Copy link).
Open Pulltube and just paste the link into the app. It will display a preview of the GIF.
Click the Download video button to start the download.
Tip: The internet is full of GIFs. Maybe you've always wanted to make your own but didn't know how. Try Gifox. It will let you make GIFs out of a screen area or window. Just a few clicks, and you have a new GIF that you have created yourself!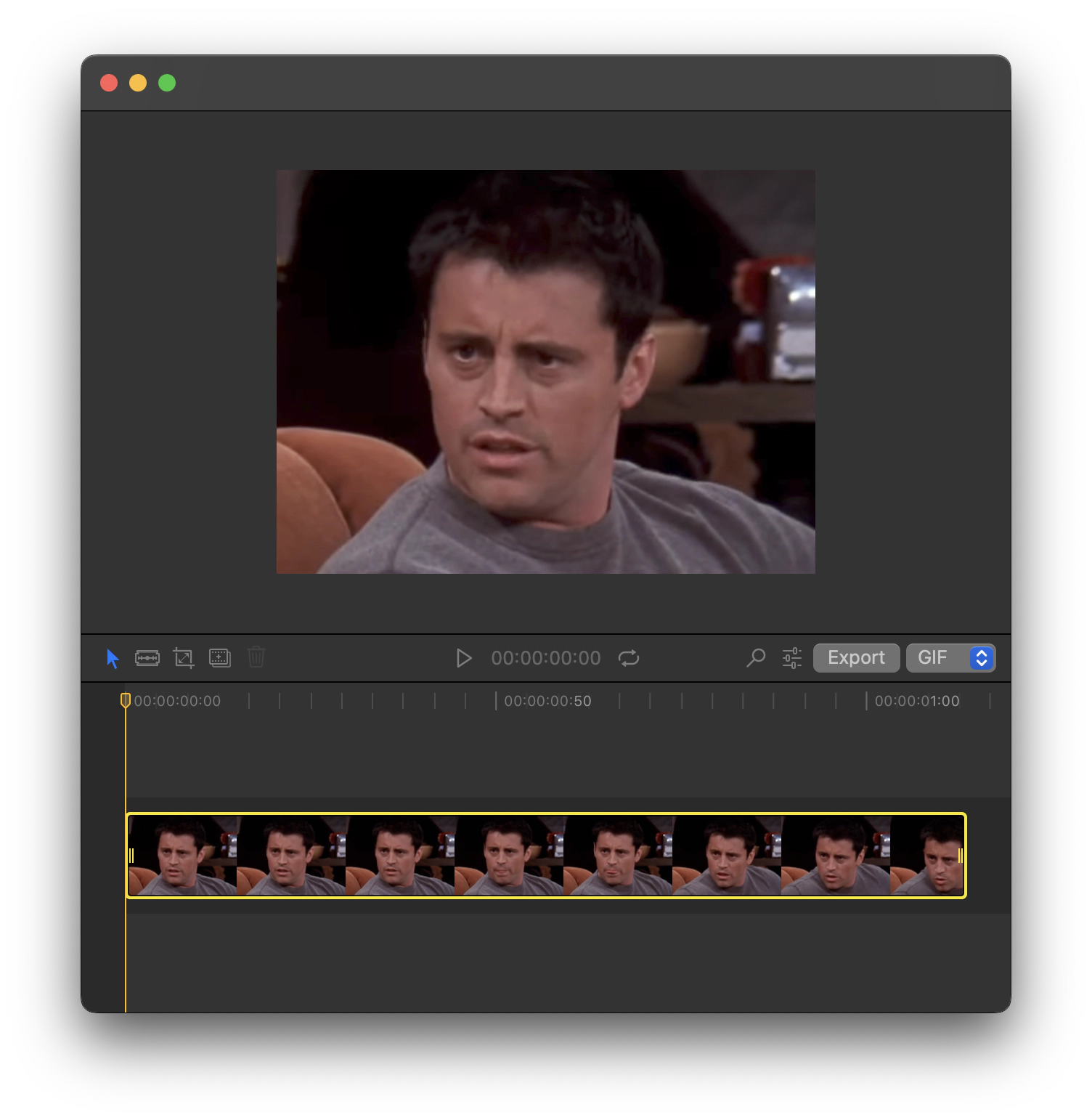 Download Twitter GIFs and tackle almost any task on your Mac
As you might expect, you're bound to see a million cool GIFs on the Twitter platform. Unfortunately, getting those GIFs on your Mac is more difficult than it should be. Right-clicking on the file will give you the option to copy the GIF URL, but that's it.
Thanks to this article, you know more about some Twitter GIF download tools and can try them at no cost on Setapp, a platform that hosts 240+ handpicked apps for nearly every digital situation, from speeding up your Mac to PDF editing. Try all of them by simply going to the Setapp website. Start saving your favorite Twitter GIFs today and explore the many other useful apps Setapp has to offer.