How To Create And Manage App Specific Passwords
A good reason you might be reading this could be because you've seen the phrase "Please sign in with an app-specific password" flash up and stop you in your tracks. Despite trying to enter what you thought was your Apple password, or even your iCloud password, you've realized that neither are letting you through.
You might think, "oh no, not another password to set up and memorize!" But before you steam ahead and set up that same old password you use for x amount of accounts, realize that this isn't like a regular password. An Apple app specific password is something completely different.
Here's a guide to clarify everything you needed to know about app specific passwords, help you practice better password hygiene, and show you a little secret for remembering them all.
Why Do You Need App Specific Passwords?
Apps that ask you for an app specific password are the ones that make changes to your iCloud and iCloud-managed apps. Some examples include Contacts, Calendar, or Mail.
Note that the apps synced to your iCloud contain a lot of personal information. So while third-party apps you download might need access to some of it to do their job — rather than giving third parties your Apple password containing your account information on a silver plate — Apple has put in measures to make sure that those apps can only access what's relevant to fulfilling their purpose.
One way to understand it is to think of your Apple ID as a username, not only is it unique to you but it hides your actual name, which helps prevent identity theft. You can use your Apple ID and iCloud password to sign into iCloud and manage and configure your Apple account.
Whether you call it an Apple app specific password, an iCloud app specific password, or just a general app specific password, using one guarantees a high level of security that ensures your Apple ID password won't be collected or stored by the third-party apps.
Enable two-factor authentication
Before you start setting up app specific passwords left, right, and center, you should know about another one of Apple's security features. Two-factor authentication is an important concept because you need it to be set up correctly to start generating app specific passwords.
Two-factor authentication is used by Apple to make sure that the person logging into the Apple account is using its trusted device. Your Mac, iPhone, or iPad are automatically registered as trusted when you purchase them.
If you have not already set up two-factor authentication on Mac or wish to double-check that it's turned on:
Launch System Preferences from your Dock

Open iCloud ➙ Account Details ➙ Security

Click to Turn On Two-Factor Authentication
Sometimes though, you might have problems logging into your iCloud or Apple ID in the Step 2. Fear not, below is a handy walkthrough of how to tinker with your Apple password.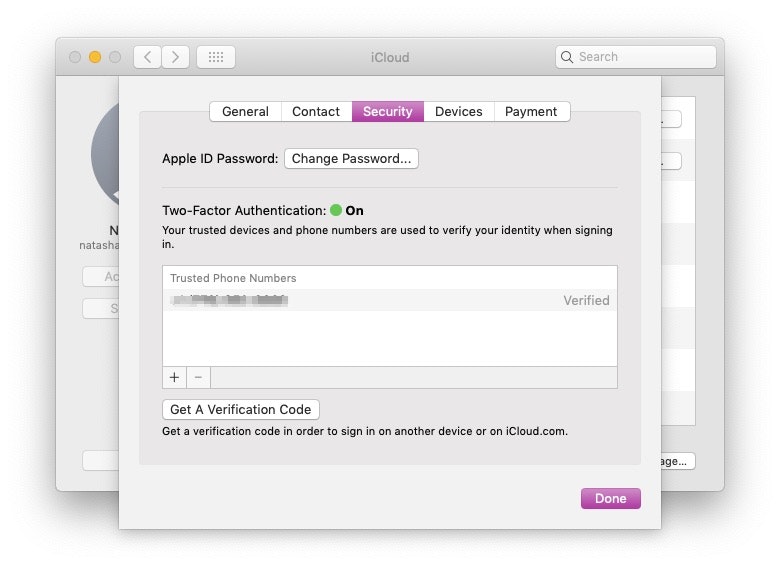 Perform an iCloud password change
Let's take a step back for a moment. If the mere process of signing into iCloud got you in a pickle because you're thinking, "What is my iCloud password?" — you should follow the instructions below to do an iCloud password change.
Here's how to change password Apple ID and Apple account:
Go to iCloud in System Preferences ➙ Account Details

Click Forgot Apple ID Or Password and follow the on-screen instructions

Click Security ➙ Reset Password. Before you can reset your Apple password, you'll be required to enter the password used to unlock your Mac.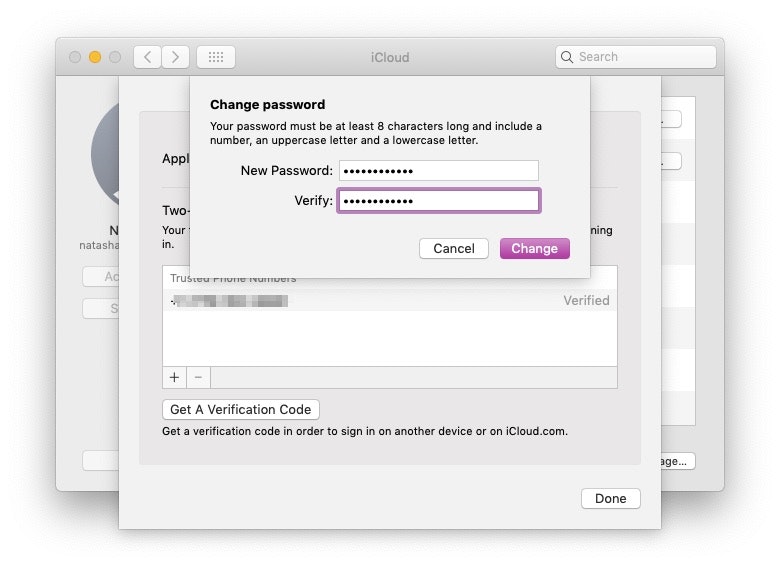 How to generate an app specific password
Secure passwords require complex combinations of upper and lower case letters, numbers, and often symbols. For example, 7rs7#uf121U&F|9qw. Luckily, when it comes to app specific passwords you don't have to come up with all the digits as Apple chooses them for you.
To create an Apple app specific password:
Go to appleid.apple.com

Sign in and authenticate your login

Hit Generate Password under the Security heading

Ta-da! It's as easy as that.
Now you've got all the bits and bobs to get you going, your app specific password, iCloud login, and two-factor authentication.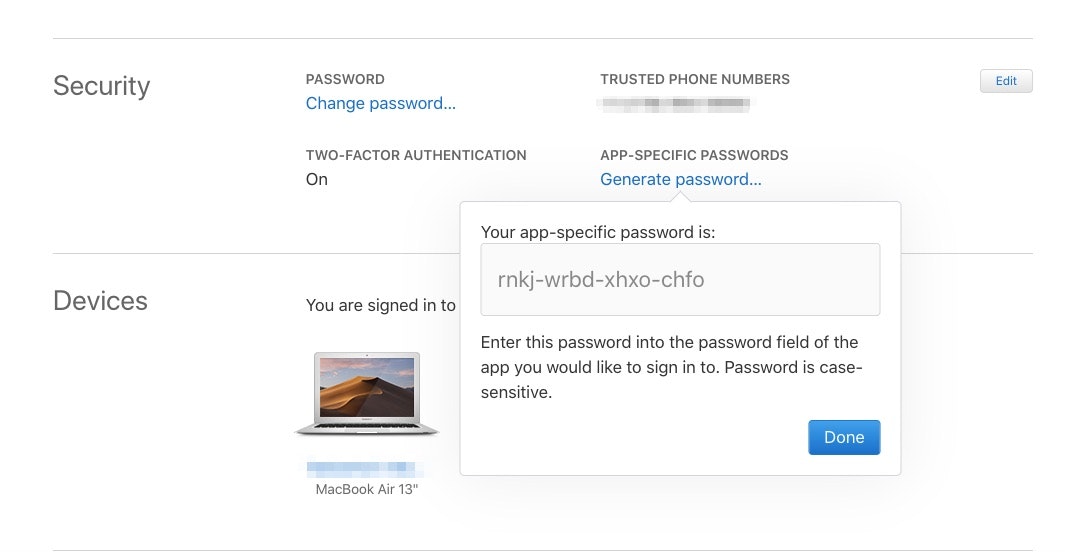 Note that Apple will show you the area of where the login request is coming from, it's very imprecise as it can span the size of an entire capital city. So, a top tip is to check the time of the login, if it matches your time then you're in the clear.
How to review and revoke app specific passwords
You can store on iCloud app specific passwords as well as being able to review and revoke them.
For example, if an app you were using just had a data breach, what do you do? As ever, careful Apple has an ejector-seat. By setting up a revoke all option you can quickly prevent third-parties from accessing your information.
At any given time, you can have up to 25 active app specific passwords. If you need to, you can revoke passwords individually or all at once.
To view your app specific password iCloud stores:
Sign in to your Apple ID account page

Go to the Security ➙ Edit ➙ View History

Click the x next to a password you want to delete, or Revoke All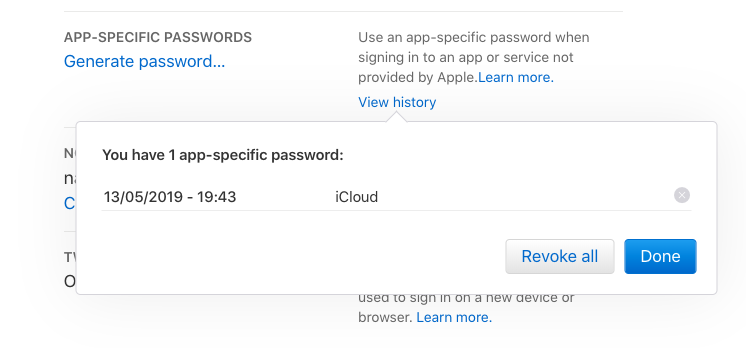 After you revoke a password, you'll be signed out of the account you have with the third-party app.
Any time you change or reset your primary Apple ID password, all of your app specific passwords will be revoked automatically, protecting the security of your account. You'll need to generate new app specific passwords for any apps you want to continue using.
Store your passwords in a safe place
It's important to note that storing your passwords somewhere safe so you can easily access them does not mean emailing them to yourself, saving them in a document called Passwords, or writing them on a post-it note.
A safe option is to use a robust password app. Secrets, for example, is a digital safe where you can easily and securely store all your passwords, credit card numbers, bank details, and confidential information.
Being able to have all of your credentials in one place makes the login process simpler than ever. And as Secrets is available for both Mac and iOS, it means you can have your passwords on hand when you're on the go too.
To store your Apple ID app specific passwords on Secrets:
Open Secrets from the Launchpad and enter your passphrase

Hit the plus button ➙ New Login

Customize the username, such as "Apple ID" and enter your password

Click Save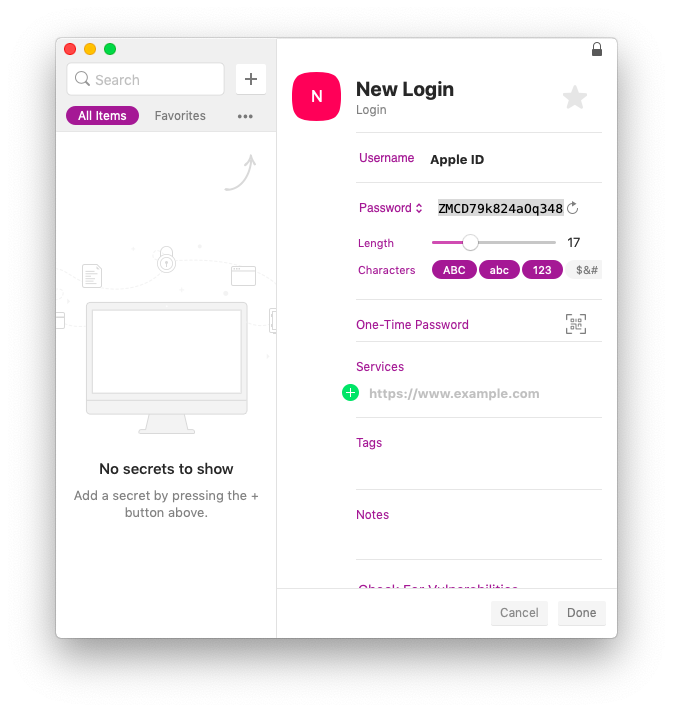 Not only can you use Secrets to store and manage your app specific passwords overall, but in just one click Secrets can generate complex passwords you can use for your Apple app specific passwords in particular. If it's your first time using Secrets, make sure you complete the setup process, which is designed to be easy to follow.
Both Secrets and Apple have got great systems in place that help you make digital protection easier while you go about your life. Now you have somewhere to store all your login info and you can freely use a plethora of apps out there. So why not start browsing?
If you love to discover apps, or just looking for something specific, Setapp is a fantastic tool to have on your Mac. It's essentially an app platform that gives you access to over 150 Mac apps that do all types of tasks. From productivity to creativity, Setapp has trusted tools that will improve your Mac life.
The best part of this is that Secrets and all the other Setapp apps are available to you free during the seven-day trial. Enjoy and stay safe out there!