How to Map Cloud Storage as a Local Drive
There's an abundance of cloud drives — Google Drive, Microsoft OneDrive, Dropbox, Amazon S3. Many of us use a few of these cloud storage services to help us safely store important video files, documents, photos, and more in the cloud. Cloud storage allows us to do things like create backups of important information or share files between colleagues at work. The affordability and accessibility of cloud storage makes it a popular choice for sharing and collaborating with others.
Cloud storage services get even better when you can mount them as local drives and thus extend the storage on your computer. Having cloud storage is like having a remote disk for Mac. Since firing your web browser or specific storage service app every time you want to upload or download a stored file can be time-consuming, you can save yourself many hours and stay organized when accessing your cloud-stored files with a locally accessible cloud network drive.
How to mount cloud storages and web servers locally
To connect your cloud storage apps to your computer as a local drive, you'll need an app that can mount cloud drives as disks on your Mac. The CloudMounter app is a good choice, which will allow you to work with files stored online in the same manner as the local files on your computer.
Although your remote drives can be mounted manually, CloudMounter makes it easier to do things like move files between the cloud storage apps without needing to manually copy the files to your computer first. CloudMounter also keeps your files safe. Even if someone gains access to your account, your cloud files will stay secure with CloudMounter's AES-256 encryption. Finally, CloudMounter also allows you to set up SSH File Transfer Protocol (SFTP) to mount remote SFTP drives.
How to add Google Drive to Finder
You can add Google Drive to Finder by default by going into your Applications folder and launching Google Drive. You will need to enter your login details for your Google account to sign in. For more functionality, connect your FTP Google Drive account to your local drive with CloudMounter to have better access to your documents, spreadsheets, and presentations. Once you link your account on your computer, you'll be able to open or move files directly from Mac's Finder as if they were a part of your local drive.
Open the CloudMounter app by clicking on New Drive
Click on the Google Drive link in the Connections window
Enter your Google Drive login details
Click Mount
You'll see your Google Drive appear in your Finder along with your computer's hard drive
Click on the Google Drive folder to see all the files from your Google Drive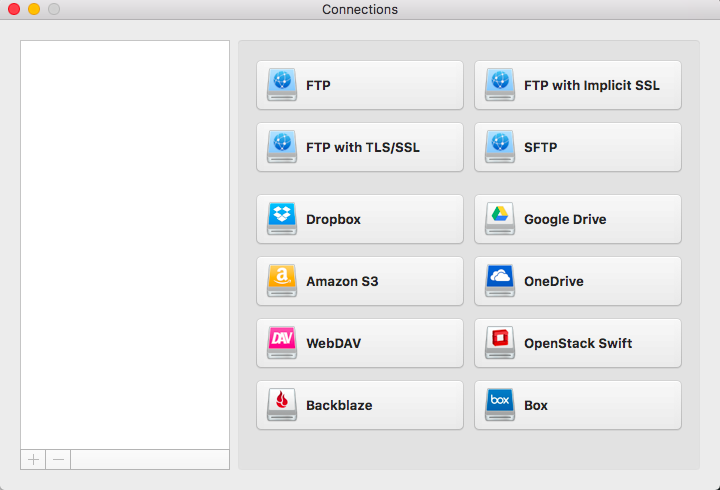 To open a file from your Google Drive in your Finder, use the drop-down menu to click View on google.drive.com to have the file open on your browser.
How to add Dropbox to Finder
By connecting your Dropbox account to Finder with CloudMounter, you'll have your Dropbox files within reach from your local computer drive in case you want to open, move, share, delete, or make any other file manipulations. Once you set up your Dropbox account with CloudMounter, you'll be able to link multiple Dropbox accounts and you won't need to have dropbox.app installed on your computer.
Open the CloudMounter app by clicking on New Drive
Click on the Dropbox link in the pop up window
Enter your Dropbox account log in details
Click Mount
You'll see your Dropbox file appear in the Finder
Click on the Dropbox folder to see all the files in your Dropbox account
To share a file or directory from your Dropbox, click on Copy Dropbox Link
How to mount Amazon Cloud Drive on a Mac
You can manage and access files from your Amazon Cloud Drive within your computer's Finder using the CloudMounter app. Once connected, you'll be able to easily share a file in your Amazon Cloud Drive by copying the HTTP or Torrent link directly from the Finder. It's also possible to make any Amazon Cloud bucket private or public from the Finder menu.
In a new connection box, click on Amazon S3
Enter a connection name of your choosing
Enter the Access Key and Secret Key
Add your Server endpoint
Add a bucket name or use / to indicate a root directory
Click Mount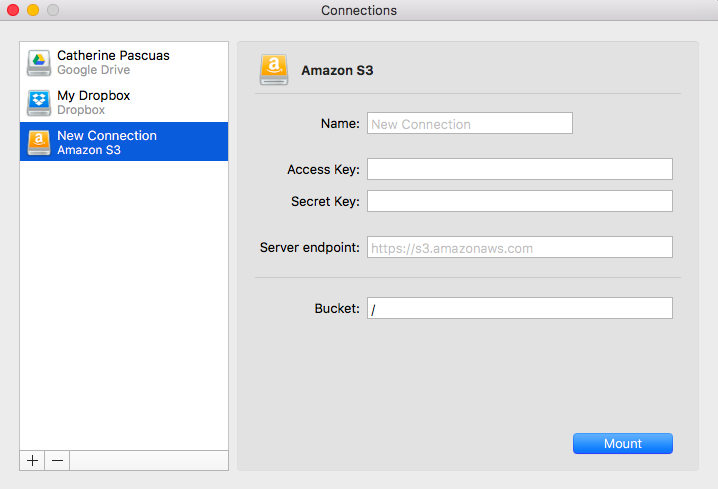 How to add iCloud Drive to Finder
To find files that you've downloaded or uploaded using Apple's cloud storage system, you can access your iCloud Drive from a browser window or directly on the Finder. You don't need an external app to find your iCloud Drive on your Mac — it should already be built-in to your finder.
Open the Finder on your Mac
Locate your iCloud Drive icon on the sidebar

How to manage your files more effectively
Forklift is one of the most advanced file manager apps that can help you manage your files more effectively. Once you connect your external cloud storage solutions to your local drive, you can use this robust file manager to help sort and access your files. Here's how you can professionally manage your files using Forklift:
Access and manage files quickly and remotely by connecting to SFTP, FTP, Amazon S3, Google Drive across networks
The Forklift Mini on your menu bar allows you to mount and upload files even if Forklift isn't running
Find and synchronize new, duplicate, or modified files
Play audio and video files or look at previews of images and PDFs on local and remote drives within the Forklift app
Rename a large number of files at the same time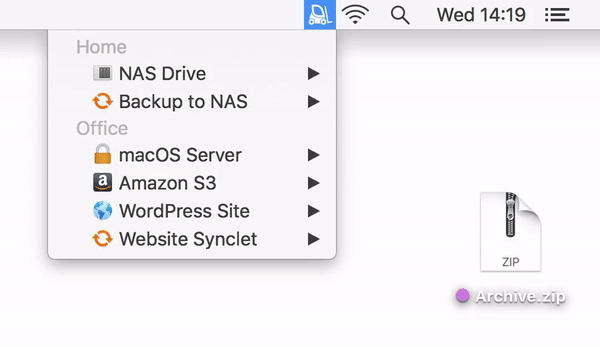 Find a better Finder alternative
Another great app that can substitute Finder is DCommander. DCommander is a robust dual-pane file manager that offers a split screen view of the files you're working with. Here's why you should consider dropping Finder and switch to DCommander:
Copy files faster with DCommander's advanced copying mechanism
Visualize your files more effectively with a dual-panel window
Drag and drop your files between panels or to external applications
Find specific files that Spotlight may have missed
Use this power app combo to access the cloud through Finder
There are tools that allow you to access cloud-stored files directly in your local computer file finder without having to individually access each separate cloud storage service through a web browser. Mac storage managers such as the CloudMounter make it easy to bring all your external cloud storage services together from the cloud into your computer's Finder.
The secret to managing multiple cloud storage devices is to bring them all in one place on your computer with the combination of apps mentioned, all of which are available for a free trial on Setapp, a collection of over 120 high-quality Mac apps across all categories.