CleanMyMac: Deep dive into the top Mac cleaner
There's nothing like the feeling of a brand-spanking-new computer. The pristine desktop, the smudge-free monitor, the lightning-fast response. But all things change with time. Chances are that within a couple of years your Mac will slow down a little. It's nobody's fault — just a steady pileup of duplicates, junk files, and other digital debris clogging up the works.
That's where CleanMyMac X comes in. This one-of-a-kind junk management and malware protection app can rid your Mac of unneeded bulk. Its all-around system cleanup scrubs your disks of unnecessary files in just a couple of clicks. The shredder function can fully expunge files, while the uninstaller eliminates unwanted apps and their digital baggage.
The latest version of CleanMyMac X, the one you have in Setapp, also offers a handy malware removal tool. Best of all, the app's pop-up monitor gives you instant updates on how much space, battery power, and CPU your Mac has available.
Deep dive into the top Mac cleaner
A Mac you can trust — that's what you get with CleanMyMac X. Here's how this sleek app can keep your Mac clutter- and malware-free, performing at its peak.
One-click Mac tune-up
The heart and soul of CleanMyMac is Smart Scan. Hit the Scan button to detect junk, malware threats, and performance hogs on your Mac.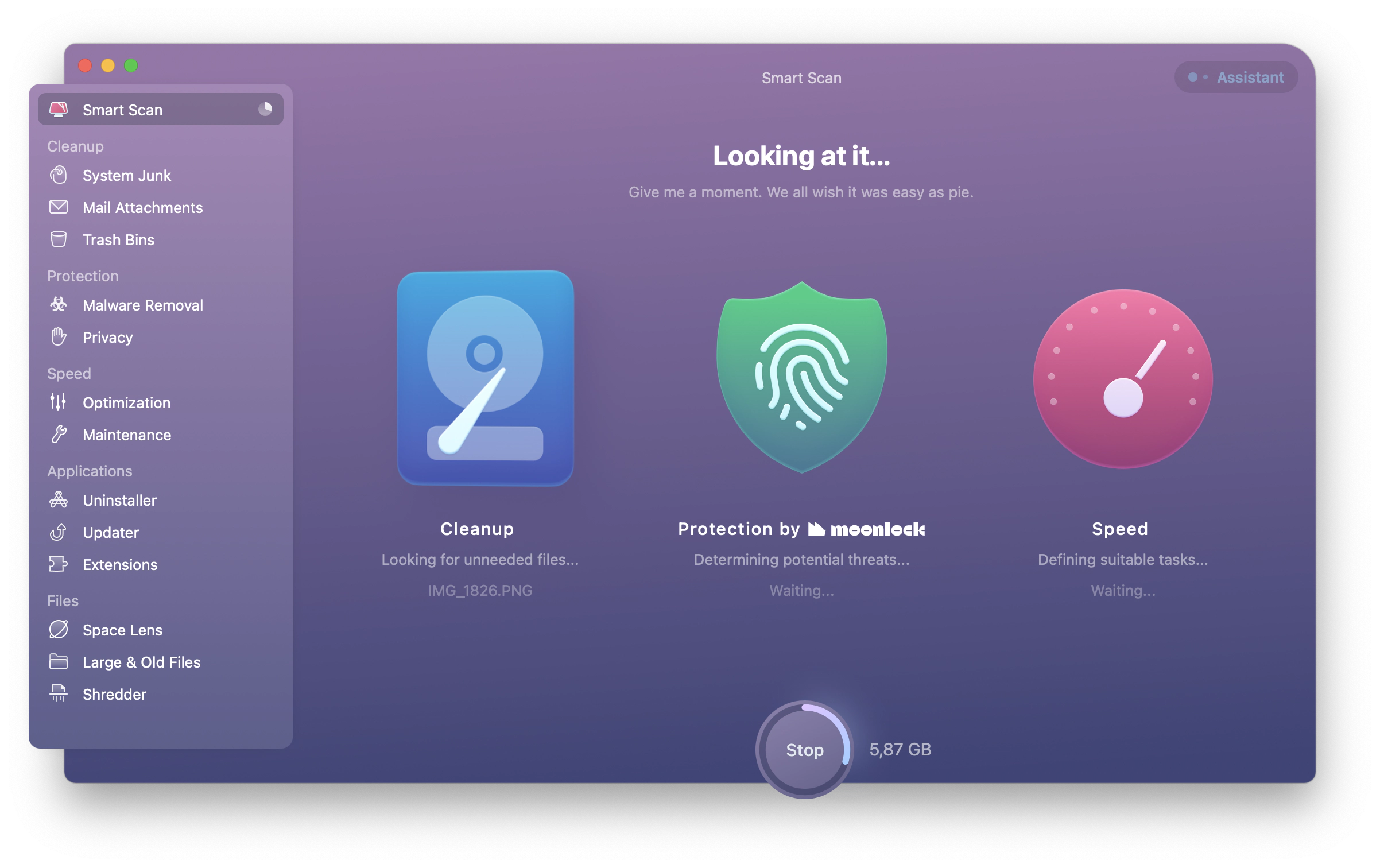 The best part about CleanMyMac X scans is that the app allows you to review scan results to make sure none of the files you want to stay get removed. Just click Review Details under Cleanup to check everything out!
You can also exclude some items from the scanning process. Open the app's Settings > Scanning > Smart Scan and deselect the modules you want to exclude.
After your smart scan is done and you've reviewed what will be deleted, hit Run to remove junk.
Storage optimization
In for a big cleanup? Try System Junk scan. It spots and removes temporary files and broken items on your Mac. And don't forget you can always go to Review Details before deleting and control what's about to be removed.
To exclude specific files from the scan, open CleanMyMac X Settings > Ignore List.
And if you want more control over your disk content, the menu bar monitor will give you a detailed overview. From your drive's health and temperature to how filled up your Trash is, CleanMyMac X makes it easy to manage your drive. What's more, you can even connect your Dropbox to preview its capacity!
We've all been guilty of occasionally packing up our drives with huge dumps of video or photos from a vacation, promising ourselves to sort through it and delete the bulk of it only to never open that folder again. And yes, modern Macs come with huge storage while most of the things we do are stored in the cloud, so we don't have to worry about space all that much.
But if you are in need of a quick freeing up of space for a system update or a new large app, CleanMyMac X's Large & Old Files menu is for you.
The tool spots the largest files on your Mac so that you can quickly go through them and decide if anything can be removed.

Malware protection
Safety is paramount. Here are the protection steps we suggest taking with CleanMyMac X:
Turn on background malware scan
Open Settings > Protection and make sure these two options are selected: Look for threats in the background and Enable Malware monitor.
Activate real-time protection scan
Click on CleanMyMac X menu bar icon, find Protection section, and check that the real-time malware monitor is set to ON. Click Check Now to get database updates.
Run a deep Malware Removal scan at least once per month.
To do a scan, open CleanMyMac X, go to Malware Removal and click Scan.
You can also use CleanMyMac X to easily remove items in your browsing and downloads history, cookies, and even app permissions.
To run a privacy scan, open CleanMyMac X and go to Privacy. Hit Scan to start and review the privacy items once the scan is complete. Select what you want to keep and remove and click Remove.
System monitoring
Easily spot the villains consuming too much CPU or RAM via the menu app. Keep battery health and temperature in check, so your Mac lives a longer and healthier life.
Want to stay on top of your app updates and remove anything you aren't using? CleanMyMac X has a dedicated Applications module that has all the tools you need.
Uninstaller can help you spot and remove the apps you are using the least
Updater alerts you to apps that have an update available
Extensions allows to view and remove extensions and plugins
Make life easy for you and your Mac with these handy app management tools in CleanMyMac X!
Menu app & Assistant
We've already mentioned the CleanMyMac X's menu bar icon. By clicking on it, you can access an extensive menu with lots of stats you might find useful.
This menu app has been designed as a quick way to track real-time CPU, temperature, battery health, etc. It can also ping you about hardware and software issues the app spots.
Don't want to use the menu bar app? Go to Preferences > Menu and uncheck Enable Menu.
CleanMyMac X Assistant (top-right corner of the app) offers you recommendations on the steps you can take next, be it analyzing disk space, scanning for threats, or optimization.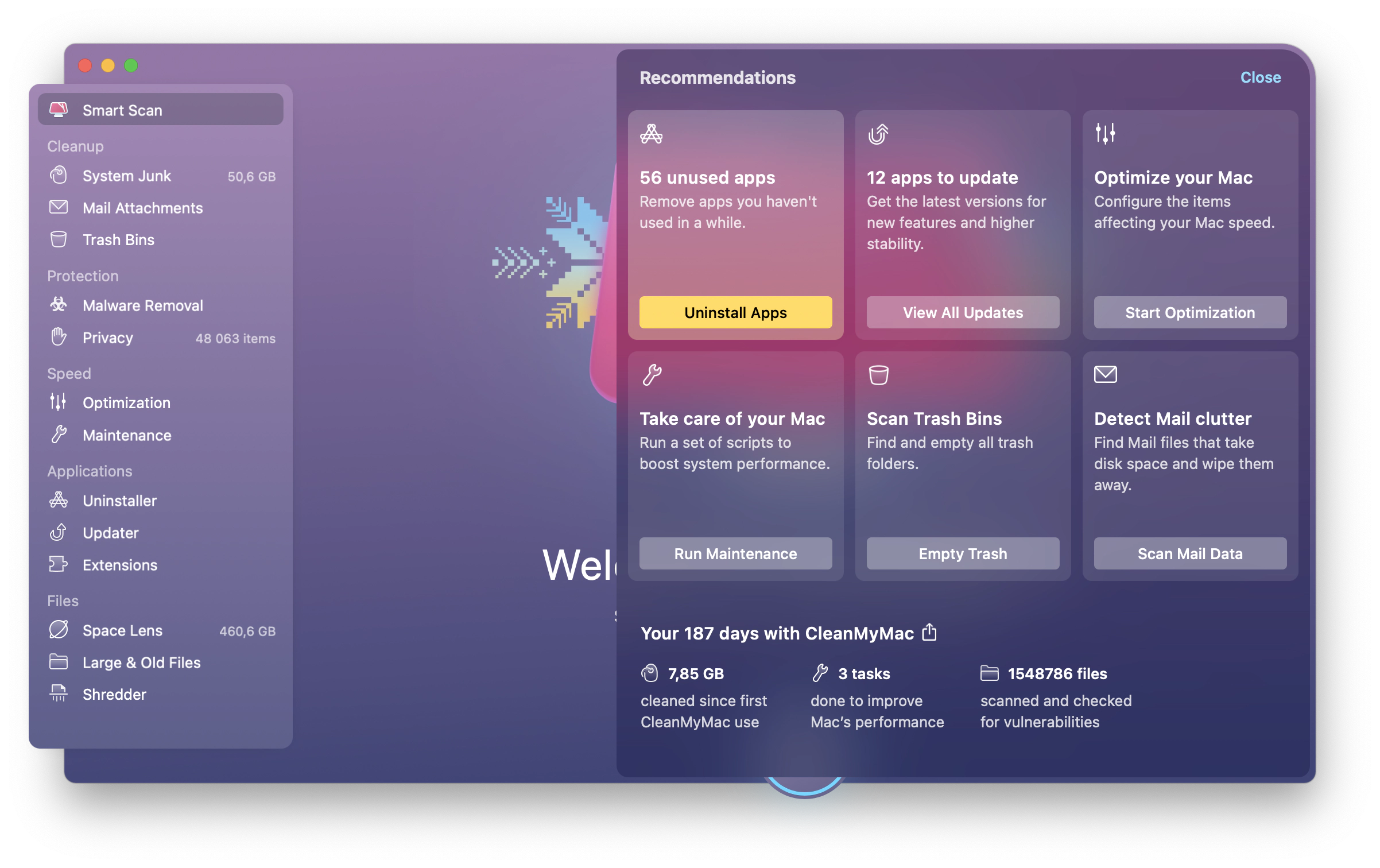 Once you start using the app regularly, you might feel like you no longer need those suggestions because you know what to do. In this case, go to Preferences < Assistant and select "Enable silent mode."

Space Lens
We love this feature for a thorough look at what's taking up space on our drive. It scans your files and lists folders and items from largest to smallest.
You'll see how much storage space your user folder is using, how much is taken up by apps and system files, and more.
Mail attachments and trash
Another helpful tool to free up storage is Mail attachments scan. If you don't want your mail attachments stored on your drive, you can clean them up in moments! Just make sure everything valuable is backed up elsewhere.
You can do the same with trash contents — CleanMyMac X can easily scan and remove Trash contents for you.
Shred files
And the last feature we'll take a look at in this overview is CleanMyMac X's file shredder.
Located at the very bottom of the list of tools in the app's menu, this helper can serve as a regular file removal tool or perform a secure file shredding.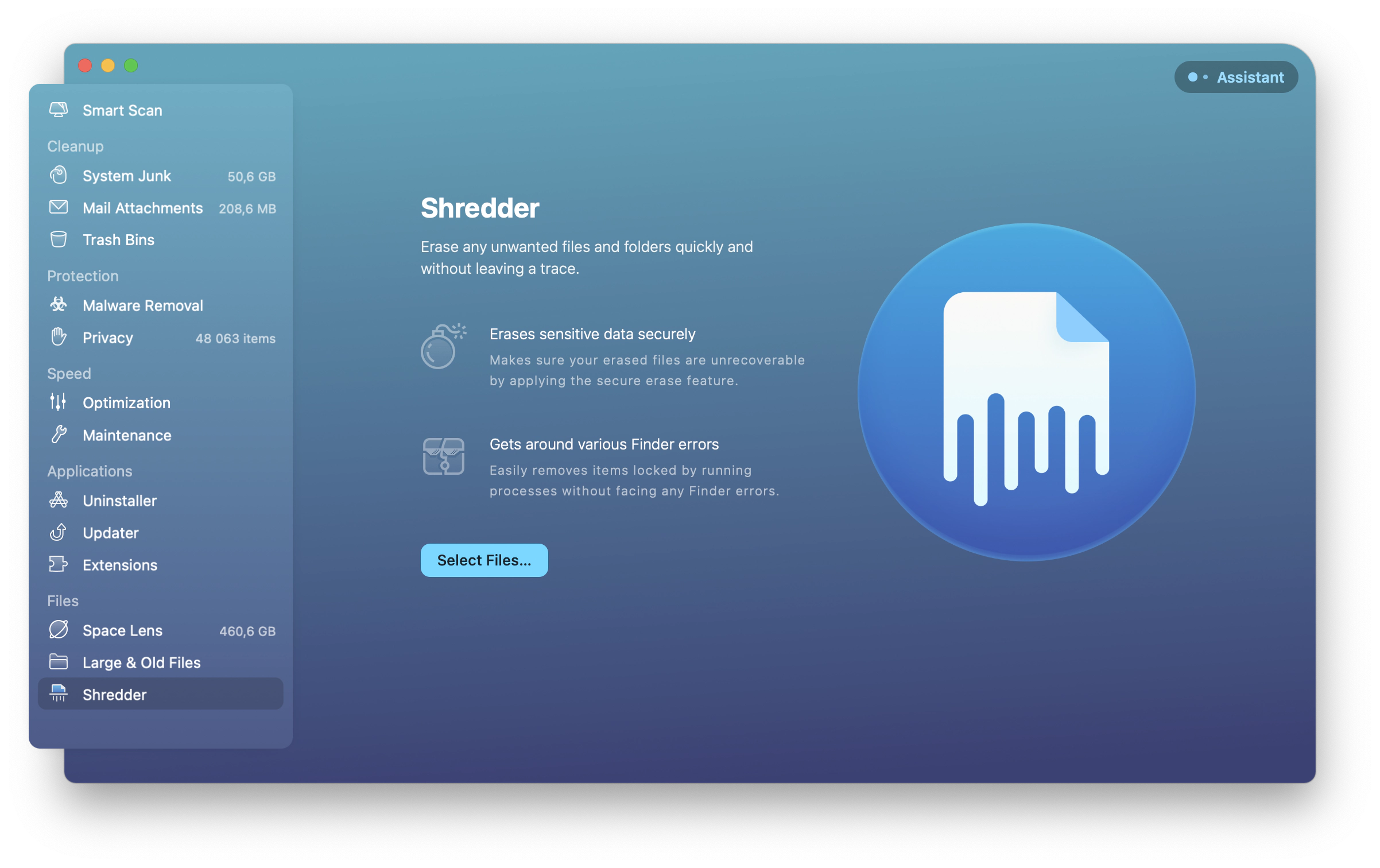 First, select the file or files you need gone. Next, before you hit the Shred button, click on the option on the left of it — select either Remove Securely or Remove Immediately.
Secure removal will take a bit longer, but this way restoring this deleted file even with recovery tools can be very tricky, if not impossible.
Final thoughts
While we love our Macs for years after we first bought them, it's easy to forget that good maintenance can go a long way. Keeping your Mac free from junk and apps you never use will make for less broken items, errors, and more free space for the stuff that is really important.
Use CleanMyMac X for regular cleanups of your device from junk files and to run occasional malware scans. Try Gemini by the same developer to spot and remove duplicate photos and music, as well as similar photos.
Both apps are available with Setapp subscription along with 240+ more apps for daily tasks on your Mac. From writing, task management, focus, collabs, to design, coding, and work with multimedia, one Setapp subscription will help you tackle hundreds of tasks with great tools you didn't even know you needed!
You can try Setapp free for 7 days with its handy 7-day free trial. Sign up now and try CleanMyMac X, Gemini, and dozens more tools before you decide.