How to fix startup disk full problem: Complete guide 2023
Once "Your disk is almost full" notification pops up on a screen, it's time to do some work. Running low on storage might cause your Mac to slow down or behave strangely. This usually happens if you have too many outdated files, old logs, caches, and apps you no longer use. What makes the situation challenging is that most of these Mac storage gobblers are system files you never actually see.

By keeping the Mac startup disk tidy in the first place, you can avoid numerous issues that hamper performance. In this article, we provide step-by-step instructions on how to avoid the "startup disk full" problem. Spoiler: Moving files to Trash isn't going to fix it.
What is a startup disk on Mac?
Simply put, the Mac startup disk is a hard drive containing your operating system and all the apps installed on Mac. Pretty big deal. Since it's essentially your main disk drive, your Mac "starts up" from this disk (hence the name). Mac power users often use external hard drives in addition to the main one, but an average user has only one — the startup disk.
What does "Your disk is almost full" mean?
The warning message or a notification about "Mac startup disk almost full" lets you know there's little space left on the main drive. The maximum amount of storage your files can occupy on a startup disk should be 85%. Anything that goes beyond that might cause performance issues. Read more info about scratch disks are full.
How to check disk space on Mac
First of all, ensure you know the name of your startup disk. It's easy if you only use one internal drive. Otherwise, you should check it. Click on the Apple logo > About This Mac.
In the Overview section, you'll see "Storage" with a name next to it. In most cases, it's called "MacHD," "Macintosh HD," or something like that. This is the name of your startup disk.
To find out how much space you have left on a startup disk:
Click on the Apple logo > About This Mac
Access the Storage pane
See available storage.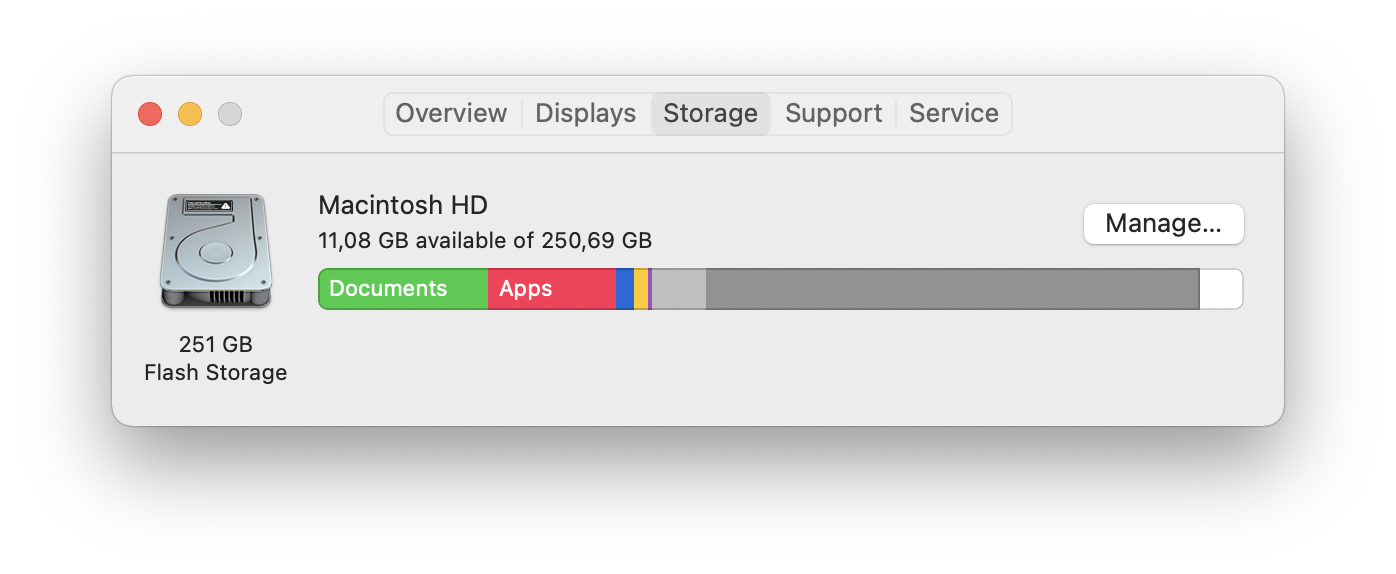 Note: If your Mac is running macOS Ventura, you can no longer access storage by clicking the Apple logo. Find this section in your System Settings instead.
The storage bar also shows details on what types of files are eating up the used storage.
As you see from the screenshot, total storage is 500GB. If your computer has two startup disks (which is rare but possible), the storage is divided between the two — 250GB on each. On my Mac, around 75% of the storage is free, which means I don't have to worry about the Mac startup disk full issue just yet. In case you have less than 15%, it's time to free up some space and let your Mac breathe.
Apple has a built-in optimization feature for basic storage control. This alone can save you lots of disk space. Based on Apple recommendations, it allows you to set up automatic Trash cleaning, keep your movies and TV shows in iCloud (available on demand), or automatically remove movies you've already watched. To access the feature, click on the Apple logo > About This Mac > Storage > Manage. You can customize optimization settings flexibly, according to your needs.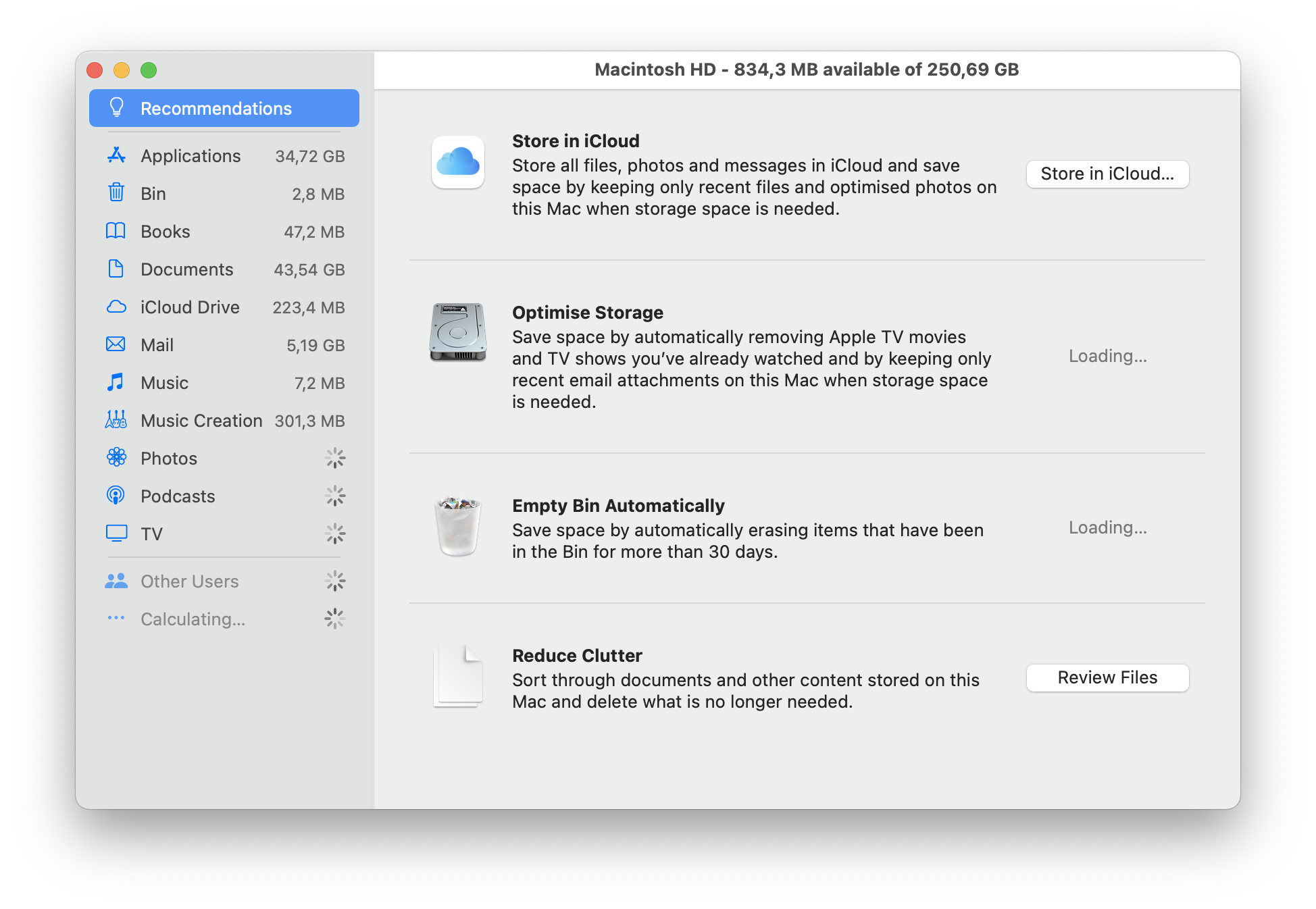 How to fix "startup disk full" on Mac
Unfortunately, Apple's storage optimization doesn't help with deleting tons of hidden files and system junk. And that's the trickiest part. From old caches to backups, there are lots of unneeded files suffocating storage on Mac — most of them you never see. In the following section, we explain how to dive under your Mac's hood to remove it all step by step.
Empty the Trash
This sounds obvious. If you want to get rid of the unneeded stuff, get rid of the files you've already deleted. You probably know moving files to the Trash folder doesn't mean they stop eating up storage. They are still there, just in a different spot on Mac. Here's how to clean up Trash (on some Macs, it's called Bin):
Ctrl + Click on the Trash icon in the Dock
Select Empty Trash
Confirm emptying your Trash folder.

That's it. If you want to check what's in your Trash before deleting files, open it first, and then empty Trash by clicking on the button in the top right corner.
Delete app cache
Caches are system files created every time an app or a browser performs a specific task. Both browser and app caches are in fact supposed to speed up your Mac. They are kind of like task shortcuts — by remembering how an app or browser performed the task last time, they help perform it faster the next time you do it.
At the same time, app caches are files, which means they generate tons of system junk. When there are too many stored on Mac, they can cause the "startup disk almost full" problem. This is why we recommend clearing cache regularly. Here's how to do it manually on Mac:
Open Finder
Click on Go > Go to Folder in the Finder menu
Type in ~/Library/Caches
Access cache folders and delete the files
Then, go back and do the same for /Library/Caches without ~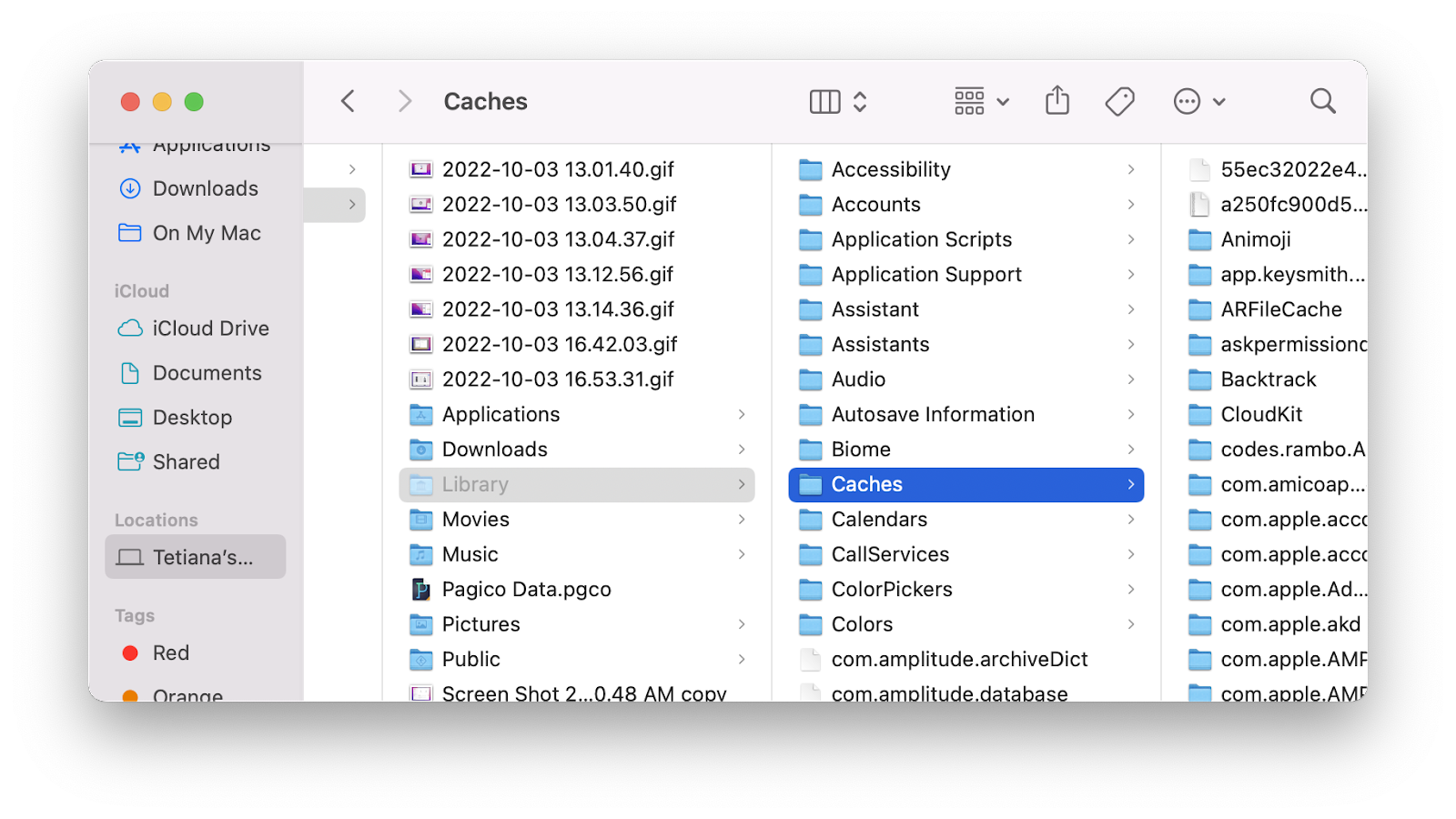 Open CleanMyMac X
Click on System Junk under Cleanup
Press Scan
Once the scan finishes, hit Clean to remove caches.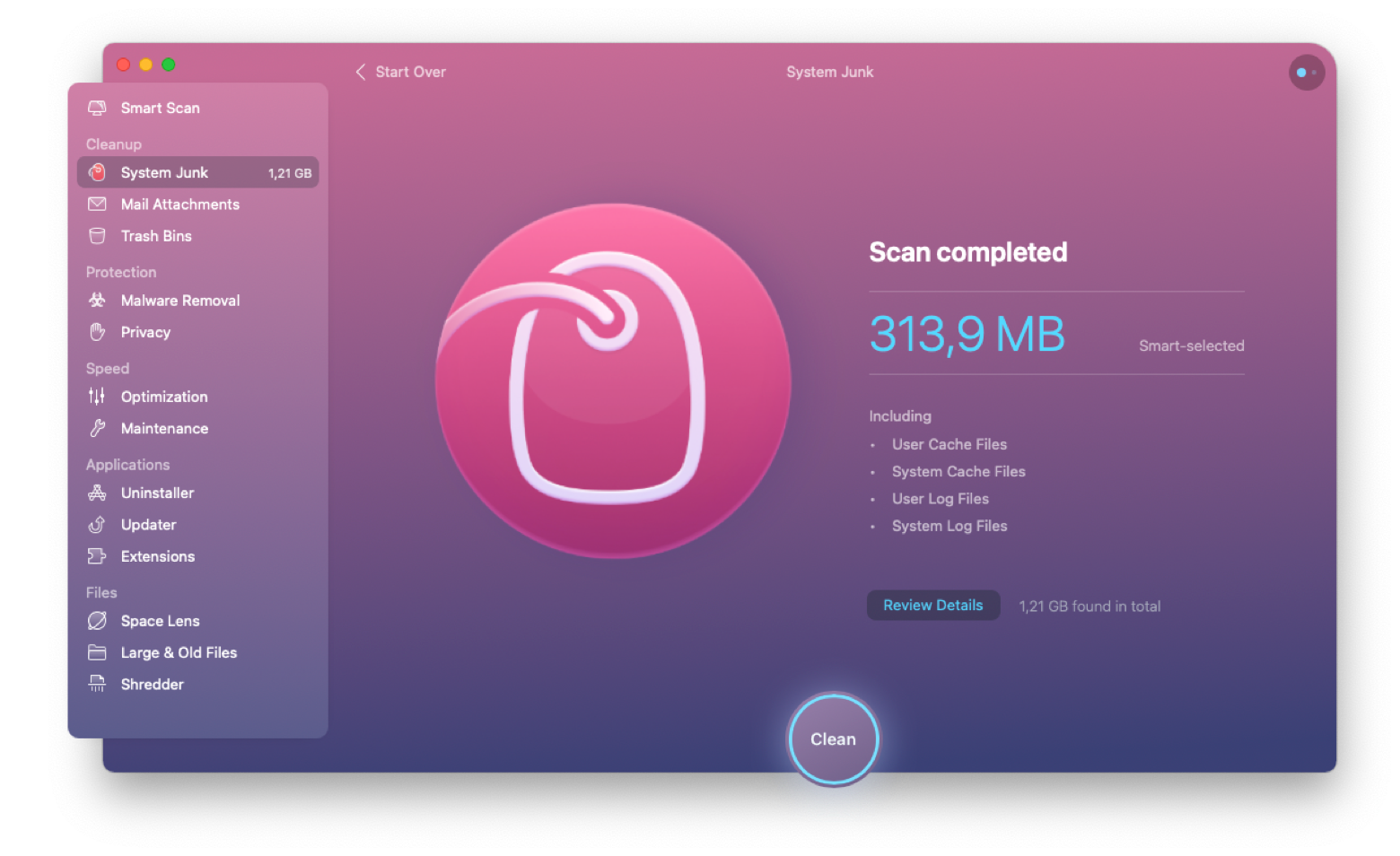 Delete downloads
The Downloads folder is a go-to spot for all the files you save on your Mac. For sure, it has lots of stuff you might no longer need in it. To see how much space downloaded files occupy, navigate to Downloads via Finder. Click on the filter icon to filter by size and start deleting the largest files.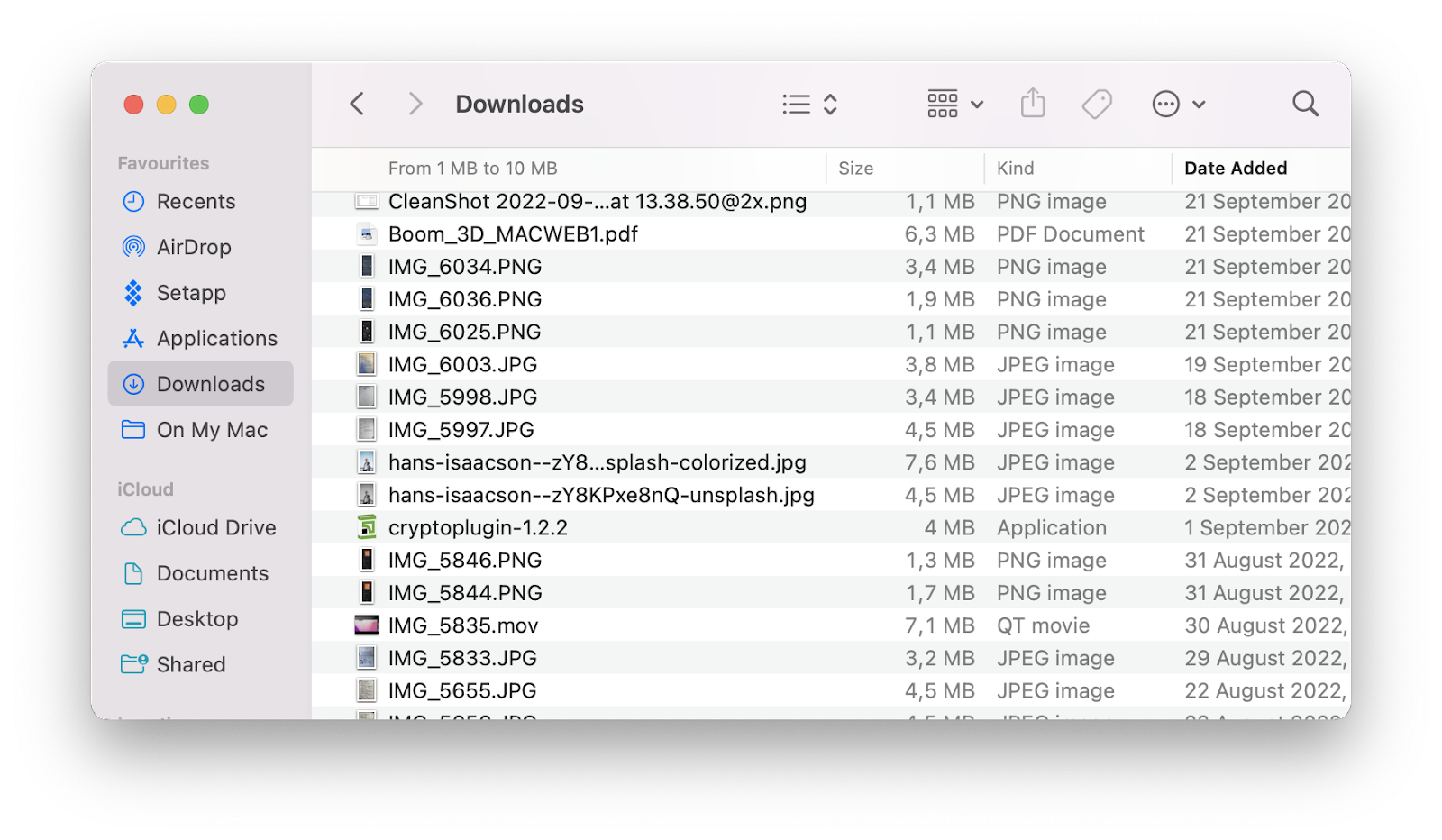 Back up large files
You can spend hours on the most tedious cleanup in your life, but there will still be files left that are huge Mac space gobblers — and you can't delete them. In this case, we recommend moving large-sized files to cloud backup. You can either use iCloud (Apple's optimization feature provides this option) or go with your favorite cloud service like Dropbox or Google Drive.
Click on the Apple logo > About This Mac / System Settings on macOS Ventura
Access Storage > Manage
Enable iCloud backup.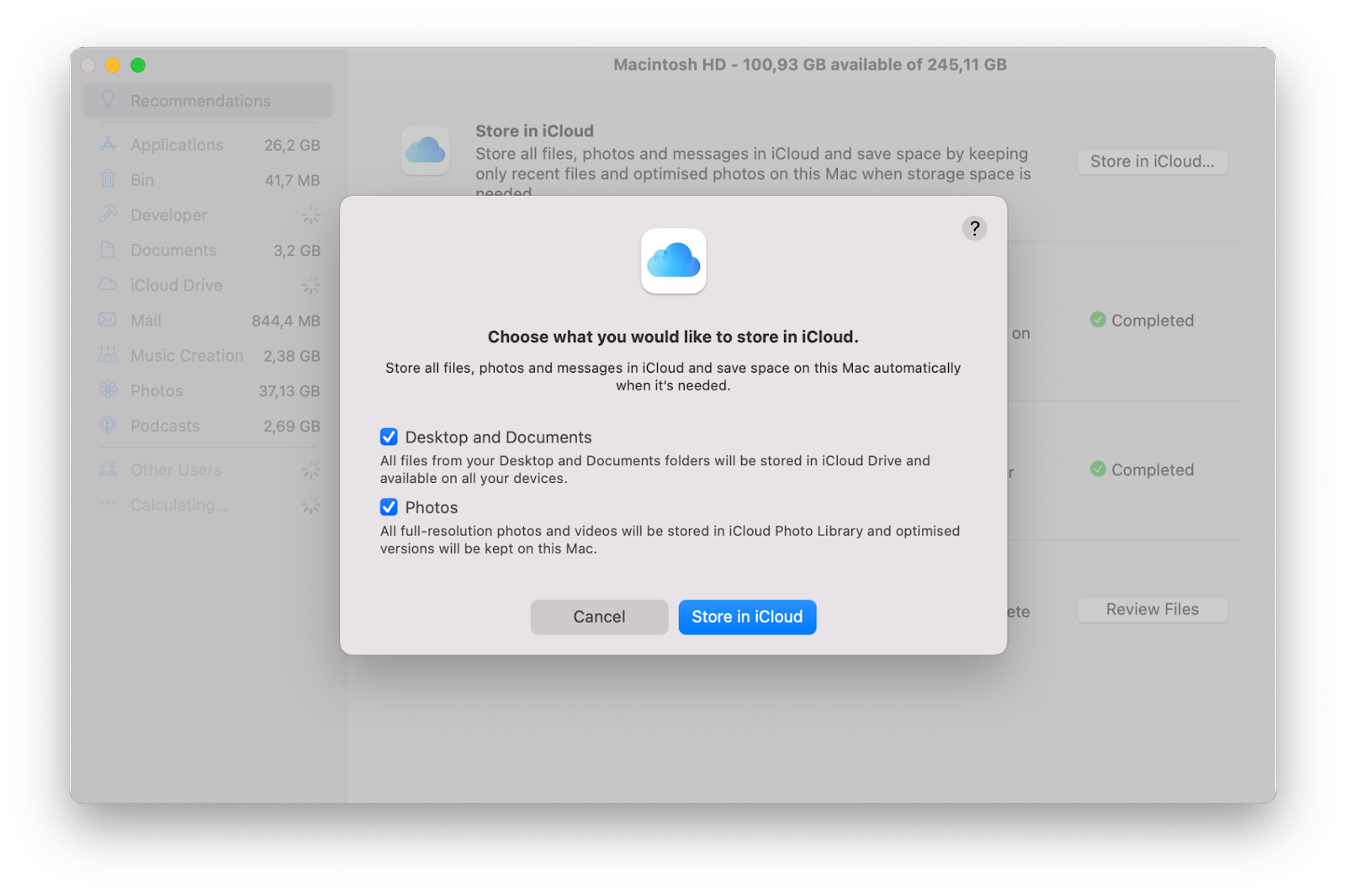 The problem with iCloud is it saves all of your files, photos, and messages to backup — which is obviously a huge waste of cloud storage. If you want a more customizable setup, use Dropshare. It's a robust file-sharing app that works with all cloud hosting services of your choice.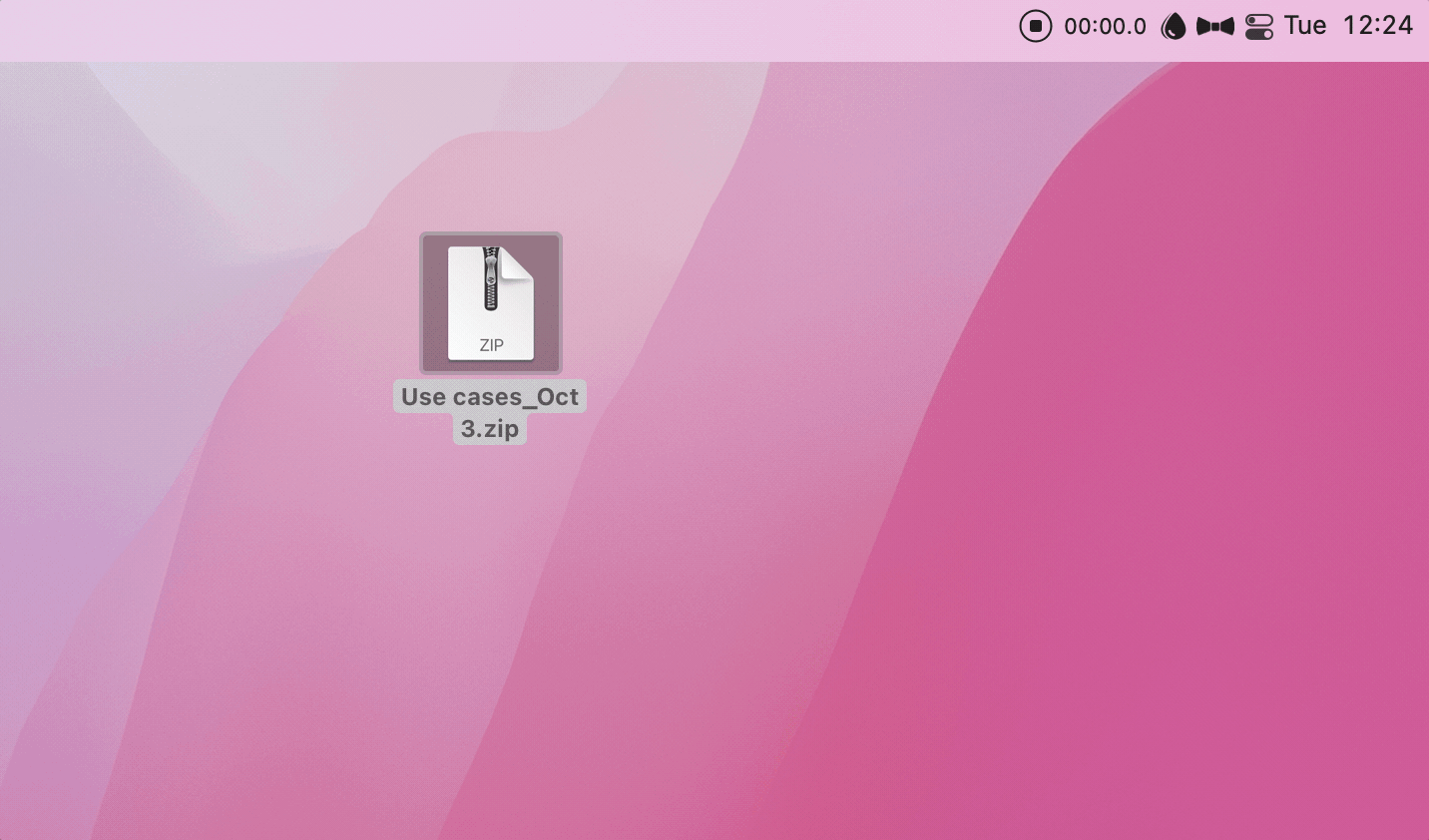 Dropshare allows you to drag and drop any large-sized file to cloud storage on the go. So that once you come across a file that could potentially be clogging your storage, you move it to Dropshare instantly. The app is available from the menu bar, so it's hard to imagine a more convenient solution. If you use it via Setapp, you also get 10GB of complimentary storage included in your plan for free.
In case you want a copy of your entire disk or a large amount of data, use an advanced backup app like Get Backup Pro. It allows you to create bootable disk clones and keeps your files protected for when you're switching to a new macOS or moving large-sized files to a new location.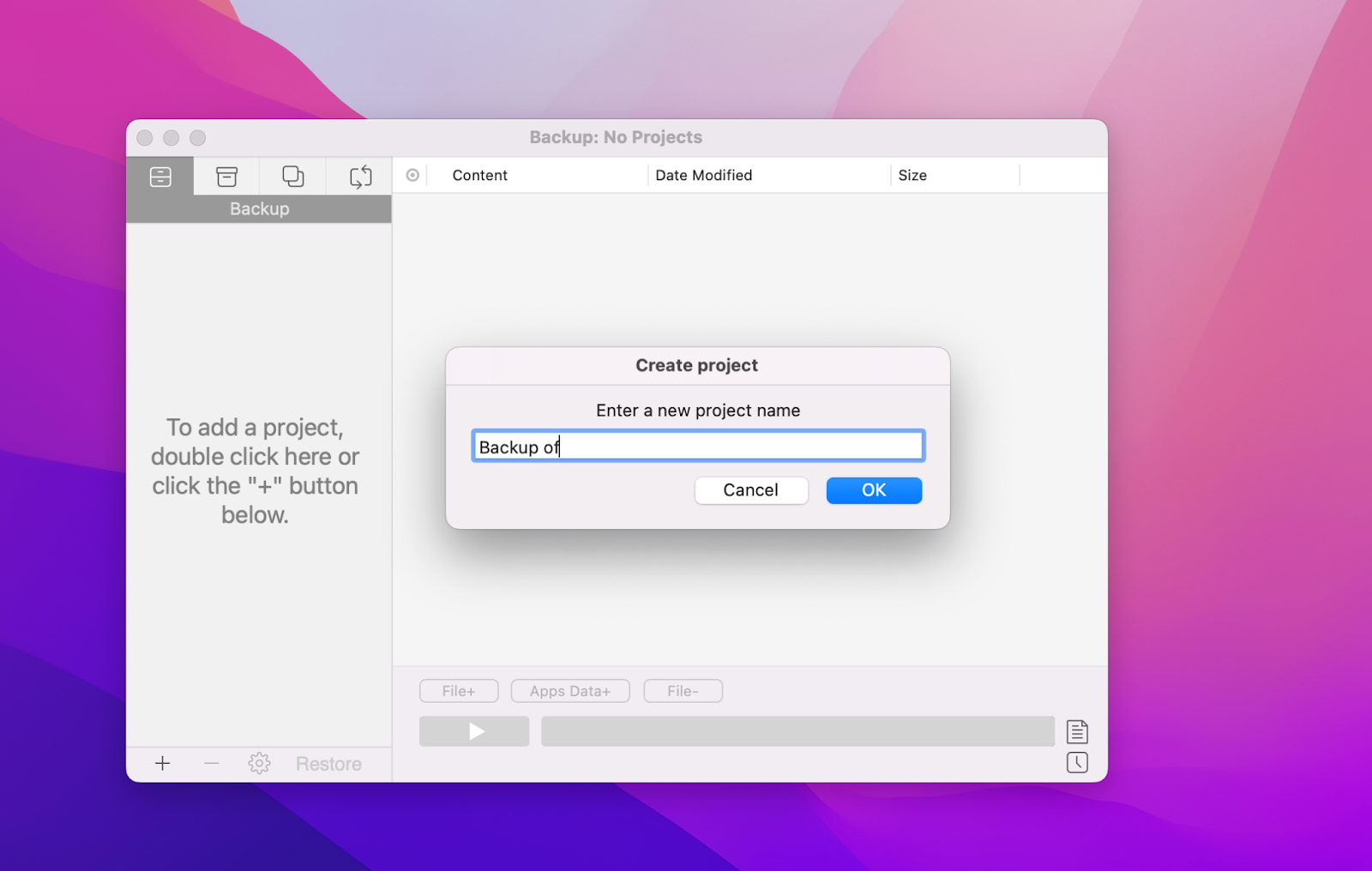 Clean duplicates in Photos
You don't have to be an Instagram influencer to have tons of photos stored on your Mac. Sometimes, you just have to download the same file twice (or twenty times). Duplicates tend to pile up, which is not good in your startup disk full situation. Here's how you can manually find and remove duplicated files in Photos — just as anywhere on your Mac:
Open Finder
Navigate to File > New Smart Folder
Click on the plus button in the upper-right corner
Select file type ("Image" if you want to find duplicate photos)
Click to organize by name — this will help you identify files with duplicate names.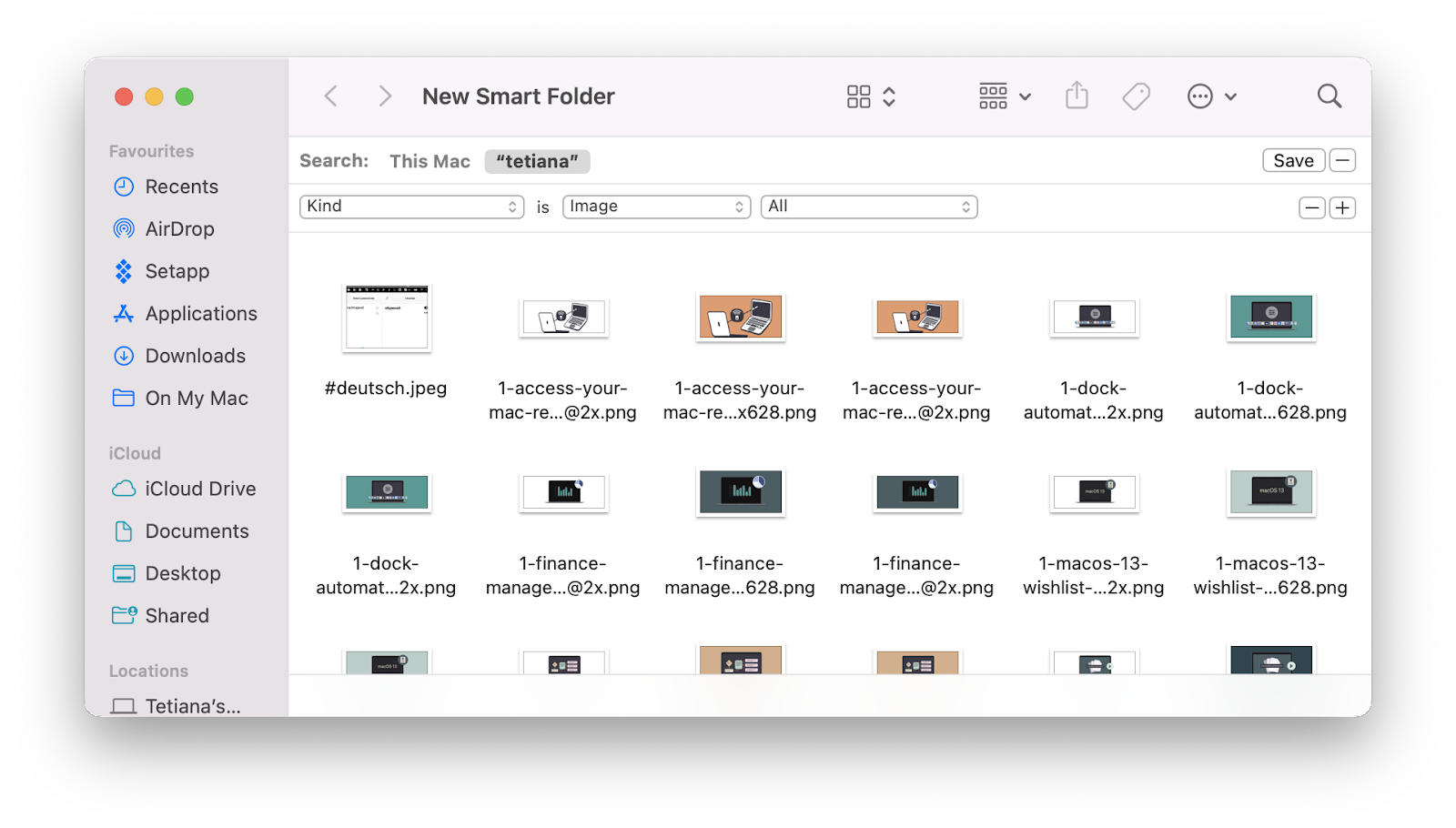 There's an easier way to do this with Gemini app, an advanced duplicate files finder. Instead of removing files manually, it allows you to scan for duplicates and bulk delete all of them in a click. Here's how it works:
Open Gemini
Add or drop folders you want to check
Click "Scan for Duplicates"
Allow access to the folder if needed
After the scan finishes, click "Review Duplicates"
Hit Remove once you're ready to delete duplicate files.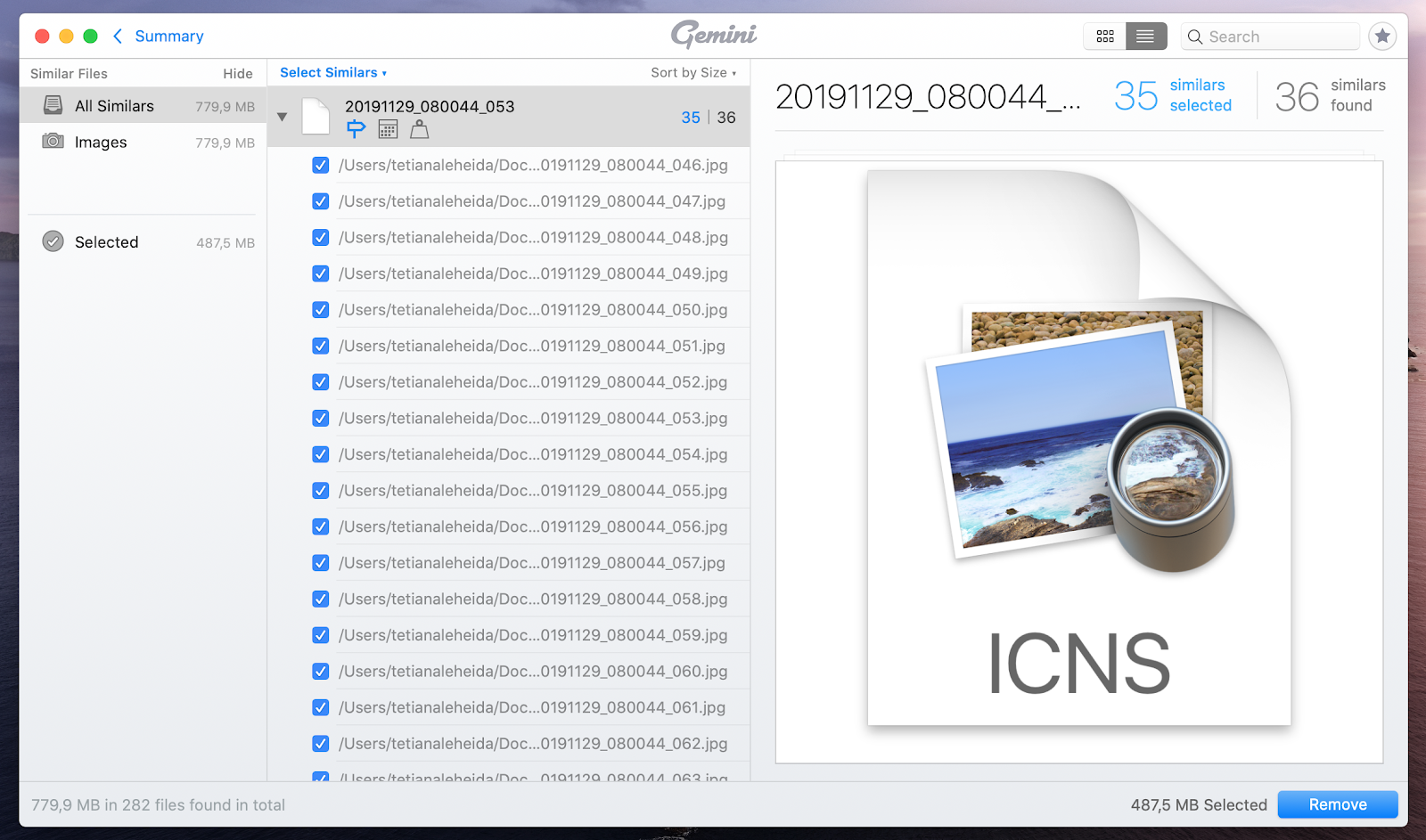 Remove logs
System logs are plain-text files that your Mac stores to help troubleshoot macOS and app problems. Basically, they include all events logged by the operating system. And there are a lot of them on your Mac. Just like you do with caches, you need to get rid of logs to free up disk space:
Open Finder
Click on Go > Go to Folder in the Finder menu
Type in ~/Library/Logs
Access logs folders and remove them from Mac.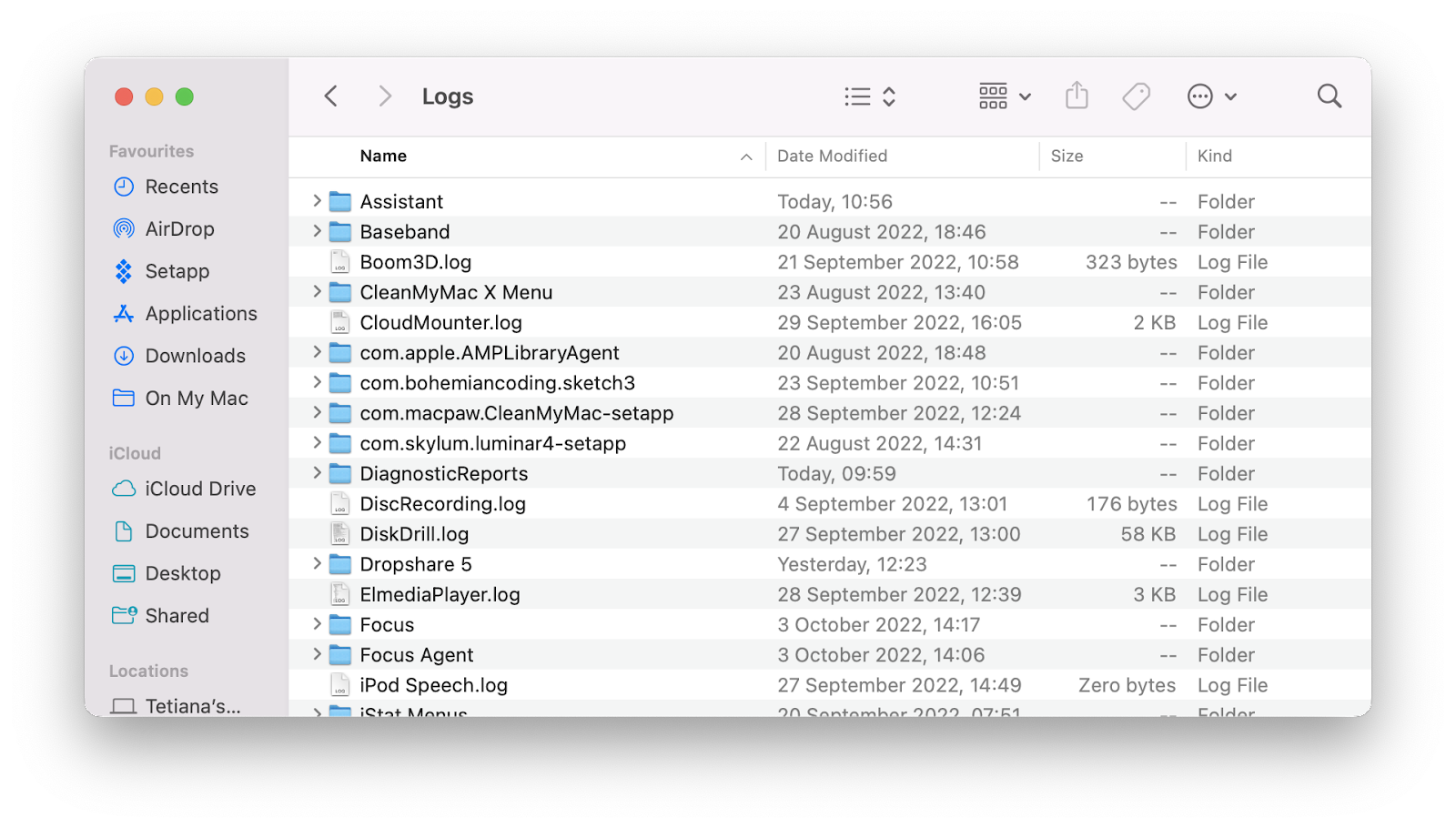 Uninstall unused apps
Some apps occupy huge amounts of disk space — and it's all for nothing since you don't even use them. The best way to uninstall apps is with CleanMyMac X Uninstaller. The thing with deleting apps is you can't just move them to Trash. They usually leave behind lots of caches, logs, and other system junk. CleanMyMac X picks up all the files associated with an app and makes sure they are removed from Mac:
Open CleanMyMac X > Uninstaller
Check the boxes next to apps you want to uninstall
Delete the apps in batch by pressing Uninstall.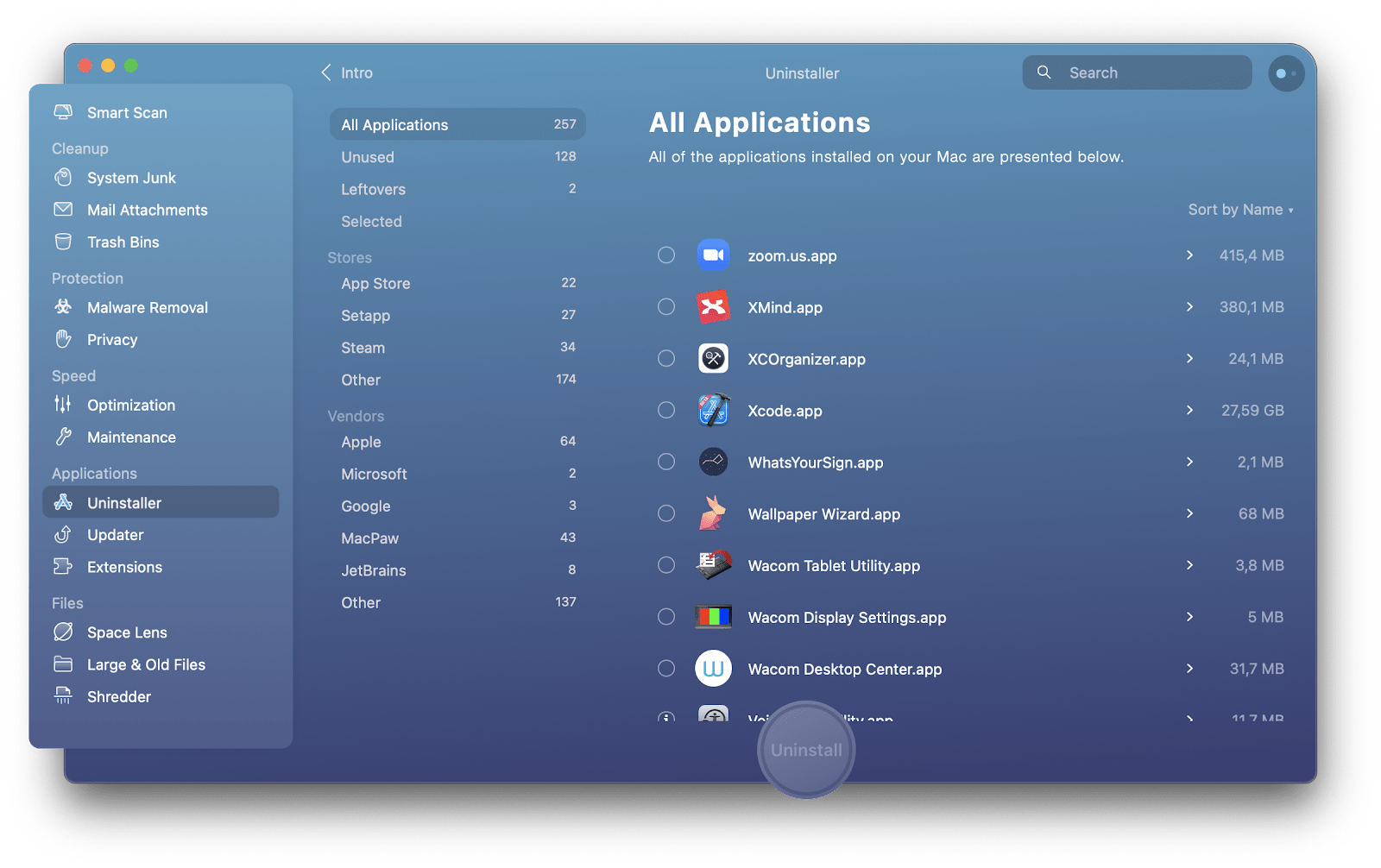 Delete language files
Many apps you install contain language packs (or localization files) that allow you to switch between languages. Too many "multilingual" applications might cause the startup disk full on Mac. Since you don't really need an app to cover more than one or two languages, you can delete the rest. Here's how to do it:
Open Finder > Applications
Ctrl + Click on an app and select "Show Package Contents"
Click on Contents > Resources
Look for files ending in .lproj — these are language packs you can remove if you don't need them.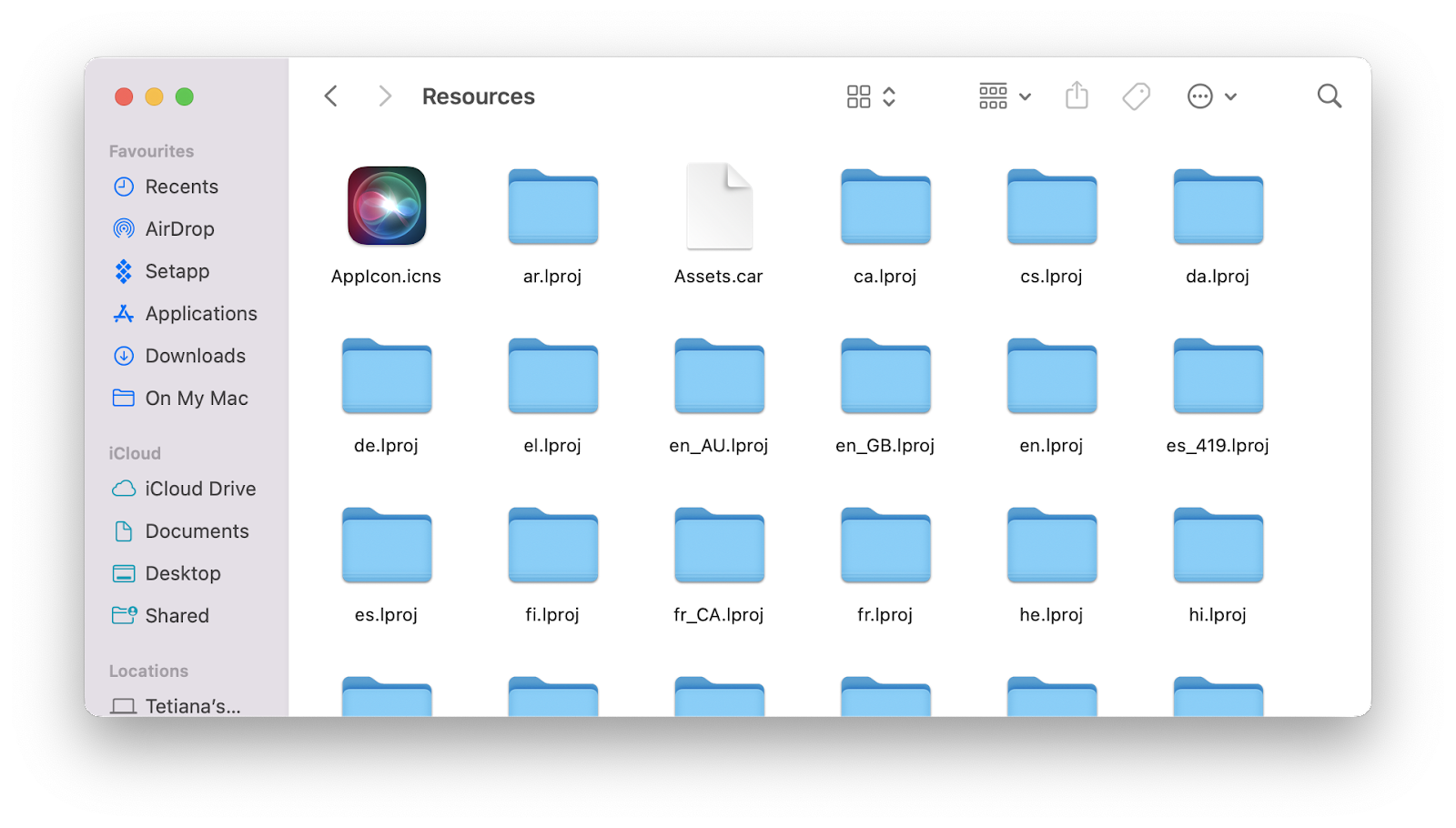 Clean your desktop
To avoid the disk full on Mac (as well as make your Mac's screen a pleasure to look at), clean up desktop regularly. This is one of the easiest fixes — simply move anything you no longer need from the desktop to Trash. Be careful with the apps, though. As we've mentioned before, they will leave lots of traces on your Mac, so you'll need to dive deeper to remove everything (or use CleanMyMac X for the job).
If you're a pro in desktop cluttering, get an app that can help you remove it all automatically. Spotless is a great choice. You can just drag and drop files off your desktop onto the app's pop-up drawer in your Menu bar and set the rules to organize the files by tucking them into their own folders or moving them to Trash. You can create automated tasks to sort your files on a daily or weekly schedule and remove the files you no longer need without you having to do it manually every time.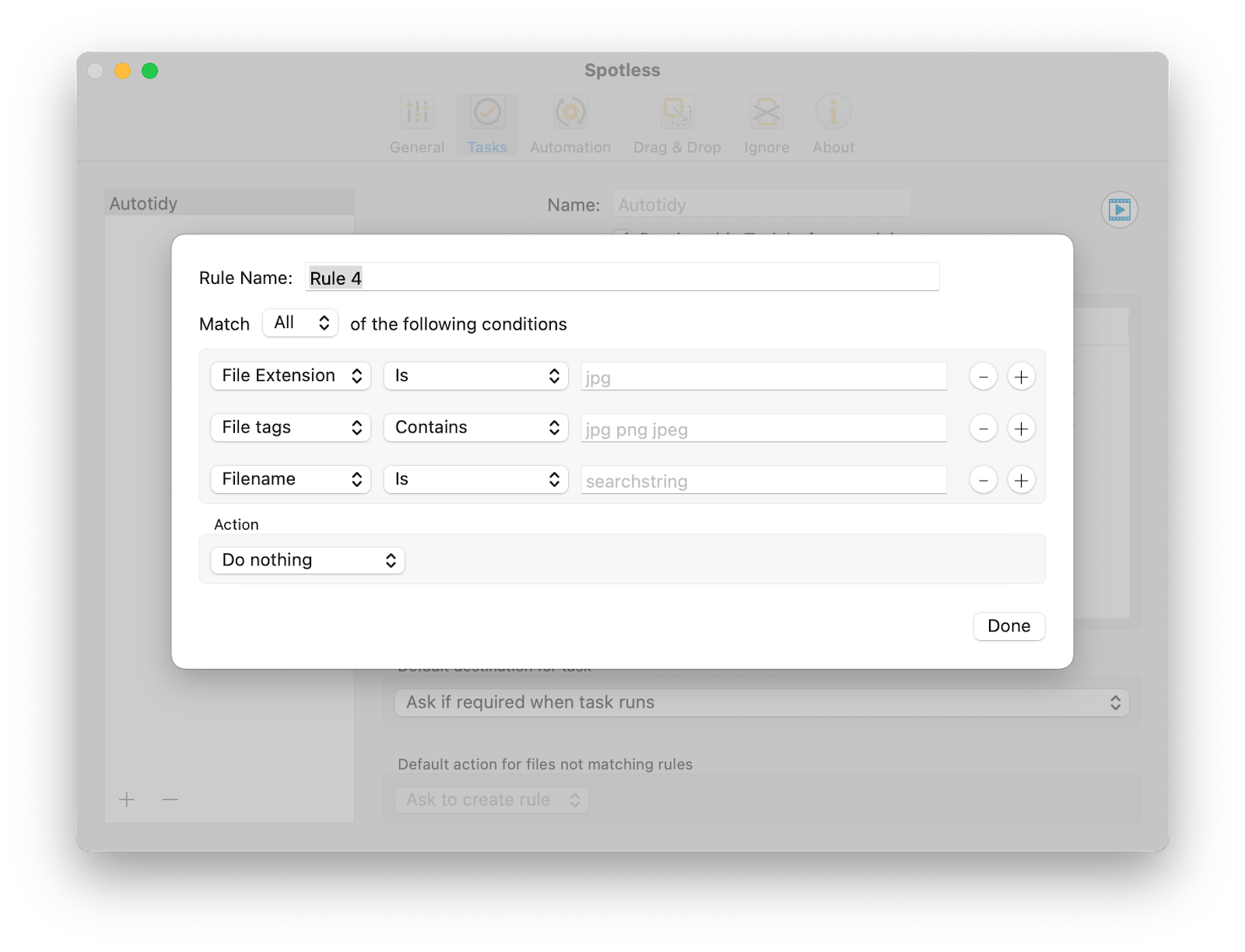 Remove iOS backups
If you've ever synced your iPhone with your computer, you probably have a few iOS backups hidden somewhere on your Mac. You can remove those manually:
Open Finder
Click on Go > Go to Folder in the Finder menu
Type in ~/Library/Application Support/MobileSync/Backup/
Delete all the backup files.
Tip: If you're missing iTunes for easy iOS sync on Catalina, try AnyTrans for iOS. It's a great tool for file transferring that takes your content from iPhone to Mac and back, effortlessly. AnyTrans also has a native backup manager, which, unlike iTunes, never overwrites old iOS backups. So you can safely copy your iOS content, without generating any extra clutter.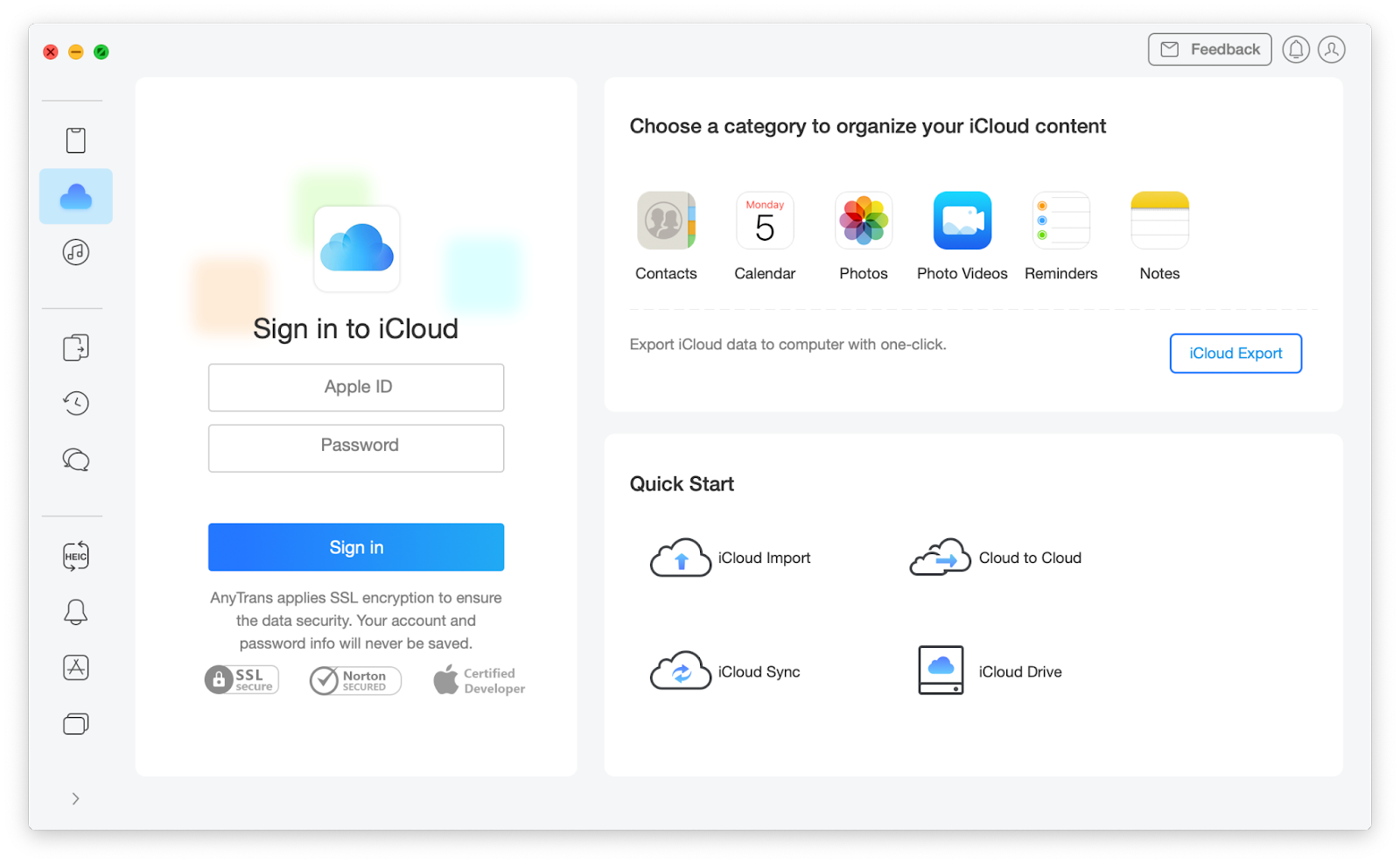 The notorious "startup disk full Mac" is a complex issue. Usually, there's more than one thing clogging your storage. To make sure you not only get rid of the unneeded stuff but also prevent files from piling up, there are a few cleanup processes you should run regularly.
The apps like CleanMyMac X, Spotless, Dropshare, Gemini, Get Backup Pro, and AnyTrans make a perfect toolkit to automate these processes, effortlessly. While they are all part of Setapp, you can install and use them for 7 days free. Hopefully, this helps you figure out the hungriest storage gobblers.
FAQ
What to do when disk is full on Mac?
The easiest way to deal with this issue is to automatically clean up storage with CleanMyMac X. If you don't have this software installed on your Mac, you can use macOS optimization recommendations and remove some redundant clutter such as caches and old backups manually. But be careful not to delete system files that are essential to your Mac's performance.
How to delete files on Mac when disk is full?
Focus on the largest files first. You can sort your files by size in Finder, go to Storage > Manage > Optimize Storage (it will remove the movies you've already watched), or automatically delete large files with CleanMyMac X.
How to hide "your disk is almost full" notification on Mac?
You can disable notifications and stop seeing them on Mac using Focus Mode or Do Not Disturb. Still, it's recommended that you act on low storage warnings and try cleaning up your disk before it starts affecting your Mac's performance.