Complete guide to cleaning up "Other" storage on your Mac
If you've ever clicked on the Storage tab in About This Mac, you noticed that it color-codes storage by type. There's movies, audio, apps, documents, and other. But what is "other"? How to find out what's included in 'Other' storage category? Simply, anything that macOS is unsure how to categorize. It knows that MP3, for example, is audio, and MP4 is video. But there are lots of other, more obscure file formats that get categorized as "other".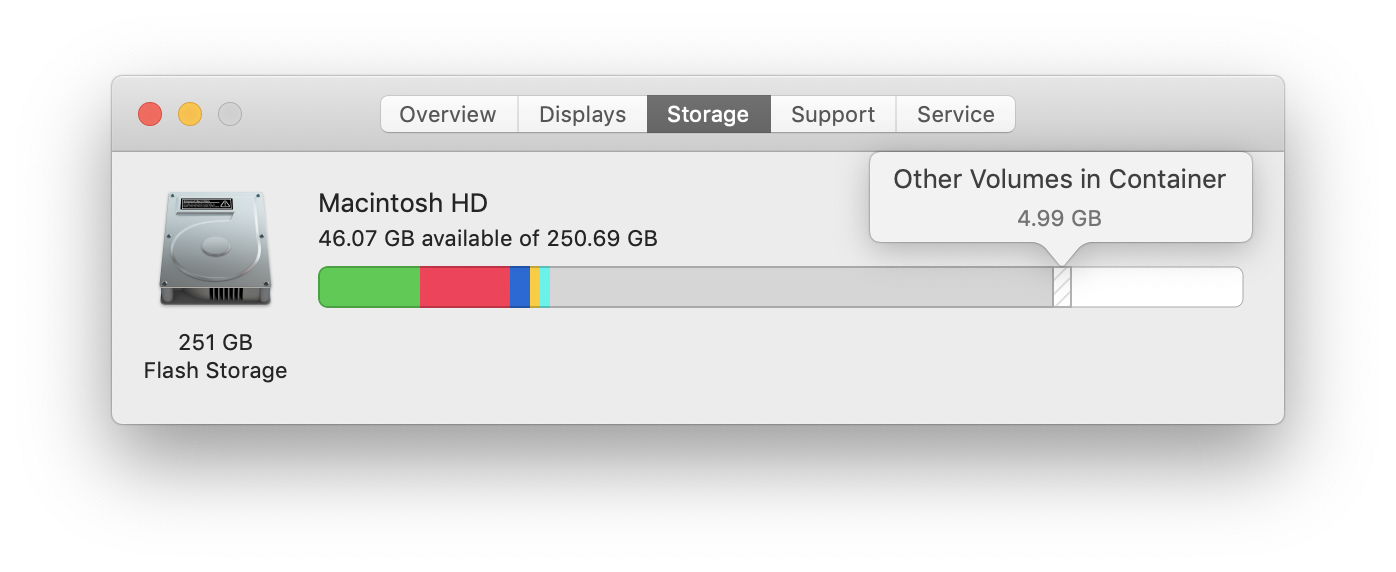 Depending on how you use your Mac and what apps you run, that "other" category could be taking up quite a bit of space, and you could free it up very easily — potentially saving yourself from having to buy additional storage.

How to find and remove files from the 'Other' storage category
'Other' files can quickly clog up a Mac low on storage — especially if you're storing a large number of iOS backups, old files, useless apps. Old backups take up 4-5GB each, on average. Old documents and browser caches can take up to 100GB.
To find and eliminate useless data from Other Storage space you will have to dig a bit.
As well as being a great way to uninstall applications you no longer need, CleanMyMac can rid your Mac of random files that are taking up space. These include mail attachments, iTunes downloads, and system files.
Here's how step by step.
How to free up more Other Storage space
Click on the Large & Old Files tool in the left-hand sidebar, and then Scan.
When scanning is finished, select a file type or date, then click on Sort By and choose size. You'll now have a list of the large and old files in that category, listed the largest first. That makes it very easy to delete files taking up the most space.
When you've identified a file you want to get rid of, click the checkbox next to it and click Remove.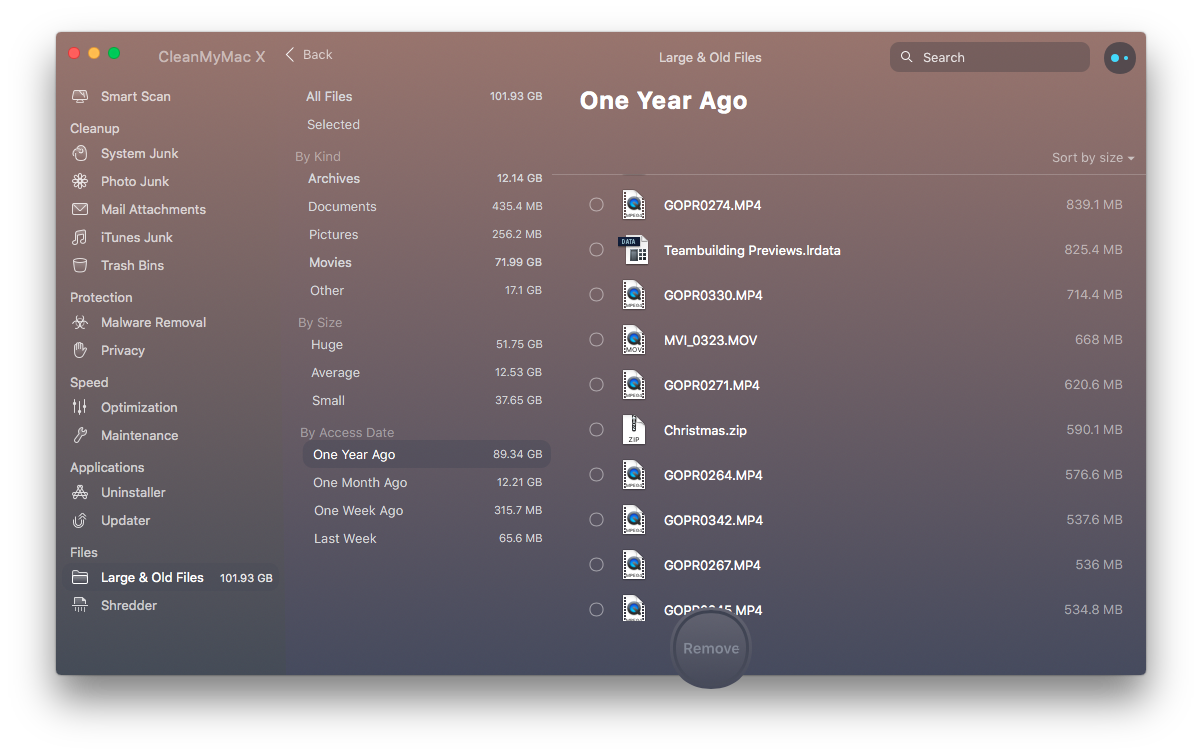 Once you've got rid of large and old files, you can use the other cleaning tools to remove unwanted items. Mail attachments is good next step — you'll be amazed at how many heavy attachments you've downloaded and no longer need. The best thing about this tool is that if you use an IMAP account, like iCloud or Gmail, you can always download the attachments again later if you need them.
To get rid of mail attachments, choose the option in the cleaning tools section and follow the steps above.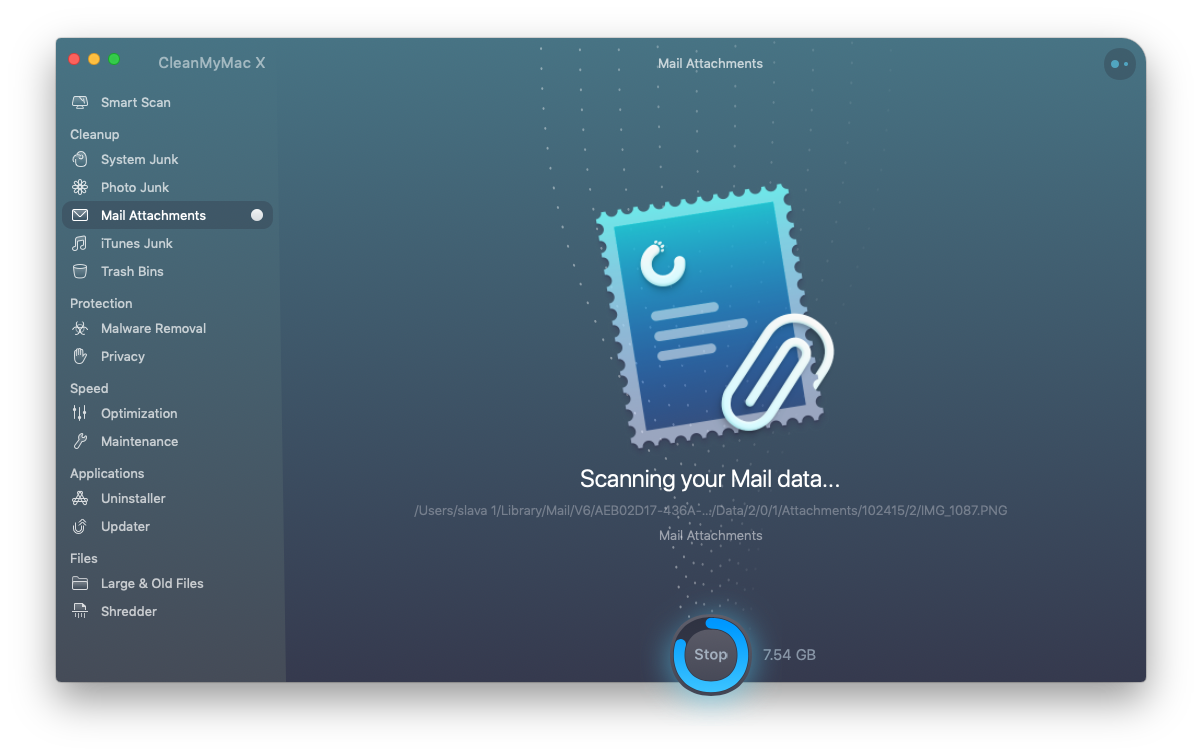 How to identify and remove duplicate files
Duplicate copies of files are a waste space. Most of us don't realize how many duplicates hide on our Macs. Gemini can identify and easily remove them.
If you haven't already installed it, search for Gemini in Setapp and click Install.
When installed, launch it and ready the information cards that appear. Click Next when you're finished.
Drag a folder onto the big "+" symbol. For example, to search for duplicates in your home directory, drag your user folder onto it.
Gemini will now start scanning your home directory and all the folders within it. When it gets to your iTunes and Photos libraries, it will ask you to open those apps. You can either do that or skip them and Gemini will not scan them.
When finished scanning, you can click Clean Up and safely get rid of all the duplicates.
If you'd rather check what Gemini found as duplicates first, click Review Duplicates. In the review window, click the dropdown arrow next to each folder to see its contents. When you're happy that files really are duplicates, check the box next to the one you want to delete. When you're done, click Remove.
Clean up other storage with Disk Drill
Disk Drill's clean-up tool also allows you to identify and get rid of files you don't need. The great thing about Disk Drill is that it allows you to view and filter files in lots of different ways, allowing you to see a really detailed picture of where your storage is being used up.
Install Disk Drill from Setapp, if you haven't already done so.
Click on the Clean up tool in Disk Drill's toolbar. When the next window opens, click Let's Get Started, choose the drive whose storage you want to free up, and click Scan.
When it's finished scanning, Disk Drill will display the files and folders it's found, listing them according to how much disk space they occupy. To see the files inside folders, click the drop down arrow next to the folder.
Use the menus to change how files are listed, or to filter files — say, by only listing those that take up more than 100MB.
When you've identified a file you want to delete, click the checkbox next to it and click Remove file.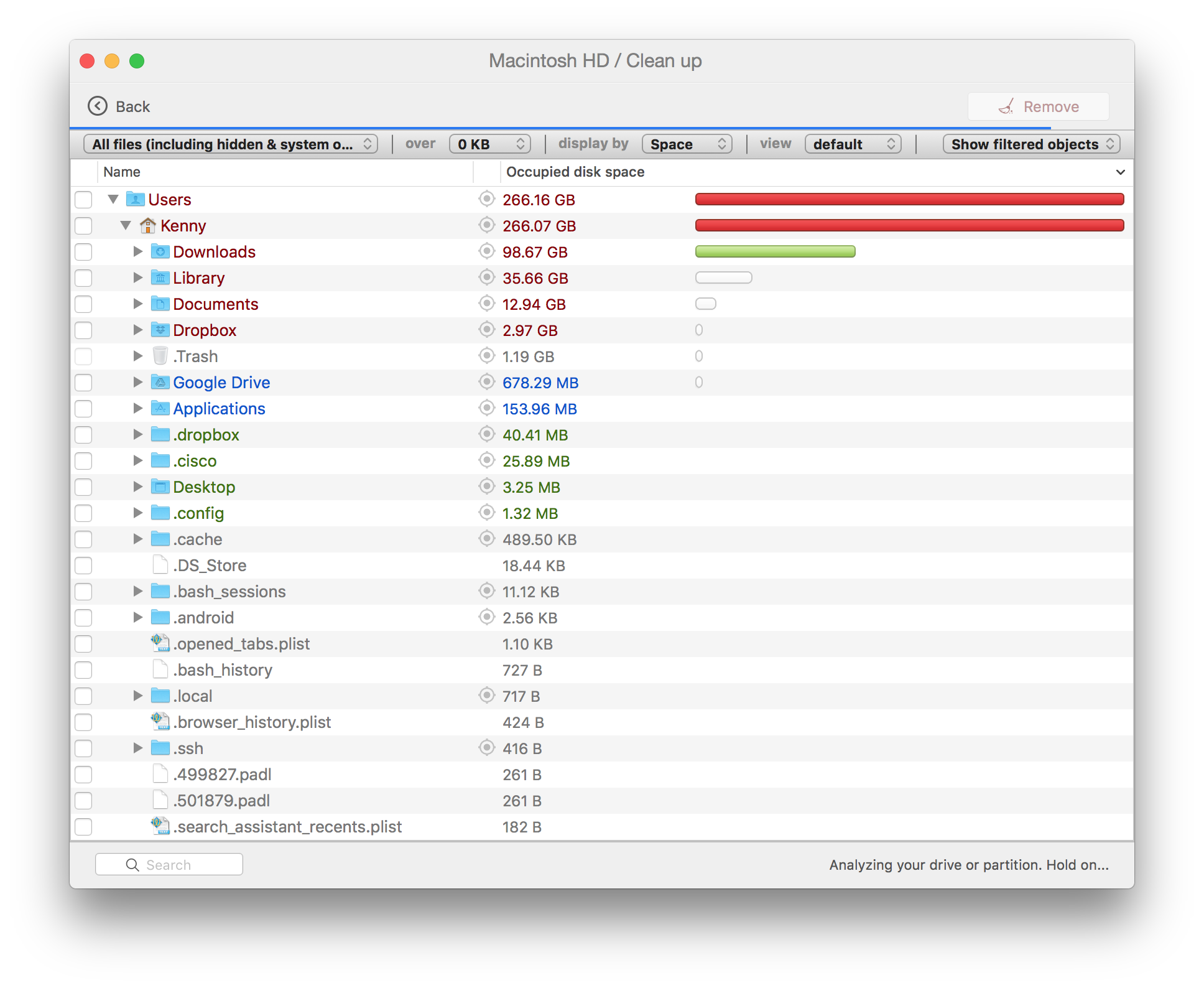 Using all or a combination of methods above will allow you to bring your Mac's storage under control in no time. As for the frequency, conducting a thorough clean-up once a month sounds about right to us, but your mileage may vary.