How to stop Discord from opening on startup
Discord, the popular communication platform, is often set to automatically launch when you start up your Mac. This default behavior ensures that you'll always be in touch and ready to chat with friends or communities. For some users, however, having Discord open at startup can be an inconvenience and a drain on resources. Fortunately, there are ways to disable this auto-start feature and gain more control over your Mac's startup process. In this article, we'll explore methods to prevent Discord from launching on startup, allowing you to customize your experience and optimize system performance.
How to stop Discord from opening automatically
By following these instructions, you can prevent Discord opening automatically on startup.
Preventing Discord from opening on startup using CleanMyMac X
CleanMyMac X is an excellent tool for keeping your Mac running smoothly and efficiently. One of the many features it provides is the ability to manage your Mac's startup or login items.
Follow the steps below to disable Discord auto launch fast and easily:
Open CleanMyMac X on your Mac
On the left side of the window, click Optimization > View All Items
Check the box next to Login Items
Then check Discord and uncheck other items you don't want to get rid of
Click Remove.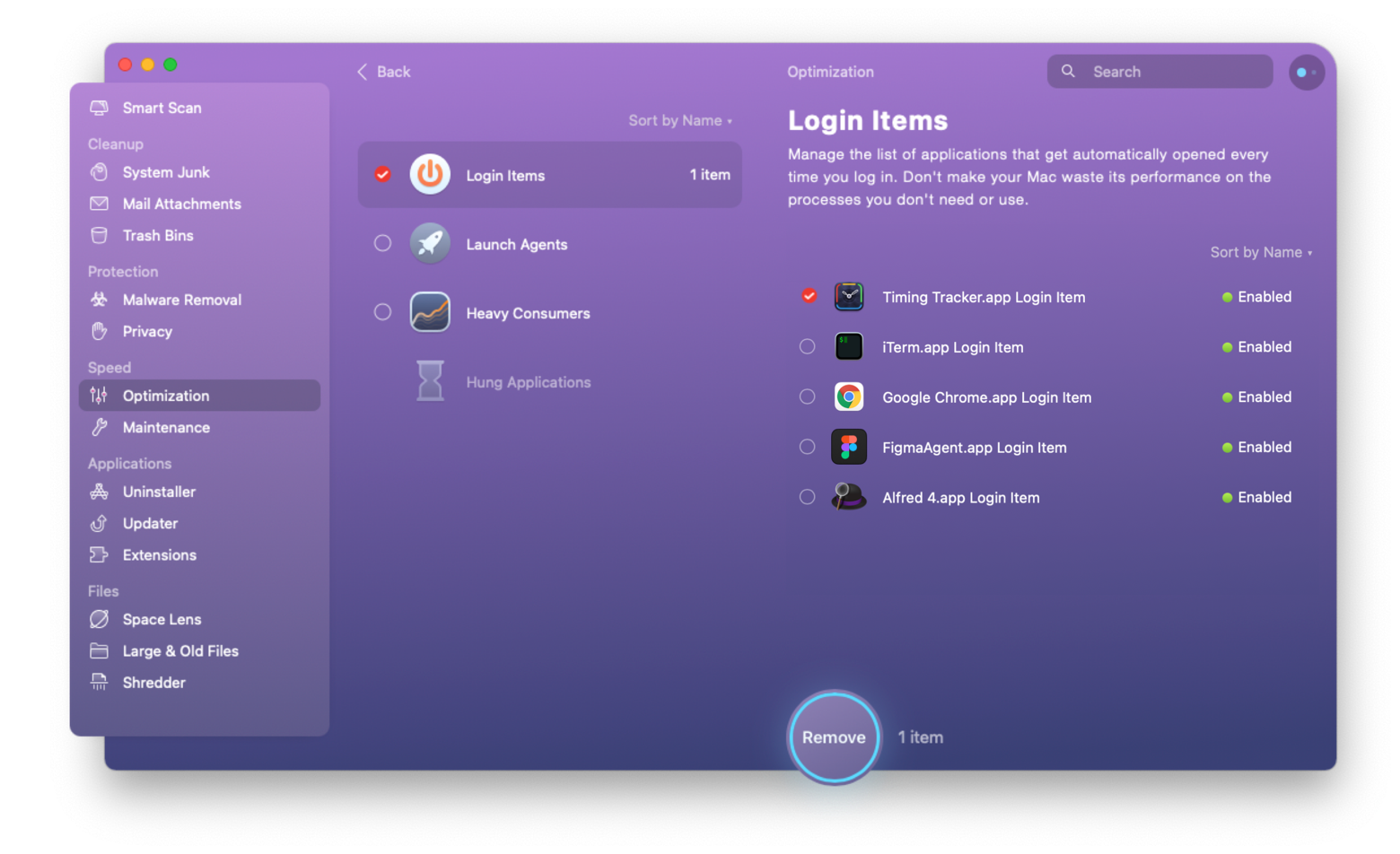 CleanMyMac X offers a range of other optimization features, such as system cleanup, malware removal, performance monitoring, and more. Having all these tools in one app is a convenient way to manage various aspects of the performance and maintenance of your Mac. So give it a try and see how much of a difference it can make in the speed and functionality of your device.
Disable Discord auto startup using System Preferences on macOS Ventura
You can also disable Discord auto launch and regain control over your startup process by going to System Settings on macOS Ventura. Here's what you need to do:
Go to the Apple menu in the upper left corner of your screen and choose System Settings
Then click General
Under the General tab, you'll find a section called Login Items.
Locate Discord in the list of login items and click the "-" button below it to remove it.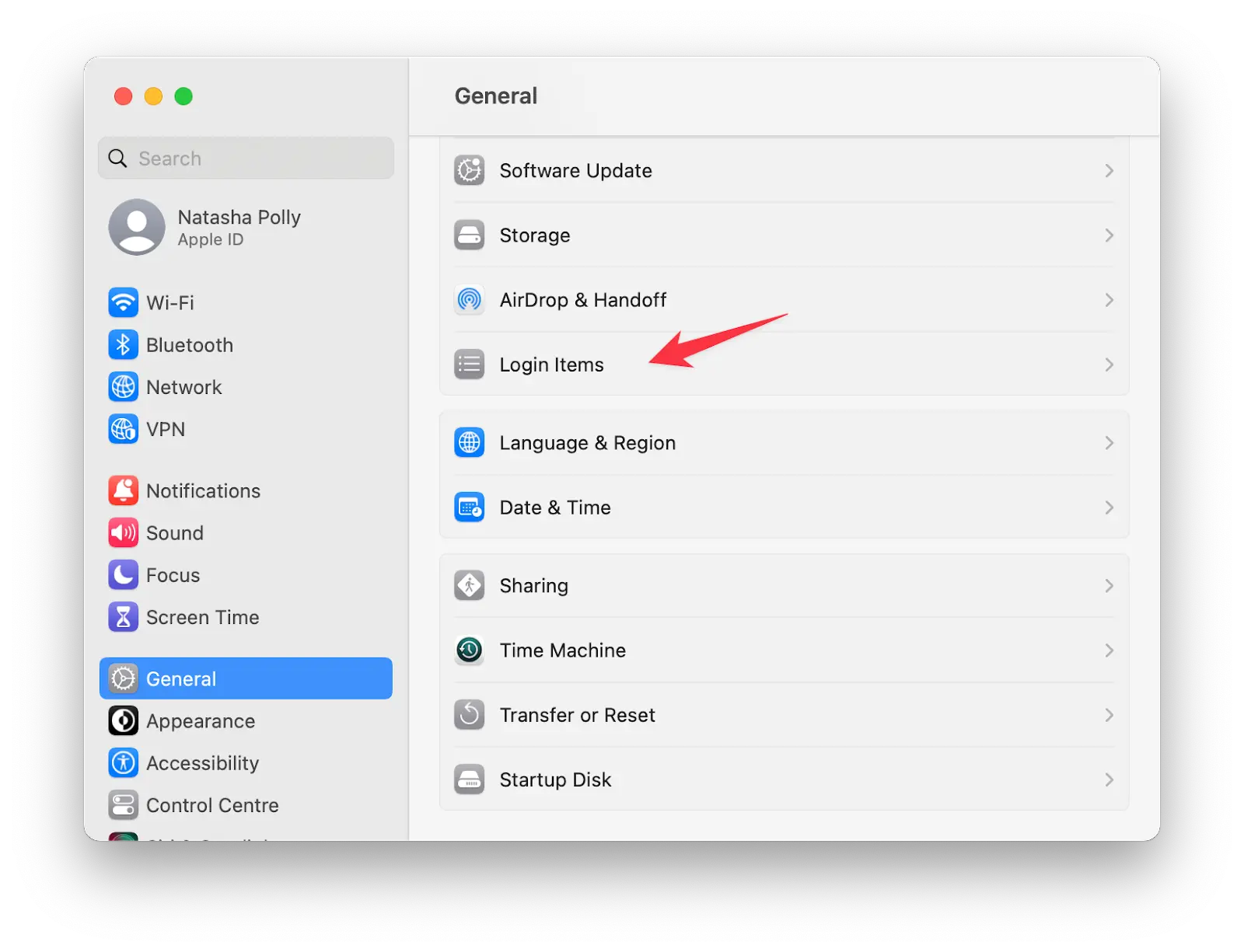 How to stop Discord from opening on startup on macOS prior to Ventura
If you're running an earlier macOS version, follow the instructions below to Disable Discord auto launch:
Go to the Apple menu and click System Preferences
Open the Users & Groups or Accounts pane, depending on your macOS version
Select your user account in the sidebar
Navigate to the Login Items tab
Then locate Discord in the list of login items and uncheck the box next to it.
Disable Discord auto startup and optimize your Mac with Setapp
Managing startup services can not only prevent unwanted services like Discord from starting up, but also make your Mac run faster and smoother. In this article, we showed you how to prevent Discord from launching at startup. Luckily, you can do it through System Settings. However, if you want to not only disable Discord auto launch, but also remove all the clutter from your Mac and dramatically increase its speed, try CleanMyMac X, which you can download from Setapp, an incredible platform of nearly 240 apps for your Mac, iPhone, and iPad. Hard drive crash? Bad network connection? Data loss? Setapp apps give you instant fixes for most Apple devices' problems.
The best part is that all these apps are available for free as part of a seven-day trial of Setapp! After the trial period ends, continuous and unlimited access to the entire Setapp catalog is only $9.99 per month.