The best color picker apps for Mac
Whether you're creating visual graphics, designing logos, building websites, or painting digitally, being able to select the right color and palette quickly is paramount.
Our eyes can see millions of colors, and even the slightest deviations from a harmonious palette is instantly noticeable. That's why using the same shades and hues through your designs is very important.
Setting up colors manually, however, can be quite challenging. How do you remember that you've been using #020202 and not #030303?
Luckily, there are a variety of color finders and HEX color pickers that are designed to help you match a color or look up correct HTML color codes for your color scheme.
Let's explore some of the top image color pickers and find the best color picker for Mac right now.
What makes a good Mac eyedropper?
If you're a professional designer or visual artist, it's quite frequent that you need to find RGB color from image or use a CSS color picker to find a hue that matches one of the Pantone colors from print.
Colors pickers are very easy to use, are very fast, take up almost no space on your Mac, and give you 100% instant accuracy. You can generally use a color picker from image or on top of any visual element.
Good color pickers not only match a color at the moment but also let you save it to be reused later, and maybe even suggest creating and saving a whole palette based on it.
Another important color finder feature is not being in the way of your workflow but augmenting it instead. Having a color-picking shortcut or a utility you can access from a menu bar leads to a much more productive creative time.
Surely, you can open up Adobe Photoshop or GIMP and use a built-in color picker there, but given the time it takes Photoshop to load, this is going to be detrimental to your workflow.
Well, what are some of the top color finders for Mac right now?
Digital Color Meter
It's very for anyone to mention utilities in the Mac Utilities folder. Most of us bypass them altogether without even investigating if any of them might be useful in some way. At the same time, lots of people ask whether there is a default color picker for Mac?
Digital Color Meter is the gem of the Utilities folder. This lightweight app helps you find RGB color from images anywhere on your Mac, making it a very useful and free tool for any designer.
With Digital Color Meter, not only can you find colors in the moment, you can copy them as text or images to save for later and display the units as RGB, HEX, or percentages, which can be configured in the menu bar settings (View ➙ Display Values).
To use Digital Color Meter, just launch it and hover over any part of your screen. The color code will automatically change. You can use the slider to change the aperture area of your pick.
If you want to lock the color to do things on your screen without it changing, you can use the ⌘ + L shortcut.
To copy the color information as text, use Shift + ⌘ + C. To do so as an image, Option + ⌘ + C, which will copy your color as a swatch to be pasted into another app.
Now you know that you always have a useful image color picker on your Mac that you can use at any time. But, as with other default Mac apps, there are lots of third-party alternatives as well that could give you better features and functionality.
Sip
If you find yourself using a color picker for Mac all the time, you need something that integrates smoothly into your workflow.
Sip is just that kind of a color finder. It lives quietly in your menu bar until you need it and can also float as a tiny panel above your apps, so it's accessible at any time.
With Sip, you can select any colors on your screen and add it to your palette. You can also create multiple palettes (and name them) in a variety of color profiles, to suit your design needs.
Moreover, you can share your palettes with others, so your whole team can stay on the same page easily. If you have multiple devices, you can simply turn on Sip's iCloud sync.
Sip also supports custom shortcuts as well as Mac's Touch Bar for even faster workflow.
To use Sip, just click on any color already in your palette or select a color picker in the menu bar dropdown.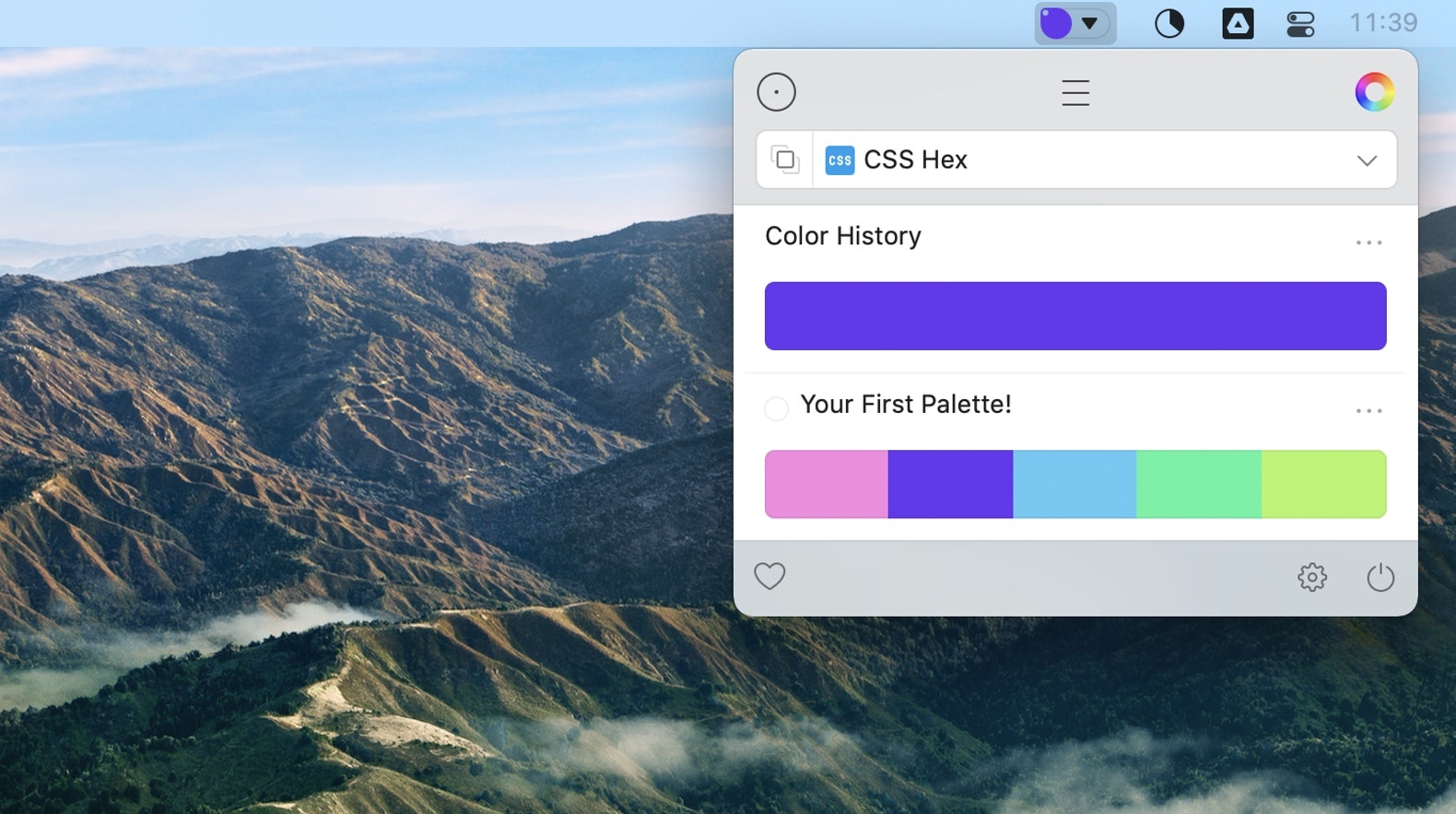 QuickLens
Sometimes, your work is not just about picking colors and combining a few tools in one might be beneficial. That's exactly what the QuickLens utility does.
QuickLens is like a set of cheat codes for your design process. Right out of the gate it features a color picker, a powerful zoom, a ruler, a grid-maker, and some other tools to improve your designs.
Working on top of any apps, QuickLens is always accessible and can be adjusted to any size to stay out of the way at the same time.
In terms of color-picking capabilities, QuickLens finds any color by default, lets you save it in a palette, and even generates whole palettes from one color automatically.
You can switch QuickLens to display RGB or HEX, and further specify the required color profile as well, even changing whole hues and applying various filters on top of it.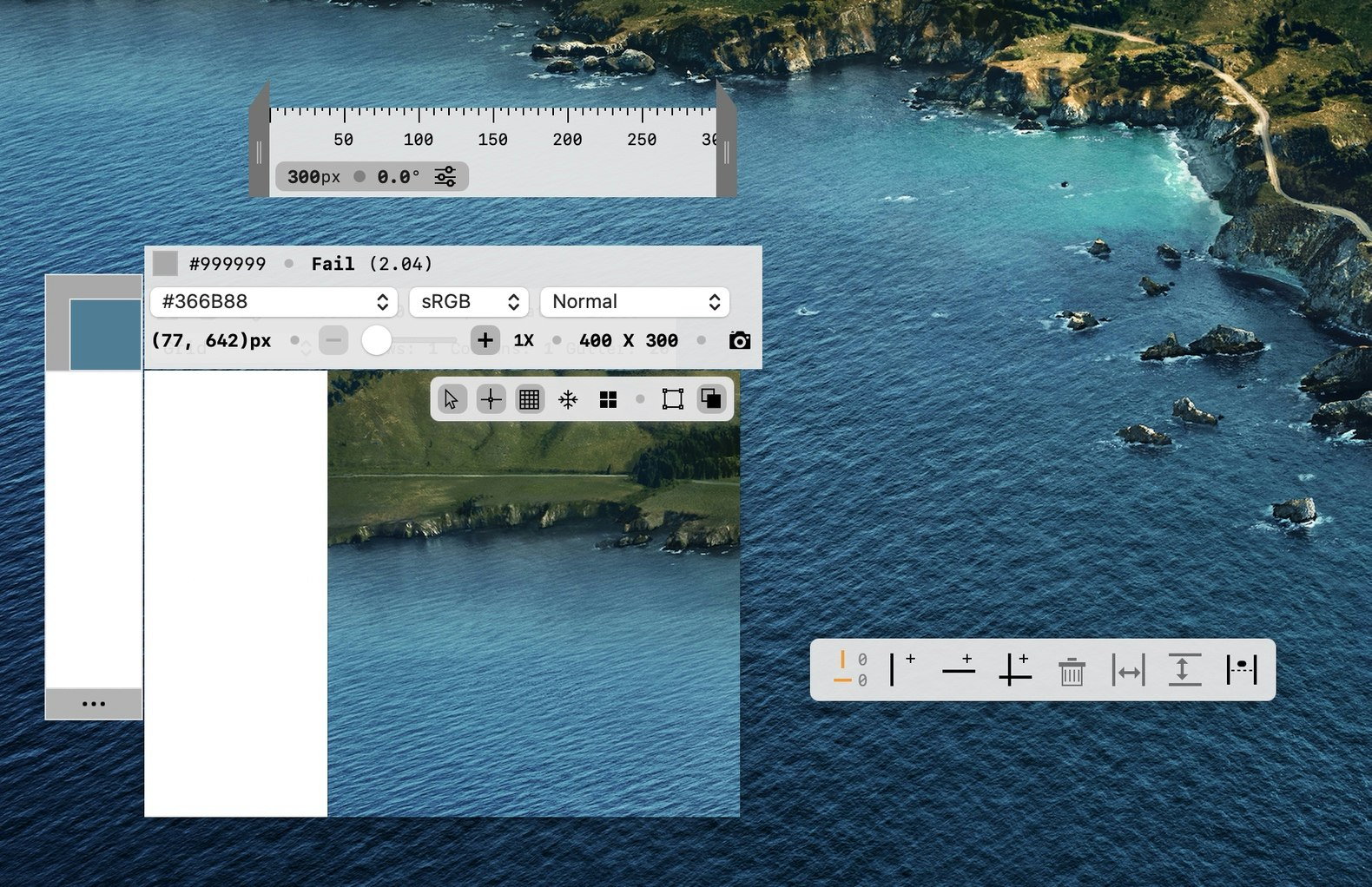 Aquarelo
While CSS color pickers and HTML color codes have their place and sometimes badly needed, digital creatives often struggle with creating harmonious color palettes from just two colors. For situations like these, look no further than Aquarelo.
Aquarelo is a simple lightweight app that helps you create color palettes on the fly. It features two color pickers to be able to identify two main colors to start with (you can type HEX codes in as well). Once you pick the colors you can specify the range of steps your palette should have, anywhere from three to 15.
After that, simply clicking on any color swatch will copy its HEX code to your clipboard to be used in any graphic editor.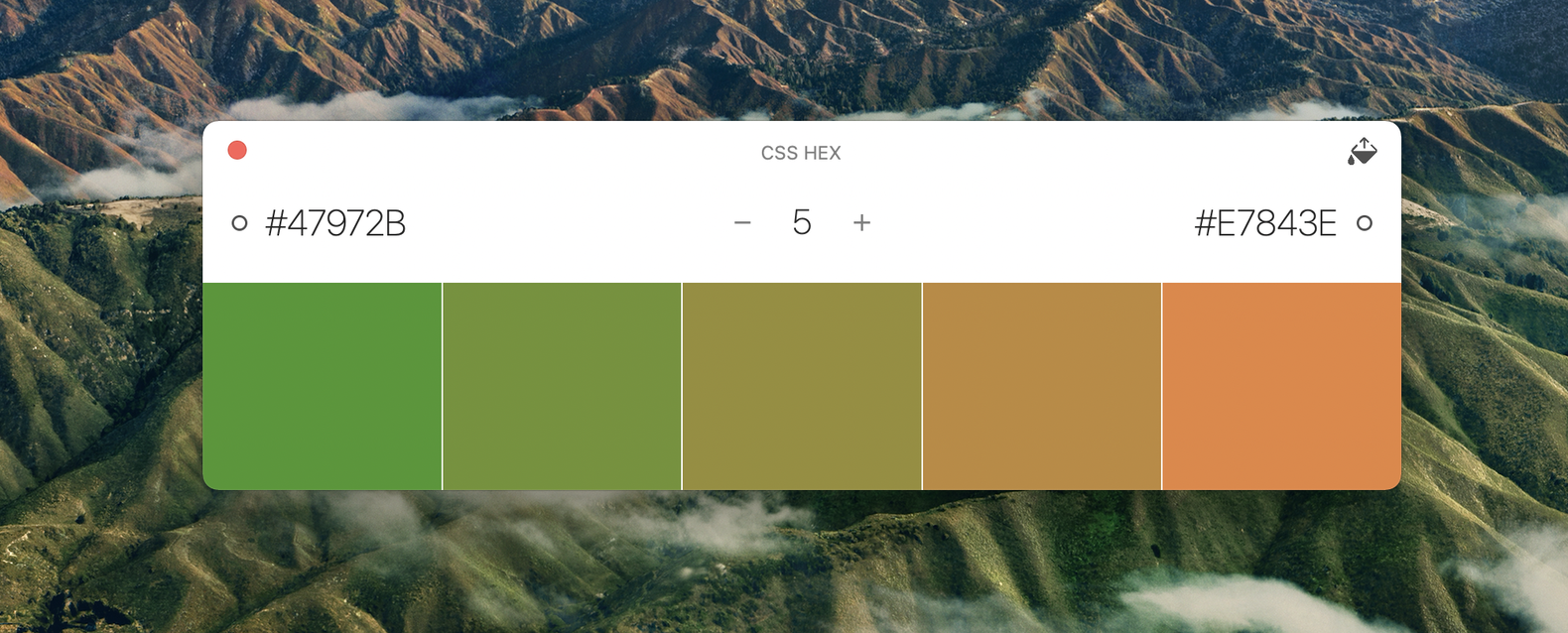 Webflow Chrome Extension
A lot of people these days are using Webflow to create amazing interactive websites without code. As anyone designing websites knows, matching them to a brand identity is not an easy task. That's where Webflow Chrome Extension comes in.
Webflow Chrome Extension allows designers to pick colors from within their own Webflow projects — something as simple as getting the color of your own logo right and then using it throughout the website by adding it to your swatches.
What's more, you can also generate new color palettes and color schemes without leaving Webflow and switching to any other apps.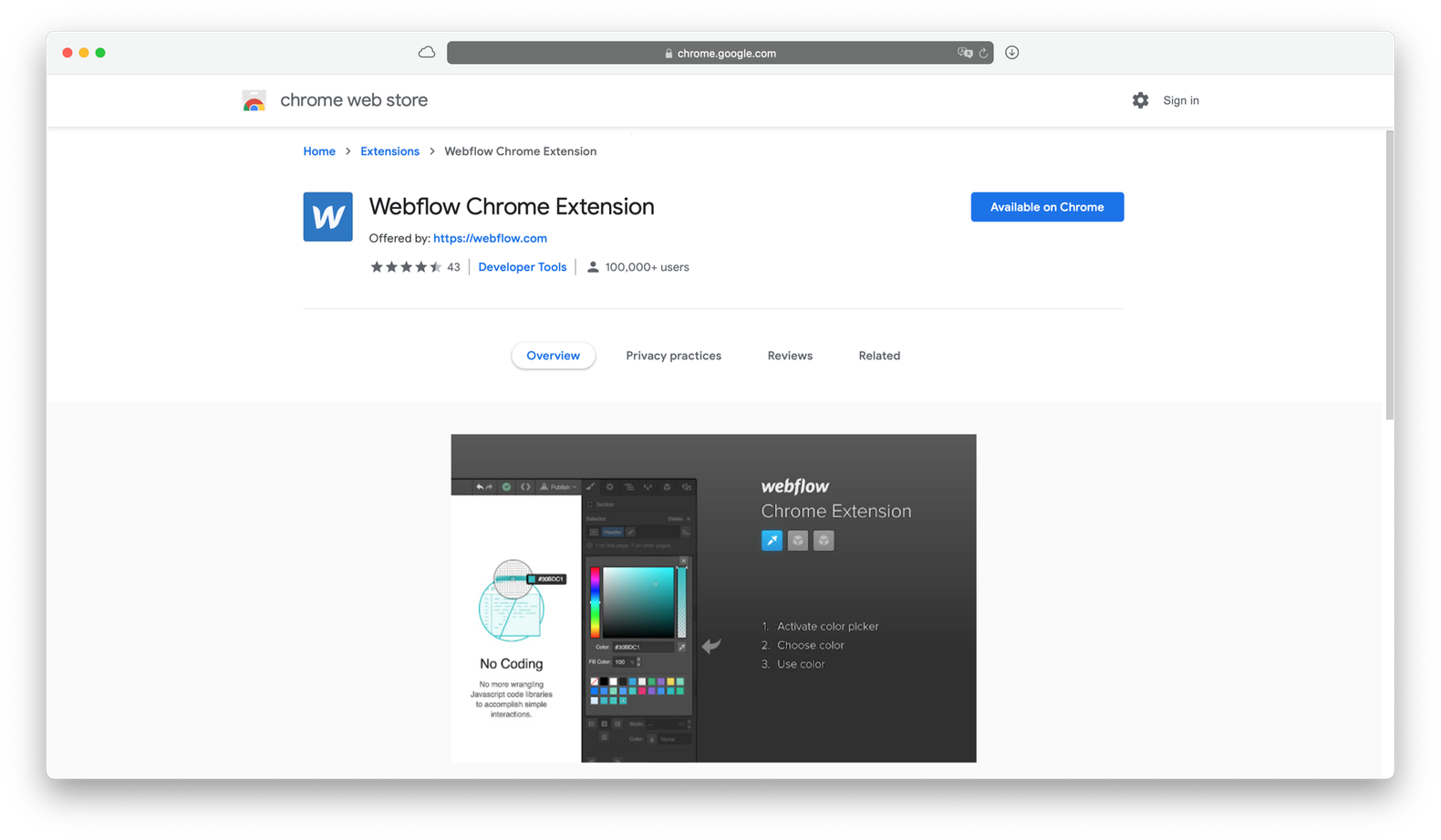 Adobe Capture
It's not surprising that Adobe, still being the foundational suite of apps for designers, has its own color picker. But it's quite unlike any other.
Adobe Capture is a mobile (iOS and Android) app that lets you take photos and then convert them into full-featured color palettes, which could be easily transferred to any desktop Adobe apps.
Besides colors, Adobe Capture can also recognize shapes, patterns, brush strokes, materials, and typefaces. It's the best app around for transferring reality into your creative projects.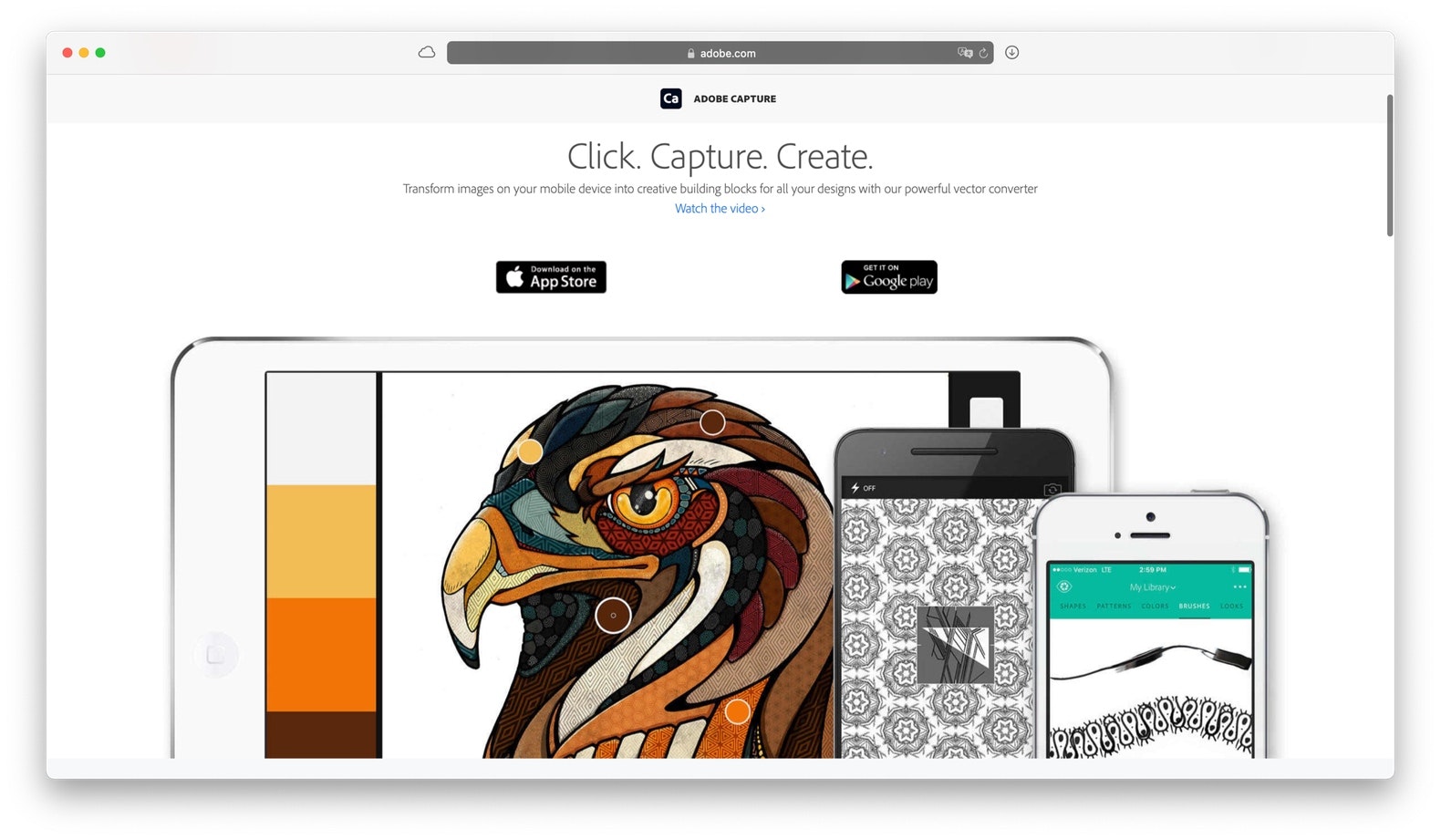 As you can see, there are a variety of Mac eyedroppers you can try, from the default Digital Color Meter to mobile-based Adobe Capture. The exact one to use should depend on your needs, but we recommend Sip for an everyday color palette, QuickLens when you're working with grids or other design elements, and Aquarelo for quick color palette creation.
Best of all, Sip, QuickLens, Sketch Export for Xcode, and Aquarelo are available to you absolutely free for seven days through the trial of Setapp, a platform with more than 220 best Mac apps across all categories, from video editing to VPN. Try every Setapp app today at no cost and use the best apps for every task.