Best color code pickers to create perfect color palettes on Mac
Anyone in design knows how important it is to have brand, corporate, or simply favorite colors at your fingertips. And how important it is to save eye-catching colors that you happen to come across. So, if you're a designer, developer, web artist, or anyone else who works with color all the time, this article is for you. We've tested color code pickers for Mac and selected the best ones. Let's dive in.
How to choose the best color picker for Mac?
Most color palette tools have the same basic features: defining a color and creating a palette. The difference usually lies in the nuances: some apps can find colors from the image, while others help you find the perfect color match. So, when choosing an app, consider your tasks, but keep in mind the following features of a good Mac color picker:
Accuracy. It magnifies the image enough to make it easy for you to pick out a particular pixel.
Non-intrusive. The app should be easy to access, for example, through an icon in the menu bar. It should also be lightweight and run in the background without affecting other apps.
Wide color format support. Or exactly the ones you need: RGB, HEX, HSL, CMYK, etc. Pay attention if you need to convert a color to Pantone – it's a rare feature.
Color history. It helps compare shades and return to previous selections.
Well, what are some of the top color droppers for Mac right now?
---
Digital Colour Meter
Digital Color Meter is a built-in Mac tool that's a lifesaver for anyone who occasionally needs to identify colors on the fly, anywhere on the screen. To open the app, press ⌘ + Space and type its name.
Digital Color Meter defines colors in RGB in different values: decimal, hexadecimal, and percentage. To change this setting, go to View > Display Values.
To get the hex color code, simply hover the eyedropper over any spot on the screen. You can copy a defined color as text (Shift-Command-C) or an image (Option-Command-C).
If you want to lock the color so you can do things on your screen without changing it, use the ⌘ + L shortcut.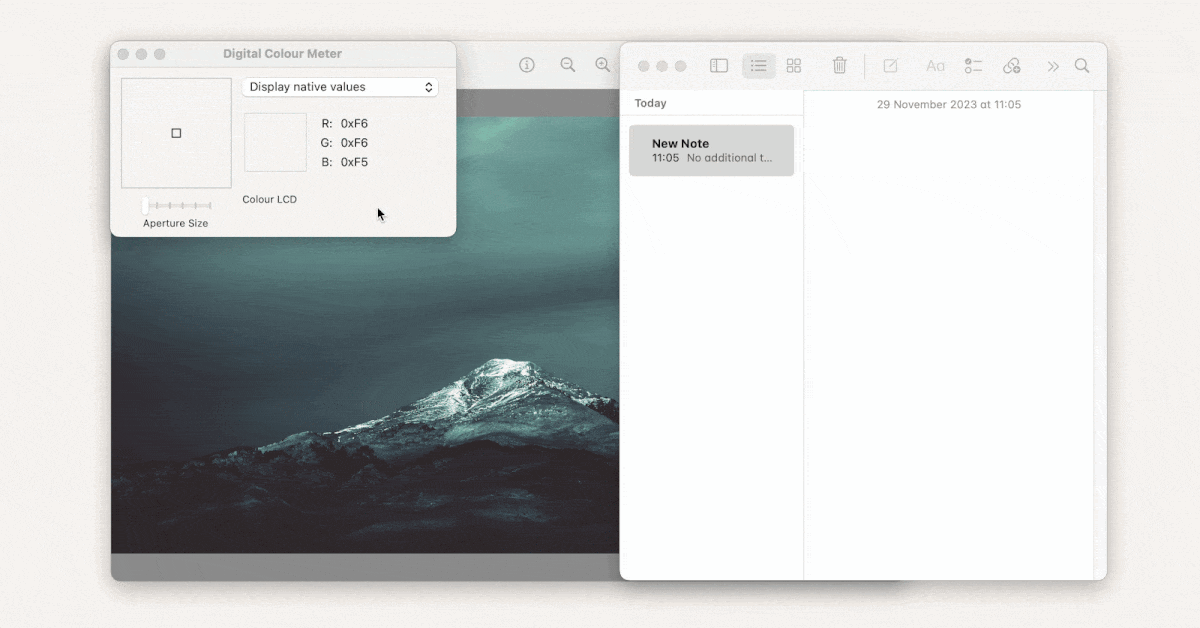 These are all the main features of Digital Color Meter. You'll need a more powerful tool to create your own palettes within the app, share colors, etc.
Price: free.
---
Sip
Sip is an advanced color dropper tool for professional use. It's known for its palettes, contrast checker, and smart formats.
Once installed, Sip lives in the menu bar and is ready to define colors anywhere on your Mac with a single click. You can even pick multiple colors with a single eyedropper:
Click on the eyedropper.
Click Shift > Multiple Colors.
Pick colors, then press Enter and choose the necessary palette to save colors.
The colors you've recently defined are saved in the history.
If you're working on different projects, you can create separate palettes for them right in the app. They can be shared with other Sip users or exported to ASE, CLR, JSON, and PDF formats.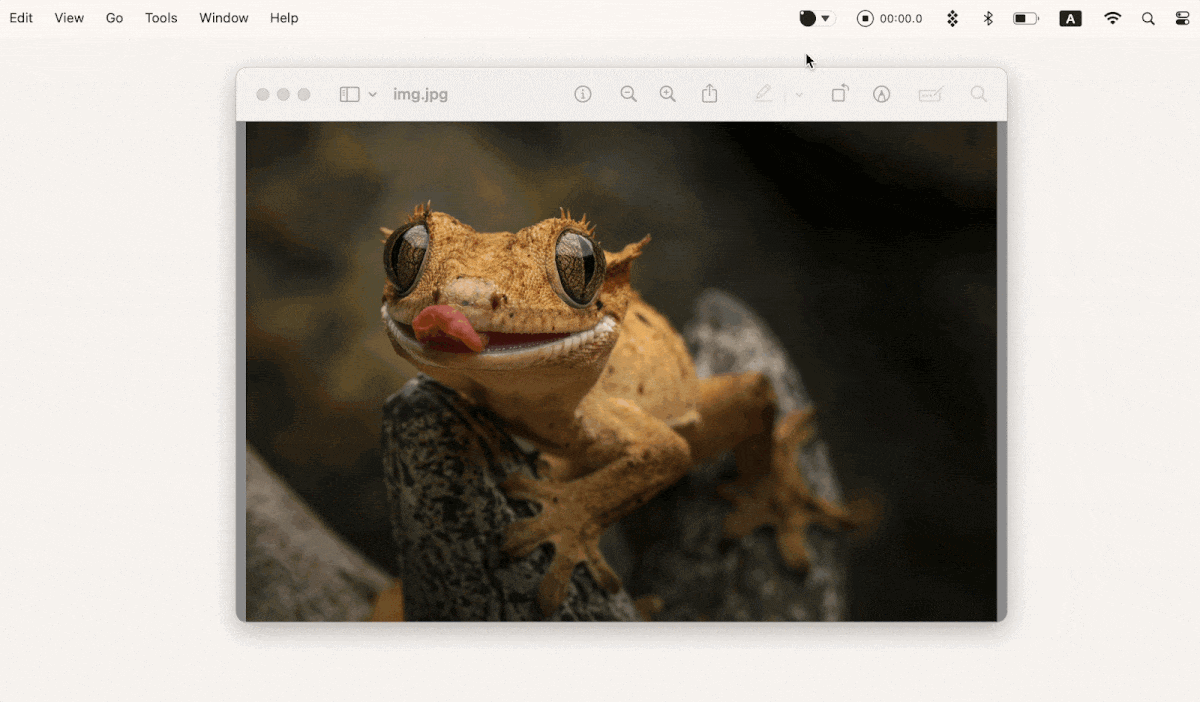 Another great feature is the Contrast Checker. It helps you check the color on a Mac and determine if your text is readable against a particular background. The app can automatically fix the font or background color if the contrast is insufficient.
Another handy feature is that you don't have to manually change the color format when switching between software. Just turn on Smart Formats, and the app will automatically adjust to the appropriate format.
Price
$20 per seat + 1 year of updates on the developer's website.
$9.99 per month on Setapp + 230+ other apps.
---
QuickLens
You always need more than just a color finder for your design tasks. That's where QuickLens comes in, a UI inspector that combines several tools: Lens, Ruler, Frame, Guide, Monocle, and Crosshair. A real cheat code for your design process!
This Mac eyedropper supports all popular color formats: Hex, RGB, HSL, RGB Percent, HTML colors, and YCbCr. It also has four supported color spaces: Native Display, Adobe, Generic, and sRGB.
But let's get back to color picking. For this, you need the Lens tool. Open it, move the pointer to any color on the screen, and press C. The color will be automatically added to the palette.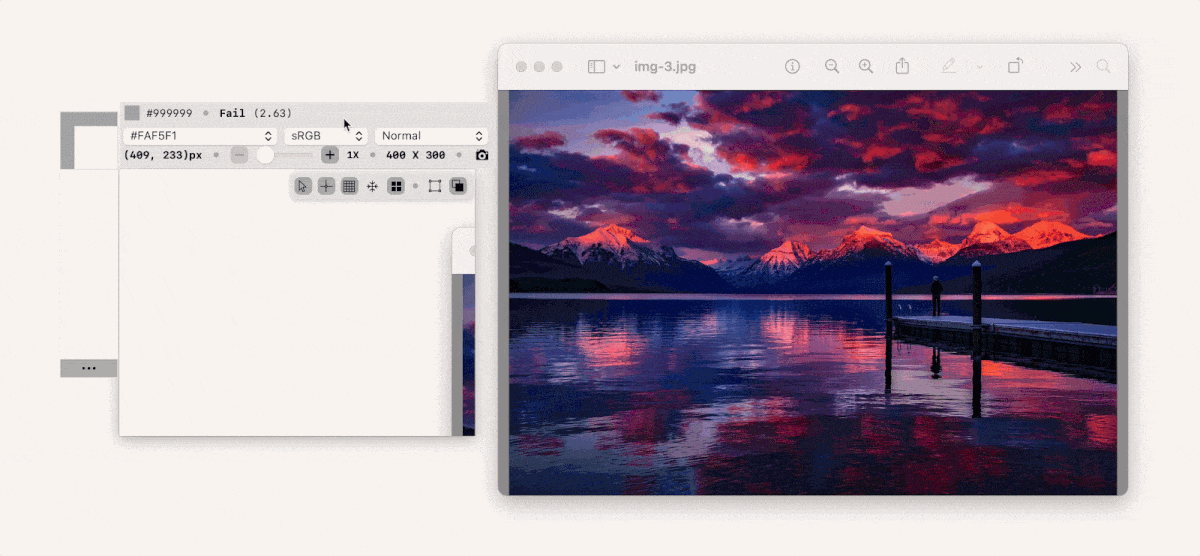 You can also extract all the colors from the image. To do this, use the Auto Palette feature. Select a portion of the image, and all the colors it contains will be included in the collection.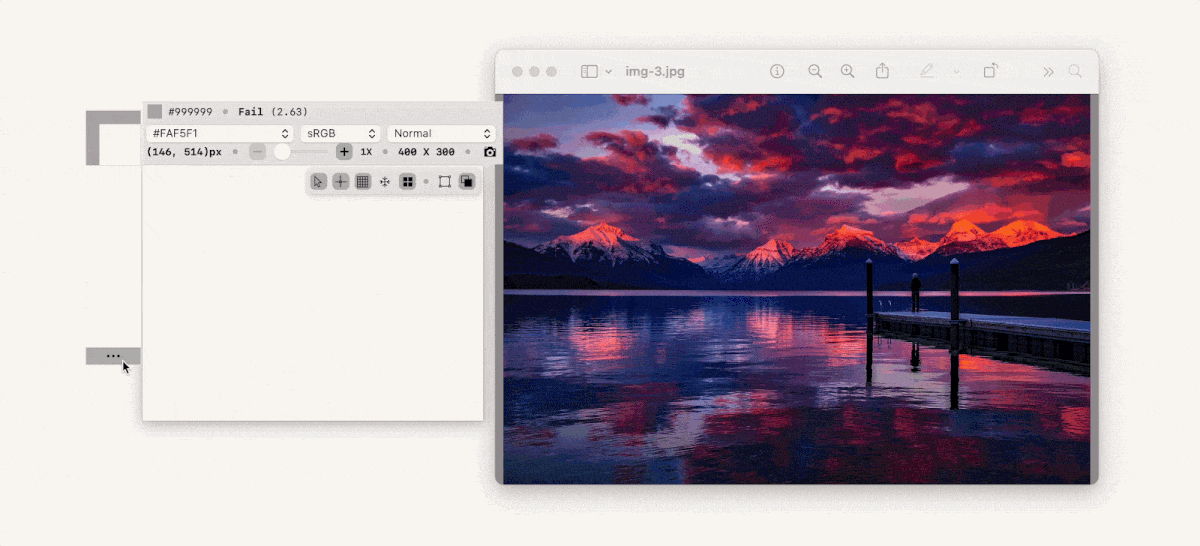 For working with colors, you may also like the contrast-checking tool (usually used to check if the font matches the color of the background).
Additional tools you may need when creating designs include:
Ruler – to measure objects on your screen in pixels, inches, centimeters, and millimeters.
Frame – to check layouts against a grid and size them accordingly. Golden Grid is also available.
The Guide – to create full-screen vertical and horizontal guides. You can move or lock them, just like in Photoshop.
Monocle – to display elements on the screen as if under a lens (zoom from 1X to 32X). The part of the screen outside the monocle can be dimmed. An excellent tool for presentations.
Crosshair – to determine an element's dimensions, location, or bounding box in real-time.
As you see, you can do a lot of things with this app. However, some commands are not obvious, so you should read the user guide to learn the basic shortcuts.
Price
$24.99 in Mac App Store
$9.99 per month on Setapp + 230+ other apps.
---
Aquarelo
While CSS color pickers and HTML color codes have their place and are sometimes badly needed, digital creatives often struggle with creating harmonious color palettes from just two colors. For situations like these, look no further than Aquarelo.
Aquarelo is an eyedropper tool with only two main functions: creating the best color combinations and scanning colors.
All you have to do is give the app two colors: enter a Hex or RGB value, a color name, or use the eyedropper. Based on this, Aquarelo will create a palette of intermediate colors. There can be from one to 13 of them.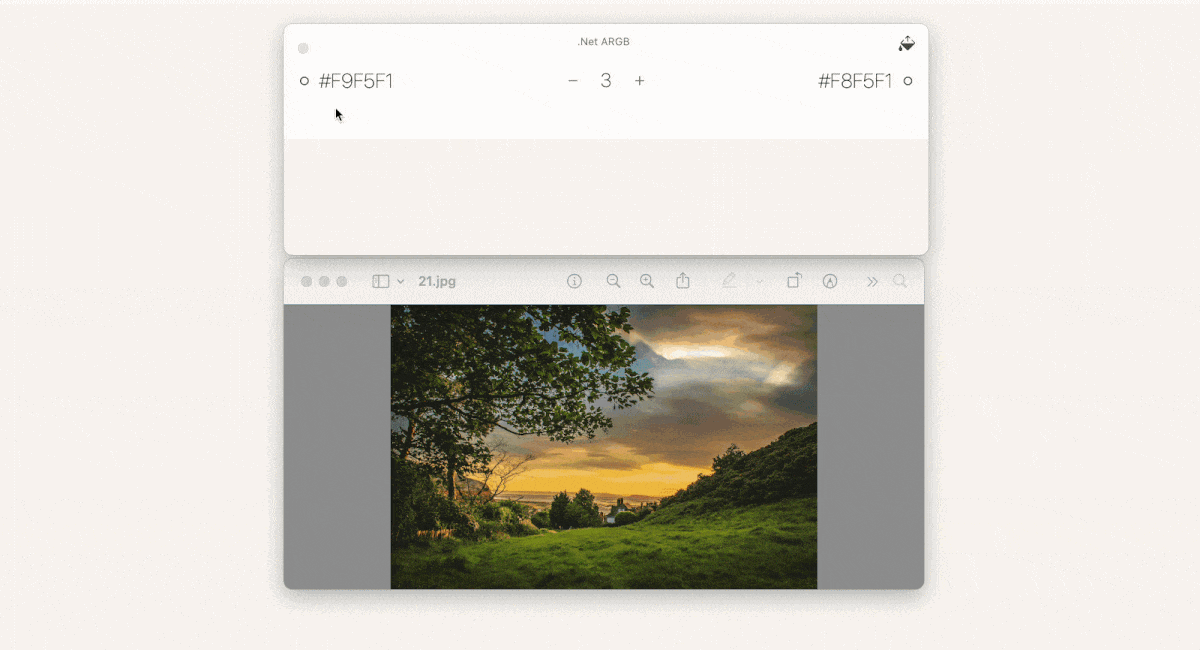 Now, you just have to click on the selected color and get its code. If you need another format, the app can convert 35+ formats automatically.
And what if you want to mirror the color palette of a particular image? It's easy; just upload the image to the app. It will extract all the colors and present them as a palette.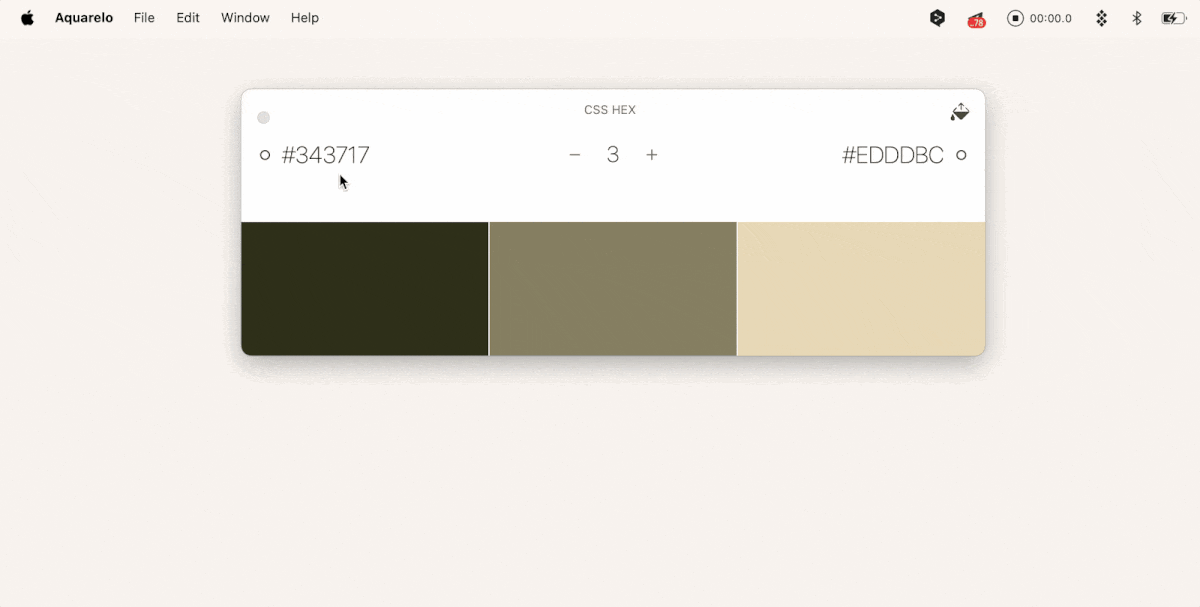 Price
$14.99 in Mac App Store
$9.99 per month on Setapp + 230+ other apps.
---
Adobe Capture CC
It's not surprising that Adobe, a foundational suite of apps for designers, has its own color code picker. But it's quite unlike any other.
Adobe Capture is a mobile (iOS and Android) app that lets you take photos and then convert them into full-featured color palettes, which can be easily transferred to any desktop Adobe app.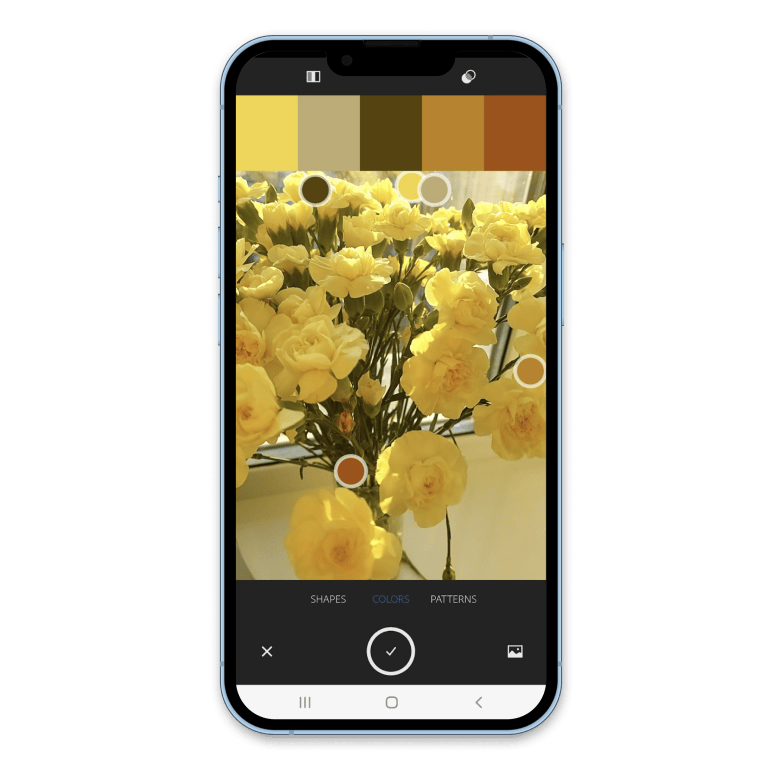 Besides colors, Adobe Capture can recognize shapes, patterns, brush strokes, materials, and typefaces. It's the best app around for transferring reality into your creative projects.
Price: free in App Store
---
Color Picker Tool – Geco
When you see a great color or palette while browsing the web, you might find saving it with an extension handy.
One of the options is the Color Picker Tool – Geco, which is available from the Chrome Web Store. Once installed, it lives in the list of extensions in Chrome (the puzzle icon to the right of the search bar).
The colors you select with the eyedropper are saved in the palette, and their RGB code is automatically copied to the clipboard. You can create as many collections as you need and then download them to your Mac in .csv format.
Since the extension cannot select multiple colors in a row, we recommend customizing the keyboard shortcuts to speed up your work. In our test, we set Option + Q to activate the extension and Option + R to find the color value. It works much better!
Price: free in Chrome Web Store.
---
Choose the best Mac color picker app
As you can see, you can try various Mac color pickers, from the default Digital Color Meter to mobile-based Adobe Capture. The exact one to use should depend on your needs. Still, we recommend Sip for an everyday color palette, QuickLens when working with grids or other design elements, and Aquarelo for quick color palette creation.
Best of all, Sip, QuickLens, and Aquarelo are available to you free for seven days through the trial of Setapp, a platform with more than 230 best Mac apps across all categories, from video editing to VPN. Sign up to try every app at no cost.