Pluto TV: App, Channels, Reviews and How to Activate
Streaming services are more popular than ever. While HBO, Disney, and others have crafted their own streaming services, there's still a lot of interest in streaming a more traditional TV offering. That's where services like Pluto TV and Sling TV come into play.
In case you were wondering 'what is Pluto TV', in this article, we'll discuss the Pluto TV app, and tell you about some apps that make streaming any content far better.
Pluto TV App for Mac and Other Supported Devices
You may not know this, but Pluto TV is available via the Mac App Store. Though you can still view it on the web, the native app provides a much richer experience, and allows you to cast your content to any smart device easily.
In addition to the Mac and web browsers, you can stream Pluto TV on these devices:
Android
iOS
Windows
Apple TV
Fire TV
Chromecast
PlayStation 4
Roku
Smart TVs with the Pluto TV app
The native Pluto TV Mac app makes it really easy to cast to other devices, like Smart TVs, but there's a better option. JustStream allows you to cast your content to an Apple TV, Chromecast, or Smart TV quickly and easily, making it immediately better than the alternatives. It's a better option as you can simply choose your content on a Mac and cast it to the big screen without having to go back into the app on a TV platform and re-discover content.
Pluto TV Download and Activation
Downloading and activating Pluto TV on your Mac is a simple process. All you need to do is download the app onto your Mac, and sign up in the app. Here's how to do it:
Go to Pluto TV in the Mac App Store
Select the "Install" button on the top right of the window
When the app is finished downloading, find it in your app drawer on Mac
Click it to open
Select the "My Pluto" tab in the app window
Enter your information
Select "Sign Up - Free"
That's all it takes! Keep in mind you can watch Live TV without a subscription in the app.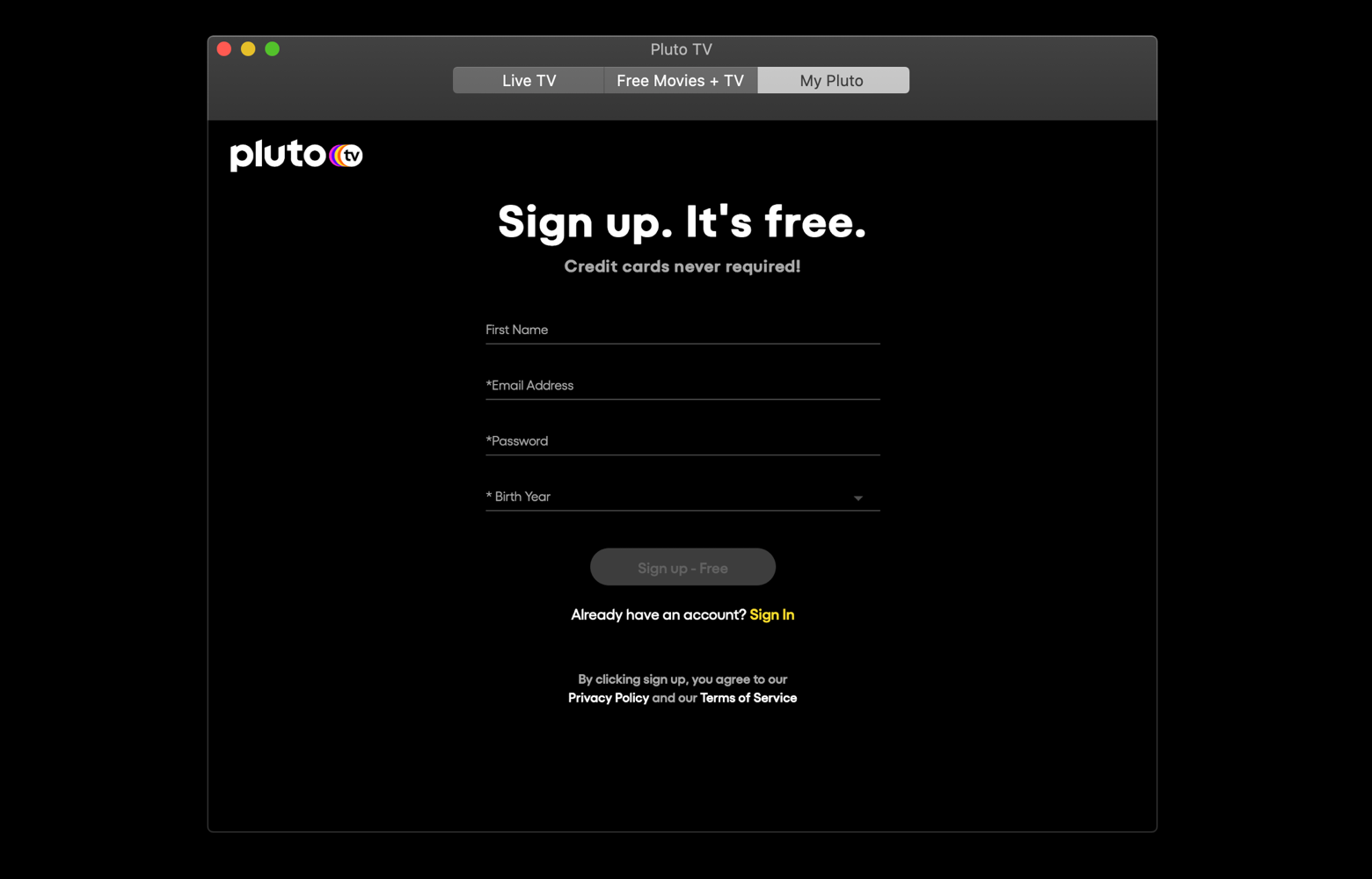 Like all apps, Pluto TV is updated often. Typically, an app update can remedy odd issues you are having, so it's really important to keep your apps up to date. That's one of the great features of CleanMyMac X – it keeps your apps up to date, and helps you manage your updates with ease. It carefully monitors the Mac App Store for available updates to apps on your computer, and tells you when it's time to update them. Its updates are also a lot faster than the Mac App Store process!
Pluto TV Channels and Shows
Curious what channels are on Pluto TV? There are a ton of great ones! You'll likely find content available on some other services too, but it has some standouts amongst its 250 channel lineup when compared to other streaming TV services. Here are a few great channels:
Wipeout
A unique CNN channel just for Pluto TV
NBC News Now
Red Bull TV
Fight
World Poker Tour
Glory Kickboxing
Pluto TV Cine
It also has cable channels you'd expect, like MSNBC and Bloomberg, but not all channels are created equally. In our list above, both CNN and NBC News channels are essentially curated content for Pluto TV. You won't get full shows; instead, you'll be served snippets and segments, much like the YouTube strategy many cable companies employ these days.
Channels are one thing, but many of us want to stream shows and movies! Pluto TV doesn't disappoint here, either. Below are some interesting shows you can stream on Pluto TV for free:
Hell's Kitchen
The First 48
Star Trek: Insurrection
America's Test Kitchen
Baby Sitter's Club
3rd Rock From the Sun
The Making of the Mob
This Old House
Streaming is convenient, but requires a strong internet connection. Have you ever sat there while your TV or computer stuttered and buffered, leaving shows paused while your internet connection improved? We all have. WiFi Explorer can help.
WiFi Explorer is an app for your Mac that keeps a close eye on your network connections, and tells you what may be wrong with a connection, and if there's a better signal or channel for you to stream content on. While we often assume WiFi will just take care of itself, that's not always the case; often, simply switching your device to a new channel or network can help, and WiFi Explorer helps you find the best one available so your streaming content just – well, streams!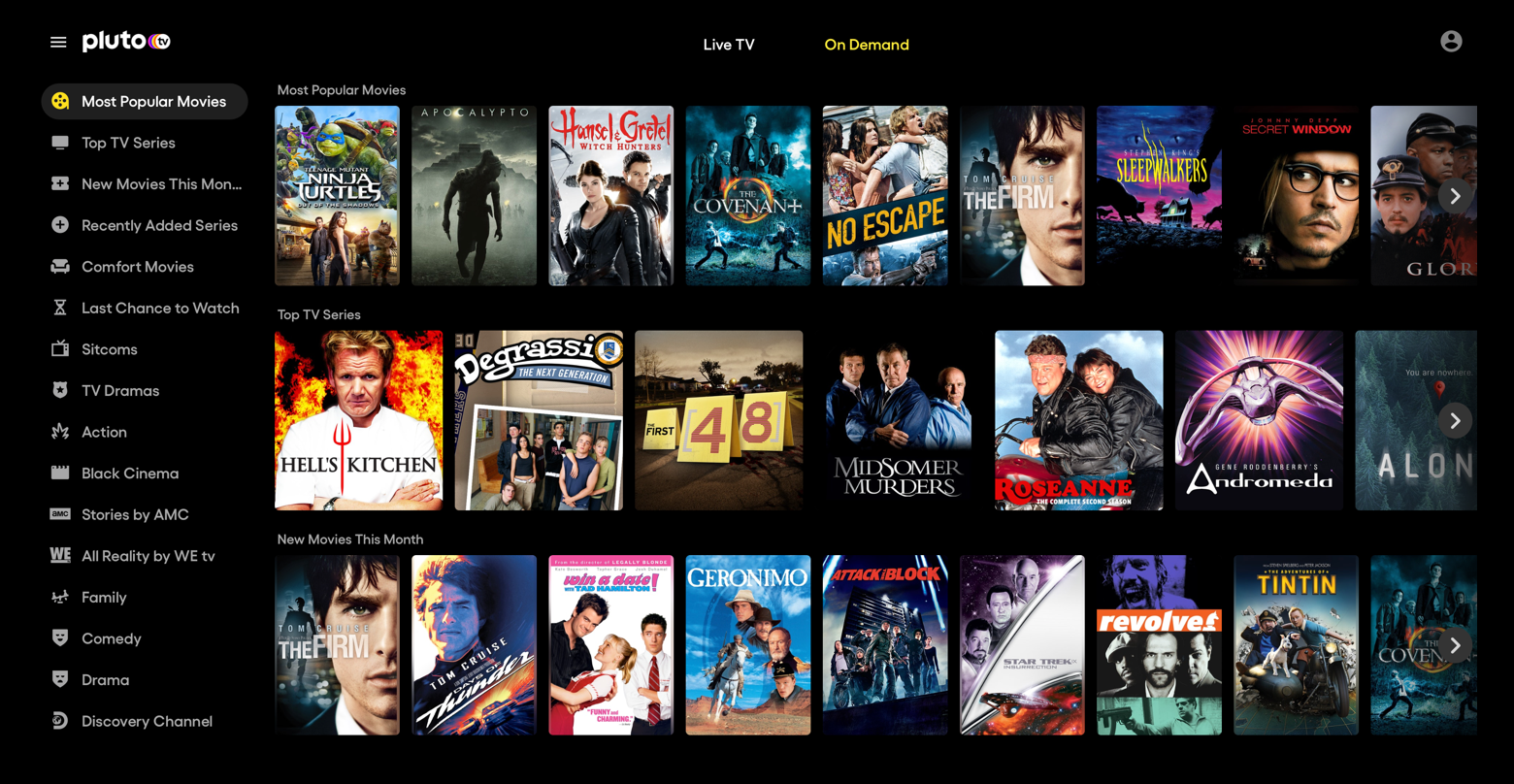 Is Pluto TV Really Free?
Asking "is Pluto TV free?" is a tricky question. The short answer is yes; you don't pay for it the same way you pay monthly for HBO Now or other streaming services. Pluto TV cost is in the time spent watching ads.
Keep in mind other streaming services show ads, too – but Pluto TV shows them often, and it's typically more like a commercial break you'll find on traditional TV. Services like Hulu have single commercials, on the other hand Pluto TV has longer commercial breaks with several ads showing back-to-back. This also applies to movies; ads are interspersed into movies, almost as though you're watching them on a traditional TV service.
It's worth keeping in mind before diving into subscription. While you don't pay upfront, you end up spending a lot of time watching ads. If you find shows you like on other platforms, it may be worth spending a few dollars each month on another service to save yourself time spent watching ads on Pluto TV.
Is Pluto TV Legal?
Pluto TV is absolutely legal. It's not pirated content. On its website, there are lists of content partners, many of which are known networks and have chosen to partner with Pluto TV to stream. In many cases, older movies and TV shows are owned by the networks or distribution companies associated with those networks, and choose to stream content to earn royalties.
It is, from a business standpoint, much like traditional TV.
Pluto TV Review
Pluto TV is wildly disruptive to the status quo. It's essentially basic TV and cable, offered for free. Those who bundle service through their cable TV provider may want to explore internet-only packages moving forward.
Because Pluto TV is a lot like traditional TV, expect the same level of commercial interruption while streaming content. It makes its money from advertisements, and it quickly becomes evident Pluto TV is not shy about how many ads it shows you, or how often. If you're looking for a TV service that shows little or no ads, it isn't what you're looking for.
Another knock on Pluto TV in our experience is a lot of the content is the same you can find on YouTube. This isn't a bad thing, of course, as it has the same ad-revenue business model as YouTube, but it confuses the content mix a bit. It's no longer 'normal' TV and somehow ends up a mishmash of TV shows and random internet-first content.
But, if you don't mind ads, it's hard to argue against Pluto TV, especially if a lot of the YouTube-ish content is stuff you subscribe to on YouTube. In that sense, it's a lot more like curated content from across TV and the Internet. Pluto TV is also totally free, so there's just no risk involved with giving it a shot if you're curious.
Conclusion
Pluto TV may be a decent introductory streaming TV service, but be mindful about what you want, and where you consume it. Most other services have original content, which you simply can't find elsewhere, especially Pluto TV.
And no matter what you decide to stream, give CleanMyMac X, JustStream, and WiFi Explorer a try to really enhance your experience. Like Pluto TV, all three of those apps are available for free!
You can give them a try for free during a seven day trial of Setapp, the leading suite of productivity apps for your Mac. In addition to these apps, Setapp has nearly 200 other apps you can try for free during your trial period. Once the trial ends, continued access to the full Setapp catalog is only $9.99 per month – an amazing deal, so give Setapp a try today!