How To Watch Apple TV On Mac
With the launch of Apple's own subscription streaming service Apple TV+ this November, it's only natural that everybody's been wondering how to connect Mac to Apple TV. Until October 2019, the TV app wasn't even available on Mac and was only there for you if you wanted to watch your favorite shows on the iPhone or iPad. Totally different screen experience with your Mac, right?
So if you're ready to give watching Apple TV on Mac a go or want to stream from iPhone or iPad to Mac, this tutorial's got you covered.
How To Enjoy Your Favorite Content On Mac
To get on with Apple TV on Mac, you just need the Apple TV app, which also gives you access to the full Apple TV+ streaming service. Here's how.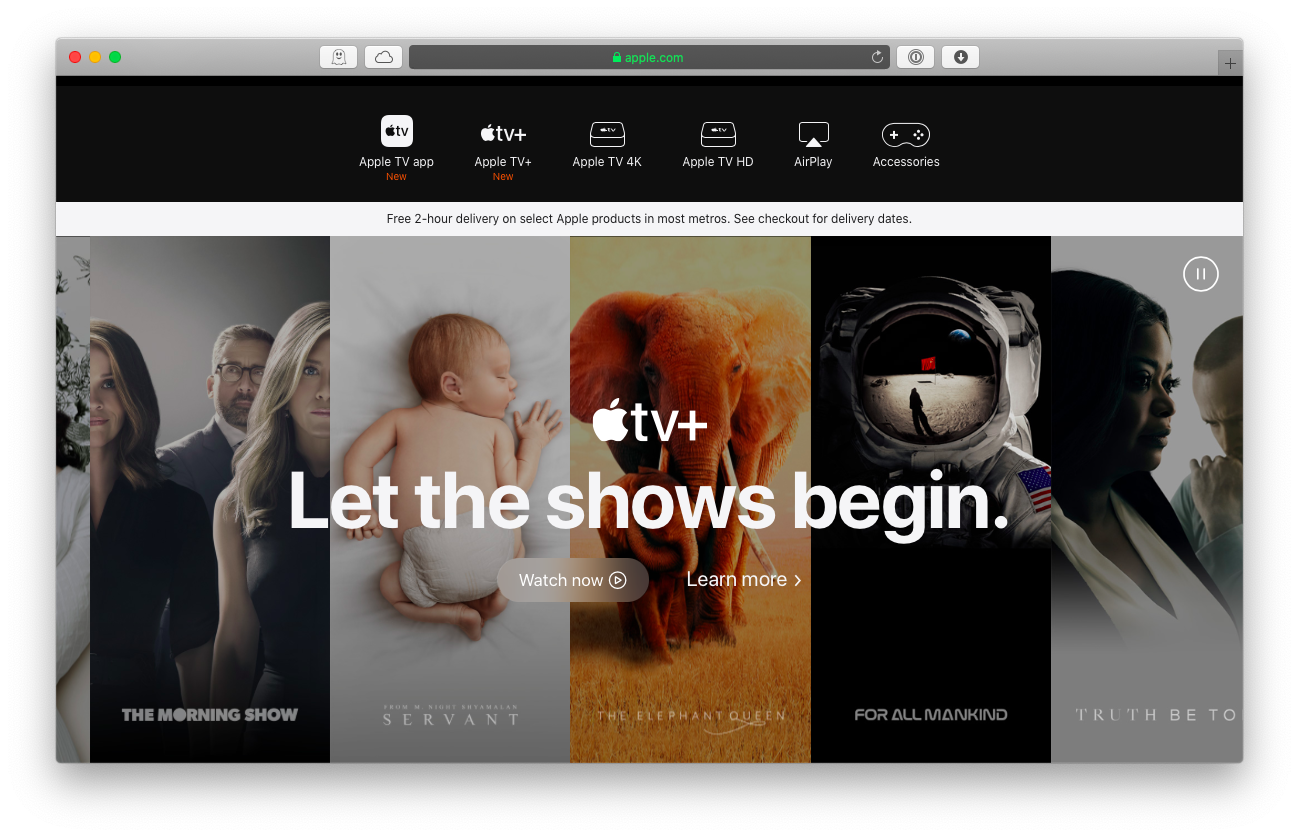 How to use the Apple TV app on Mac
The Apple TV app comes built-in starting with macOS Catalina. So as long as you're on a Mac that run Catalina or Big Sur and have your software updated regularly — simply go ahead and click on the TV logo in your Dock to open the TV app.
Congratulations! You've arrived to what Apple calls "the ultimate way to watch TV!" You can now see for yourself if Apple TV on Mac lives up to your expectations by:
Watching Apple original series from Apple TV+
Subscribing to your very own choice of premium channels, such as HBO, Showtime, and others — all in one place, in excellent video and sound quality, and with offline viewing options
Having access to content from popular streaming apps and cable TV providers, with no need for additional software, sign-ins, and passwords
Enjoying a new home for movie buying and renting that came to replace iTunes
To navigate the app, just use the tabs at the top or bottom of your screen:
Search lets you browse trending content as well as find movies and TV shows by title, actors, and other filters.
Library stores your purchases (including your previous iTunes buys), current rentals, and downloaded content from Apple TV+.
Watch Now is where you go to subscribe to the Apple TV+ service.
Once you're ready to commit or give the Apple TV+ trial offer a run, connect Apple TV from Mac:
Select any show or movie from Apple TV+ in the Watch Now tab
Click on trial offer
Sign in with your Apple ID
Enjoy watching
Your trial will start as soon as you start streaming, and once the trial period is over you'll be subscribed automatically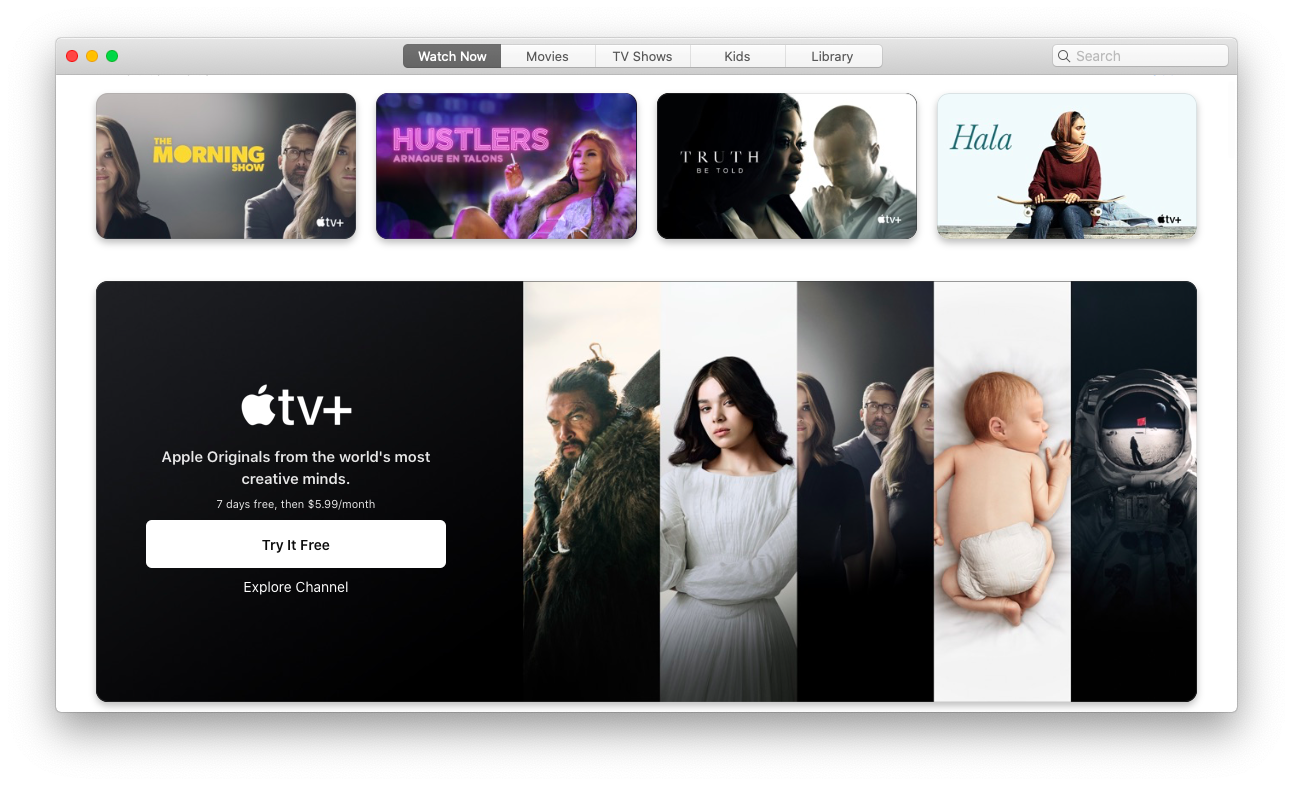 How to stream content from iPhone or iPad to your Mac
You'd be surprised to learn that, for the time being, the same Apple TV app on your iPhone or iPad would seem to have more third-party choices available than you'd see on Mac. Or you might simply want to stream some other content you have on your iPhone or iPad to a bigger screen of your Mac.
The natural assumption would be that Apple AirPlay is the tool for the job, since it's available on all three devices. Unfortunately, it turns out that the Apple AirPlay solution only works for when streaming to TV from your iPhone, iPad, or Mac, but not between the three of them. To be able to stream to Mac from your iPhone or iPad, you'd need to install a separate third-party app.
How to connect Mac to Apple TV
What might get confusing at times is that when Apple TV is not an app or a streaming service, it's a gadget of the same name that's used for streaming from iPhone, iPad, or Mac to your TV screen! It also lets you watch different streaming services, such as Netflix, on your big screen TV.
If you wonder how to connect Mac to Apple TV, all you need to do is connect your Apple TV to your TV screen with HDMI cable and then use the same WiFi network as your Apple TV to stream your content.
There's no need to physically attach your computer to the Apple TV gadget — unless you intend to use your Mac display as a TV screen (in which case your Mac has to have an HDMI port).
You may also choose to control Apple TV from Mac if you find using Siri remote to enter text into the search box of Apple TV too frustrating (and it is!). For that you'll need to install an app that turns your Mac into a remote Bluetooth keyboard.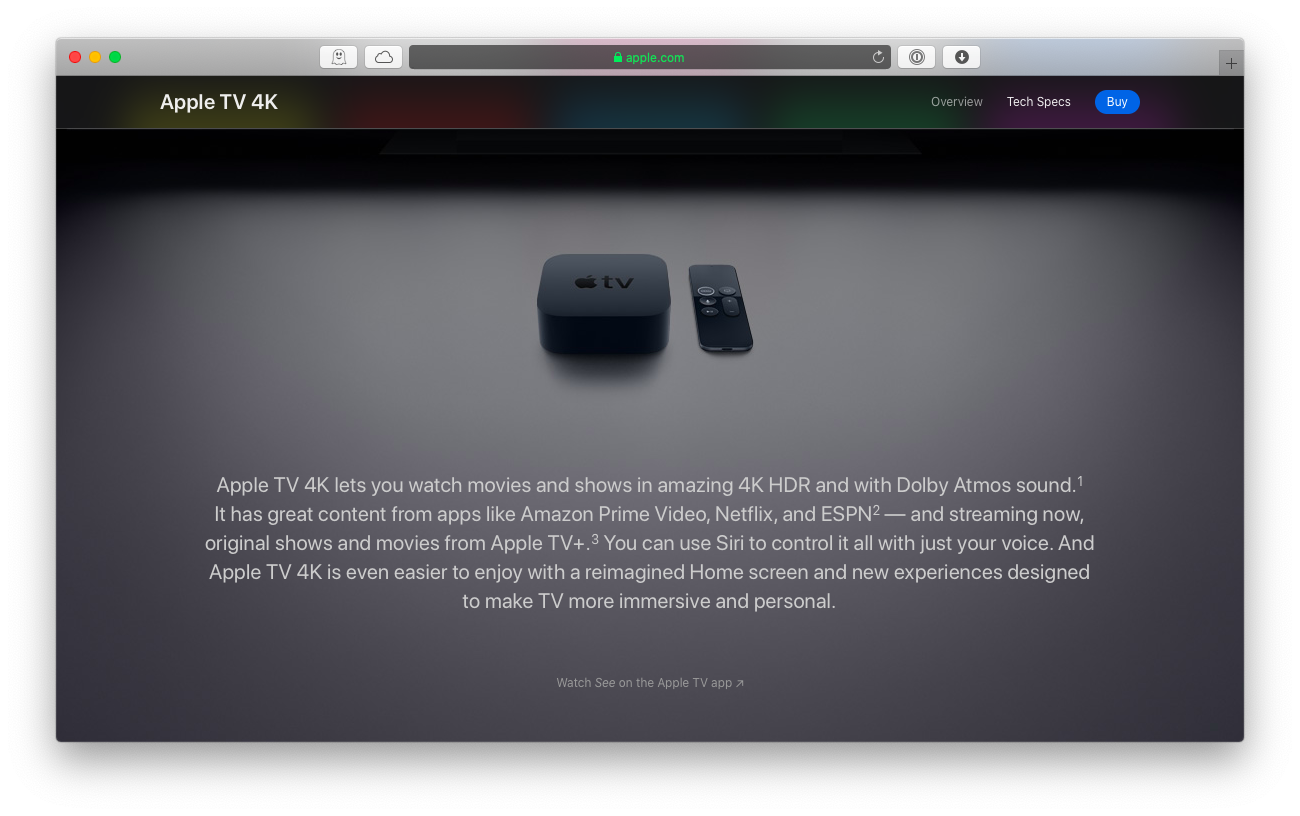 How to AirPlay from Mac to Apple TV
Once you're clear on how to connect MacBook to Apple TV, you're all set to stream from Mac to Apple TV to your heart's content with the help of Apple AirPlay. What is AirPlay? In short, it's Apple's way to let your device (be it Mac, iPhone, or iPad) communicate with the Apple TV — by letting you stream video or simply mirror the whole display of a device to a TV screen.
Using AirPlay on Mac is pretty straightforward. To AirPlay Mac to Apple TV, for example:
Open the app or website with your video
Click on AirPlay in the video playback controls
Select the Apple TV or Smart TV you want to stream to. Enjoy!
To stop streaming click on AirPlay in video playback control once more and choose Turn Off AirPlay
How to AirPlay video from your iPhone or iPad
Whatever your task at hand is — entertainment, work, or study — Apple AirPlay will take it up onto the big screen from your iPhone or iPad. To AirPlay your video:
Connect to the same WiFi network as your Apple TV
Choose the video you want to AirPlay
Tap AirPlay (in some apps you'll have to click on additional "share" icon first)
Choose the Apple TV you'd like to AirPlay to
How to mirror Mac to Apple TV
Instead of streaming a particular video you can opt to mirror the entire display of your Mac to your TV screen:
Make sure you're using the same WiFi network on Mac as the Apple TV you want to mirror to
Click on AirPlay icon in the menu bar at the top of your Mac's screen. If the icon doesn't show and you wonder how to turn on AirPlay on Mac, go to System Preferences and check "Show mirroring options in the menu bar when available" in Displays.
Choose the designated Apple TV from the dropdown menu
Enter AirPlay passcode on your Mac if it appears on the TV screen
How to improve your Apple TV watching experience
As fantastic as Apple TV options are there's still room to make your watching experience truly great.
First, how about a sound enhancer for an ultimate listening experience? With a cool app like Boom 3D unlocking peak performance from your Mac's hardware won't even be an effort. Allow yourself some total sound immersion with:
Innovative surround sound flagship feature that has a built-in volume booster and allows to adjust each sound channel individually
Extensive array of genre-specific sound-boosting presets that could make anything sound instantly better — from opera to punk rock
Simple touchscreen remote on your iPhone to control the sound from anywhere in your home
Custom app-by-app volume adjustments that cancel system-wide settings to let your music be loud and your pop-ups not
Built-in audio player and volume booster capable of pushing volume higher than the system default without losing audio quality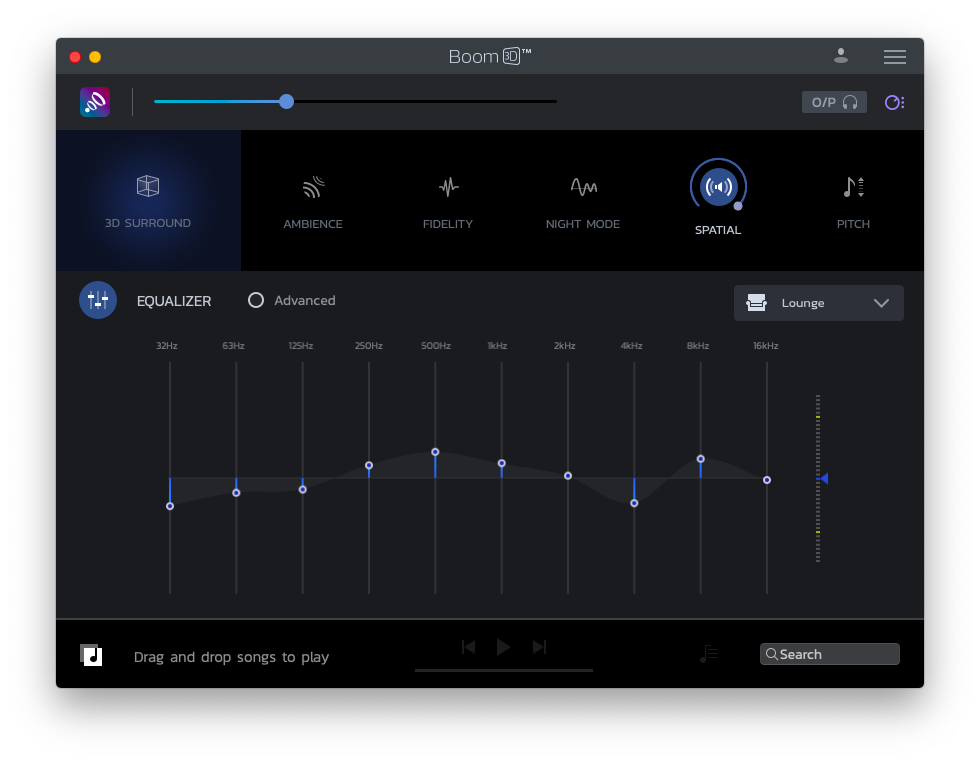 For an extra touch of eye pleasure make sure you don't miss out on stunning screensavers that Apple has gone to great lengths to create for Apple TV. With the help of open-source software, there's a way to activate Apple TV screensaver for Mac on your computer as well. Just imagine beautiful aerial videos shot by helicopters and drones over the planet's most breathtaking locations, including footage captured undersea and from above the atmosphere at the International Space Station.
To download Apple TV screensaver for Mac:
Download aerial.saver.zip from GitHub
Unzip the downloaded file and click on aerial.saver
You will automatically be taken to System Preferences. Choose Desktop & Screen Saver.
Scroll to the bottom of the left pane and choose the Aerial option
Click on Screen Saver Options on the right to set the way you'd like to have it: choose particular videos you want to be displayed, decide if you want the location info to show, or set videos to play based on time of day
Finally, it's crucial that your internet connection and your speed are top notch. To make sure they always are — try WiFi Explorer, a professional app that helps identify and fix common network problems without involving an actual professional. You can rely on WiFi Explorer to:
Scan your network environment for band range, signal quality, security status, etc.
Identify channel conflict and coverage issues, and give you recommendations to improve your WiFi
Assess the situation at a glance without diving deep into the numbers thanks to outstanding visual presentation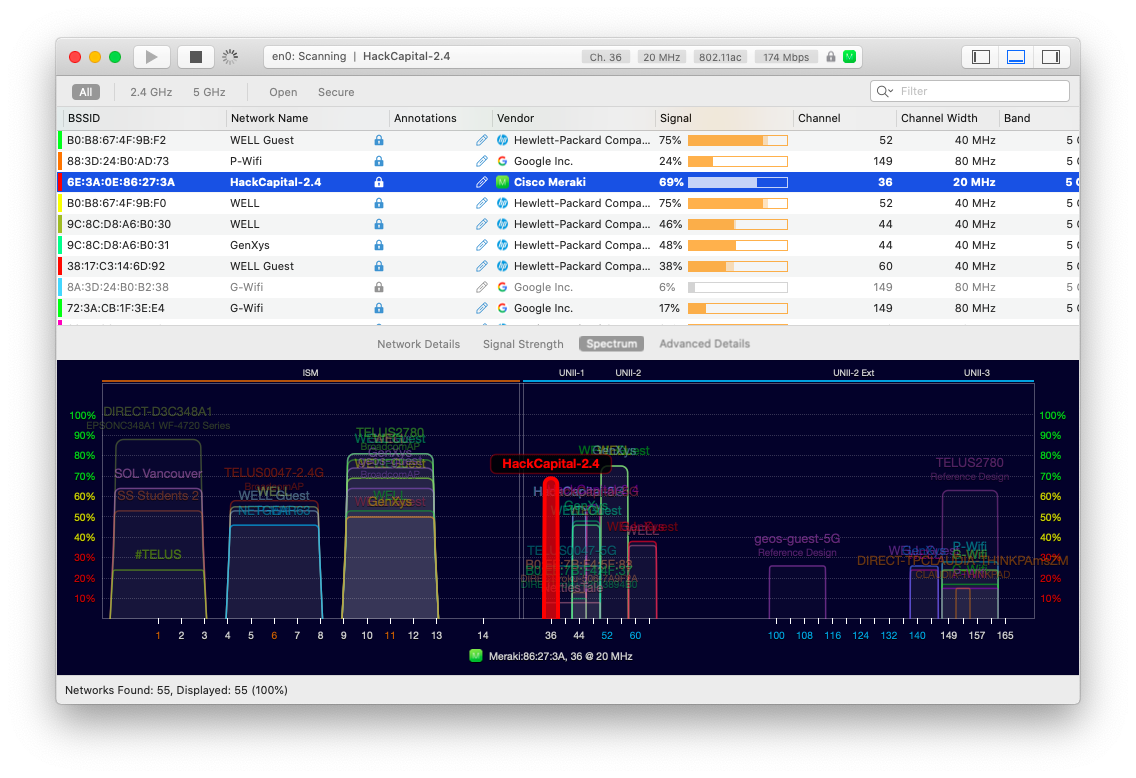 A great opportunity to check out all the cool features of Boom 3D and WiFi Explorer mentioned above for free is a seven-day trial with Setapp — a platform of more than 160 powerful Mac apps. If you like what you get (and you will!), make sure to subscribe to Setapp to always have the best digital tools and solve any task on your Mac in just a few clicks, boosting your productivity. And, of course, enjoy your all new TV with Apple TV on Mac — be it Apple TV the gadget, Apple TV the app, or Apple TV+ the streaming service!