How to stream from Mac to Roku
With your Roku, you can watch and listen to a wide variety of media through its channels. But some streaming service channels are limited, or there may not yet be a Roku channel for your favorite media outlet. Fortunately, you can get around this problem by casting or mirroring your Mac computer to your Roku. It's possible to bring any videos, songs, or pictures that you can access on your Mac to your TV via your Roku. So in this article, you'll find out how to stream Mac to Roku.
How to connect Mac to Roku
So let's get straight to the point. Below, we'll show you how to connect MacBook to Roku TV. These are the most popular methods. We'll start with our favorite and easier one. By the way, if you want to mirror your iPhone or iPad instead of a Mac, that's also possible.
How to screen mirroring your Mac, iPhone, or iPad to Roku
If you want to mirror your Mac, iPhone, or iPad to your Roku, JustStream is a great solution. Basically, it lets you stream any content to almost any device.
Here's how to use JustStream to connect Mac to Roku:
Start the JustStream app; It'll appear in the menu bar
Choose the screen you're going to mirror
To choose a TV, click the AirPlay-like button
Then click Start Streaming.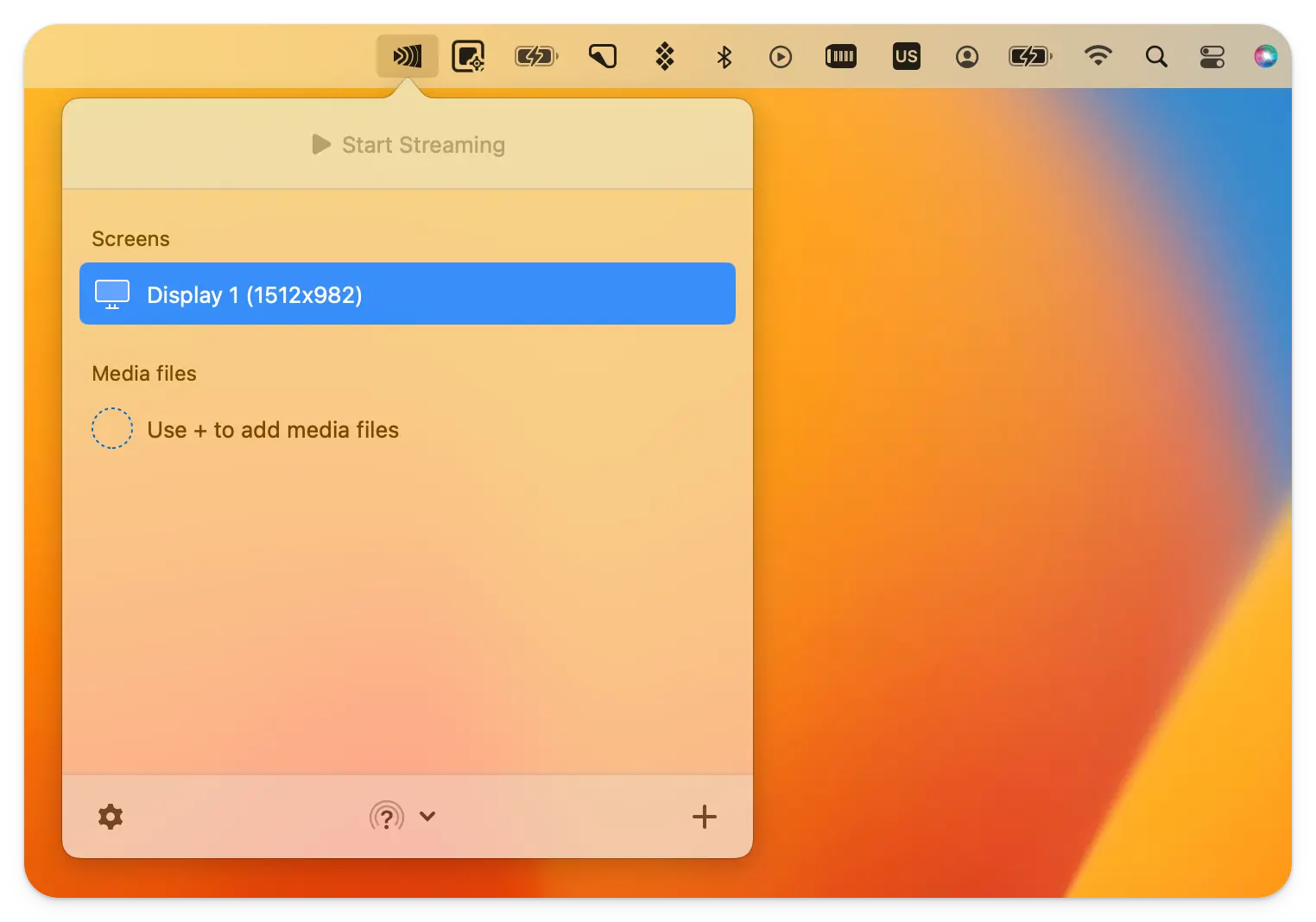 With its easy-to-use interface and seamless streaming experience, JustStream is the best way to Roku stream from Mac, iPhone, and iPad.
AirPlay from Mac to Roku
Another popular method of Mac Roku streaming is AirPlay. Almost all of the latest Apple devices are equipped with a system called AirPlay. This system allows users to stream content from their Apple devices to other devices, such as Roku, for example.
Keep in mind that your Mac must be running macOS 10.14.5 or later. To find out which macOS version you're using, go to the Apple menu, then click About This Mac. The window that opens will show you the macOS name followed by its version number. For example, macOS Ventura 13.1.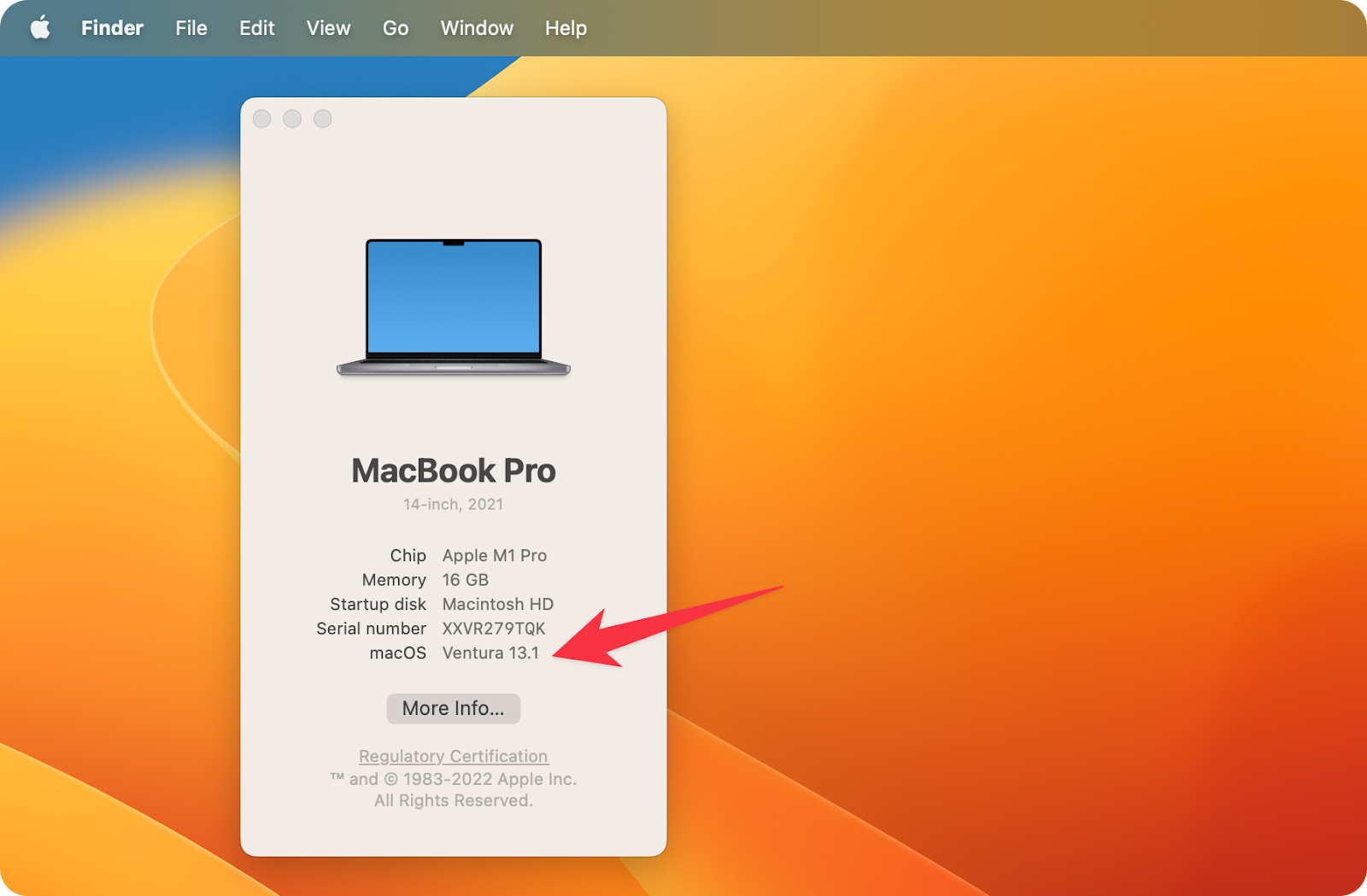 Your Roku must also be a specific model of Roku TV, Streambar, Premiere, or Streaming Stick+. You can see which models are AirPlay compatible on the Roku support page.
If you have the right devices, casting or mirroring from Mac to Roku using AirPlay is easy.
Your next step is to ensure your Roku and your Mac are on the same wireless network. You can check the network on Roku by going to Settings > Network and finding the network name under the About tab.
Also, make sure that AirPlay is turned on on your Roku TV. Go to Settings > Apple AirPlay and HomeKit. Wait until AirPlay launches. If AirPlay is turned off, just press the OK button to turn it on.
What happens next depends on whether you wish to cast a single file to your Roku TV or mirror your entire Mac screen.
To cast from a Mac to a Roku using AirPlay:
Open the video or photo you want to cast on your Mac
Then click the AirPlay icon (the rectangle with a triangle pointing up from the bottom) that appears in your menu bar or in the app that opened the file
Choose the name of your Roku from the list that appears
If you can't see the AirPlay icon, you may need to click the Share icon (the square with an upward-pointing arrow) in your app first. From the Share menu, click AirPlay. You should now be able to cast the file from your Mac to your Roku.
If you don't see an option for AirPlay with a file, or if you want to screen mirror your Mac to Roku via AirPlay, do the following:
Click the Control Center icon in the upper-right corner of your menu bar
Then click Screen Mirroring and choose the name of your Roku from the list that appears
Your Mac will start mirroring to your TV screen in a few seconds.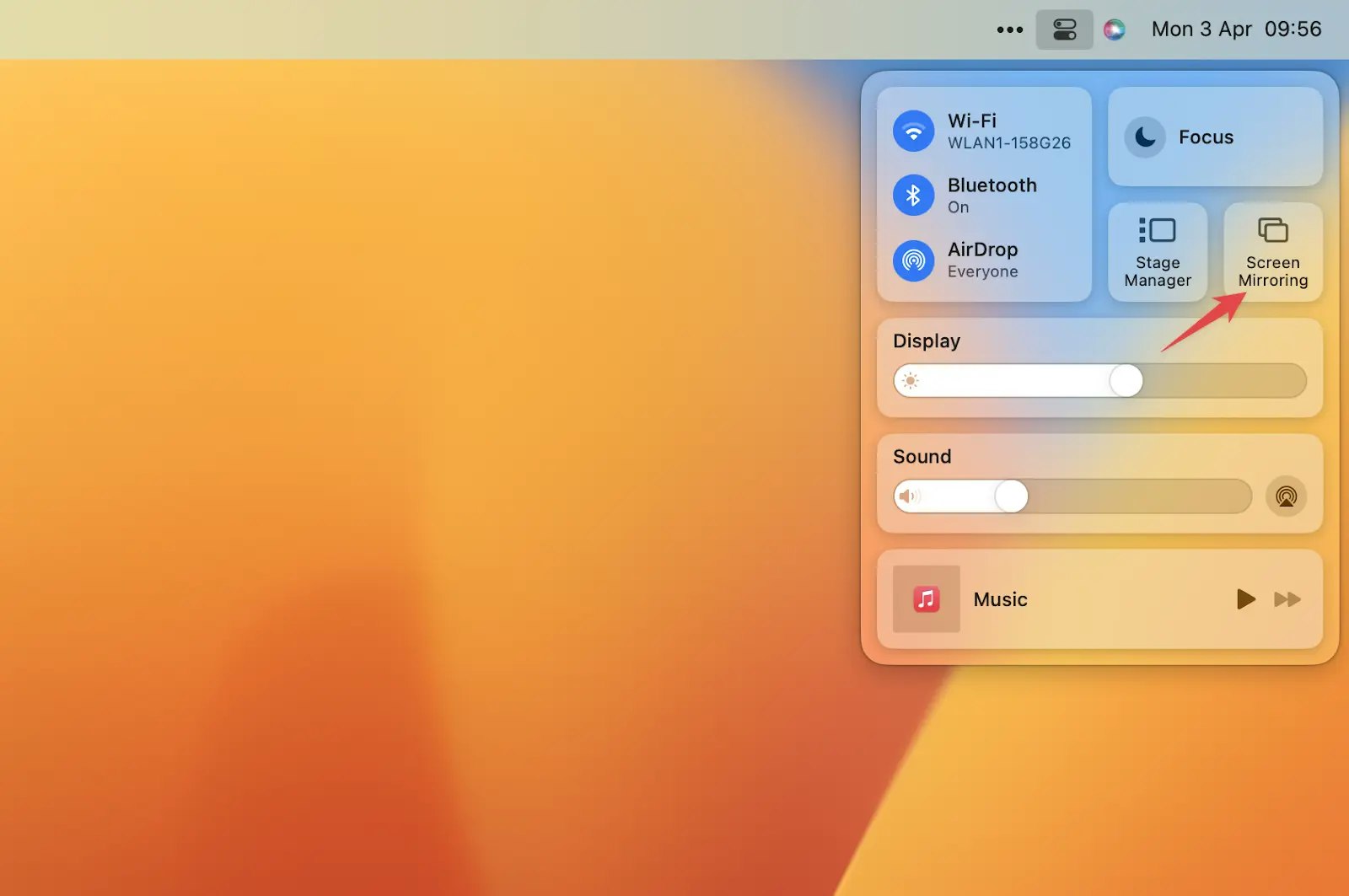 Note: Screen casting and screen mirroring are two ways to display the contents of your Mac/iPhone/iPad screen on another device, such as a TV.
Screen mirroring is a process in which the entire display of your Mac is mirrored onto the display of another device. That means everything that appears on your Mac screen will also appear on the other device. Screen mirroring lets you navigate menus, apps, and other content by using your Mac as a remote control for the other device.
Screen casting lets you cast a specific app or content from your Mac to another device. That means only the selected app or content appears on the other device, not your Mac's entire display. With screen casting, you can use your Mac to browse and select the content you want to cast, and then play it on the other device.
Any other free ways to mirror Mac screen to Roku
If for some reason streaming doesn't work for you, you can connect your Mac to your Roku TV using an HDMI cable. For models with Mini DisplayPorts, you may need an additional adapter.
Here's how to connect MacBook to Roku TV using an HDMI cable:
Connect the HDMI cable to an available HDMI port on your TV
Then connect the other end of the HDMI cable to your MacBook (you may need to use an adapter)
Turn on your TV and set it to the correct HDMI input
Turn on your MacBook and log in as usual. You should immediately see your display mirrored on the TV.
How to watch Roku on Mac
The Roku Channel, with multiple comedies, award-winning shows, cult classics, live news, and other great content, is also available on the web. So you can access it from your Mac, iPhone, iPad, and basically any device with a browser. And you don't need any Roku app for Mac or any other device.
However, it may happen that you'll see a disappointing message telling you that the Roku Channel currently isn't available in your region.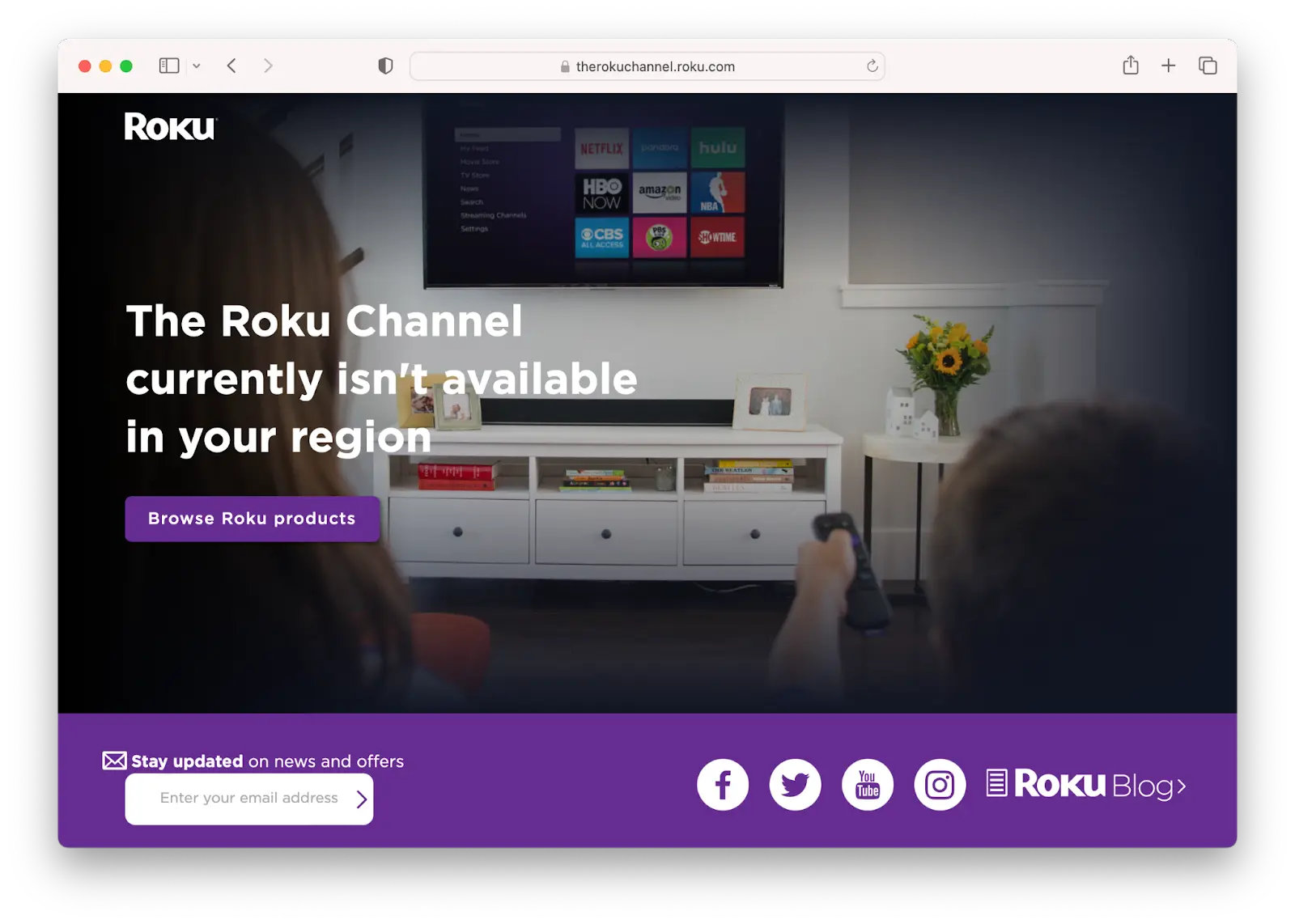 Don't get frustrated so fast! You can watch Roku content on Mac even if the service isn't available in your region. Simply install ClearVPN and turn on the Streaming access feature.
Here's how to access the Roku Channel with ClearVPN:
Open the ClearVPN app and click the Streaming access mode
Then pick the Roku streaming service from the list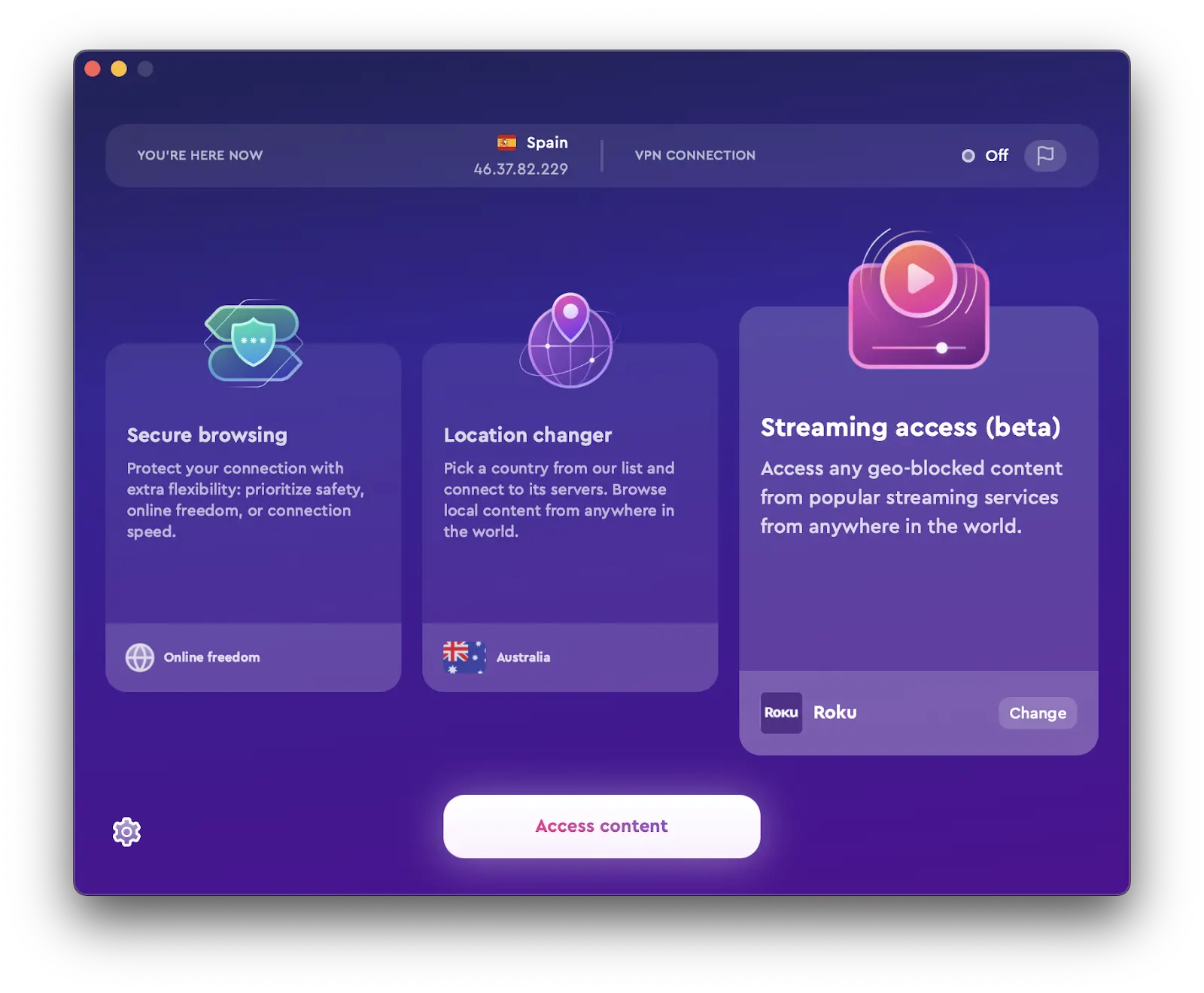 Wait until you see the Open Roku button on the left
Click on the button to access the streaming.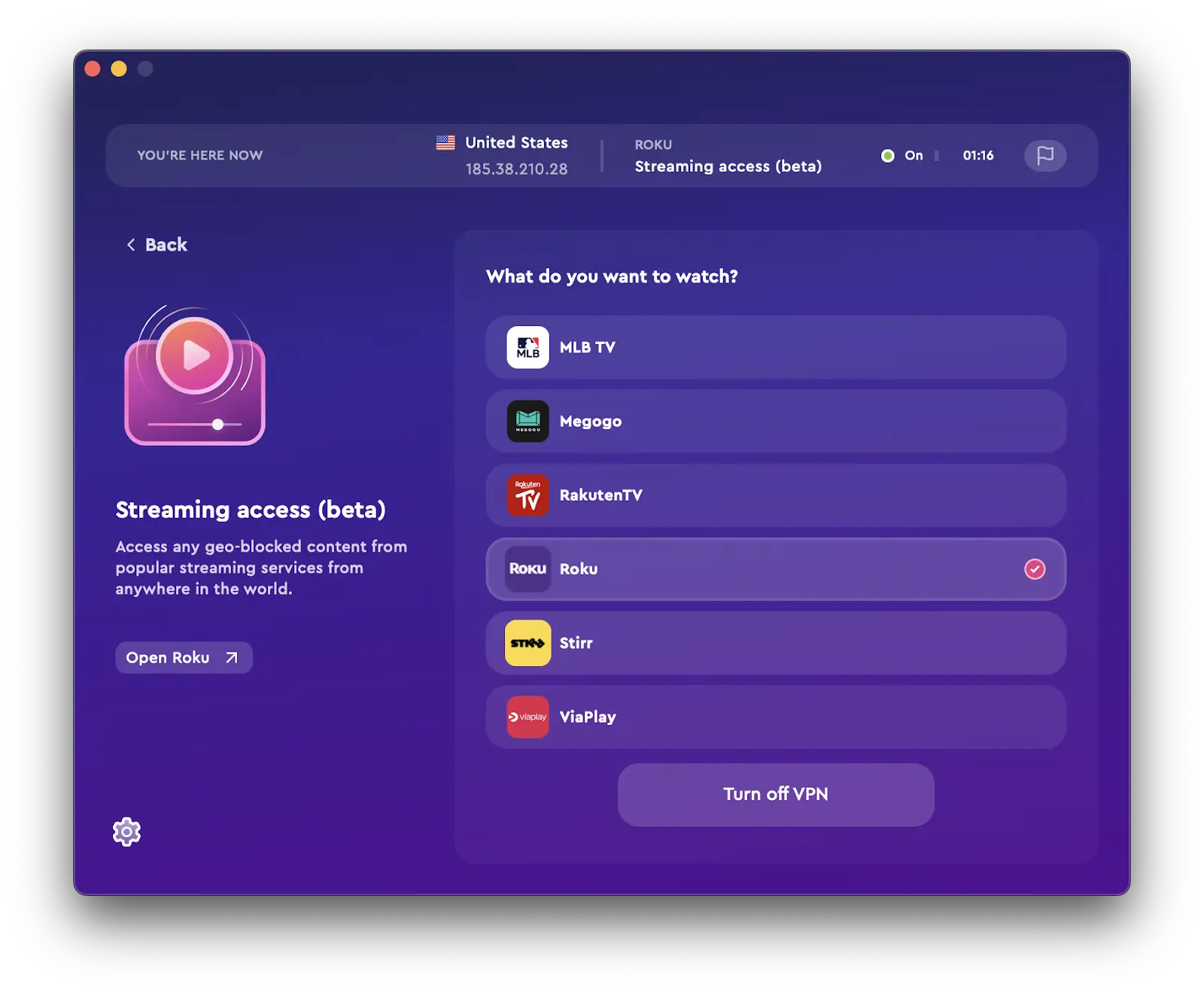 That's it! Now you can enjoy your favorite content no matter where you are.
Why can't I stream to Roku?
One of the most common reasons you can't stream to Roku is a bad internet connection. This is something that can be hard to figure out on your own. That's why we recommend arming yourself with NetSpot, a great tool for troubleshooting and fixing Wi-Fi problems.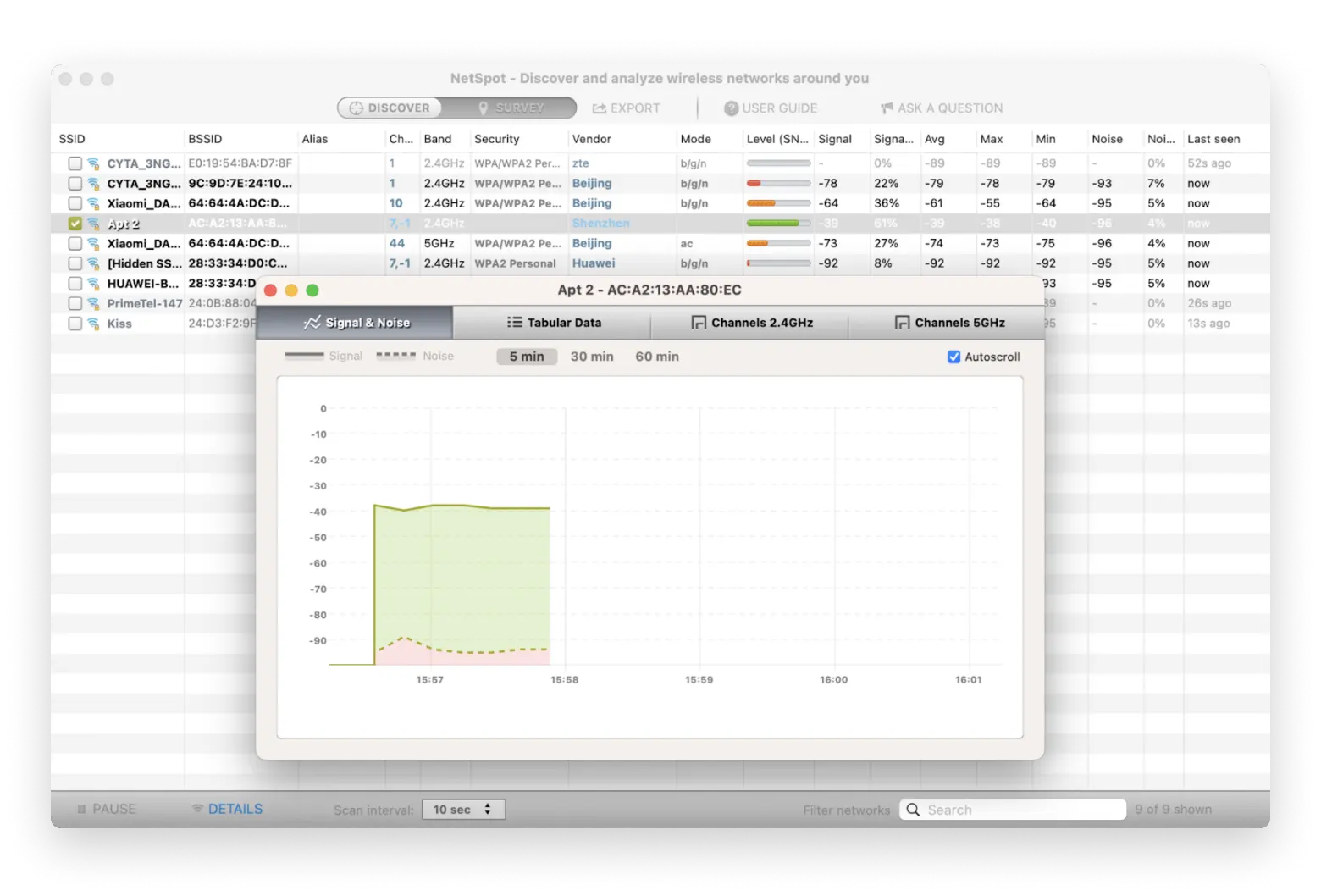 It provides a comprehensive view of all surrounding networks, allowing users to quickly identify and analyze interference, coverage, signal strength, and other issues that can cause poor network performance. In addition, NetSpot features powerful Wi-Fi heat mapping that makes locating coverage dead spots and signal outages easy.
You also may need to check your Roku device for malfunction. If you're using a cable to connect your MacBook to your TV, make sure the cable is not damaged or unplugged.
Stream Mac to Roku with ease
That's all you need to know about connecting your Mac to Roku. There are a few most common ways to do this: via a cable, via AirPlay, or using screen mirroring apps like JustStream. You may like the last method because there is no complex setup and no wires involved. JustStream is also compatible with many different TV models. And if your device isn't AirPlay compatible, JustStream becomes a real lifesaver.
The app is available on Setapp, a platform with dozens of carefully curated apps for Mac, iPhone, and iPad. ClearVPN and NetSpot, which we've mentioned in this article, are also on Setapp. Give it a try and stream with ease!