How to set up and chromecast from Mac
Google Chromecast is a device that lets you send things from your small-screen phone/computer to your big-screen TV.
So if you're in the mood for an immersive night of blockbusters like Avengers: Endgame or gripping dramas like The Handmaid's Tale and want the ultimate full-screen home theater experience, a Chromecast should be on your radar. Leveraging the Google Cast protocol, Chromecast lets you effortlessly project your favorite content to the big screen, ensuring you get the most out of your viewing time.
While Google Chromecast is most commonly used for streaming movies and shows, this is far from its only purpose.

You can also use Chromecast to stream music, which is great if you've got a party planned and want to play your Spotify playlist on the big screen.
If you'd like to share your awesome vacation photos with family and friends without squinting through a phone or your small MacBook, Chromecast lets you cast them to your TV.
Finally, Chromecast is also really good for gaming.
Google Chromecast compatibility
If you want to chromecast from MacBook, you might want to know if your devices are compatible with Chromecast.
Chromecast is compatible with macOS starting from version 10.9 (Mavericks) and later.
Here's how to check what macOS version you're running:
Click on the Apple menu in the top-left corner of your screen
From the drop-down menu, choose About This Mac
A window will appear showing an overview of your Mac. Look for the name and numbers next to macOS. For example, it might say something like macOS Ventura 13.2.1.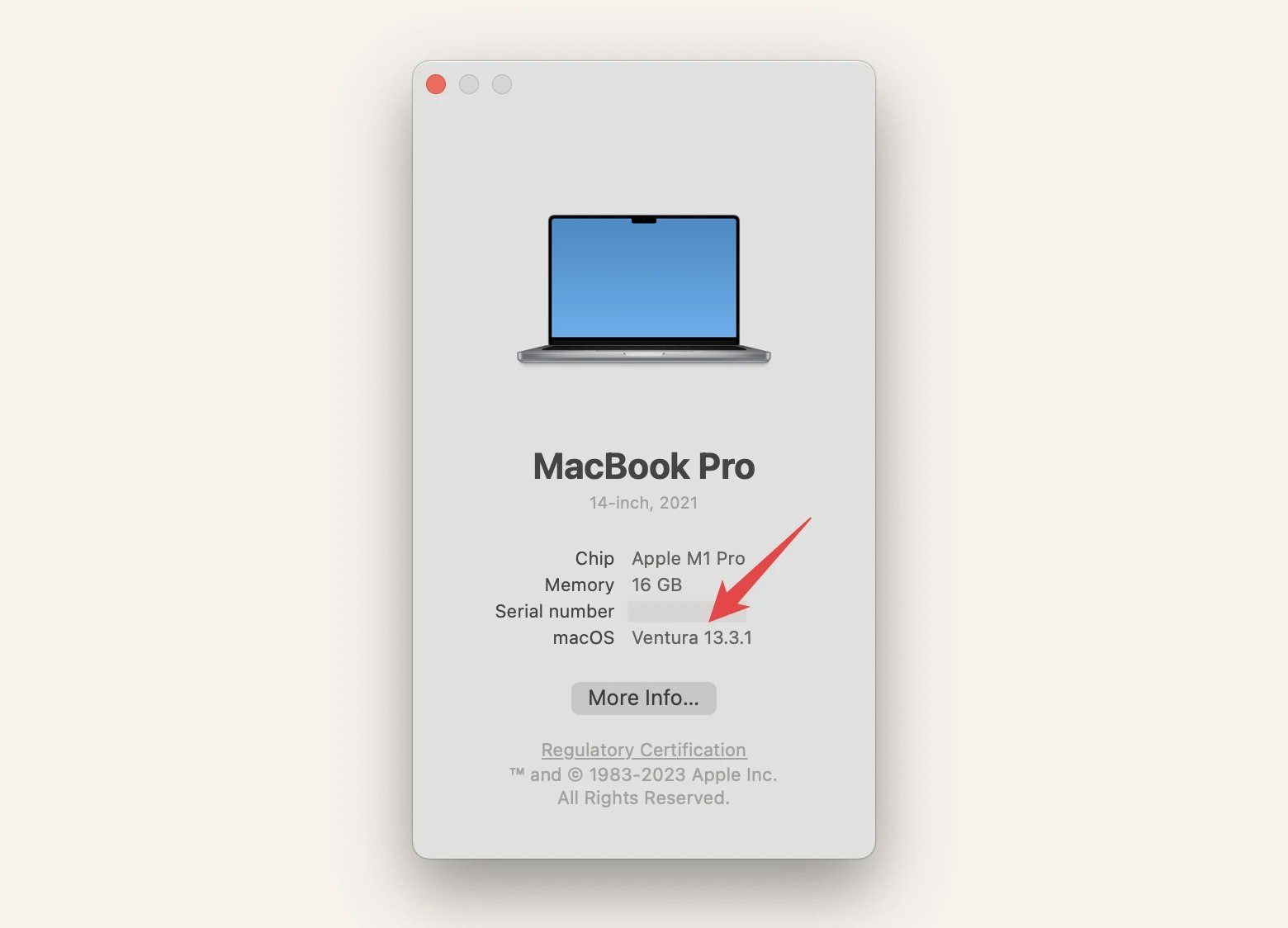 For TVs, the general rule of thumb is that if your TV has an HDMI port, you should be fine. If you have an older TV with composite (red, yellow, green) inputs, you can buy an HDMI-to-analog (RCA) converter to use Google Chromecast.
If you're looking for specifics, here are the exact TV requirements according to the Chromecast Support Center:
High-bandwidth Digital Content Protection (HDCP) 1.3 or higher
HDCP 2.2 to support 4K content.
Chromecast Ultra and Chromecast with Google TV can stream up to 4K. The Support Center lists the following requirements for 4K viewing:
4K-ready TV
A high-speed internet connection (20 Mbps or higher).
For HDR content, you'll need an HDR-capable TV. For Wi-Fi, Chromecast supports all Wi-Fi 802.11ac (2.4 GHz/5 GHz) wireless networks.
Items you need to stream to Chromecast from Mac:
Google Chromecast device
MacBook with Google Chrome app installed
TV with HDMI port
Wi-Fi router.
How to set up Chromecast on Mac?
Setting up Chromecast is really simple.
Here's how to connect Mac to Chromecast:
Connect Chromecast to your TV using the HDMI port on the back of your TV. Also, plug it into one of the USB ports to get powered up. That's all it takes to set up the hardware. You can now pick up your MacBook
On your MacBook, open Safari and type in google.com/chrome/browser/desktop/. You'll be redirected to the Chrome browser download page
Now, download the Chrome browser. Click the Download Chrome button on the webpage and agree to the terms and conditions. Your download will begin
You can install Chrome browser by clicking on the file after the download is completed
Once the Chrome browser is installed, open it on the page you want to cast and click the three dots icon at the right end of your Chrome address bar. Find Cast… menu option and click. Choose the device you want to cast to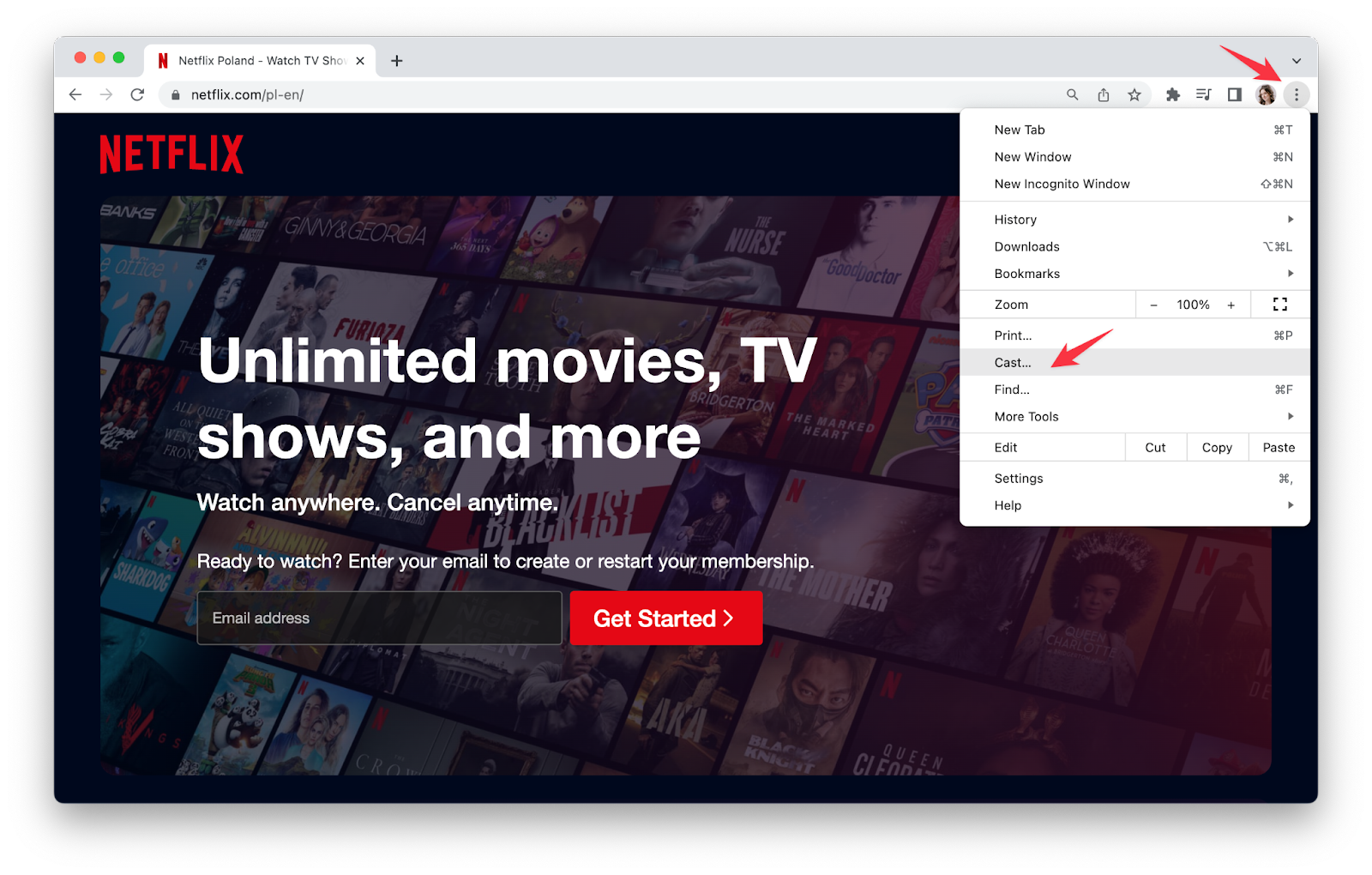 You can also pin the cast button to your Chrome bar for convenience. When you click on Cast…, the Chromecast icon will appear at the end of your address bar. Two-finger click on it and choose Always show icon in the drop-down menu. Now, any time you want to chromecast, you can click the icon and choose your Chromecast device to begin

As you can see, connecting to Chromecast from Mac is easy. You can now cast your content to the big screen of your TV.
Note: It's important that your Chromecast and your Macbook are connected to the same Wi-Fi network. Otherwise, you will not be able to chromecast from MacBook to your TV.
One-click solution to chromecast from Mac
If you're looking for a convenient one-click solution to chromecast from MacBook, the JustStream app is here to simplify your streaming experience. This is a handy tool to handle streaming your video content to Smart TV, Chromecast, Apple TV, and numerous other DLNA devices.
JustStream supports multiple file formats, so you don't have to worry about compatibility. And just in case, it also allows you to simply mirror your Mac's screen to a TV just to be sure you can get your content cast in virtually any situation. What's more, JustStream is easy to set up. Pretty much all you need is a Wi-Fi connection. And don't worry about video quality – the app supports both HD and 4K video.
Here are all the steps you need to take to set up JustStream on your devices:
Install and open the JustStream app on your Mac
Make sure both your TV and Chromecast are on the same Wi-Fi network
Then click on the signal icon in the menu bar and choose your Chromecast device
Now you can start streaming by choosing your monitor from the list and clicking Start Streaming.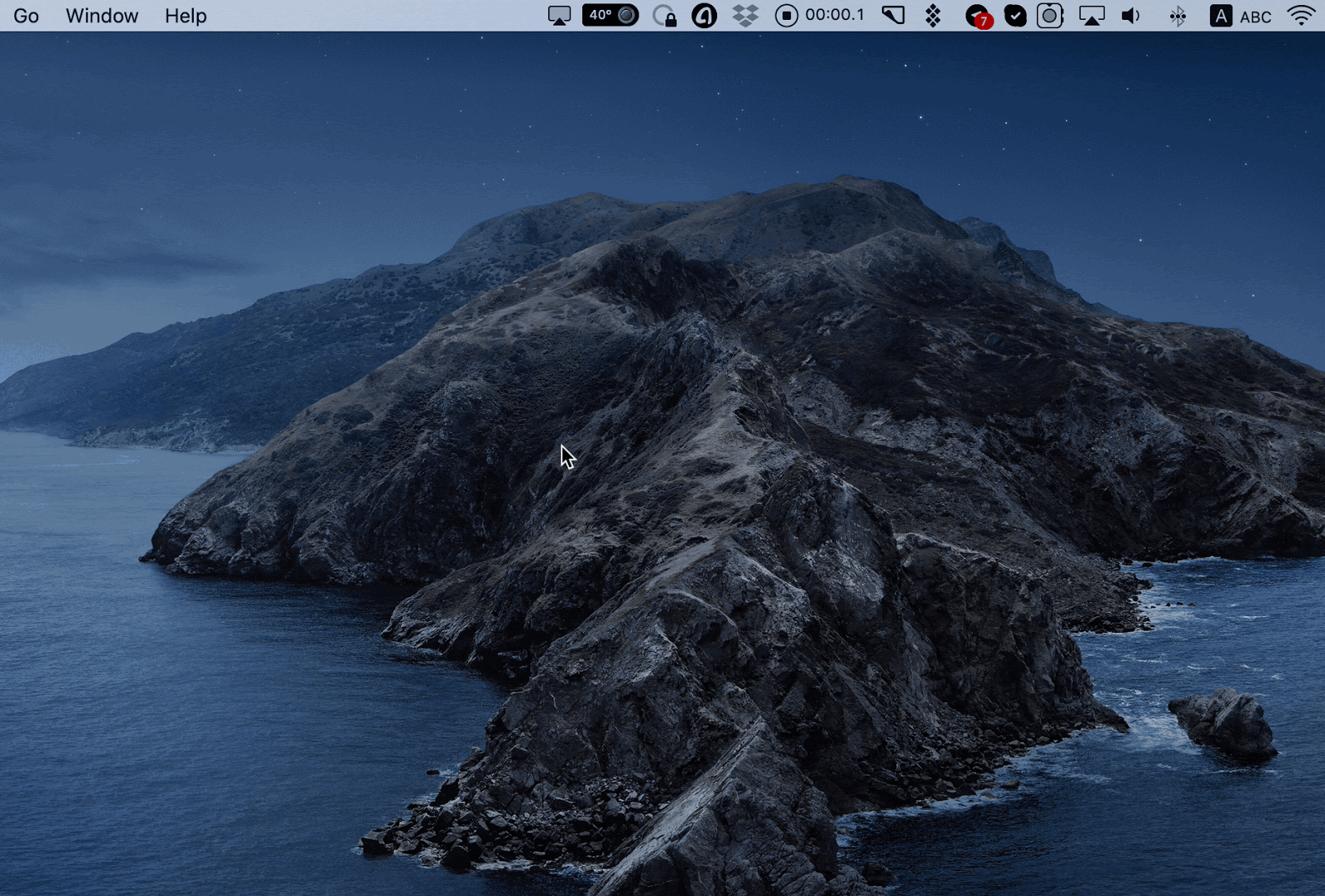 You can also enhance your streaming experience with Elmedia Player, a versatile media player that seamlessly streams local video to your Chromecast device. Regardless of your file format, whether it's MPEG, AVI, FLV, SWF, WMV, MOV, MKV, MP4, or M4V, Elmedia Player supports all popular types, allowing you to enjoy your favorite files with ease.
One of the most notable features is the ability to stream any video by simply copying and pasting the URL, making streaming a breeze.
Here's how to cast from MacBook to TV using Elmedia Player:
First, make sure your Mac and Chromecast are connected to the same Wi-Fi network
Install and open the Elmedia Player
Open a video file in Elmedia (File > Open)
Click the Streaming icon in Elmedia in the lower right corner and choose the device you want to share your content with.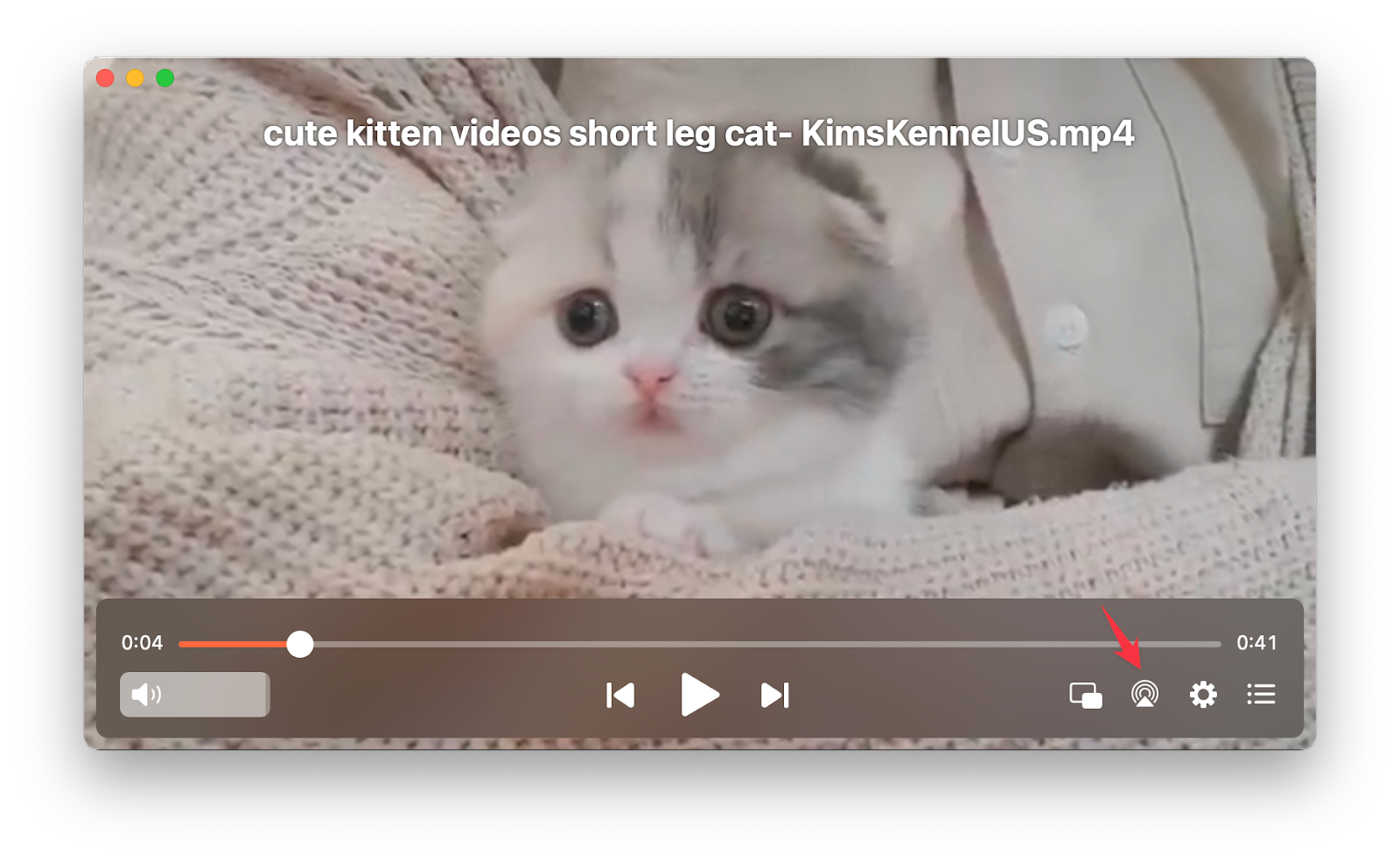 Optimizing Chromecast playback on Mac
Chromecast is a convenient way to enjoy content on the big screen, but it's only fun when it works seamlessly.
Some of the most common issues with Chromecast playback on the Mac include:
Slow or unreliable internet connection
Not enough RAM or processing power on your Mac
Hardware limitations.
When it comes to a slow or unreliable internet connection, WiFi Explorer is a handy helper to fix your Chromecast issues. The app is a one-stop shop for monitoring and troubleshooting any Wi-Fi problems. It provides in-depth insights into the way your connection is faring and can help iron out any kinks.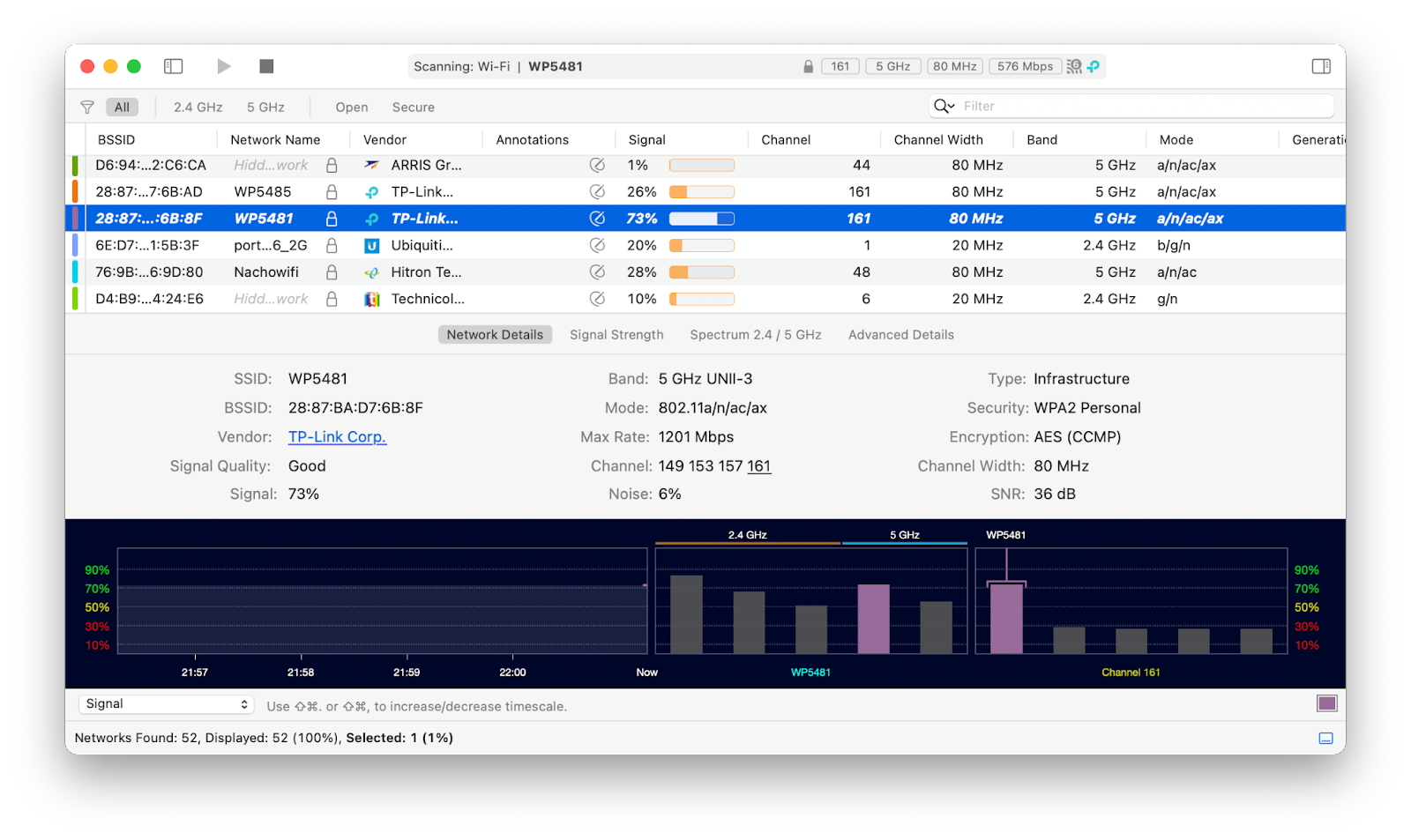 Just a glance at the real-time scan of networks in the area should quickly and easily reveal if something like signal strength or overcrowded Wi-Fi channels were to blame for the issues. If that's the case, you may want to try a wired connection or move your router from its current location.
If your computer starts to lag, Mac Chromecast mirroring is unlikely. We recommend you free up some resources on your Mac using a cleaner app. CleanMyMac X finds junk on your Mac and helps spot unnecessary apps, files, and even malware. So if your laptop has been working slowly or has tons of files stashed away, start with a quick scan with CleanMyMac X to help it run better.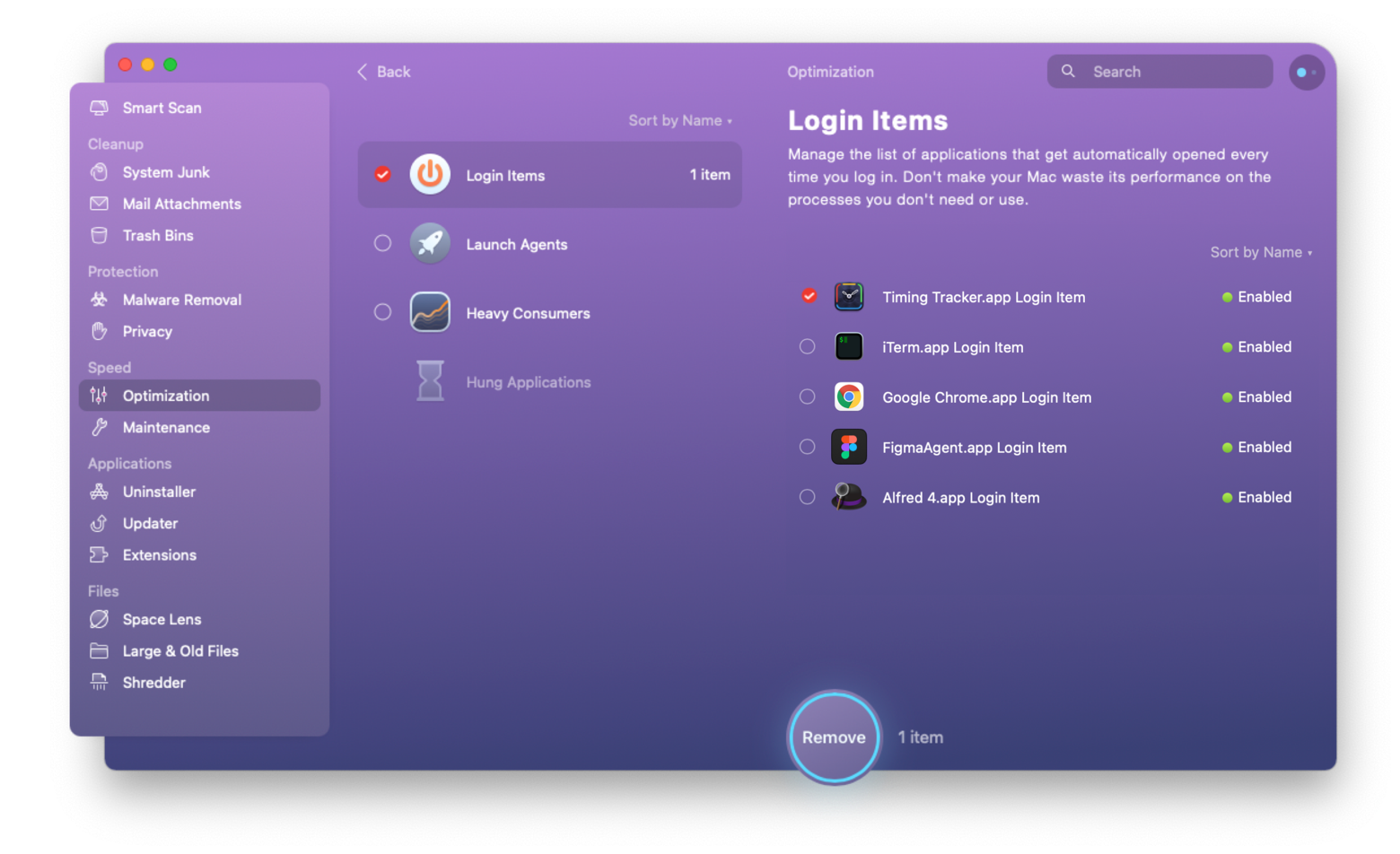 How to chromecast streaming services
With Chromecast, you can effortlessly cast your favorite content from streaming services directly to your TV.
To stream Chromecast services from your Mac, follow these simple steps:
Make sure your Chromecast device is properly set up and connected to your TV
Also, ensure that your Mac and Chromecast are connected to the same Wi-Fi network
Open the Google Chrome browser on your Mac
Visit the website or open the streaming service app of your choice (e.g., Netflix, YouTube, Hulu, Disney+, etc.)
Look for the cast icon, usually located in the streaming service's video player or toolbar. It usually looks like a rectangle with a signal
Click the cast icon and choose your Chromecast device from the list of available devices
The streaming service will connect to your Chromecast, and the content will start playing on your TV
You can control playback, volume, and other settings directly from the streaming service's web player or app on your Mac
That's it! You can now enjoy streaming services directly to your TV via Chromecast. Repeat these steps for any other streaming services you want to cast from your Mac, then sit back and enjoy your favorite shows and movies on the big screen.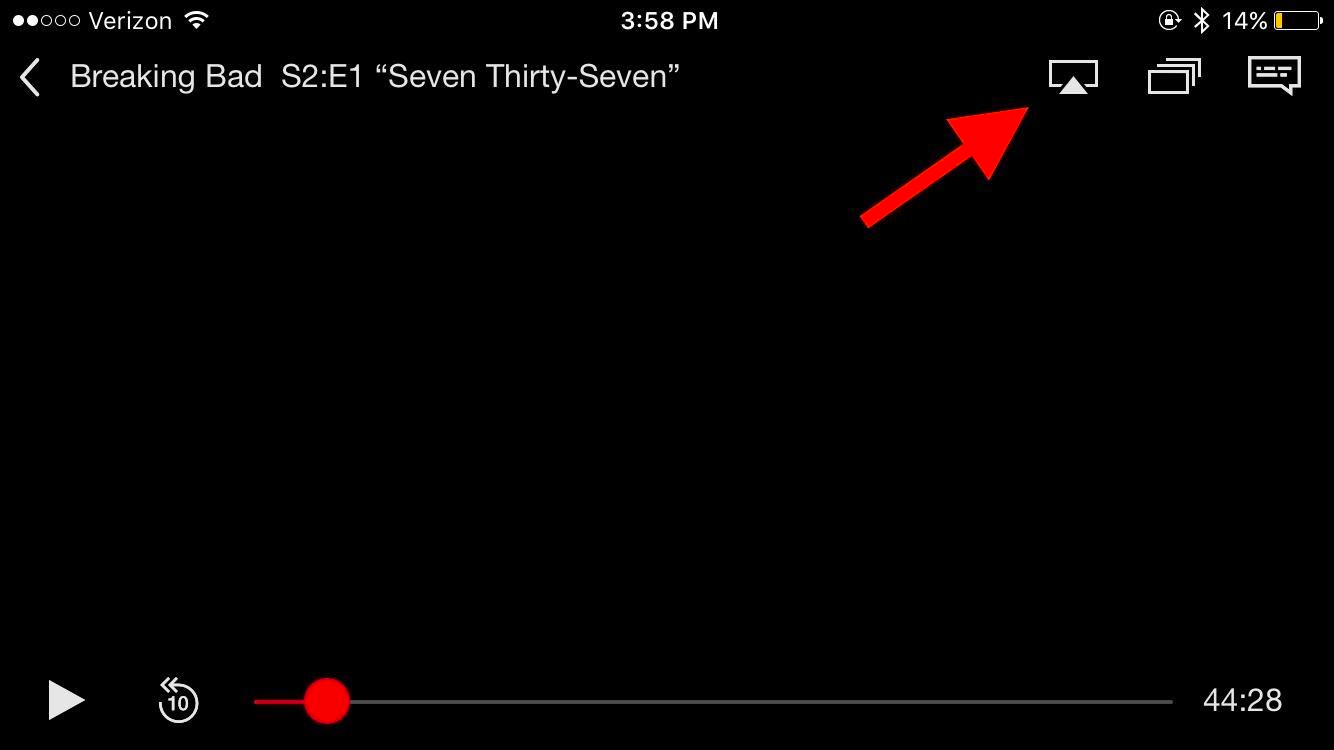 Use Chromecast for streaming your local video and audio files
If you have a vast library of video or audio content on your devices, you can actually stream them to a TV with the help of your Chromecast.
To cast the playback of a file to your Chromecast from your Mac, just drag and drop your file to your Chrome browser to start playback, and then use the Chromecast Cast option to cast it.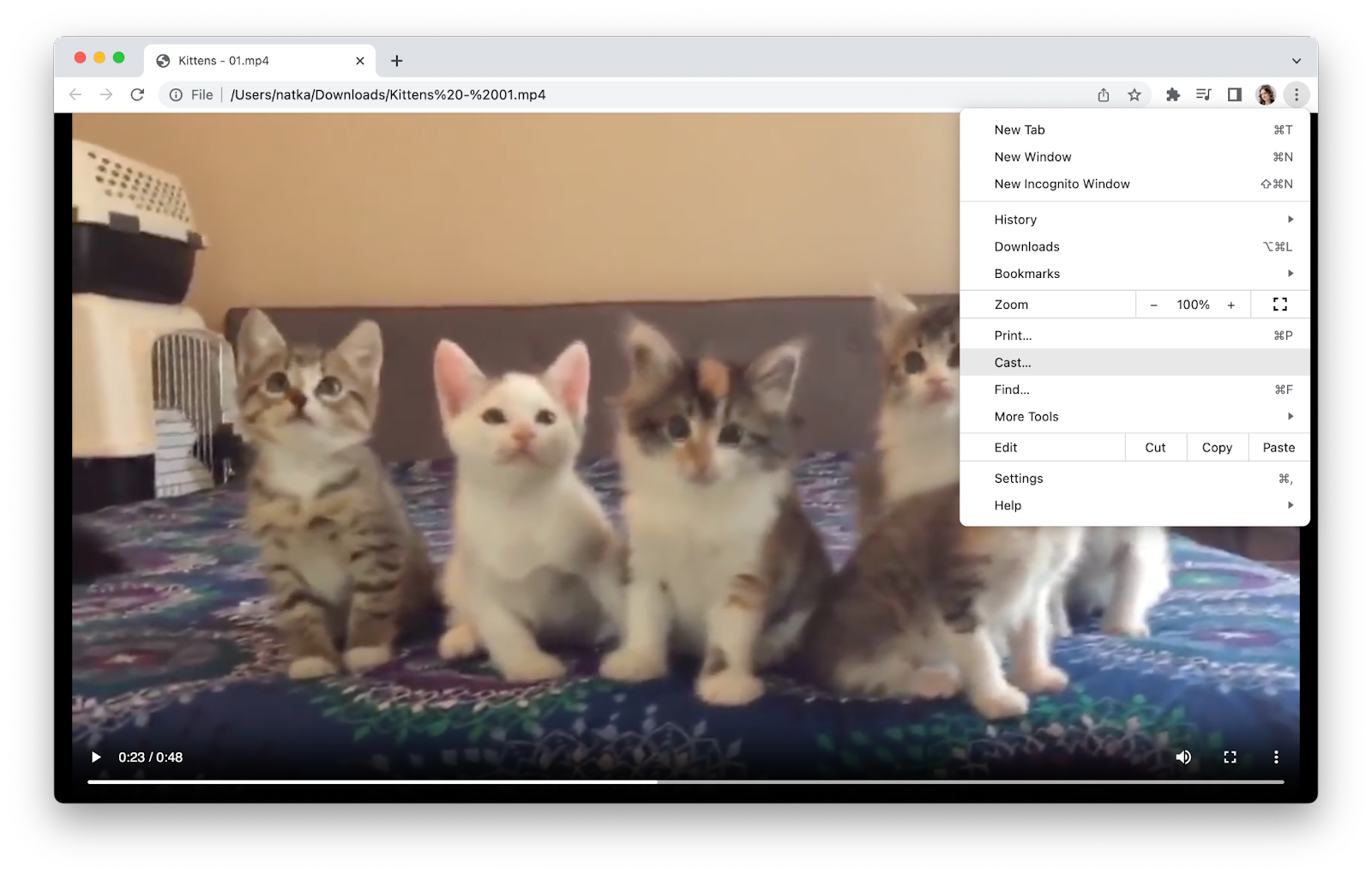 Additionally, you can cast your files from your mobile device with Google Home that's connected to your Chromecast. All you have to do is find the Chromecast icon in the app you are using for playback and tap on it. You can also try clicking the icon for more devices if the Chromecast icon is not there.
Note that your device needs to be on the same Wi-Fi network as your Chromecast.
How to chromecast your Mac's desktop or any Google Chrome tab
Want to mirror your Mac desktop or cast a Google Chrome tab on your TV? Chromecast makes it easy! Just connect your Chromecast device to your TV, open the Google Chrome browser on your Mac, and click the three-dot menu in the upper-right corner.
From there, choose Cast and choose either Cast Desktop to mirror your entire desktop or Cast Tab to stream a specific Chrome tab. Choose your Chromecast device from the list, and voila! Your Mac's desktop or Chrome tab appears on the big screen. Enjoy the convenience of Chromecast and explore a whole new world of sharing and streaming.
Solving Chromecast audio issues on Mac
You can have the sharpest video in the world, but if the audio isn't up to snuff, you won't get the immersive experience you're looking for. Unless you have a soundbar, most flat-panel TVs produce quiet and tinny audio. In some cases, you might be better off using headphones or even your Mac's built-in speakers.
Unfortunately, Macs can also be a bit lackluster by default due to volume limitations or incorrect equalizer settings. Luckily, there's an app called Boom 3D that lets you unlock the true potential of your Mac's audio output.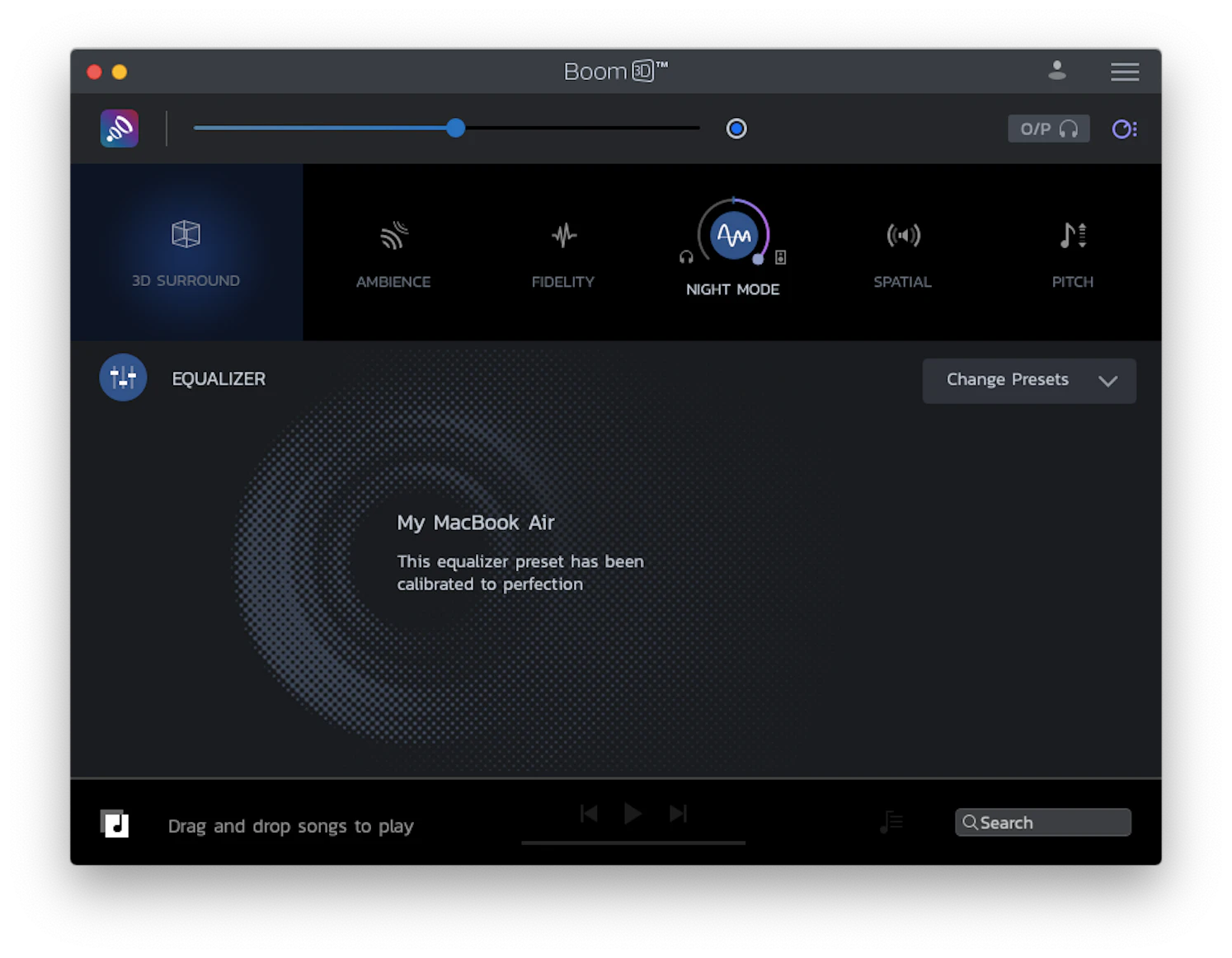 In addition to enabling virtual 3D surround sound over built-in speakers or headphones, which is a pretty cool piece of patent-pending technology in and of itself, it comes with a palette of equalizer presets (that can be manually tweaked) for different genres.
You can also boost your Mac's volume far beyond the system default, and if you're worried about accidentally blasting Spotify in the middle of a meeting, you can set custom volume levels for individual apps.
Volume discrepancies between different hardware vendors are pretty common, as anyone who's ever tried to switch inputs on their TV can attest, so it's nice to know you won't have to turn the volume up or down on your TV when you're casting from your Mac.
How to chromecast from MacBook: Final thoughts
As you can see, chromecasting from a Mac isn't difficult. By connecting Chromecast to your TV and installing the Chrome browser on your MacBook, you can easily cast media from streaming services, as well as local video and audio files. You can also mirror your Mac desktop or cast specific Chrome tabs.
We also highly recommend you try JustStream and Elmedia Player to enhance your streaming experience.
If you face any issues with Chromecast playback, that's probably due to a slow or unreliable internet connection or not enough RAM or processing power on your Mac. To fix these issues, use WiFi Explorer for monitoring and troubleshooting any Wi-Fi problems and CleanMyMac X for freeing up resources on your Mac.
To optimize your Chromecast experience even more, try Boom 3D to improve audio quality and ClearVPN to unlock another country's Netflix or Hulu library.
All the apps mentioned above are available for a free trial on Setapp, a platform of dozens of Mac, iPhone, iPad, and web apps designed to optimize every aspect of your digital life. So what are you watching tonight?
FAQ
Can I chromecast from Safari?
To cast Safari to Chromecast, follow these steps:
Download and install the Chrome browser
Open Chrome and sign in with your Google account (optional)
Click the three dots in the top right corner and choose Cast...
Choose the option to cast your entire desktop
Choose your Chromecast device
Open Safari and visit the desired website or service. That's how you chromecast from Safari.
How to chromecast VLC from Mac?
One of the most popular media players, VLC enables you to chromecast content from Mac, too:
In the VLC menu, choose Playback
Choose Renderer from the drop-down menu
In another drop-down, choose your Chromecast device
Click Scan if you don't see your device
Start streaming your VLC content.
How to chromecast a Mac using a VPN?
Many streaming services have different libraries based on location. If you want to unlock another country's Netflix or Hulu library, you can use a VPN tool, such as ClearVPN.
Note that Chromecast has to be set up to work with a VPN. If you have a VPN that is compatible with your router, you can simply follow your router's instructions to enable VPN. And if your VPN doesn't work with the router, you'll have to install Chromecast with VPN on a virtual router.