Best free streaming services and offers: The big list
Spring 2020 is the spring of no-judgment streaming, and we couldn't be happier. If you're running out of Tiger King episodes, let us be your content dealer for the next few weeks. We've got a large collection of best free TV offers and discounts to entertain you with. Say thanks to the global lockdown.
Free streaming services: Navigation
There are very few businesses whose revenues didn't plummet during the 2020-2021 quarantine. TV and streaming services got lucky here. This is no surprise — while many are staying at home, good movies and addictive TV series help us put up with the new reality, and learn new things along the way. But hey, overpaying for subscriptions with a global financial crisis looming over our heads is no good. Luckily, many streaming providers are willing to help out.
We'll guide you through a big list of all streaming services that are either free or offering extended trials right now. Some of these offers will expire soon, the others will be extended — so make sure you enjoy free streaming services to the fullest. Jump right into it:
Netflix and its educative mission
In April, Netflix announced they were bringing over 30 episodes of the original entertainment shows to YouTube. Top-rated documentaries went out into the world to support those stuck at home during the Coronavirus outbreak. Target audience: Students and educators (if you don't fall into these categories, call yourself a lifelong learner and check the collection anyway). As a true Netflix addict, I can assure you there's some legendary stuff on the list.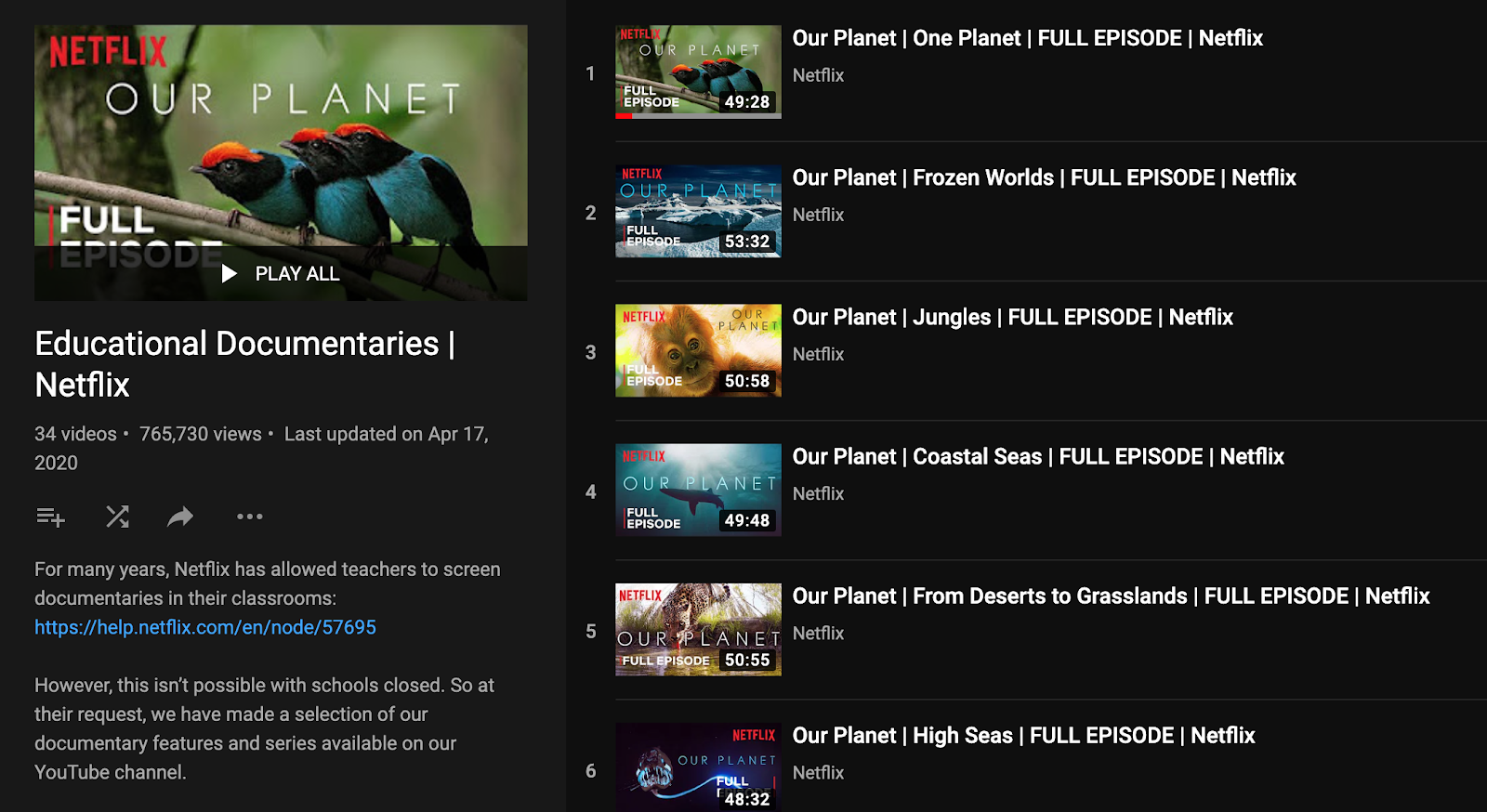 Here are all Netflix originals you can watch for free:
Our Planet (full season)

Babies (selected episodes)

Explained (selected episodes)

Abstract (season 1)

13th (full movie)

Knock Down the House (full movie)

Chasing Coral (full movie)

The White Helmets (short subject)

Period. End of Sentence (short subject)

Zion (short subject).
Free access: Find the full bundle of free Netflix content (34 videos total) in this YouTube playlist.
Apple TV Plus: Free TV series
Starting April 9 in the US and April 11 in the UK, Apple TV Plus has turned into one of the best free streaming apps (well, partially free). You won't need to subscribe to watch a curated collection of Apple TV Plus originals. The offer is limited in time, so you'd better start getting some of these free gems on your watching list asap. Here's Apple TV+ free streaming bundle:
The Elephant Queen (animal documentary)

Little America (TV series featuring immigrant life in America)

Servant (thriller TV series)

For All Mankind (science fiction TV series)

Dickinson (historical comedy-drama TV series)

Helpsters (STEM-friendly puppet series)

Ghostwriter (kids & family TV series)

Snoopy in Space (animated TV series for kids)

Oprah Talks on COVID-19.
Free access: To start the free streaming of TV shows, open Apple TV+ on your Mac, iPhone, iPad, Apple TV, or any other supported TV. Sign in with Apple ID. Then scroll down to the "Free on Apple TV" section, pick the show, and hit Play.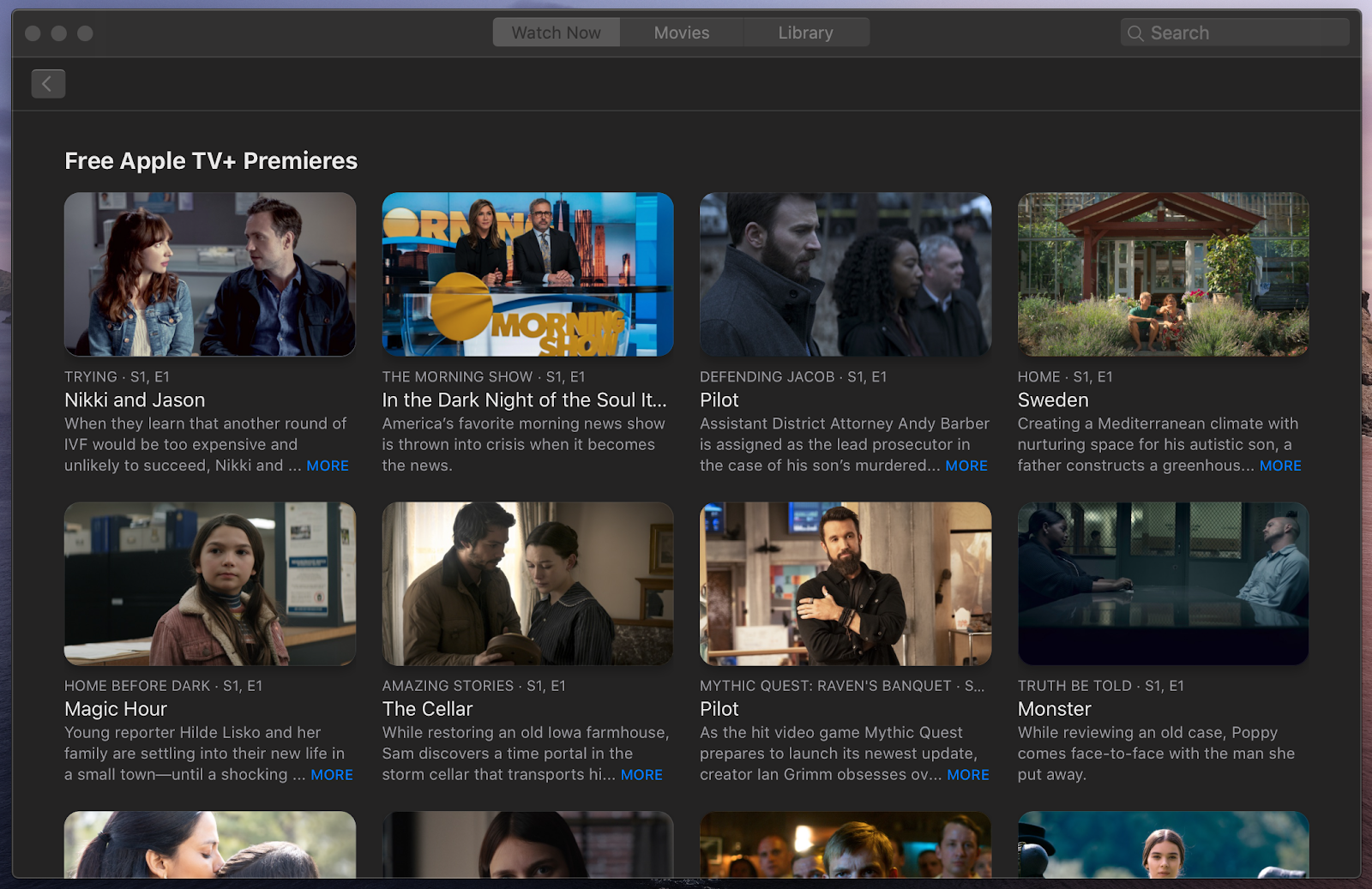 HBO Max free streaming: A launch to remember
HBO was very generous in April 2020, opening access to their best originals like Big Little Lies and Silicon Valley for free. If you missed the offer, stay tuned — there's a bigger one coming. HBO Max is scheduled to launch on May 27, and the chances are you might get it for free. According to WarnerMedia, all customers who're currently paying for HBO via AT&T will be able to get the Max package for free. New and returning users can get a one-year discount — 20% off the regular subscription price. If you subscribe today, you'll get instant access to HBO Now and will be upgraded to HBO Max once it's out.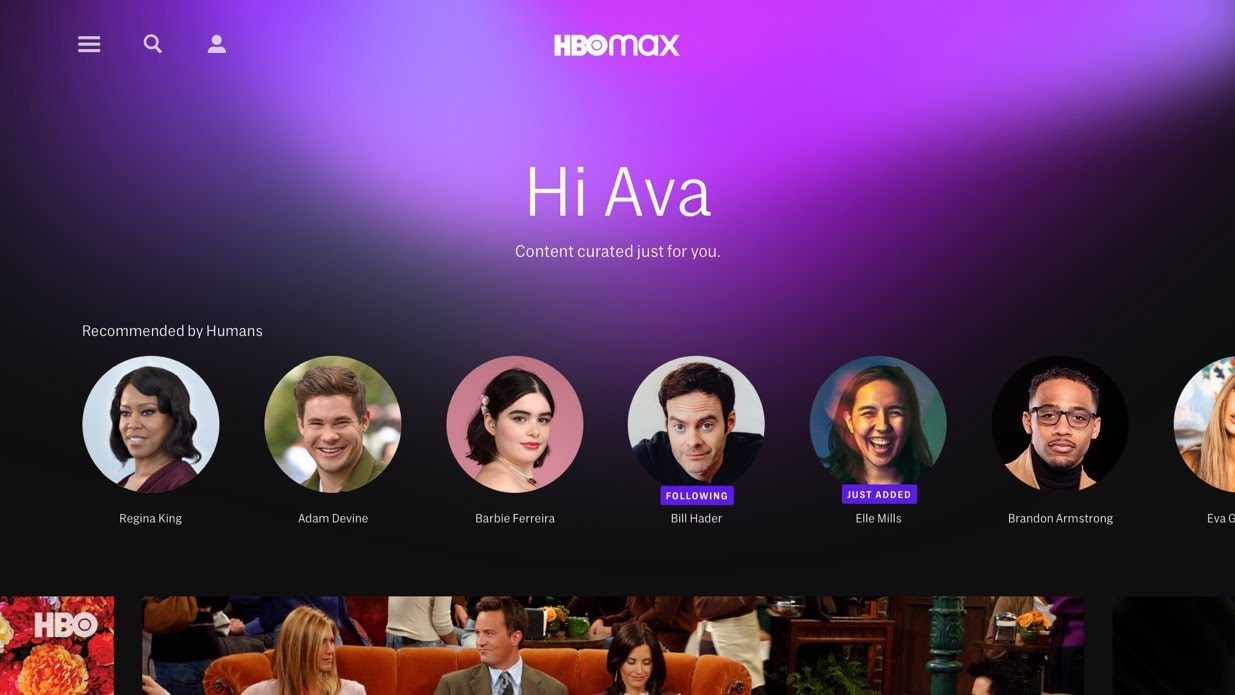 source: The Verge
Normally, HBO Max streaming will cost $15 per month, which makes it one of the most expensive — if not the most expensive — streaming service out there. And it seems to be well worth it. 10,000 hours of premium content will be available at the launch. While the company plans to invest $4 billion into production over the next three years, you can expect more great content coming along the way. Here's a quick overview of what you get on day one:
WarnerMedia's extensive library of acquired content, including Friends, Rick and Morty, The Big Bang Theory, South Park, and more.

11 seasons of Doctor Who

HBO originals (The Larry Sanders Show, Westworld, Watchmen)

Best movies of all time, including The Matrix, Casablanca, The Lord of the Rings, Lego and DC movies

Original content like Love Life with Anna Kendrick and award-winning documentary On the Record.
Amazon Prime Now
Kids at home? Let the kids see ghosts! Nope, no Kanye West reference here. I mean entertain your little ones with the best free streaming TV delivered by Amazon. The company offers free access to some of its animation and kids movies that are normally part of the Prime subscription. Great support for kids and parents suffering from school lockdowns. You can browse the offers here. What's more, everyone who's new to Amazon Prime can enjoy the full collection of streaming content with an extended 1-month free trial.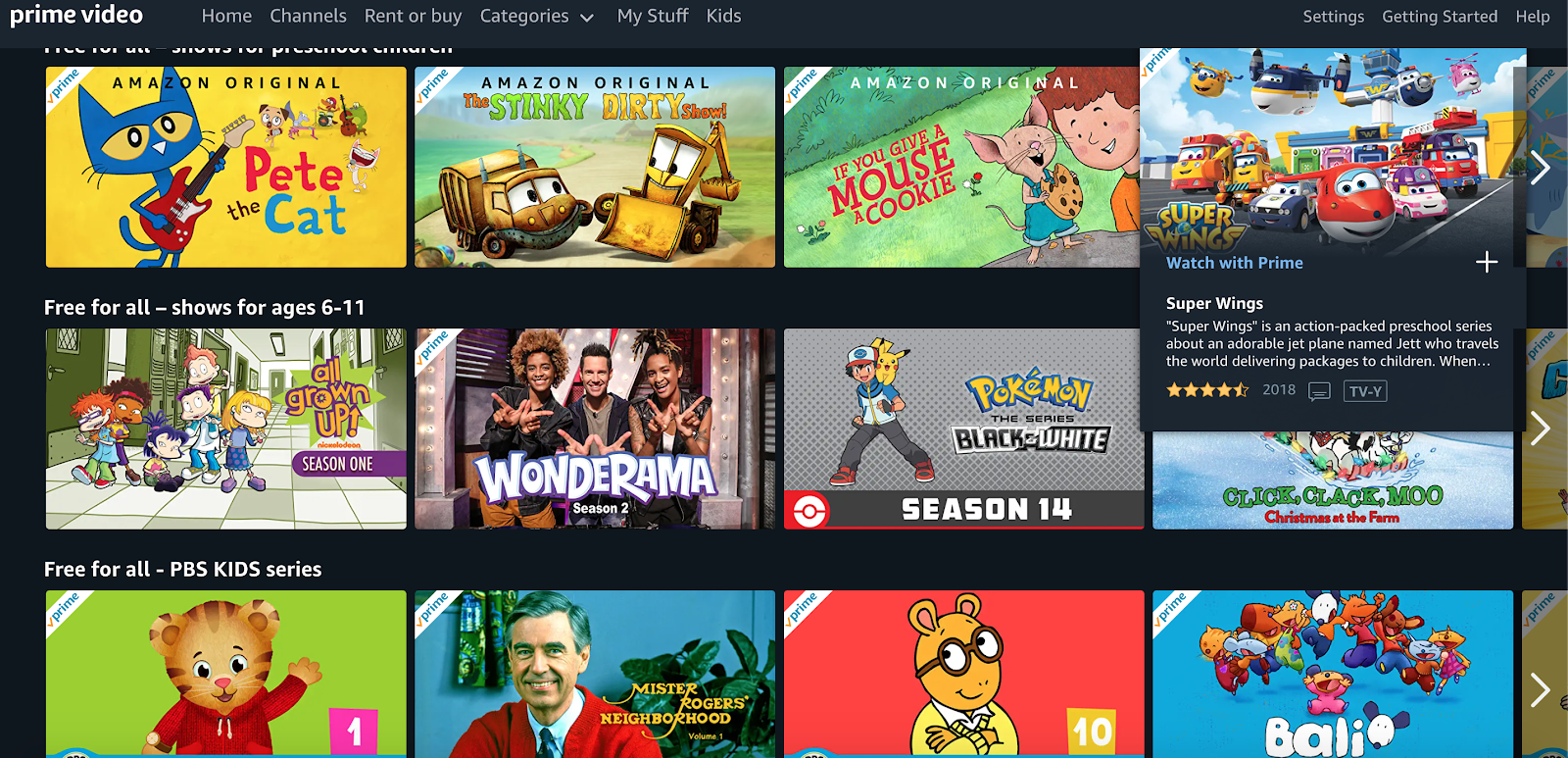 All streaming services with extended trial offers
Longer trials are another big quarantine trend. Most of the streaming TV free trials have been extended to 30 days. Some services are being even more generous — for instance, Quibi extended its 14-day trial to 90 days for new subscribers joining in April. Let's have a look at the best offers available right now. We'll do our best to keep the list updated, but make sure you double-check whether the offer still stands before signing up.
Hulu
Hulu is undeniably one of the best streaming services to replace cable in 2020. It's essentially a mix of local channels, Hulu originals, and some acquired award-winning content, including The Handmaid's Tale and Killing Eve. With 30+ million subscribers in the US, Hulu's the next streaming mammoth. And now you can get more of it with an extended trial!
Free for 30 days (available in the US)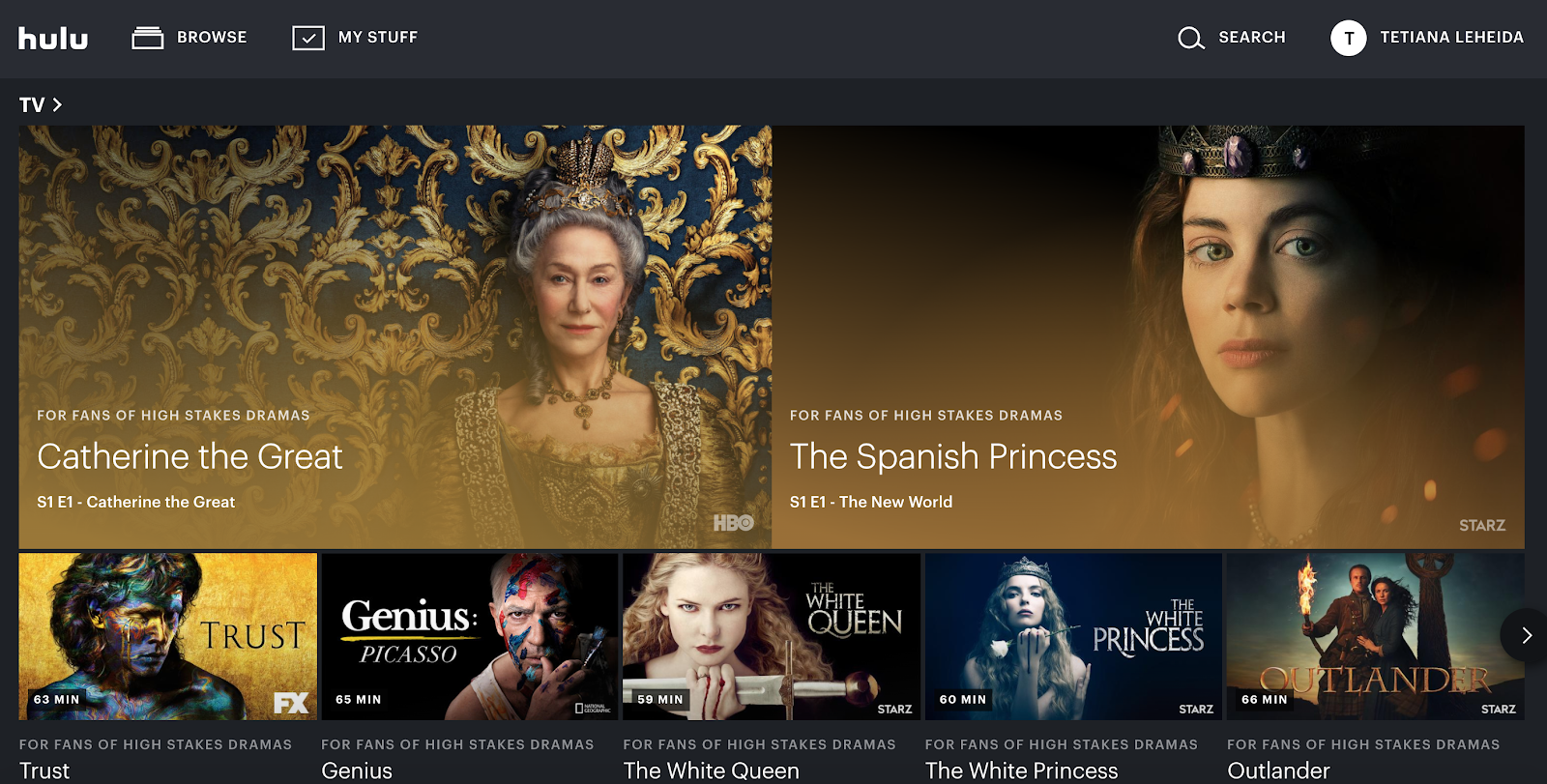 Showtime
The streaming service that emerged from a cable channel of the same name inherited a good deal of high-quality content. It has some old goodies like Dexter and Twin Peaks, as well as new TV shows like Billions and Homeland. Instead of paying $10.99 for one month of Showtime (which is honestly too much), new users pay absolutely nothing during COVID-19 quarantine.
Free for 30 days (available in the US)
Acorn TV
This one is a love story. Acorn TV is an American streaming service featuring British TV. And it's fair to say, Acorn TV has some of the best British TV drama you could possibly expect. "Netflix for the Anglophile" — this is how the service has been called informally. With an extended trial, you'll get to enjoy The Work of Agatha Cristie, The Oldenheim Twelve, and more.
Free for 30 days with the code FREE30 (available in the US and Canada)
Shudder
Essentially, a paradise for horror fans. Stream the best horror TV shows and movies, from chilling classics to new gems. Top-rated content: Oldboy, Halloween (1978), and Night of the Living Dead (1968).
Free for 30 days with the code SHUTIN (available in the UK, US, and Canada)
CBS All Access
The only place where you can stream outstanding CBS originals like Star Trek and The Twilight Zone. All Access extended free trial from 7 days to 30 days for the time of COVID-19 quarantine. The offer is valid for both Limited Commercials and Commercial Free plans.
Free for 30 days (available in the US)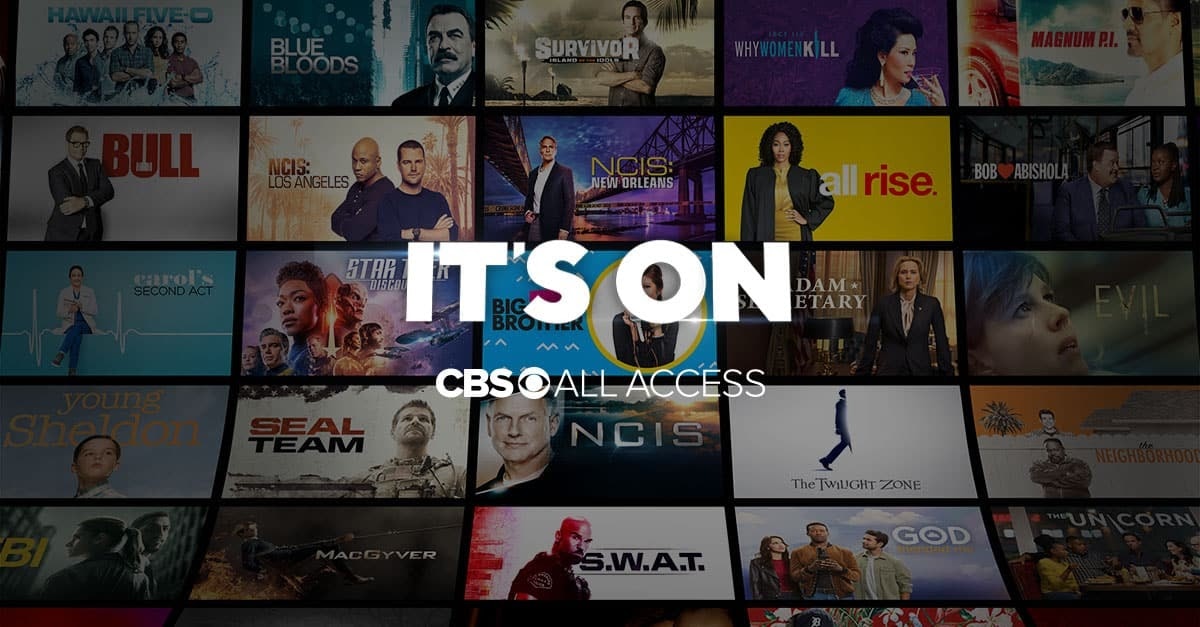 Setapp for superb streaming quality
This is where you should meet Setapp, a big toolkit with DIY fixes for Mac. It's essentially a platform with 240+ Mac, iPhone, and iPad apps for everyday jobs. We've cherry-picked two apps that will help you boost the quality of video streaming and make your movies look bigger. Spoiler: Streaming video from Mac in high quality is not limited to Apple TV devices. There's an abundance of options we invite you to explore.
This is where you should meet Setapp, a big toolkit with DIY fixes for Mac. It's essentially a desktop suite with 180+ Mac apps for everyday jobs. We've cherry-picked three apps that will help you boost the quality of video streaming and make your movies look bigger. Spoiler: Streaming video from Mac in high quality is not limited to Apple TV devices. There's an abundance of options we invite you to explore.
JustStream for streaming and mirroring
One-size-fits-all in the world of video streaming. JustStream is a video streaming app for Mac that will make you ditch Apple's native AirPlay for good. The app takes away any device limitations by letting you stream or mirror movies to Chromecast, Apple TV, or Smart TV as long as your devices are connected to the same WiFi network. Virtually every DLNA device is supported. The process of streaming is super intuitive:
Choose the movie from your streaming services list
Launch JustStream and check your streaming/mirroring options in the menu bar
Pick the device to stream to by clicking on the arrow next to the AirPlay button
Customize playlist settings or add subtitles if needed
Hit "Start Streaming."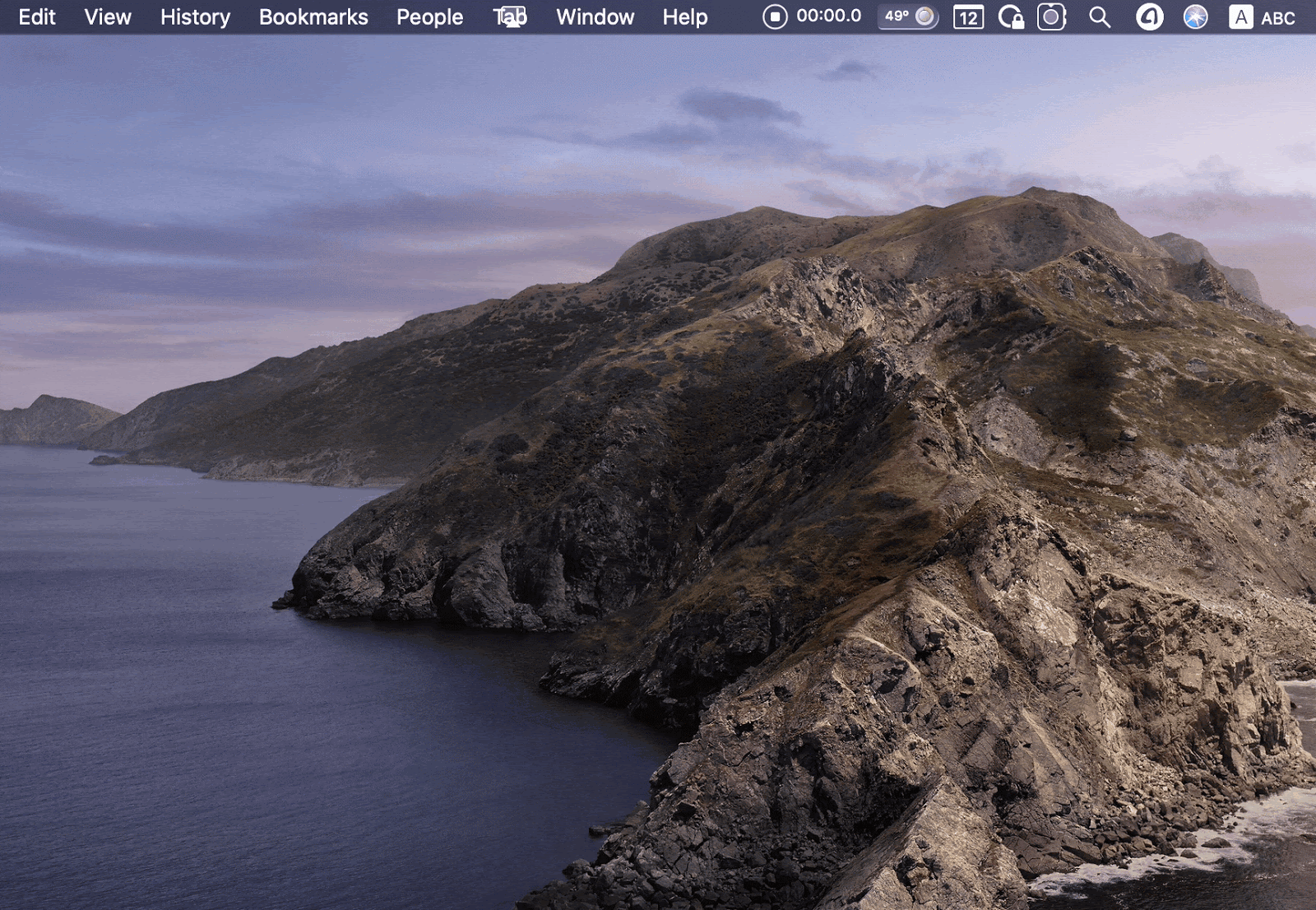 NetSpot for boosting your network quality
Change the unchangeable — your WiFi. NetSpot is a handy WiFi scanner that analyzes network connection at your home or office space, providing insightful info on signal quality, upload/download speed, and streaming speed. The app will tell you what room, and what parts of the room, are the best spots for binge-watching. The interface might look a bit overwhelming at the beginning, but don't let it scare you away — you'll make friends with NetSpot in a single scan.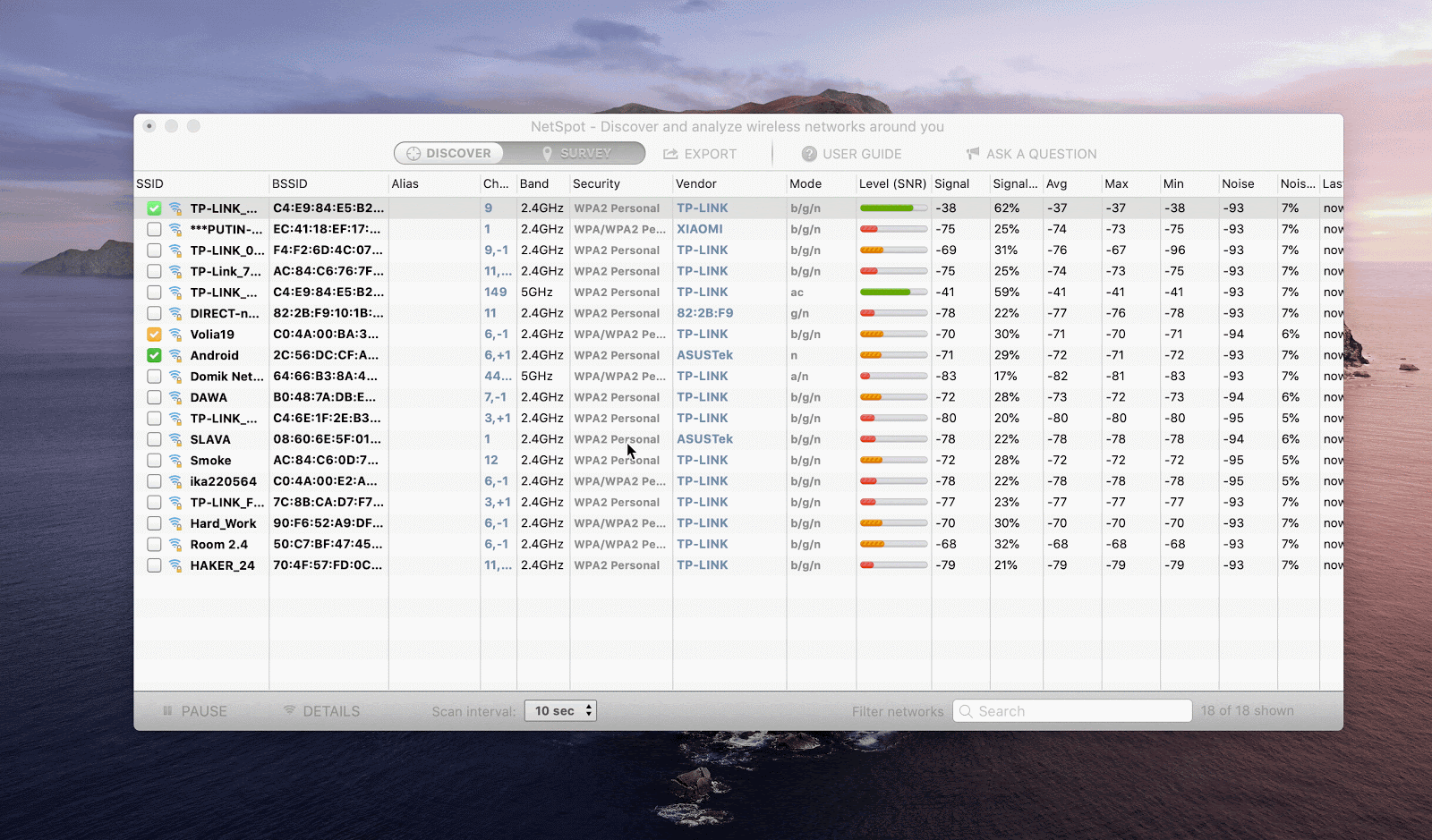 Both JustStream and NetSpot are available with a 7-day free trial on Setapp — and that's probably the first free trial you should embrace to prepare your Mac for trouble-free streaming. And don't forget to pick up a few extra gems along the way — Setapp has some top-notch software like CleanMyMac X to speed up your Mac, Gifox to capture GIFs from your screen, CleanShot X to take better screenshots, and more apps which you can explore without paying anything.
Maybe this list of streaming services will give you a new answer to the (usually annoying) what-movie-impacted-you-the-most question. We would be very happy to hear that. If not, just promise you'll have an amazing time binge-watching your TV shows — with no regrets whatsoever.