What to watch, read, and listen to while you're self-isolating at home
All dusty carpets cleaned and the to-do list cleared? For many of us, this seemed unattainable only a few months ago. So first of all, congrats! With the whole world quarantining, you finally have plenty of time for those intolerably boring but important household duties.
Now, let's make sure you don't go stir-crazy cleaning those carpets. Due to the Coronavirus outbreak, many simple joys we used to take for granted were taken away from us. Fresh air, movie theaters, and haircuts — suddenly gone. Well, you have to be a tough nut to crack if you let it all go calmly. The good news is there's a simple recipe for battling self-quarantine stress: Just stay occupied doing stuff that makes you happy. So yes, leave that carpet alone already.
In this comprehensive guide, we've collected all fun activities and quarantine offers that should help you enjoy self-isolation a bit more. For sure, this includes the good movies to watch on Netflix these days.
How to plan your fascinating day at home
The "fascinating" part is no sarcasm, really. Your day can be as interesting as you want it to be, even during the pandemic. All you need is a detailed plan and lots of self-care. Here are a few good tips on how you can plan your home routine:
Establish work hours and dress-code. If you're working remotely, the first thing you should take care of is your back. Set up a comfortable home office in your home, with a chair that has your back, literally. Make sure you stick to casual work rituals and not wearing pajamas to your home office — this might make you all sluggish and lazy. Strict working hours, a nice outfit, and your favorite coffee mug are a must.
Set aside some time for a small joy. Before you start objecting, let me assure you that you do have time for it. Take the time you usually spend on morning commute, add gym, coffee with a friend, and a long walk in the park. This will free up at least 5-6 hours every week. Make sure you spend this time creating or learning new stuff. Maybe you've always been interested in interior design, you have a passion about writing, or you just want to learn more about emotional well-being — by the way, Yale has recently given away free access to its insanely popular Happiness Course — it's the prime time to start.
Create a daily challenge. Your days will be fascinating if you have something to anticipate. Set a daily reminder for cooking one healthy meal every morning, embrace a plank pose challenge, or make a bold attempt at the "4 weeks without alcohol" retreat. Not only will you pick up a useful habit, but also keep your days exciting.
Stick to good news. There's even a YouTube channel for that. It's called SomeGoodNews with John Krasinski who's best known for his role in the NBS sitcom, The Office. Getting a daily dose of kindness and good vibes will help you banish the anxiety and set the mood for your day.
What to watch at home: The non-boring list
Tastes differ but best Netflix movies remain best Netflix movies. Explore our personally curated list of quarantine recommendations — best pandemic thrillers, iTunes early releases, and Netflix goodies you can start binge watching right away.
Movies like quarantine
For many people, looking the fear straight in the face might be the best way to battle it. This is the reason why amid the Coronavirus crisis, the Plague Inc. game started topping all charts in China. If this sounds anything like you, check out these movies:
Sea Fever (2019): The horror movie that got scarier with the Coronavirus outbreak. A small crew is trapped on a fishing boat, fighting for their lives. The main goal — not to get infected with the parasites spawned by some mysterious sea creature. If you are a fan of The Thing movie, and not getting stressed over the topics of infection, you'll most likely enjoy Sea Fever, too.
Contagion (2011): A few years ago, this movie didn't reap any accolades. But it seems like the shining moment of Contagion is today. The thriller starring Matt Damon and Jude Law has an undeniable parallel with the current pandemic.
Pandemic (2016): As the virus is overtaking the planet, the uninfected survivors are fighting fiercely — looking for a cure that might save the future. Pandemic has the game-inspired zombie vibe to it, which will keep you hooked from the start till the end.
If you're still missing some chills, check Horror Movie Podcast. It's a great platform for discussion, elaborating on the scariest horror stories that have ever been created. For the fans of the genre, this is definitely a good place for fierce binge listening.
Early movie rentals on Apple TV
As a rule of thumb, movies are made available for online rent and streaming a few months after the official release. This year is different, though. While movie theaters around the world were forced to lock down, many premieres scheduled for spring 2020 were postponed or canceled. Many but not all. Some popular Hollywood studios, including Universal, announced they were bringing new movies to their audiences anyway — via iTunes or Apple TV.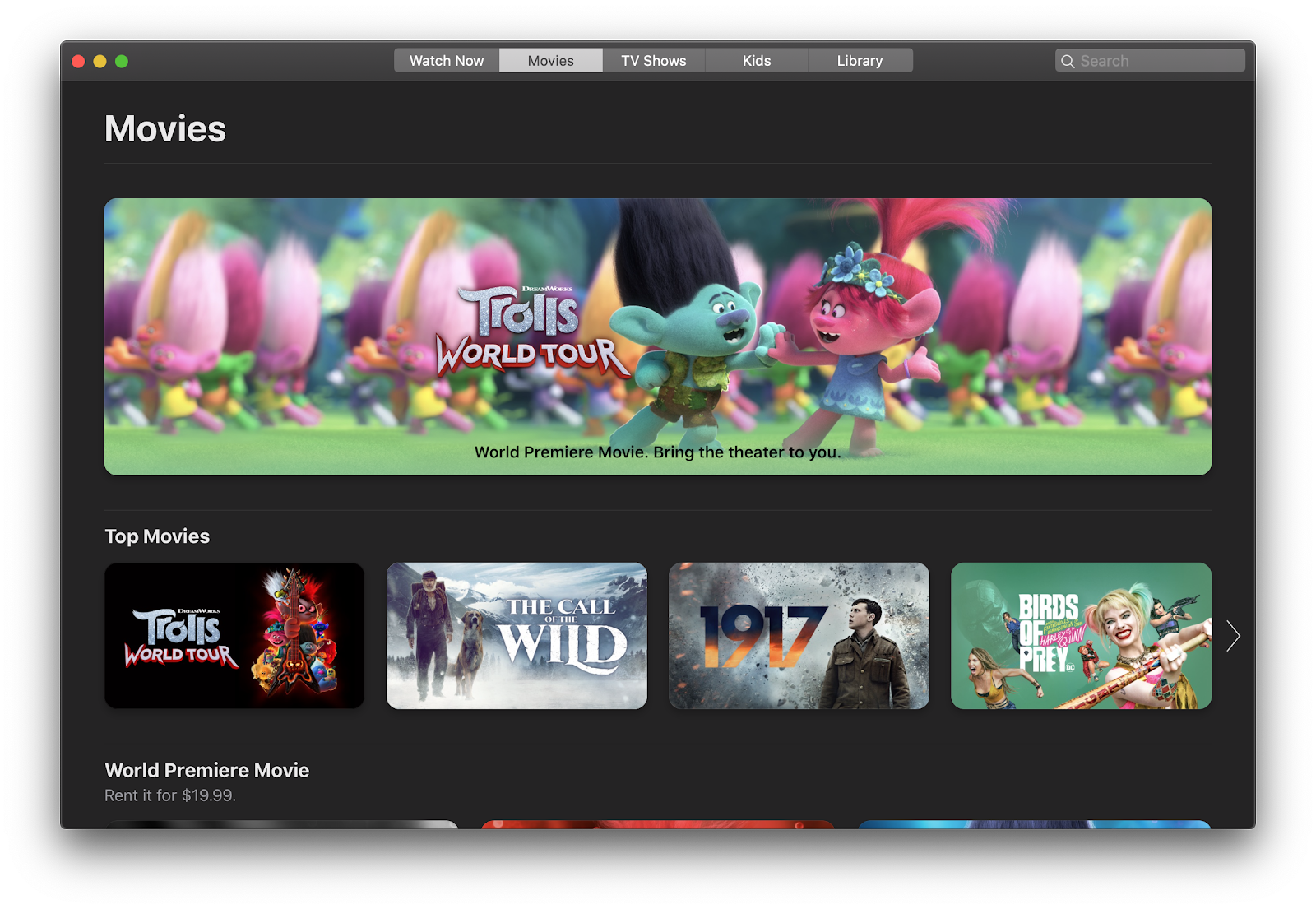 Here's a short list of premieres that arrive directly to your Mac and are available for rent on iTunes:
Star Wars: The Rise of Skywalker (March 13): The long-awaited finale of a thrilling Skywalker Saga, which focuses on the battle between the Jedi and the Sith.
EMMA (March 20): New adaptation of Jane Austen's romantic novel, EMMA, reviving the familiar story about youthful hubris, marriage, and social class.
Birds of Prey (March 24): An explosive mixture of feminism, rudeness, and action in the new comics-style movie starring Margot Robbie.
Frozen II (March 30): A sequel to Disney's beautifully animated musical fantasy about Elsa the Snow Queen, in which Elsa is fighting for her kingdom.
The Invisible Man (March 20): Eerie yet powerful thriller about a woman hunted down by an invisible ex — or is it all in her head?
Trolls World Tour (April 10): A sequel to the universally loved DreamWork musical starring Justin Timberlake and Anna Kendrick.
For the full list of upcoming releases and more information on how to rent movies on Mac, check this article.
New TV shows on Netflix
If you're wondering what to watch on Netflix during the Coronavirus self-quarantine, we can help you out here. Meet the top three hot releases that are topping the charts of Netflix this spring:
Altered Carbon (Season 2)
Based on Richard K. Morgan's cyberpunk novel, Altered Carbon is a TV show that takes us to a futuristic metropolis, where consciousness can be transferred to different bodies called "sleeves." In 2018, Altered Carbon was nominated for Emmy in the category Outstanding Visual Effects. And the visuals are truly impressive — with VR, holograms, and all those mind-bending dystopian cityscapes. In Season 2, the adventures of the main character, Takeshi Kovacs, continue.
Unorthodox
This is an exciting story with a touch of bitterness, depicting a young woman, Esty, who escapes a Hasidic community in Brooklyn. The TV show is based on a real story inspired by Deborah Feldman's memoir. Unorthodox is a good place to contemplate the functioning of isolated communities in challenging times like pandemics. Lately, there's been a growing concern over ultra-Orthodox minorities not following the COVID-19 regulations in Israel. The opposition is based on the tradition of mass gatherings that Unorthodox explains in detail.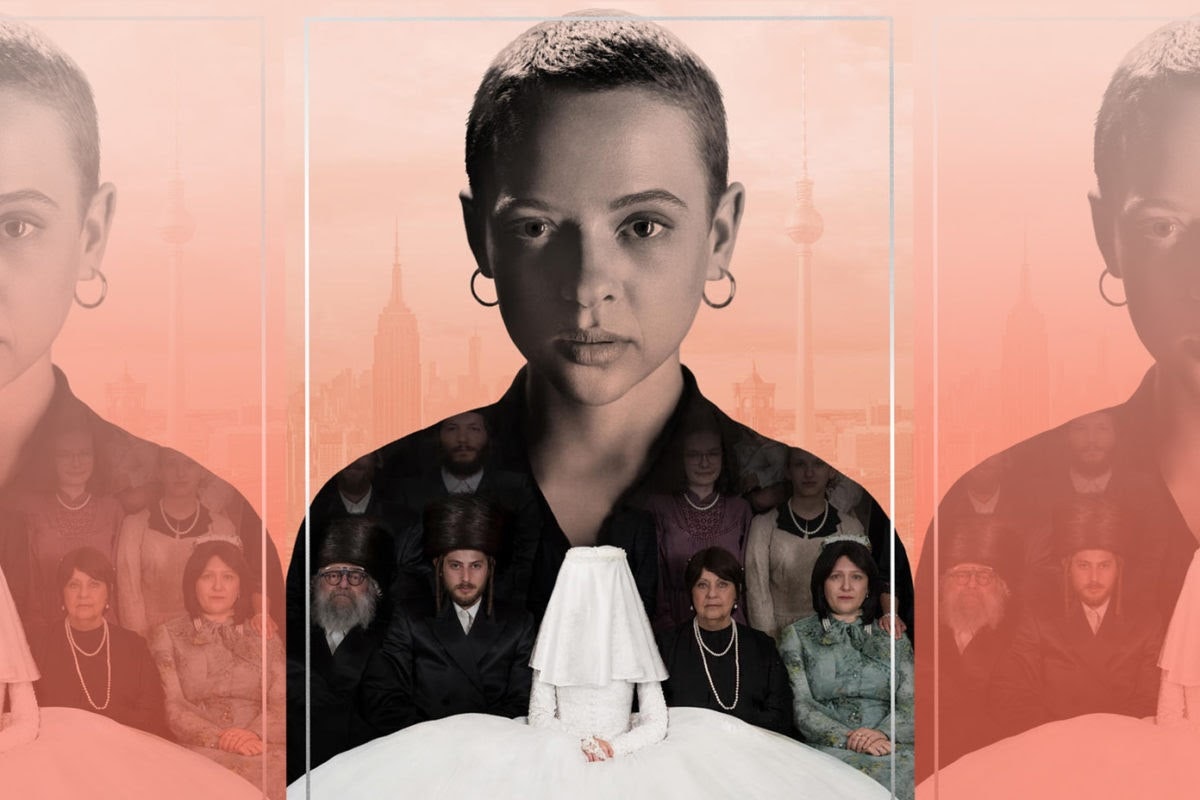 source: Geek Vibes Nation
Money Heist: Season 4
If you're up for some heist crime drama, you'll love being locked down at home with this TV show on your screen — pinky promise. Eight thieves and one criminal mastermind manipulating Spanish police. Lots of interpersonal drama, highly-acclaimed plot, and stunning cast make Money Heist everything you would expect from a great heist crime story. This spring, season 4 is coming to Netflix. And you can't even imagine how lucky you are if you haven't watched the previous three yet.
Attend world's best museums and galleries
From your home, of course. Due to travel bans, you can't really go anywhere. But seeing new places in new countries is actually possible — a rare joy of all things to do now at home. Over a dozen of the world's top-rated museums and galleries are offering free virtual tours to everyone. You can relish Van Gogh's masterpieces in Amsterdam, dive into Mexico's pre-Hispanic heritage, and instantly hop all over the world to enjoy contemporary art in Seoul.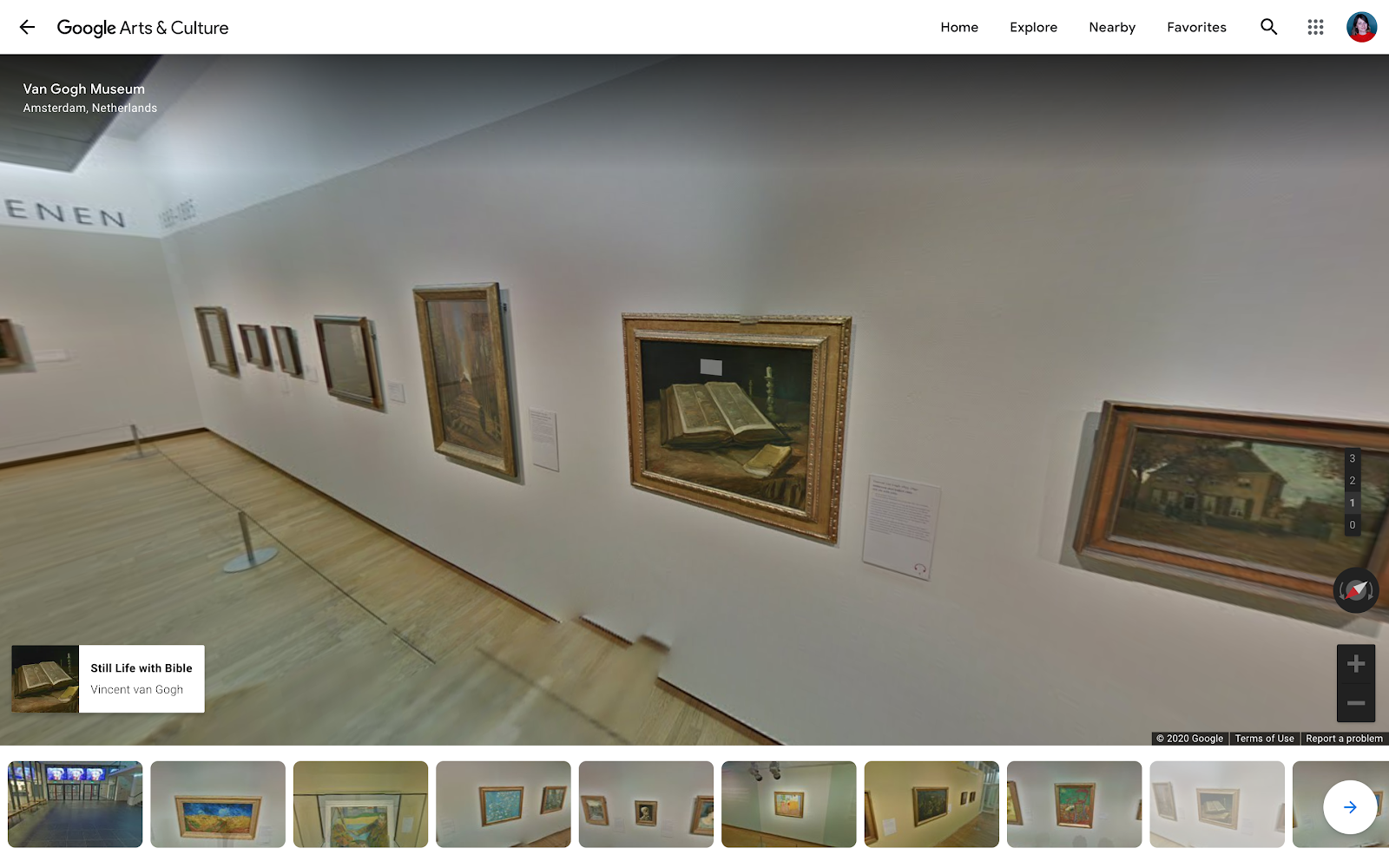 Here's the list of best museums offering free virtual tours:
Musée d'Orsay, Paris
Uffizi Gallery, Florence
Pergamon Museum, Berlin
Rijksmuseum, Amsterdam
National Museum of Anthropology, Mexico City
The J. Paul Getty Museum, Los Angeles
Detroit Institute of Arts
Guggenheim Museum, New York
National Museum of Modern and Contemporary Art, Seoul.
What to read and what to listen to
If you're craving new information and already finished your Goodreads reading list, here are a few extra goodies curated for you:
Audible: Stories help, and Audible will help them help you. Amazon has recently announced its Audible Stories initiative to support families with kids around the world. You can listen to popular titles like "Harry Potter and the Philosopher's Stone" and "Alice's Adventures in Wonderland" in six languages — English, German, French, Italian, Japanese, and Spanish.
Free access: https://stories.audible.com/start-listen
Los Angeles Public Library: Relish your favorite quarantine book series using the Libby app. Los Angeles Public Library gave away free access to a huge collection of audiobooks that you can browse and listen to in the app.
Free access: https://www.overdrive.com/apps/libby/
Staying In with Emily and Kumail. There are movies like quarantine — and there are podcasts that make your quarantine warmer. The Staying In podcast is brought to you by Emily V. Gordon and Kumail Nanjiani. If you're a fan of Apple TV+, you've probably heard about the heartwarming mini series called Little America. These guys created it. The podcast has the same level of charm and good humor, which will make you feel cozy at home.
Free access: https://podcasts.apple.com/us/podcast/staying-in-with-emily-kumail/id1503412182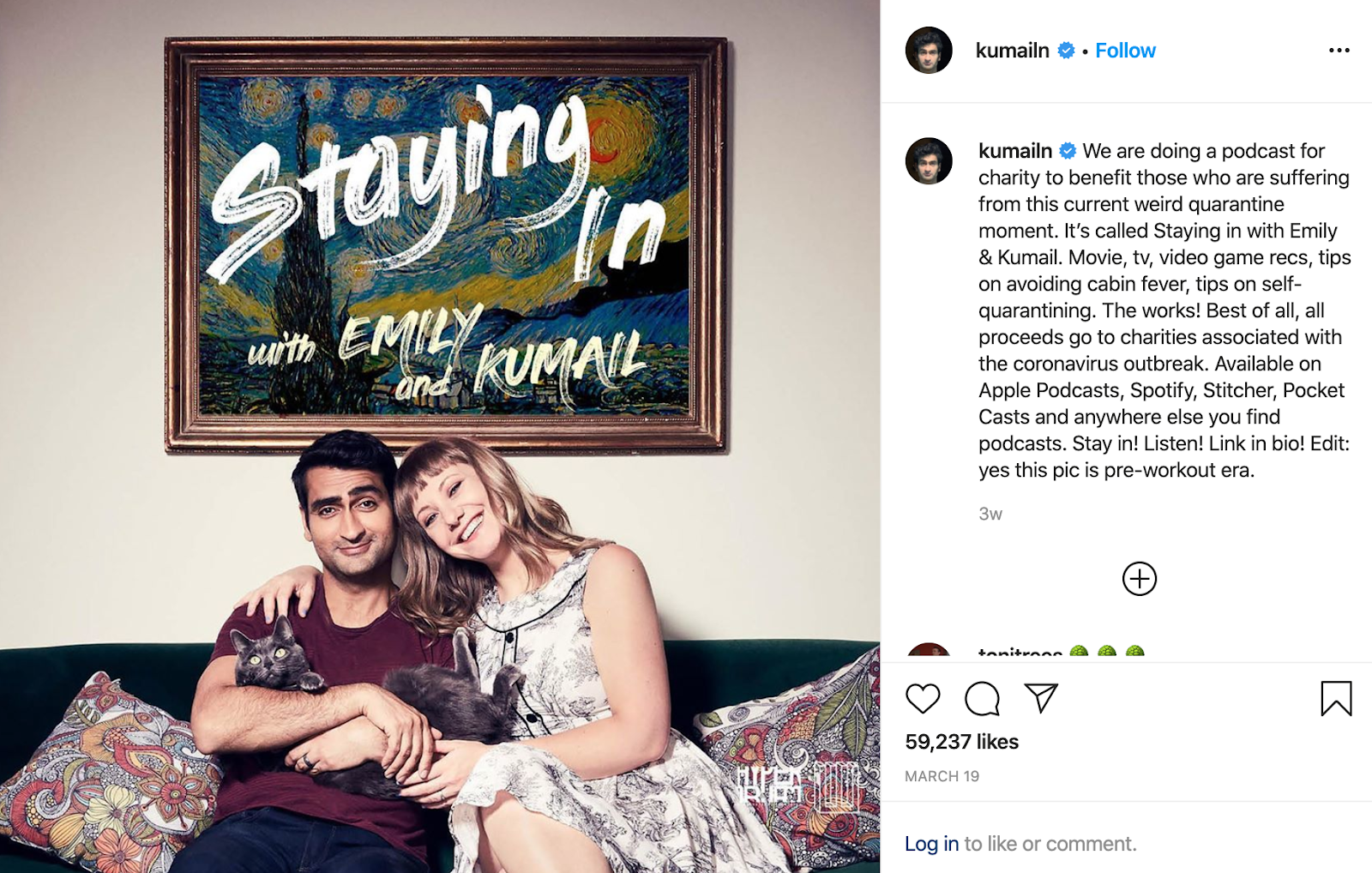 Get more work done in less time
Oh and remember you've got some work to do. Now when you know what to listen to, what to read, and what to watch on Netflix, the chances are you'll want to be finishing your work faster to be able to get back to the favorite online goodies. With these three tools, all available with the Setapp subscription, you'll actually be saving an hour or two every day. That's two Netflix movies!
Schedule to-dos with GoodTask
GoodTask is a Mac app that syncs with Reminders and Calendar, completing the functionality of Apple's native utilities beautifully. It allows you to attach tasks to specific projects, add subtasks, set priorities by changing the urgency level, and build smart lists. Plus GoodTask offers a neat daily reminder that helps plan your day, based on tasks you have to complete.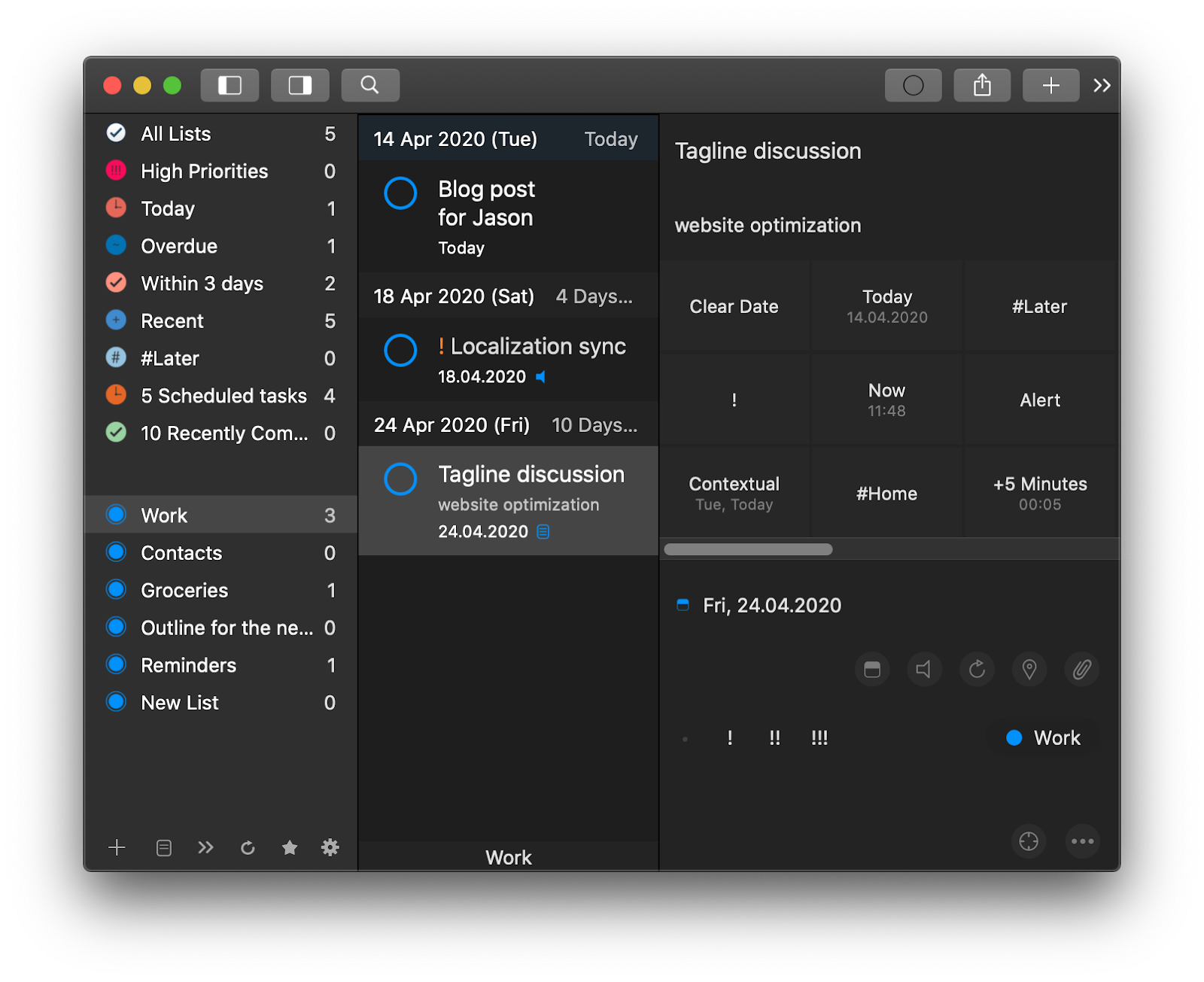 Remove distractions with Focus
If the Netflix temptation is too big, make sure you install Focus. The app puts your attention back on tasks by blocking access to social media and streaming services. Build in short breaks into your schedule, and work non-stop the rest of the time. You can set custom time ranges and the app will send you reminders to notify when you should start focusing and when it's finally time for a break.
Let Timing control your progress
How do you know how productive you are? This app will tell you. Timing guides you through the working process, automatically tracking every activity. You don't have to set up any timers or create complicated to-do lists — Timing logs everything you do, and then makes sense of it based on types of activities. At the end of the day, you know how much time you spend browsing the web, what websites you visit, and what apps you use to complete tasks. Make sure you use this knowledge to organize your work accordingly.
Staying in during the pandemic is the only way we can protect ourselves and our loved ones. This doesn't mean it's time to suffer, though. There are millions of things to do at home, while actually staying productive and entertained. Embrace Netflix bestsellers, focus on good news, and get Setapp with 240+ best Mac apps to impress colleagues with your sizzling productivity during the quarantine.