5 Best Mood Tracking Apps In 2023
No one can confidently say that their mood doesn't change from day to day. Sometimes we feel on top of the world, other times we're down and don't want to do anything at all — the feeling which could last a few days or even longer than that.
Research has long told us that the most effective way to track your mood is to consistently write down how you feel and figure out what triggers your mood swings so you can try to fix the situation.
While carrying your notepad and pen around is good for your mental health, it's not the most convenient thing to do. What's more, it's also difficult to remember to write in your journal on a daily basis. Luckily, multiple mood tracker apps have sprung up recently to help deal with both of those problems.
Why Use Mood Tracking Apps?
In general, mood diary apps are a much better solution to track your mood than pen and paper. First of all, you always have your phone or laptop with you, so your mood tracker is easily accessible. Some mood tracker apps can even notify you to write down how you feel.
Writing on your phone also requires much less time. For some apps, you can just select your current mood with one tap (but also expand on it if you have time). Finally, jotting down your thoughts daily in an app rather than a journal has the advantage of easier analysis later on as well as engaging powerful reporting features to see how your mood has been changing over time.
With that said, here are some of the best mood tracker apps available on macOS and iOS today.
1. Record everything online with Mood Tracker
If you want to record and access your mood history online, Mood Tracker is an enticing option. This mood diary app lets you easily write down your mood, track your medication and exercise routine, and even set reminders via email or text messages.
Being completely online, Mood Tracker makes it easy for you to share your mood chart with others (medical professionals, for example) so they can help you reach your wellness goals.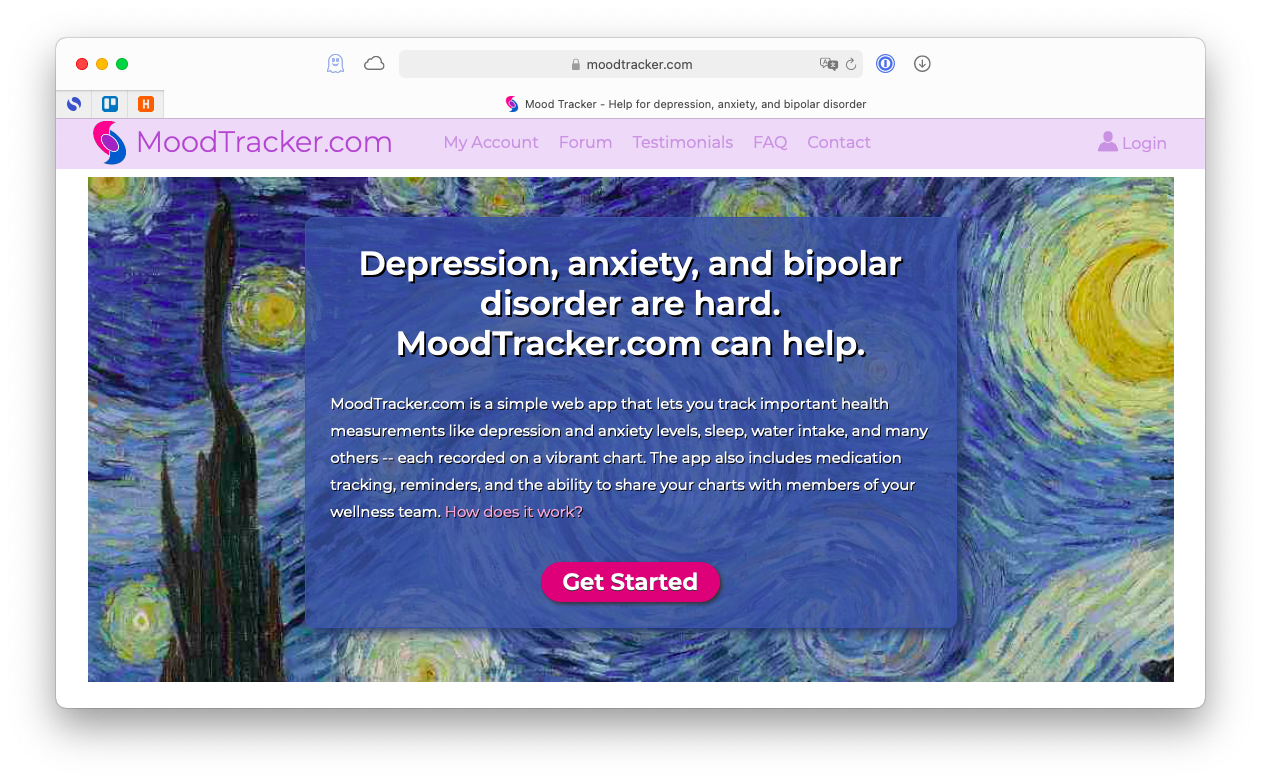 There's also a public forum where you can connect with like-minded individuals and find emotional support as well as see how others approach tracking their mental health.
A paid version of Mood Tracker adds replies by text messages, search, unlimited measurements, as well as supplement tracking.
2. Time-stamp your mood with Daylio
When you're busy and careful self-analysis is out of the question, you can turn to Daylio.
Daylio is an award-winning iOS app that makes it as easy as possible to find out what makes you happy. Instead of writing daily journal entries, this app requires only two taps: one for choosing how you feel and the other for selecting the current activity.
In the end, Daylio will provide you with accurate charts that correlate your mood and activities, so you can start making better decisions and stay on track.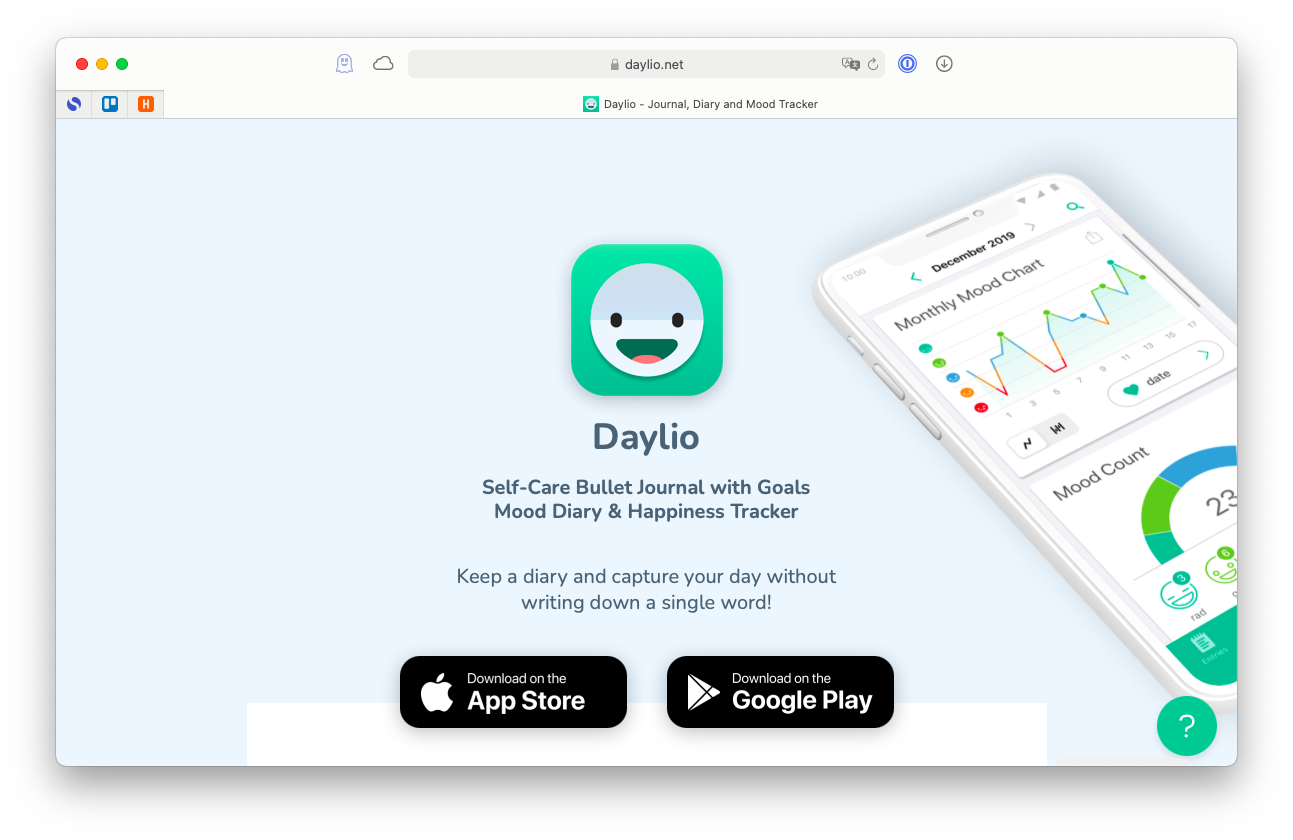 3. Add mood notes with Moodily
Moodily is another mood tracking app that combines the speed of just picking how you feel and the activity you're currently doing with the ability to take extensive notes for every entry should you wish to do so.
The app also features 15 emoji sets, so you can always find something applicable to you, as well as a daily calendar, so you can instantly see your mood going back as far as you need. Moodily is available on both iOS and Android.
4. Get a complete mental health picture with MoodKit
Drawing upon cognitive behavior therapy principles, MoodKit is an iOS app that integrates four distinct tools to help you understand your mood fluctuations.
First, there are lots of ideas, examples, and tips for five categories of mood-boosting activities. Second, there's a thought checker that helps you change your feelings by changing the way you think. Then, you can use a mood tracker to actually save your daily emotional state. Finally, a flexible mood journal with built-in templates lets you record mood notes and observations of any length and export them too at any time.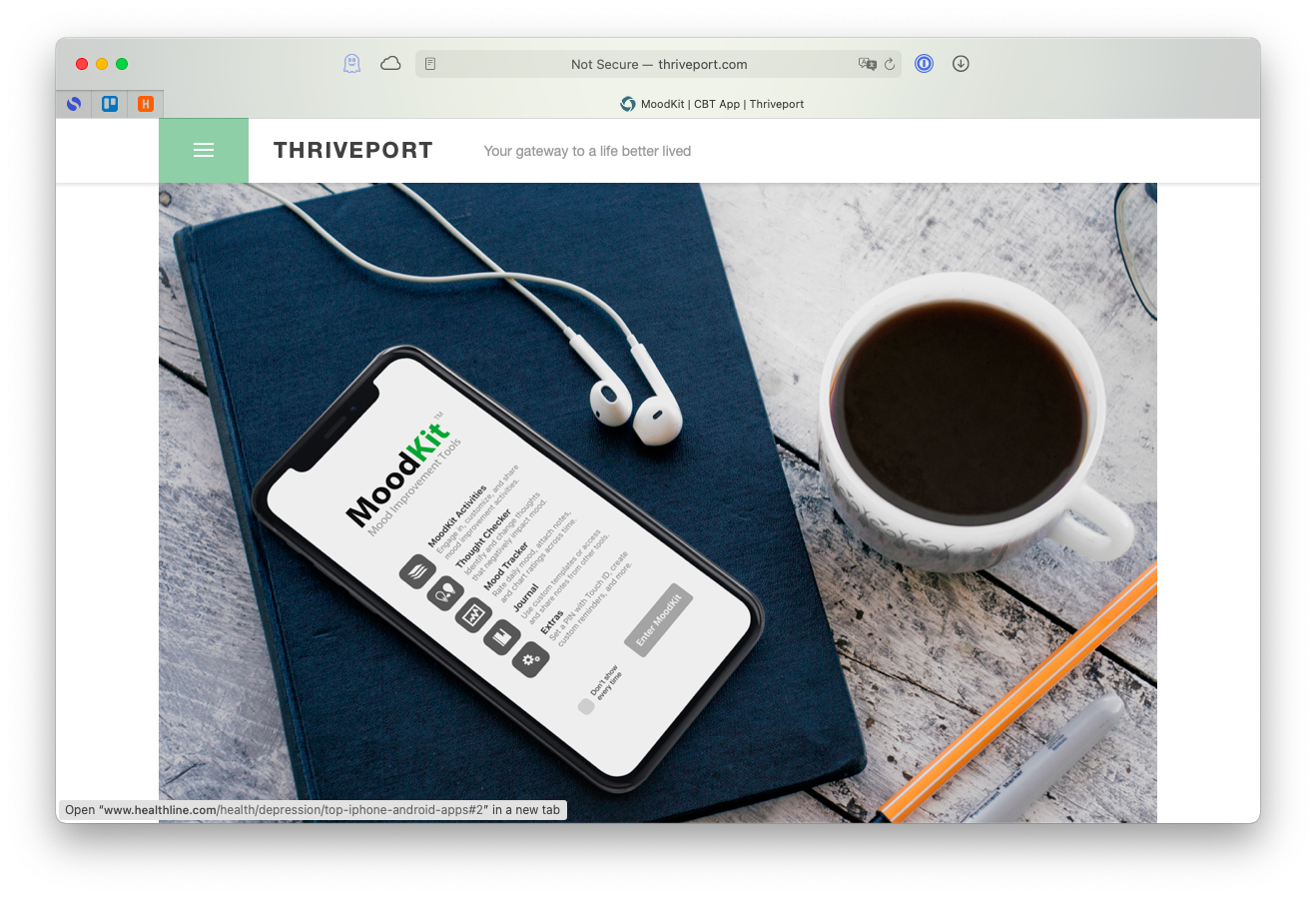 5. Learn to feel great with Grapefruit
While tracking your mental health on the go might seem quick and convenient, if you really need to dive in deep into your emotional health, you should get a full-featured and robust Mac app such as Grapefruit.
Grapefruit combines all the benefits of mood tracking with strong analytics that display the progression of your mood over time. What's more the app is absolutely private and allows you to customize its methodology to your liking. Developing a consistent mood tracking habit has never been that easy!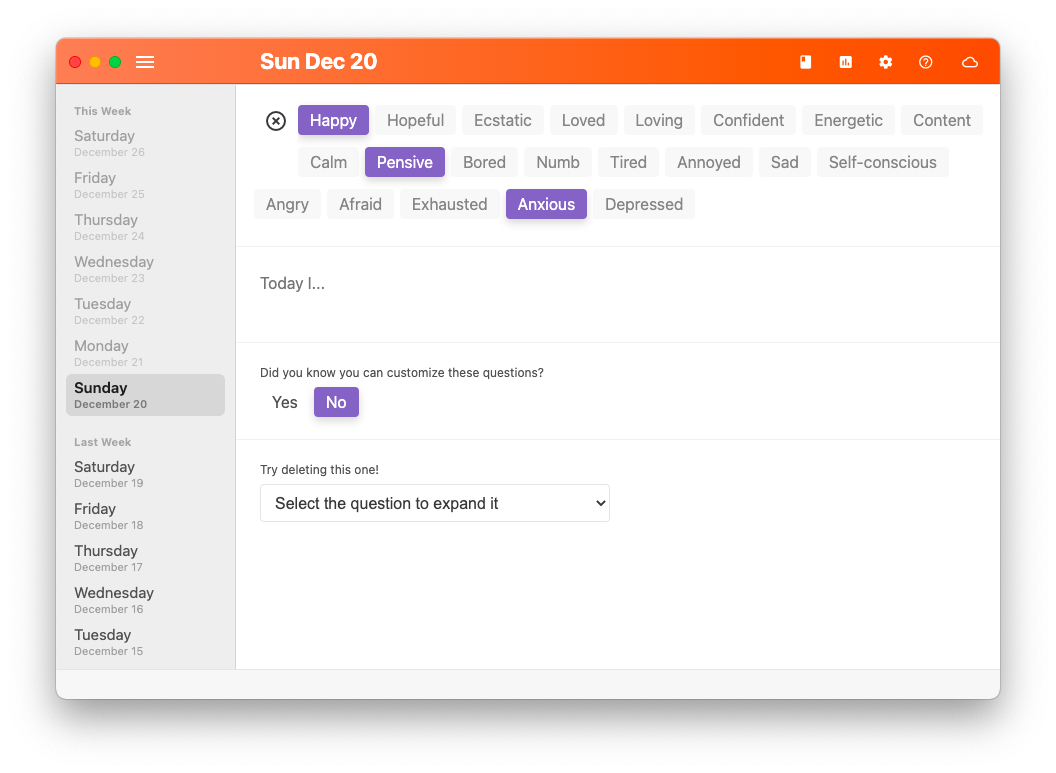 As you can see, if you've been experiencing mood swings and feeling low lately, the first step is to simply record everything. Then, through trial and error, you'll be able to adjust your routine in a way that gets you out of the rut and into a productive mindset again. Using mood tracker apps here is the best choice, whether it's something on your phone or on your Mac like Grapefruit.
Best of all, Grapefruit is available to you absolutely free for seven days through a trial of Setapp, a platform with more than 200 outstanding Mac apps that cover any issue, from perfectly arranging your day (BusyCal) to connecting with all of your friends through all the messengers at once (IM+). Try every app in the Setapp collection at no cost today and see how you can instantly improve your life. Most importantly, if you feel like your emotional health is slipping out of control, don't delay reaching out to a health professional right away.