How to easily annotate a PDF document on Mac
Annotation is a process of adding notes to the text as you work your way through it. The practice may be centuries old, dating back to Talmudic commentaries and medieval Arabic rhetorics, but it's as effective as ever. Annotation improves reading comprehension, increases productivity, and streamlines writing collaboration.
When annotating, we read the text for:
What's important (key ideas, structures, crucial details, or data)
What's interesting (might be worth remembering or saving a reference to)
What raises questions (as grounds for discussions with others)
What brings other ideas to mind (insights, inspirations, deeper understandings)
By annotating, we bring our engagement and focus up a notch, so we understand and remember more. So to get you ready to make the most of your texts, let's learn how to annotate a text PDF.
How to annotate in Adobe Acrobat PDF docs and more
Created back in 1993, PDF remains the most popular format for sharing files and the third most popular format on the web (giving way only to HTML and XHTML). So it only makes sense for you to learn how to annotate on a PDF document for work, study, or social activities.
We can safely say that annotation tools across different utilities are very similar and basically mimic what we're used to when annotating text on paper. Most common options include highlighting or underlying text, flagging sections of text with a symbol, leaving comments in the margins in text boxes or callouts, drawing around text, and, of course, the classic — adding sticky notes.
Tip: try these annotation strategies to keep your notes organized:
Use different markings for each type of comment (e.g. highlights for main ideas, comments in the margins for questions, circle around text sections for style corrections)
Consider giving different meanings to specific highlight colors
Assign each margin a role (e.g. left margin for questions, right one for key points of the text)
Now that we've covered the basics, let's talk about how to annotate a PDF on Mac.
How to annotate a PDF on Mac
The default PDF viewer on Mac is Preview — this means that any PDF document you'd want to work on will automatically launch this app. Preview doesn't let you edit the text of a PDF, but its Markup Toolbar has all the editing tools you'll need to mark something important for yourself or leave comments for others.
To start annotating in Preview, simply:
Open the PDF document you want to annotate
Click the Show Markup Toolbar button in the top-right corner
Use markup tools for annotation (note that Highlights is a separate button to the left from Show Markup Toolbar in the top menu)
Save your document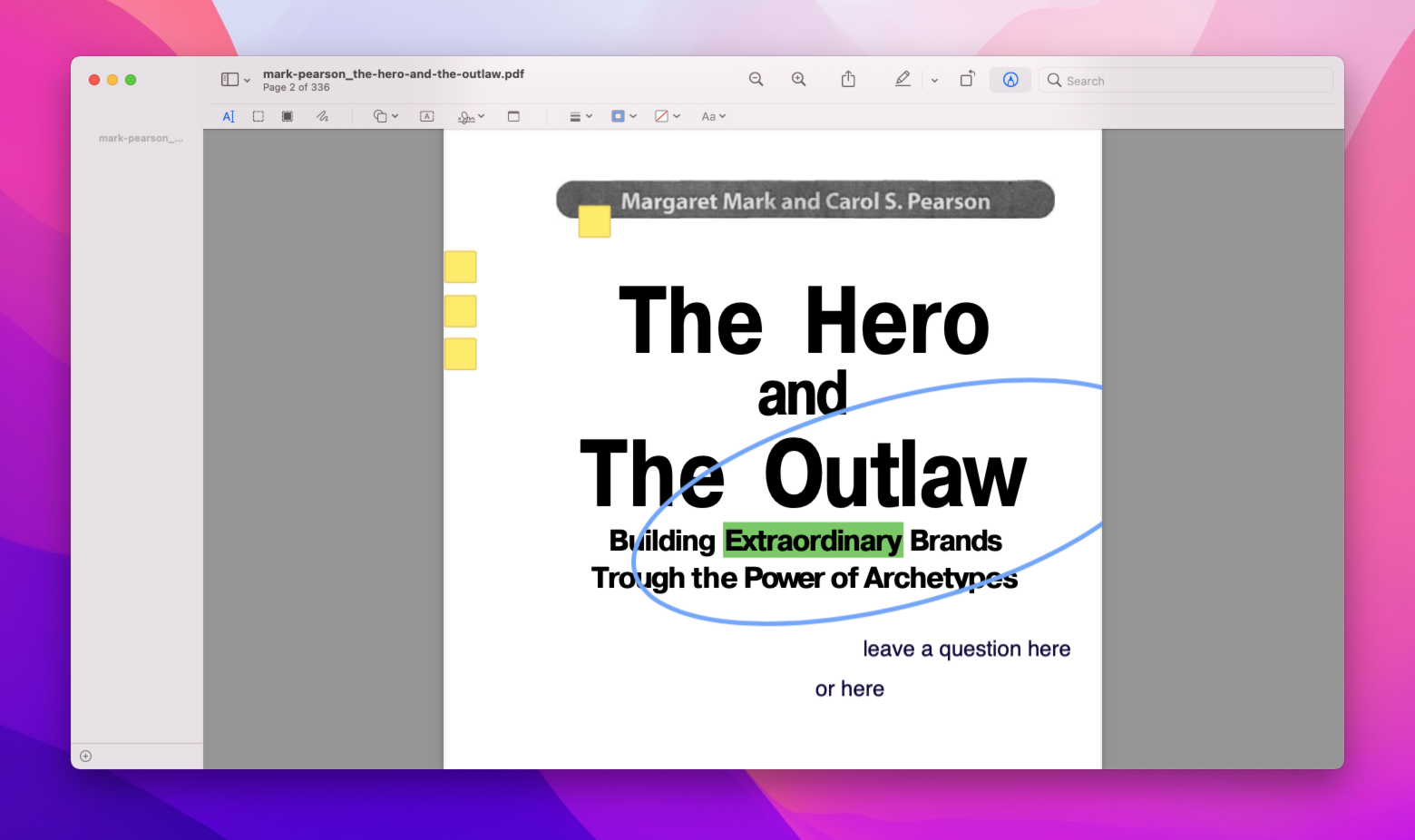 Since some people prefer iPad for reading, it's also useful to learn how to annotate a PDF on iPad. But because all PDFs on iPad open in the Books app, learning how to annotate a PDF on iPad is essentially the same as learning how to annotate a book PDF. Here's how you to do it:
Tap PDF attachment to open it
Tap the Send icon ➙ Books
In Books, highlight the text by dragging your finger across to select it
Tap the selection to display the annotation bar
Mark the text with highlights, sticky notes, and comments
How to annotate a PDF file in Adobe Acrobat
There's a big chance you already have Adobe Acrobat installed on your computer, since it's the most common PDF viewer and has invented PDF file format.
If you'd prefer working with a PDF in its original "mother ship" utility, follow these steps to add annotations:
Open Adobe Acrobat from Applications
Choose the PDF file you want to annotate
Click Tools to activate Markup Toolbar ➙ Open under Comment
Add annotations to your file
Save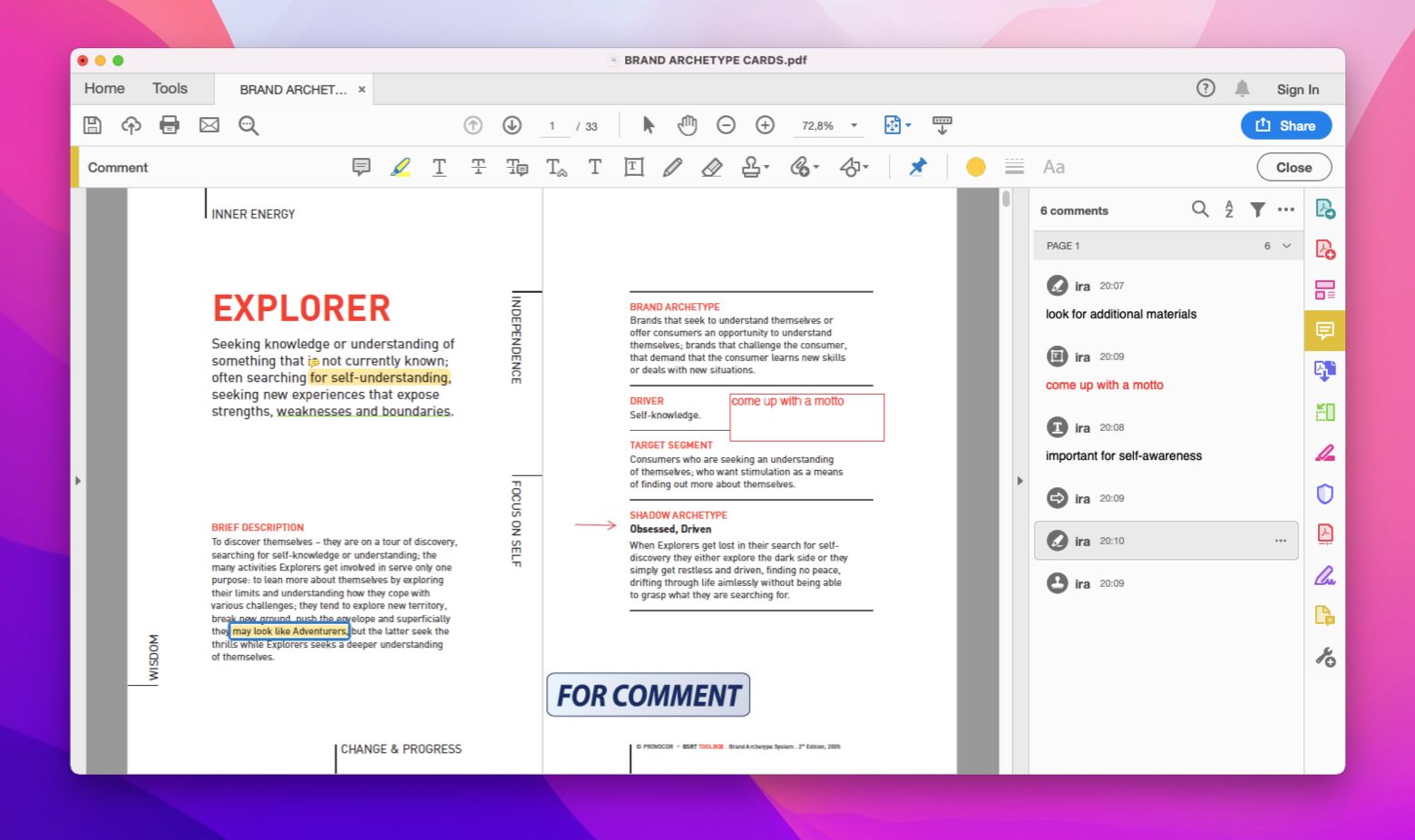 As you can see, annotating a PDF in Adobe Acrobat is very similar to what you can do in other PDF viewers. The reason there are so many alternative solutions on the market is that Adobe is very RAM-heavy and can slow down your entire system, especially if it's not the only major software running. Besides, it doesn't offer live editing, unless you pay for its Pro version.
How to annotate online
If you are looking for free options on how to annotate a PDF online you'll surely find good services that offer all the markup tools you need. But online PDF editing also has its limitations — you may easily lose your notes if the power goes out abruptly, or the internet signal quality is not so good. Besides, many services have restrictions on the size of the file you can upload, which excludes books automatically, as those files tend to be heavy.
Offline tools seem to be a better choice in this situation, as they are faster and offer more functionality.
How to ease the process of adding notes
If you are looking for a serious performance boost with PDF editing, be sure to try Nitro PDF Pro, a handy one-stop shop solution for all things PDF. Not only is it a perfect answer to how to annotate a PDF file, this app also lets you easily edit, create, and even convert from PDF to MS Office formats, keeping document's layouts, fonts and images intact. Nitro PDF Pro simply expands your ideas of what you can do with a PDF:
It's great for collaborations. Add comments, scribbles, drawings, reply to notes, track comments by author, and even leave a voice commentary
It lets you resize, copy, or delete images
It helps turn scans into editable text
It offers strong security features. Manage user permissions, add passwords, and encrypt your PDF to authorize users through digital IDs.
It can merge multiple PDFs into a single document for presentations or reports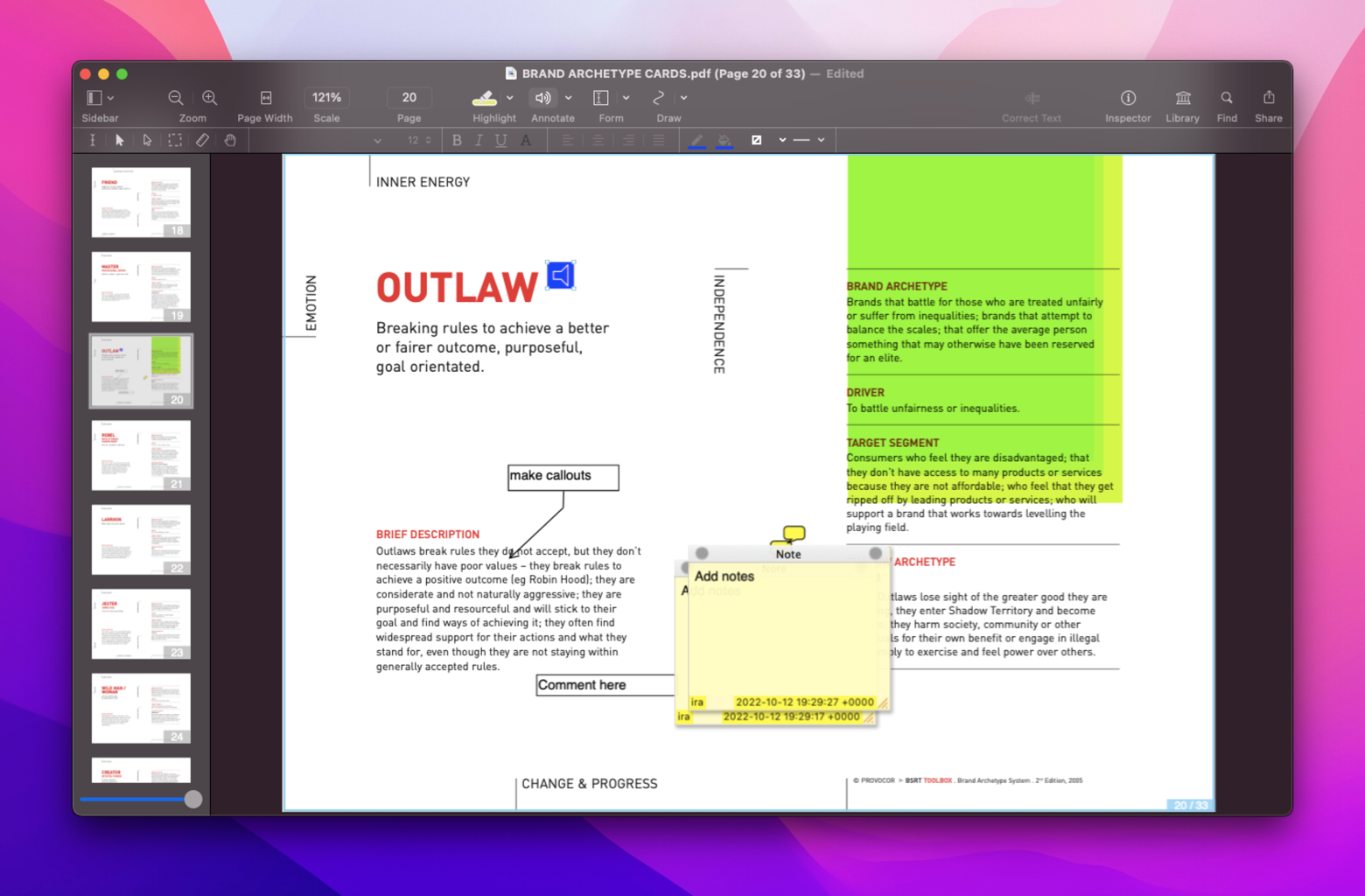 Another smart idea on how to streamline your productivity is to be able to link the highlighted ideas across multiple PDF files by common themes. The great news is that Nitro PDF Pro and Hookmark together could do just that.
Hookmark is developed to save you from endless filing and searching for information that you want to have handy. Basically, it's like using links on the web, but for your own information. Hookmark lets you link and navigate files, emails, tasks, notes, apple photos, web search results, and many other types of data.
But the most fantastic feature is that Hookmark can also create deep links to the sections in the PDF. When you click on the created link Hookmark opens the PDF and takes you to the specific page to which it points.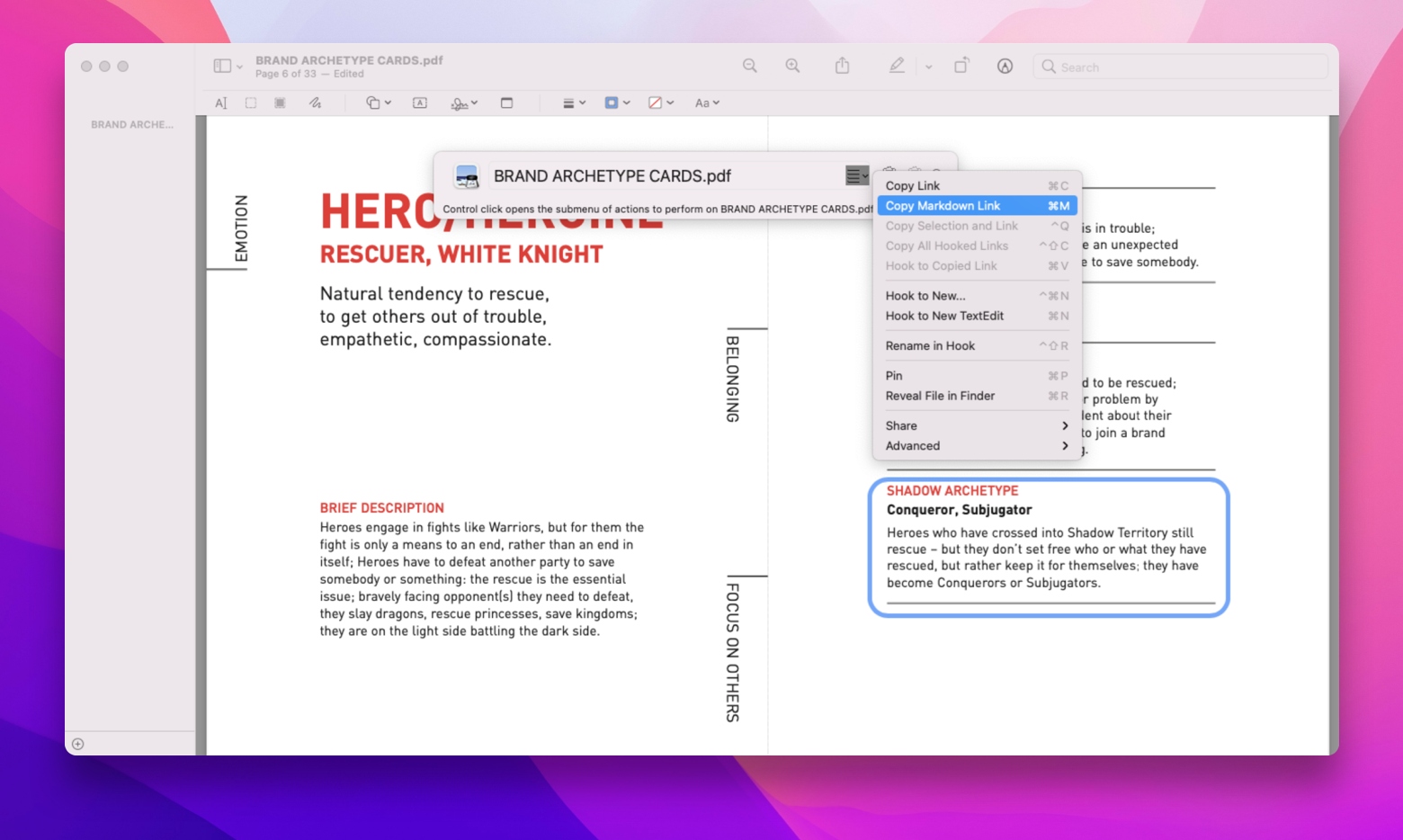 Don't think twice about how to annotate on a PDF
Adding notes to documents you're working with is an easy way to enhance your own comprehension and make your collaboration with others more productive. Master standard markup tools to map out the structure and crucial details of any document, or let Hookmark and Nitro PDF Pro do their magic of saving PDF excerpts and linking them into theme-based groups across multiple files. The important thing is that you choose your way to optimize and stay ahead of the ever-increasing lava of information.
What's even better is that you can test both Hook and Nitro PDF Pro for free with a seven-day trial on Setapp, a platform of high-performance, best-in-class iOS and macOS apps. See which one better suits your needs and also check out more than 230 other options to boost your productivity.