Ubiquitous as it is, we can't deny PDF is still one of the most unyielding file formats we have to deal with. Luckily, there are many tools that allow you to tweak PDFs on Mac, with Adobe Acrobat and Nitro PDF Pro topping the list.
In this article, we focus on how to split a PDF and how to save specific PDF pages separately. We also help you find the most affordable PDF editor that can cover all your use cases.
How to split PDF into multiple files on Mac
First, a word of caution. If you want a free PDF splitter, your initial impulse might be to go look for a free online tool that can do PDF split. Unfortunately, many of those are riddled with malicious ads and are better to stay away from. So we recommend never uploading your PDFs to random websites. Instead, consider an affordable Mac PDF editor.
Nitro PDF Pro is a tool that can separate PDFs into new files, and generally do everything you expect from a modern PDF editor: annotate, sign, combine, password-protect, and more.
Here's how to split PDF pages with Nitro PDF Pro:
Open your PDF with Nitro PDF Pro
Make sure you see page thumbnails in the sidebar
Select a specific page or multiple pages, right-click on the selection > New From Selection
Name the new PDF and save it on Mac.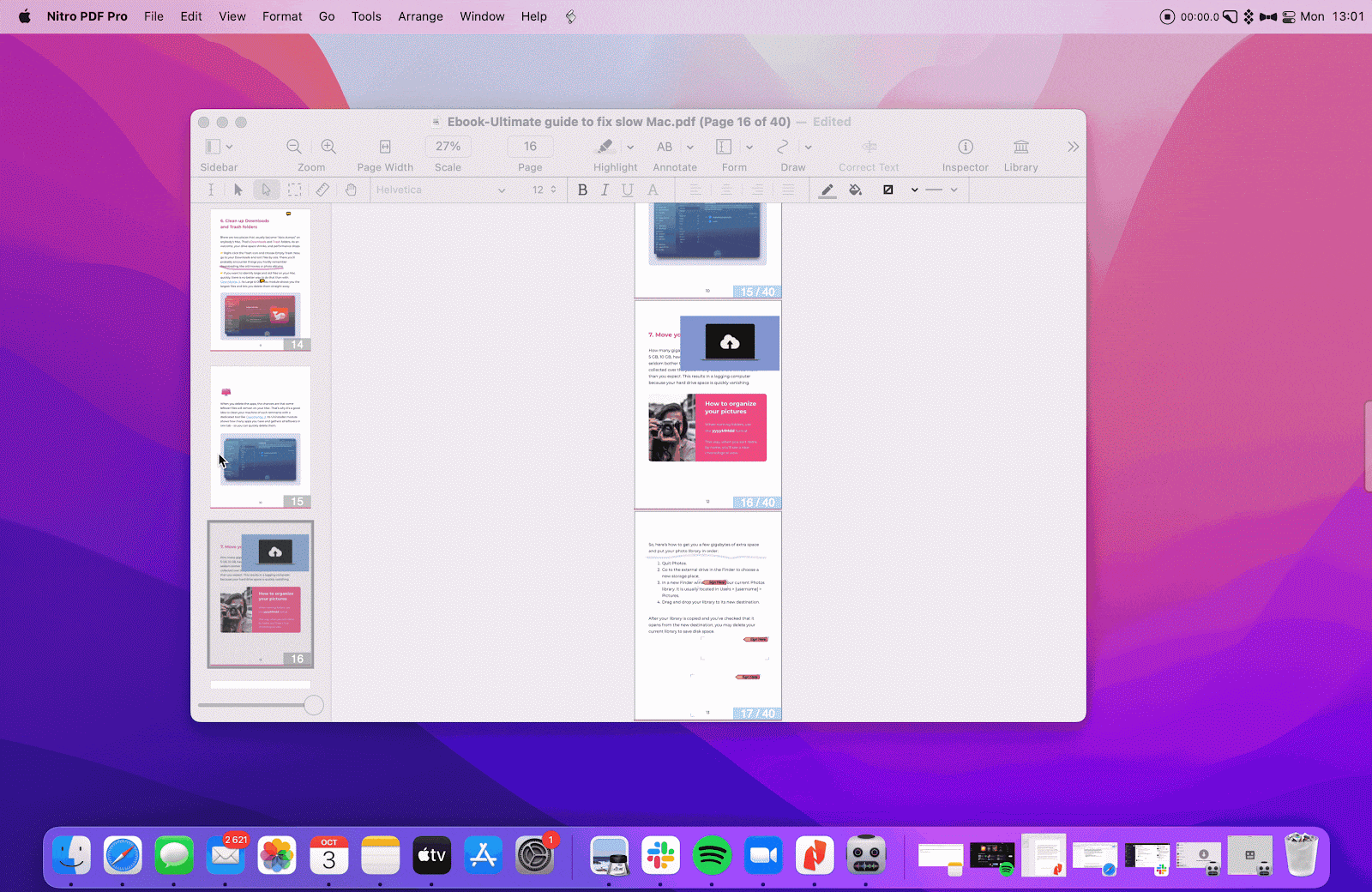 Nitro PDF Pro is free to try via Setapp, an app subscription service that covers another useful PDF helper, Permute. This Mac converter can help you split your PDFs into images — and you can even define the format of those images. Here's how it works:
Open Permute via Setapp
Go to Preferences > Workshop and open the module named "PDF to images"
Choose image format and drop your PDF onto the module
Go back to the main Permute's window to find your converted file.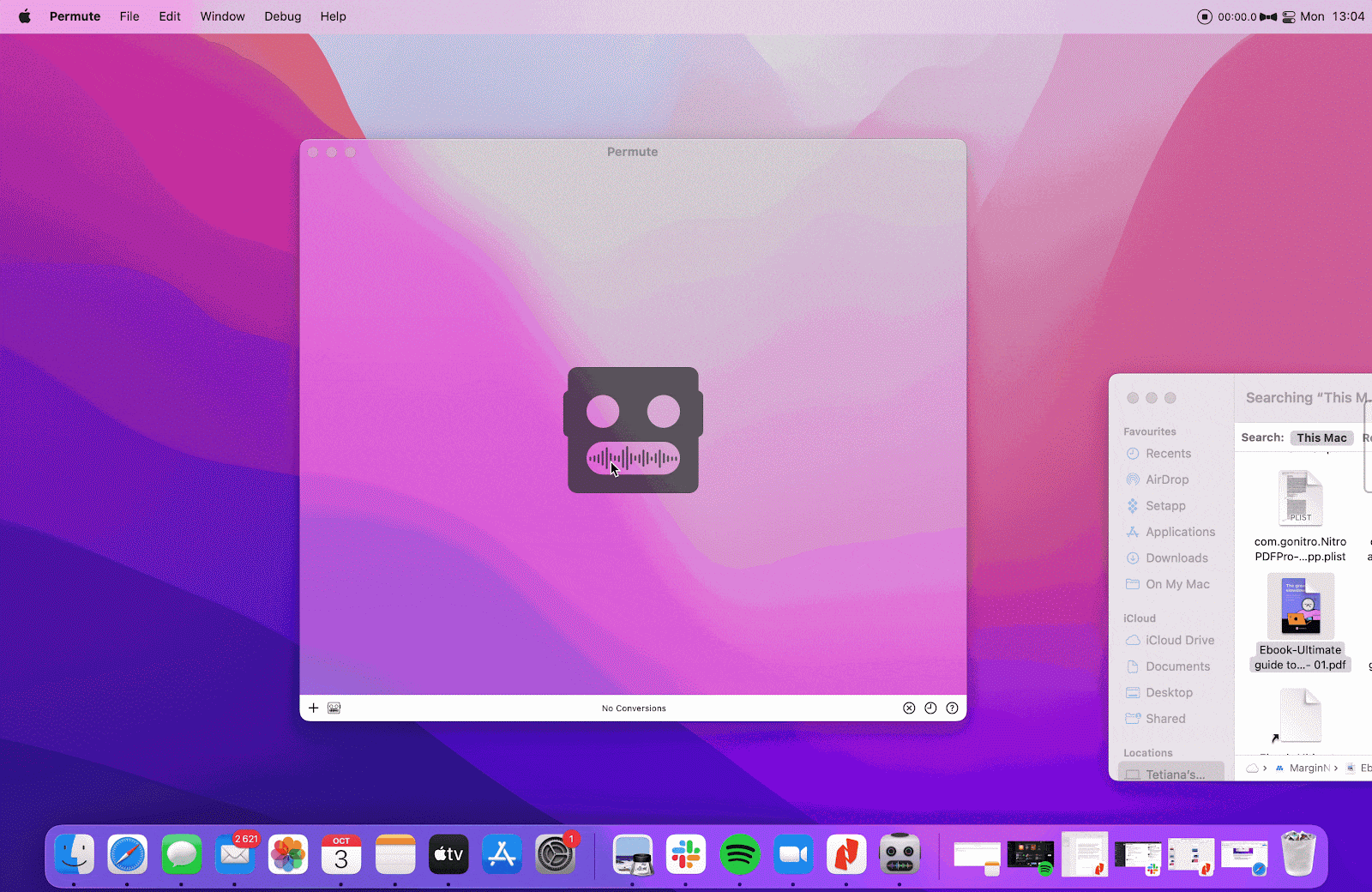 Split PDF pages with Preview
Another tool that can help separate PDF pages on Mac is Preview. While it's natively bundled in your macOS, you don't have to install it separately. Preview will be a good option for a one-time PDF split. Unless you have to edit PDFs regularly, it might be enough.
Here's how to separate pages in a PDF with Preview:
Open your PDF with Preview
Select the thumbnails of one or multiple PDF pages
Drag and drop them onto a folder or desktop
The new PDF will be generated automatically.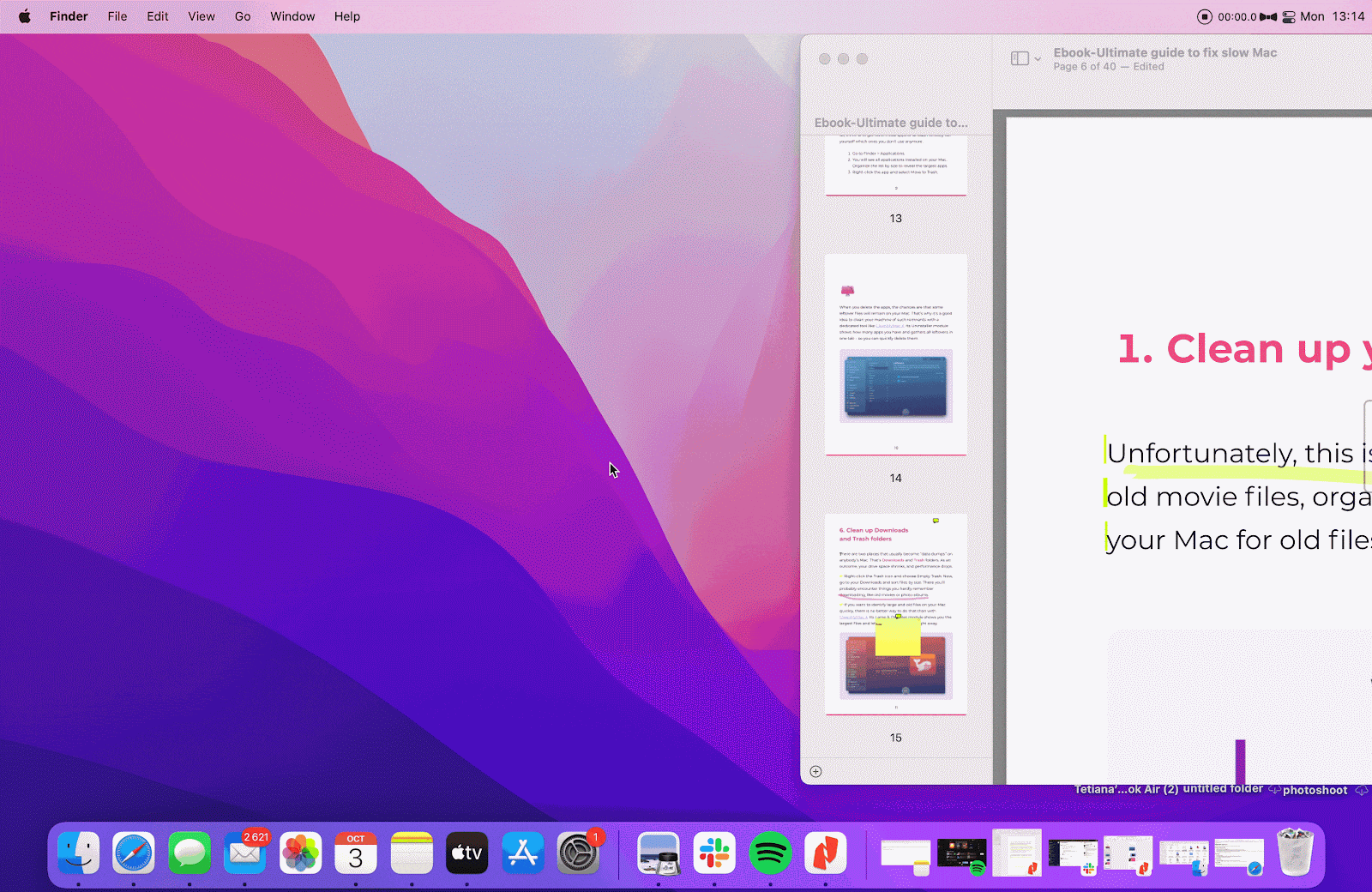 Split PDF into individual pages with Automator
Another "split PDF pages" free method you can explore on Mac is Automator. This utility is included in your macOS, allowing advanced users to build custom automations to solve repetitive tasks. Sounds complicated, we know. But let's try it.
Here's how you can split PDF into multiple files with Automator:
Open Finder > Applications
Open Automator
Choose Workflow
In Library > Files and Folders, choose Ask for Finder Items and drag it to the right pane
Return to Library > PDFs, choose Split PDF and drag it to the right pane
Click Run in the top-right corner
Upload the file you want to split.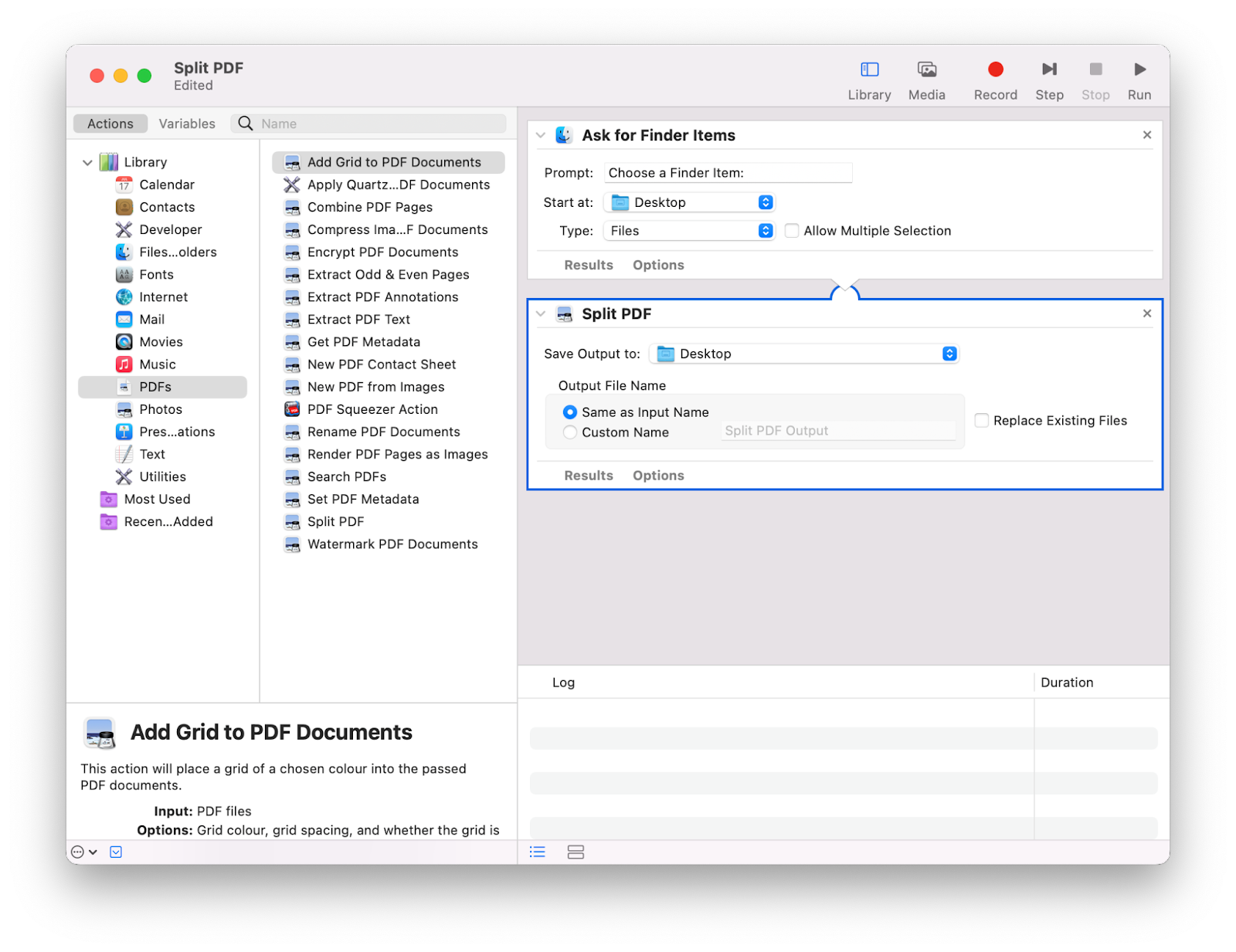 Once Automator is done splitting your PDF, you'll see a green checkmark next to Results. Click it and find individual PDF pages in there.
How to separate PDF pages in Adobe Acrobat
Adobe Acrobat is a more advanced yet more expensive tool that can help you separate PDFs, too. Similarly to Nitro PDF Pro, it offers more flexibility in terms of output options: you can split PDF by page numbers or bookmarks, select output destination, and more.
Here's how to split a PDF with Adobe Acrobat:
Open Adobe Acrobat on Mac
Choose Tools > Organize Pages > Select a File
Open the PDF file you want to split
Click the Split icon and choose how you want to separate pages
Click Split > OK.
Although you can't get the standard Adobe Acrobat plan on Mac because it's Windows-only, you can sign up for a 7-day free trial to try Adobe Acrobat Pro, but make sure you're aware that the price of a monthly subscription starts at $29.99.
Split PDF files online
As mentioned before, we're not big advocates of editing PDFs online because it carries certain risks, from leaking information online to accidentally clicking on a malicious ad and infecting your Mac. However, there are ways to split PDF pages online via a browser, which is relatively easy and safe.
Split PDF for free using Safari or Google Chrome
Most modern browsers have the Print feature baked in. This is your key to splitting PDFs online! Whether you use Safari or Google Chrome, try dropping your PDF file onto a new tab. Then, choose File > Print in your browser's menu. In the new pop-up window, select the range of pages you want to extract from a PDF and choose Save as PDF.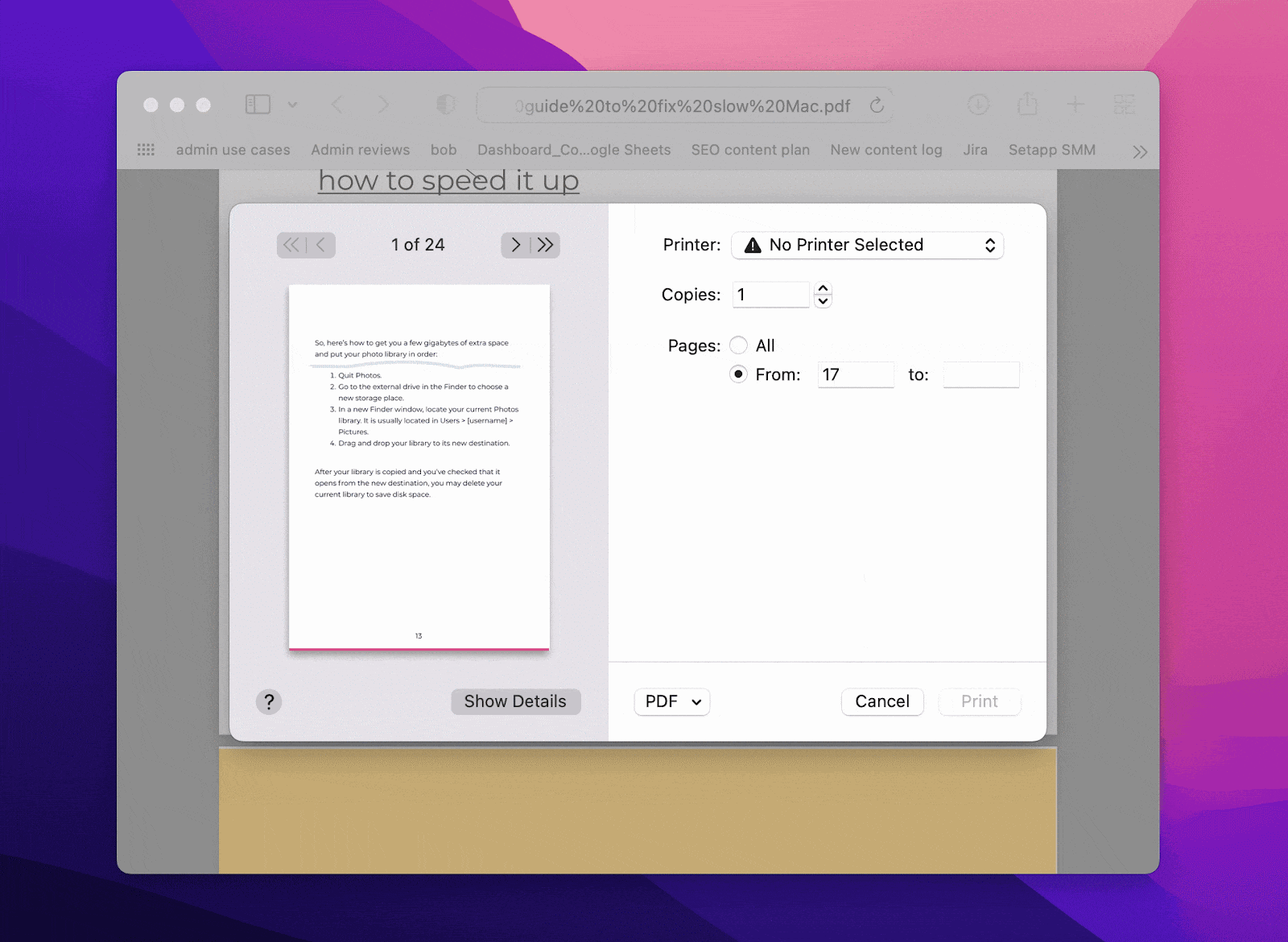 Of course, you're limited by page range and can't split your PDF as flexibly as you'd do with Nitro PDF Pro or other professional tools. But for some users, it will do.
Split PDF using online tools
If you decide to use a free PDF splitter available on the web, we recommend that you follow these security recommendations:
Look for reputable services that provide limited functionality via an online service and offer some kind of paid upgrade. These are usually safe. By the way, Adobe Acrobat offers a free web splitter that can split a PDF into up to 20 new PDFs.
Avoid splitting PDFs that contain sensitive information online.
Install AdLock to avoid clicking on adware. This ad blocking tool will minimize your interactions with potential threats online.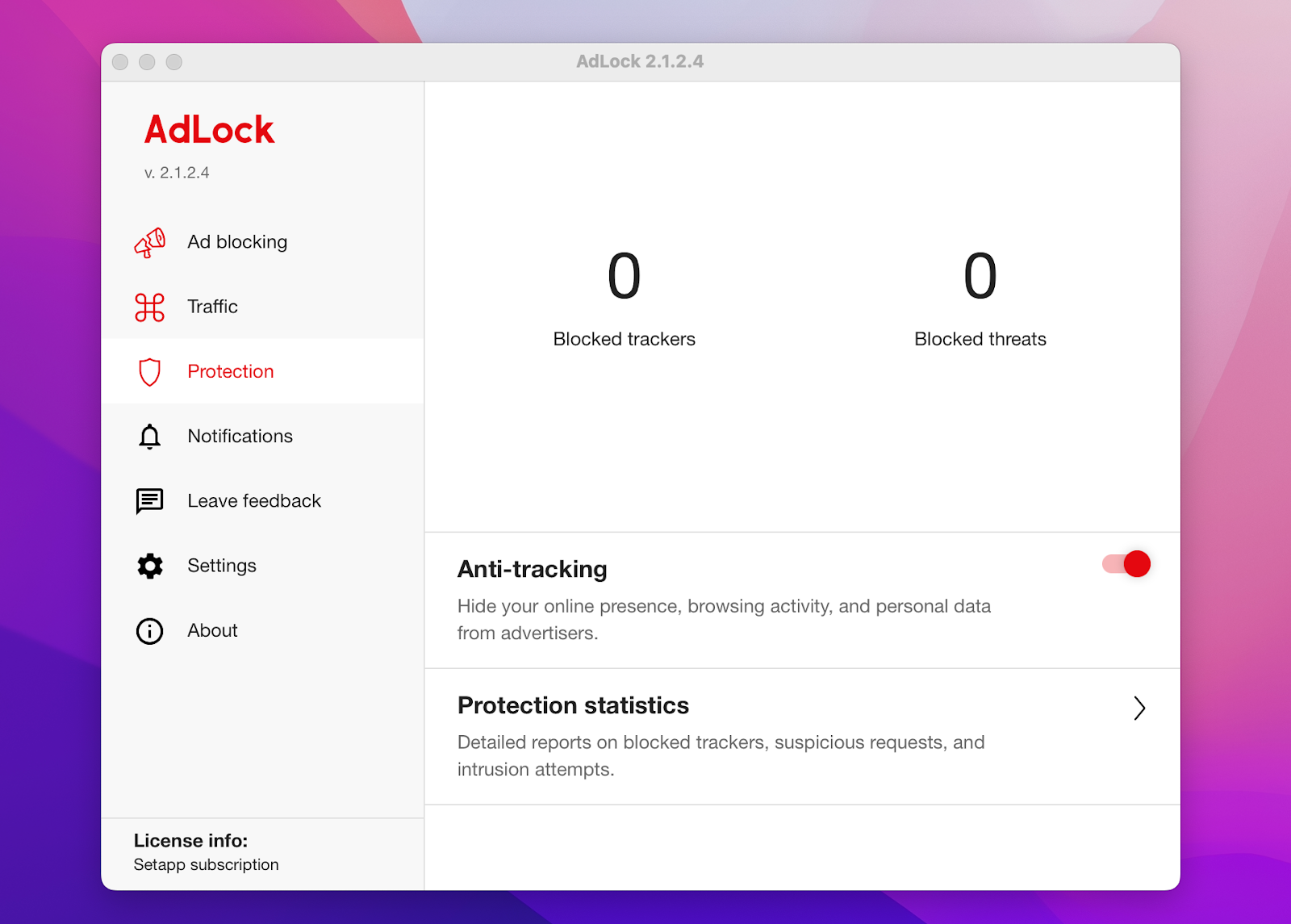 How to split PDF pages online? In most cases, a web service will have an upload button that lets you add your PDF file, and then either move the slider to specify how you want to cut your PDF or define the page range.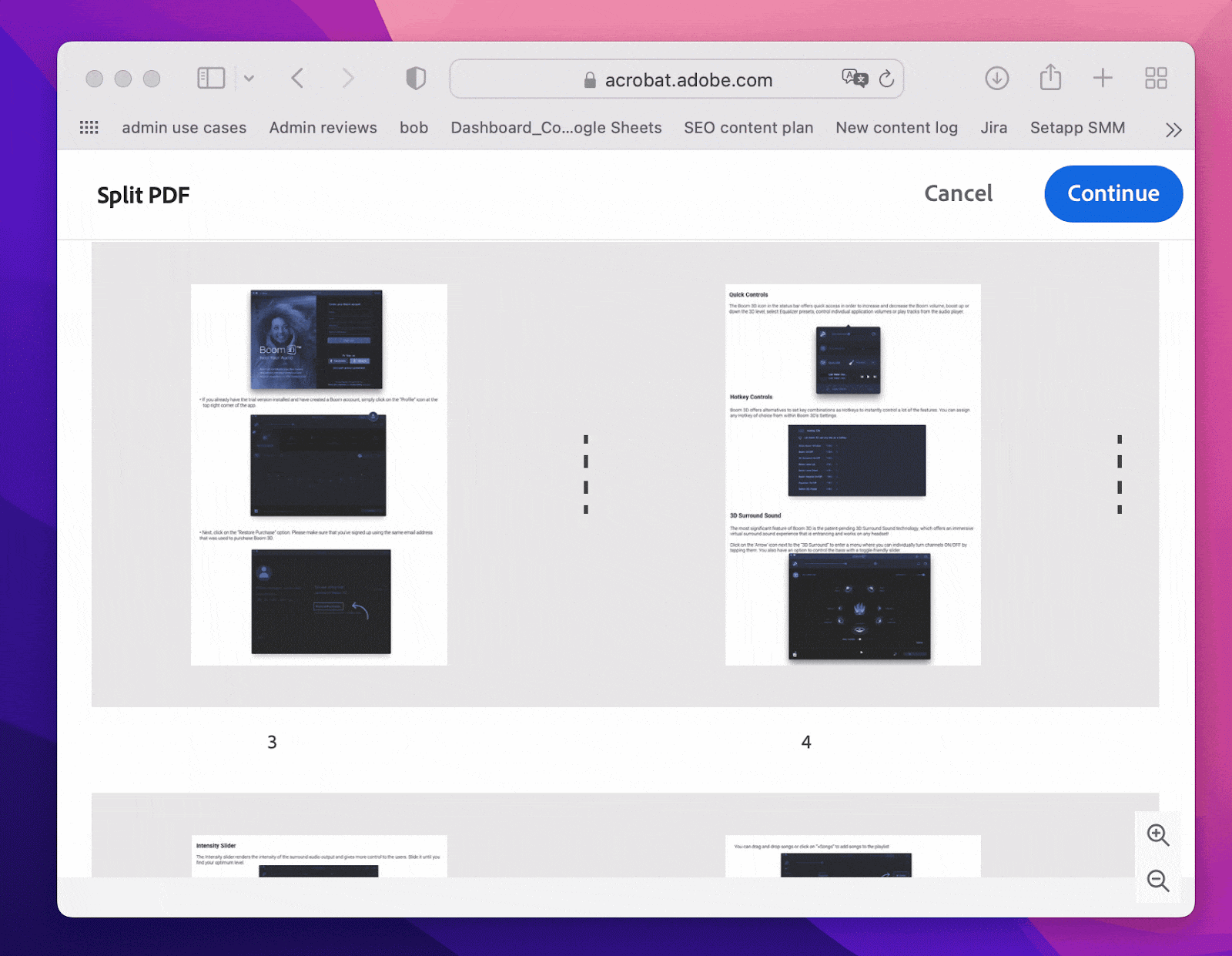 Sign up for Setapp and try a pro PDF kit for free
So what's the most effective and affordable PDF editor? Let's put it like this: unless you edit PDFs very rarely — once every few months or less — you need a secure tool that will help you do all the basic PDF manipulations, from annotating to splitting. Adobe Acrobat is one of the best you can get, yet it's truly expensive and mostly used for professional purposes.
Nitro PDF Pro is another advanced tool you can use alongside apps such as Permute, PDF Squeezer, and PDF Search if you choose to sign up via Setapp, an app subscription for macOS and iOS. The full kit is free for 7 days, then $9.99/month.
Lastly, if you need a reliable one-time PDF splitter, we recommend Preview. Without asking you to install anything, it can cope with the job of splitting a PDF on Mac.
That's how to separate pages in PDF. Hope you've found the solution that works for you!