Resize PDFs on Mac: Guide on how to change PDF page size in seconds
Do you want to change PDF page size? You may need to do that because your page size is different from the paper size your printer uses. Or maybe you just want to improve the layout and readability of your document. Whatever the reason is, we will show you how to resize a PDF page size using a few easy methods.
How to resize a large PDF page to a smaller one?
If you want to compress the file so that you can share it via email or just to save up some disk space, check out the "How to compress PDF files" article.
Now, let's take a look at the best methods to change page size in PDF.
Resize a PDF page online
Despite the fact that this method is quite popular among users, we do not recommend it. Indeed, online tools that adjust size of PDF pages are usually quick and free, but there are also enough drawbacks: from reduced quality and sloppy formatting to the inability to set custom output file parameters. And finally, who likes to upload personal information to the internet? The web remembers everything, so this is a certain risk to our privacy.
The best option for changing PDF page size
When we work with PDFs, we usually use Nitro PDF Pro. The app is great if you need to convert, edit, combine, compress, sign PDFs, etc. In general, Nitro helps you make your PDFs truly professional with little effort on your side. So why not give it a try?
Here's how to adjust the page size of a document with Nitro PDF Pro:
1. Open your file in Nitro PDF Pro
2. Select File > Print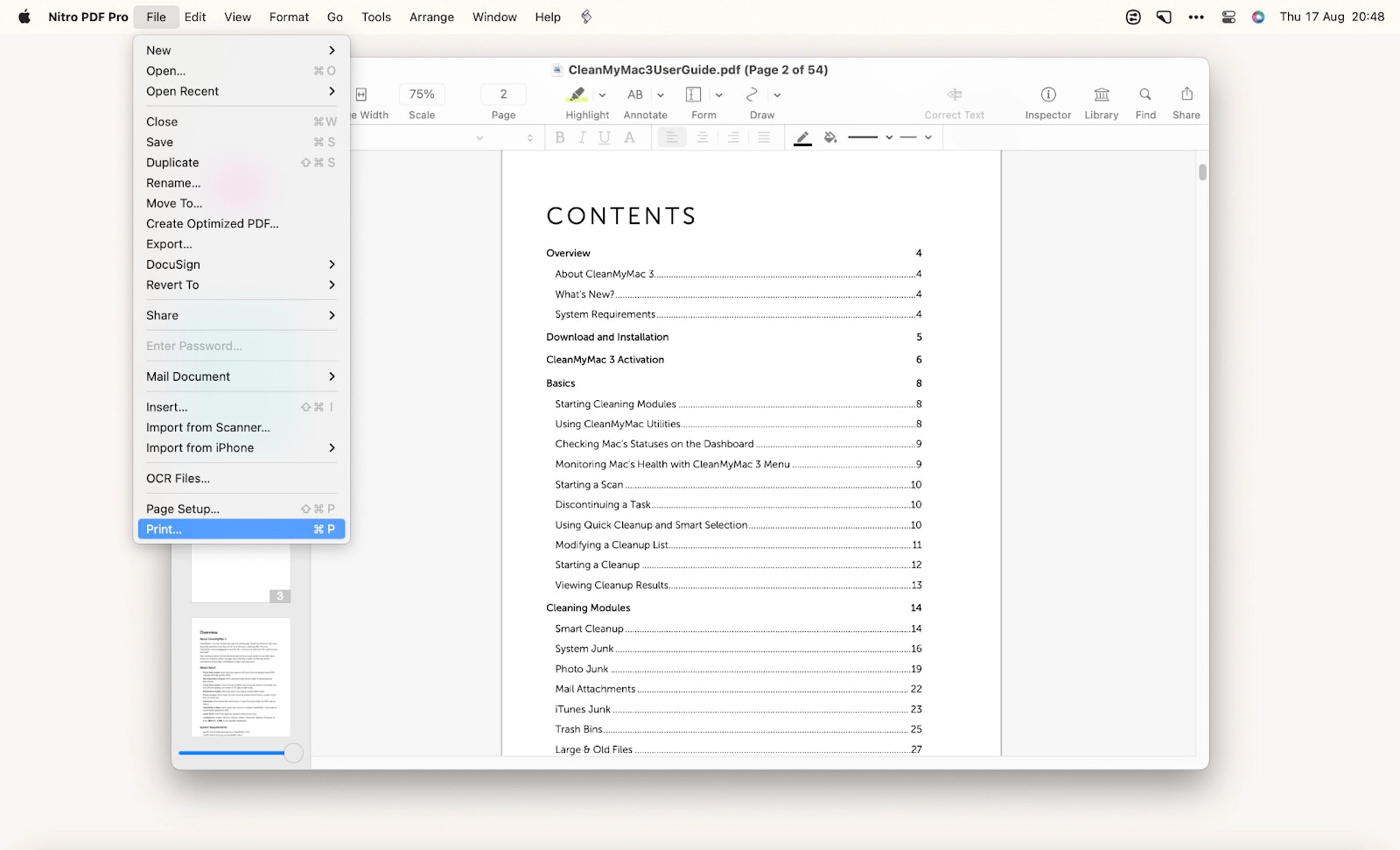 3. Select a new option under Paper Size
4. In the lower right corner of the Print dialog box, choose PDF > Save as PDF.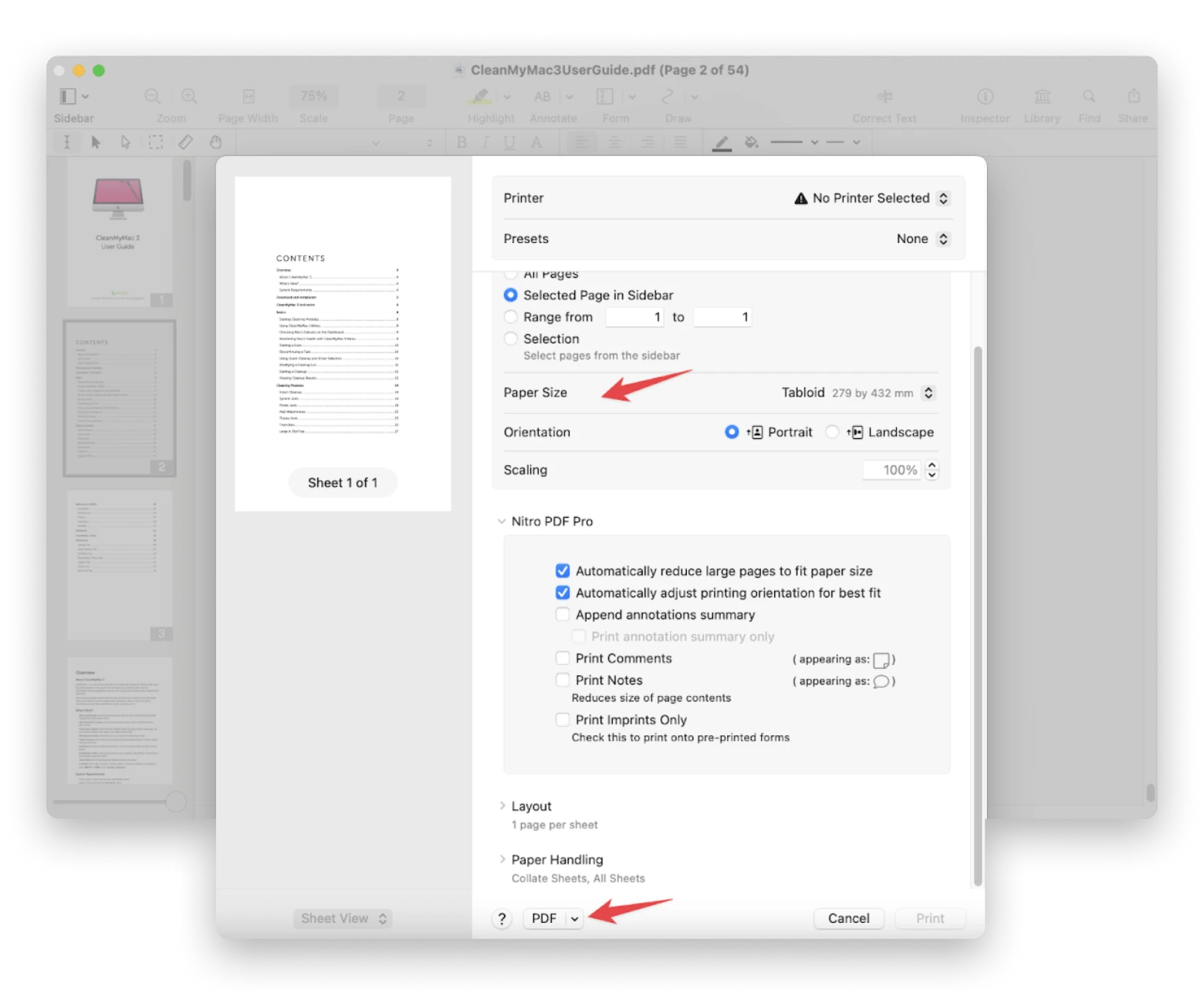 The original document will keep its original page size, while the newly saved file will have the page size you selected in the Print dialog box. Easy?
Adobe Acrobat to change PDF page size
Although Adobe Acrobat is one of the most popular ways to change the PDF page size on the Mac, it is also the most expensive option on our list. It works fine for most PDF-related tasks but be prepared to master its advanced Pro settings and pay for a pricey subscription.
Now let's move on to the steps on how to change PDF page size in Adobe Acrobat with the help of the Use print production tool. Follow the instructions below:
Install and open Adobe Acrobat

Click Open File to import the desired PDF file

Next, on the left panel, select the Use print production tool

Then choose Preflight. You will see a dialog box in which you need to select Prepress, Color, and Transparency > Show All > Select single fixups (wrench mark). Choose the list called Pages and proceed to the Scale pages to specified size item.

Click the Edit button and go to the next window.

Last step: set up the short edge and long edge parameters, and confirm with the OK button. Then you will only need to save the final file.
As you can see, Adobe Acrobat is a complex multifunctional tool that offers users a wide range of options. Though, if you only need to change the size of PDF files, Adobe is hardly the best option.
Resize PDF page with a built-in Preview app
You are probably familiar with Preview, which is a built-in macOS app that acts as the default viewer for the image and PDF files on your Mac.
Here's how to change PDF page size with the help of Preview:
Right-click on the file and select Open With > Preview

Next, go to the File menu and select Print

In the new window, you can change the page size by selecting the page orientation, scale, page size, etc.
How to change PDF page size: Final thoughts
Changing a PDF page size can be a convenient and practical solution for documents that are too large or too small for your specific needs. If you want to modify PDF size, use the methods we showed you. These are the built-in Preview, the rather expensive Adobe Acrobat, and the all-round tool called Nitro PDF Pro. The last one is our favorite because it is suitable for various PDF-related tasks. And the best part. It is available on Setapp, a platform with 240+ useful Mac, iPhone, iPad, and web apps for almost any job. Take advantage of the 7-day free trial of Setapp and test dozens of incredible apps today.