Edit, sign, and redact documents with Nitro PDF
You can't avoid working with PDFs. But what you can avoid is having problems with them. Intractable as they seem, PDFs are actually pretty easy to deal with – not without help, of course. When it comes to making changes in your docs, Nitro PDF Pro is a superstar PDF editor for macOS.
No more questions about how to edit a scanned PDF on Mac, sign your contract, or add missing pages. Here's how it works.
More than just a PDF editor
Nitro PDF Pro is a tool designed to make PDFs as editable as any word-processing document. With built-in OCR and endless editing capabilities, this app can easily process any changes. What's more, you get an extra level of security to your docs with signature and redaction features — or you can even encrypt your docs and disable access to your PDFs without authorizing with a digital ID first.


Adobe Acrobat alternative
Who's your PDF hero? For many, it's Adobe Acrobat, a toolkit for editing, converting, and signing PDFs. If you work with PDFs more often than once a month, you'll need a toolkit like this. Nitro PDF is one of the most advanced PDF editors available and the strongest competitor to Adobe Acrobat.
If you own Nitro, there's no need to spend money on Adobe Acrobat. Nitro is included in Setapp, a subscription service that offers dozens of apps for almost any job under one roof. You pay $9.99 per month and get unlimited access to all the Setapp apps. This is a great way to solve problems on your Mac and save money at the same time.
Complete editing toolkit
If you're considering replacing your PDF editor with Nitro PDF Pro, here's a quick comparison of editing features you can find in Nitro and its closest alternative, Acrobat.
| Here's what you can do | Adobe Acrobat | NitroPDF Pro |
| --- | --- | --- |
| Edit text and images | Yes | Yes |
| Add comments and annotations | Yes | Yes |
| Insert logos and watermarks | Yes | Yes |
| Label and number pages | Yes | Yes |
| Redact sensitive information | Yes | Yes |
| Recognize text with OCR | Yes | Yes |
| Merge, extract, or rearrange pages | Yes | Yes |
Now, let's take a look at each feature in more detail.

Edit the text and images
Need to fix a typo or add some additional information? Nitro PDF Pro lets you edit text right in PDFs as well as add new paragraphs.
Here's how to edit the text in a PDF:
Select the text you want to correct using the Select Text tool
Click the Correct Text button on the toolbar
Make your edits. You can also tweak the font on the toolbar.
Here's how to add text to a PDF:
Click Annotate on the toolbar
Choose the Text tool
Click where you want to insert the text
Type your text. You can also move and resize the text box as you wish.
Merge PDFs and manage pages
Combining PDFs is also pretty straightforward. Open the sidebar to show Thumbnails in your first PDF. Then, drop a second file into those thumbnails. You've just merged two PDFs!
More tips for using thumbnails:
Drag the pages to reorder them
Right-click on a page to delete it or insert another one
Want to split a PDF? Select the desired pages, right-click, and choose New From Selection.
Convert and share
Just like Adobe Acrobat, Nitro PDF Pro can convert PDFs to many formats, be it editable Word, Excel, or an image.
To convert a PDF in Nitro PDF Pro, choose File > Export in the app menu. Then, pick a desired format and click Export.
Sign and protect
And what does Nitro PDF Pro bring to the table privacy-wise? Both Nitro PDF Pro and Adobe Acrobat support electronic signatures. Nitro also lets you check if a digital signature is valid with its chain of trust certification technology.
Here's how to sign a PDF:
Click the down arrow next to the Form button on the toolbar
Pick the Signature tool
Click where you want to sign and draw your signature
Choose Apply Digital Signature and pick your digital certificate. Alternatively, you can click OK to sign a PDF without a digital certificate.
Apply OCR and edit scanned PDF
Easily transform scanned documents into editable text using OCR (Optical Character Recognition). From there, you can take your PDF through any manipulations. Be it color adjustment, quick image resizing, or text correction, life gets easier here. Should your document require a major revision, Nitro PDF Pro will help you export it in .docx format for easy editing and sharing.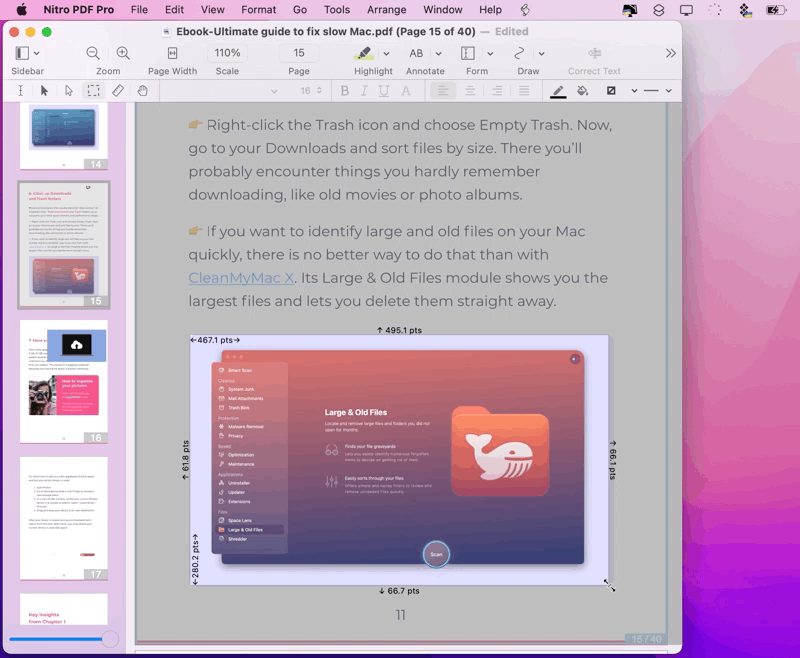 Fill out PDF forms and securely sign them
The need-this-doc-signed-now problem is nothing new. Nitro PDF Pro takes the pressure off by helping you fill out, sign, and email your documents in no time. You can either scan in your signature or scribble it with a mouse or trackpad. In case you ever need to reuse a signature, you can store it in your Nitro PDF Pro library in a few clicks.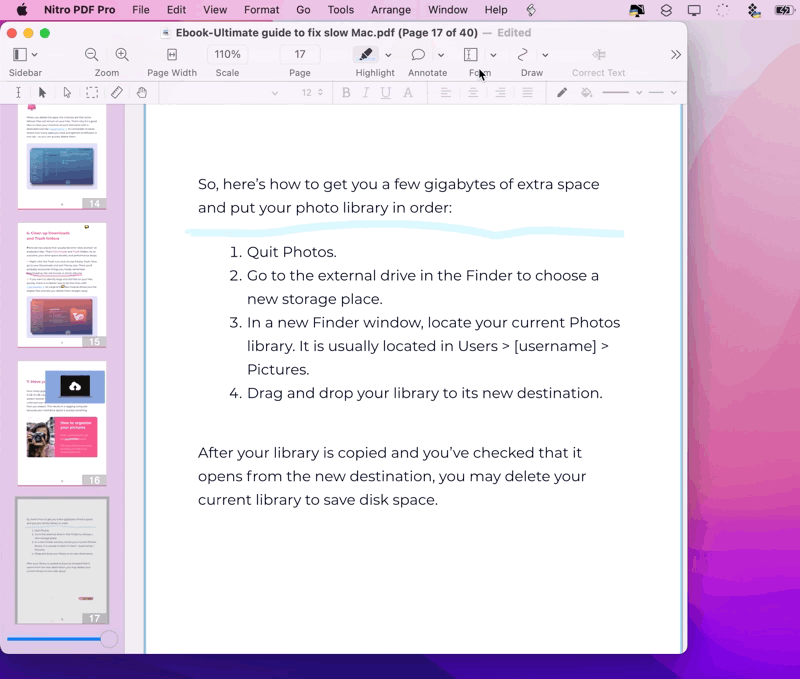 Redact PDF and remove sensitive data
You don't always want to share your entire PDF. And neither should you. Be it a surname, an account number, or a company name – Nitro PDF Pro will remove any sensitive information from your document. Permanently. This means you don't just place a black box over text and (naively) believe it's hidden. With this app, redacted means gone.
To easily find and remove data throughout a document, choose Edit > Find > Find and Redact.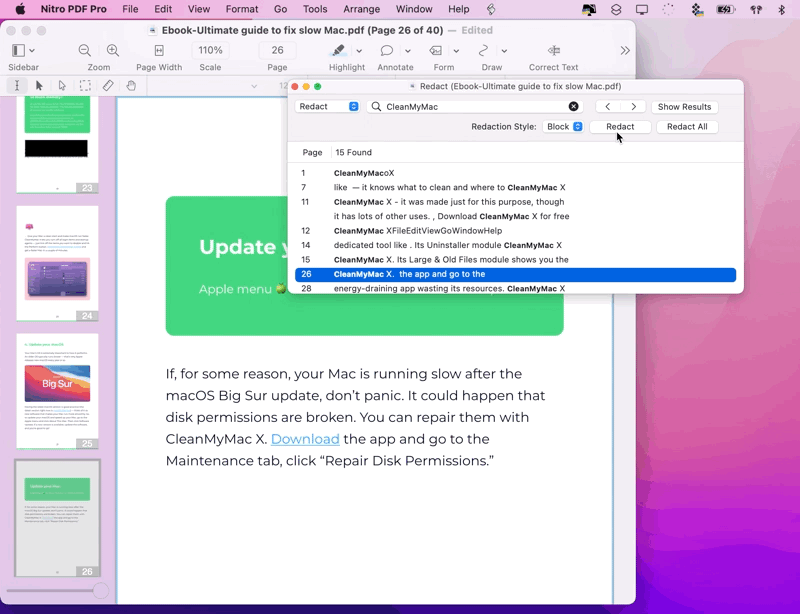 Gain full control over pages
So imagine you've finally finished that super-duper important contract for your client. Polished copy, professional-looking PDF – you're all set. Except one page is missing (last-minute discovery, of course). With Nitro PDF Pro, you not only get to add and remove pages painlessly – inserting page numbers, reorganizing, measuring distances, and combining docs with drag and drop has never been easier.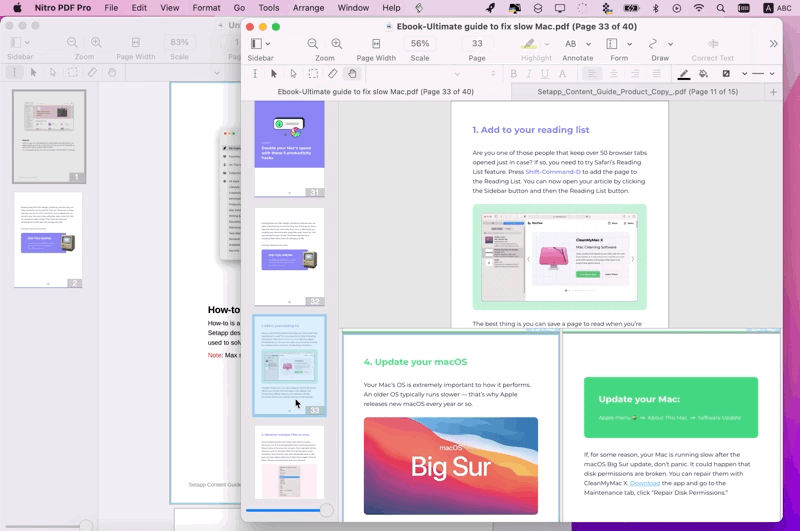 Whatever PDF pain points you have, Nitro PDF Pro is there to make it your favorite file format – fluid, editable, and well-protected. Try the app for free on Setapp, a platform of 240+ best-in-class Mac, iOS, and web apps to tackle any problem.