How to redact PDFs on Mac: best options
PDF is the most popular format for sending documents around, and you likely get PDFs sent your way all the time. Everyone likes PDFs for one exact reason — they don't change the form or content of the messages they carry.
Most of the time, having PDF content stay intact is what you want. But sometimes PDFs contain sensitive information, errors, outdated facts, or just extra content that's no longer needed. In cases like these, you'd want to use some sort of a PDF redact tool and get rid of the superfluous information.
So do you know how to redact a PDF quickly in a way that keeps all the deleted information inaccessible for everyone? If not, let's explore all the best options together.
How to redact PDFs without Adobe Acrobat Pro
When someone needs a redact PDF tool, they instinctively think about Adobe Acrobat Pro, since Adobe invented the PDF format, and Acrobat has had a large share of the market for decades.
Even though Acrobat Pro is a capable redact tool PDFs can understand, it's quite heavy and taxing on your system, and requires a costly monthly subscription. So what's a better redact tool in PDF out there?
How to redact a PDF in Preview
Preview is one of the most used default Mac apps for viewing images. However, Preview also contains just enough functionality to redact PDFs as well.
Starting macOS 11 (Big Sur), the app has featured a dedicated PDF redact tool you can easily use:
Open your PDF document in Preview
Go to Tools ➙ Redact
Click OK on the pop-up window
Select the text you'd like to redact
Save your document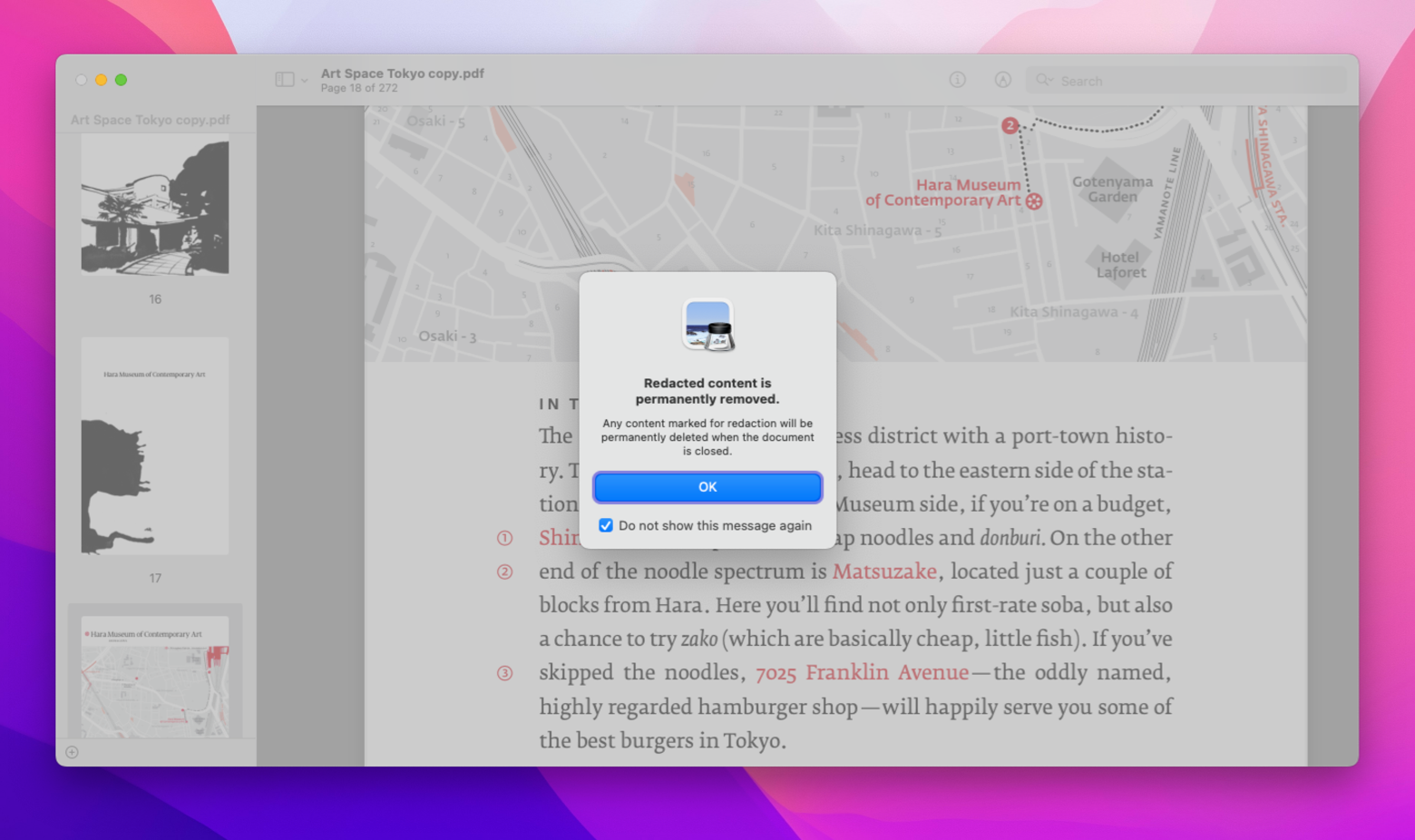 There's also another way to do it, using a markup tools:
Open your document in Preview
Click on the markup icon in the toolbar
Select the rectangle tool
Place a new black rectangle over the text you'd like to redact
Export the file as a new PDF (don't just save)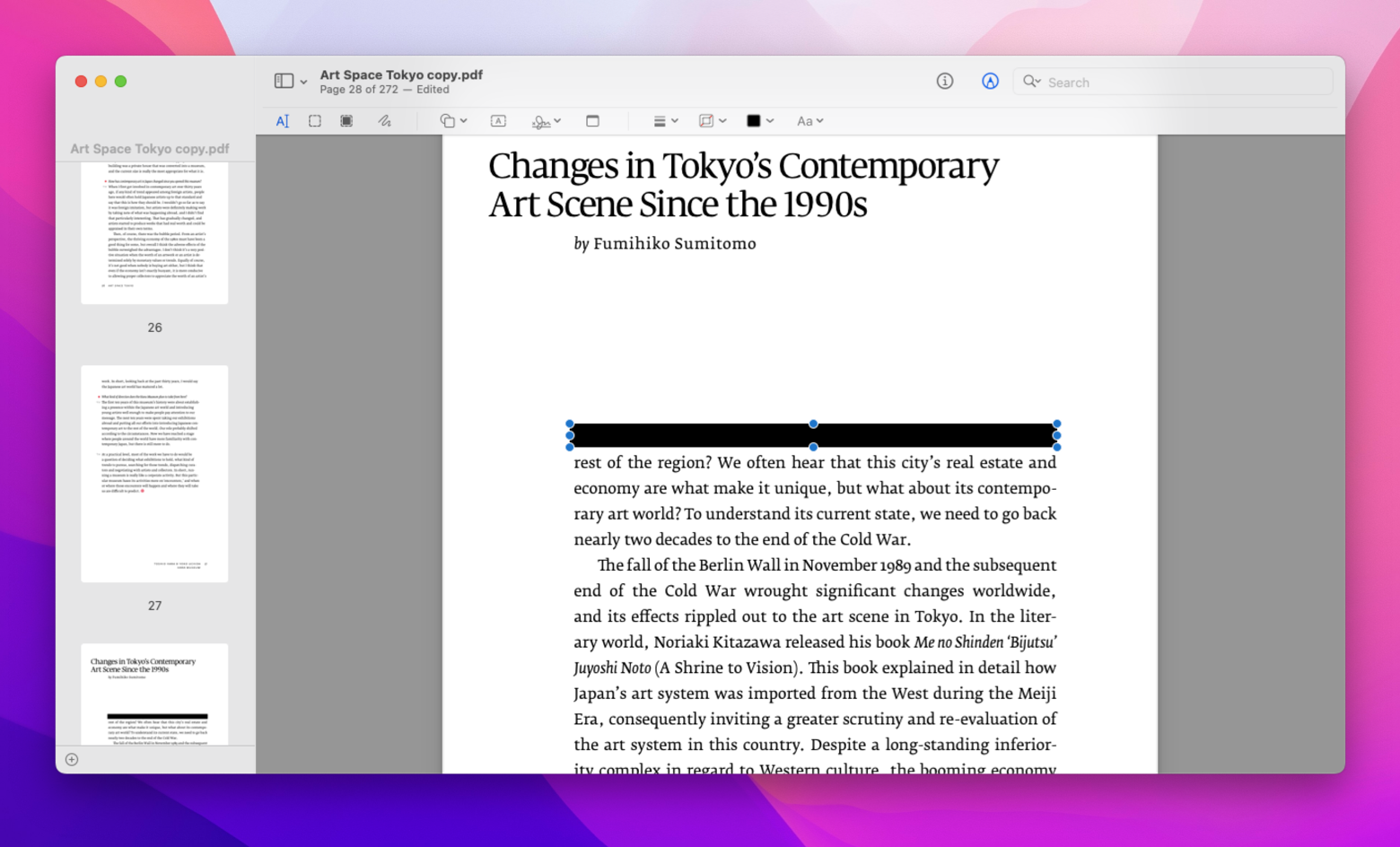 To make sure that your PDF couldn't be reverted back to its initial state and also has a smaller file size, it's important to use a tool like PDF Squeezer.
PDF Squeezer is an essential utility that processes and compresses PDF files in seconds. This is especially useful when you're uploading PDFs online or sending them over email. Lots of forms have PDF size restrictions, and there's nothing more frustrating than not being able to complete a form because your PDF is too big.
To reduce the size of your PDF and make sure your redactions are saved:
Open PDF Squeezer
Drag and drop your PDF file into it. Done!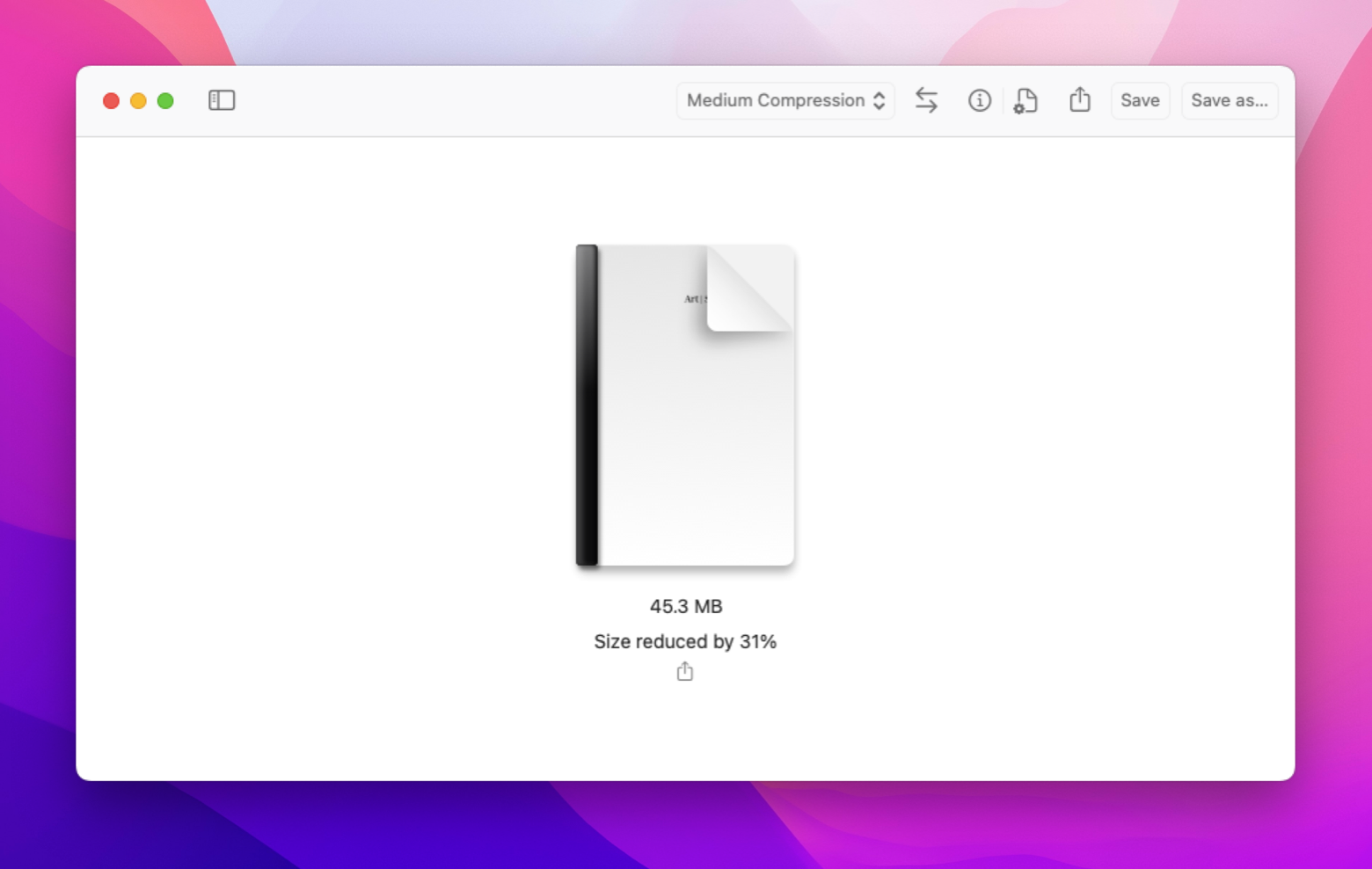 To get the best results from redacting your PDF, however, you'll need to use a more capable tool like Nitro PDF Pro.
Nitro PDF Pro is the best PDF-editing app on the market today. It lets you create and edit PDFs, merge files into a single document, convert PDFs into other formats. Turn PDFs into editable text, redact existing text, annotate, sign forms, set passwords, and much more.
To use a PDF redact tool in Nitro PDF Pro:
Open your document in Nitro PDF Pro
Select the portion of the text you'd like to redact
Go to Format ➙ Redact Text – Block (paints a black rectangle on top) or Redact Text – Erase (erases selected text)
Save your PDF and process it with PDF Squeezer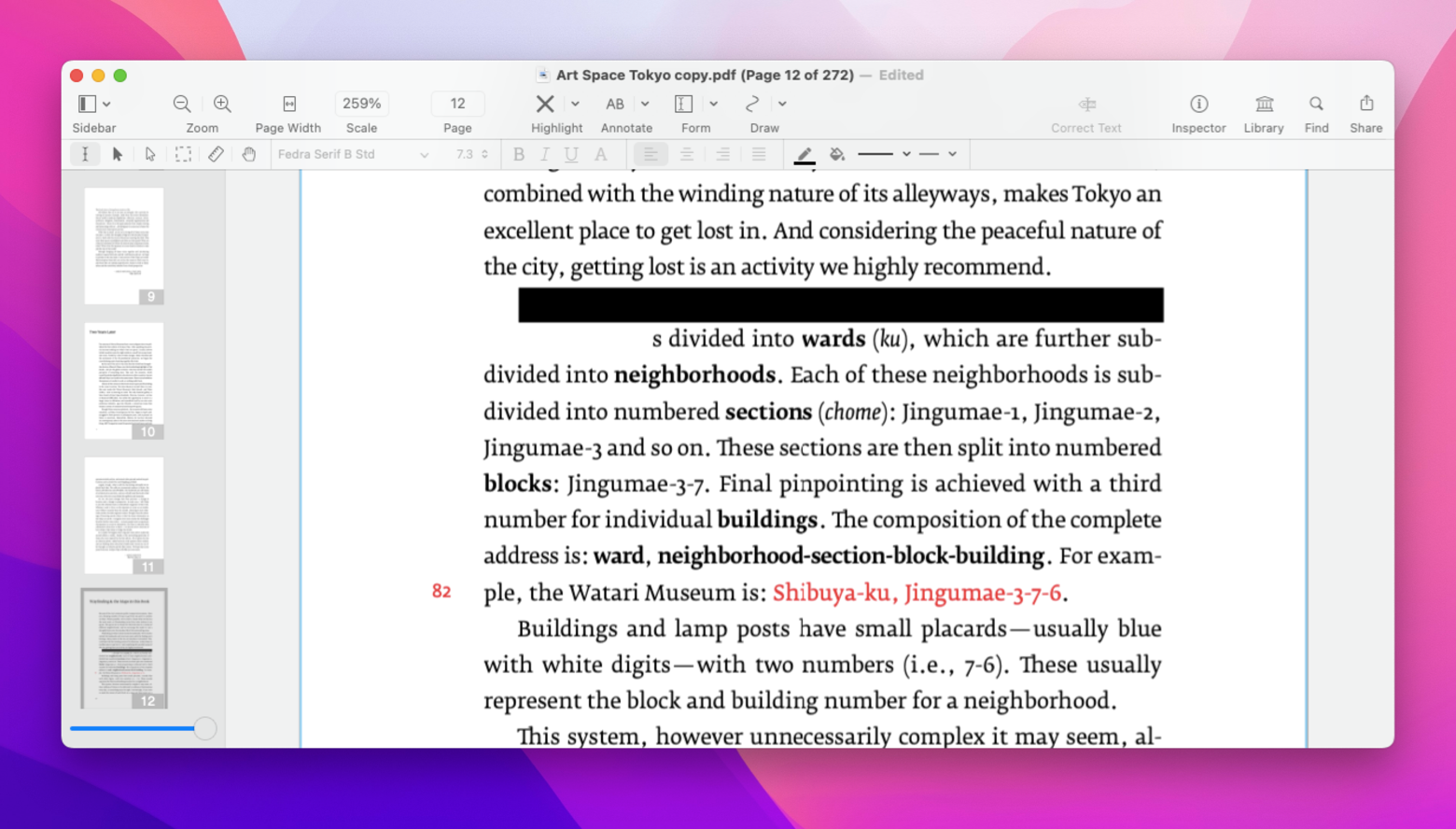 How to online redact PDFs with ease

In cases when you need to redact PDF online quickly and don't have access to Preview or Nitro PDF Pro, you can find a suitable web-based solution as well.
For example, AvePDF offers basic PDF-editing functionality online that you can use at any time.
Here's how to PDF redact online with AvePDF:
Go to avepdf.com
Navigate to Protect ➙ Redact PDF
Upload your PDF file
Select some text and click "Add redaction marks"
Click "Apply all redactions" when done
Save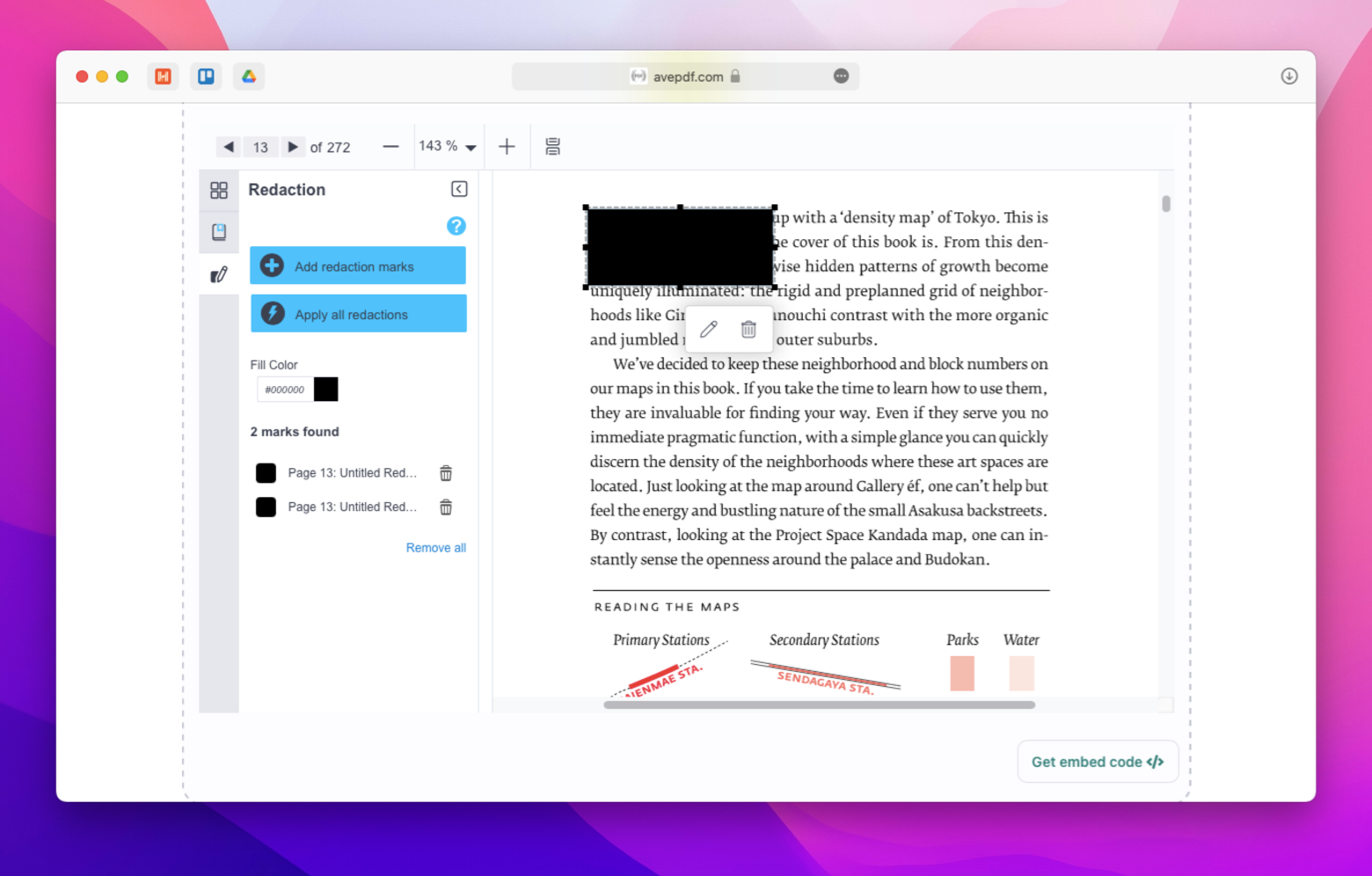 How to redact with Adobe Acrobat
Most people think that to modify PDFs they have to pay for a recurring subscription to Adobe Acrobat Pro. However, this is not the case. If you want to use Adobe software to redact PDFs, you can also do so with the free version of Adobe Acrobat Reader.
Here's how to redact PDFs with Acrobat Reader:
Download and launch Acrobat Reader on your Mac
Open your PDF
Create a slim black rectangle shape in any graphics app
In Acrobat, go to Tools ➙ Fill & Sign
Click "Sign yourself" and Add Signature
Load the image of the black rectangle
Place the rectangle on top of your text
Save the PDF and process it with PDF Squeezer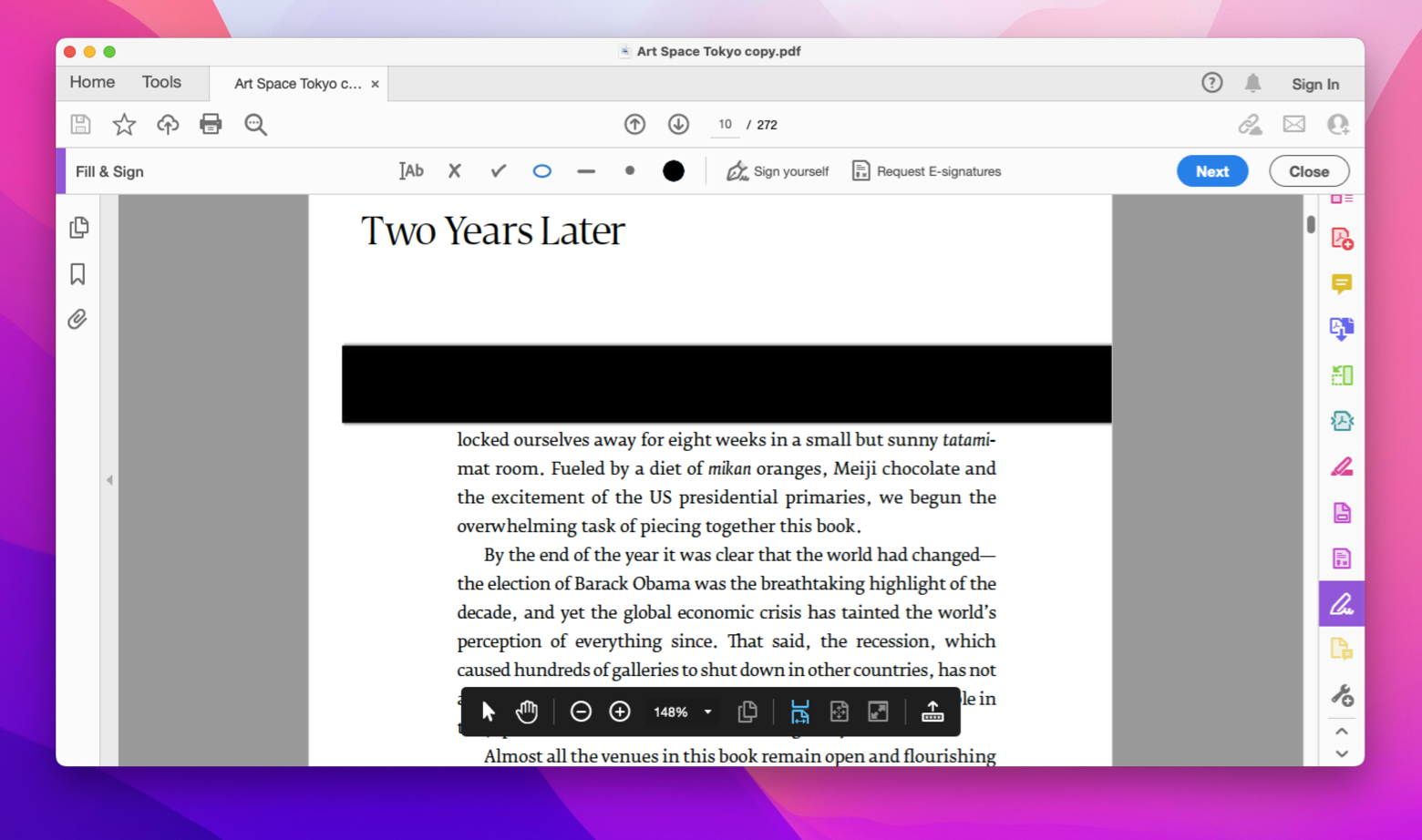 As you can see, learning how to redact a PDF takes just a few minutes but can save you dozens of hours (and lots of money) in the future. You now know how to redact PDFs with Preview, Acrobat Reader, and even an online PDF redact tool. Our advice, however, is to get Nitro PDF Pro for all your PDF needs and use it together with PDF Squeezer to optimize every PDF to the max.
Best of all, both PDF Squeezer and Nitro PDF Pro are available to you absolutely free for seven days through the trial of Setapp, a platform with more than 230 outstanding apps for Mac and iOS across a variety of categories, from distraction-free writing (Focused) to searching PDFs with AI (PDF Search). Try every Setapp app at no cost and save the ones you like the most.