How to compress PDF files
PDF is an amazing format for books, documents, presentations, and educational materials. They are easy to view and compatible with numerous devices and operating systems. They are also easy to navigate and great for taking notes on your iPad. But mostly, we use them simply because they are so popular.
The format also has a few drawbacks — it's not that easy to edit, but more frustratingly, PDF files can get heavy fast, and you end up swamped with heavy PDFs that eat up space on your drive and take forever to load when you open them or do a search.
So how do you downsize your PDF? Let's look through the options.
Best way to compress PDF on Mac
One of the best ways to compress your PDF is using a dedicated app.
PDF Squeezer is an app designed to reduce the size of your PDF file with no sweat. Just drag and drop your file onto the app and get the compressed file almost instantly! (Might take a bit longer if your files are very large.)
The app allows you to choose how much compression you want to apply — light compression, medium, or strong. You can also adjust image quality within your compressed PDF or even remove all images for a lighter end result. What's more, PDF Squeezer can compress PDFs in batches! This is another reason why the app is our top choice for the job.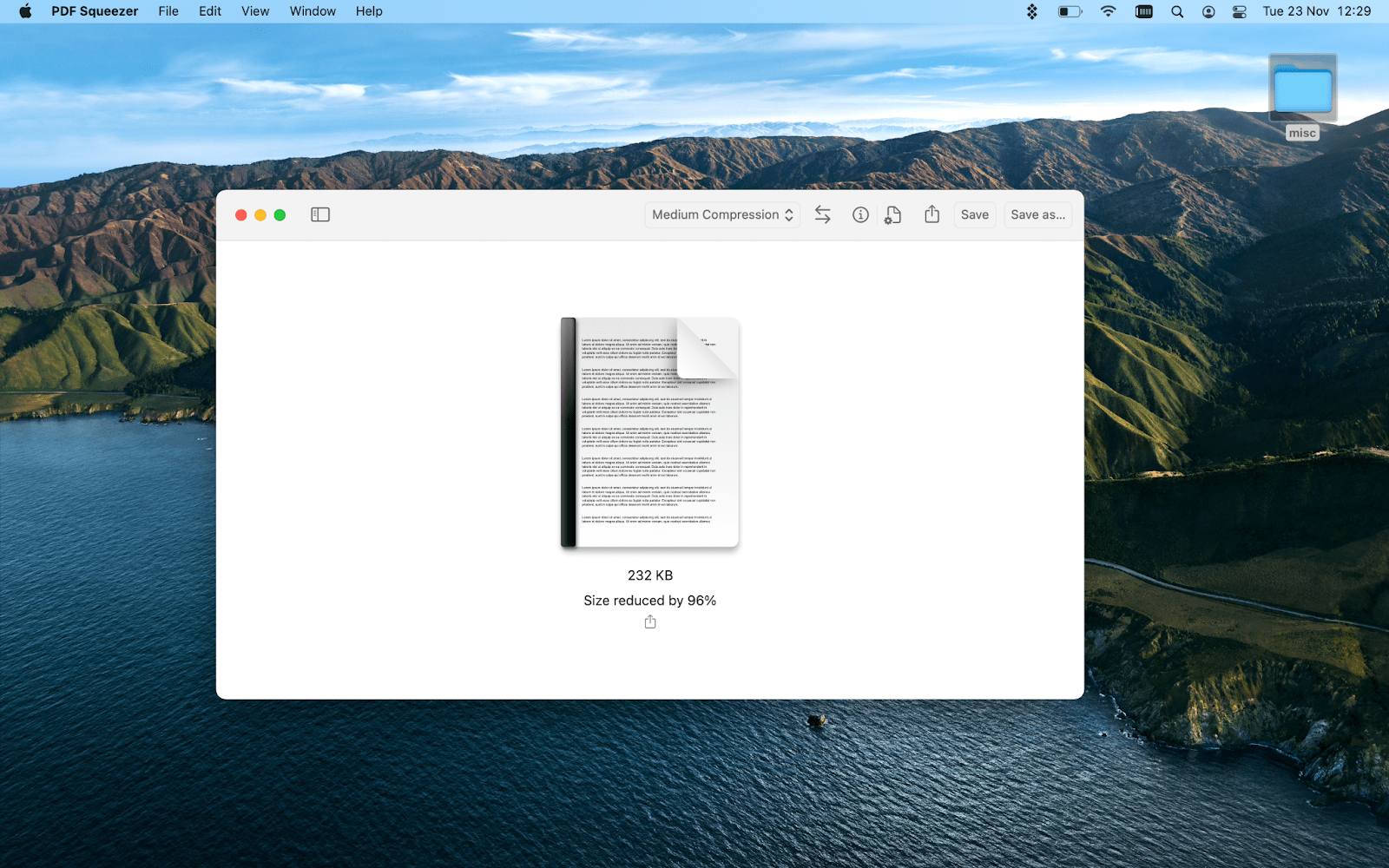 Additionally, you can use a PDF editing app to reduce the size of your PDF.
Nitro PDF Pro is a tool to make notes in your PDF, which is ideal for studying or collabs, but it also has the functionality to reduce the size of your PDF.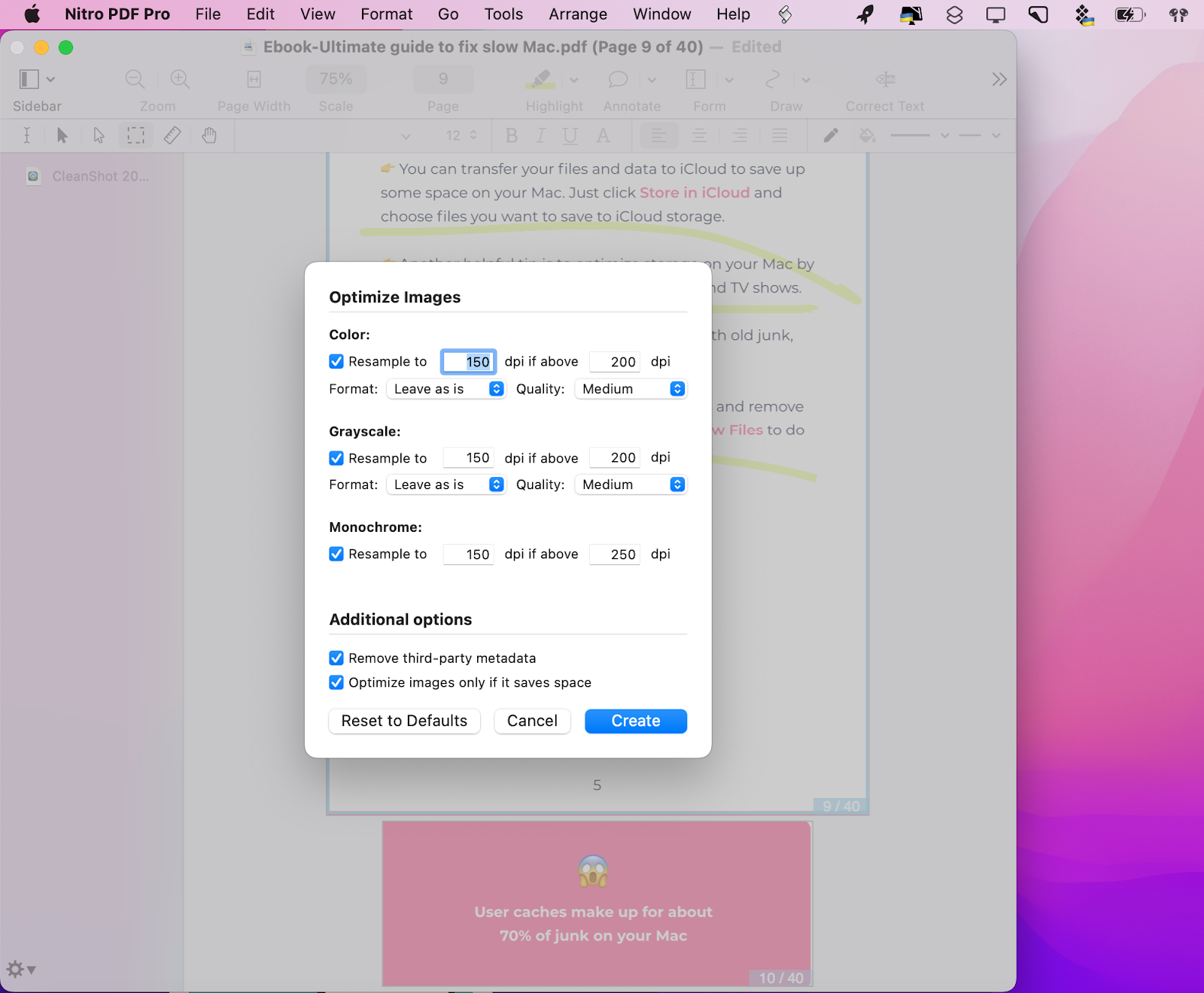 To reduce the size of a PDF with the app, open your file with the app, go to File > Create Optimized PDF… and adjust your PDF's color settings. Make sure Optimize images only if it saves space is checked. You can also delete pages in your PDF with PDFpen as an additional solution for reducing the size of your final file.
Reduce PDF file size on Mac using Preview
If you don't want to use a third-party solution to decrease the size of your PDF, you can utilize Mac's built-in Preview app to compress your PDF.
This tool does not offer you much flexibility but it's easy to use and requires no installs or internet.
Open your PDF in Preview by double clicking on the file — it should open in Preview by default. If not, two-finger click on the PDF file icon and select Open With… > Preview.
Next, click File > Export… Find Quartz Filter: line in the popup window and select Reduce File Size out of the drop down options:
Click Save and confirm you agree your existing file will be overwritten by the resized version.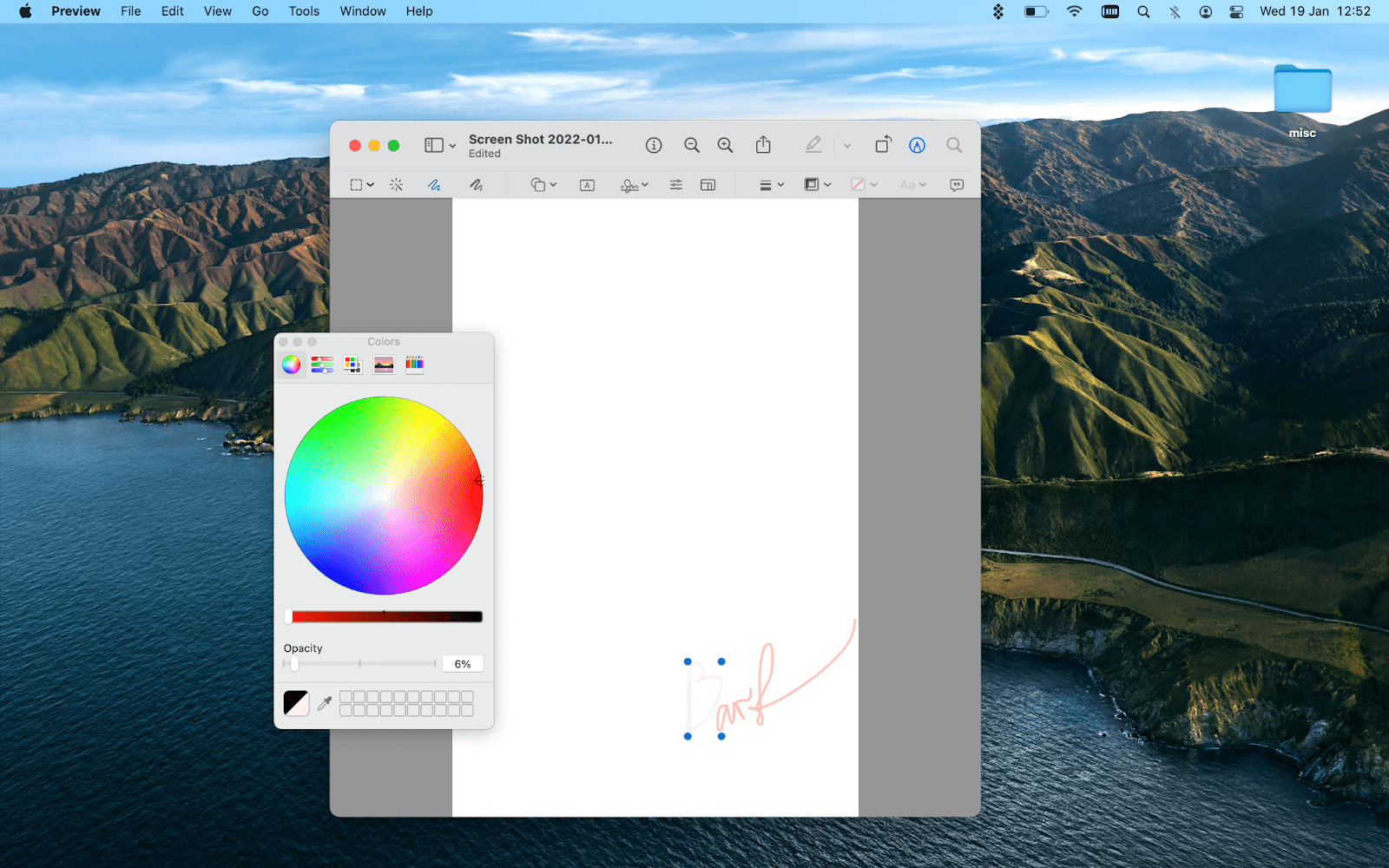 How to decrease PDF file size with Adobe
PDF is a file format initially developed by Adobe, so, unsurprisingly, you can reduce the size of your PDF in Adobe Acrobat. This is a wonderful tool which can be of great help for your work with PDFs. It requires a paid subscription though and the software can take up quite a bunch of disk space.
Here's how to optimize your PDF in Adobe Acrobat Pro:
Open your file in the program.
Click File > Compress PDF (can also show up in your menu as Reduce File Size).
Choose location for your compressed file.
Click Save.
That's it, you are done. Watch for a message in your app confirming successful compression.
You can also reduce the size of several PDFs in Adobe. To do that, click Tools > Optimize PDF, find Reduce File Size menu option and open its drop-down menu, click Reduce Multiple files. Add the files you want to compress and click through the confirmation process.
Shrinking PDFs online
You can also compress your PDF files online, without having to use any apps at all.
One tool is Adobe's official online compression, available at https://www.adobe.com/acrobat/online/compress-pdf.html.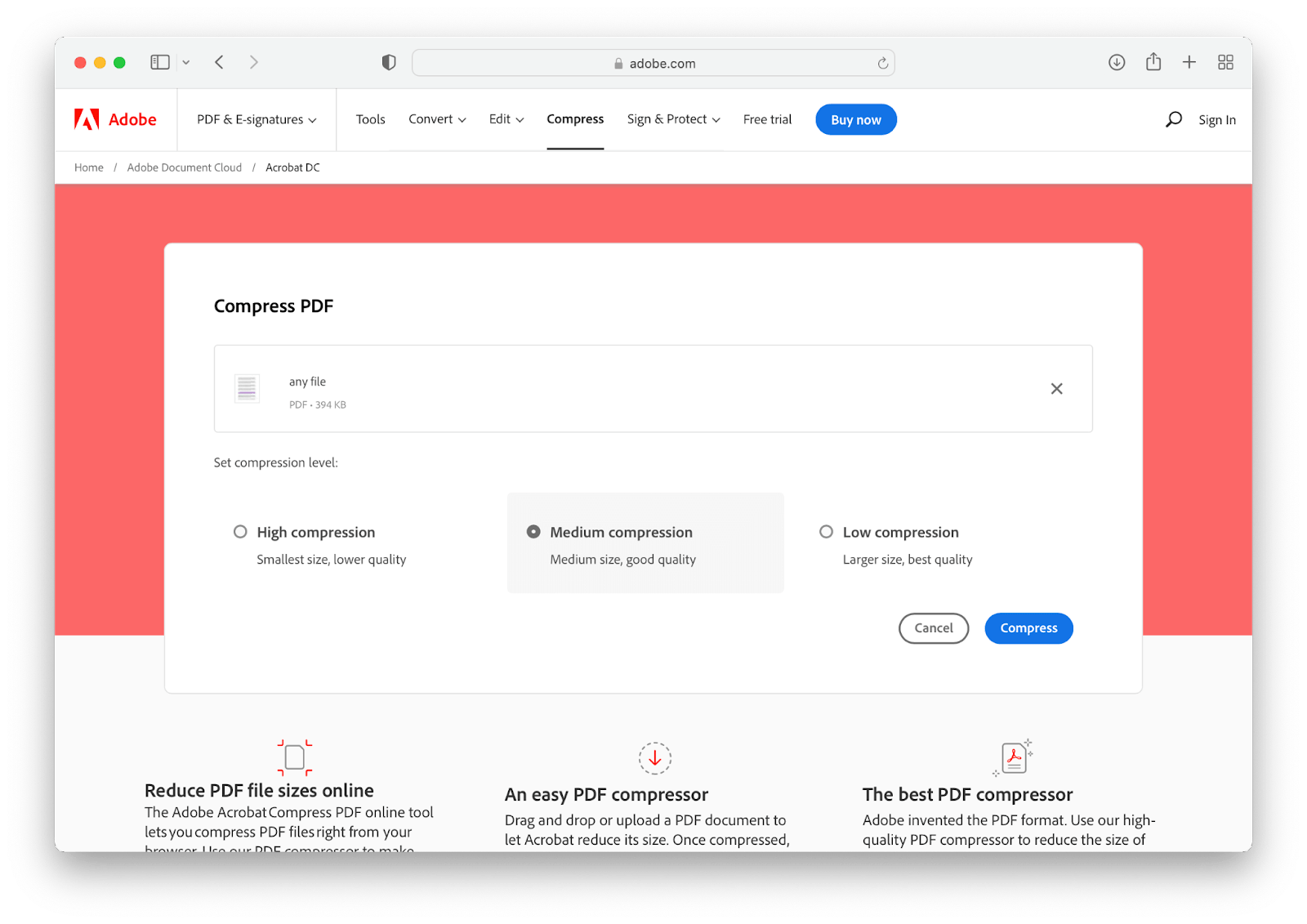 Another tool is SmallPDF, available at https://smallpdf.com/compress-pdf. It offers basic compression of your PDF for free and a more advanced compression with a pro account.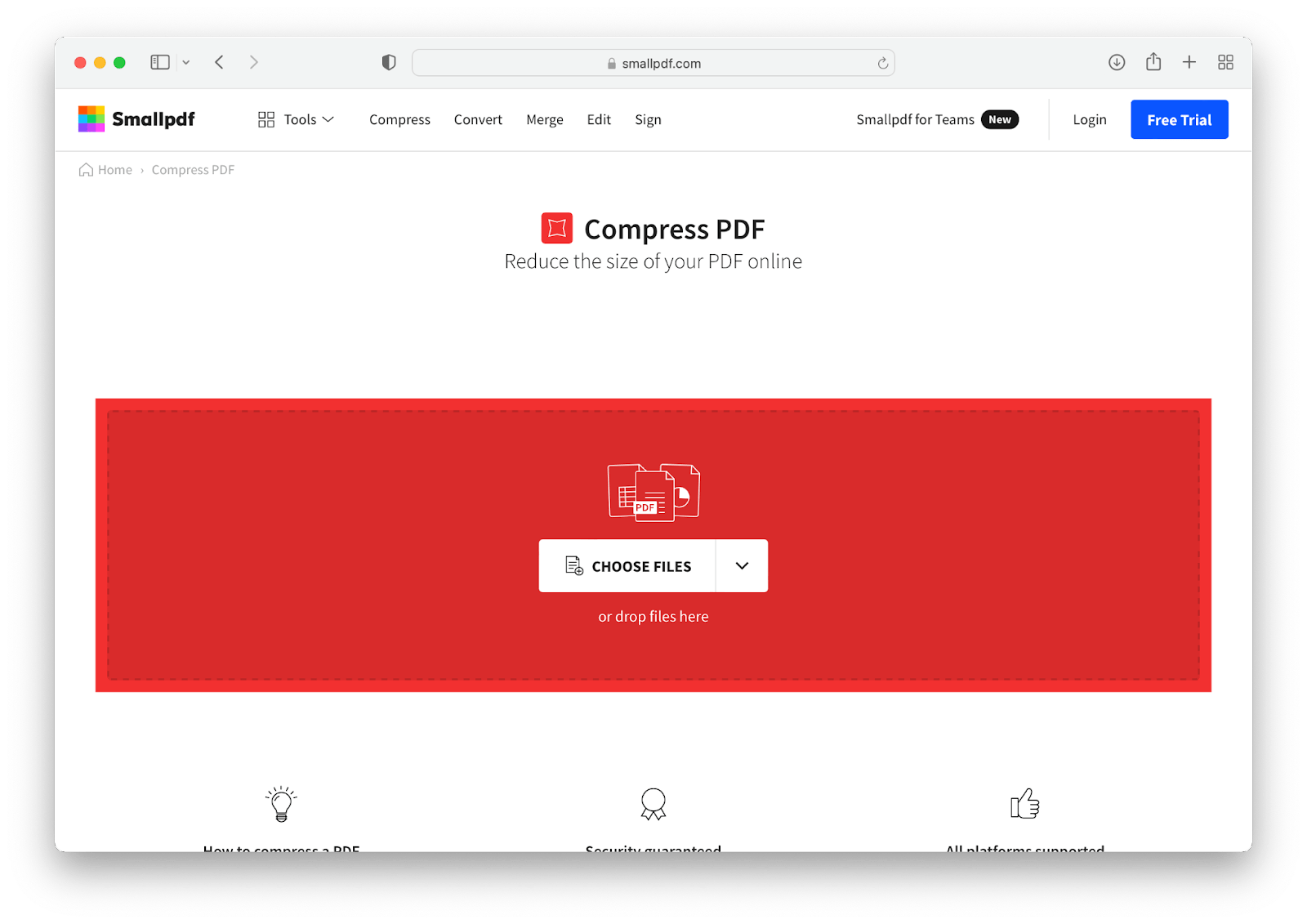 Downside to using any online services to compress your PDFs is that you need an internet connection to perform the action and you are uploading your files to a remote server. If you want to be extra cautious with your information, it's always best to use a tool that compresses your file locally on your machine, unlike an online compressor.
Tips for downsizing PDF files
If you are editing or creating a document that you plan to store as a PDF, it's best to think ahead of what factors may contribute to making your file too bulky.
These are our tips on how to make sure your PDFs are as small as possible and are not taking up unnecessarily large spaces on your drives:
Avoid inserting large visuals. Pictures tend to take up the most space in your PDFs, which means using simpler illustrations and less photos can help keep your PDF size down.
Remove junk pages. Who hasn't seen a 30-page PDF with 10 pages of small print no one needs? Go through your file and remove things that aren't pertinent to your use of the file. Use PDF Search to find the respective sections: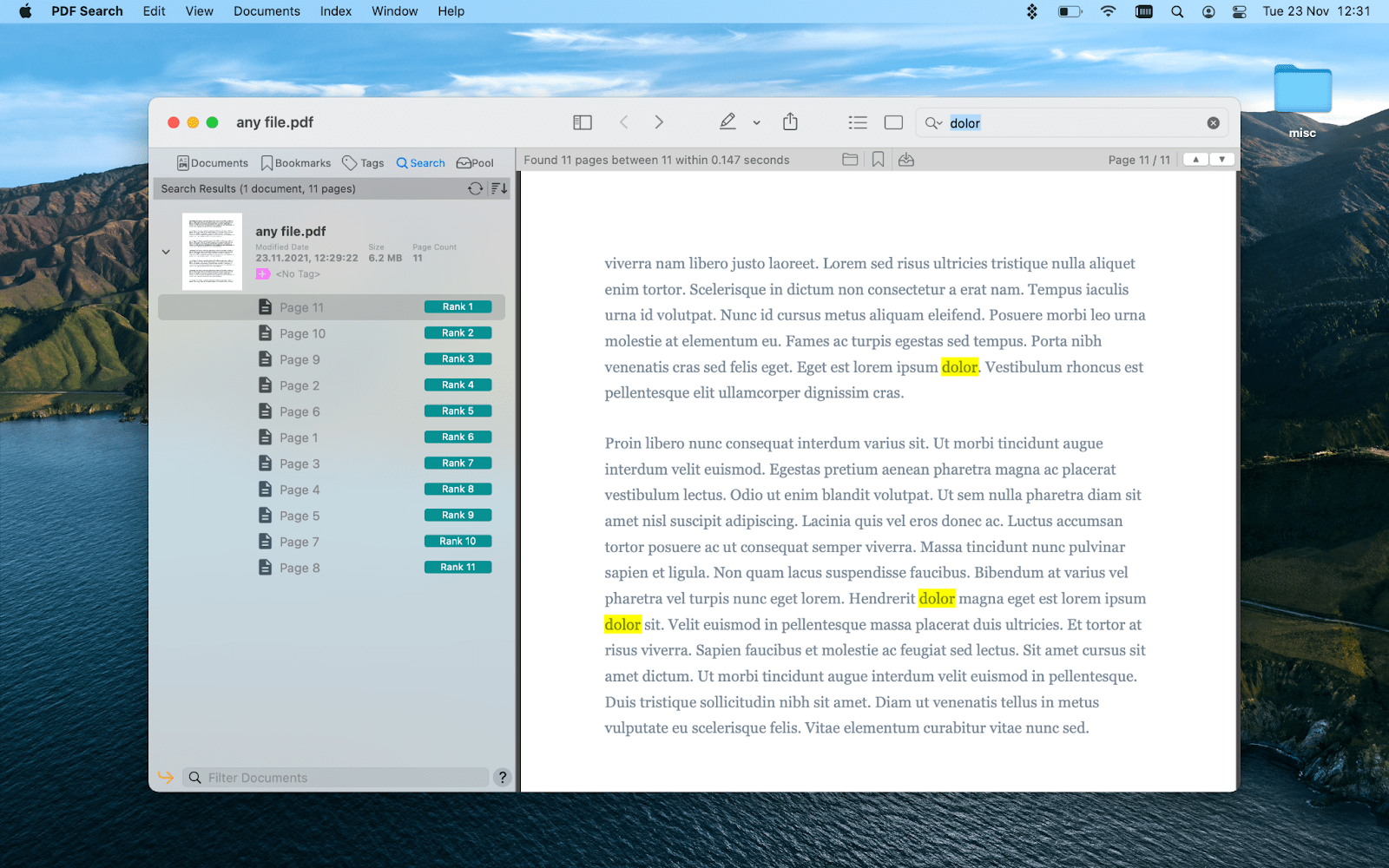 Split up your files. Instead of handling a 100-page document everyone on your team gets overwhelmed with, split it into parts and only send people the sections they actually need.
Export in other formats first. In our experience, starting off with, say, a Word document and then converting it to PDF, and only then turning to the compression tools can prove to result in the smallest end result.
Conclusion
As you can see, your options to squeeze a PDF are readily available. You can do it with Mac's built-in Preview app, excellent third-party solutions like PDF Squeezer, or an online tool.
One of the most popular reasons to reduce the size of a PDF is to send it as an email attachment as there's usually a size cap on the maximum possible email attachment by most providers. Don't ever run across this problem and struggle for a solution. Get PDF Squeezer on Setapp — a productivity platform for Mac and iPhone, where you can look up dozens of tools for better workflow and more fruitful work. Discover PDF editing tool Nitro PDF Pro or a search app for PDFs called PDF Search, all on Setapp.
Get Setapp to use these and dozens more tools to help effectively tackle your daily tasks, save you time, and optimize or automate processes you didn't even realize had a simpler solution!