How to rotate a PDF on Mac
Over the past decade or so, PDF has become the most dominant document format, and for good reason.
PDFs are cross-platform and work natively with any browsers. They can contain a variety of content, including interactive elements such as links and forms. And they always keep their layout, fonts, and other design elements exactly the same regardless of the device or app you're using to view them.
The origins of PDFs go back to 1993, when this format was developed by Adobe to fix the cross-device document layout problem. Today, Adobe and other tools could be used to not only view but also edit nearly any PDF file you come across.
How to rotate PDFs in Mac apps
Out of dozens of PDF modifications that are available to you, the less obvious one that you'll need quite often is the ability to rotate and save PDF files quickly.
Since PDF is one of the most preferred formats for sharing documents and forms, those frequently come straight from scanners without being properly rotated.
To avoid looking at your documents sideways, there are a few Mac apps that can rotate all pages in PDF instantly and make everything look right. Here, we'll cover Preview, Adobe Acrobat, Nitro PDF Pro, and some online alternatives.
How to rotate PDF pages in Preview
Preview — Mac's default app for viewing PDFs — is in fact quite a powerful PDF editor as well, although most people don't know about it.
You can use Preview to rotate individual pages in PDF or all at once, combine separate files into one, annotate, remove pages, and much more.
Here's how to rotate rotate individual pages in PDF with Preview:
Double-click on any PDF file to open it in Preview
Select the page you'd like to rotate
In the menu bar, go to Tools ➙ Rotate Left (⌘ + L) or Rotate Right (⌘ + R). You can also use the Rotate Left button in the top toolbar.
Save your file by clicking File ➙ Save in the menu bar or using the shortcut ⌘ + S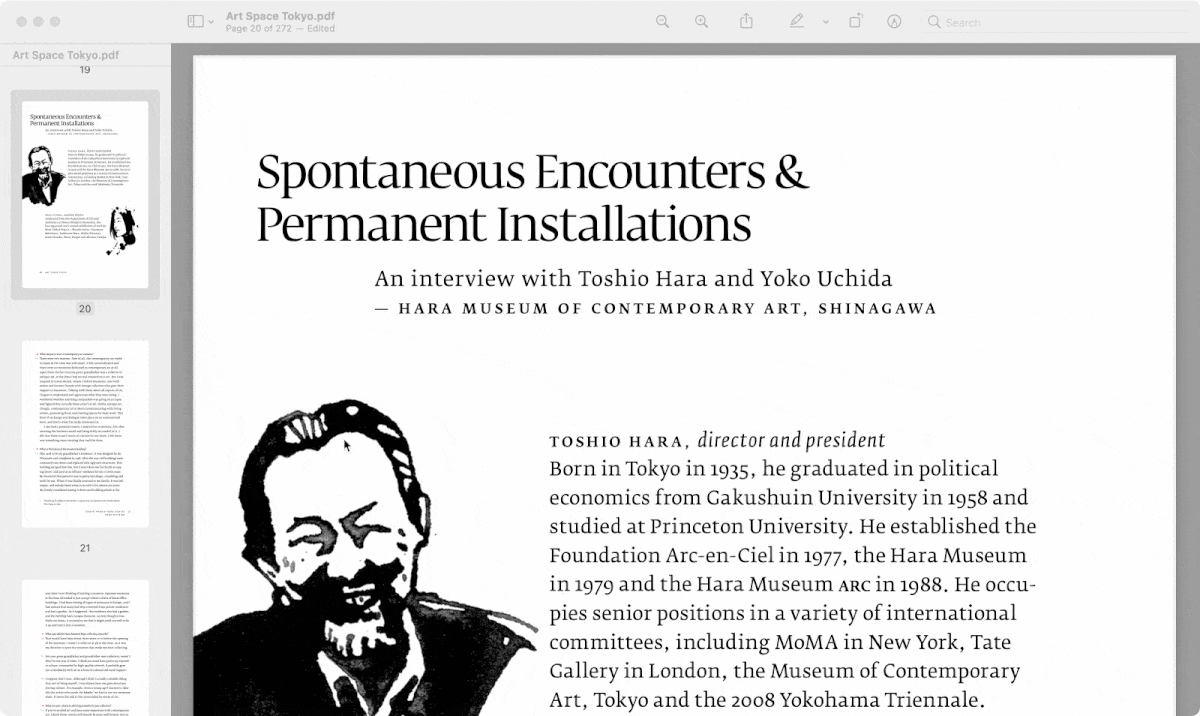 Every rotate action would rotate the page by 90 degrees. If you want to rotate PDFs by more than 90 degrees, simply repeat the action.
To rotate all pages in PDFs, hold Shift and select multiple pages in the document sidebar (or use ⌘ + A to select all) and then repeat the rotation action. Don't forget to save!
How to rotate PDF in Adobe Acrobat
Since it was Adobe that invented the PDF format, it's only natural that their Adobe Acrobat apps would also be able to manipulate and rotate PDF documents.
So if you don't want to use Preview and are wondering how to rotate document in Adobe Acrobat, follow these steps:
Open your PDF in Adobe Acrobat
Select Organize Pages in the toolbar
Hold Shift to select multiple pages to rotate or pick the exact range in the toolbar
Click either the clockwise or counterclockwise button to rotate selected pages. Repeat the action for rotating beyond 90 degrees.
Save your PDF either by using an icon in the toolbar or File ➙ Save or the ⌘ + S shortcut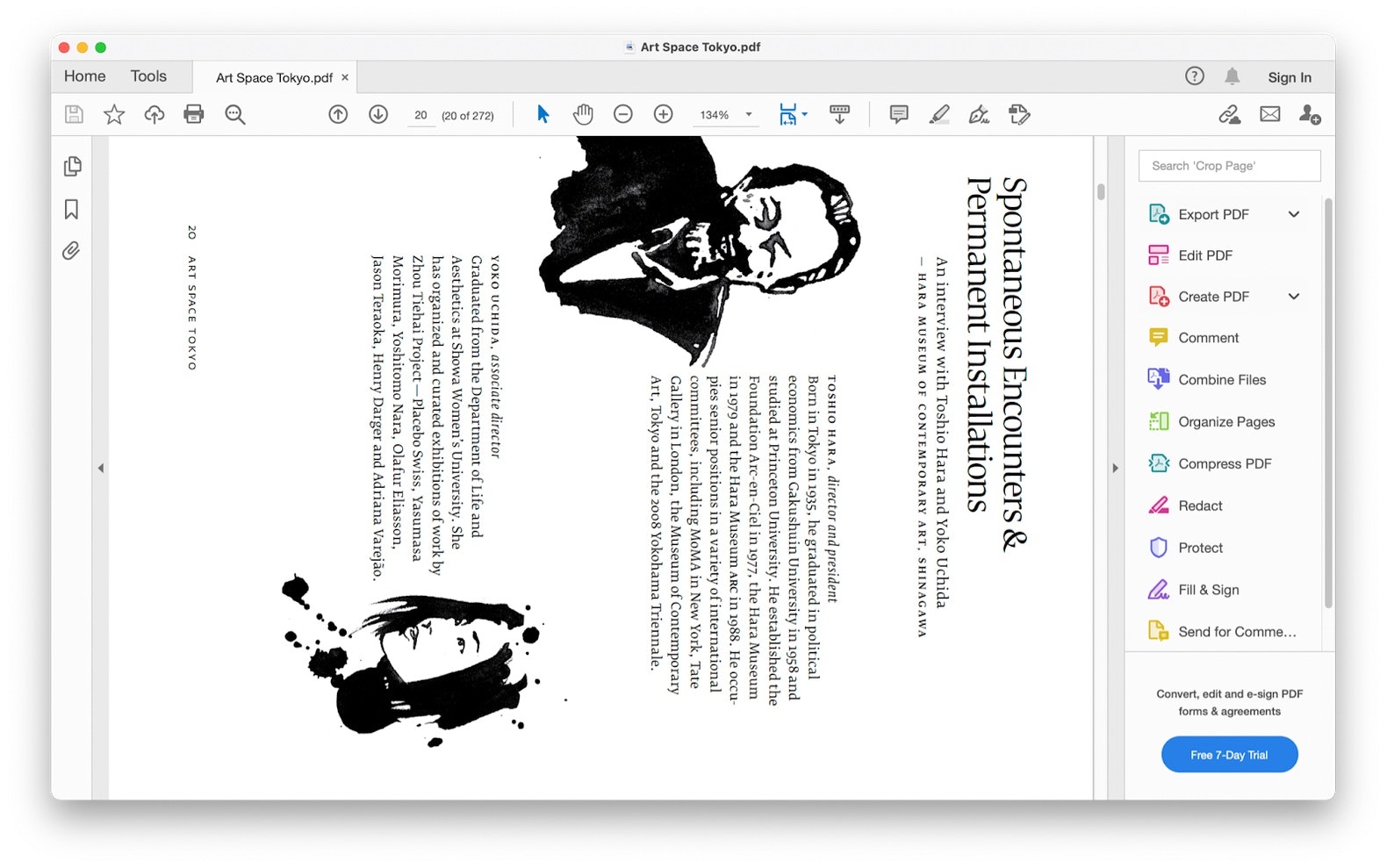 Note: If you're wondering how to rotate PDF in Adobe and don't see the options above, it could be because you're using a free Adobe Acrobat Reader. Page rotation is currently only available in the paid Adobe Acrobat DC.
How to rotate a PDF with Nitro PDF Pro
When you start to think about how to rotate documents in Adobe, you step up into the pro apps category (as opposed to the free Preview). And, by far, the best pro-level PDF editing app is called Nitro PDF Pro.
Nitro PDF Pro is a full-featured PDF editor for Mac. It lets you merge PDF pages, remove them, rotate them, get rid of sensitive information, fill out forms, and sign documents.
What's more, Nitro PDF Pro uses powerful OCR (optical character recognition) technology to turn images and scans into editable text, so you can adjust any inconsistencies on the go.
To rotate and save PDFs with Nitro PDF Pro:
Use Nitro PDF Pro to open any PDF document
Select the pages you want to rotate in the sidebar
Go to View > Rotate Right (⌘ + R) or Rotate Left (Shift + ⌘ + R) in the menu bar
Repeat the action to get the rotation you want
Save the edited document with File ➙ Save or ⌘ + S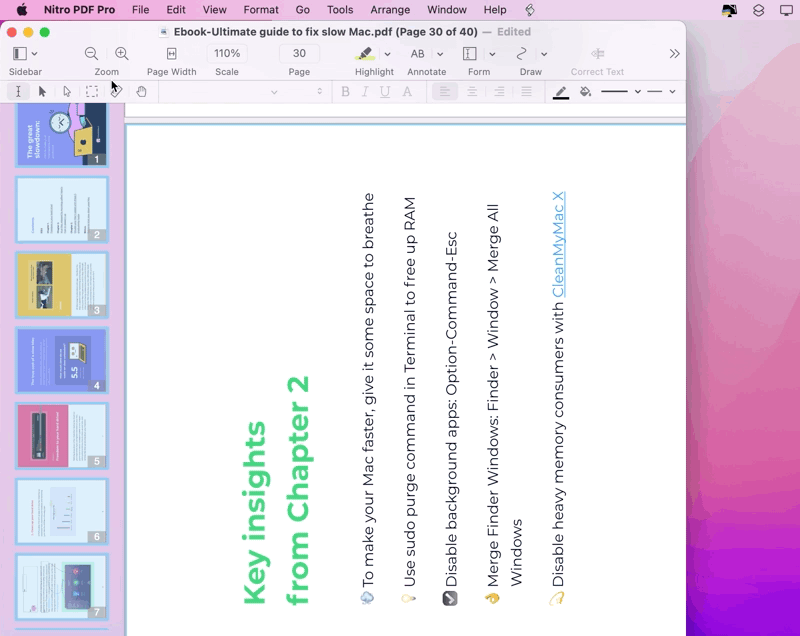 Besides the ability to rotate and edit PDFs, there are other PDF-focused apps that can do so much more.
PDF Squeezer, for example, is widely known as one of the best solutions for compressing bloated PDFs. If you work with PDFs a lot, you know they can be quite heavy (hundreds of megabytes). PDF Squeezer deals with them in seconds — just drop the file onto the app, select the appropriate compression level, and the app will do its magic, reducing the size by sometimes 50% without any noticeable loss in quality.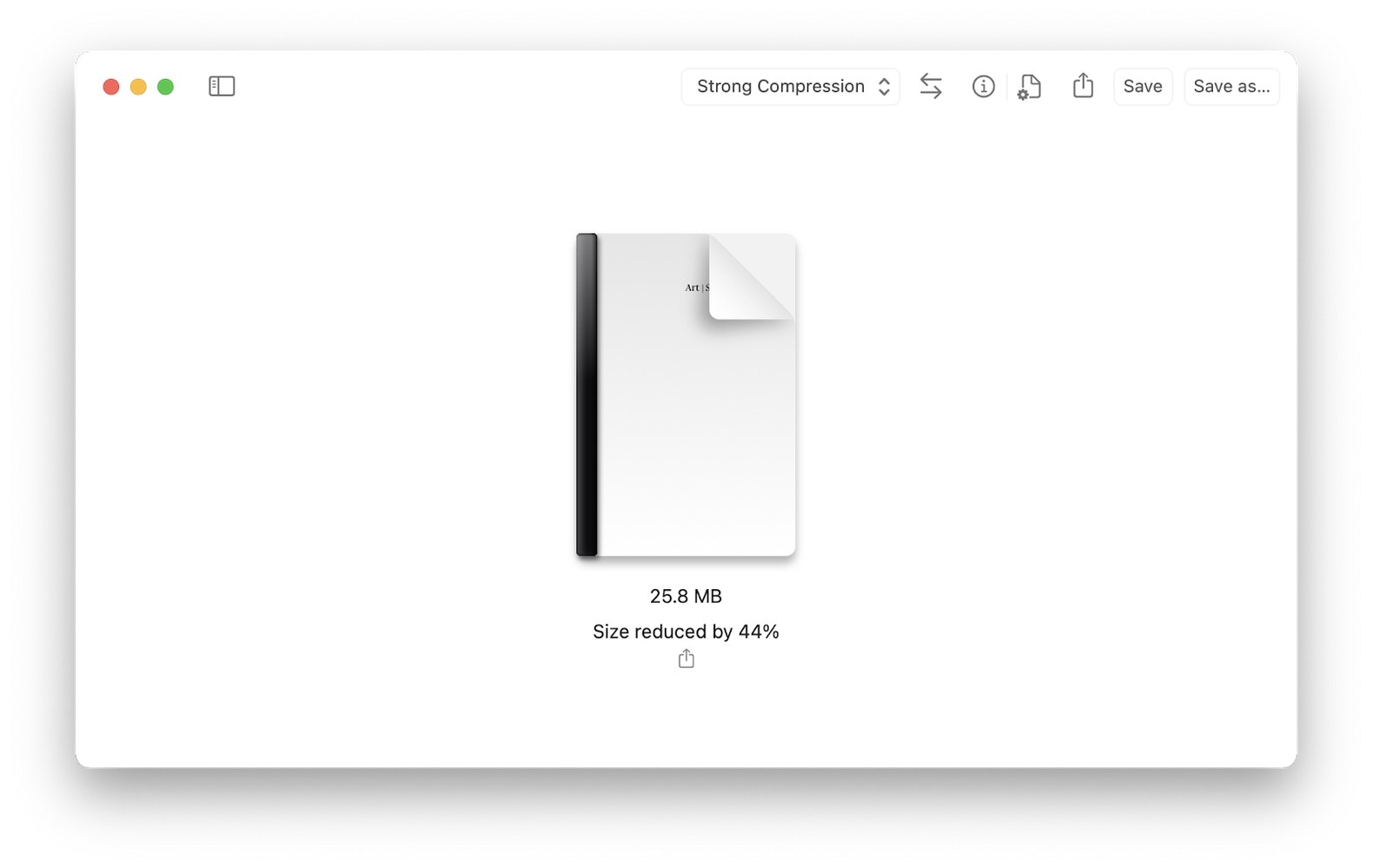 PDF Search is another useful PDF tool for instantly finding a specific word or fact in all of your PDFs at once. This app scans your PDF folder and uses OCR to make everything perfectly searchable. When you need to source some PDF information quickly, just use PDF Search's native search functionality, and it will find any exact or approximate match in any of your files. This is the most powerful search app that has ever landed on Mac.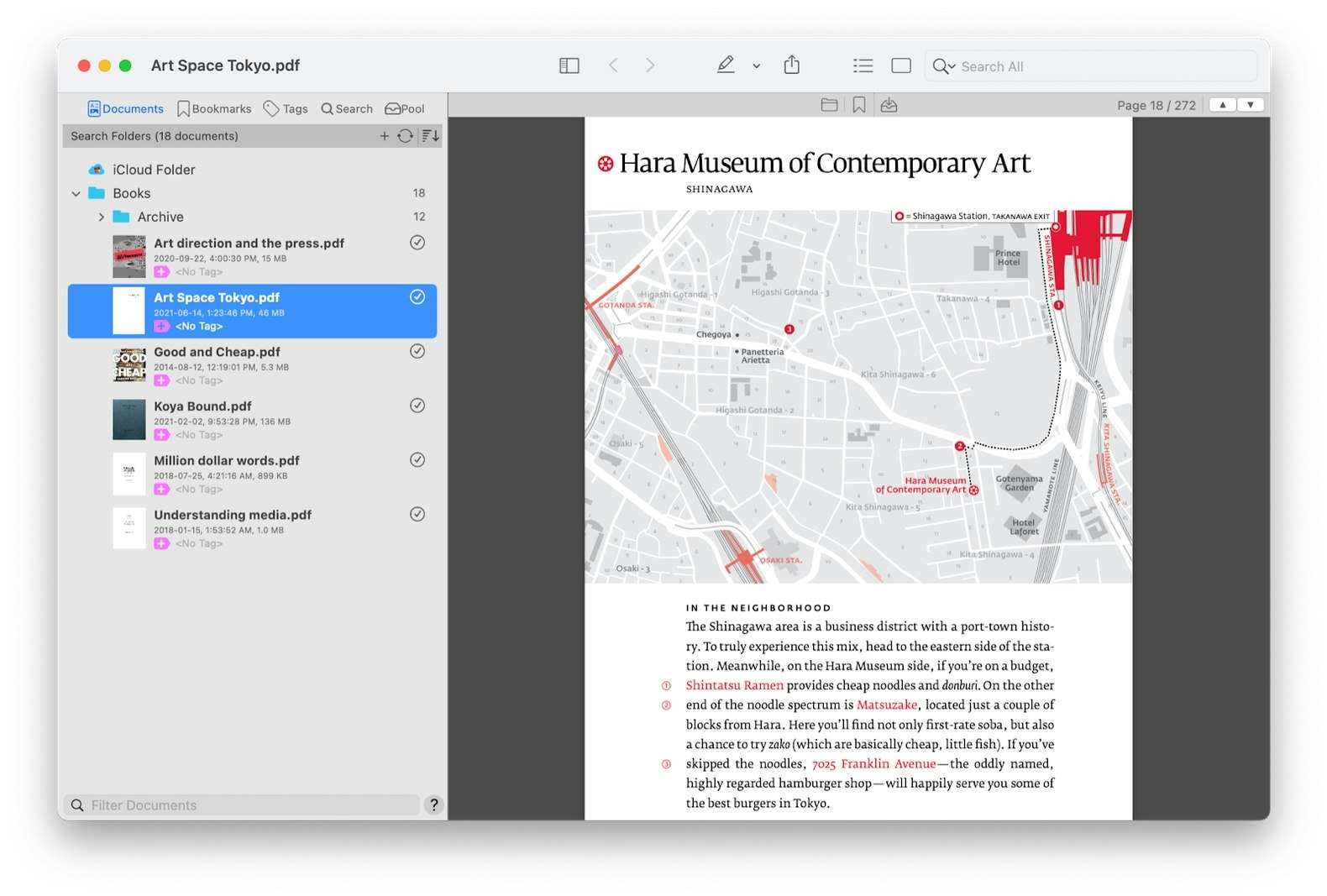 How to rotate a PDF online
The last option we haven't considered yet for rotating your PDFs is using some specific online tools. There are quite a few web apps that let you upload your PDF and then rotate it all at once or go page by page, and save the result later.
PDF2Go is one of the most popular online PDF rotators. Since the app only does one thing, the interface is dead simple. Just browse for your PDF on your Mac, upload it, click rotate on the pages you want to rotate, and save the file back to your Mac.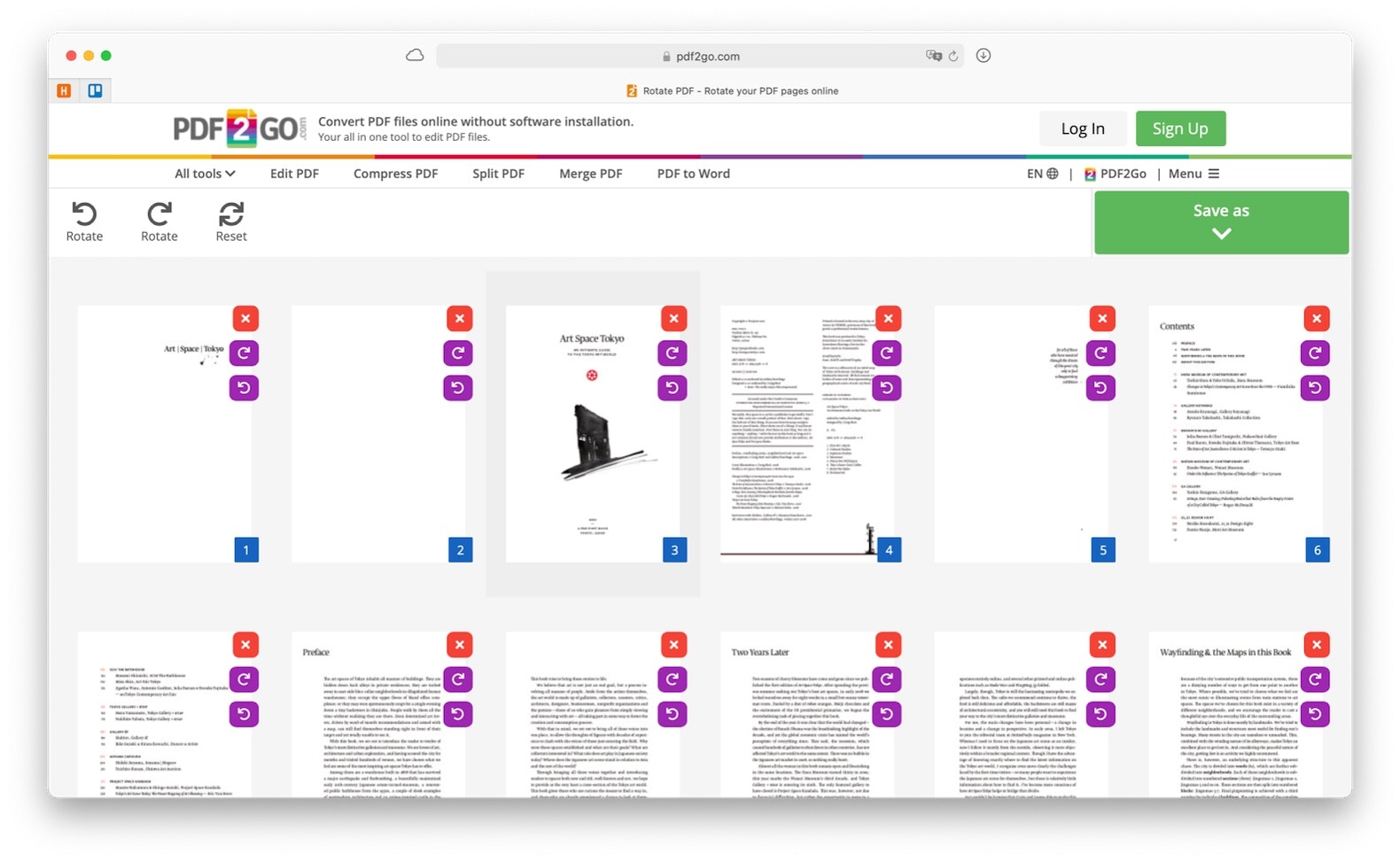 While using online tools is free, there are a few caveats. If you're not sure about the tool, it's advised not to upload any sensitive documents there. Besides, if you want to rotate a few select pages, doing so online could take longer. Finally, downloading the file from the web, you can never be 100% sure it doesn't contain any malware. So we strongly recommend using Mac-based apps instead.
As you can see, you can rotate PDFs in seconds if you have the right tools to rely on. Preview is an easy default pick. You can also use Acrobat DC if you have it. But for pro-level PDF management, try Nitro PDF Pro, PDF Squeezer, and PDF Search.
Best of all, Nitro PDF Pro, PDF Squeezer, and PDF Search are available to you for free for seven days through the trial of Setapp, a platform with more than 230 essential Mac and iPhone apps to help you with your workday. Explore the whole Setapp collection at no cost today and find your new source of productivity.