How to remove password protection from PDF
Next to Word documents, PDFs are perhaps among the most widely used file formats in the world. It's likely that you come across dozens of PDFs throughout the day at work as well as communicating with other organizations like banks or phone companies.
Since lots of PDF files can be confidential in nature (e.g. your bank statement, phone bill, corporate agreement), they are often protected by passwords for increased security. A password would then prevent anyone who doesn't know it from viewing, editing, or printing the document — since you'll be asked to enter it each time you open the PDF.
In theory, password protection for PDFs sounds like a good idea. But we tend to receive so many password-protected documents that it becomes increasingly inconvenient to remember every single password, especially when we want to do something quickly and peek inside the PDF a few times.
Is there a way to remove security from PDFs? Yes! In this guide, we'll show you how to remove password from PDF in just a few clicks.
Why Remove PDF Passwords On Mac?
PDF unlocking can save you lots of time when you need to go back and forth between protected files, which require you to input a password every time you come back to them.
Luckily, there are quite a few options for either going around re-entering the password all the time or disabling it completely, using tools like Preview, Google Chrome, Adobe Acrobat, and Nitro PDF Pro.
Of course, to remove PDF password, you have to know it first — there's no easy way to delete a password you don't know, unless you use password-cracking software.
Note: The use of password crackers is illegal in most jurisdictions and is best to be avoided. The only acceptable use of crackers is to access a file to which you have explicit permission but simply don't remember the actual password.
With this caveat, let's look at the best ways to remove security from PDFs right now.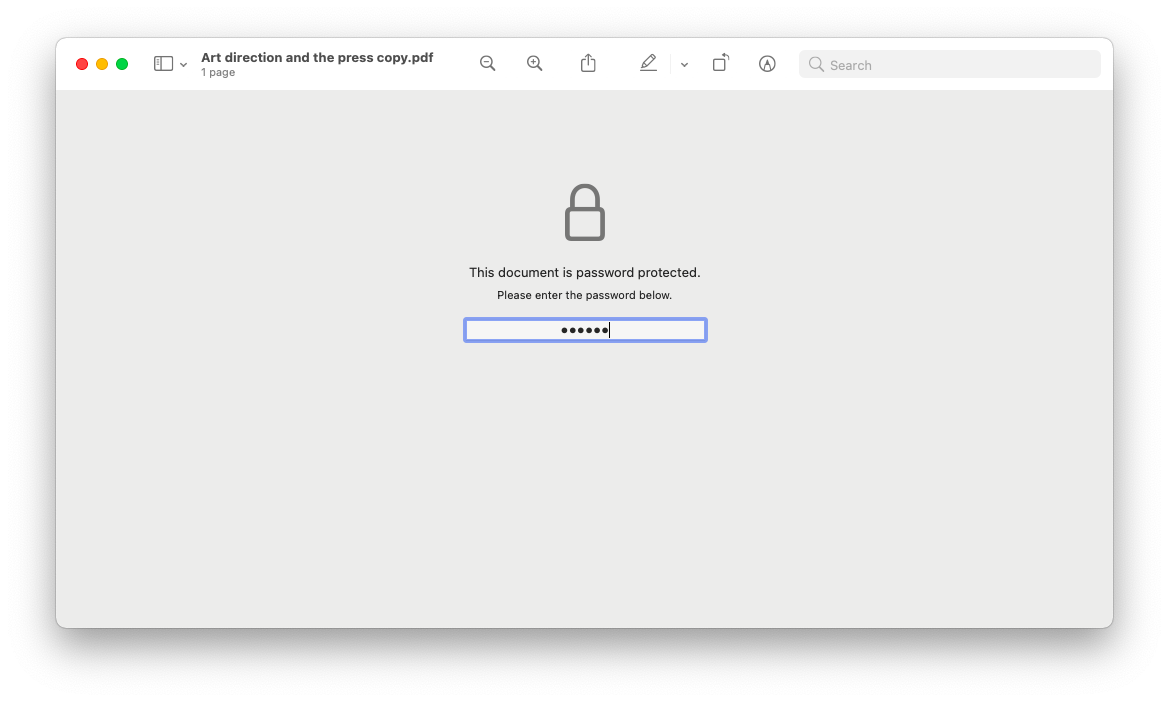 How to remove password from PDF with Preview
Most Mac users tend to overlook Preview and try to find substitute apps right away. For no good reason! Preview is a powerful app installed on your Mac by default and can perform most PDF manipulations you'll ever need.
One of those is simple PDF unlocking, which you can essentially do by opening a PDF file and exporting it as PDF one more time. The duplicate PDF then won't have password protection.
Here's how to remove password protection from PDF with Preview:
Launch Preview and open your password-protected PDF
Enter the password
Go to File ➙ Export as PDF…
Select the location and name
Click Save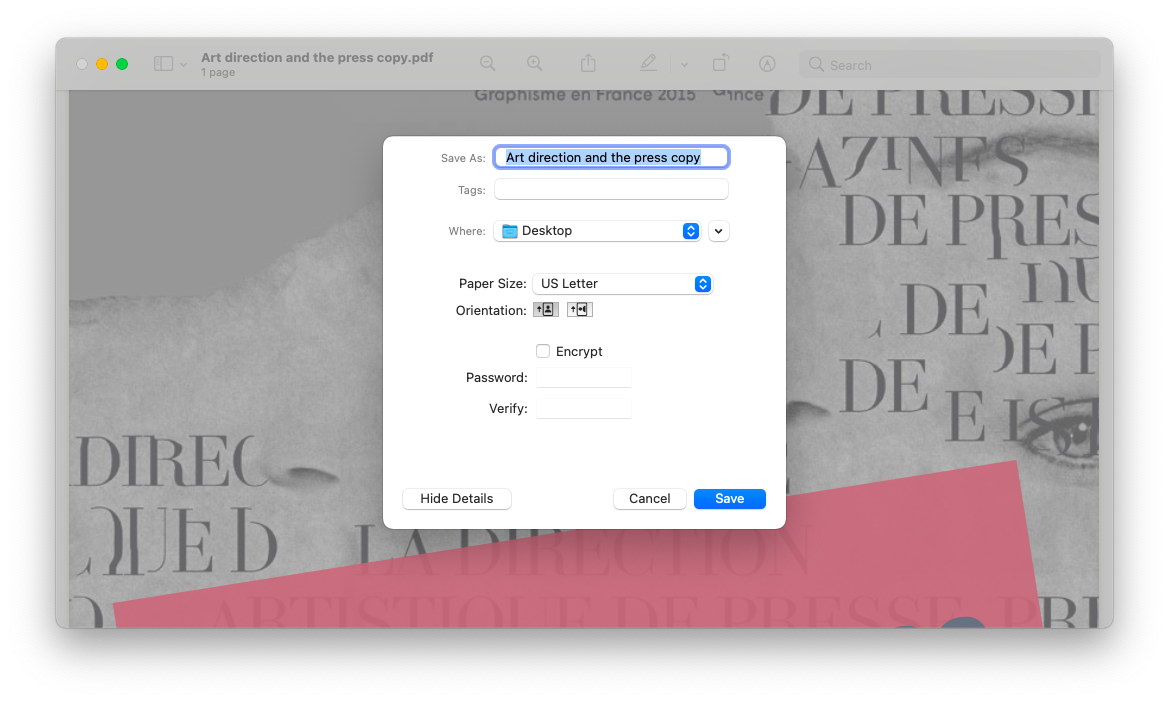 The newly saved PDF won't have password protection, so you can use it as often as you want without entering a password and just delete it when you're done.
Note: Sometimes, if you use a Print option rather than Export, you won't be able to select and copy the text inside the PDF. So exporting is preferred. Otherwise, you might have to use OCR (optical character recognition) software to extract the text you need.
How to PDF unlock with Nitro PDF Pro
If you want a good balance between being able to remove PDF passwords easily and affordably while at the same time having access to advanced PDF manipulation features, there's no better app than Nitro PDF Pro.
Nitro PDF Pro is an intuitive PDF editor with dozens of pro-level features. You can annotate any file with drawings or comments, recognize text with OCR functionality, redact personal information, sign and fill out forms, and even reorder pages and merge documents.
For our purposes right now, Nitro PDF Pro also makes it easy to set and remove security from PDFs. You can set the level of encryption and your custom password in the Save dialog when saving your PDF. In the same way, you can remove any password from a PDF.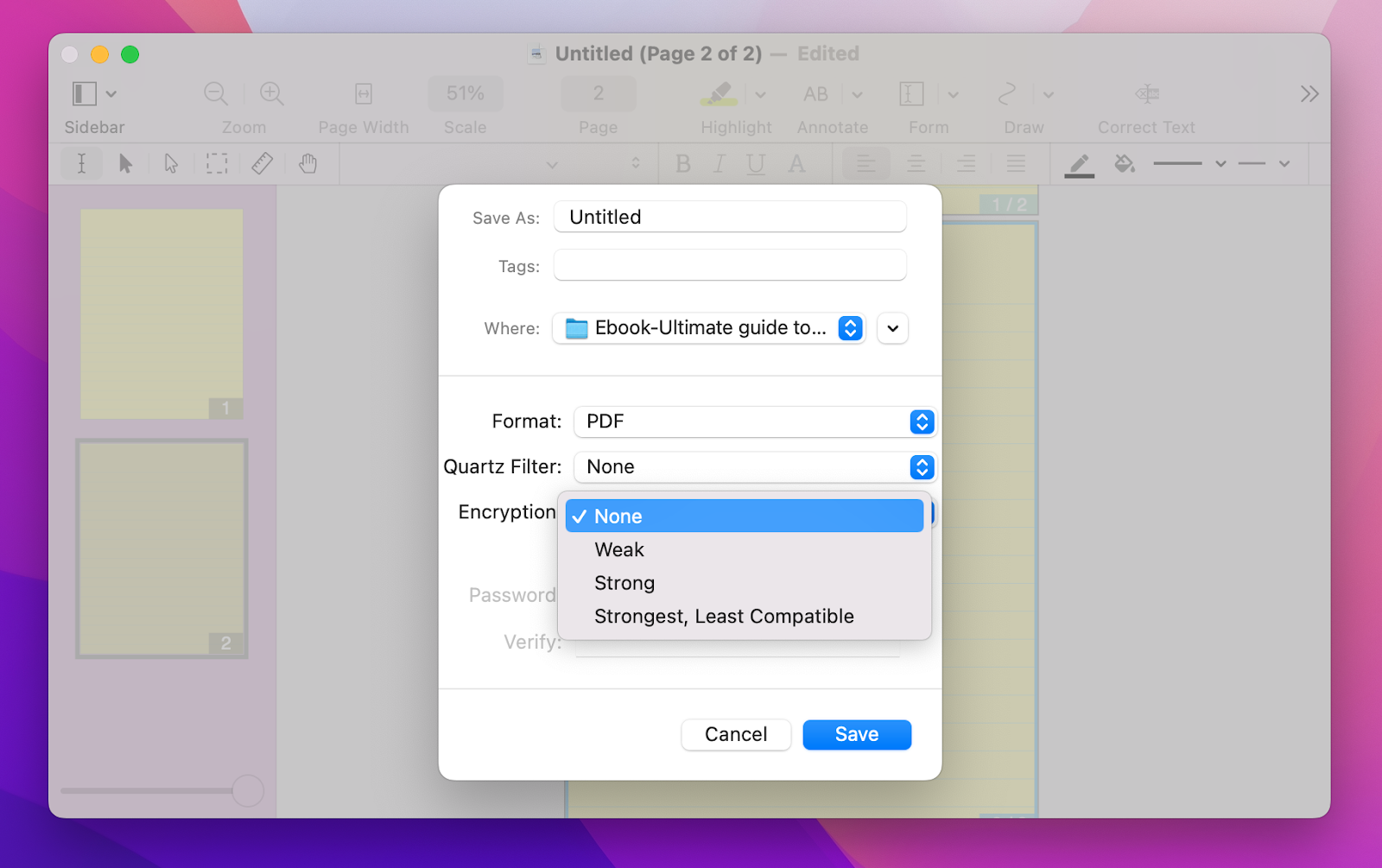 Every time you add sensitive information (e.g. a signature) to your PDF file, Nitro PDF Pro would automatically protect it with superb encryption, so that no one would be able to gain unauthorized access. The app would also assist you in signature validation to help detect any fraud.
What's more, Nitro PDF Pro has customizable document permissions, which lets you prevent other users from editing your PDF, copying images from it, etc. Here's how to change document permissions:
Click Inspector in Nitro's toolbar
Click the lock icon
Enter your owner password to unlock permission changes
Save the changes.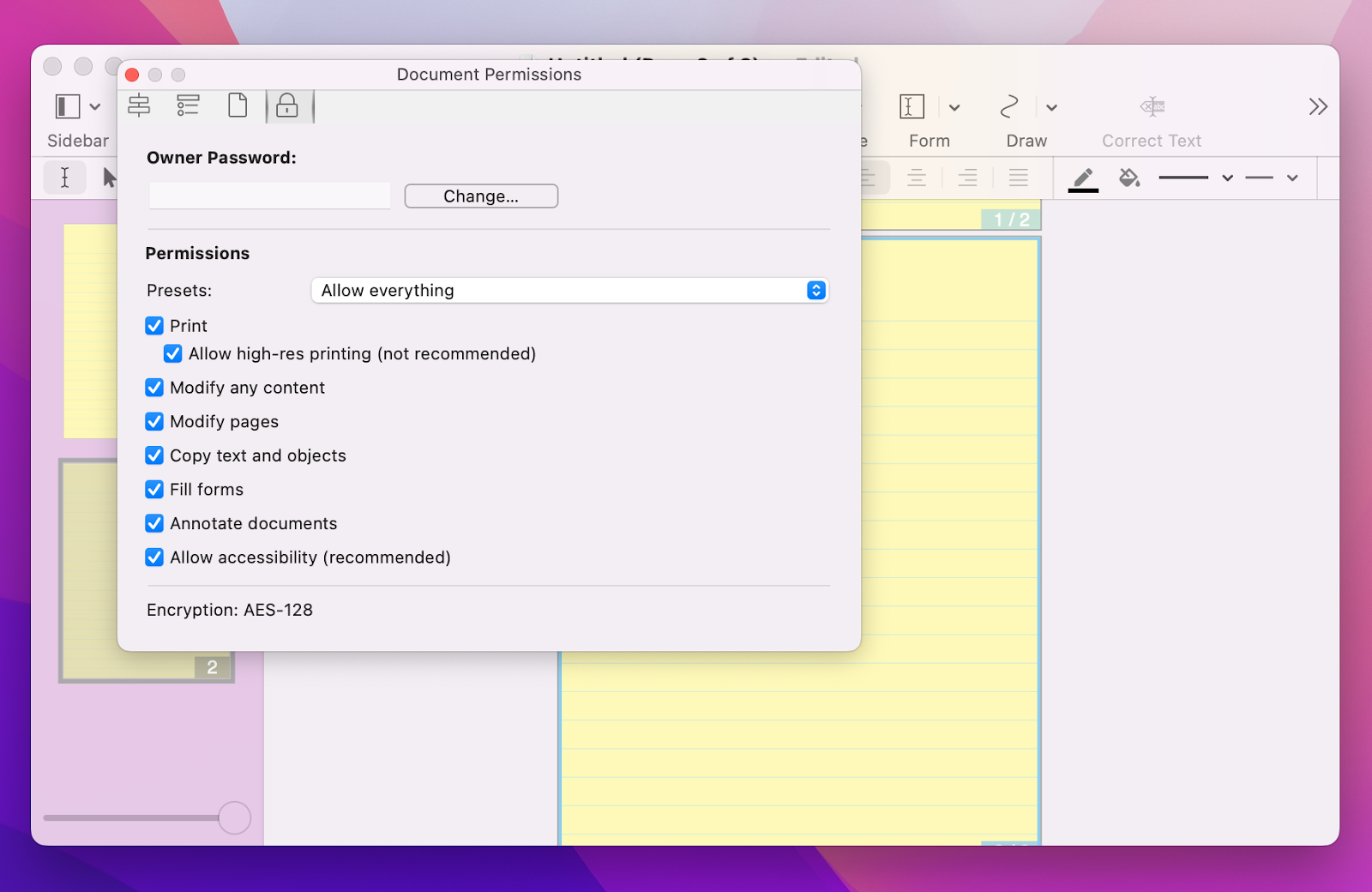 How to remove security from PDF with Google Chrome
Another way to remove password protection from PDF is to use the tool you already use all the time — Google Chrome — using a similar technique to the one above, saving the file as PDF once again.
To PDF unlock a file with Chrome:
Launch Chrome
Visit a PDF URL or drag-and-drop your PDF into the app
Click the printer icon in the top bar
In the Destination dropdown, select Save as PDF
Click Save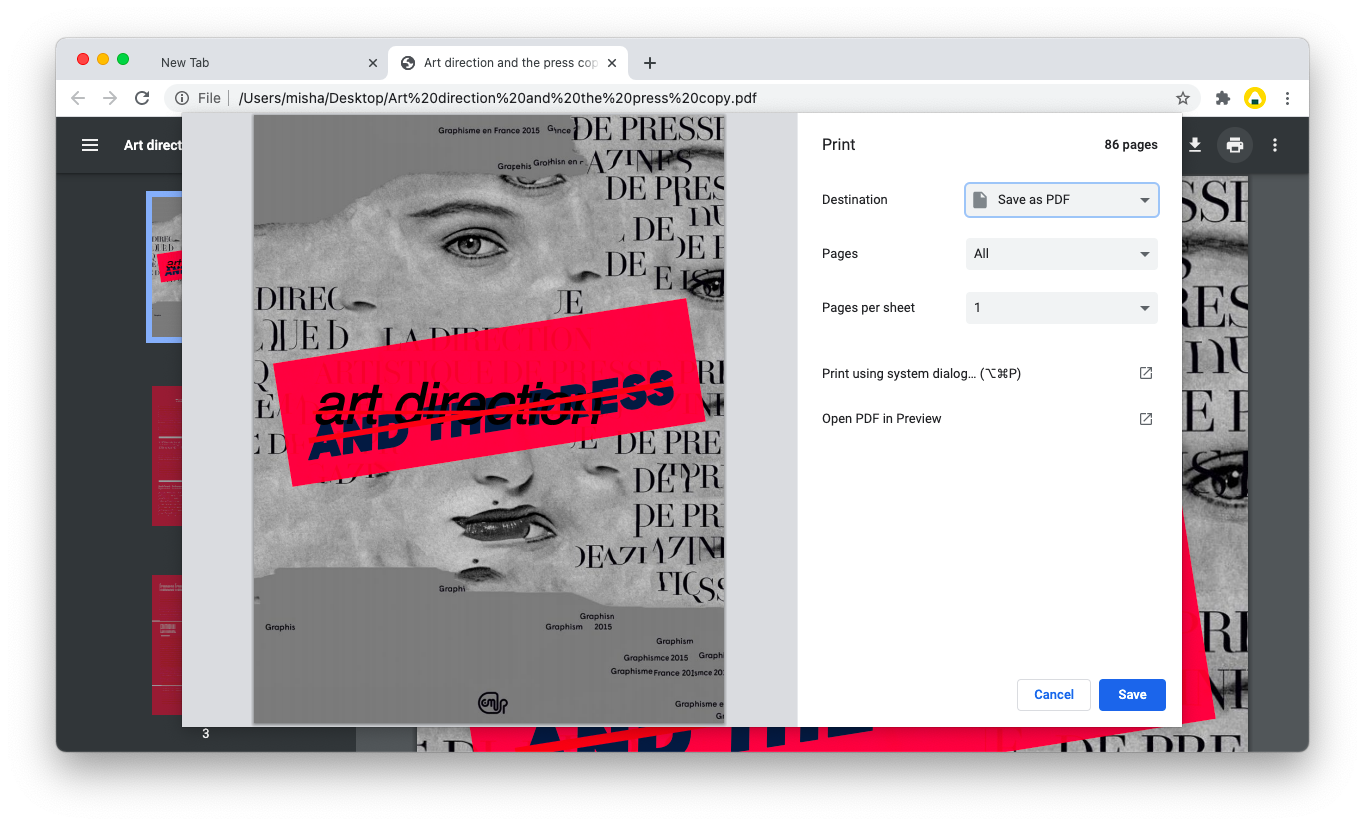 Now your new PDF copy won't have a password. Most other browsers work the same way. This technique could be used for all PDF files, except the ones that are explicitly protected from printing.
How to remove PDF password with Adobe Acrobat
While you can use many options to go around password protection in PDFs, there's one OG app that lets you both set the password and remove them without any tricks — Adobe Acrobat. In fact, the app would work even if printing permissions for your PDF have been revoked.
Adobe Acrobat (not to be confused with the free Acrobat Reader) is one of the oldest apps designed to manipulate PDFs, from editing text to embedding signatures to creating fillable forms to securing contents with a password.
Here's how to remove password from PDF in Acrobat:
Open your PDF file in Adobe Acrobat
Enter the password
Click the lock icon in the sidebar
Go to Permission Details
In the Security Method dropdown, choose No Security
Hit OK
Save your PDF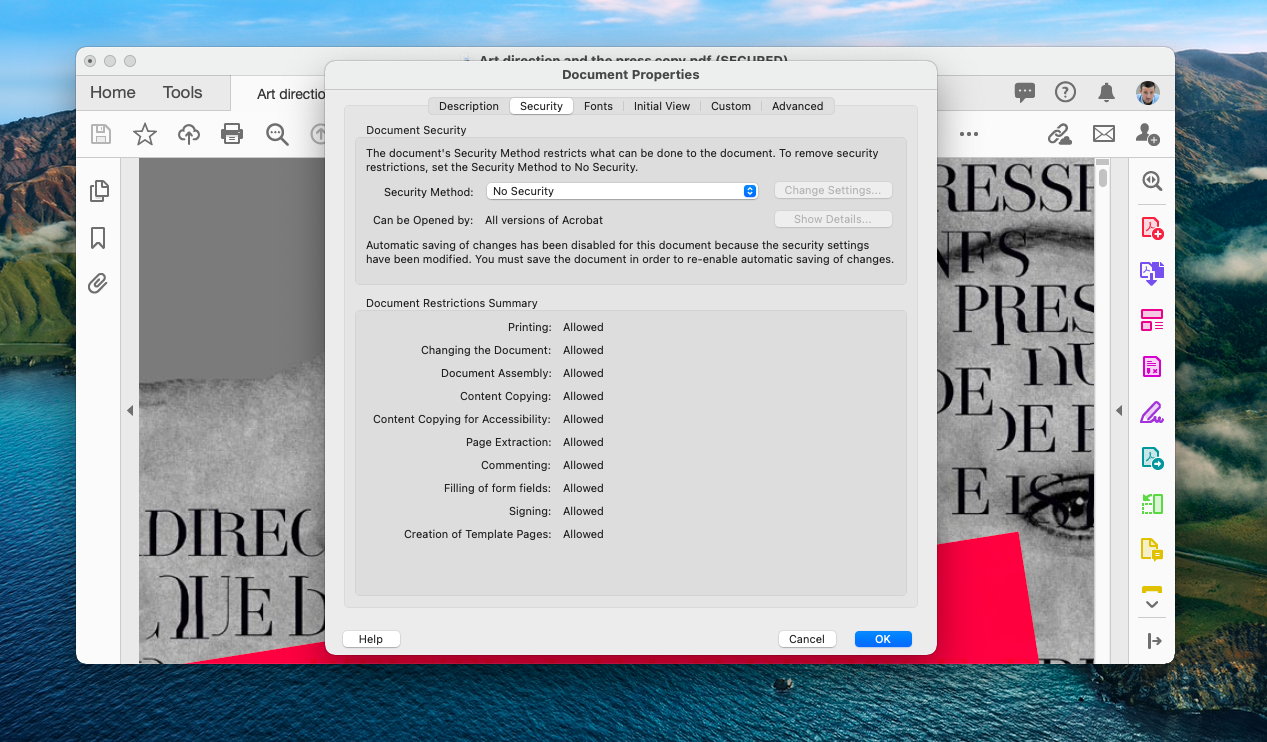 Password protection has now been removed from your PDF. You can later add the password back in the settings.
In general, Adobe Acrobat is a powerful way to edit your PDF files. The downside is that it's expensive ($20 a month), slow, and heavy. Nevertheless, you do get a seven-day free trial to test it out.
As you can see, learning how to remove password from PDF only takes a few minutes. You can easily do it with Mac's Preview, Google Chrome, or any other browser. For more functionality, you can even try using Adobe Acrobat. But if you want to have the perfect PDF editing feature set always available, Nitro PDF Pro is a great way to go.
Best of all, Nitro PDF Pro is available to you absolutely free for seven days through the trial of Setapp, a platform with more than 240 top-of-the-line Mac and iPhone apps, from Mac optimizers to personal finance managers. Try every Setapp app today at no cost and find a new collection of favorite tools.