How to fix "AirPlay not working" issue on iPhone, iPad, Mac, and Apple TV
If you own one Apple device, it's likely that you have at least another one or even a few more. The Apple ecosystem is so strong and well-integrated that it pays to carry an iPhone and work on Mac, read news on iPad and watch movies with Apple TV. Throughout the day, anything you do will be synced through iCloud and become seamlessly available on all devices.
One of the most important Apple features like that is AirPlay. What is AirPlay? AirPlay lets you play any media content from one Apple device and remotely stream it to another. For years, it used to mean streaming music from your iPhone to a HomePod or movies from your Mac to Apple TV. Now, you can even use your Mac as a receiving device. For example, if you have an iMac, you can initiate a movie on your iPhone and then stream it to the big screen.
Another frequent use of AirPlay is screen mirroring, mostly between your Mac and a larger screen, such as an AirPlay 2-enabled smart TV. Instead of showing content, screen mirroring shows everything you do on your Mac, which is perfect for presentations and collaborative work.
How to use AirPlay on Apple devices
A great fact about AirPlay is that it requires no extra software to run — just your Apple devices that are connected to the same WiFi network. The AirPlay option appears in all apps (e.g. Music, Photos, Safari) and devices via the Share menu automatically. Another place you can find AirPlay options on Mac is Control Center in the menu bar, which lists all available screen mirroring displays as well as AirPlay devices for music and video.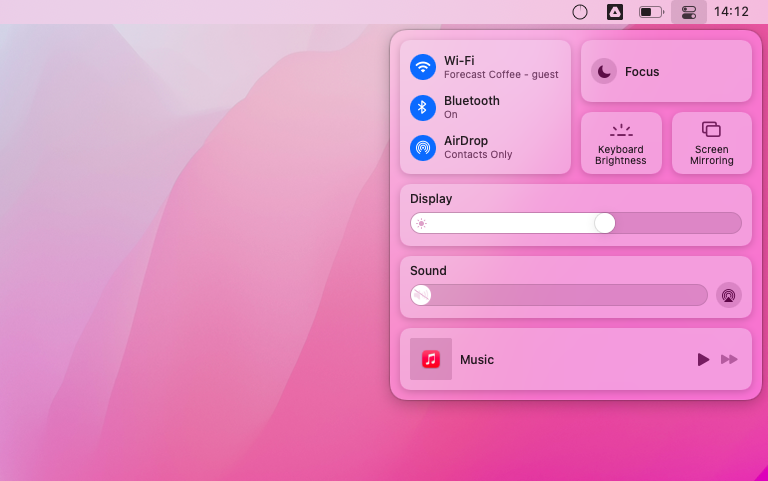 All you need to do to initiate content streaming is play a video or music on one device (e.g. iPhone), select the AirPlay icon, and choose an AirPlay-compatible device (e.g. Mac or Apple TV) as the output.
To stop streaming, just switch your AirPlay streaming back to the original device.
Most of the time, the AirPlay process works flawlessly. But what do you do when you discover your AirPlay not showing up on Mac or AirPlay unable to connect on other devices?
If your AirPlay is lagging or freezing for no reason, the likeliest culprit is either one of your devices or the connection between them. Try one of these quick tips to resolve the situation:
Make sure your Apple devices are on and unlocked
Restart your WiFi router and Apple devices
Check that your devices are on the same WiFi network
Update your devices to the latest compatible version of macOS
Check your firewall or parental controls restrictions if applicable
In case the above didn't help, let's try to go through all of your devices — iPhone, Mac, Apple TV — one by one and see where the problem might be.
How to fix Apple AirPlay not working on Mac
After you've tried the tips from the previous section on your Mac and find AirPlay not working still, you can add a few more specific troubleshooting actions.
You can turn your WiFi off and on from the Control Center and try to update the firmware on your router. If there's a new macOS update in your System Preferences ➙ Software Update, it's a good time to install it now.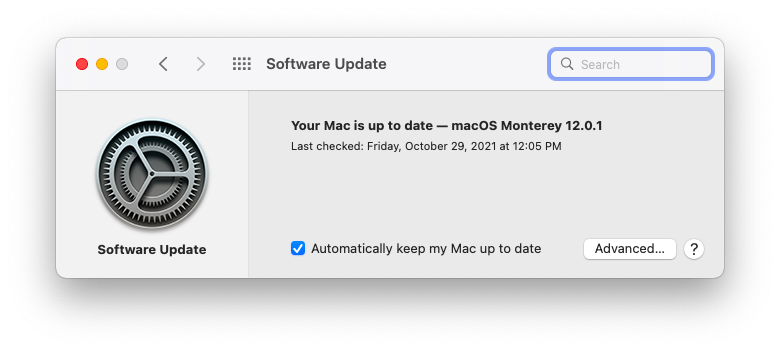 One of the most common reasons for Apple TV or screen mirroring not working is unstable internet connection. Quite often this is something that's hard to troubleshoot on your own. That's why you need WiFi Explorer and NetSpot.
WiFi Explorer is a robust network scanner that can give you extensive details about the state of your WiFi connection as well as other connections nearby. You can discover anything from maximum bandwidth to WiFi band to security and encryption type to signal strength. With this information, you can right away see what the problem is and get precise tips from WiFi Explorer for how to fix it.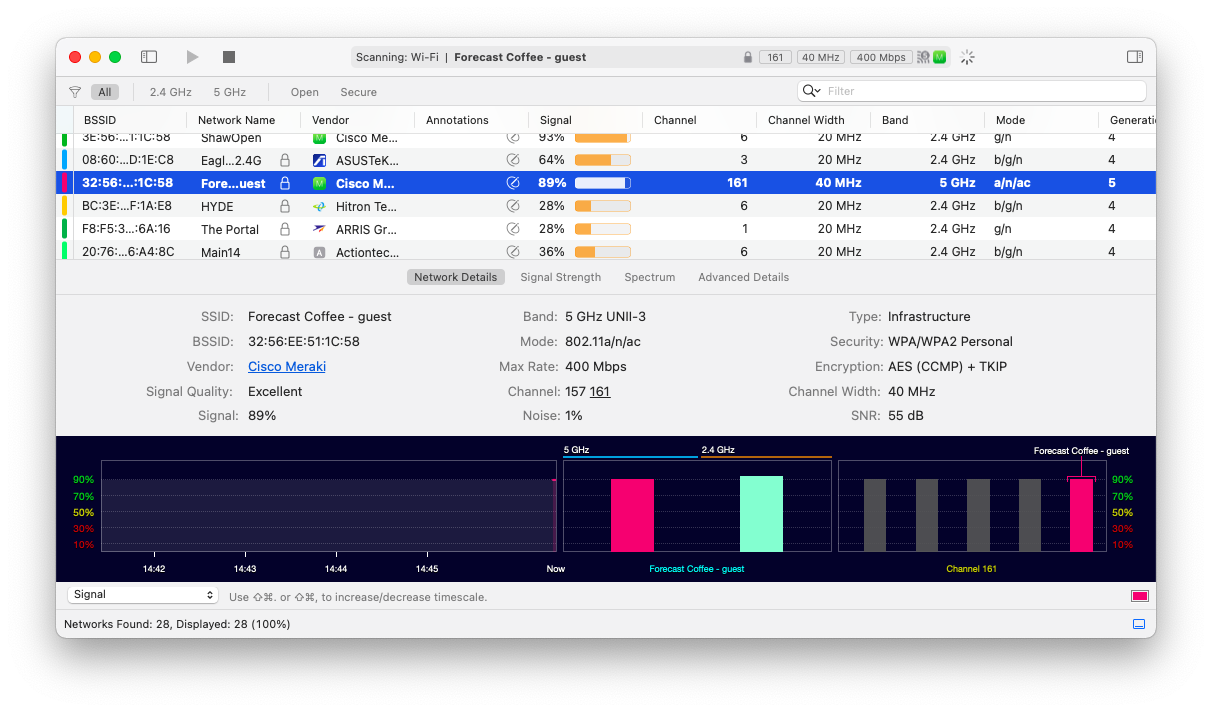 NetSpot is another essential network troubleshooting app for Mac. It can also scan nearby networks like WiFi Explorer, but its killer feature is the ability to identify dead WiFi spots in your surroundings through precise map scanning. You can upload existing maps of your space or draw some right on the spot — the only thing you need to know is the distance between any two spots on the map, and NetSpot will do the rest.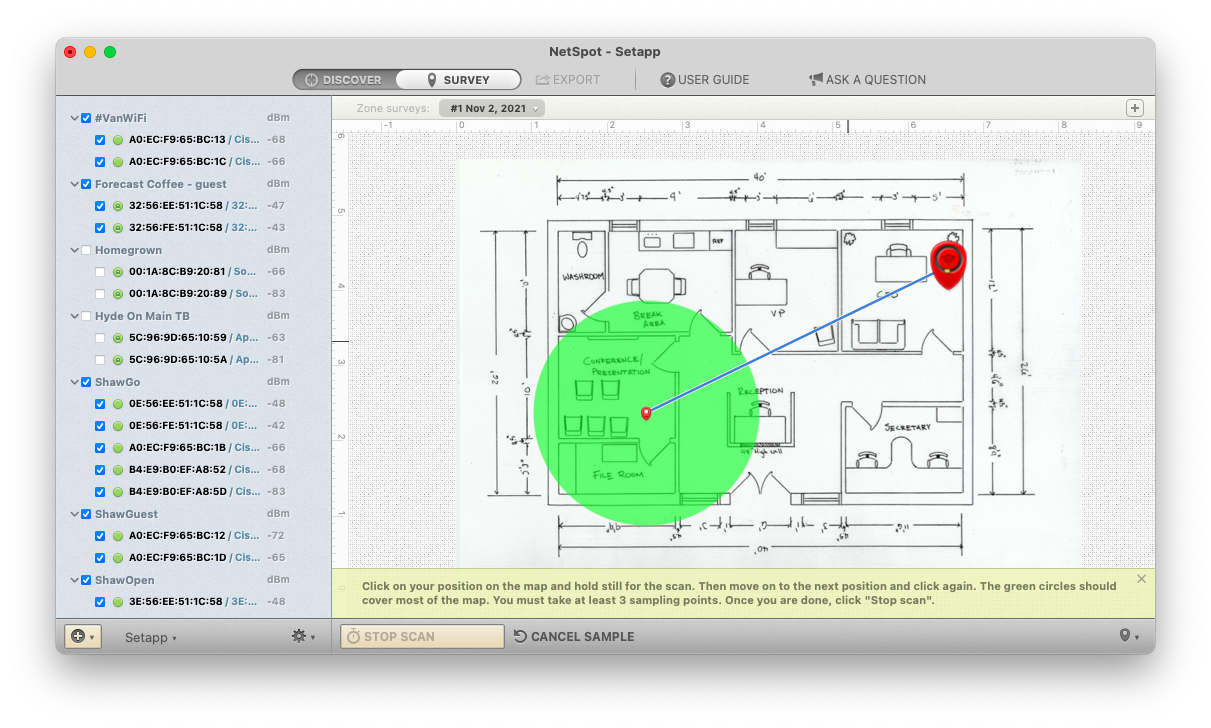 Once you WiFi problems are solved, it's useful to check your firewall settings:
Open System Preferences
Go to Security & Privacy ➙ Firewall
If your firewall is off, you don't have to do anything. If your firewall is on, click the padlock icon and enter your password
Open Firewall Options…
Ensure "Block incoming connections" is not checked and that "Automatically allow built-in software to receive incoming connections" is checked
If simply restarting your Mac didn't help, do so while holding Option + ⌘ + P + R keys (until you hear a chime) to reset your NVRAM, which will also reset various settings, from display resolution to volume.
Speaking of volume, if your AirPlay problems are related to audio, what you might need on your Mac is a proper sound control system like Boom 3D.
Boom 3D is a revolutionary sound enhancer for your Mac. This utility features a precise equalizer for any movie or audio you're about to listen to. What's more, you can boost your Mac's sound to go beyond the limit set by default, so when you find Apple TV not working you can stream a movie from your iPhone via AirPlay for example and feel like you're in a cinema. Boom 3D's interface is super user-friendly and can be easily controlled with a variety of sliders. And if you put on headphones, you can even use its special surround sound feature.
How to fix Apple AirPlay not working on iPhone
Since your iPhone (and iPad) is operating in a much more closed ecosystem, there's not as much you can do there when you find AirPlay unable to connect as on your Mac. But here are some suggestions.
Turn your WiFi off and back on again. You can do it in the Settings app or from the Control Center. Another option is to quickly put your phone in airplane mode and back to normal again. This might help resolve unknown connectivity issues.
Update your iPhone to the latest iOS, which you can do in Settings ➙ General ➙ Software Update. New versions of iOS fix a variety of bugs, which might be connected to the AirPlay not showing up on Mac problem.
Restart your iPhone by pressing the volume and side buttons together until the power-off slider comes up. Drag the slider to turn the phone off, wait a few seconds, and turn it back on.
How to fix Apple AirPlay not working on Apple TV
When you find an AirPlay-compatible smart screen or Apple TV not working at all, you can go through a similar set of actions as you've just done on your Mac and iPhone.
Make sure your Apple TV is turned on and connected to the same WiFi network as your other Apple devices. Try to visit any webpage to check that your internet connection is actually working.
Update your Apple TV software in Settings to ensure all bug fixes are up to date. Restart your Apple TV if needed.
Check that the audio levels on Apple TV and your other connected Apple devices are not set to zero.
The combination of tips above should certainly help with figuring out why is your AirPlay unable to connect. The basic troubleshooting actions here are resetting devices and ensuring your network is operational with the help of WiFi Explorer and NetSpot. If the problem is with audio, Boom 3D should definitely be helpful as well.
Best of all, WiFi Explorer, NetSpot, and Boom 3D are available to you absolutely free for seven days through the trial of Setapp, a platform with more than 220 outstanding Mac and iOS apps and utilities for every task you can imagine, from generating 2FA codes with Step Two to enhancing your email experience with Canary Mail. Try every Setapp app at no cost today and instantly skyrocket your productivity.