The top 5 tools to watch movies with friends online
Once upon a time, the global lockdown no one really expected hit the world. Since then, social distancing has been the talk of the town everywhere from Twitter to Zoom. We think the term itself is all wrong, though. The thing is quarantine doesn't really deprive us of the opportunities to connect — and there are plenty of them.
You can schedule Happy Hours on Zoom, interact with your entire follower base in one Instagram stream, or even chat with your favorite colleague on Discord — just like you used to do in the office. So essentially, global lockdown is not about social distancing. It's about physical distancing. The awesome thing about it is there's a virtual substitute for almost all types of "physical" entertainment, including movie nights. If you've been craving going to a cinema, this is for you.
How to watch movies with friends online
With cinemas shut down, you've probably missed a few long-awaited movie premieres recently. Streaming video together with your loved ones (as many loved ones as you want) can certainly make up for it. Virtual movie nights have been around for some time. Only now they became a legit social entertainment.
So how does it work? Theoretically, a solid screen-sharing feature — like the one Discord has — can allow a large group of people to watch videos together. There's been a whole lot of dedicated tools emerging recently, too. Here are five superb services you can use to watch movies together. Most of them are free or available with the streaming service membership. So you'd better start ordering popcorn right away.
Netflix Party
If you're particularly interested in Tiger King, Space Force, or other Netflix gems, get Netflix Party. It's a Chrome extension that allows Netflix members to sync and watch movies in HD quality, while also interacting with each other in a shared live chat. The service was developed in 2015 by a former Airbnb engineer and is not owned by Netflix. While this often raises the question of data privacy, we recommend checking their Privacy Policy here. It has all the details on how Netflix Party treats your data.
The service works as a free Chrome extension, which means anyone with an active Netflix subscription can use it. Netflix Party is only available on Chrome browsers on desktop computers or laptops — but you can easily take your movies to any large screen with an app like JustStream. There's no limitation on how many people can watch Netflix together: Simply start streaming, generate a sharing link, and send it to anyone who you want to invite.
Here's how to host Netflix Party:
Go to the Chrome Web Store and download Netflix Party Chrome extension
Open Netflix in Chrome
Find the movie you want to stream and hit Play
Click on the red NP button next to the address bar
Check "Only I have control" if you want to control playback. Or, leave it unchecked for everyone to have permission to rewind and fast forward
Hit "Start the party"
Copy the URL and share it with friends.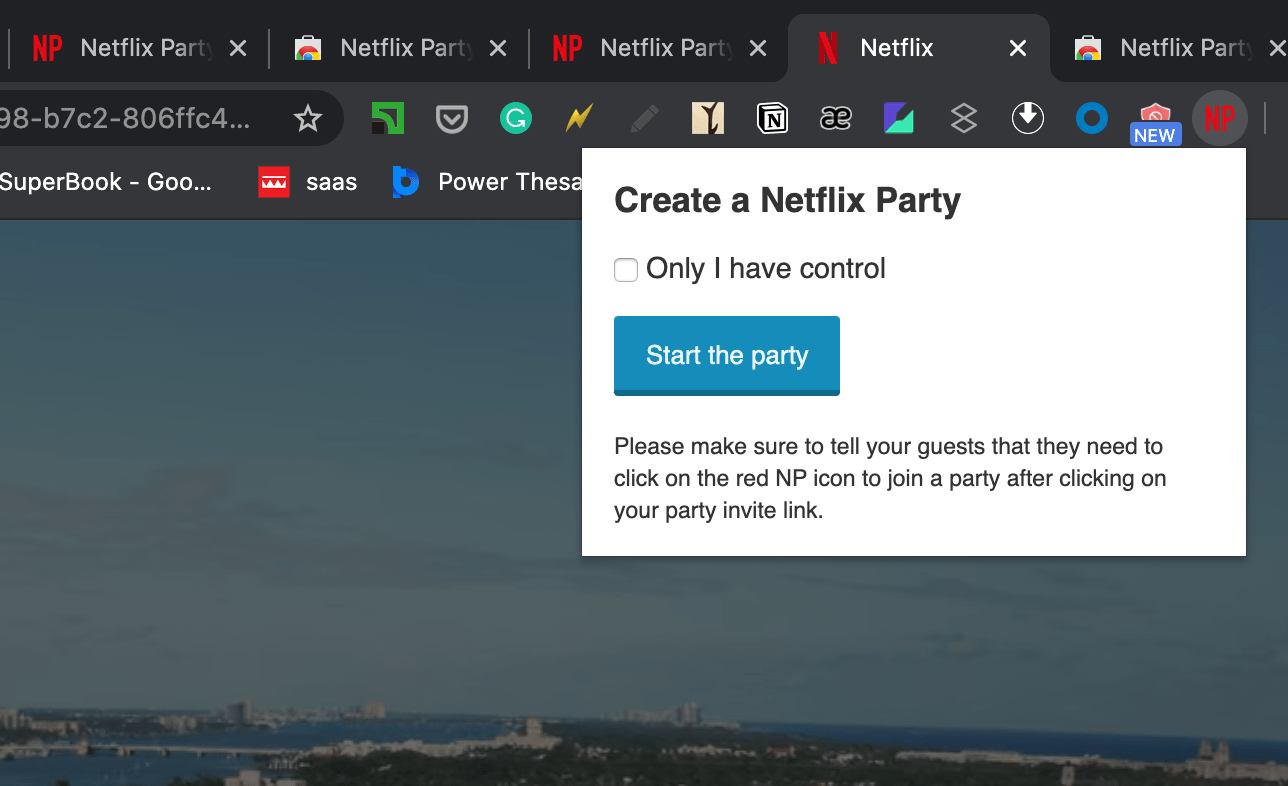 To join Netflix Party with an invite link:
Go to the Chrome Web Store and download Netflix Party extension
Click your invite URL
Click on the red NP button next to the address bar and join the party
Pick your user icon and name if you're joining for the first time
Start watching and interact with your friends in the chat.
Hulu Watch Party
Let's just agree it would be nice if Netflix had a shared chat as a native feature. No extra installations, no worrying about data privacy. While Netflix is more focused on content production at the moment, you can already test built-in Watch Party functionality in Hulu. The mammoth of American on-demand TV, Hulu became the first major subscription service to add Watch Party.
But before you get too excited, let us warn you about a few limitations:
Hulu Watch Party is available exclusively to the owners of an ad-free membership. It costs $11.99/mo versus $5.99/mo one pays for the basic ad-supported plan. This also means everyone you invite to the movie party needs to own an ad-free subscription.
The catalog of Watch Party-supported content is still pretty limited. Hulu claims the feature has been expanded to "thousands" of titles so far, and the choice seems to be great. Suffice to say, Parasite is already available with Watch Party. But you could also wait a little longer for more titles to join.
HBO content is not supported. If you own the ad-free Hulu + HBO plan, you should know HBO titles are not among those you can watch together with friends. It could feel a bit frustrating, especially when there's an awesome HBO movie shining on your Hulu feed.
With all the flaws, Hulu Watch Party is still a pretty good deal for a group of people who already own ad-free plans. Here's how to watch Hulu together:
Open Hulu.com on a supported browser
Look for titles with the Watch Party icon
Once you've picked the movie or TV show, click the Watch Party icon on the Details page
Click Start Watching
Click on the chain icon to copy the sharing link and send it to your friends.

Hulu.com
Anyone with the link and a compatible Hulu plan will be able to join and watch movies online with you. But you have to stick to the seven-person limit, which is bad news for those with a large social circle. If you want a larger Hulu party, read on for some awesome alternatives.
Scener
For the fans of HBO content, Scener is definitely a go. It's a Chrome extension that works similarly to Netflix Party — but with support for both Netflix and HBO. You can get up to 20 people into your virtual movie theater with a free account. Scener gives you control over perfectly synced playback and one extra feature that most watch party services don't have: video chat! This means you can use Scener to watch videos with friends as well as watch your friends as they are watching videos and interact with each other. That's where virtual parties begin feeling very real.
To watch movies together online with Scener:
Download the extension on Chrome Web Store
Once the Scener icon appears in your toolbar, click on it — your virtual movie theater will appear in a new window
You'll be prompted to create a free account and agree to the Privacy Policy
Open HBO or Netflix and click Create private theater
Copy the link to share it with friends and start the party once everyone gets in.
Sadly, while Scener works with HBO Now and HBO Go, it doesn't support the new premium plan HBO Max.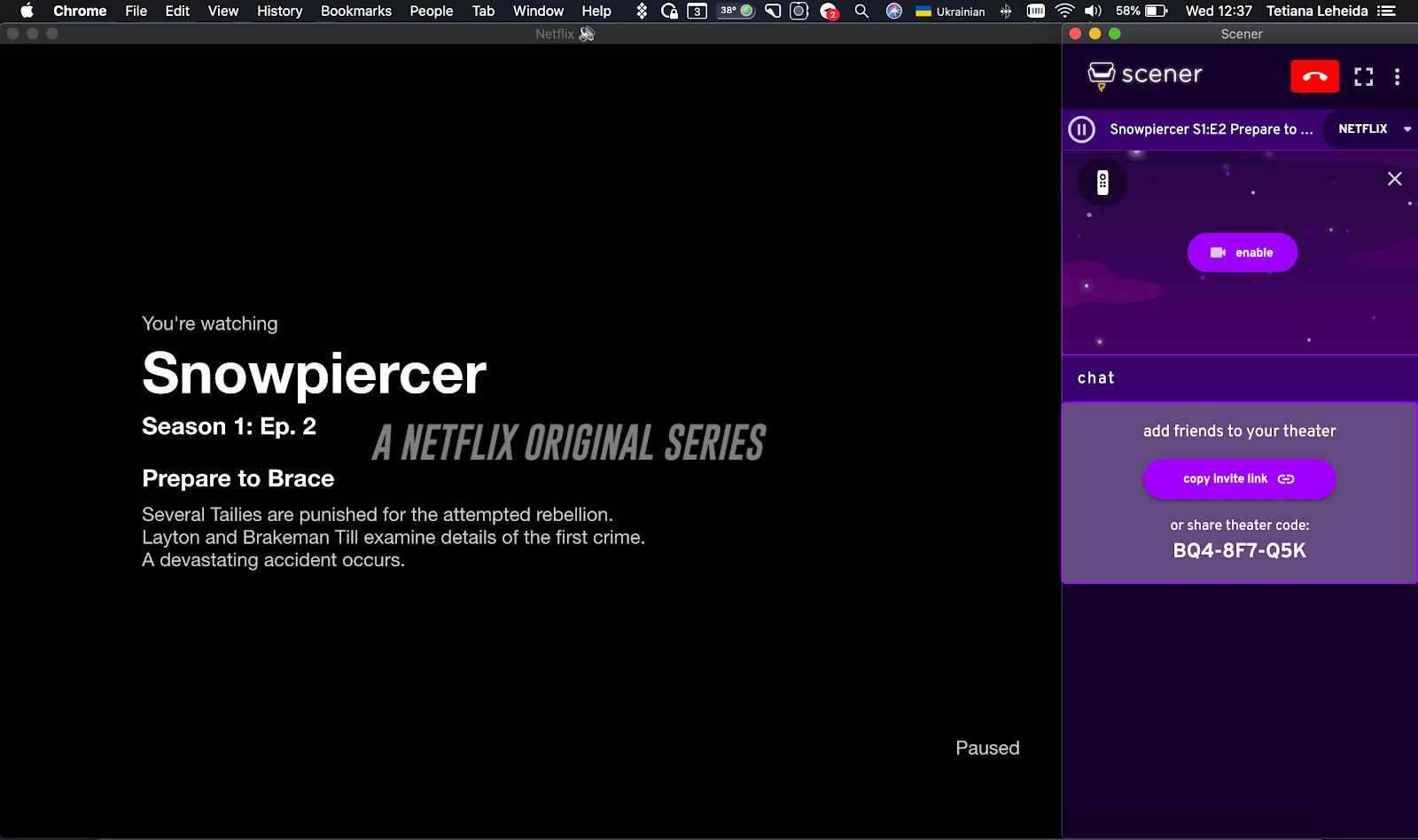 Kast
Another great tool for "watch together" type of entertainment is Kast, formerly known as Rabbit. In contrast to other popular solutions, Kast is not limited to the web experience. It allows you to watch movies together on desktop, your favorite web browser, or even mobile phone. Simply get the Kast app and start streaming from anywhere. It's essentially a screen sharing tool, so you can watch together pretty much anything, from a Twitch stream to Hulu or Amazon Prime TV show.
Here's how to watch movies together online with Kast:
Download Kast on Mac, iPhone/iPad, or access it on the web
Create your personal account and sign in
Click Create Party and enter the details
Access your party from the sidebar and click Invite
Copy the sharing link and send it to your friends — you can also build a custom friends list and reuse it in the future
Start sharing your screen.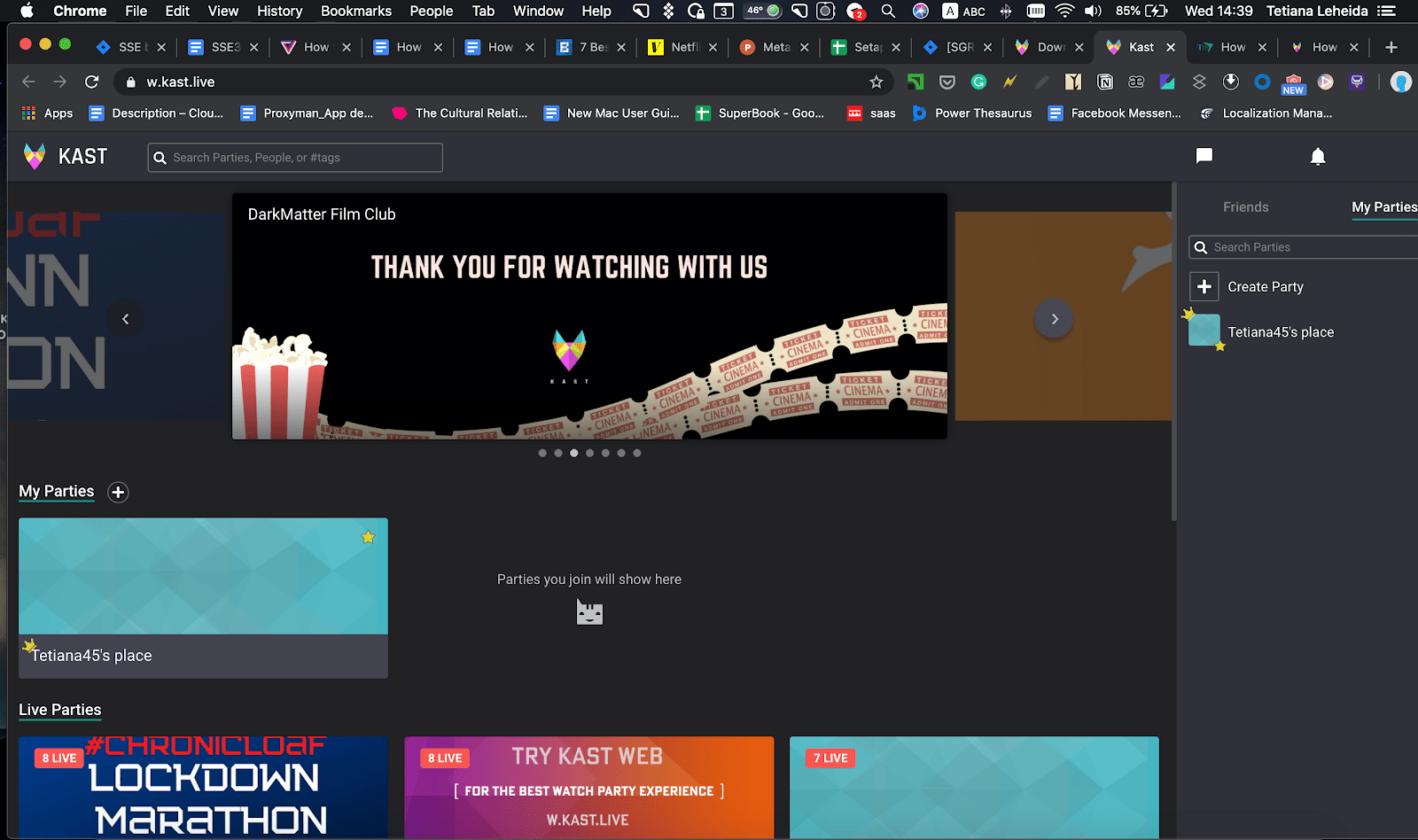 Metastream
This is a great choice for those who want an all-in-one solution. Metastream works with Netflix, Twitch, Hulu, and virtually any other streaming platform you can think of. You can watch YouTube together with a huge number of people, or schedule movie nights and then pick the streaming service that works for everyone. Here's how it works:
Download the Metastream extension for Chrome or Firefox
Click on the icon in your toolbar and you'll be redirected to the Metastream web portal
Type your name and click Get Started > Start Session
Click the Invite button on the left, copy, and share it with friends
Pick the movie on the platform of your choice and start streaming. The shared chat will appear on the left of the screen.
Your invitees will be able to join instantly with the link. As a host, you'll have to let them in by clicking on the green checkmark next to their name. You can also grant your friends permission to control playback: Hit the three dots next to their name and select "Toggle DJ."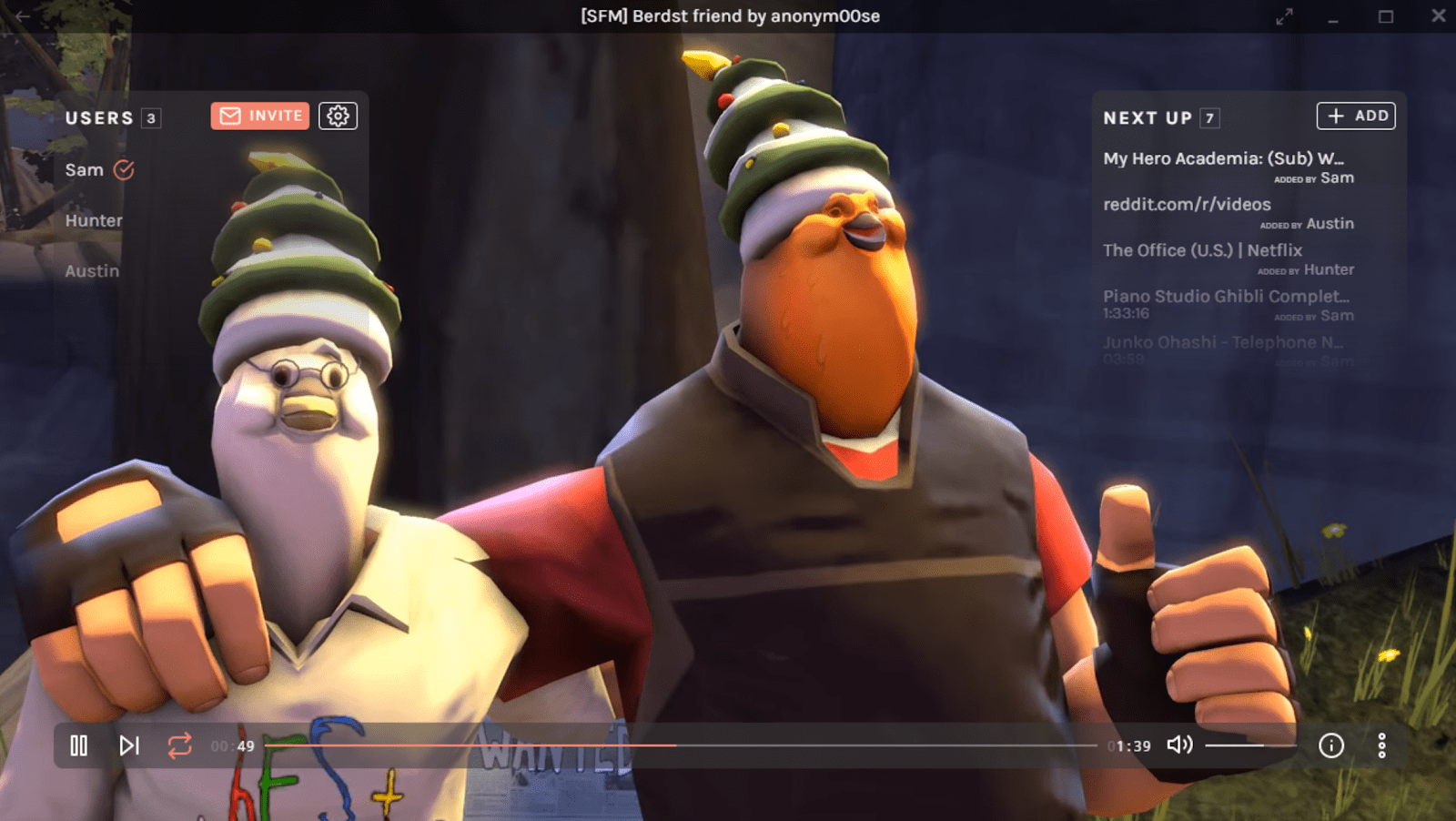 The choice of tools to watch movies online together is huge — but there are some pitfalls. The biggest problem with third-party extensions like Metastream, Netflix Party, and Scener is they are not officially linked to any of the streaming services. All of them explicitly explain in their Privacy Policies they do not abide by the "Do Not Track" regulation, which means you have to be ok with the targeted ads. This doesn't mean the extensions are unsafe, but it definitely means you should check their Privacy Policy before installing anything.
Strategic toolkit for a virtual movie night
Once you've picked the way to watch movies with friends online, it's time to start preparing. Apart from snacks, there are a few other things you should get on your to-do list. Don't mean to sound boring here, but failing to prepare is preparing to fail. Let's make sure your party runs smoothly and you create some awesome memories for you and your friends.
Mirror to a big screen with JustStream
Don't know about you, but my answer to the question "how to watch a movie with someone online?" is "on a big screen." Luckily, there's an app for that. JustStream is a universal video streaming tool for Mac, compatible with virtually all types of TV devices. Unlike Apple's native AirPlay, JustStream allows you to mirror movies from Mac to Chromecast, Apple TV, Smart TV, and more. The only condition is your devices should be connected to the same WiFi network.
Here's how to mirror movies to a big screen with JustStream:
Set up your online party and get ready to stream on Mac
Launch JustStream and check your mirroring options in the menu bar
Click on the arrow next to the AirPlay button and select the TV screen
Hit Start Streaming.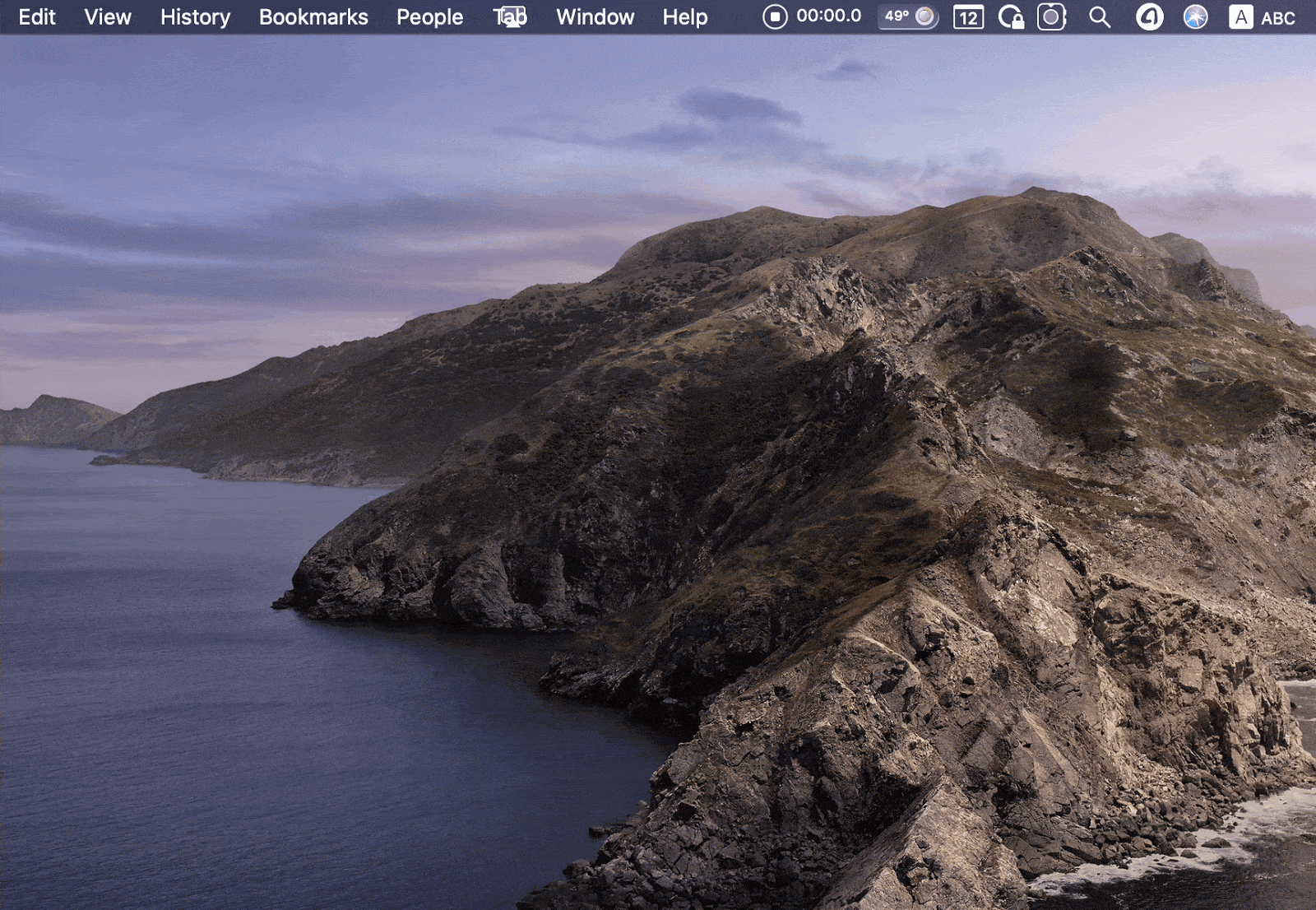 Avoid network trouble with WiFi Explorer
Synced playback is pretty much useless without a perfect network connection. Make sure your party is not going to be disrupted due to poor WiFi with WiFi Explorer. It's a Mac app that works as a smart network analyzer, scanning your network environment and pointing out the best signal in your area. As a result, you get detailed insights on where your movie night should take place location-wise. What's more, WiFi Explorer can help you fix unexpected network issues on the spot. The app has a built-in troubleshoot toolkit that you can use to enhance streaming quality, with no technical skills whatsoever. Sounds like a great first aid kit for your movie party.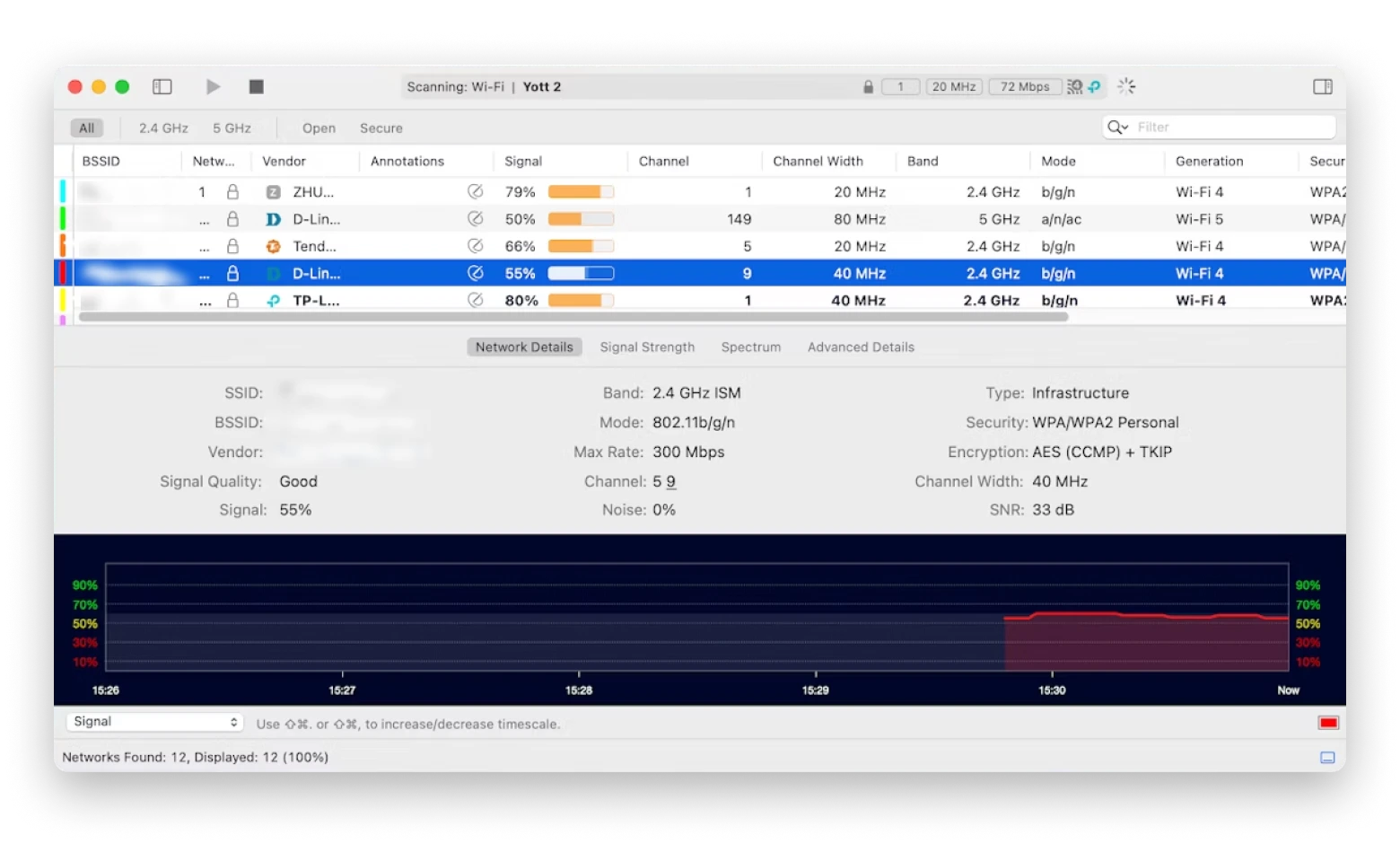 Boom 3D for perfect sounding
If you feel too lonely in front of a big screen, forget TV — your Mac works great for the job, and it feels cozier. The only potential issue is sound limitations. If you're dissatisfied with the volume or the sounding of your movie, get Boom 3D and customize it. The app is the best sound equalizer for Mac, with the premium 3D Surround functionality. It has custom presets for your movies while also letting you tweak the sound environment manually.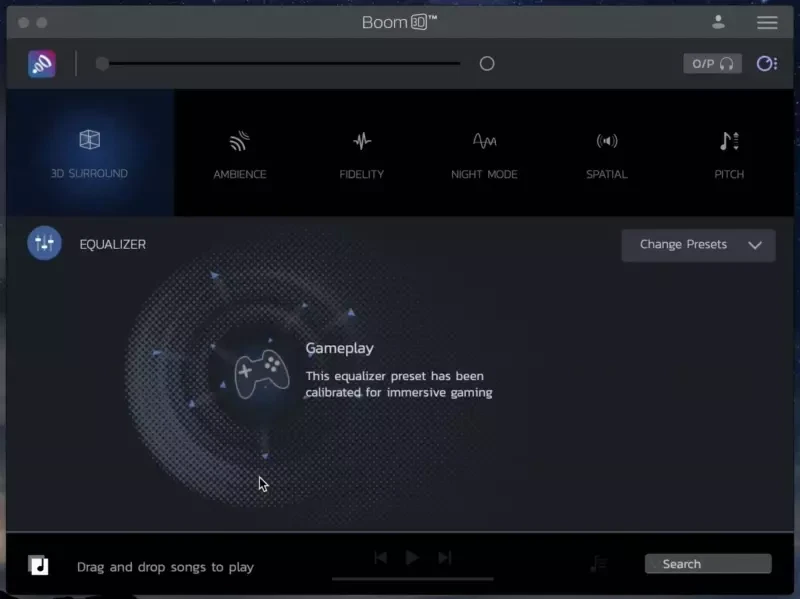 The complete movie night toolkit is available with a Setapp subscription for 7 days free, which means you can try JustStream, Boom 3D, and WiFi Explorer right away, in one installation. In fact, Setapp covers many different toolkits for different jobs on Mac — it's a collection of 180+ curated apps. So the chances are, you'll discover lots of extra goodies that will keep you entertained and productive in these uncertain times. One way or another, try and stay connected with your loved ones — now more than ever.