Signal vs Telegram: How to choose the best WhatsApp alternative
Recently, a Facebook-owned messenger WhatsApp faced harsh backlash over its future privacy policy update that required users to consent to sharing their data with Facebook. The backlash was so harsh that WhatsApp eventually decided to delay the update. Still, many users dash away and move to WhatsApp's (reportedly) more secure alternatives — Signal and Telegram.
What's wrong with WhatsApp?
The main problem with the recent WhatsApp policy update is that if you agree to it, Facebook will theoretically be able to use the data you share with WhatsApp. This includes hardware information, contact details, approximate location, purchase history, payment information, etc.
Facebook has a history of newsfeed manipulation and many other privacy loopholes. No wonder, the WhatsApp news sound very concerning to many people. But what are the actual threats? And are we sure Signal and Telegram are better? Let's find out.
Signal vs Telegram vs WhatsApp: Data collection
If you look at the privacy labels of Signal vs Telegram vs WhatsApp vs Facebook, it's obvious that WhatsApp and Facebook know the most about you. Signal collects zero data that can be linked to your identity — only the phone number to sign you up. Telegram has your contact information and user ID (which is not much compared to most messengers).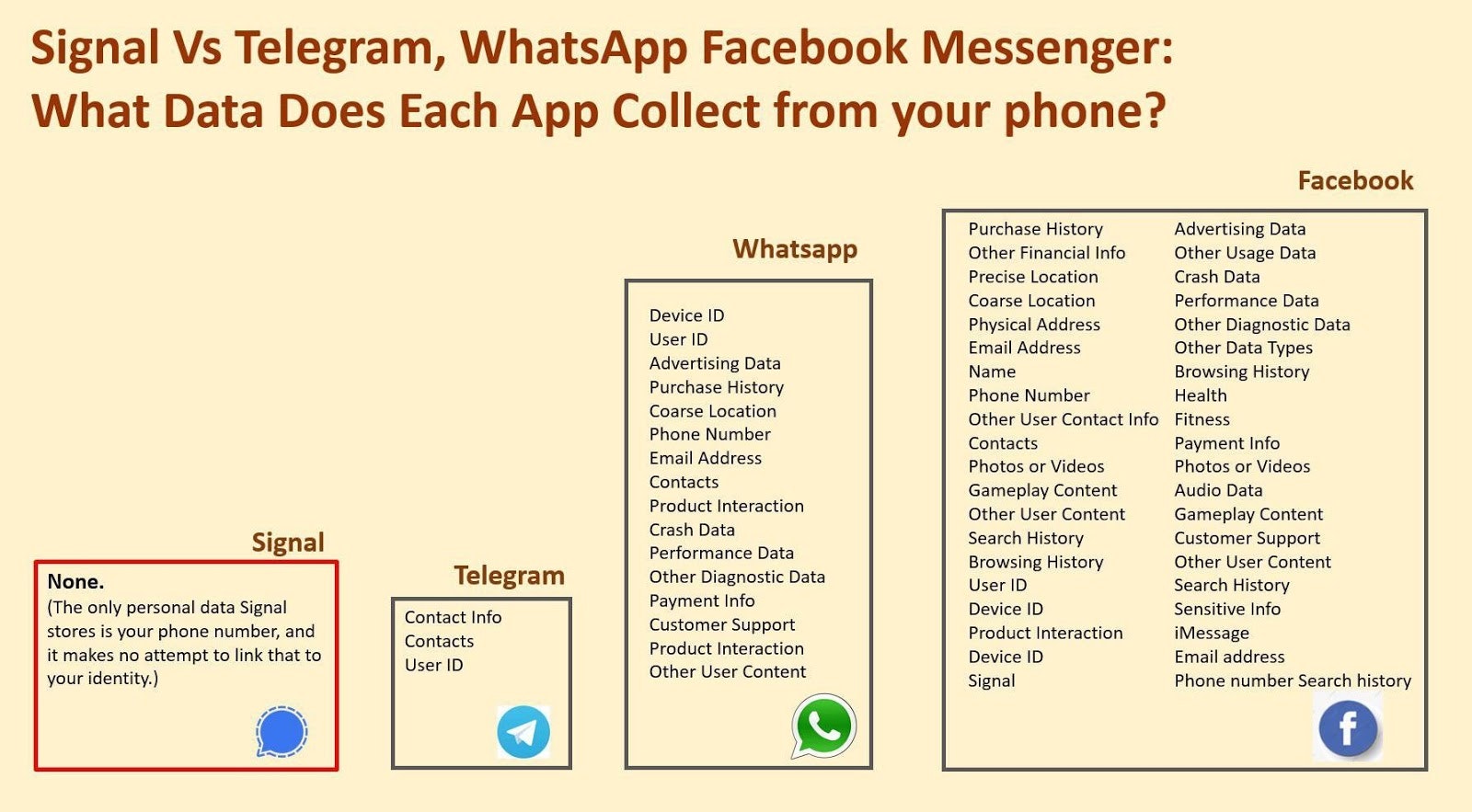 source: Web Share
The data WhatsApp might share with Facebook
WhatsApp and Facebook collect tons of user data — that's not cool. But it doesn't mean they can read your private chats. The truth is WhatsApp's policy update has been widely misinterpreted by numerous users and media. It's been speculated that the new policy might compromise your private communications, which is simply not true. WhatsApp protects your private chats with end-to-end encryption, and the new policy won't change that.
Before you start comparing Signal vs WhatsApp or Telegram vs WhatsApp, maybe you should make sure you have a good reason to abandon WhatsApp. While data sharing is the primary concern, let's see what WhatsApp can and cannot do with the data it collects.
Here's the data WhatsApp might share with Facebook if the new policy will be enforced:
Hardware information (your Device ID, battery level, etc.)

Your approximate location

Login information

Phone number, email address, and contacts

Payment information

Purchase data.
Here's the data WhatsApp won't share with Facebook:
Your messages

Your video/voice calls

Your group chat conversations

Live location you share with a friend.
Signal vs Telegram: What's the best WhatsApp alternative 2023?
Considering the amount of data WhatsApp and Facebook collect, it's understandable many privacy-conscious users want to cut ties. How do we choose the best alternative, though? Truth be told, WhatsApp has been around for a while and it has some great features people have relied upon on a daily basis.
The good news is there are apps that can be just as good. We compared Signal vs Telegram security perks and other features to help you make the right choice. But first, let's make a quick intro.
Signal app
Signal is a private messenger created by a non-profit, Signal Foundation. It has top-tier encryption based on Signal Messaging Protocol. So if you put security first, Signal is a great choice (Elon Musk recommends it). The messenger is pretty new and does lack some bells and whistles like animated emojis. Plus, many people say the UI could be better. But other than that, superb encryption makes it worth a try.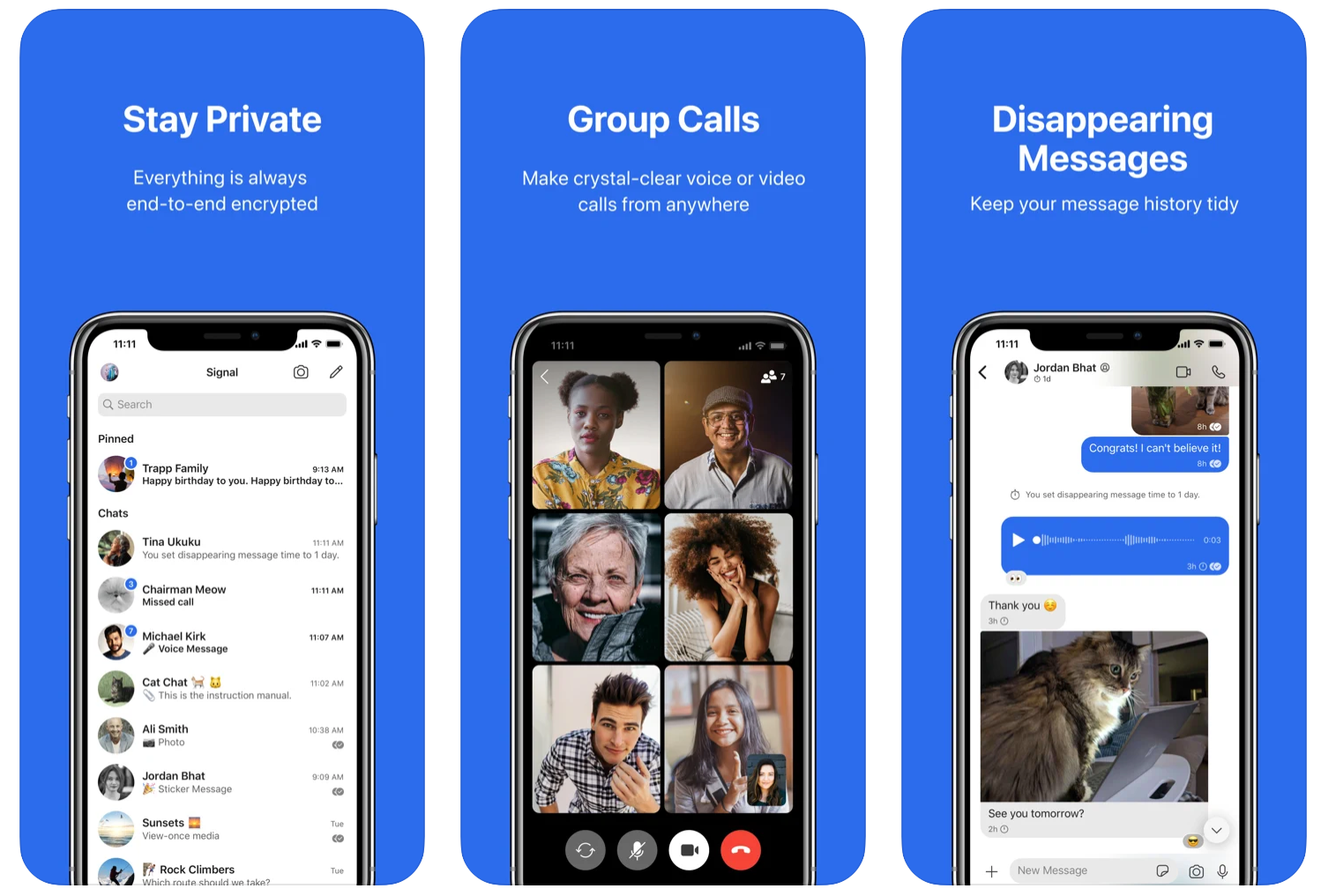 Telegram app
Telegram is WhatsApp's longtime competitor created by Pavel Durov, the founder of a media platform VK, popular in the CIS. People love Telegram because it's fast, easy-to-use, and has cloud-based storage that allows you to share files of any size, limitlessly. Also, Telegram offers secret chats where users can privately exchange self-destructing messages.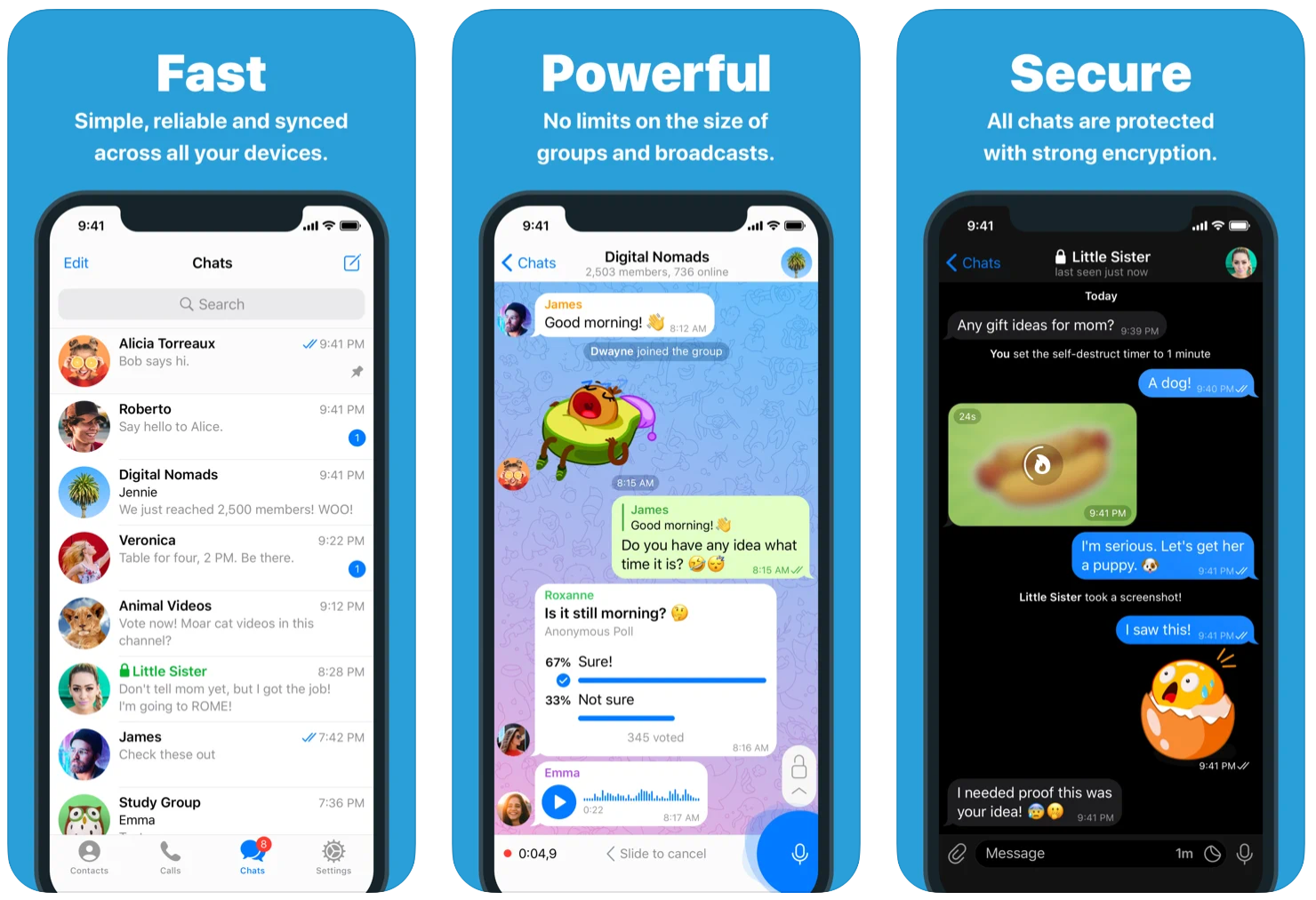 Signal vs Telegram encryption
Well, this is interesting. Both Signal and Telegram are seen as more secure than WhatsApp. But that's not exactly true. From an encryption standpoint, Telegram is the worst. Even though it allows you to communicate in encrypted secret chats, it doesn't offer the same end-to-end encryption as WhatsApp and Signal do by default.
What's end-to-end encryption anyway? It's the highest level of communication security applied to your messages. In other words, end-to-end encrypted data is the data no one except you can read. In messengers, "data" means messages you send and receive.
In fact, WhatsApp was one of the first messengers to provide end-to-end encryption — and it works quite well. So if you use WhatsApp, you can expect that the information you share in chats won't be compromised. But since WhatsApp has other privacy loopholes, we say Signal wins this battle. It doesn't collect any data that can be linked to you and securely encrypts all your messages by default.
Winner: Signal app
Signal vs Telegram features
Now when we've figured out Signal vs Telegram privacy aspects, let's look at the full picture. Messengers are our life companions in the digital world — you probably use them at least a few times a day. So it's important to ensure you get all the features you need.
Since both products see a huge surge in new users, we can expect they will keep improving and adding new stuff. But what about right now? If we look at Signal vs Telegram 2023, it's obvious Telegram offers more niceties. Users get unlimited multimedia sharing, group chats with up to 200,000 people, and other things like sticker packs, GIFs, and in-chat bots.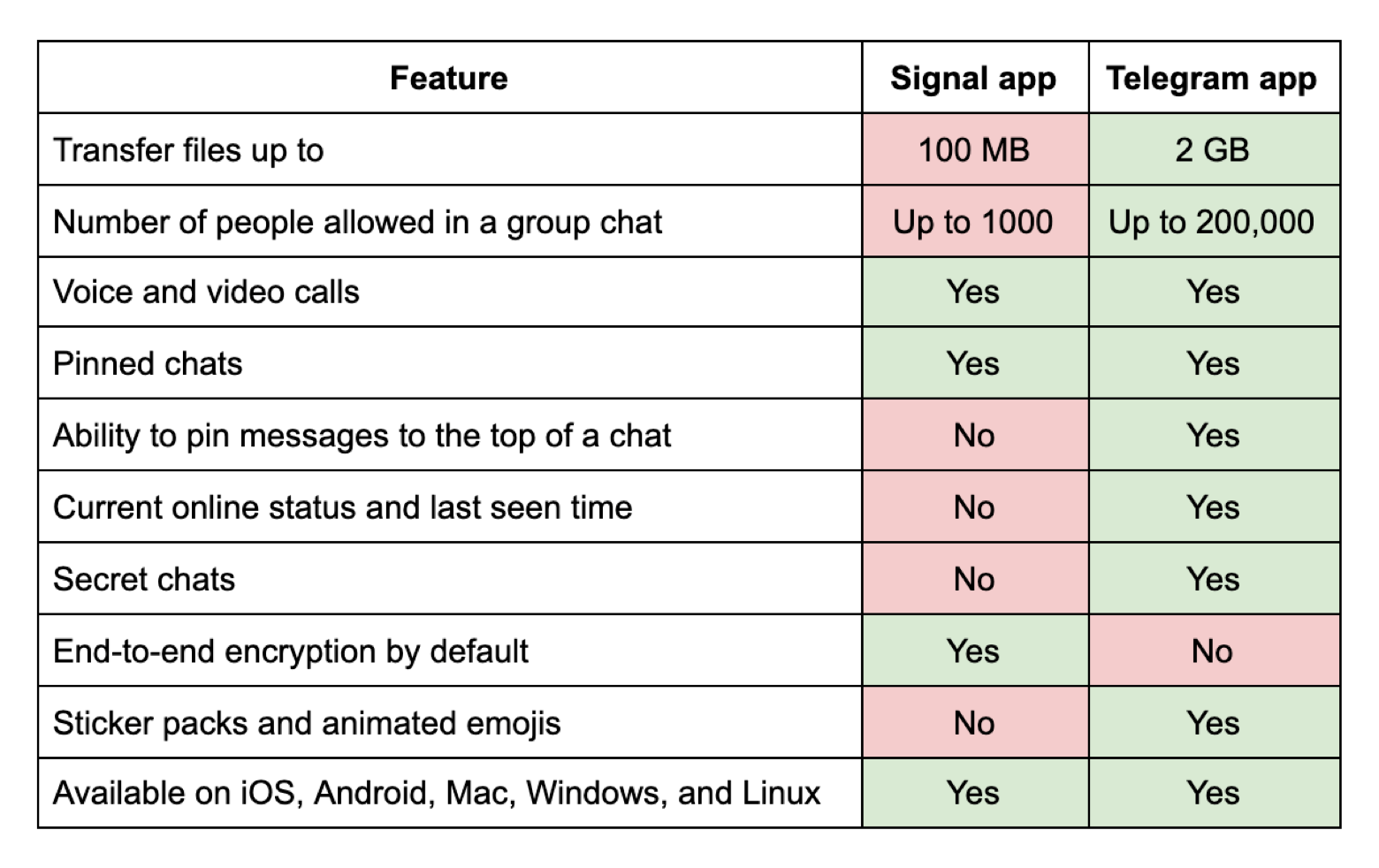 Winner: Telegram
Are there other good alternatives to WhatsApp app?
While Signal and Telegram are the top choices, there are some lesser-known privacy messengers that are growing in popularity. Some people move to a subscription-based social media & messenger called MeWe, which is an alternative to both Facebook and WhatsApp. There's also a new CloutHub app and a few more. You can find a detailed comparison of the best WhatsApp alternatives in 2021 here.
IM+ all-in-one messenger will help you streamline messaging on Mac. Whatever chat app you choose, if you plan to use the desktop version of that app, make sure you have IM+. This utility will simplify your workflow and help save lots of time on a daily basis. What it does is bringing all the messengers, video conferencing tools, and email clients into one app. So instead of switching across 5+ apps every day, you can work in just one.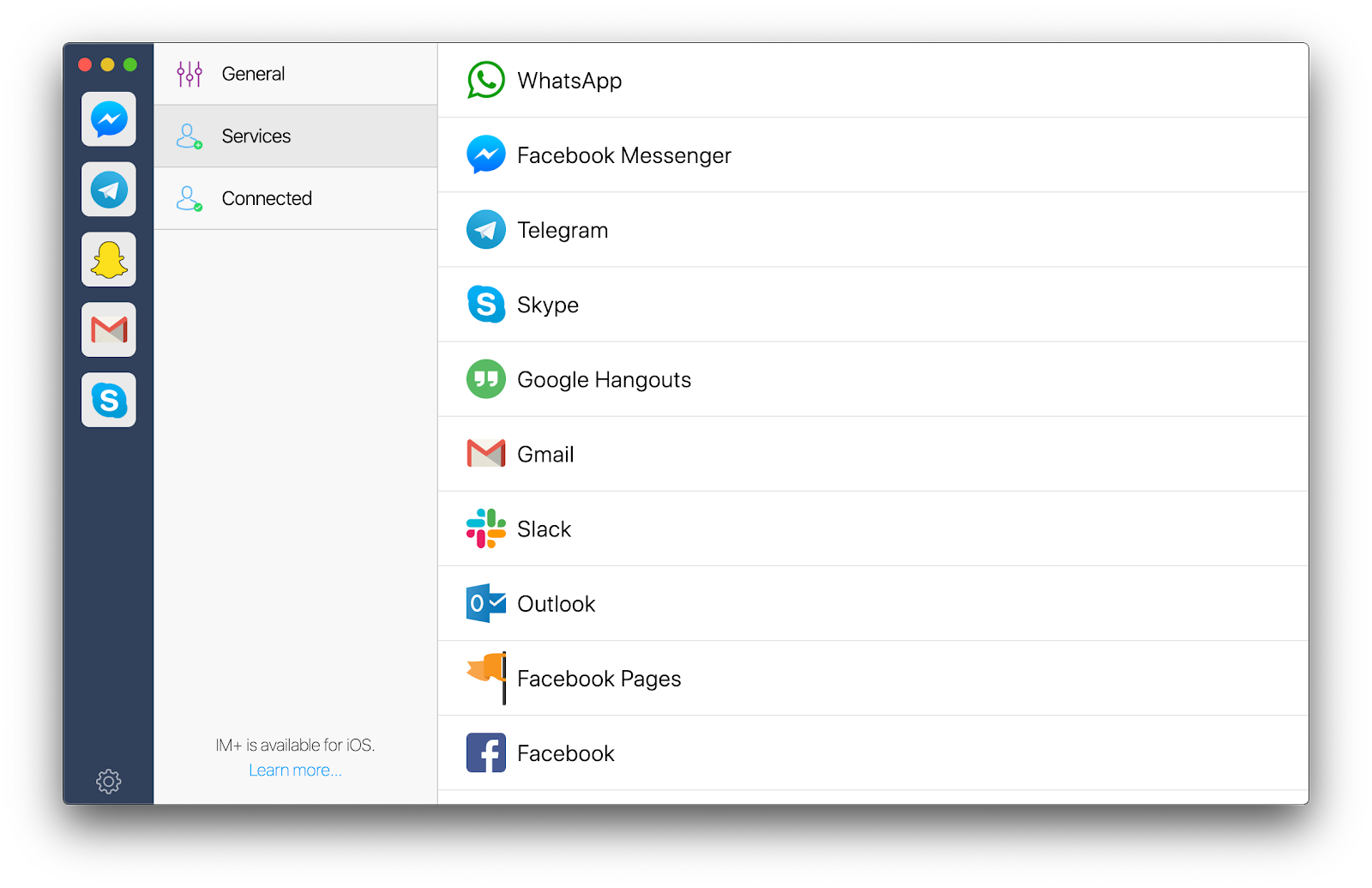 WhatsApp on Mac with improved security
If you've compared Signal vs Telegram vs WhatsApp and still think WhatsApp is the best, we get you. WhatsApp is easy-to-use and has solid end-to-end encryption, despite all the privacy concerns. Still, some extra caution won't hurt. If you use WhatsApp on Mac, let us give you one quick tip on how to make your experience more secure.
ChatMate for WhatsApp is a full-featured desktop app for WhatsApp with an extra privacy layer. It has a privacy mode that locks WhatsApp after a certain period of time. You cal unlock access to your chats by entering a password at any time. This is a great security feature, especially if you tend to leave your Mac unattended sometimes.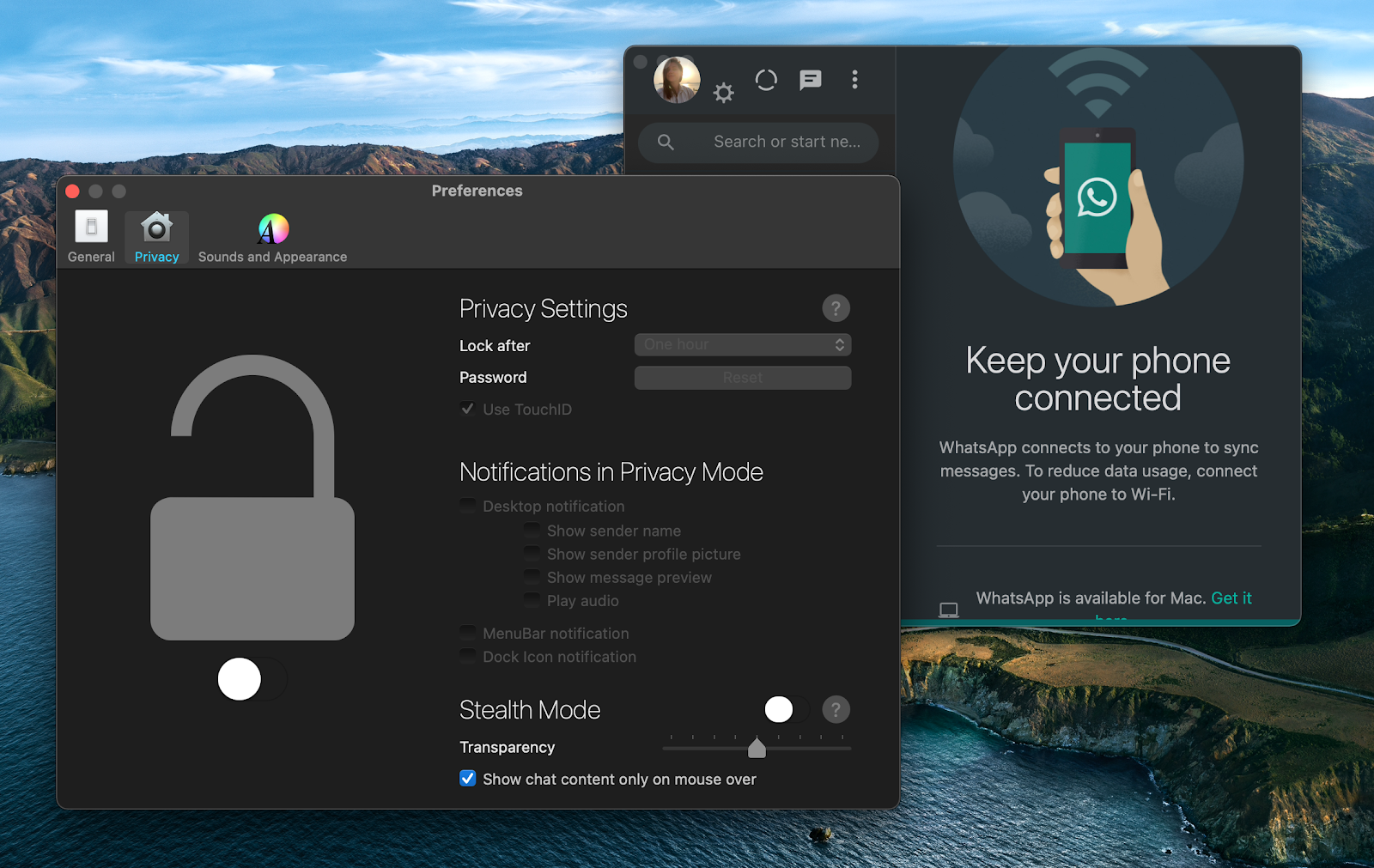 Conclusion
Summing up, we don't have a winner. Both Signal and Telegram can do a good job as WhatsApp alternatives. In terms of Signal vs Telegram privacy, Signal clearly beats Telegram with its end-to-end encryption. When it comes to other features, Telegram has more to offer. So if you create a comparison table "Signal vs Telegram 2023" and write down popular features, Telegram will tick almost all the boxes.
The choice is yours — you can either go with a better encryption (Signal) or niceties like unlimited file sharing, sticker packs, etc. (Telegram). Also, remember that WhatsApp won't read your chats and any of your private communications even if you consent to the new policy. However, it will provide Facebook with more data it collects about you.
That's about it. Both Signal and Telegram are free and can be used across virtually all devices. IM+ and ChatMate for WhatsApp are free to try for 7 days as part of Setapp, a productivity suite of Mac and iOS apps.