Best features of macOS 14 Sonoma
macOS Sonoma best features:
Apple unveiled macOS 14 Sonoma, the next version of its desktop operating system, at WWDC 2023. Key innovations include support for desktop widgets, a new Game Mode, video screensavers, and more. It's currently for developers only, but a public beta is scheduled to be available in July 2023. The stable release is expected in the fall.
In this article, we'll explore the key Sonoma features, discuss their benefits, and find out what Macs are supported.
What is Apple Sonoma?
macOS Sonoma is the most recent version of macOS, the Mac operating system. The update is named after Sonoma, a region in Northern California's "Wine Country" noted for its wineries.
What's new in macOS Sonoma?
Apple showed off a preview of this year's Mac operating system, macOS Sonoma, which has a lot of cool new features, like improvements to Safari, new screensavers, better video calls, and enhanced gaming.
So let's take a look at what's new in macOS Sonoma. Here are the 10 best things about Apple's recent operating system:
Desktop widgets
Safari enhancements
Web apps
New screensavers
Improved video conferencing
Search filters in Messages
Passwords and passkeys sharing
PDF fillability
Accessibility features
Something exciting for gamers.
Desktop widgets
Now you can place widgets anywhere on your desktop. They can also change color based on your background image and become less visible when used with other apps. What's more, widgets from other Apple devices, such as an iPhone, can be used on your Mac as long as both devices are on the same Wi-Fi network.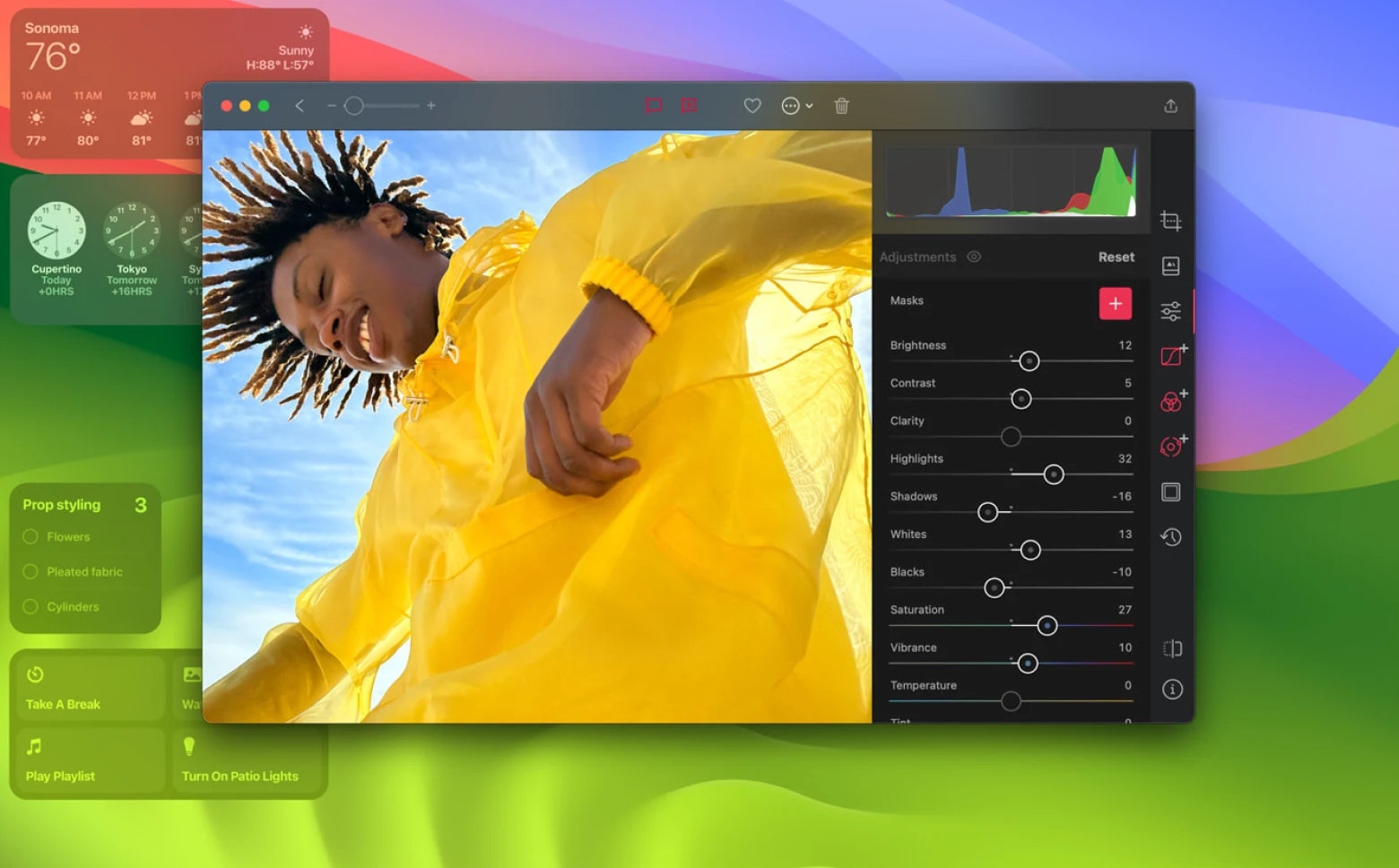 Tip: If you're looking to maximize the potential of desktop widgets in macOS Sonoma, you should try WidgetWall. The app gives you advanced customization options, including more control over how widgets appear, are positioned, and behave.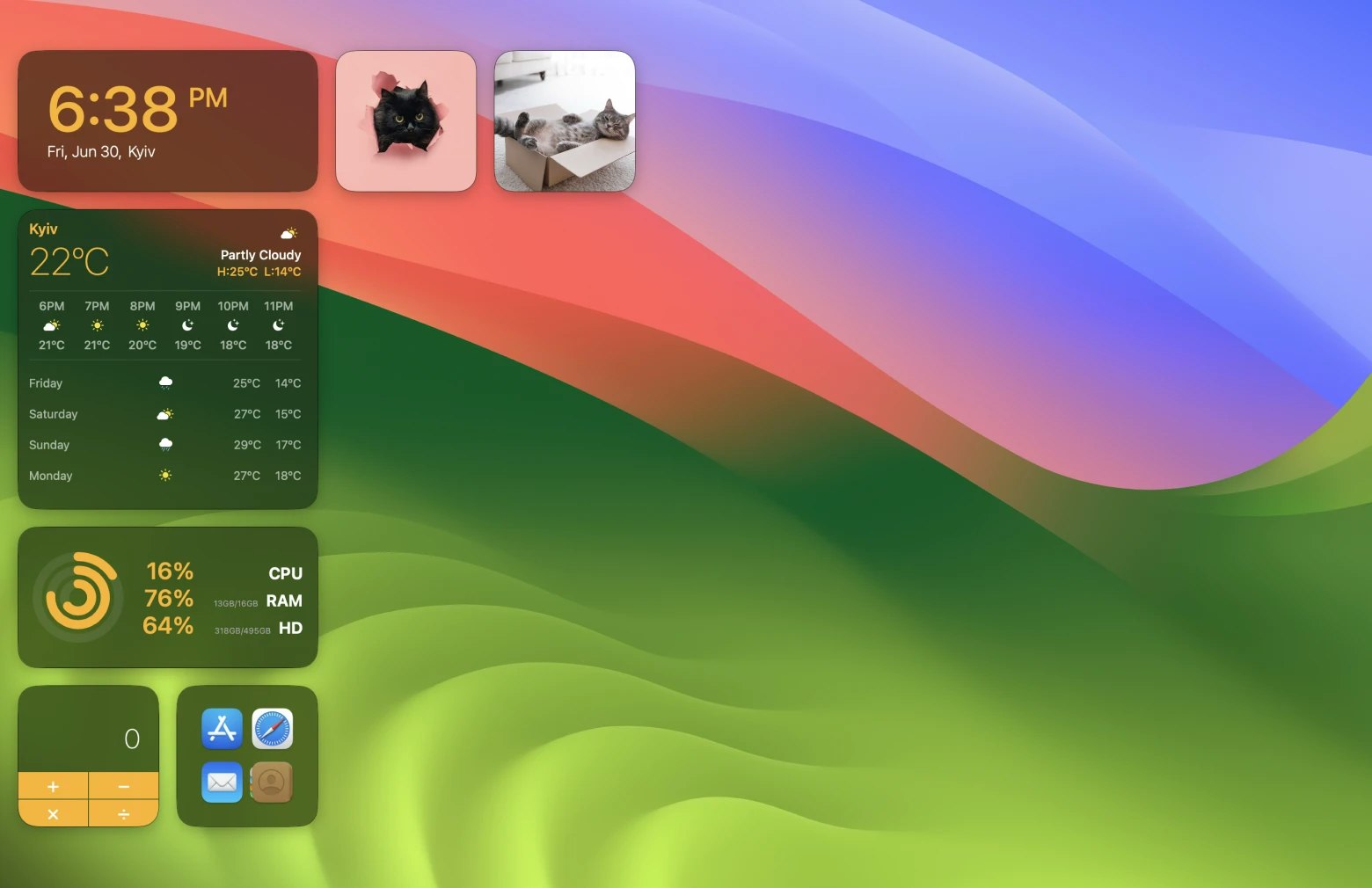 WidgetWall also provides an extensive library of specialized widgets beyond those available in Sonoma, expanding your options.
Safari enhancements
Profiles have been added to the Safari browser, allowing you to create sets of tabs for specific tasks. If you use your Mac for both work and fun, having all of your bookmarks, favorites, and apps mixed up can be confusing. Safari profiles let you make different profiles for different things you do. You can have one for work and one for fun, or if you're a freelancer, you can have one for each client.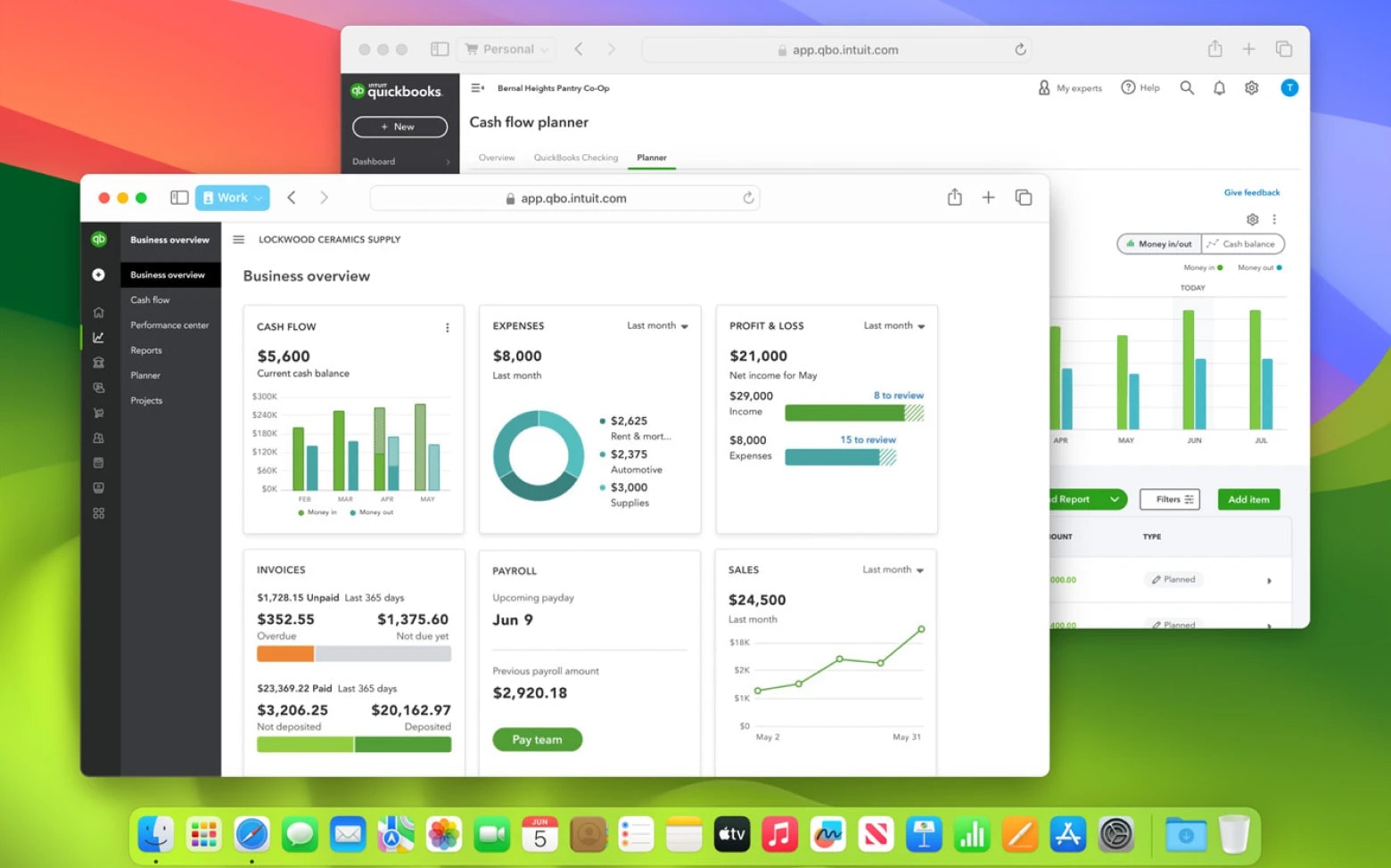 The search experience will be even better. It'll become more responsive, more relevant, and easier to read.
Safari's Private Browsing mode is more private than ever, locking behind Touch ID when you step away from the computer. It also has enhanced tracking and fingerprinting protections to keep websites from monitoring your browsing activity across the web.
Tip: To further enhance your online privacy and security, consider using a reliable VPN solution like ClearVPN. The app encrypts your internet connection, protecting your data from unauthorized access and allowing you to browse the web anonymously. By masking your IP address and bypassing geographic restrictions, ClearVPN ensures a more secure and unrestricted browsing experience. The app is available on Setapp along with dozens of other awesome apps for a Mac, iPhone, and iPad – all in one subscription.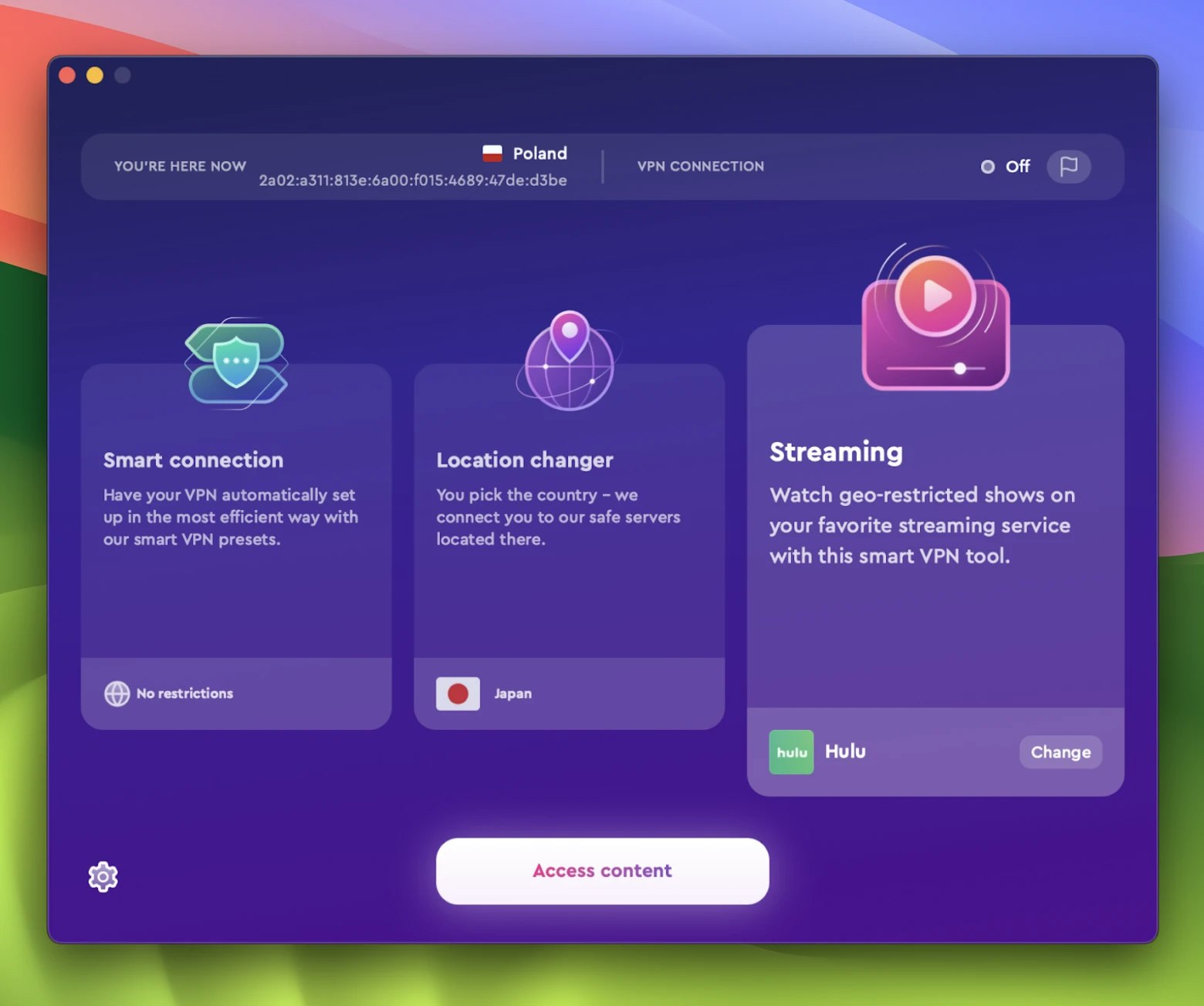 Web apps
Support for web apps is among other new macOS features. Instead of typing a URL in the browser each time or searching for a site among multiple open tabs, users can install the web app directly on their desktop or in the Dock and quickly access it by clicking the icon. It can be any web service: email, social networking, music and video streaming services, and more. Web apps run in a full window just like regular apps, supporting all the features of the site they access.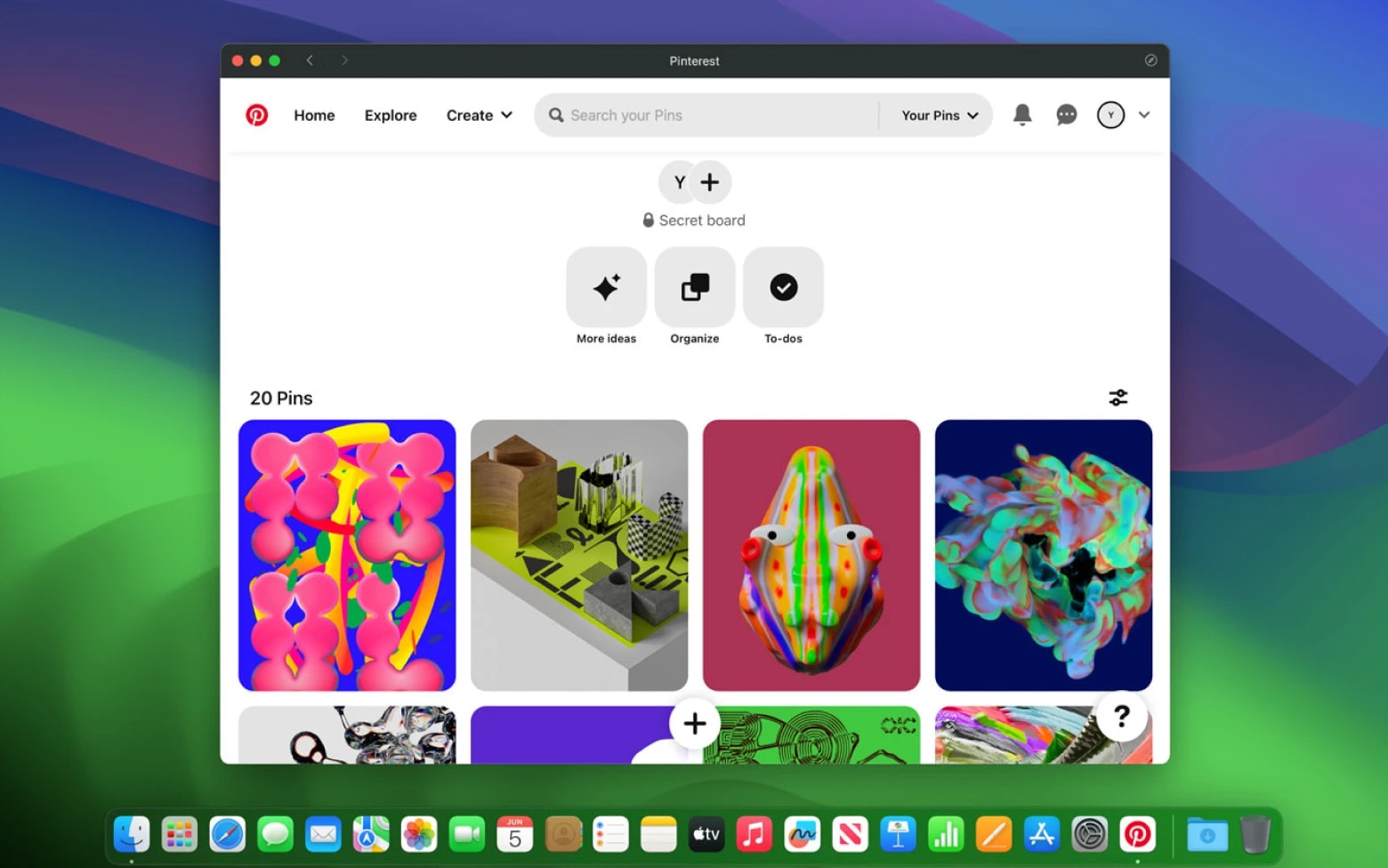 New screensavers
If you enjoy the preloaded screensavers on your Mac, you'll be delighted to know that macOS Sonoma introduces new options featuring captivating slow-motion videos showcasing beautiful locations worldwide, such as Arizona, California, and Hong Kong. These visually stunning screensavers add an extra touch of elegance to your Mac's display. Additionally, with the login prompt now moved to the bottom of the screen, it will no longer obstruct the image, allowing you to fully appreciate the beauty of the screensaver.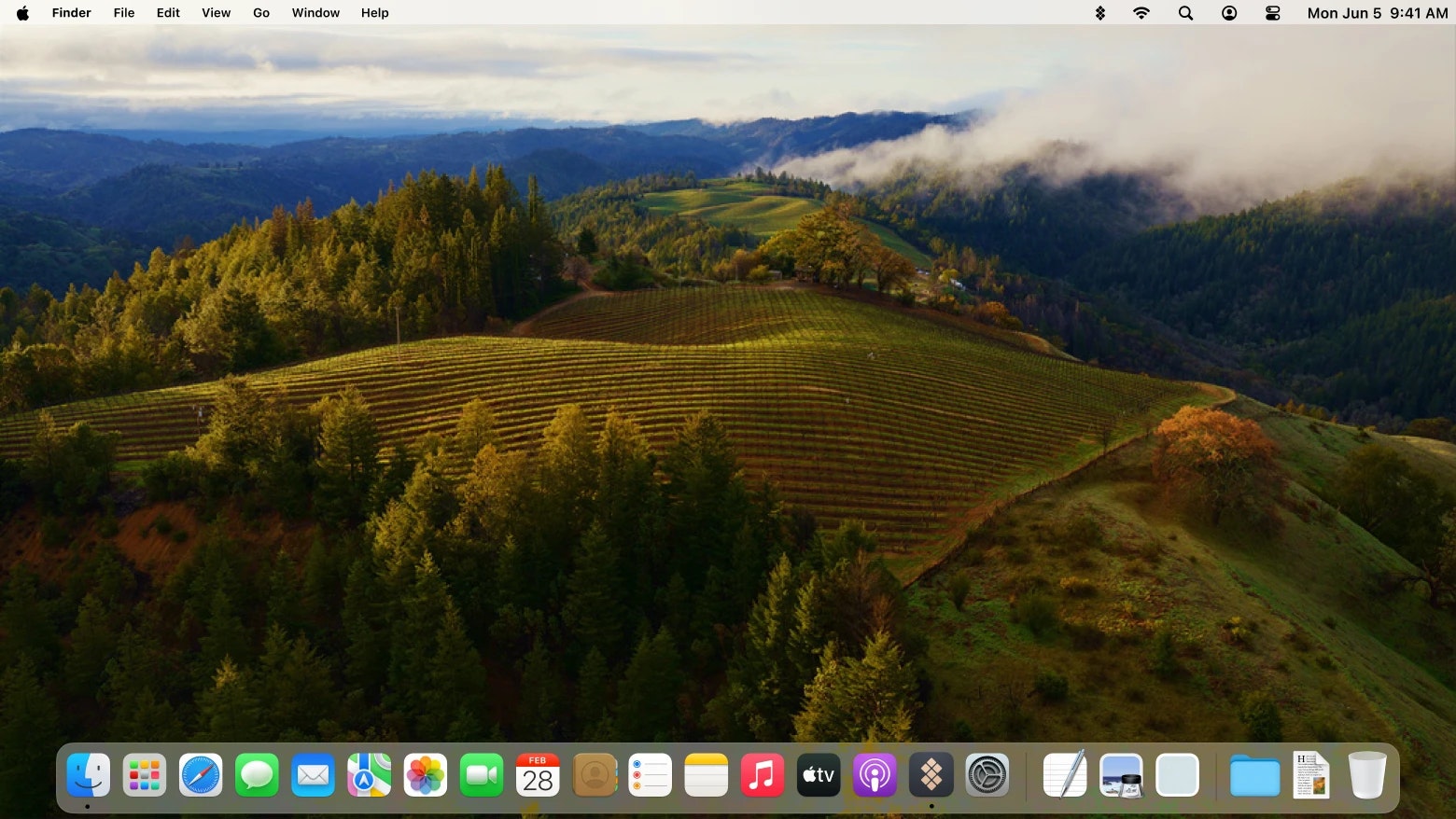 Tip: Get access to a vast collection of high-quality, slow-motion videos capturing stunning locations from around the world with Magic Window Air. The app has a collection that is more diverse compared to the limited selection of Sonoma screensavers. In addition, Magic Window Air allows for customization, letting users curate their own playlist of favorite videos or set specific videos to play at specific times for greater control and personalization. The app also offers additional features, such as ambient audio and multi-display support, to enhance the overall viewing experience.
Improved video conferencing
macOS Sonoma offers improved video conferencing capabilities. These include:
Presenter Overlay, a new video effect that allows the user to appear on top of the content they are sharing with others.
Reactions allow users to share how they feel by seamlessly adding balloons, confetti, hearts, and more to the video. Reactions can be triggered with a hand gesture.
The improved Screen Sharing picker makes it easy to share apps during video calls. Just click the green button in the upper-left corner of an app to share it during the call.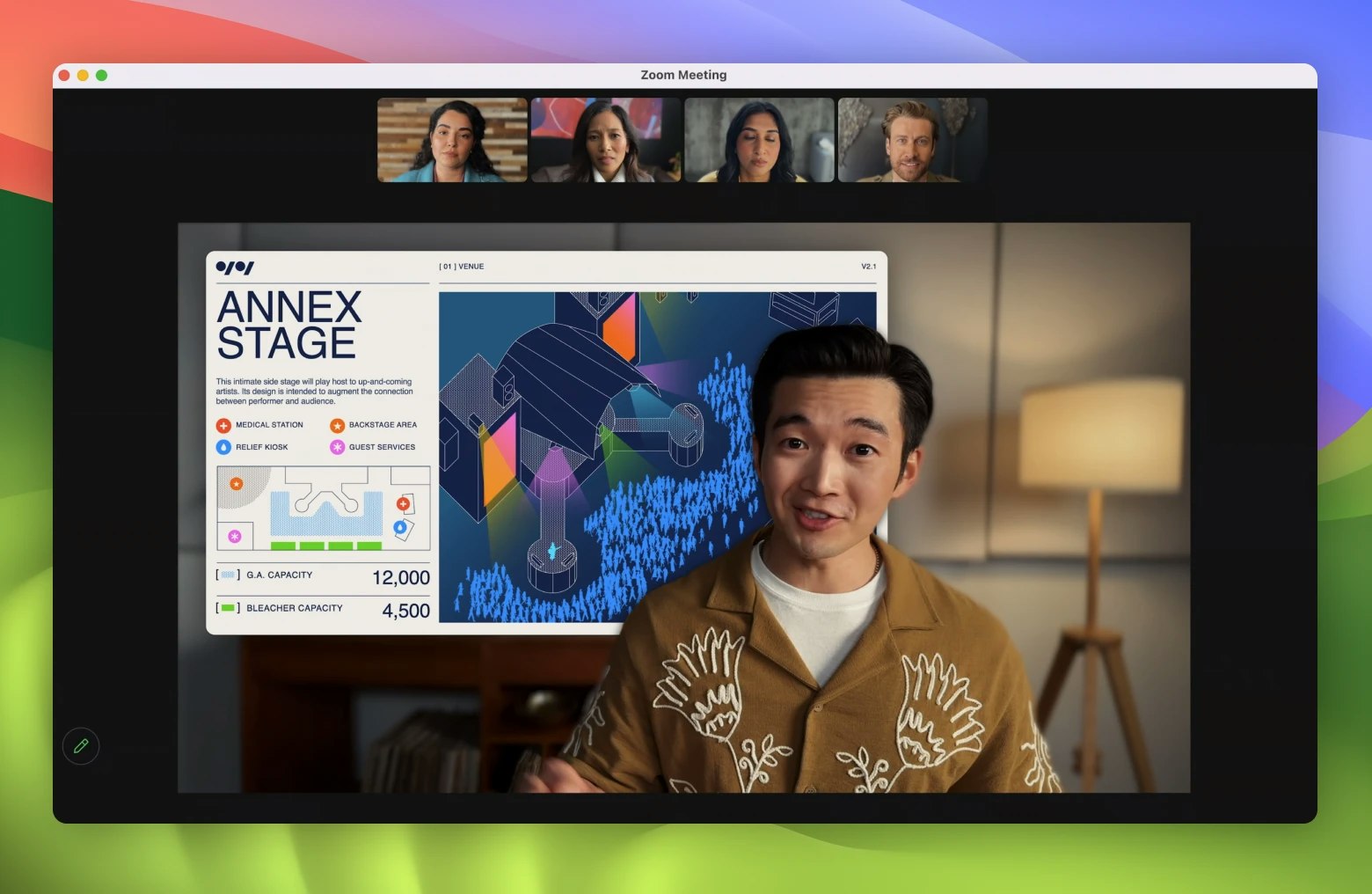 Search filters in Messages
Searching in Messages has always been a frustrating experience, but search options in macOS Sonoma make this a lot easier. Users can filter based on names, files, locations, and more. They can also combine more than one filter to find specific conversations more quickly.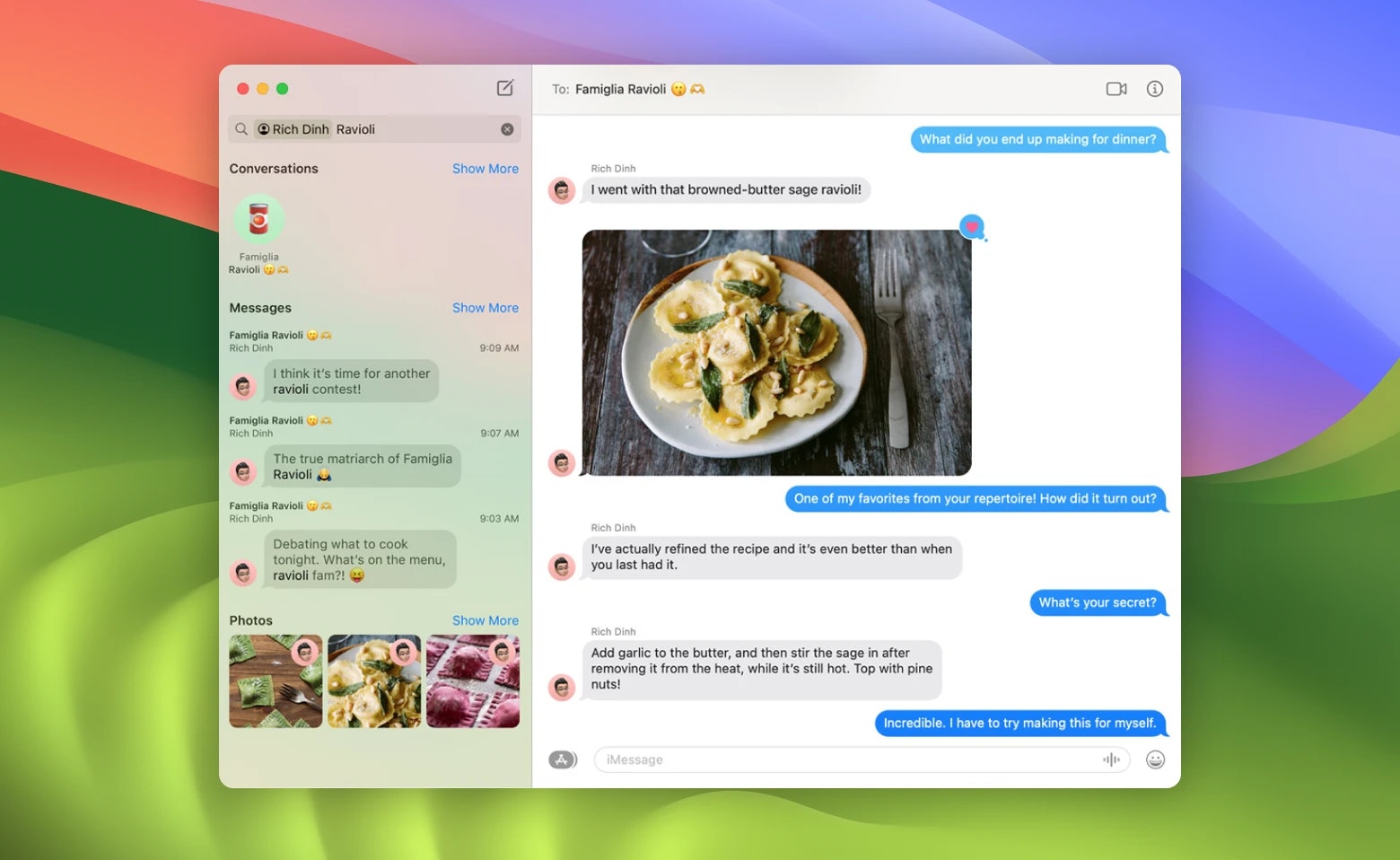 Passwords and passkeys sharing
Passwords are usually a personal matter, but there might be some accounts that you want to share with friends, family, or colleagues. Now, you can share your credentials with others using a new password and passkey sharing feature. Here is how it works. You create a group and choose which passwords you want to share. When the passwords are updated, others in the group receive the updates via their iCloud Keychain. At any time, you can remove passwords or users from the group.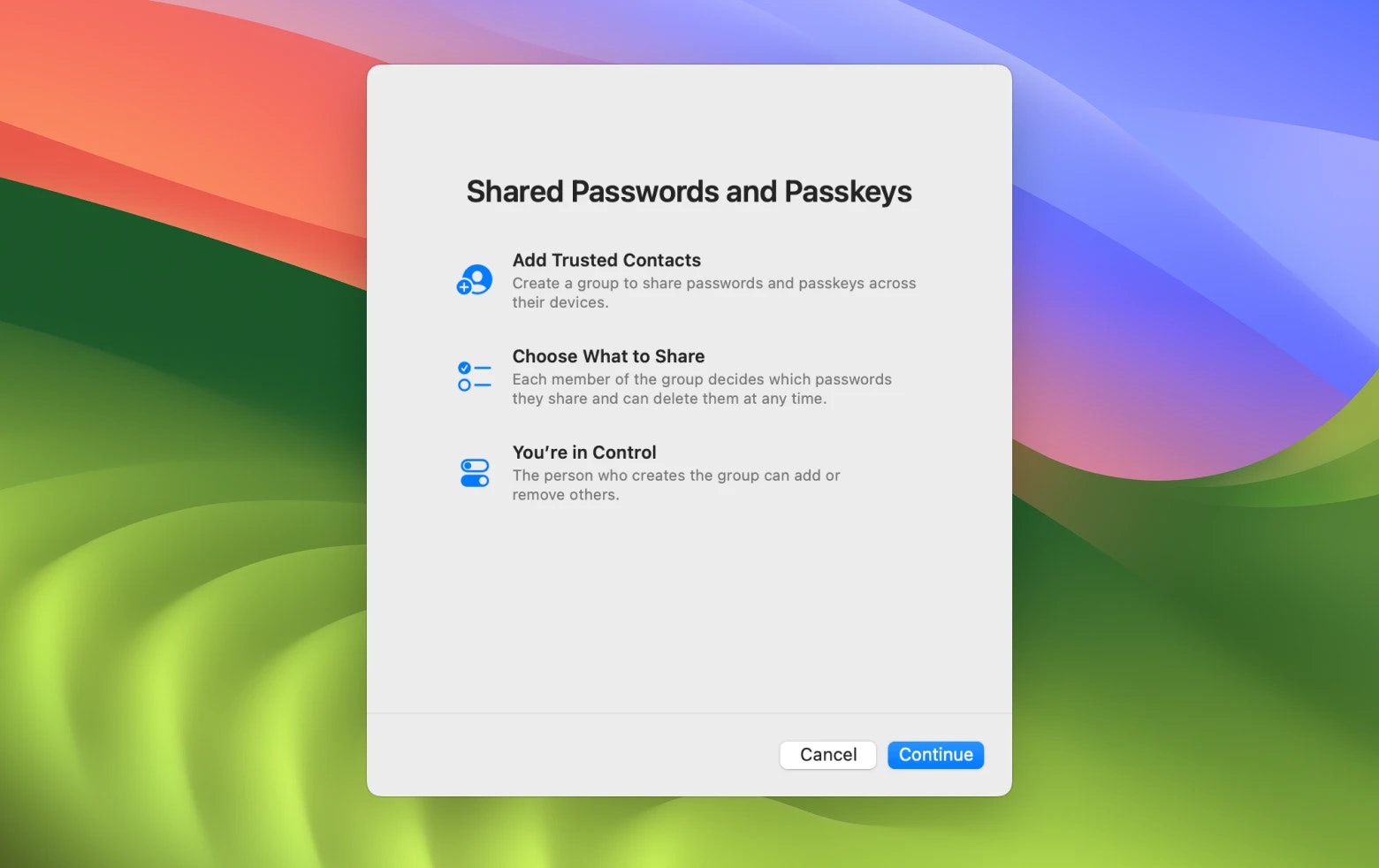 PDF fillability
macOS Sonoma makes it easier to get things done by letting PDFs recognize text areas and make them fillable. You can edit and sign PDF forms, which saves time and effort. But if you want a PDF editor with even more advanced tools, try Nitro PDF Pro. It has an easy-to-use interface and simplifies your PDF workflow with features like fast PDF creation, editing, merging, and conversion. It also enables collaboration through commenting, secure document sharing, and form-filling capabilities.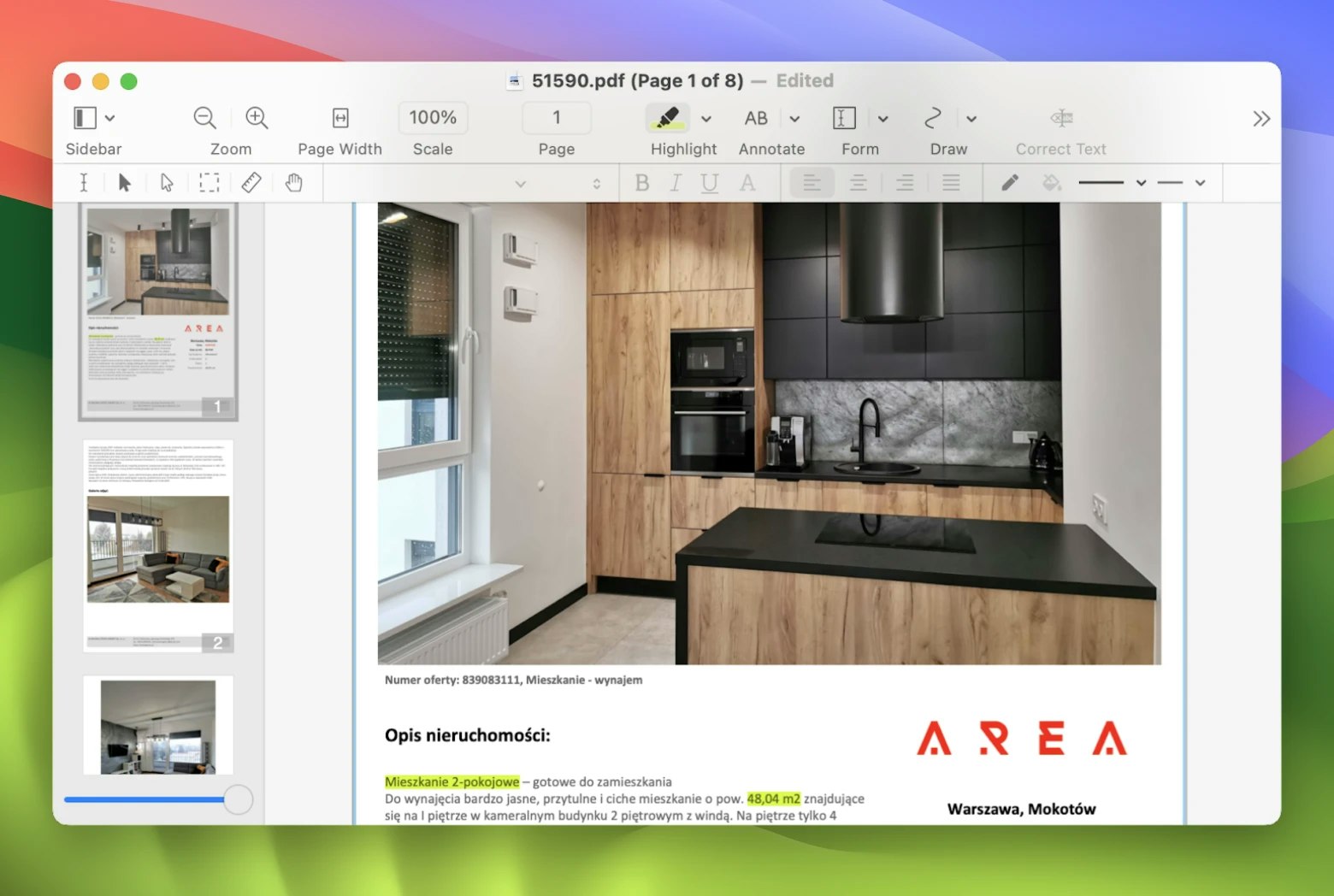 Accessibility features
macOS Sonoma will include a wide range of new accessibility features for visual, cognitive, and speech accessibility. Personal Voice helps people with speech loss create a voice that sounds like them. Then use it with Live Speech to communicate in FaceTime calls and in-person conversations. Made for iPhone hearing devices can now pair directly with Mac, making it easier for users with hearing loss to take calls and have conversations. Other updates include a simpler way to adjust text size for easier reading, an option to automatically pause animated images while browsing the web, and a new experience for learning to use Voice Control.
Something exciting for gamers
In addition to all of these macOS Sonoma best features, Apple is bringing some exciting new games from popular developers across multiple genres. The company has announced the arrival of Fort Solis, Stray, DEATH STRANDING DIRECTOR'S CUT, SnowRunner, World of Warcraft: Dragonflight, HUMANKIND, The Medium, Resident Evil Village: Winter's Expansion, No Man's Sky, Firmament, Disney Dreamlight Valley, Dragonheir: Silent Gods, ELEX II, and Layers of Fear.
With all of these new games, it only makes sense that Apple introduces a new Game Mode on the Mac. This mode automatically allocates the most CPU and GPU resources to the game you're playing. It also reduces the resources allocated to other background apps.
On top of that, it dramatically improves latency with wireless accessories, so you can feel less frustrated when playing with a PS5 controller or shouting at your teammates through your AirPods.
Also read: "How to play Xbox games on a Mac."
Can your Mac run macOS Sonoma?
Before upgrading to macOS Sonoma, it's essential to ensure that your Mac meets the system requirements. The following is a list of compatible devices for macOS Sonoma:
iMac (2019 or later)
iMac Pro (2017)
MacBook Air (2018 or later)
MacBook Pro (2018 or later)
Mac Mini (2018 or later)
Mac Pro (2019 or later)
Mac Studio (all models).
Learn how to update to macOS Sonoma.
macOS Sonoma review summary
Named after the famous Californian wine-making region, macOS Sonoma offers a handful of key upgrades over macOS 13 Ventura and earlier versions. With Sonoma, you can add and interact with widgets on your desktop, treat websites like standalone apps, create multi-user profiles in Safari, enjoy a completely redesigned presenter view in video calls, add reaction effects to your meetings with intuitive gestures, enjoy brand-new games, and much more.
We hope you're excited about the new macOS 14 Sonoma update and are looking forward to getting your hands on it soon. And if the new macOS version isn't what you expected, you can always upgrade it with Setapp, an app subscription for your Mac, iPhone, and iPad that covers 240+ tools to tackle almost any task. If you've ever wondered why Apple hasn't added this or that feature to macOS yet, check out Setapp – chances are it'll have your needs covered. All Setapp apps are free for seven days! Then you pay only $9.99/mo.