Make the most out of widgets for Mac
Widgets are a super cool feature that Mac users have at their fingertips. They're essentially mini-apps that sit on your desktop and give you quick access to frequently used information or tools. Think of MacBook widgets as little helpers that can save you time and simplify your digital life. They let you easily check the weather, track your to-do list, monitor your system performance, or even control your music playback without opening separate apps.
In this article, you'll learn the basics of widgets on Mac, how to access and manage them, and some of the most useful widgets available for different purposes. So let's dive in and discover the world of Mac widgets together!
How to view Mac widgets
Widgets in macOS Big Sur and later are part of the Notification Center, which no longer has a separate icon in the menu bar. To access the Notification Center and widgets, click the time in the upper-right corner of the screen.
The Notification Center is divided into two sections. The top half shows all your notifications with a button to expand the Notification Center if you have more, and the bottom half shows your widgets.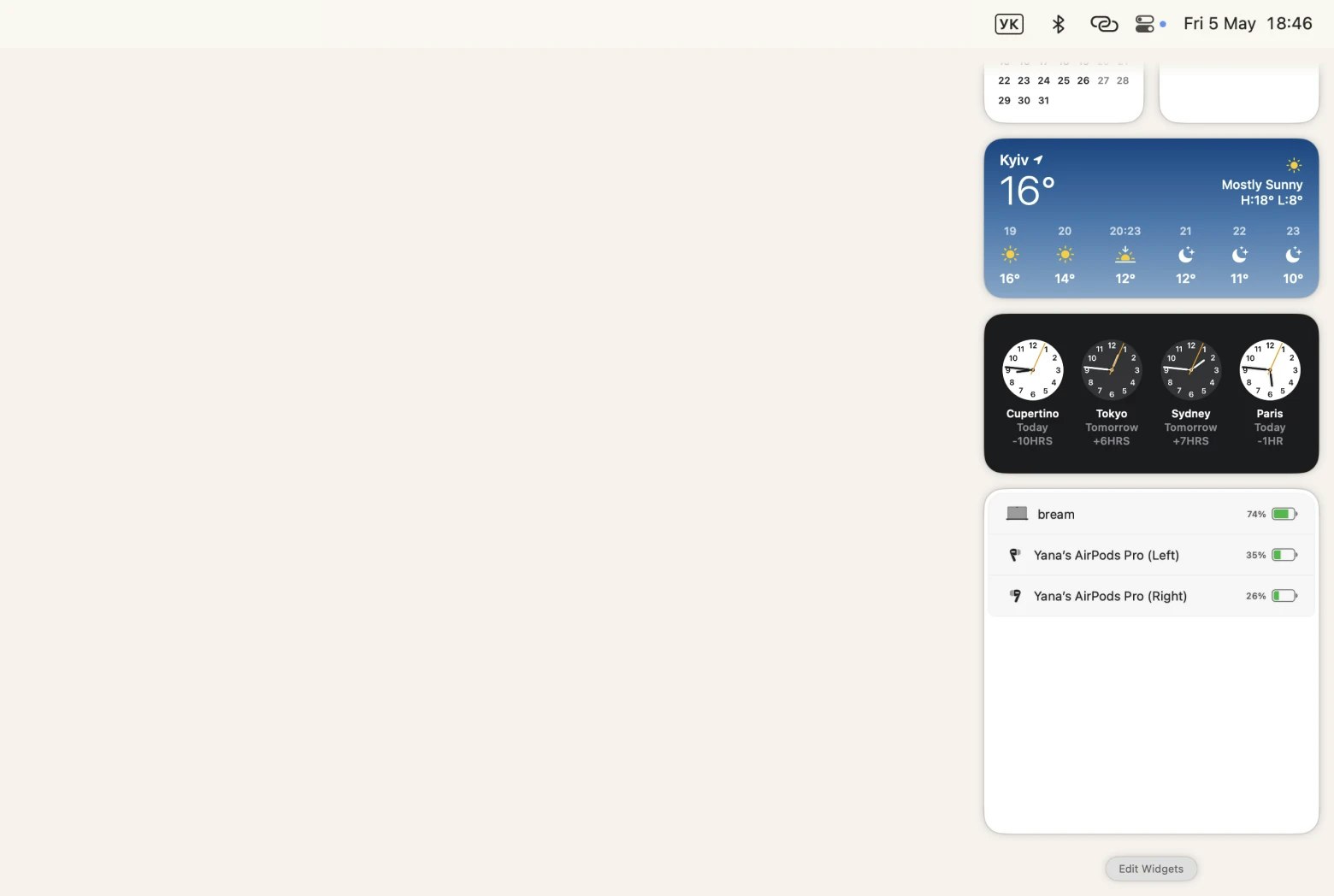 How to add widgets
By default, macOS adds a few widgets to the Notification Center. For example, Calendar, Weather, and more. You can add extra widgets for Mac to the Notification Center from Apple and other third-party apps.
Adding widgets to Notification Center is a simple process. Here are the steps you need to take:
Click the date and time in the upper-right corner of your screen
Scroll down to the bottom of the Notification Center to find the Edit Widgets button. Click it
You'll see a list of widgets that are currently available. Some widgets come in different sizes; click on a size to preview the information it displays.
To add a widget, simply click the "+" icon next to it
If you want to change the information that a widget displays, move the pointer over a widget. If the Edit Widget option appears below its name (indicating that you can change the info), click the widget to rotate it. Then change options or click the highlighted information to change it.
This is how you add new widgets to Mac. It's important to note that not all widgets can be added to the Notification Center, and some may require additional permissions to work properly. Also, the customization options for each widget may vary by developer.
WidgetWall offers a variety of benefits, including a wide selection of widgets, the ability to customize each widget, and the convenience of having all your widgets in one place. What we like the most is that WidgetWall can even turn websites into widgets that can be displayed on your Mac. Just imagine you can access your favorite sites without having to open a browser!
So if you want to try this app on your Mac, follow the steps below:
Install and open WidgetWall

Click the "+" icon to add a widget

Choose the widget you want to add and click on it. You can also use the search bar to find specific widgets

Easily customize the widget by clicking the gear icon. You can customize settings and preferences for each widget.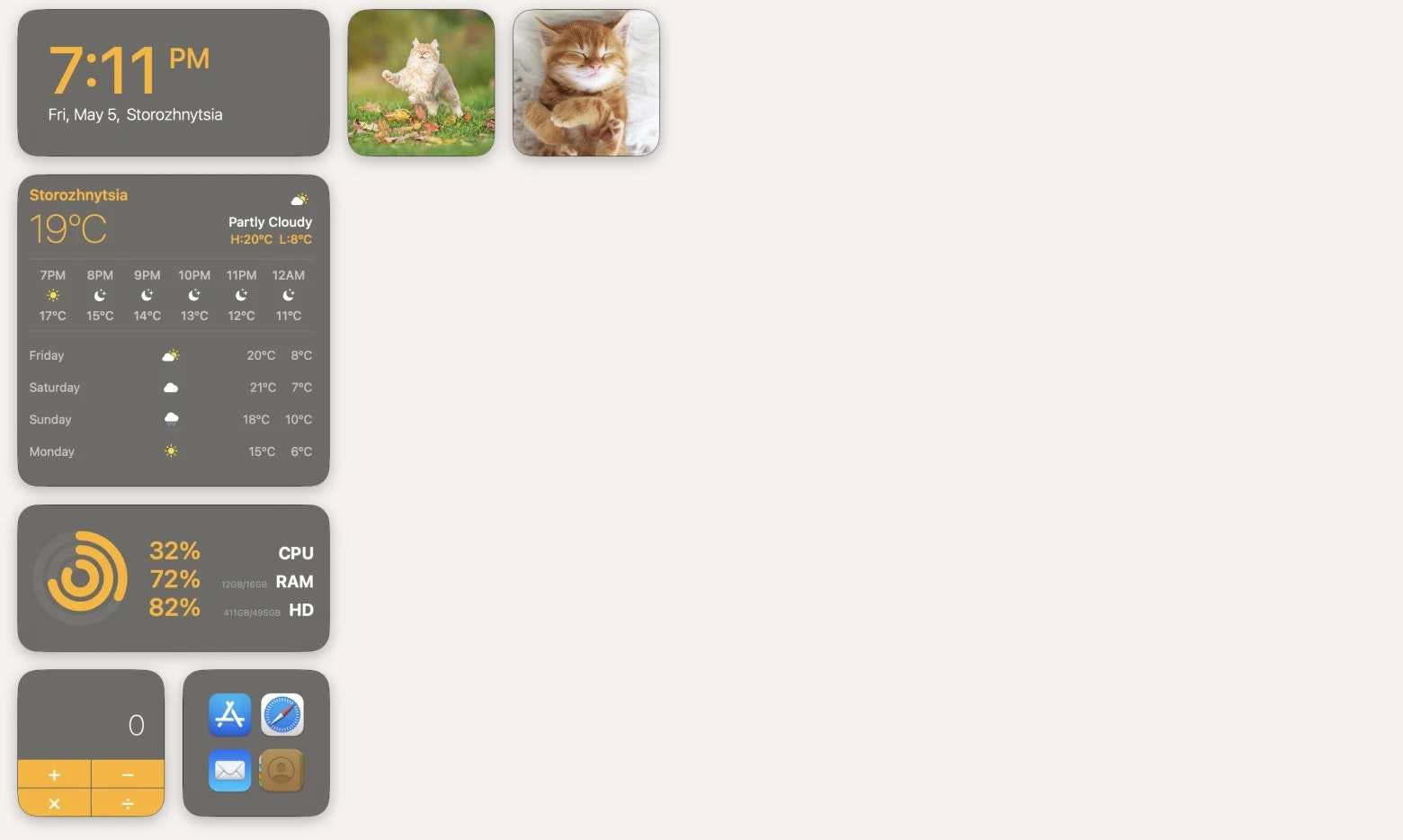 When you add widgets, they stack from the left side of the screen, but you can click and drag them anywhere on the desktop.
How to stick widgets on Mac desktop
Want to place your favorite widgets for MacBook directly on your desktop? While it's possible to enable Dashboard Development Mode and add widgets to Mac desktop, we do not recommend doing so because it can be time-consuming and may not work properly on newer versions of macOS.
In addition, using Terminal commands can be complicated, and there is a risk of accidentally changing system settings if you aren't familiar with the process.
Instead, we recommend using apps like WidgetWall to place widgets directly on your desktop. Once you install and open the app, it will automatically start putting widgets on your desktop. The widgets just kind of start out on the left, but of course, you can drag them whenever and wherever you want on your desktop.
Best widgets for your Mac
There are a lot of widgets available for macOS, and each one has its own unique set of features and functionality. We'll show you just some of the most useful widgets you may want to try.
Weather displays current weather conditions and forecasts for your location.
Calendar displays your upcoming events and appointments.
Calculator lets you perform basic calculations without having to open the Calculator app.
Battery shows the battery level and status of your MacBook or other Apple device.
World Clock lets you keep track of time in different time zones worldwide.
Music is also among the best widgets for macOS. It lets you control your music playback and view information about the song you're playing.
We also like the app called SideNotes, which can be used as a to-do widget for Mac. It keeps all your notes right on your desktop. Best of all, you won't even know they're there. The app acts as an overlay menu, bringing notes to your attention when you need them.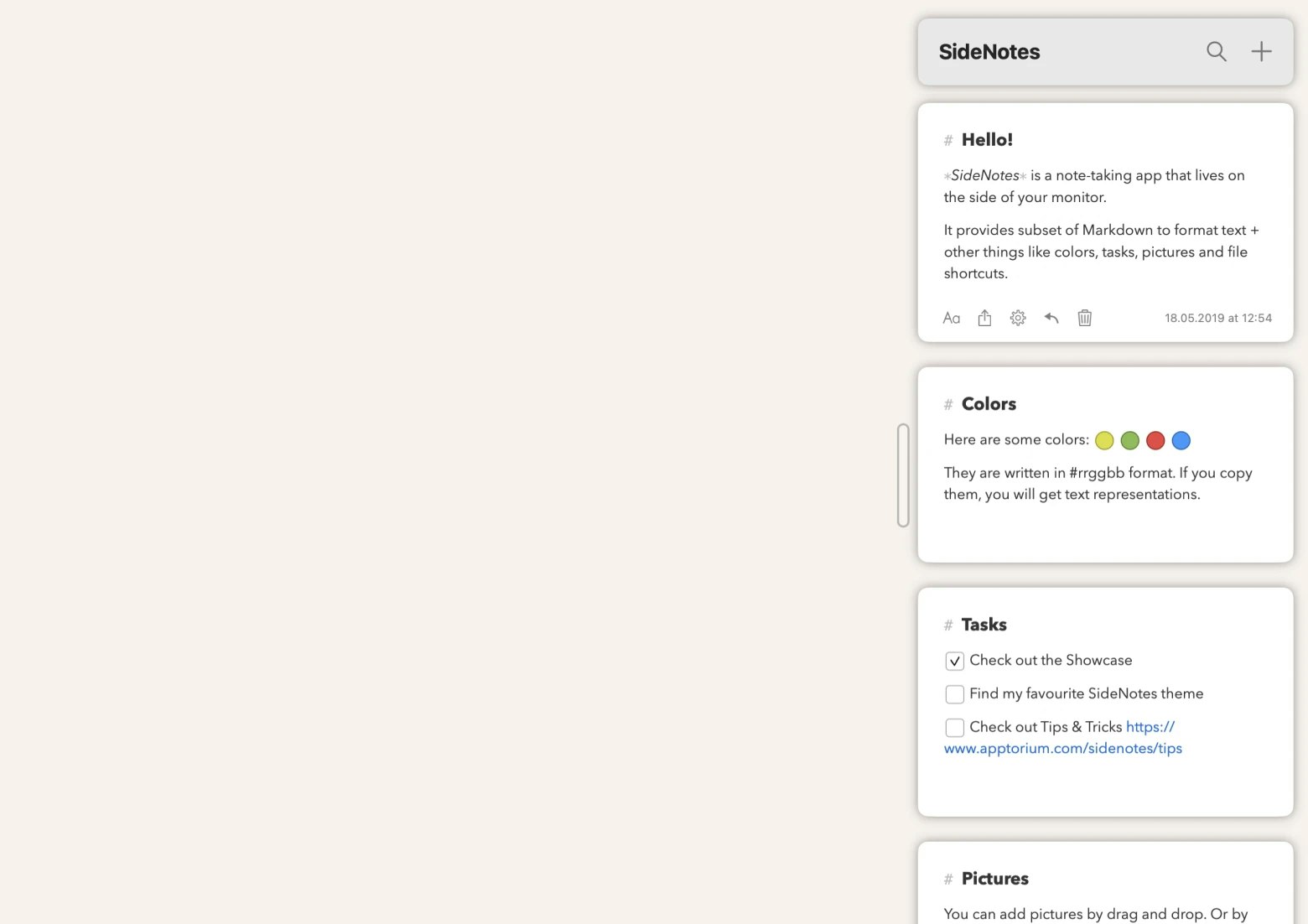 Another great widget to help you stay prepared and make sure you never miss an important event or deadline is called Moment. It allows you to set a countdown timer for birthdays, holidays, and special events. Then the widget will display the remaining time in days, hours, and minutes.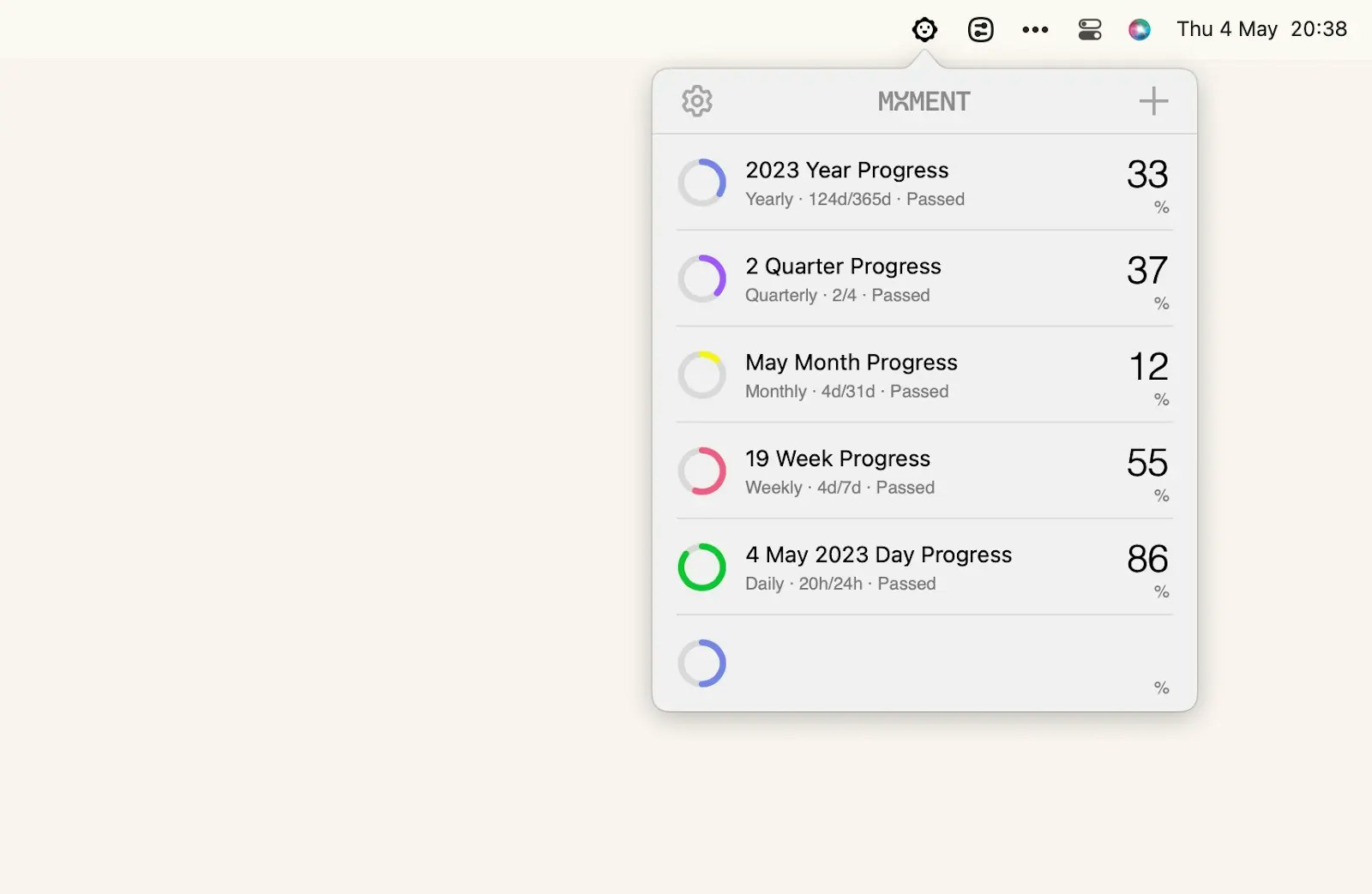 Boost your productivity with widgets for Mac and Setapp
From weather and calendars to reminders and countdowns, there are plenty of useful widgets to help you stay organized and productive.
And if you want even more cool features and tools, try Setapp. It's a subscription service that gives you access to a variety of Mac, iPhone, iPad, and web apps, including Moment and SideNotes, mentioned in this article. With Setapp and 240+ apps under its hood, you can streamline your workflow, increase your productivity, get more done in less time, and solve almost any problem that appears on your Apple device. All apps are free during a 7-day trial period. Give it a try and see how Setapp can help you take your macOS experience to the next level.