How to make Mac Dark Mode
Going dark on Mac may be great for your eyes in many scenarios, and we certainly encourage you to avoid bright screens if you work in a dimly lit space. Apple gets that, so they introduced system-wide Dark Mode back in 2018, with the release of macOS 10.14 Mojave.
In this guide, we get you acquainted with Dark Mode macOS and give you detailed instructions on how to change Dark Mode on Mac, how to enable it in apps, and how to manage screen brightness flexibly. Let's go.
How to turn on Mac Dark Mode with one click
We love shortcuts, and we're happy there's one for enabling Dark Mode on Mac.
One Switch adds a toggle to your menu bar, letting you turn Dark Mode on and off with a click. This saves you time because you don't have to open Settings and tinker with your display Appearance every time you want to go dark or light.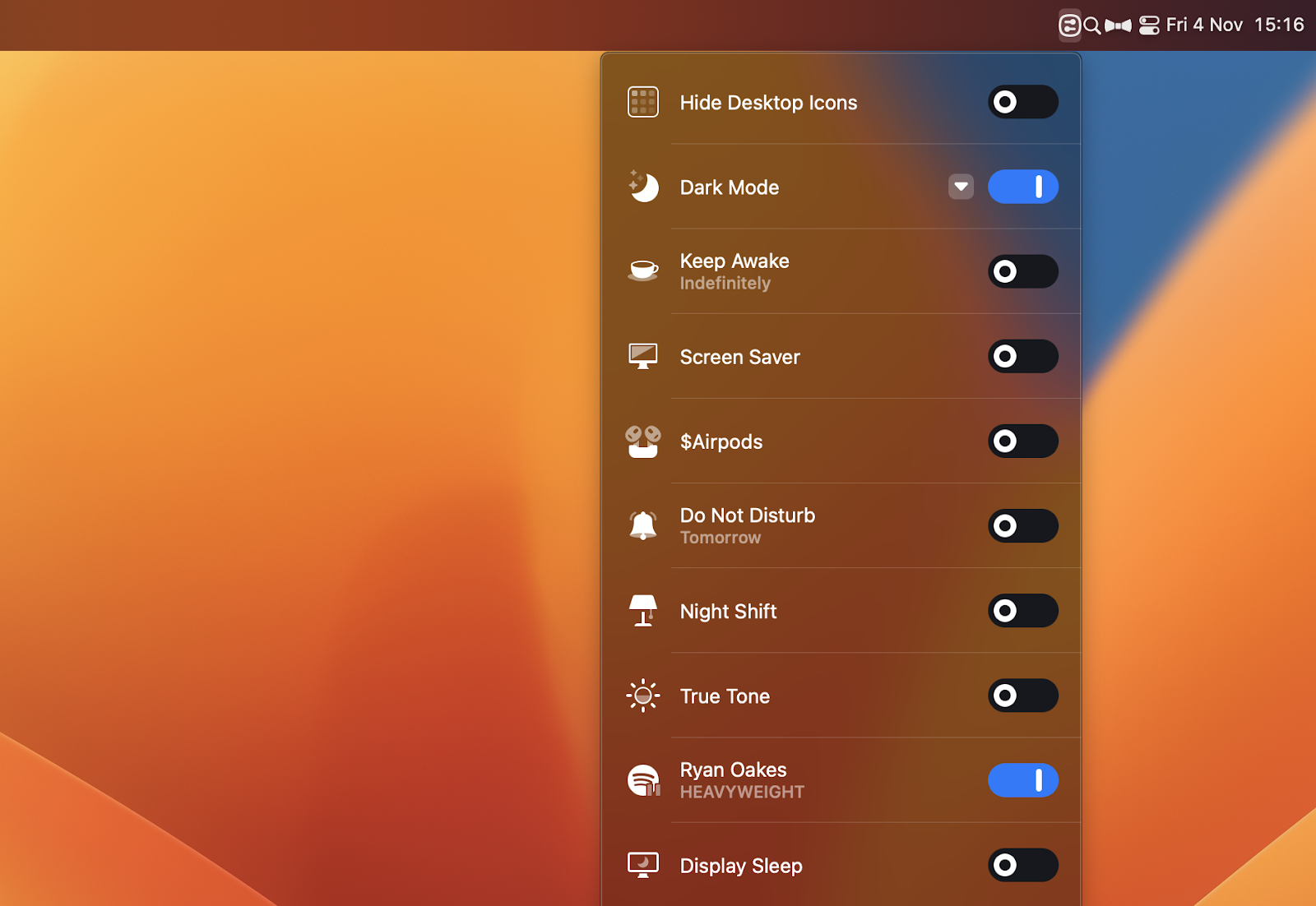 You can also use One Switch to curate any other of your most used settings in the menu bar. Hide desktop icons, keep your Mac awake, turn on Do Not Disturb — any of that can be just a click away. Each of these toggles is a time saver on its own, and if you add them up, you'll see an immensely positive impact on your workflow.
How to enable Dark Mode on a Mac
Next, let's see how to make Mac dark theme default without enhancers such as One Switch. You need to ensure you've upgraded your macOS to Mojave or a newer version, so that the option of Dark Mode macOS is available to you. Another thing to pay attention to is whether your Mac runs the latest macOS Ventura or one of the previous versions, because the Dark Mode settings are a bit different on Ventura.
To turn on Dark Mode on macOS Ventura:
Open System Settings via Apple's main menu
In the sidebar, click Appearance
Choose Dark or Auto (the latter will adjust the appearance from light to dark, depending on the time of the day).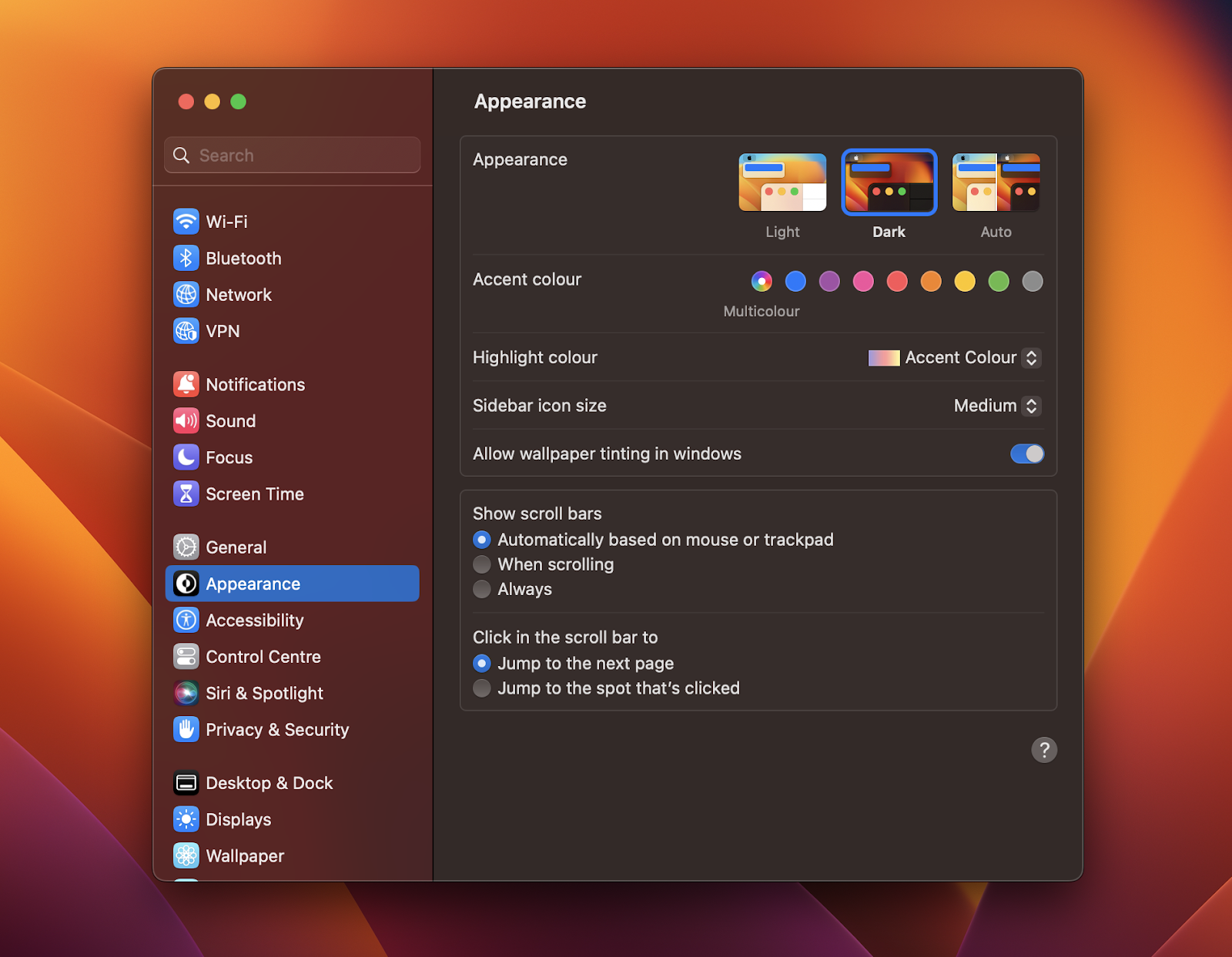 To turn on Dark Mode on macOS Monterey, Big Sur, Catalina, or Mojave:
Open System Preferences via Apple's main menu
Click General
Choose one of the Appearance modes.
Okay, so what exactly becomes dark after you turn on macOS Dark Mode? While Appearance modes are system-wide, you can expect all the apps that come with macOS going dark. So if, for example, you want to know how to make Messages black on Mac, Dark Mode is the answer. All your system applications such as Messages, Mail, Notes, and Calendar will automatically embrace dark themes after you enable Dark Mode.
How to add a Dark Mode toggle to the menu bar
For sure, you want an easy one-click toggle. We've already talked about One Switch that lets you enable Dark Mode from the menu bar, but if you don't want to install it on your Mac for whatever reason, you can also rely on the workaround offered by the Control Center.
So another way to turn on Dark Mode on Mac — both on macOS Ventura and earlier versions — is to toggle it on from the Control Center:
Click the Control Center icon in the menu bar
Click Display
Enable Dark Mode.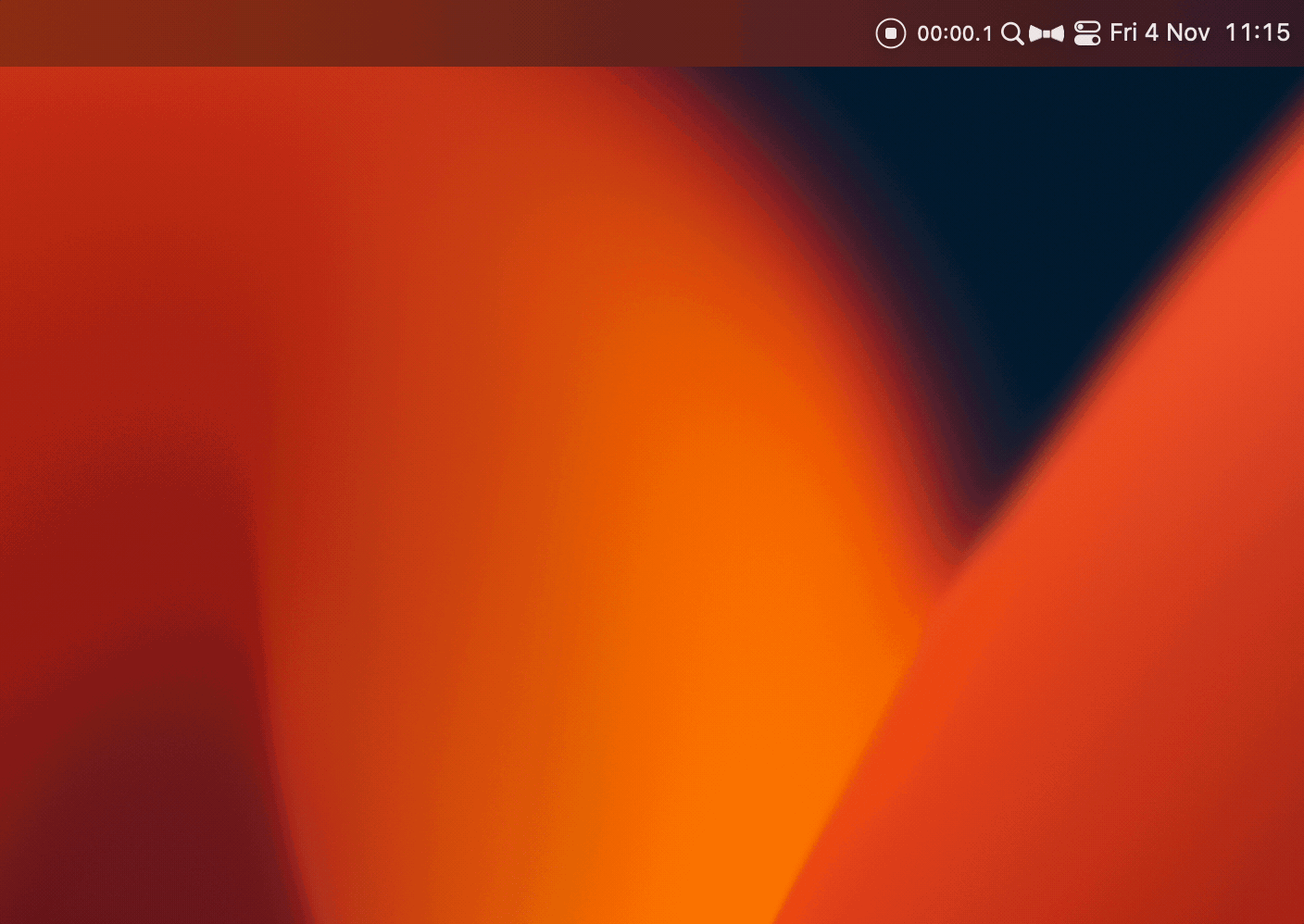 Tip: Worried about your menu bar growing bigger and bigger? We get it. Install Bartender and you'll never have to worry again. This effortless utility hides your menu bar icons or collapses them into a secondary bar, so that each and every icon fits in. Plus, your menu bar won't look cluttered anymore!

How to turn on Dark Mode in apps
Dark Mode only covers your system interface and Apple's own apps. The logical question is how to make Mac Dark Mode a default theme in the third-party apps. Honestly, this one is tricky to answer but we can give you two tips:
Check if the app syncs with your system-wide settings. Some third-party apps can indeed follow the Appearance mode set on your Mac. For example, Setapp, an app subscription service for macOS and iOS, will automatically embrace a dark theme once you enable Dark Mode. The same is true for Chrome and Signal.
Dive into the app's settings and look for a dark theme. In Slack, it is tucked under Themes in Preferences. Most of your third-party apps probably have a similar setting.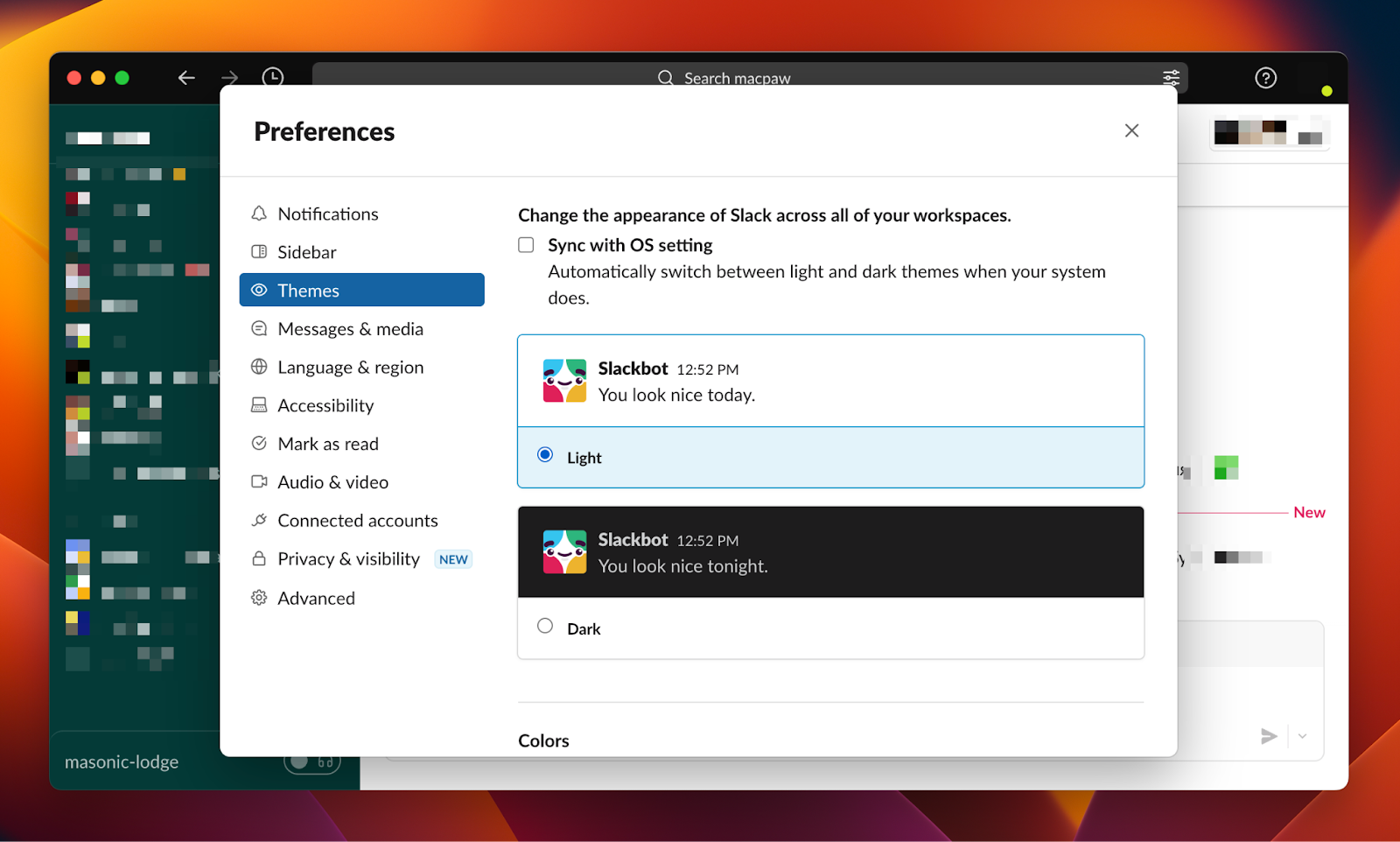 How to make your Mac darker
Dark Mode theme will definitely have a positive impact on your eyesight if you tend to work late or enjoy working in dimly lit rooms. But there's also another aspect — screen brightness. Even if you have Dark Mode enabled, your screen can be too bright. It's recommended that you adjust your screen brightness, based on ambient light or time of the day.
To make your Mac screen darker, go to Displays in your System Preferences or System Settings, find Brightness, and move the slider to the left. Alternatively, you can change screen brightness in the Control Center.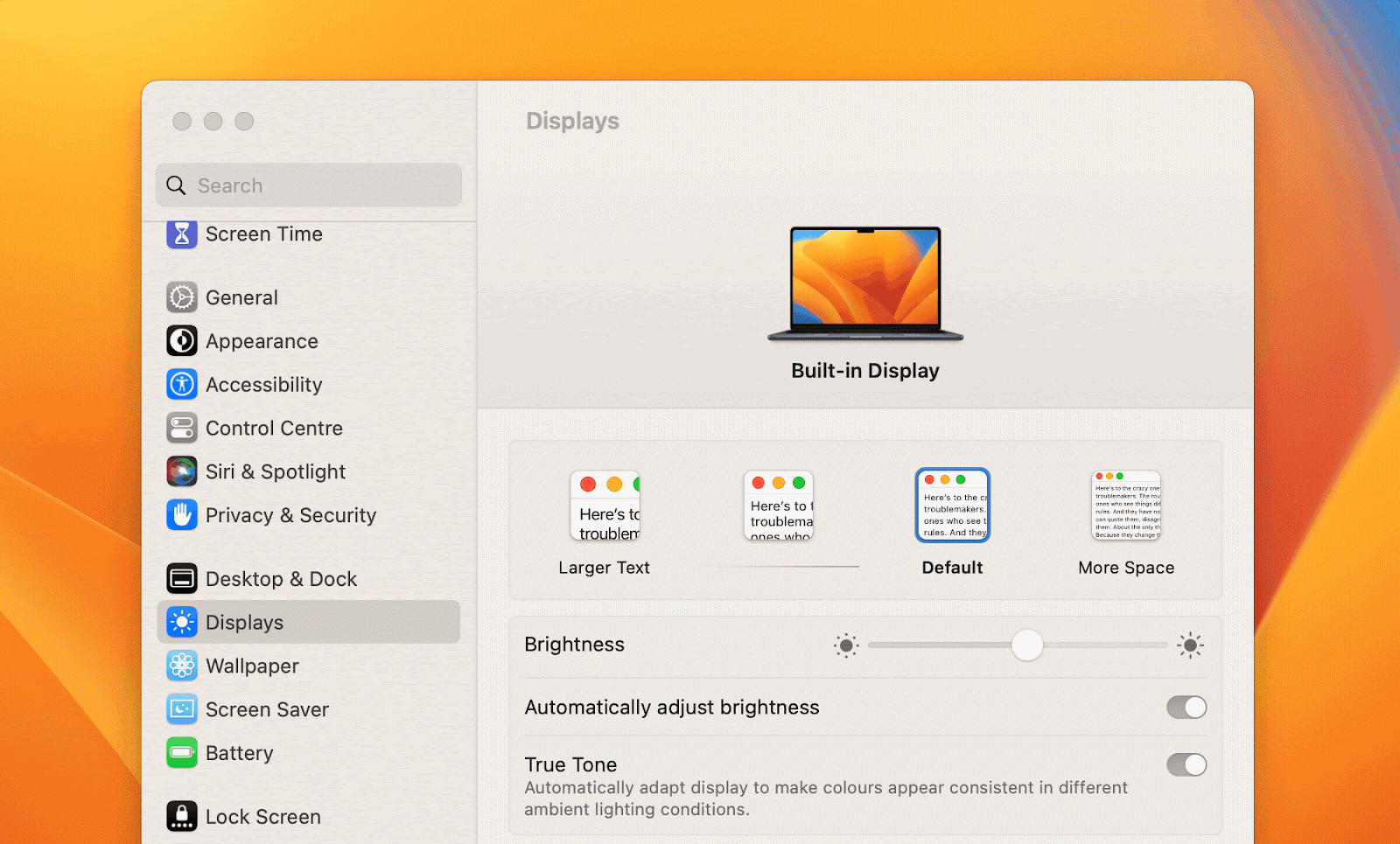 Another option to make your screen even darker is to enable Night Shift, which is available in the Display settings in your Control Center. While it might feel a bit uncomfortable during the day — Night Shift makes your screen less blue and more yellow — this mode works great if you work at night.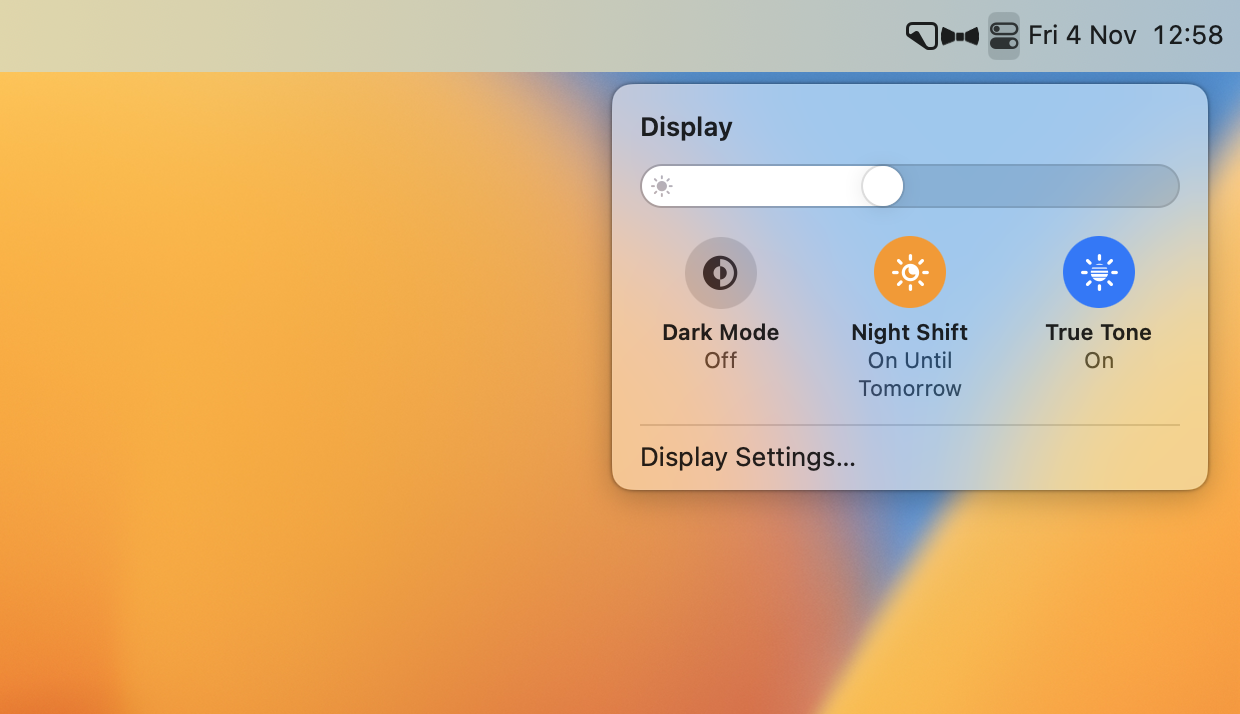 There might be the opposite scenario. Let's say you want to work from a park and it's pretty sunny outside. In this case, even if your display brightness is maxed out, the screen will seem too dark. Luckily, there's some wiggle room if you install Vivid, an app that can double your screen brightness, beyond what you thought was possible.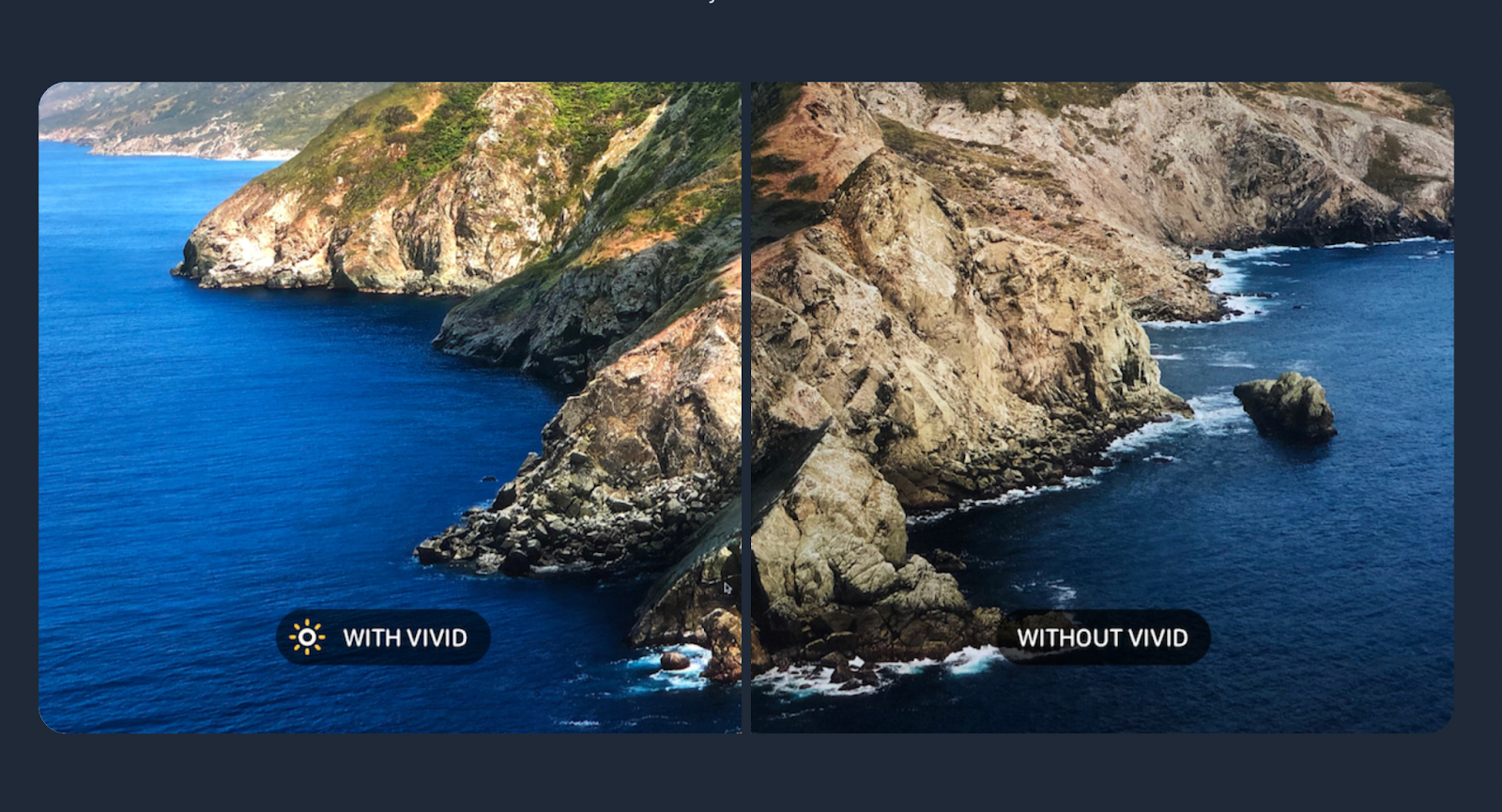 image: getvivid.app
Note: Vivid is only compatible with MacBook Pro and Pro Display XDR.
If you have a multi-monitor setup, it might be a bit challenging to manage the brightness level on each of them so they match each other. This is why we recommend that power users with more than one monitor install DisplayBuddy.
DisplayBuddy can sync your display settings across many connected monitors. As soon as you install the app, it will pop up in your menu bar, showing all the available monitors, with the ability to tweak and unify settings between them.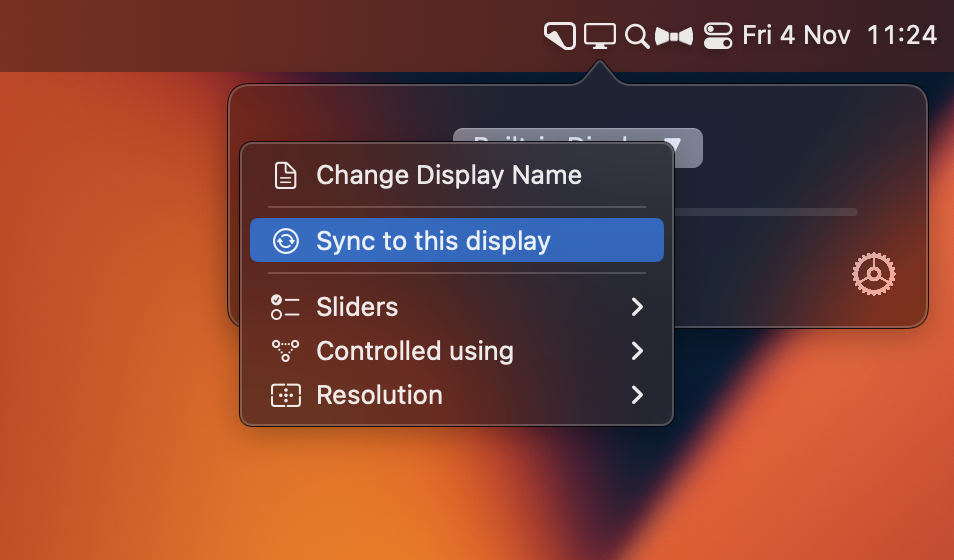 How to turn off Dark Mode on Mac
Piece of cake. You don't have to learn anything extra to know how to turn off Dark Mode on MacBook. Just reverse whatever you did to turn it on. So if you use One Switch to toggle on Dark Mode from your menu bar, you can use the same setting to toggle it off. If you use System Settings, change the mode to Light or Auto in the Appearance section. Same way, you can turn the Dark Mode off via the Control Center.
How to switch between Light and Dark Modes
Since you already know how to turn off Dark Mode on MacBook, you know how to switch between the two modes. You can use any of the methods we described above, based on your flow and preferences. You can also settle for Auto Mode:
Open System Settings/Preferences > General/Appearance
Toggle on Auto
See your system theme change depending on the time of the day.
The latter will help you automate the process, so you don't have to switch between "day" and "night" themes. However, on cloudy or unusually sunny days, you'll still need to adjust screen brightness and switch from mode to mode manually.
How to make Mac Dark Mode protect your eyes with Setapp
Your work setting plays a huge role when it comes to productivity and well-being. OS X Dark Mode, more commonly known as macOS Dark Mode, will help you protect your eyesight when you work in dimly lit environments or when you tend to work late.
Setapp has apps to help you switch between Dark and Light Modes with a click, as well as tons of helpers for adjusting brightness, maxing out brightness beyond the default settings, managing display settings across multiple monitors, and more. DisplayBuddy, Vivid, One Switch, and Bartender we mentioned in the article are among those apps, along with 240+ more. You can try the full kit for 7 days free if you sign up for Setapp.