How to use Dark Mode on Mac
Is Dark Mode the new black? Well, it sure is black, technically speaking. But why is everyone suddenly loving it? With the release of macOS Mojave in 2018, a Dark Mode interface became one of the biggest attractions and even reasons why people upgraded. The iOS Dark Mode followed. Developers that create software for Mac and iOS started tailoring their products for dark interfaces. And this is great — at least for your eyes.
If you're using your Mac in the night hours or dark environments, a white screen will definitely give you eyestrain and stress. Even if you decrease the brightness, white backgrounds will be hard on your eyes. This is why Dark Mode is not only about aesthetics — it's an important tool to maintain eye health.
We've collected the ultimate list of all settings you should be aware of to darken your Mac's screen — including specific apps and browsers:
How to turn on Dark Mode on macOS Catalina and Big Sur
Let us say straight away that if you want the best dark theme, your Mac should be running Catalina or Big Sur. Dark Mode premiered in macOS Mojave and has been refined with the release of Catalina. Here's how to enable it:
Go to the Apple menu > System Preferences

Click on General

Select the theme under Appearance.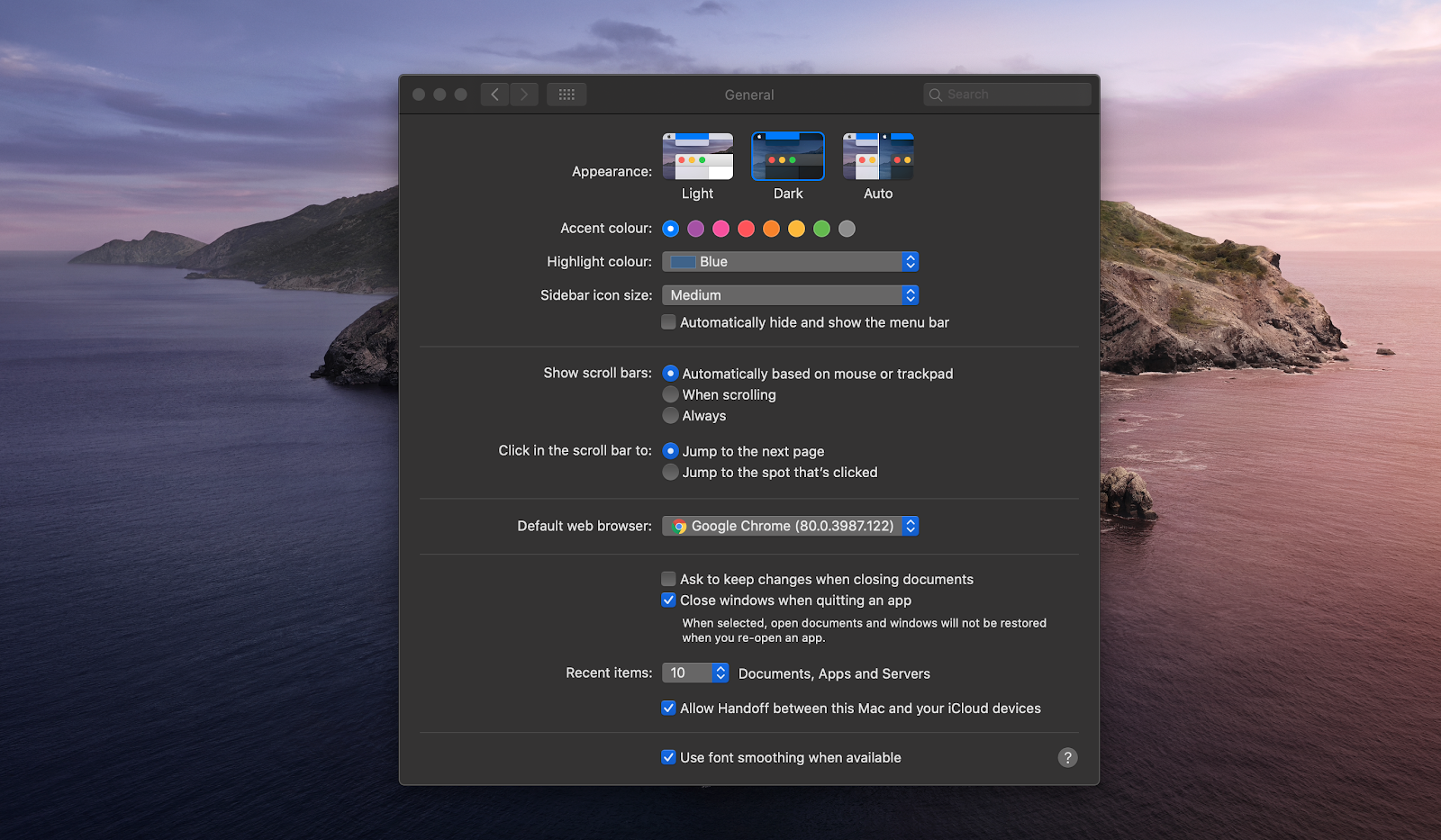 While macOS Mojave will give you two options — Dark and Light, Catalina adds support for Auto Dark Mode on top. If you set appearance to Auto, your Mac will automatically enable Light Mode in the daytime and Dark Mode in the nighttime.
Dark Mode on Mac before Mojave
If you're using an older version of macOS — the one that came before Mojave and Catalina — there are ways to darken your screen as well. This is not going to be a full-featured dark theme, but definitely worth trying if you work in dark spaces.
"Night Mode Mac" has been a valid term for a long time. The first concept of Night Shift appeared in the times of macOS Sierra. It adjusts the brightness of your display as it's getting darker in the environment. The screen won't be completely dark, but the Night Shift definitely tones down the brightest colors. Here's how to enable it:
Open System Preferences from the Apple menu > Displays.

Click on the Night Shift tab and customize the timing. You can select Sunrise to Sunset or your custom hours.

If needed, adjust the color temperature manually by moving the slider.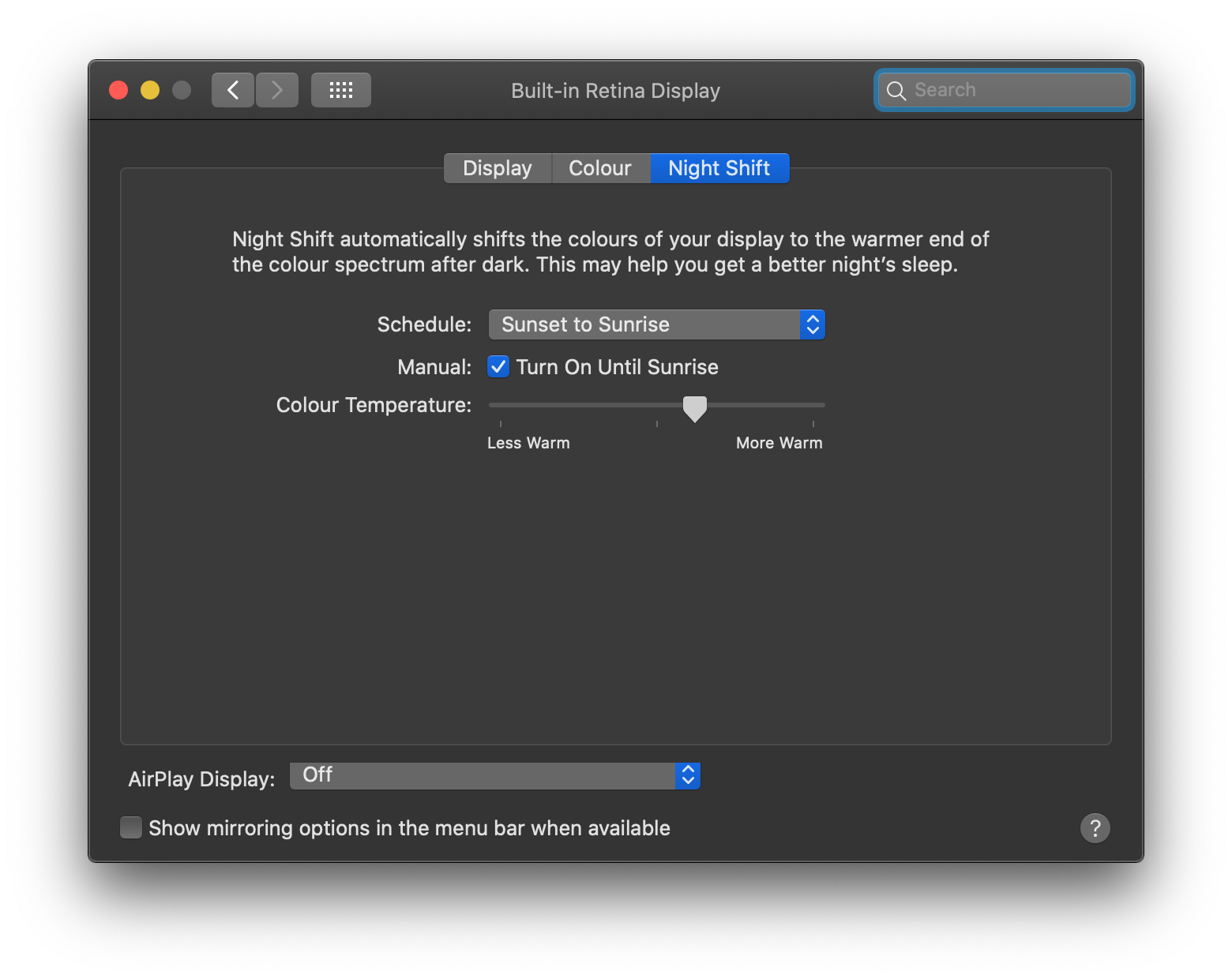 And if you're still on macOS El Capitan — well, you probably have your reasons — you can at least make your Dock and menu bar dark:
Open System Preferences from the Apple menu > General.
Toggle on the option Use Dark Menu Bar and Dock.
Make Dark Mode even darker on macOS Big Sur
If you're switching to macOS 11 Big Sur, you should know it has more darkness than any other system that came before. Big Sur adds the new wallpaper tinting feature to Dark Mode preferences. By disabling tinting, you make all the windows look substantially darker on light backgrounds.
You'll find the wallpaper tinting checkbox in System Preferences > General, below "Sidebar icon size."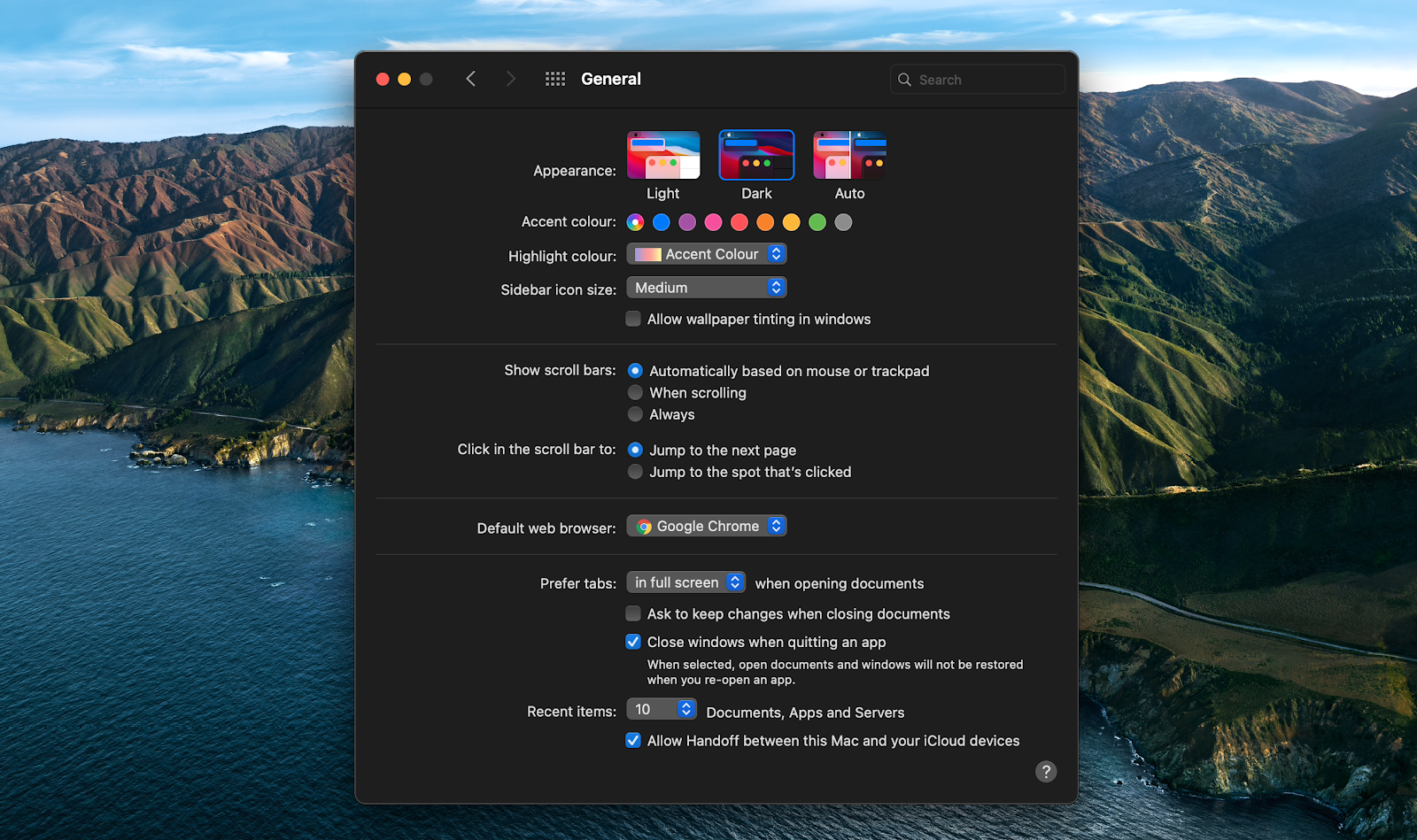 Chrome Dark Mode settings
With Chrome, it's actually not as straightforward as it is with macOS settings. But you have the right to demand the darkness — especially if you do the browsing late at night. Luckily, there are a few ways to bring darkness into Chrome:
Use Mac Night Mode on compatible sites. In fact, Chrome Dark Mode on Mac will kind of work if you enable it via general settings on your computer. If you haven't done it yet, go to System Preferences > General > Appearance > Dark. This way, the websites that are using Dark themes, will automatically change the color scheme. However, not every website is compatible.

Force Dark Mode on Chrome. You can try to force Dark Mode on all websites — which means those Chrome will invent colors for incompatible sites. As you might guess, this doesn't always look good. But you can still give it a try:

Visit chrome://flags/#enable-force-dark and set Forced Dark Mode to "Enabled."

Use a dark theme for Chrome. Another option is to use Chrome's very own themes available from the Chrome Web Store. It has a minimalist "Just Black" theme that you might like — plus a few creative variations like "Galaxy View," "Night Time in New York," etc. You can access native themes in Chrome Settings > Appearance > Themes.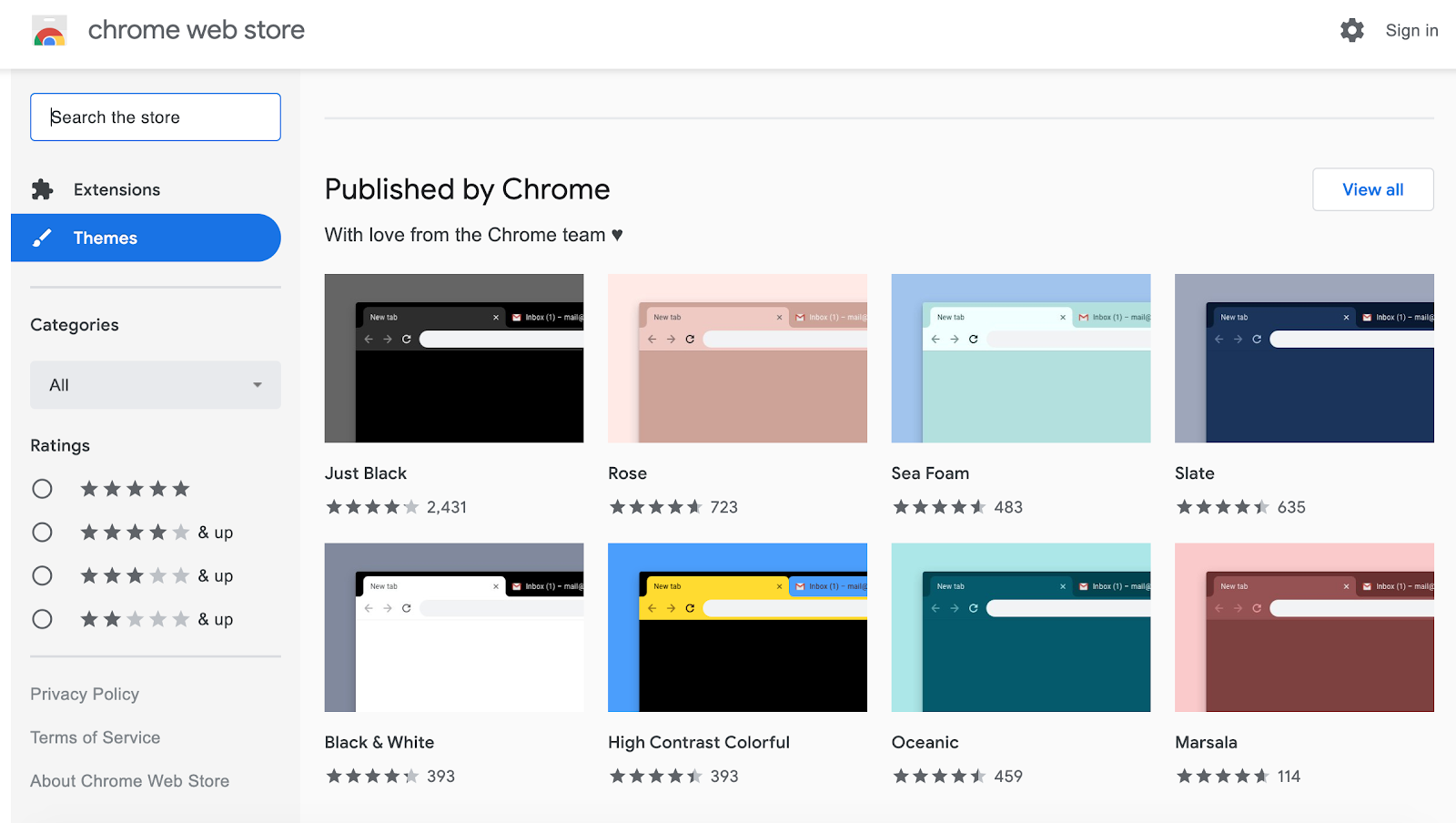 Dark Mode in Pages
If you enable Dark Mode on Mac, Pages won't comply. You'll still be typing black words on a white page. This is because documents created in Pages are by default intended for printing. And it would be cool if you could agree to it. Well, at least it's a good reason to not write a novel late at night.
If you still insist on having a dark space for writing, you can customize the layout by changing the background color. Save the template and you'll be able to reuse it.
The alternative is using Notes for short text notes — the app adjusts to your Mac theme. If you need a full-featured text editor, get Ulysses. It's a great tool for distraction-free writing that gives you three options — Light, Dark, or system-matching theme.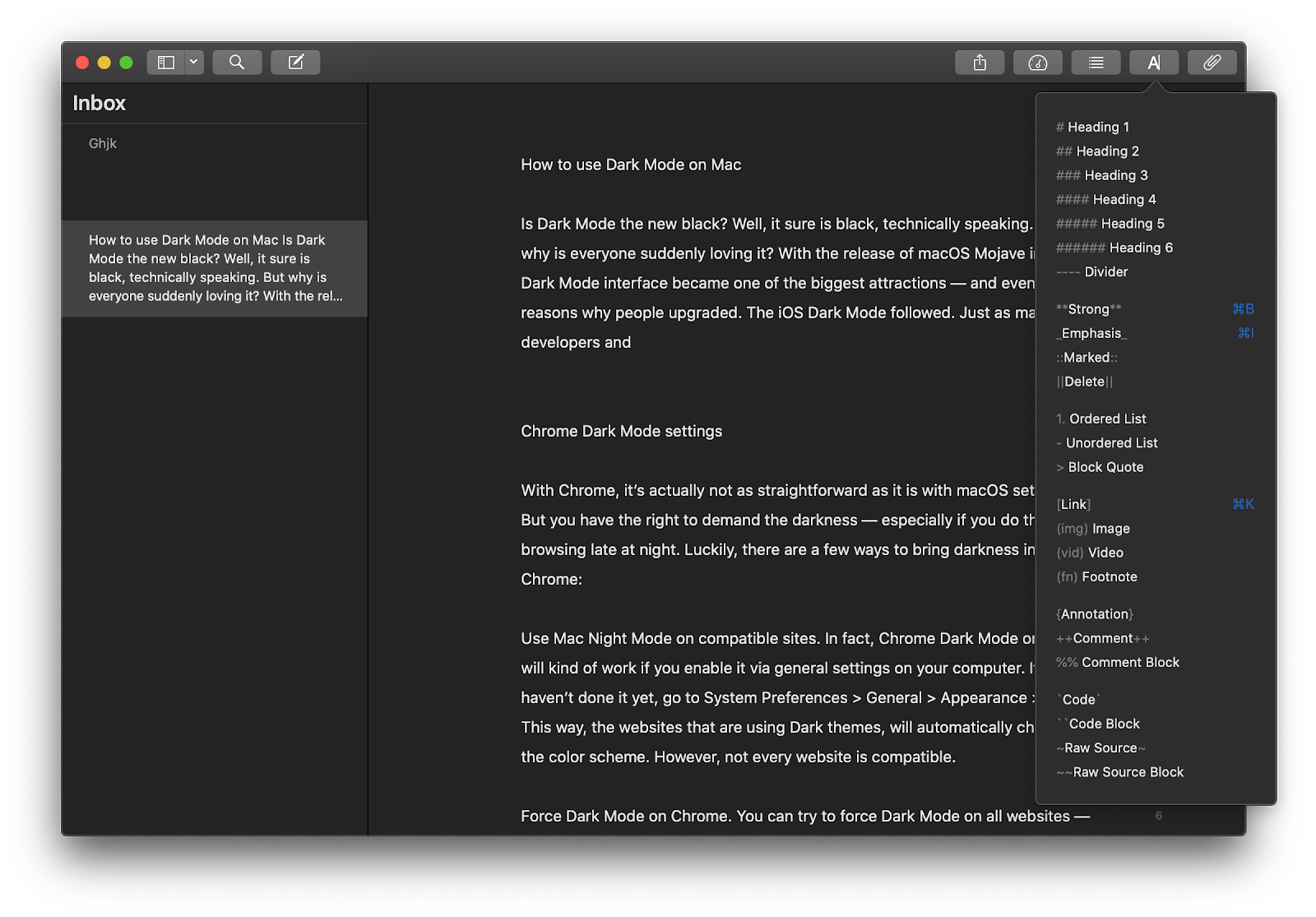 Enjoy the dark news
If you're used to reading your daily news early in the morning or late in the evening, this is for you. Since browsers can be unreliable, get News Explorer, a handy Mac app that gives you a beautiful Dark Mode experience. Simply connect the feeds you're following and read everything in one spot. Best of all, the app supports iCloud sync and is free on macOS and iOS for Setapp users.
Here's how to enable Dark Mode in News Explorer on Mac:
Go to the View menu > Theme.

If you use macOS Mojave or later > System or Standard.

If you use a macOS that doesn't support Dark Mode > Dark.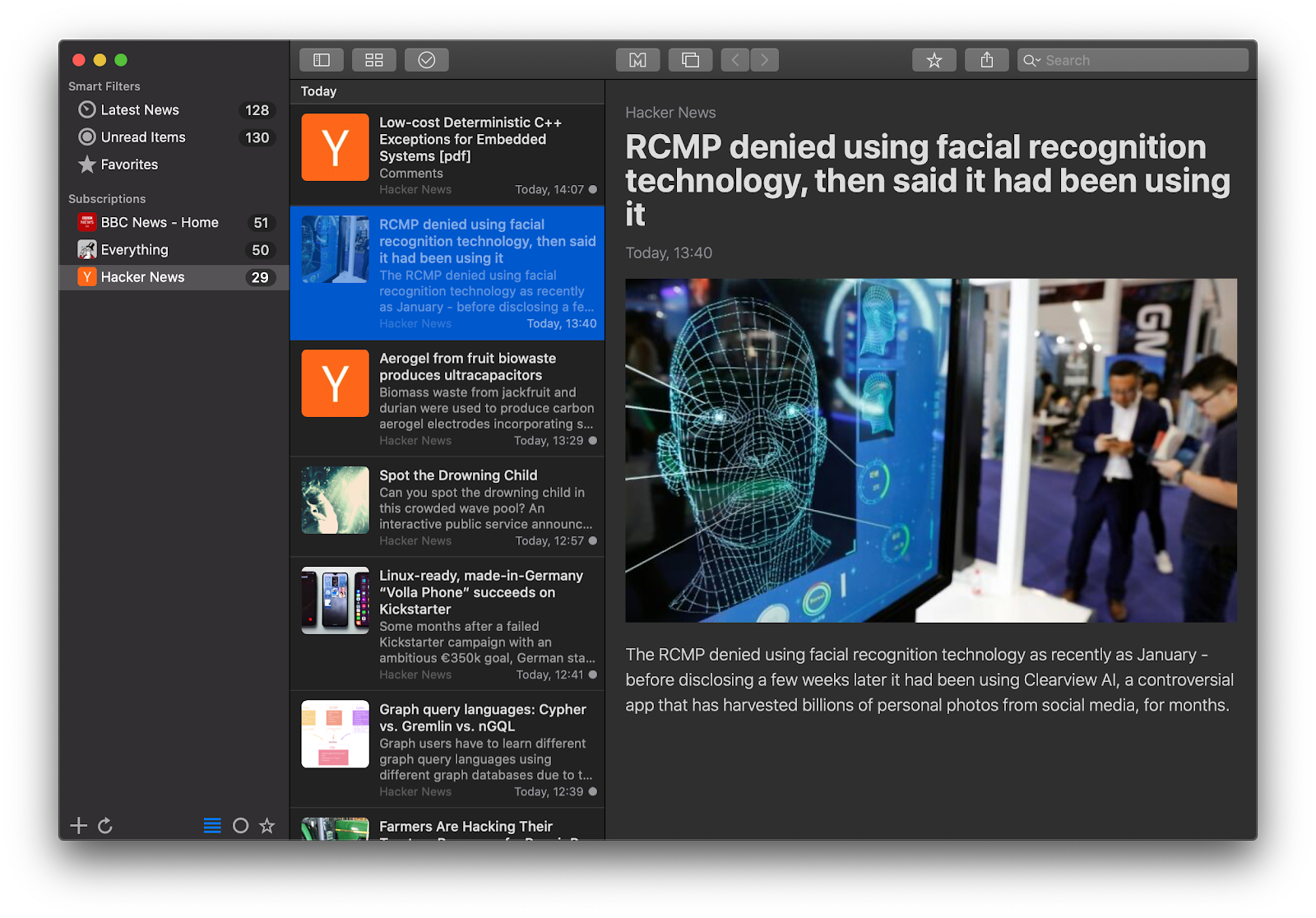 Facebook Dark Mode
Maybe Facebook's traditional white, blue, and grey colors don't excite you anymore. In this case, you should know there's a Dark Mode solution coming. The chances are it might even be available on your device now. If you're using the web version of Facebook on Mac — you don't have to wait, it will work once you enable the theme for your browser. We've described how to set it in Chrome above.
Facebook is also planning to gradually roll out Dark Mode for mobile apps. Once the upgrade is available, you'll receive a push notification.
Instagram Dark Mode
Just as Facebook, Instagram will let you switch to darkness in the web version on Mac — but only if you tweak the browser settings. The good news is you can enjoy the native dark theme on Android 10 and iOS 13. Once you enable it on your phone, Instagram will automatically embrace dark colors.
YouTube Dark Mode
YouTube is another late-night activity that's very popular. Maybe you're watching "The Late Night Show. Or any other show. Or not a show. Anyways, you'll need to keep your eyes comfortable. Luckily, YouTube made the Dark Theme settings very easy to toggle in the web version:
Log into your account on YouTube and click on the profile picture.

Navigate to the Dark theme option.

Set Dark theme to "On."
This is it. Now you can binge-watch favorite videos 24 hours a day — but better not.
Gmail Dark Mode
Checking email is usually a morning thing. But for the sake of consistency, you might want to switch to Dark Mode within your inbox. Here's how you enable it on Mac:
Go to Gmail.com and click on Settings.

Navigate to Themes > Set theme.

Click on the Dark theme > Save.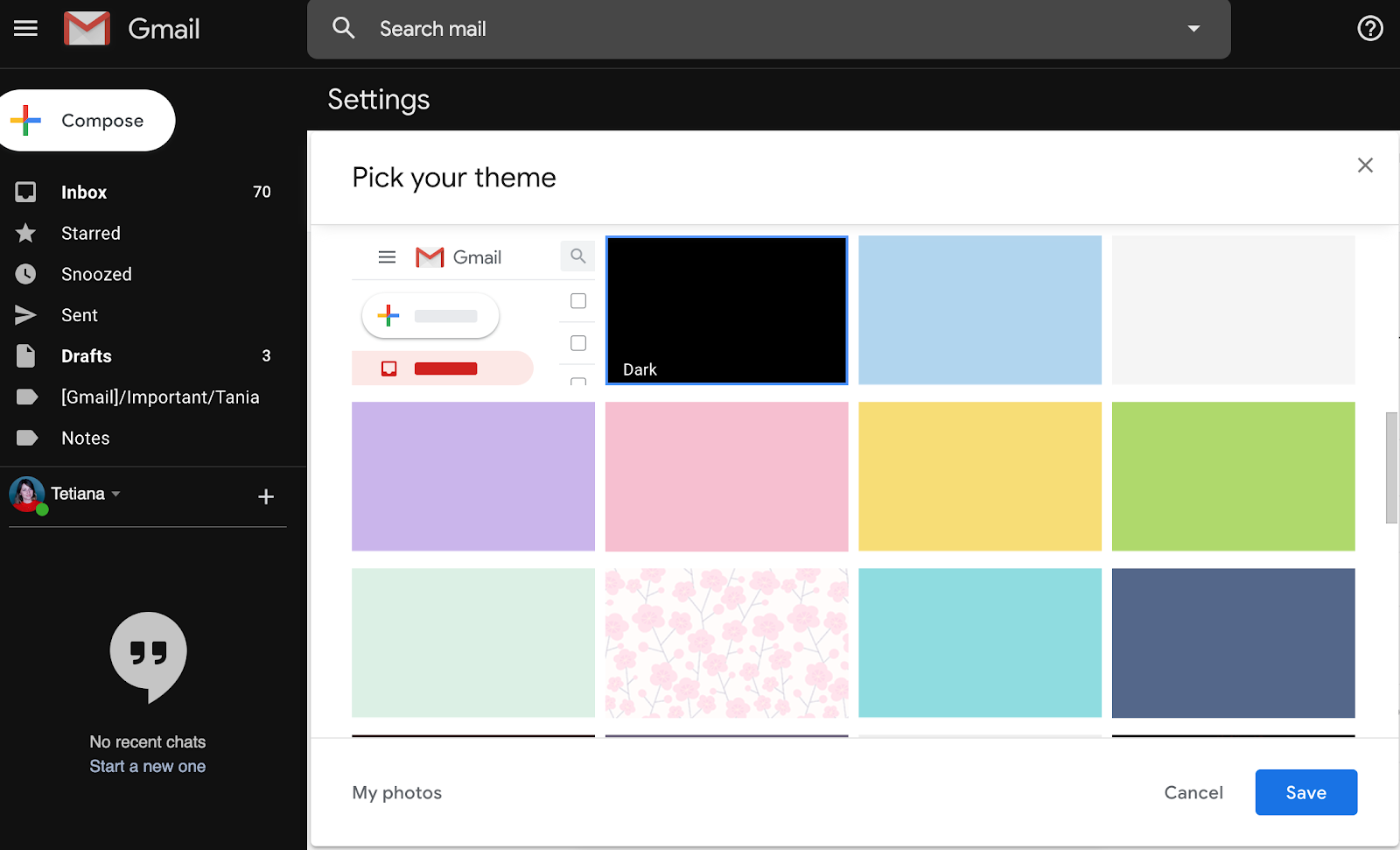 Get one toggle for your Dark Mode preferences
Once you're ready with your dark setup, make sure you're ready to quickly navigate through it. Let us warn you, it's probably going to be hard to get used to. So here are a few tips for making Dark Mode your thing:
Dark for when it's dark. If your Mac runs on macOS Catalina, set Appearance to Auto instead of Dark. It's important your eyes get used to dark interfaces when you're in a dark environment. Otherwise, a dark theme might seem annoying.

Set dark wallpaper to begin with. In System Preferences, select Desktop & Screen Saver > Desktop. On the left, select Desktop Pictures, find a dark theme > Save. This is a great way to start your transition to dark interfaces.

Get One Switch for easy Dark Mode toggles. It's okay if MacBook Dark Mode seems weird and you want to switch back. And then try it once again. And then roll back — or not. One way or another, we recommend changing your preferences via One Switch. This beautiful app covers lots of useful toggles, including Dark/Light mode switching, AirPods connecting, and more. Control your macOS Dark Mode without having to open Preferences every time.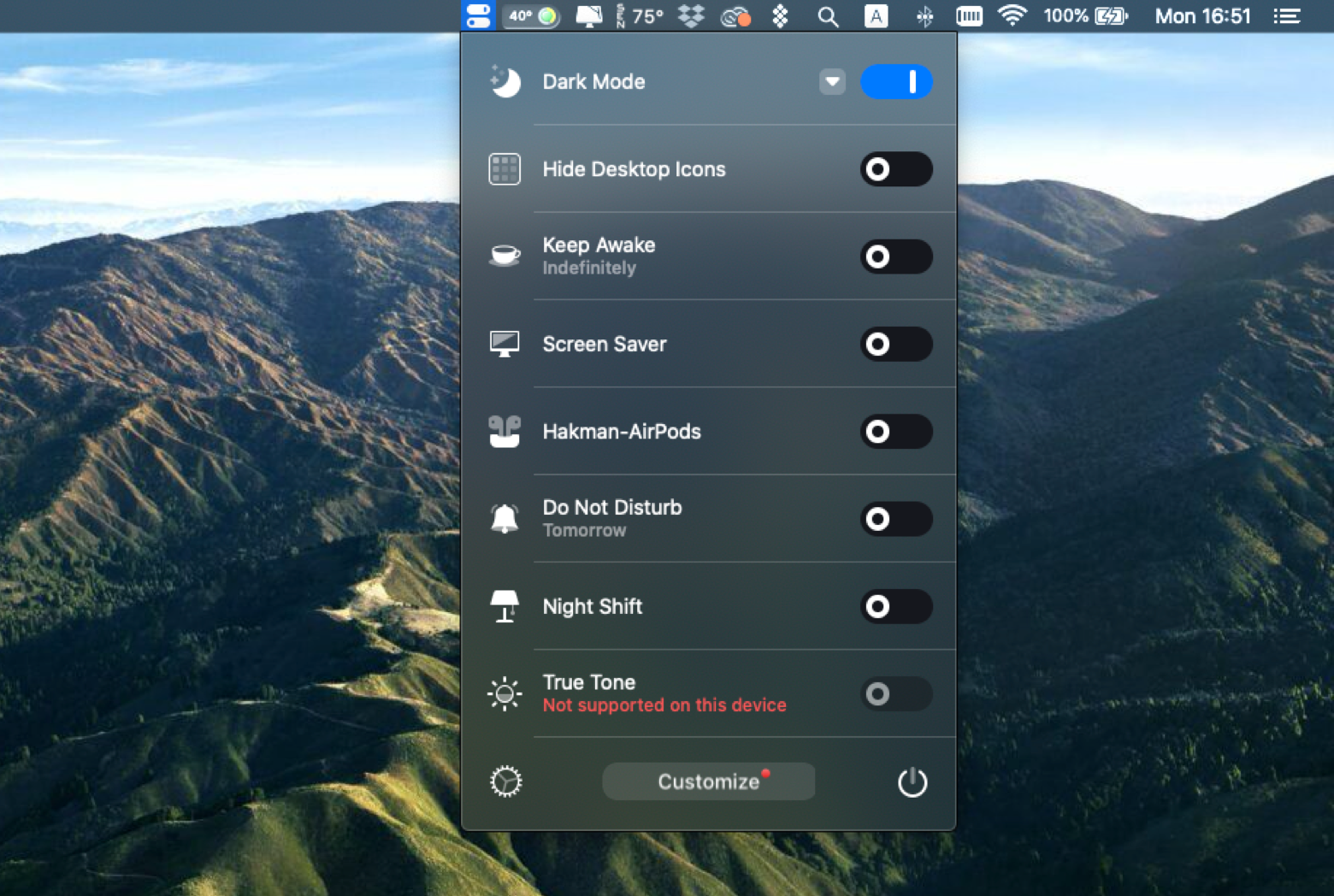 Mac Dark Mode is definitely a huge benefit for your daily computer routine. While most apps have native support for Dark Mode on the latest operating systems, many are still missing out. This is why we encourage you to upgrade your own setup with powerful applications like News Explorer and Ulysses for dark reading and writing, as well as One Switch for being the master of your display preferences. All of these are available with a Setapp membership, so you don't have to waste money on licenses. Enjoy the darkness, folks!