How to control fan speed on Mac
It's quite normal not to think about the internal components of your Mac until something wrong goes on with them. So it is with your Mac's fan as well — you don't even remember it's there until it gets loud and annoying.
At the same time, Mac fans play a crucial role in the overall health of your Mac by controlling the internal temperature and preventing overheating of any of the elements.
When your Mac tries to handle lots of demanding processes at once (e.g. while retouching images), its chips, hard drive, and video card start to heat up, which, if not counterbalanced, could lead to irreparable damage. Fans improve air circulation to physically cool down your hardware resources and keep the temperature sustainable while allowing for maximum output.
Sometimes, however, your fans can get out of control by either working too much when your Mac isn't hot or spinning too slowly when your Mac is scalding. In these situations you might want to manually control fan speed and know how to turn off fan on Mac when you don't need it.
Note: It's generally not recommended to tweak the thermal settings of your Mac. So only do it when you're sure there's a problem and don't go too far to avoid damaging your Mac.
How to Achieve Complete Fan Speed Control
When everything works as expected, your Mac fan speed monitor should adjust the intensity of the fans automatically. You'll find that when you do a taxing task, your fans will start going and wind down only some time after you finish to make sure the Mac is completely cool.
You can, however, monitor your Mac fan control settings and even change them if you think something has gone wrong. You just need the right app to do so.
iStat Menus is an advanced monitoring system for your Mac that quietly lives in your menu bar, showing you all possible data, from CPU load to memory usage, to battery life, to fan activity. All the sensors report data in real time and you can tweak everything to only show you the data you need.
When it comes to your Mac fan not working, you can use iStat Menus to increase your fan speed, although you can't lower it below the SMC (system management controller) default.
To control fan speed with iStat Menus:
Click the Sensors icon in the menu bar
Go to the Fans dropdown
Use the Exhaust slider to increase fan activity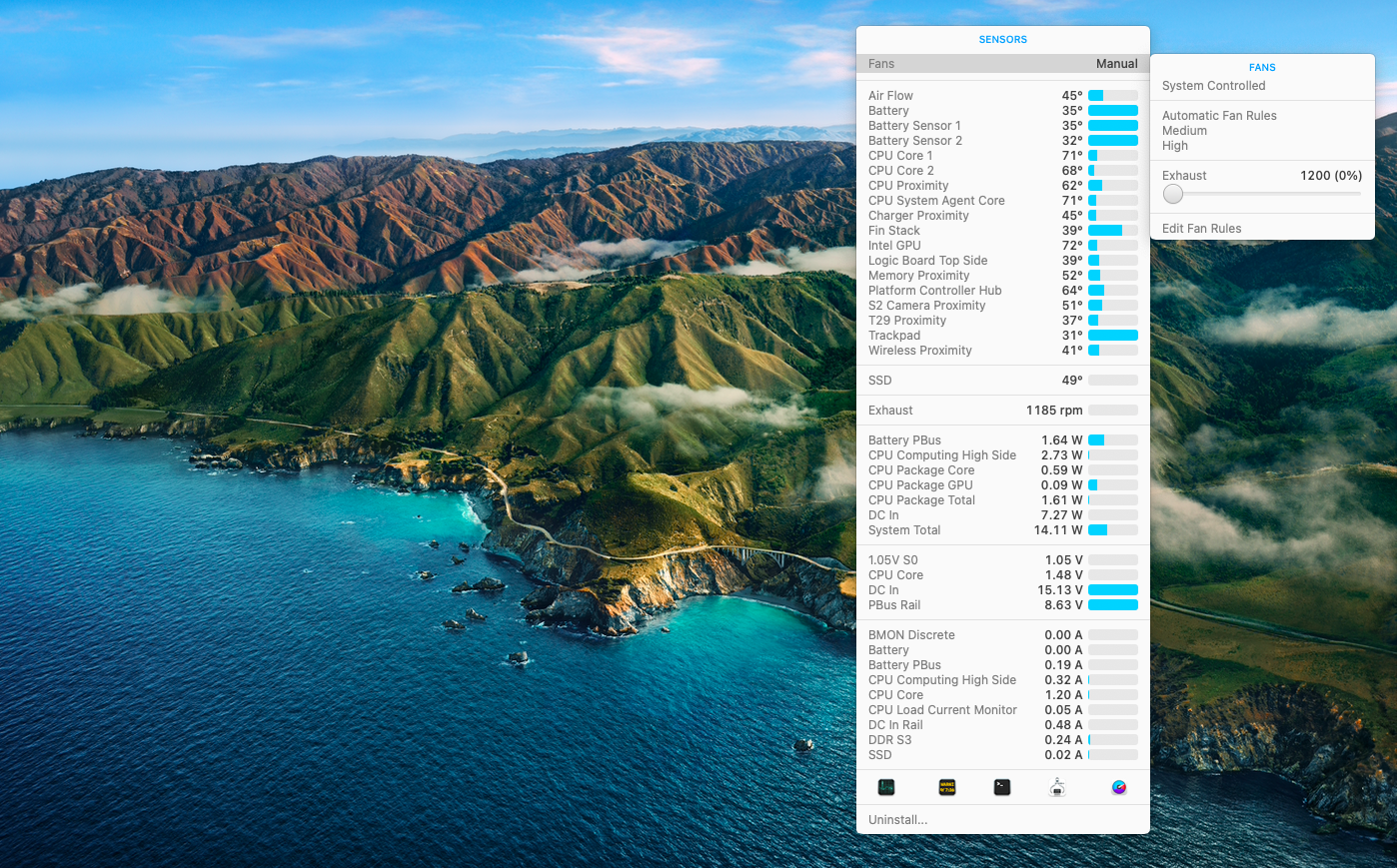 Note: iStat Menus can't control fans on the newest Apple Silicon Macs. In addition, Apple Silicon MacBook Air doesn't have a fan; neither does the MacBook from 2015.
How to decrease Mac fan speed
For most people, iStat Menus is the ideal solution for monitoring and getting their fans to work. However, since iStat Menus doesn't have an option to decrease fan speed, if your Mac fan gets too loud too often, you might want to try another app in addition to iStat Menus.
Macs Fan Control is a free utility that gives you all the Mac fan control settings you need. While not specifically a fan speed monitor, Macs Fan Control lets you see the RPM level your exhaust is currently working at and change it accordingly by moving a single slider.
To control fan speed with Macs Fan Control:
Launch Macs Fan Control
Click Custom next to a specific fan
Use the slider to set the value you're looking for
OK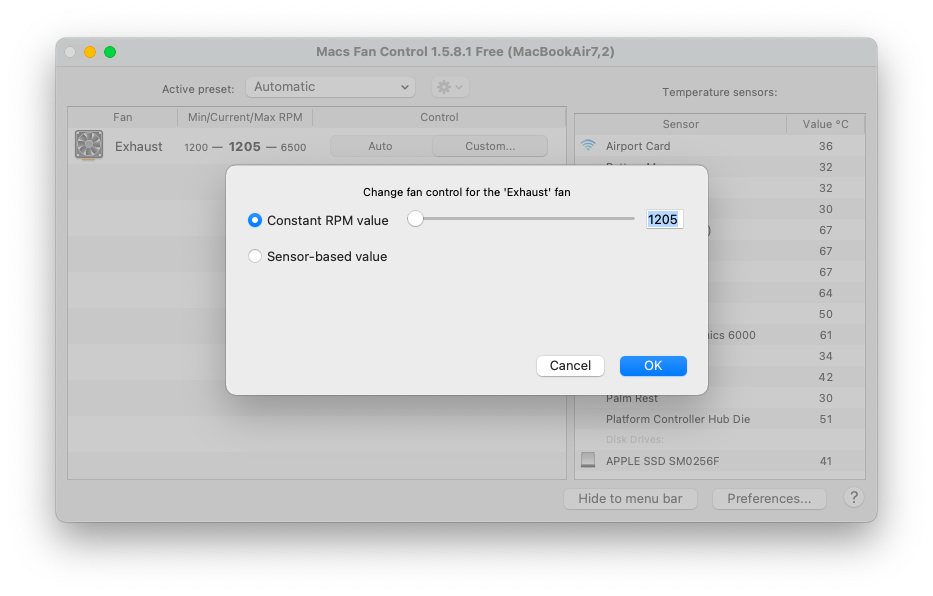 How to turn off fan on Mac
In general, shutting down the fan on your Mac completely is a bad idea, due to the immediate internal overheating that could follow. So don't do it just because you're annoyed by the sound of your fan.
Sometimes, however, your fan can get buggy and spiral out of control for no reason. In those cases, it's useful to know how you can reset SMC on your Mac to fix it.
SMC is a low-level Mac utility that manages things like light sensors, battery, powering up, temperature, etc. Hence, resetting the SMC will shut down your fan and allow it to restart.
Here's how to turn off fan on Mac by resetting your SMC:
Unplug your Mac from power and shut it down completely
Press Shift + Control + Option and hold the power button, all for 10 seconds
Turn on your Mac as usual
To avoid frequently resetting your SMC, it's a good habit to monitor tasks that take too much of your CPU and keep your Mac optimized overall. The easiest way to do that is by using an app like CleanMyMac X.
CleanMyMac X is the leading optimization software for Mac. It can help you get rid of junk files, completely delete apps, streamline various processes, scan your Mac for malware, guard your privacy, and much more.
To use CleanMyMac X to keep your Mac in shape, we suggest running through maintenance scripts every few weeks or so:
Launch CleanMyMac X
Navigate to the Maintenance tab
Check all applicable improvements you want to make
Click Run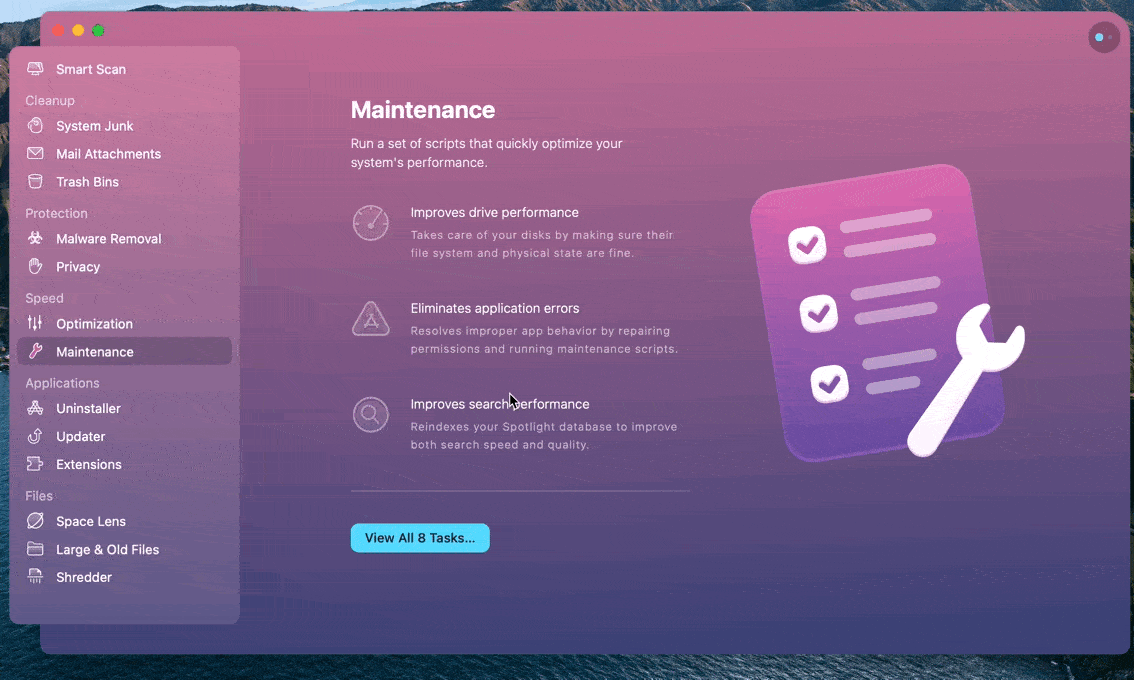 As you can see, learning how to control fan speed on Mac is not difficult when you have a robust monitoring solution like iStat Menus in place. If you feel like your fan is too slow, just use iStat Menus to accelerate it a little bit. To decrease the speed of your fan, you can download Macs Fan Control. Finally, when your fan gets out of control, you can reset your SMC, but it's even better to keep your Mac optimized at all times with CleanMyMac X.
Best of all, iStat Menus and CleanMyMac X are both available to you absolutely free with a seven-day trial from Setapp, a platform with more than 210 top Mac apps that cover anything from using cloud storage as local drives (CloudMounter) to focusing on specific Mac windows (HazeOver). Try every Setapp app at no cost today and create your new collection of favorites.