How to fix iPhone contacts not showing up issue
Are you unable to access contacts saved on your iPhone? We can relate. It's a frustrating experience that can make you feel like you're cut off from your social and professional networks. Many users complain that when they save a contact, after a few minutes, it disappears from the contacts. This problem can be caused by a variety of factors. The most common ones are iCloud syncing issues or software glitches. Fortunately, there are some solutions that can help you regain access to your contacts that aren't showing up.
In this article, we'll explore some of the most effective ways to fix the problem of iPhone contacts not showing up, so you can stay in touch with the important people in your life.
Why iCloud contacts not syncing
Let's first start with the basics. To keep your contacts up to date and accessible across all your Apple devices, iCloud contacts syncing is essential. It ensures that any changes made on one device appear on all your devices. It also backs up your contacts to the cloud for safekeeping.
There are several reasons why your iCloud contacts might not sync properly.
iPhone not saving contacts
The common problem is that your iPhone doesn't save contacts to iCloud. This can happen if you have turned off iCloud contacts syncing on your device or if there is an issue with your iCloud account. It can also be caused by an outdated version of iOS or a weak internet connection.
iPhone contact names missing
Another issue you may encounter is missing contact names on your phone. This can happen if you have recently updated your iOS or if there is an issue with your iCloud account. It can also be caused by duplicate contacts or incorrect settings in your iCloud or iPhone contacts.
How to fix contacts not showing up issue on iPhone
So if you're trying to manage iPhone contacts not showing up, here are some fixes to try.
Restart your iPhone
Restarting an iPhone is a well-known remedy for various phone bugs. Although it may seem like a very obvious and even useless way to fix a problem, it's actually a good indicator of whether the issue is serious or not.
To perform a simple reboot, press and hold the side button or the side button + the upper volume button for a few seconds. If your iPhone reacts by displaying a slider, you should swipe it to turn off the phone. Hopefully, it was a simple software glitch, and the problem is solved.
Check if you're showing all contacts
Sometimes the reason you can't see all of your contacts is because they might be set to hidden.
Here's how to check and fix this:
Open the Contacts or Phone app on your iPhone
Make sure it says Contacts at the top. If it doesn't, tap Lists in the upper left corner
Tap All Contacts and check if now you can see all the contacts that were missing.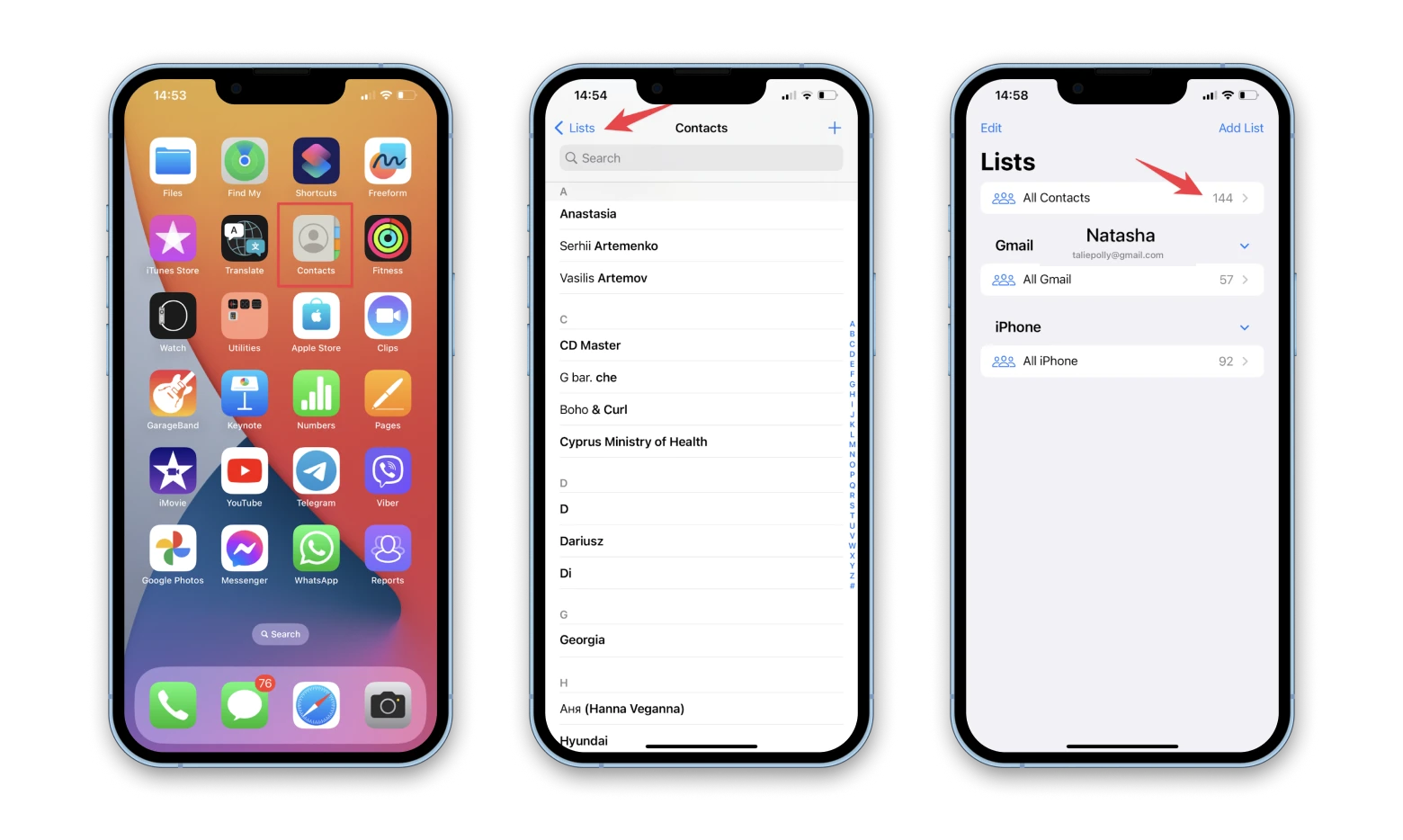 Re-sync with iCloud
Some iPhone users who have experienced this issue have resolved it by resynchronizing the Contacts app with iCloud. Try turning off iCloud access for Contacts and turning it back on. This may help refresh the app, and the missing contacts may reappear.
To re-sync Contacts to iCloud, follow the steps below:
On your iPhone, open Settings
Tap your name
Then tap iCloud

Under All apps using iCloud, tap Show All
If Contacts is turned on, turn it off. When prompted, tap Keep on My iPhone to save previously synced contacts on your iPhone
Activate Contacts again and tap Merge.
Manage iPhone contacts from computer
If the methods mentioned earlier were unable to resolve the issue of contacts not showing up on iPhone, our suggestion is to add them from your computer using AnyTrans for iOS.
To add new contact directly on your iPhone from your Mac:
Install and open AnyTrans for iOS
Connect your iPhone using a USB cable. AnyTrans will automatically detect your iPhone
Next, click the More button on the right, and you'll see the Contacts option in the left sidebar. Click the Contacts option
Click the "+" button at the top to add a new contact.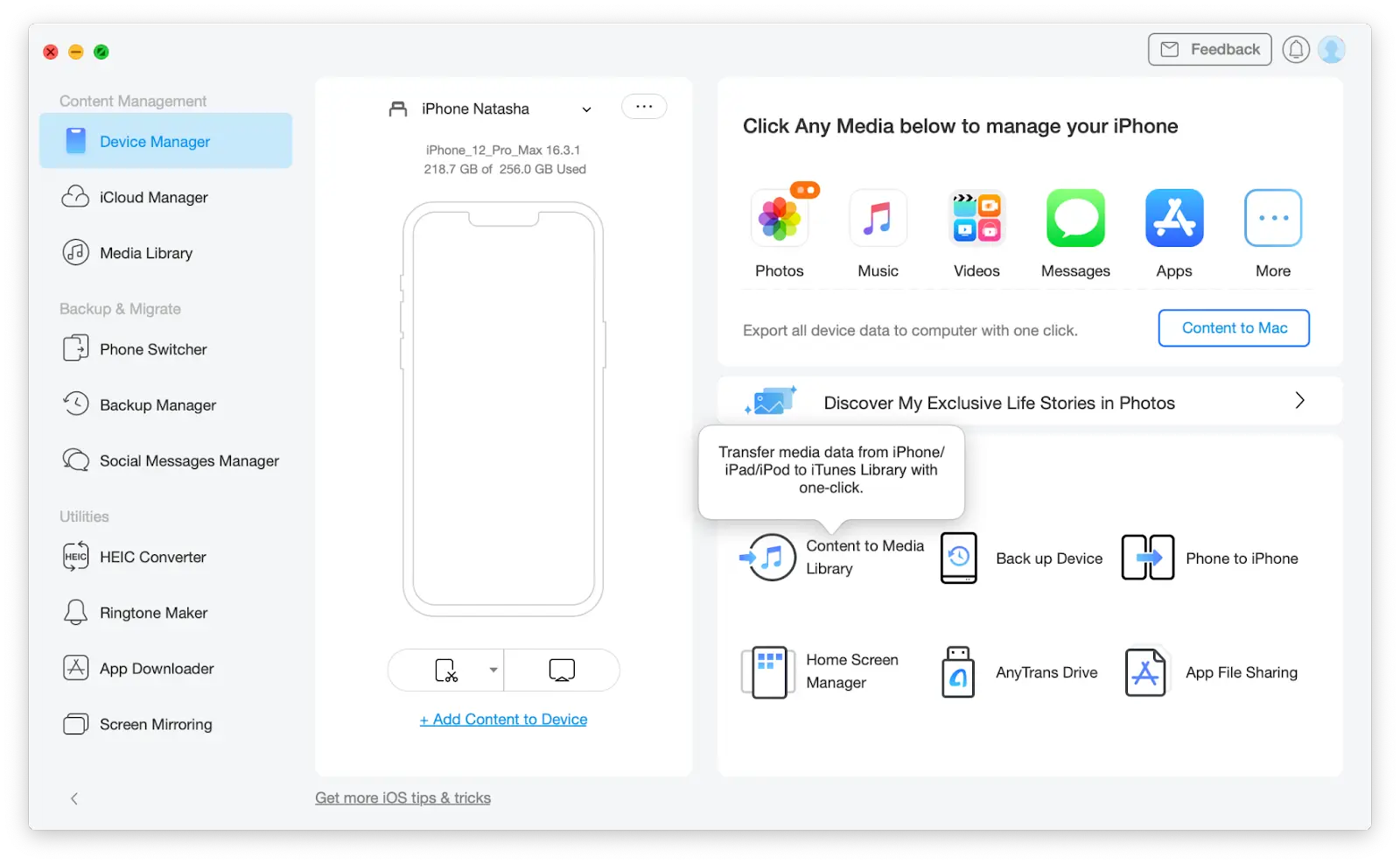 Besides that, after connecting your iPhone to this tool, you can easily check if there are any missing contacts in your iTunes/iCloud backups. If there are, you can transfer them directly to your iPhone. Here's how to restore missing contacts on your iPhone.
You can also preview recoverable files before restoring them and use the Recovery Vault feature to protect your files from an accidental deletion in the future.
Disable Short Name
Short Name is an iOS feature that changes the way contacts are displayed on your iPhone by showing only a first name, a last name, or a combination of the two. This helps users fit more names on the screen in some native and third-party apps, but it can also cause contact visibility issues. For example, if contacts don't show up in Messages, disabling short names can help restore them.
Here's how to turn off Short Name on iPhone:
Open the Settings app on your iPhone
Tap Contacts
Tap Short Name
Turn off Short Name by sliding the toggle to the left.
If you still don't see the missing contacts on your iPhone, try the next troubleshooting solution below.
Modify Gmail or Yahoo account settings to re-sync contacts
In addition to contacts that you manually save, the iOS Phone app also aggregates and displays contacts from all accounts (Outlook, Google, Yahoo!, etc.) that are active on your iPhone. If you can't find some contacts on your iPhone, make sure that contact sync is enabled for all connected accounts on your iPhone.
Here's how to modify mail account settings to re-sync contacts:
Open the Settings app on your iPhone
Tap Contacts > Accounts
Under the Accounts section, tap each account and make sure Contacts sync is enabled.
If contacts sync is already enabled, turn it off and on again.
Upgrade to the latest version on iOS
Finally, there's always a chance that a bug or software incompatibility on your iPhone may have affected the ability of the Contacts app to display all of your contacts.
To make sure that your iPhone's operating system is up to date:
On your iPhone, open Settings
Go to General and tap Software Update
If there are any pending updates, tap Download and Install.
iPhone contacts not showing up: Final thoughts
If you're among those fighting with iPhone contacts not showing up, we hope this guide will help you find a solution quickly. As a helpful tip, you can try adding a new contact through AnyTrans to see if that solves the problem. The app is available on Setapp and is free to try for seven days. Disk Drill, a data recovery tool we've mentioned in this article, is also among 240+ Setapp's apps for your Mac, iPhone, and iPad. Give it a try and never lose your contacts and other valuable data again.