Mastering academic writing: AI tools for research paper writing
Learning how to write research papers is one of the critical skills you acquire while studying at a university. The point is not so much about your writing as it's about your skills in scholarly research — the ability to collect, organize, and analyze information as well as answer particular academic questions.
In this article, we'll talk about guidelines for writing academic papers and discuss how you can use AI to look for reliable sources, quickly go through large amounts of information, efficiently manage your notes, organize your arguments, and improve your writing style.
Let's start with the definition of academic writing.
What is academic writing?
Academic writing is a formal style of writing used for academic purposes that differs from other types of writing in terms of how prescriptive it is on matters of content, style, and structure:
Content: When you're writing for academics, the idea is always to present your original research or analysis in relation to the general context of the current scientific conversations in the field.
Style: Academic writing style is formal, objective, and logically reasoned. It often employs long phrasing, uses the third person, and leverages passive voice to maintain a detached stance from the subject of the study.
In addition to these general conventions, the academic style is also regulated by the formal guidelines for writing academic papers, called style guides. They provide specific instructions on how to present your arguments, format and punctuate your writing, and cite sources. Two of the main style guides for academic writing are the MLA (Modern Language Association) guide and the APA (American Psychological Association) guide.
Structure: Academic writing presents information and develops arguments in a highly structured way.
For instance, an example of a good research paper must open with the central argument, followed by the analysis of the information you have collected to support your argument, culminating in a persuasive conclusion that leaves no doubt about the paper's key idea.
Types of academic writing
Academic writing covers a wide variety of formats, created for different purposes. These include reviews, essays, grant and research proposals, theses and dissertations, research papers, conference abstracts, and many others.
Let's look at the main academic genres:
Essay: A relatively short piece that presents a specific point of view, supported by the author's arguments as well as their response to existing counterarguments.
Research paper: A comprehensive work formulated around a statement of the author's position (thesis statement), supported by their in-depth analysis of existing research on the subject.
Research proposal: A formal document that requests funding for an academic research project.
Thesis and dissertation: A lengthy empirical research-based project of a master's or doctoral program.
Literature review: A piece of academic writing that summarizes and examines a topic through analysis of other authors' works.
What makes good academic writing?
The key to not dreading the question "Is your research good enough?" is to make sure that your academic paper is not simply an extensive summary of a topic. It should contain your interpretation of the findings and offer a perspective on the issue.
Generally, the structure of your research paper should follow a five-part outline:
Thesis Statement: Clearly state your point. Summarize your argument in one or two sentences, making a claim that calls for further evidence or analysis.
Introduction: Set the scene. Present your argument in a context by overviewing the major scholarship, or history of the field, and explain why your paper is worth reading.
Evidence: Support your statement with arguments. This is the main body of your paper and each paragraph should focus on a single claim that helps you explain the central idea of your work.
Discussion: Argue your position against competing ideas.
Conclusion: Reach a clear conclusion. Refer back to your thesis statement and repeat your main argument.
Top AI-powered apps to improve your academic writing style
As you can see, when it comes to writing for academics, you need to acquire a profound knowledge of your topic and analyze a variety of sources before you can make an original contribution to the debate on the subject. This is the first area where you can expect considerable help from AI.
And the other thing you can easily get help with when you write research papers is writing itself. AI can help you look up and summarize your sources, translate, check your grammar, suggest improvements, fine-tune your writing style, and even craft counterarguments.
For example, take a look at a built-in AI assistant featured in Craft.
Craft is a popular writing app that's great for helping you organize all of your ideas and notes. It lets you easily create links to whole documents or specific blocks inside a document — treating your page as a portal into sub-pages and interlinking all the pieces you want to keep together. It's sometimes called "a second brain" in user reviews for its multi-level folder system that helps promote the good structure of your academic writing project.
Use the app's AI assistance to collect information, check grammar, translate, summarize long documents, rewrite your text, and even find answers to questions in your documents.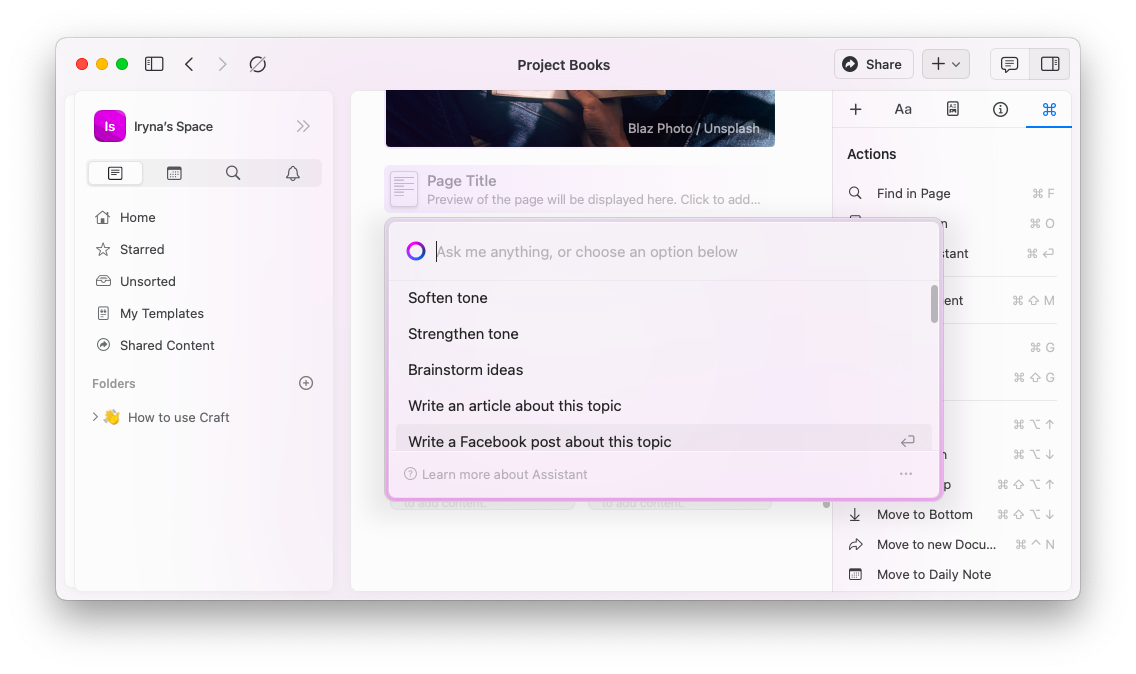 If you're looking for a well-focused chat with AI, try TypingMind.
TypingMind asks you to choose from a collection of about two dozen built-in AI characters to chat with. You can go for Standup Comedian, Professional Chef, Life Hacker, or, in our case, Academic Researcher.
Your choice instructs AI to act accordingly. For instance, Academic Researcher AI is tasked with identifying reliable sources, organizing them in a well-structured way, and documenting everything with accurate citations — on a research topic of your choice.
You can use TypingMind to ask questions, request explainers, collect information on a subject, fix grammar in your academic writing, and even help you come up with an outline. It probably won't write research paper for you, but it's definitely worth giving it a go for a good overview of the subject you're working on, sound Google search suggestions (turn the web search on and you'll be able to look up the information you need without leaving the app's chat), and writing assistance.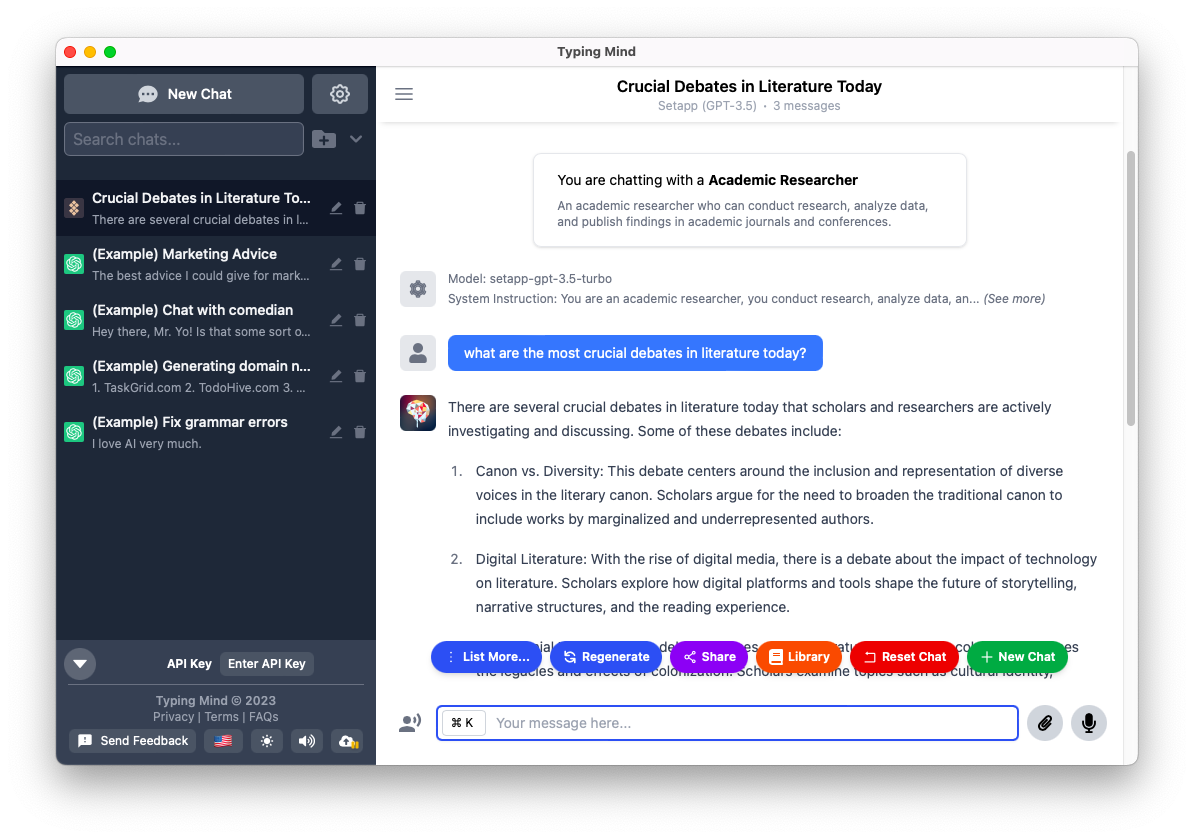 If there are times you feel stuck when writing for academics and wish somebody could just continue writing the text you've started — Elephas writing assistant can!
Elephas AI's superpower is generating content — faster than you. Saving you time and helping you become more efficient with blog posts, presentations, research, and even email replies.
When you have huge amounts of information to go over while conducting your research for an academic paper, Elephas can summarize key points for you and even suggest ideas for counterarguments.
Its open-ended Smart-write feature can take instructions from you to continue writing your text or rewrite a piece you aren't happy with, fix grammar, proofread, or work on your writing style to make it more formal or personal (provide Elephas with just two examples of a writing style you are after, and it will change the tone of your entire piece accordingly).
Another great partner to consider when you write research papers is Grammarly and its generative AI-powered writing assistant GrammarlyGO.
Grammarly offers real-time suggestions on spelling, grammar, punctuation, and clarity when you write in desktop apps or online. You can also set Grammarly's Editor domain to "Academic," and you'll get suggestions for how to change your word choice and sentence structure to fit the academic writing style. The Citation Generator feature which ensures that your papers have flawless citations according to MLA, APA, or Chicago style guides would be a great help in following the guidelines for writing academic papers we've discussed earlier.
GrammarlyGO is Grammarly's AI tool that can help you generate content. If you're wondering how to write paper research, you can use GrammarlyGO as a study companion to brainstorm ideas for your arguments, quickly find and explain the key points in the articles you're reading, look for gaps in your arguments flow, or rewrite your paper to improve your academic style of writing.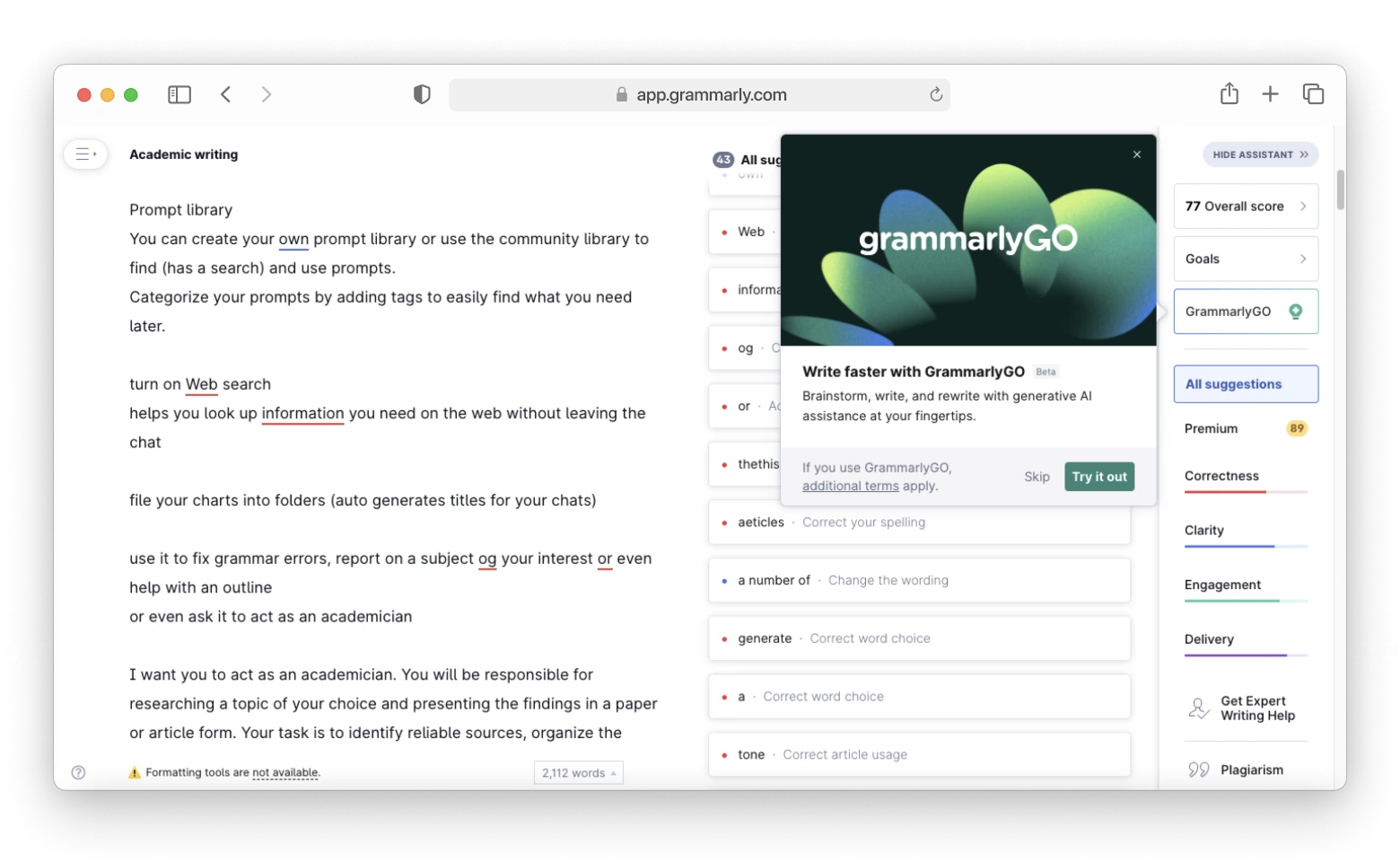 Probably the most effortless way to get quick AI help with your writing for academics we've tried so far is Plus.
Plus AI writing assistant opens with a simple Option + Space shortcut in any app where you can select the text. You can then ask Plus to explain, summarize, or translate the selected text or give it your draft to proofread, suggest improvements, or rewrite your text in a different style.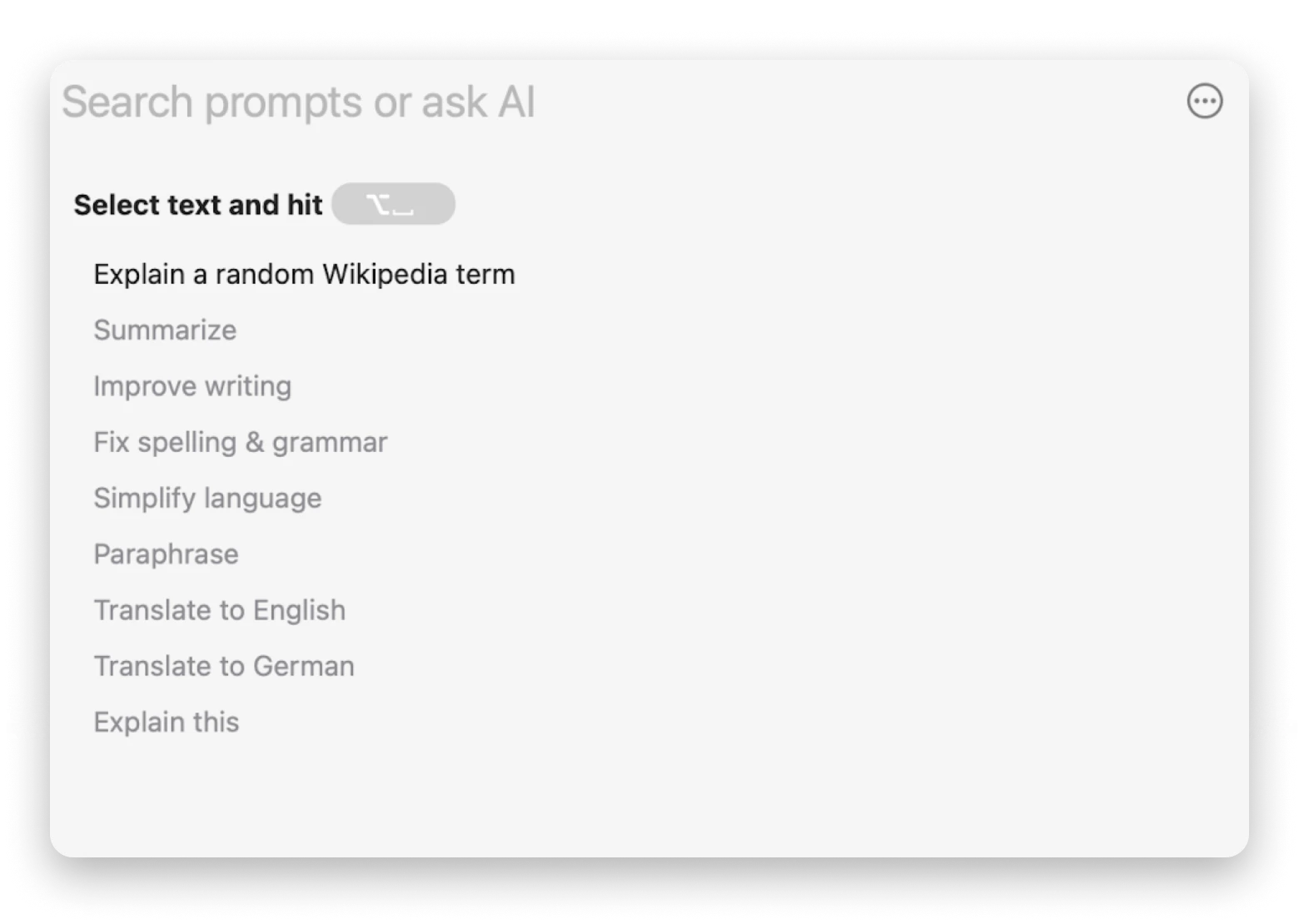 Since writing for academics doesn't really start with writing — before you can write research paper, there's a lot of reading to digest — we are happy we can recommend you an app that can revolutionize the way you take and process your notes. Meet MarginNote.

MarginNote is an e-reader app that focuses on annotation, mind-mapping, and flashcards generation so that you can study productively:
Annotation: Forget about the frustration of cramming your notes into the margins and comment with as much text as you need (as well as images, scribbles, tags, and even audio)
Mind-mapping: Merge notes from different books to group information for your arguments or bring together contrasting viewpoints
Flashcards: Create flashcards and send your notes to Evernote to keep them on your phone for quick study sessions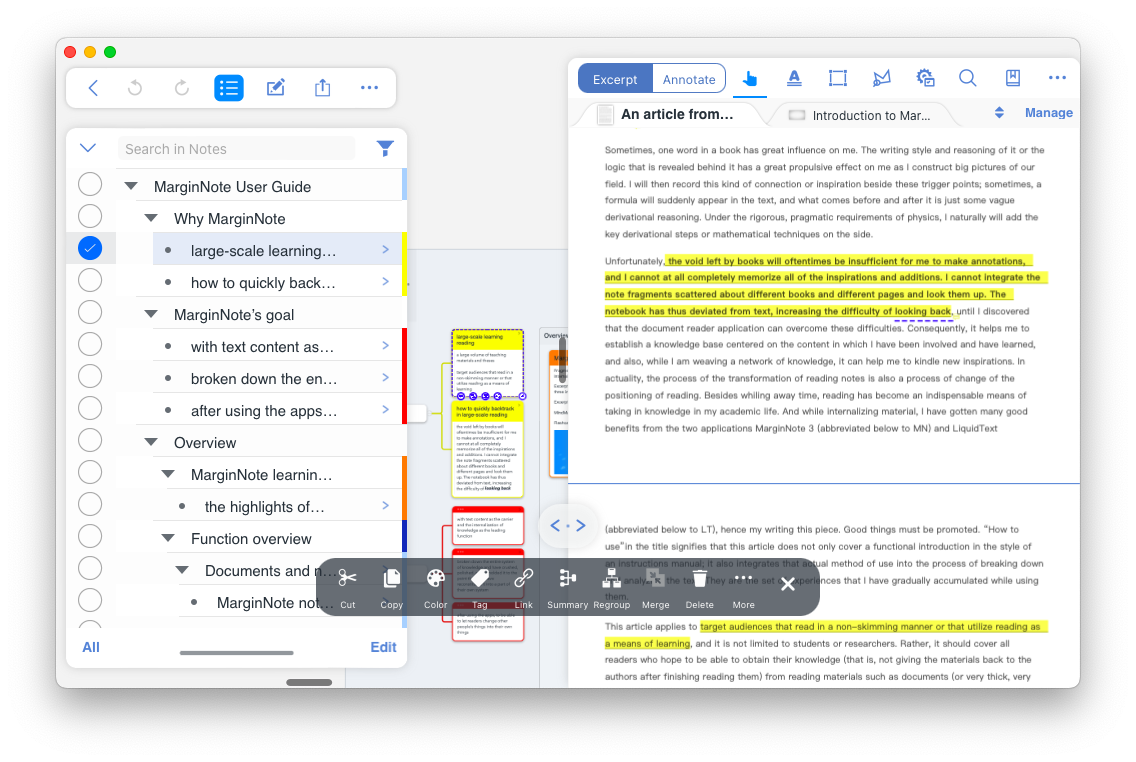 How to make your life more productive and your academic papers better with AI?
An example of a good research paper is always the result of considerable efforts applied to research, source evaluation, organizing your findings, strong composition, and clear writing style. It's great that today you can get assistance from AI on all of these stages of your project:
Brainstorm ideas and collect information with Elephas, GrammarlyGO, and AI personas of TypingMind
Organize your notes and ideas with MarginNote and Craft
Work on your structure with GrammarlyGO
To perfect your academic style of writing, don't miss a chance to try Craft, TypindMind, Elephas, Plus, and MarginNote for free with the seven-day trial of Setapp, a platform of best-in-class iOS and macOS productivity apps. Learn how to write paper research and check out more than 240 new options to boost your performance.
FAQ
What is the difference between a research paper and academic writing?
A research paper is a form of academic writing.
How long should a research paper be?
The length of a research paper depends on your topic and the depth of your inquiry but is usually limited by the requirements of your assignment. On average, research papers tend to be 4,000–6,000 words long.
Where can I conduct research for academic writing?
In most cases, you can look up resources online or visit the library to write research papers. You can also complement these methods with primary sources, such as period newspaper or magazine collections, documentaries, or interviews.