Next level of security: Master Lockdown Mode on iPhone/iPad
More often than not our iPhones and iPads carry all kinds of information we consider private, and access to which we try to safeguard. Take photos, videos, files or documents stored locally, contact lists, credit card details, personal notes, and even passwords — our devices are usually full of data we wouldn't want others to see.
The good Apple users we are, we make sure to protect our personal info with complex passcodes, Touch or Face ID, Location Services turned off, and other security measures. To take data safety on iPhones and iPads even further, a new feature called Lockdown Mode has been recently introduced. It's available with the latest iOS and iPadOS updates and offers what Apple calls an "extreme" level of protection.
What happens after you activate Lockdown Mode, who can benefit most from it, and what are the downsides of tightened security on your devices? Let's discuss.
What is Lockdown Mode?
Lockdown Mode is a new data safety feature for iPhone and iPad, designed to protect private information on your devices from personally targeted cyber attacks.
To block any potential threat to your data, iPhone Lockdown Mode employs harsh security measures. And it's important to understand that the cost for this kind of security is significant. Certain features, apps, websites will be severely limited or even unavailable on your device once iPhone Lockdown Mode is enabled.
Should you choose to activate Lockdown Mode, expect the following to be blocked on your iPhone or iPad:
Most types of message attachments (except for images)
Incoming FaceTime calls from people you haven't contacted before
Complex web browsing features, like certain forms of JavaScript
Shared albums in Photos
Wired connections with other devices or accessories you use
Incoming invitations for Apple services from new contacts, and more
Should you use Lockdown Mode on your iPhone or iPad?
When you're deciding whether to enable Lockdown Mode on your device, keep in mind that this new feature was developed as a response to a highly sophisticated Pegasus spyware and should be treated as an extraordinary form of security.
Although iPhone Lockdown Mode is available to anyone, it's really intended to be used by potential high-profile targets like diplomats, journalists, lawyers, politicians, or activists dealing with sensitive information that can't be publicly exposed.
So if you don't believe the information on your iPhone or iPad may become a reason for an individual cyberattack on you, think twice before you turn on Lockdown Mode. The trade-off with limited functionality on your device might be too painful.
Besides, when you activate Lockdown Mode, your IP stands out and attracts unnecessary attention, since you act as someone who believes they may potentially be targeted for secrets.
If you'd rather browse the web privately and have access to any content anywhere in the world, arm yourself with ClearVPN. It's a VPN app for Mac and iOS that offers bank-level security and ready-to-use VPN shortcuts you can personalize in a few clicks according to your interests.
ClearVPN lets you expand your internet reach to content and online services unavailable in your region:
Change your location to the country of your choice
Enjoy anonymity with none of your data ever collected, stored, or shared due to the strict no-log policy
Avoid being tracked for torrenting with all your incoming and outcoming web traffic being securely ciphered
Use a server with the fastest available connection
Beat regional limitations for shows and movies on popular services, such as Netflix, Hulu, HBO Max, Disney+, and others
Add up to six devices to your ClearVPN account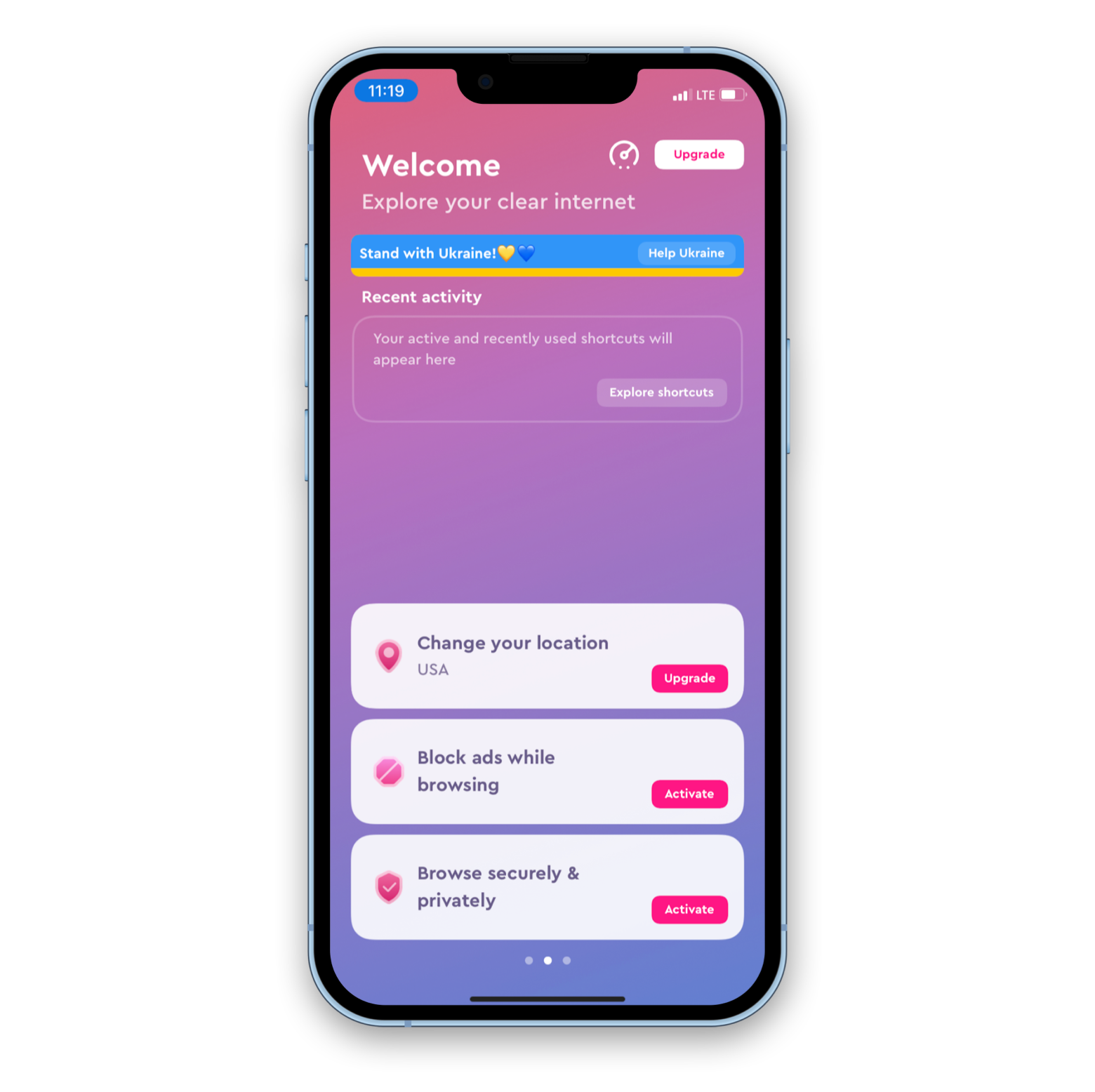 How to enable Lockdown Mode in iOS?
If you want to take all available measures to protect the data on your mobile device, or simply give the new Apple security feature a try, you can turn on Lockdown Mode on iPhone and iPad in a few simple steps:
Make sure your device is updated to iOS 16 or iPadOS 16
Go to Settings ➙ Privacy & Security
Choose Lockdown Mode (at the very bottom of the page)
Read through the warning ➙ Turn On Lockdown Mode
Familiarize yourself with the list of features that will be unavailable while in Lockdown Mode ➙ Turn On & Restart or Cancel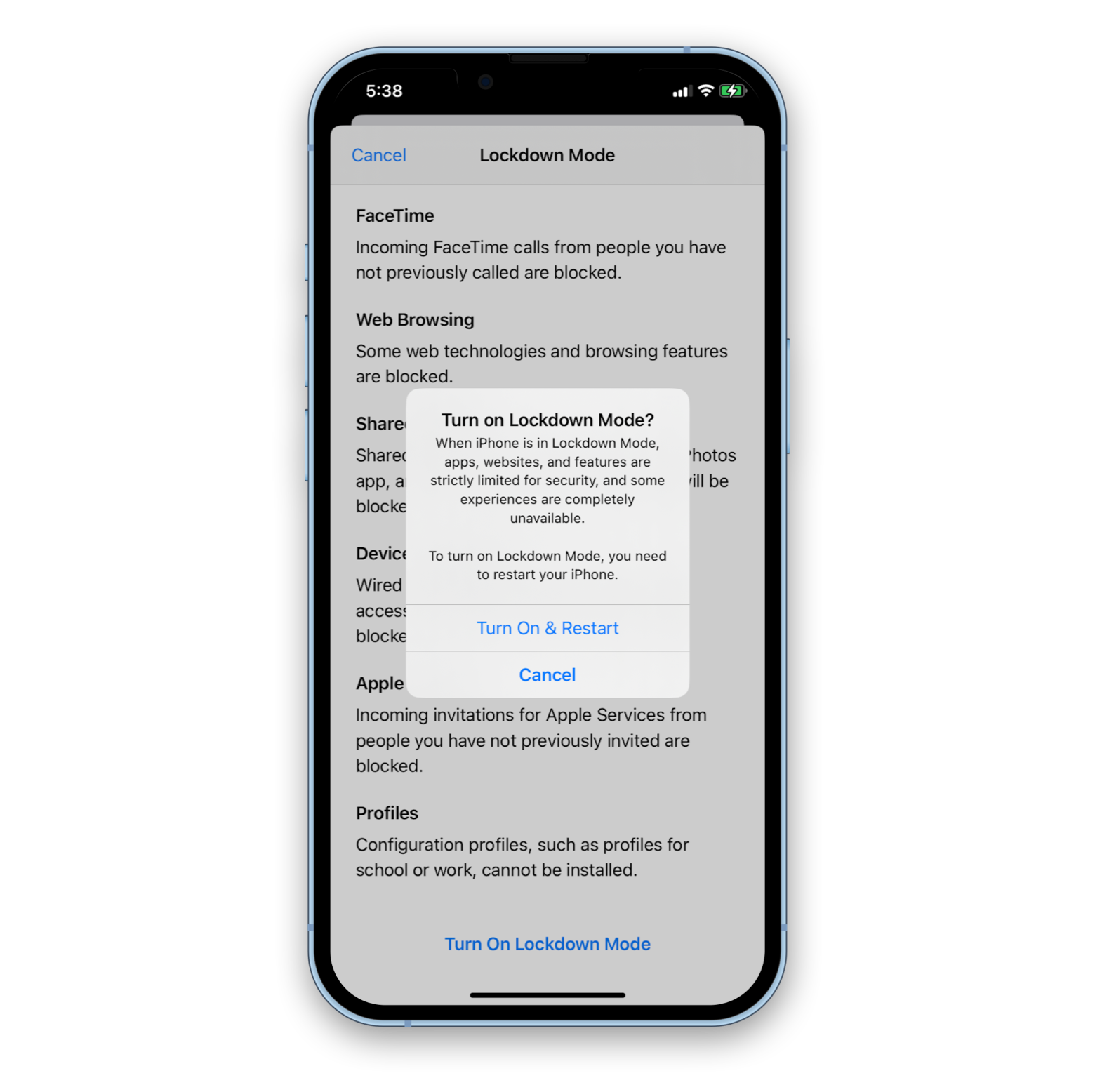 How to disable Lockdown Mode on iPhone and iPad?
You can easily turn off Lockdown Mode at any time. Should you feel you no longer need the extra restrictive security on your device, simply change the status on Lockdown Mode to Off. For this:
Go to Settings ➙ Privacy & Security
Choose Lockdown Mode
Read through the warning ➙ Turn Off Lockdown Mode
Confirm when prompted: Turn Off & Restart or Cancel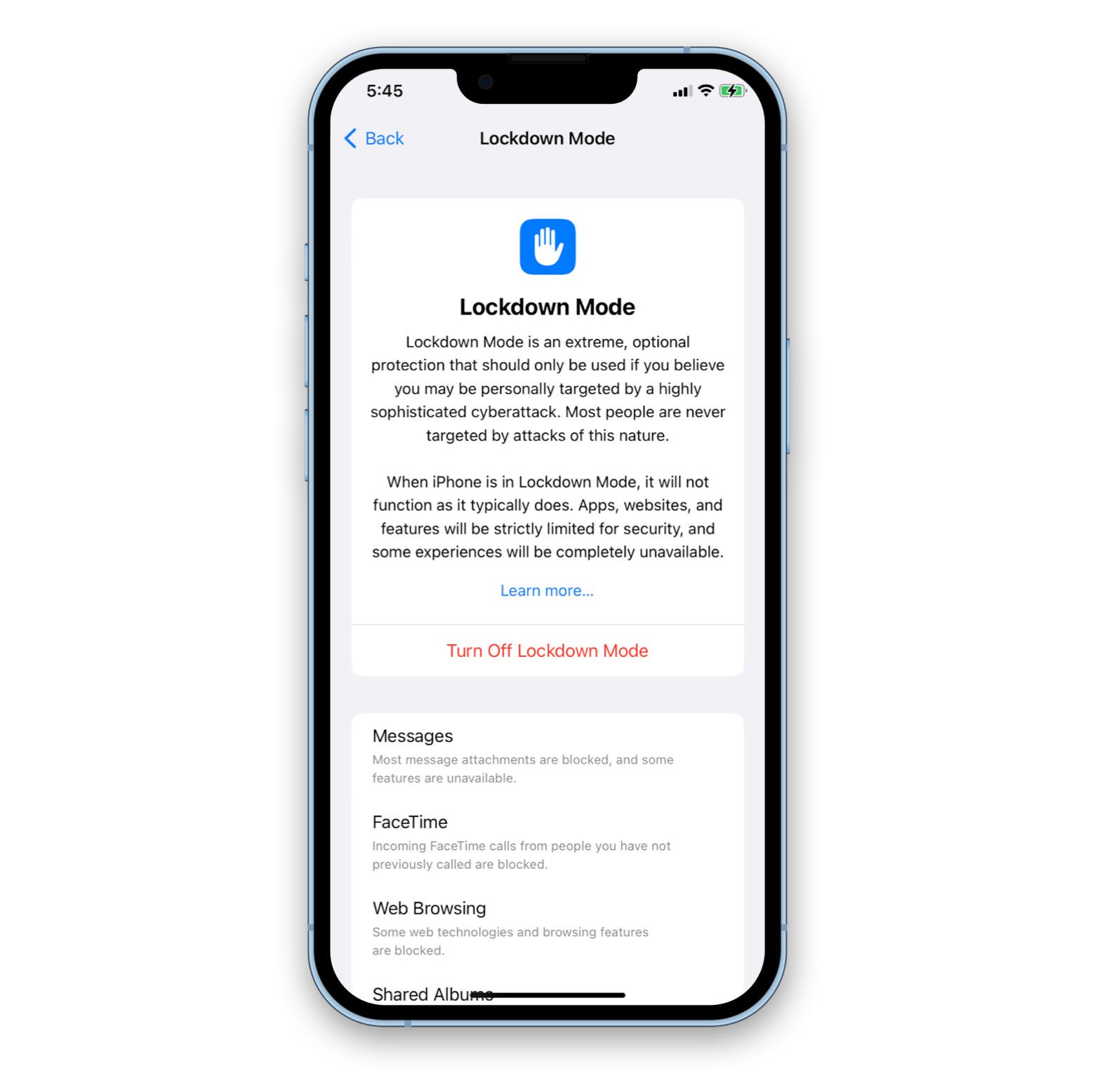 iPhone Lockdown Mode: extra protection or extra limitations?
With the cyberattack threats and citizen surveillance technologies on the rise, Apple introduces its Lockdown Mode feature to secure personal data on communication devices we use daily and basically live off nowadays. When iPhone Lockdown Mode is enabled, it protects files, notes, videos, and images on your device, but unfortunately also significantly limits your access to features you are used to. So, if the spyware threat is real, Apple has got you covered. If, on the other hand, you don't have a serious reason to suspect an attack on your personal data, it's better to resort to regular safety measures (e.g. strong passwords, Face ID activation).
You can also successfully combine solid security on your phone with access to content anywhere in the world if you choose ClearVPN for iOS. It gets you what you need fast, anonymously, and without any regional limitations. You can try using ClearVPN for free with the seven-day trial of Setapp, a platform of high-performance, best-in-class iOS and macOS apps. See how much you enjoy the best of movies, shows, and shopping worldwide and check out more than 230 other options to boost your productivity.