How to mute notifications on Mac and iOS
There are too many things going on in our lives today to keep track of. We get sent messages and emails, we need reminders to do something, we have meetings, we try to develop new habits, and more. Receiving notifications, both on Mac and iOS, allows us to stay on track and not let any task slip through the cracks.
At the same time, getting notified about every single thing from every app quickly turns into spam and actually distracts us from doing what we need to do. That's why it's a good idea to know how to mute annoying notifications from time to time to regain focus.
Let's see how you can silence notifications easily across your devices.

The best way to mute notifications on Mac
If you want to turn off notification sounds and sound warnings on Mac, the best way to do that is with Serenity.
Serenity is a menu bar app for Mac that makes silencing notifications clear and effortless. Just click on its icon, see the list of apps that have notifications enabled and toggle off anything you don't want to disturb you right now. This is a perfect solution to quickly get into deep flow. Once you're done, just toggle those apps back on. You don't need to dive deep into settings — and controlling distractions becomes much easier!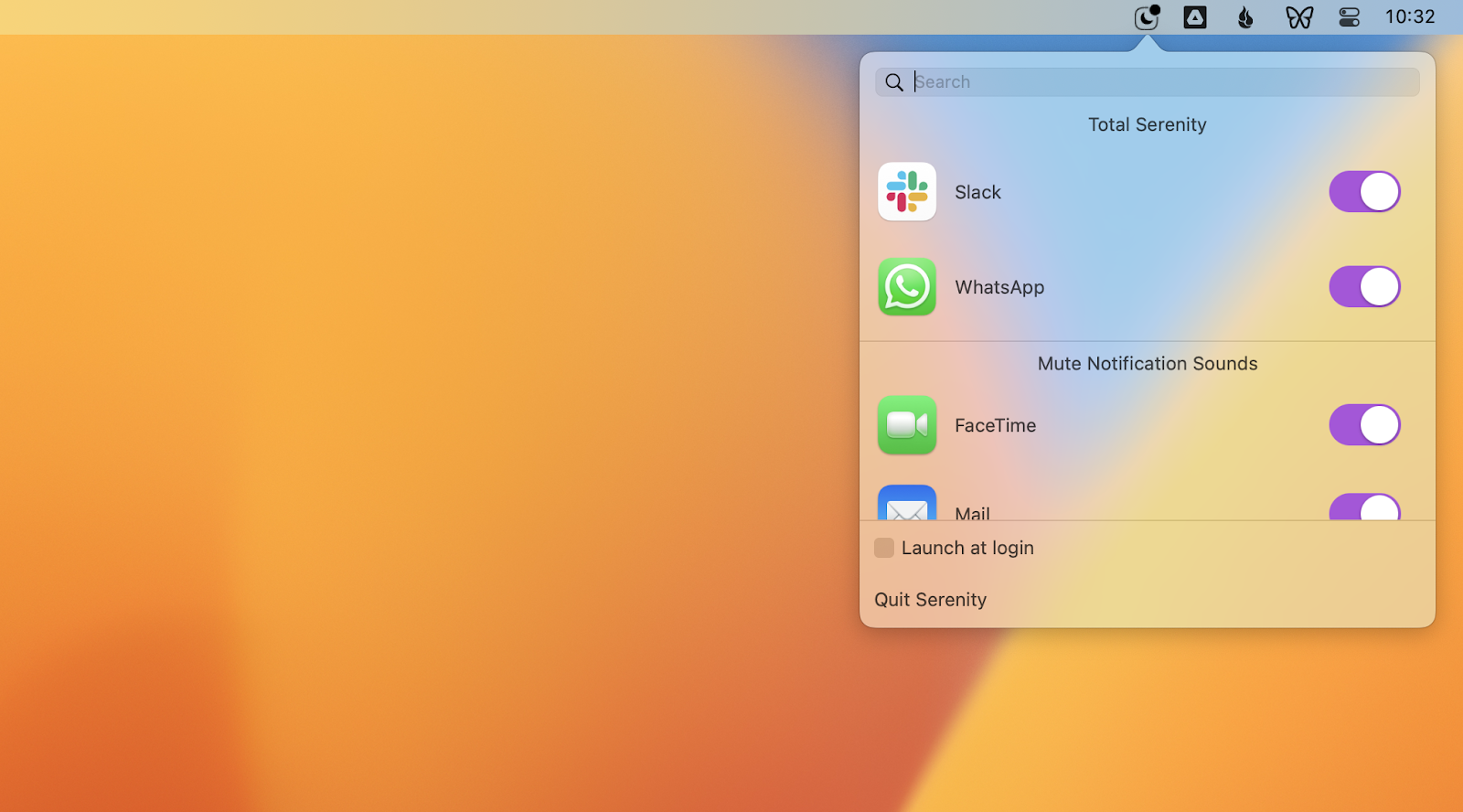 How to temporarily mute notifications for individual apps on Mac and iPhone
When you're trying to focus but keep getting too many notifications from the same app, it can be quite annoying. Luckily macOS and iOS give you an option to temporarily silence notifications from specific apps for one hour or one day. You can also turn them off completely.
To mute notifications on Mac:
Click to expand the notification
Click on the ellipses (…)
Select "Mute for 1 hour" or "Mute for today"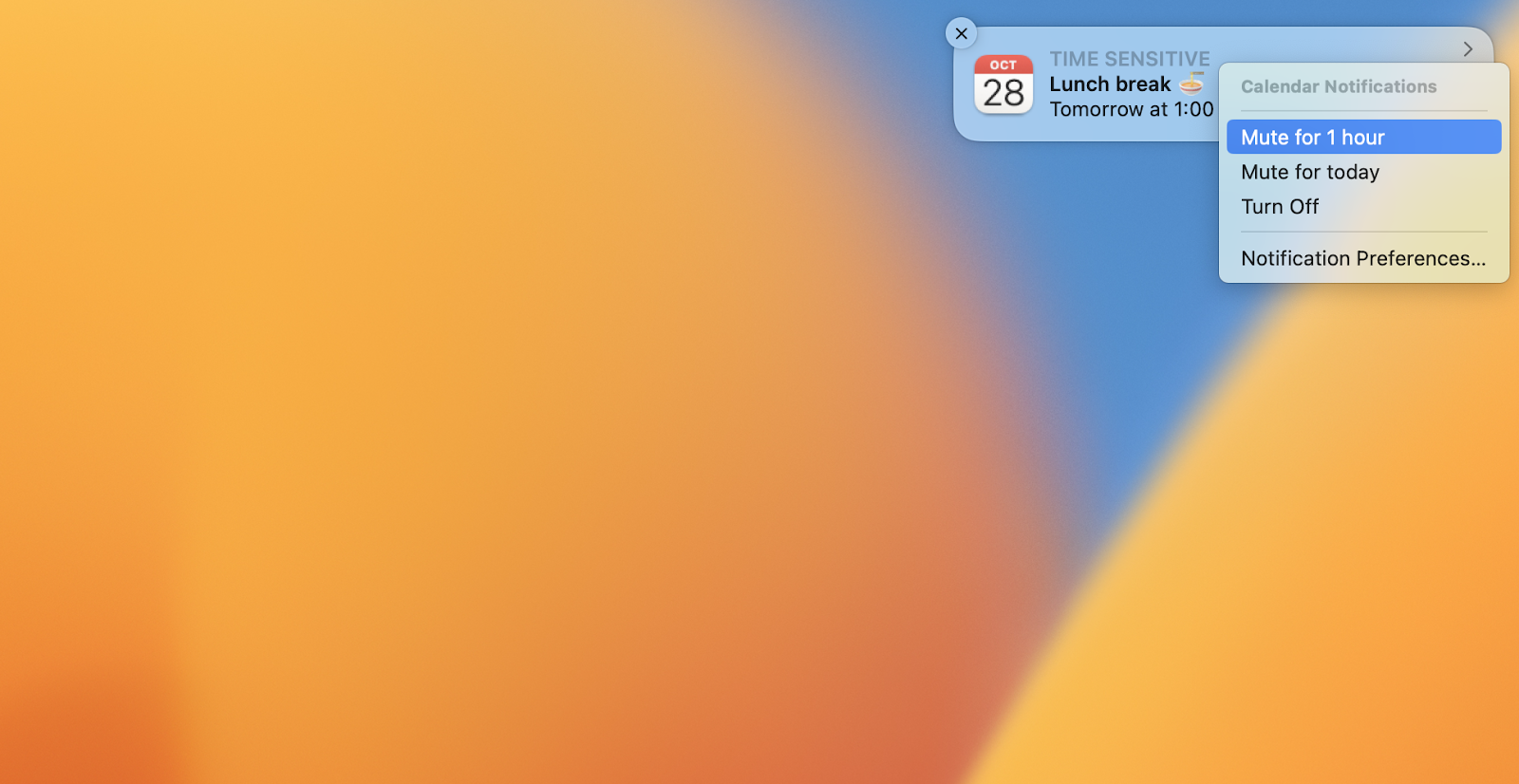 To mute notifications in the same way in iOS:
Swipe up from your locked screen to reveal all the notifications
Swipe left on a particular notification ➙ Options
Tap "Mute for 1 Hour" or "Mute for Today"
How to turn on Do Not Disturb for all apps on Mac and iOS
Sometimes, you're so busy that you want to temporarily mute all apps at once, so that nothing disturbs you. To do that, you can turn on the Do Not Disturb mode in Focus.
On Mac, you can enable Do Not Disturb by clicking on the Control Center in the menu bar, then Focus, then pick Do Not Disturb or select a specific timeframe (e.g. "For 1 hour").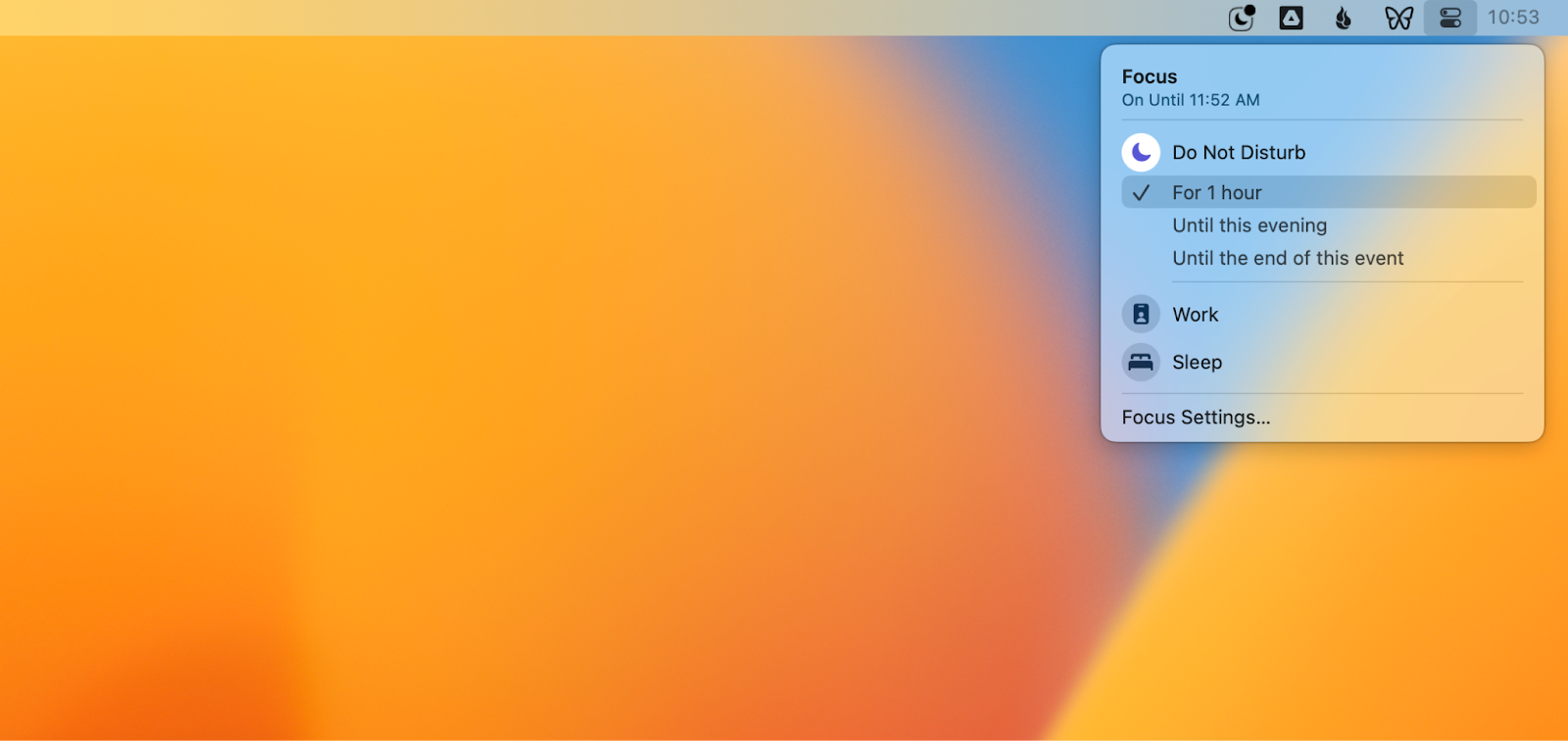 On iPhone or iPad, the steps are quite similar:
Swipe to the Control Center
Tap Focus
Choose the duration you're looking for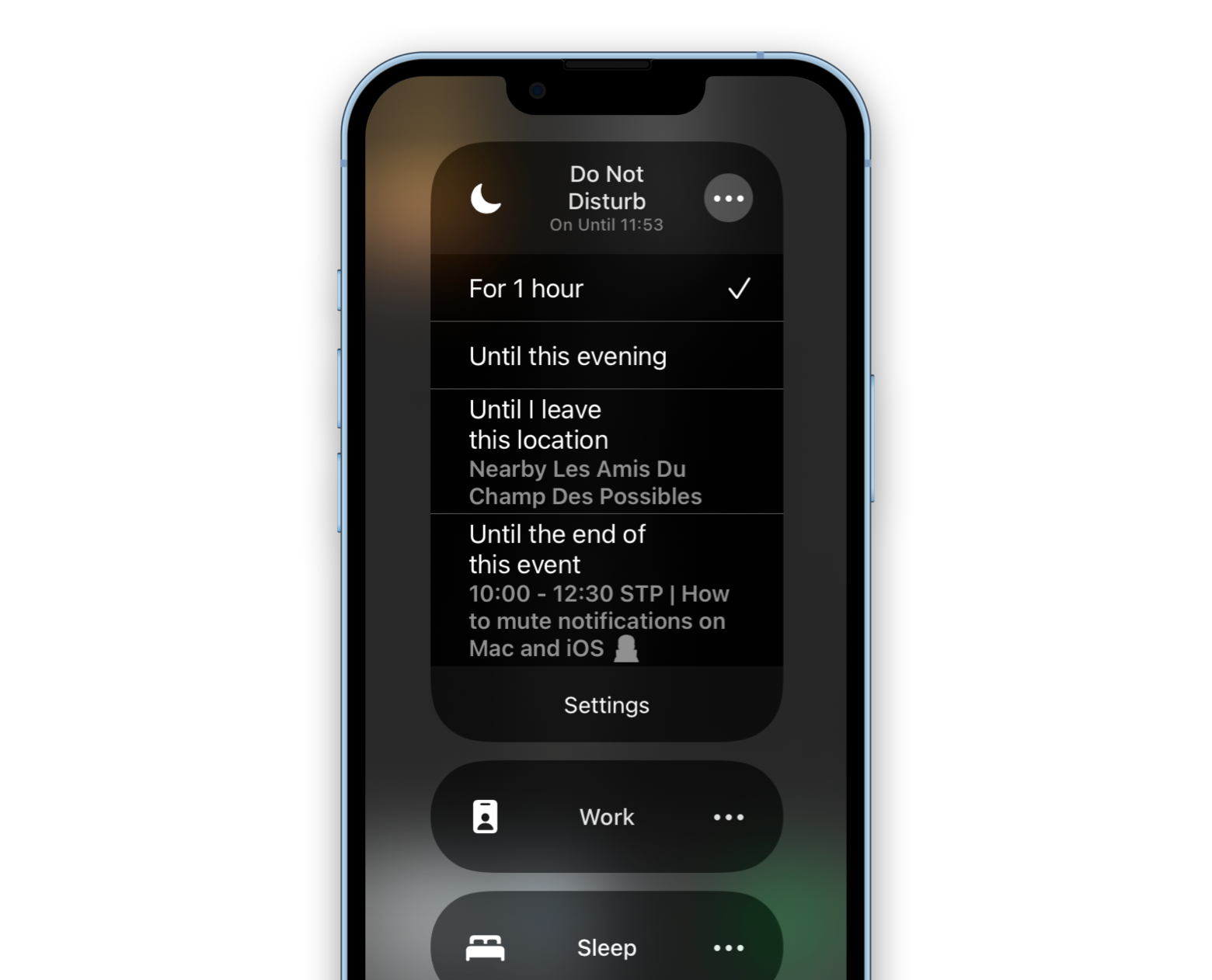 How to enable and disable notification sounds on your Mac
By default, notifications don't just appear on your Mac, they also make a sound to grab your attention. The good news is that you can tailor the sound per app, so that you know which notifications you should really pay attention to.
To enable or disable notification sounds on Mac:
Open System Settings
Navigate to the Notifications tab
Click on any app
Toggle on / off "Play sound for notification"
You can even customize the notification sound itself if you go to System Settings ➙ Sound ➙ Alert sound and select any option from the dropdown.
How to silence notifications on iPhone and iPad
It's also possible to manage and even customize notification sounds in iOS.
First, to turn off notification sounds:
Open Settings ➙ Notifications
Tap on any app
Go to Sounds
Select None or any other alert tone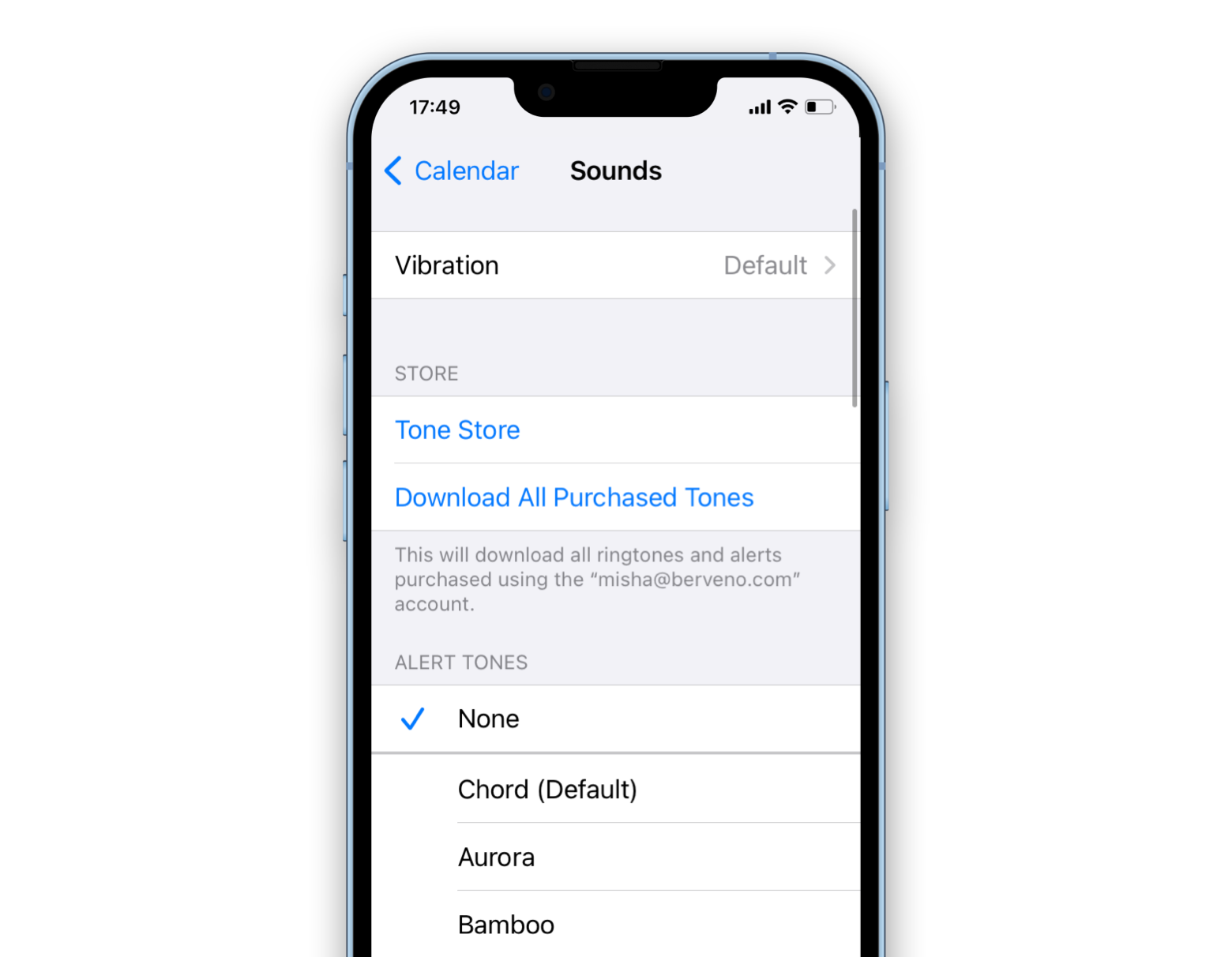 What's more, you can buy and download custom alert tones from iTunes and even set your own custom vibration for alerts if you go to Vibration ➙ Create New Vibration.
How to silence notifications from websites
You might've noticed that lately every website wants to bombard you with desktop notifications. You might have allowed some of them in the past, and now you get spammed about every single thing on the web.
Let's fix that with a quick change in your Safari settings:
Open Safari ➙ Settings (Command + ,)
Navigate to the Websites tab
Scroll down to Notifications
Click the dropdown for any website and select Deny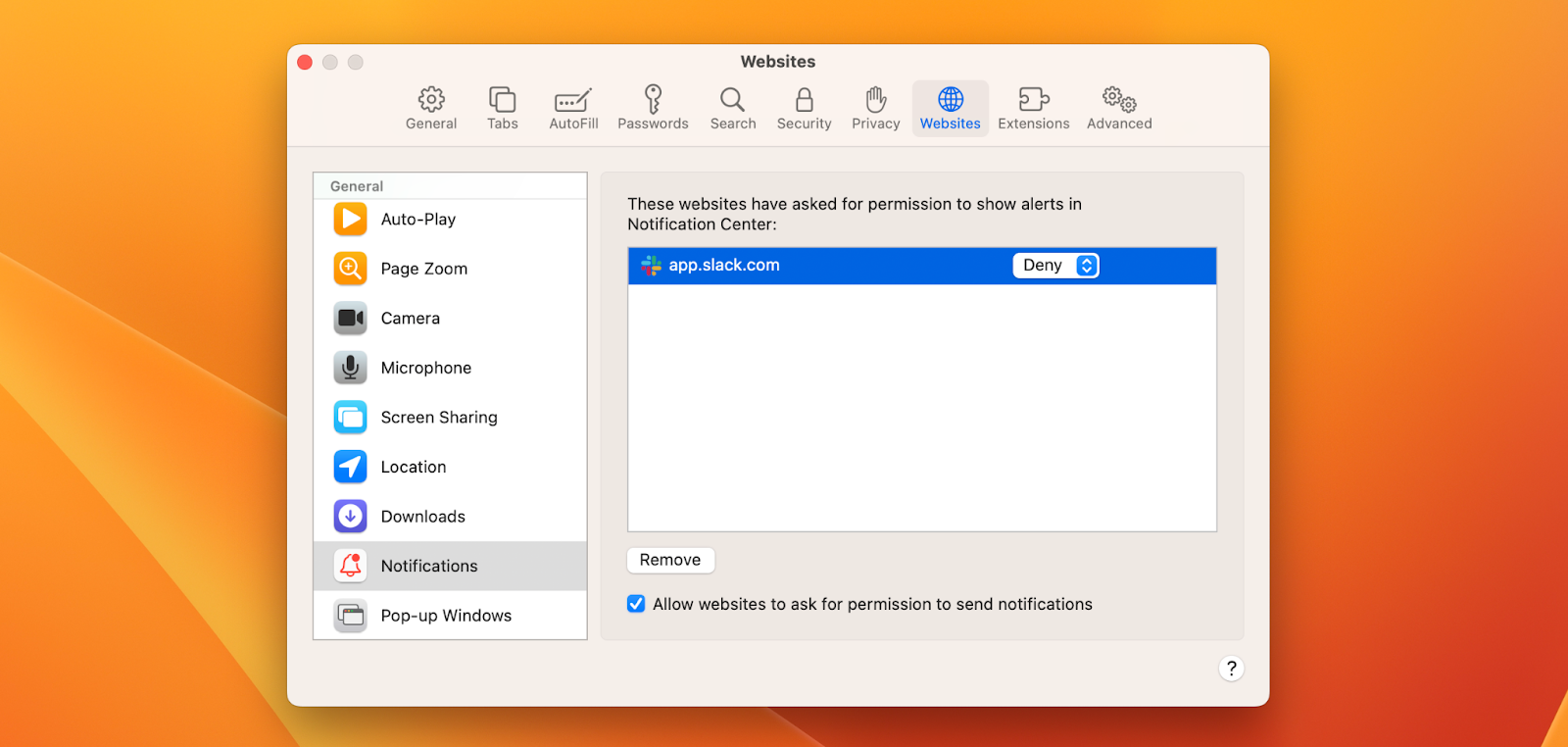 In addition, you can also Remove the website notification settings altogether or uncheck "Allow websites to ask for permission to send notifications" to never get prompted with such requests ever again.
Is there anything that's even more annoying than website notifications? Yes, of course, it's ads! Most websites are full of ads nowadays, which slow down browsing, track your personal data, and distract you from the content you actually want to see. To block all ads once and for all, use AdLock.
AdLock is a simple but powerful blocker for intrusive ads, chats, and trackers, making the web pleasant and peaceful again. Just turn it on once and all the ads disappear forever. It's that simple!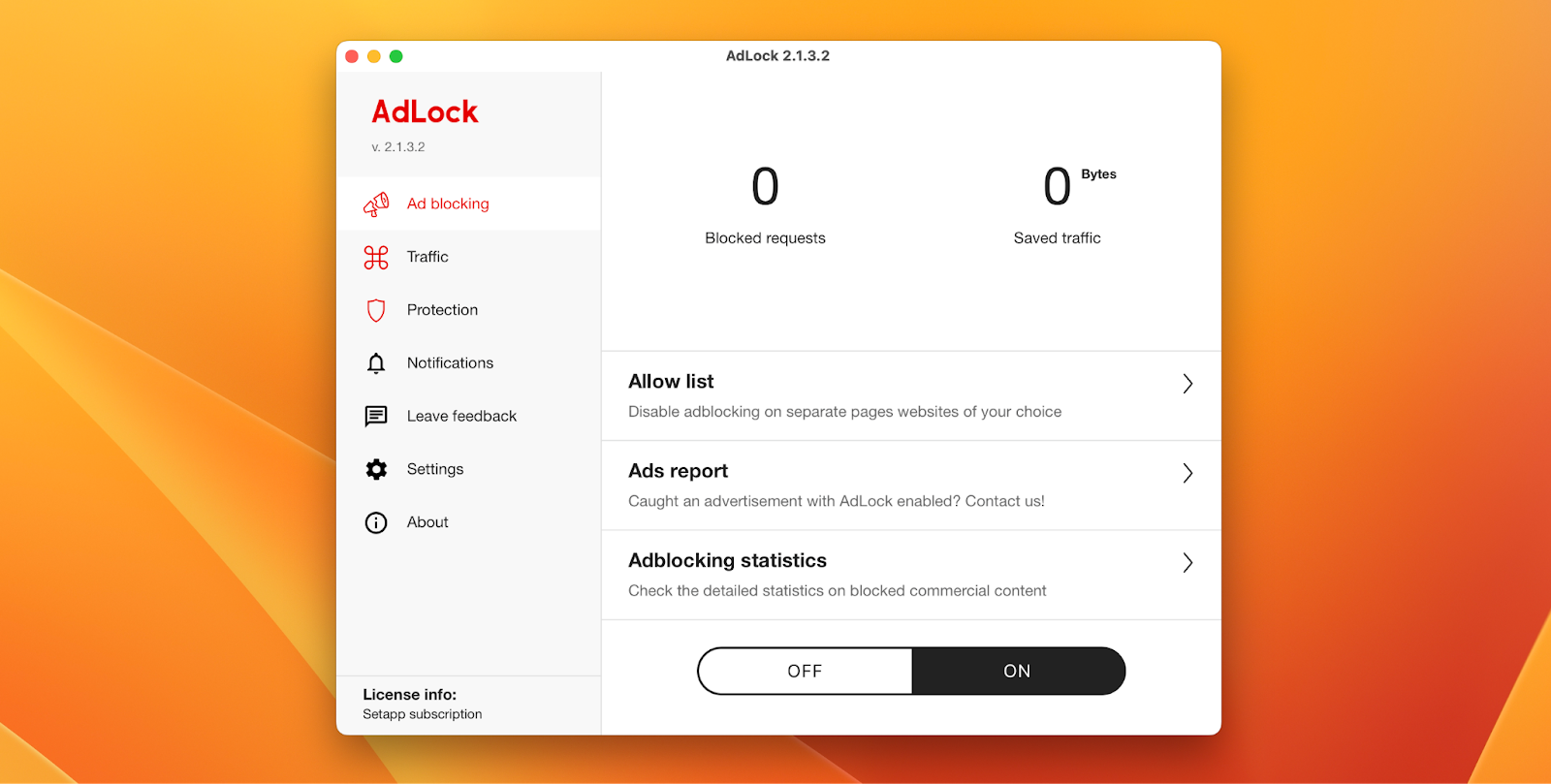 As you can see, you're in full control of all the notification settings on your Mac and iOS devices. You can change settings for every specific app or website, temporarily or permanently, and you can also choose to go into Focus and mute notifications at once. But the most effective way to control your notifications is right from the menu bar with Serenity. And for turning off ads, there's nothing easier than AdLock.
Best of all, you can mute annoying notifications with Serenity and AdLock for free during the seven-day trial of Setapp, a platform with more than 230 outstanding Mac and iOS apps for any task you can imagine. Take Setapp for a spin at no cost and discover dozens of cool apps you didn't even know about!