The best Notion alternatives
Notion is an app that gives you a workspace with everything you need: you can plan, write, collaborate, and organize. In general, Notion is the perfect app to manage everything in a single platform and is great for business, as well as personal projects and content organization. However, despite its popularity, it may not be the best fit for everyone.
In this article, we'll look at Notion in more detail. And you'll discover the best Notion alternatives and see what works best for you. Ready?
Key features of Notion
Let's first briefly recall what Notion is and who needs it. Basically, Notion is a collaborative note-taking app. You can use it to take digital notes instead of traditional pen and paper methods and word processing software. With Notion, you can work together with anyone on one document simultaneously or at different times.
Note-taking is just the beginning. You can take advantage of Notion for journaling, managing projects, and so much more. It can even become your company wiki! Overall, it has tons of features that make it useful for almost anything you need in a productivity tool. For example:
Notes & Tasks: Create rich text docs with images, embedded tables, code snippets, and more. Organize your work into nested blocks that you can reorder or convert to other forms, such as a checklist or spreadsheet.
Wikis & Databases: Create custom knowledge bases, linking pages in an intuitive hierarchy of topics and subtopics. Leverage Notion's database feature to create collections of related information such as contact lists, product inventories, or project timelines.
Integrations: To streamline your workflow, your Notion workspace can be integrated with your current tools. For example, Google Drive, Trello, Figma, Slack, and more.
Templates: Enjoy thousands of pre-designed templates that help you make your notes better and faster.
Collaboration: To quickly share resources with the rest of your team, each Notion task has a file upload and sharing system. You can also improve collaboration with comments and mentions and track your tasks, so you never forget to do anything.
Why you need a Notion alternative
Notion has a lot of strengths: it's versatile, it's customizable, and you have control over the information you share. It's not perfect, though. So what are the drawbacks making users look for alternatives to Notion?
If you're using the desktop version, you can't work offline, which is a limitation if you're someone who does a lot of commuting.
On top of that, some users have complained about glitches that cause data loss. With a tool that stores all of your important information, you really don't want to be at risk of system failure. Also, Notion's data is stored in the US, which makes it less attractive to European companies, who tend to prefer to store their information locally.
Notion's selling point is its customizability. You can tweak your documents on a project-by-project basis to get the best out of them. Nevertheless, this openness is also a concern. Most inexperienced users find this extensive customizability daunting, making onboarding difficult.
What is better than Notion app?
We know Notion as a popular all-in-one workspace. At the same time, some users use just one or several app's features. So it's hard to say for sure which app is better than Notion, because the answer will depend on your specific needs and preferences. However, there are several apps like Notion worth considering. Here are a few great options:
Craft VS Notion – the perfect choice for creatives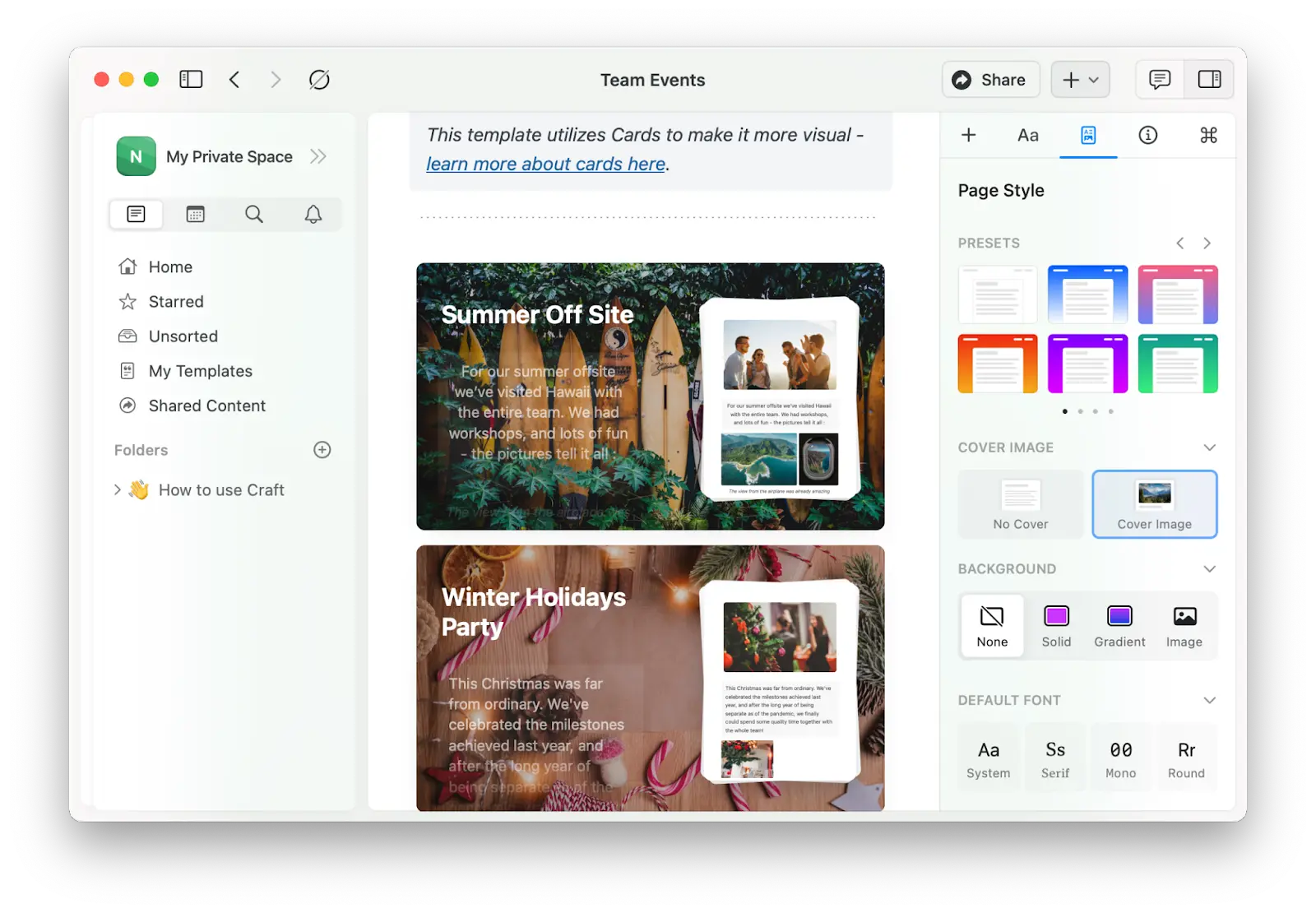 Many people choose Notion to create well-structured documents. However, there are areas where other apps shine and make the case to ditch Notion for good. Let's take a look at Craft. The app gives you a place for all your notes and writing in a modern word processor. Since it was designed with creatives in mind, it's not difficult to create really attractive documents with its help. You can use the different style blocks to show who you are, and work in either dark or light mode, depending on what you like. You can also improve your notes by adding pictures, videos, and files. Multiple templates make it even easier to achieve nice-looking documents.
The app makes it simple to do everything from adding a link to a previous project you worked on to creating a master document that links all of your current and/or completed projects. To stay organized and make sure nothing gets lost, use multi-level folders or link your notes together.
The intelligent AI assistant helps you write faster, brainstorm ideas to get over writer's block, summarize long documents, rephrase a paragraph, write social media posts based on any context, proofread text to remove mistakes, and translate into any language.
Furthermore, Craft makes it super easy for other people to access your files, understand your idea, and elaborate on it. Just create a new workspace and let others work with you.
The best thing: Craft works both online and offline, so you don't have to worry about losing your creative flow if you don't have Wi-Fi. Also, compared to Notion, Craft is fast, intuitive, and easy to onboard.
Confluence – the good old software documentation tool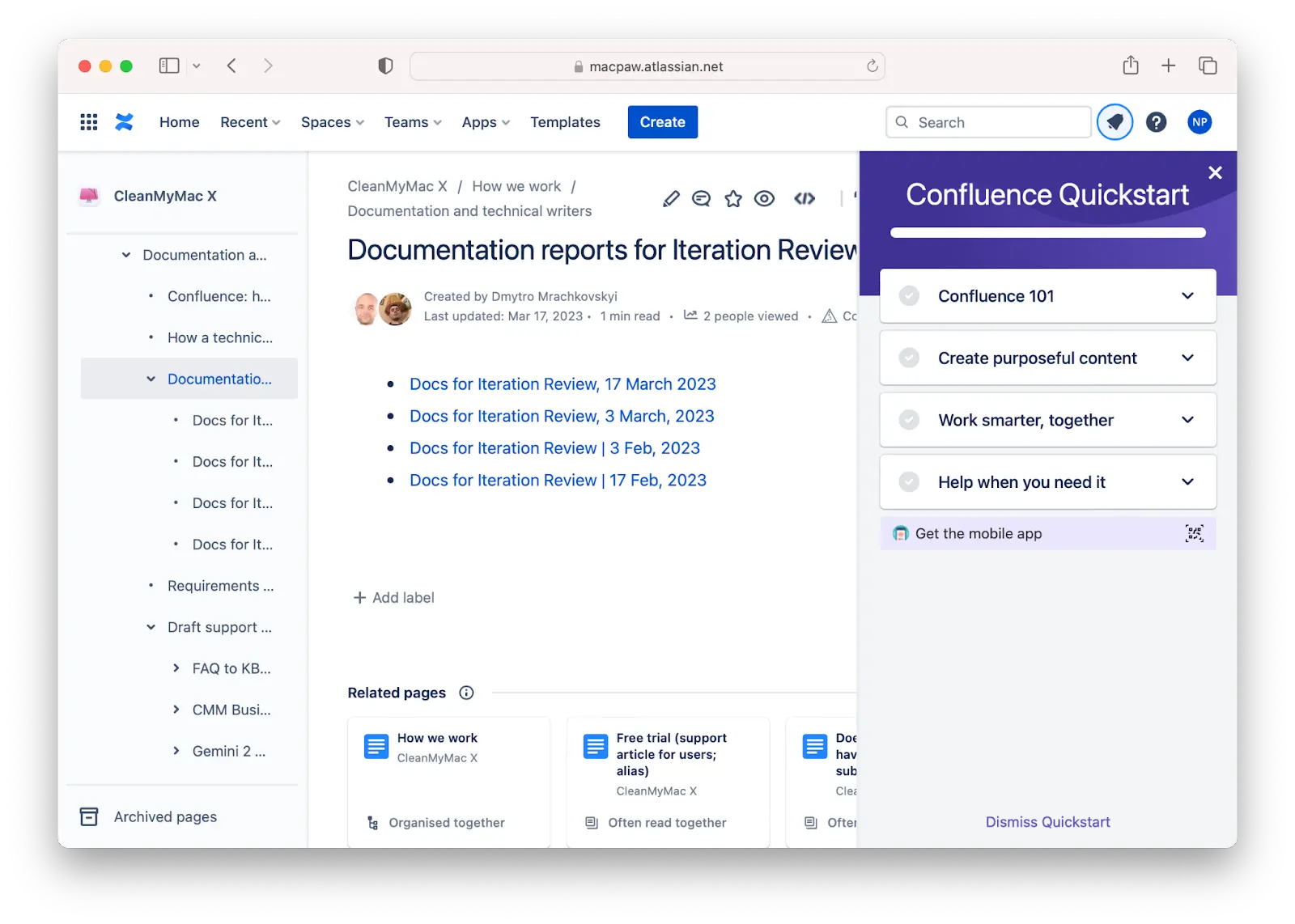 Confluence is a web-based work management platform designed to help teams collaborate on critical projects. This alternative to Notion allows users to share meeting notes and project updates in a secure and reliable way. As a result, it improves communication between team members, teams and customers, and different departments.
Confluence integrates seamlessly with Jira and other Atlassian products. If your team is already using Jira, Jira Service Desk, or BitBucket, then Confluence will be a natural fit for your workflow.
As an equivalent to Notion, Confluence is a little bit less flexible and versatile. On the other hand, Confluence is much easier to use. It has a simple and straightforward interface that does not overwhelm new users.
One of the main downsides of Confluence for us is that it can't work offline (just like Notion). However, if you started creating your doc in Confluence and the internet connection disappeared, you won't lose the written text. Confluence caches everything you write in the browser and can keep it for days (do not restart the computer). And when the internet appears, everything will be synchronized.
NotePlan – write, plan, and track tasks in one place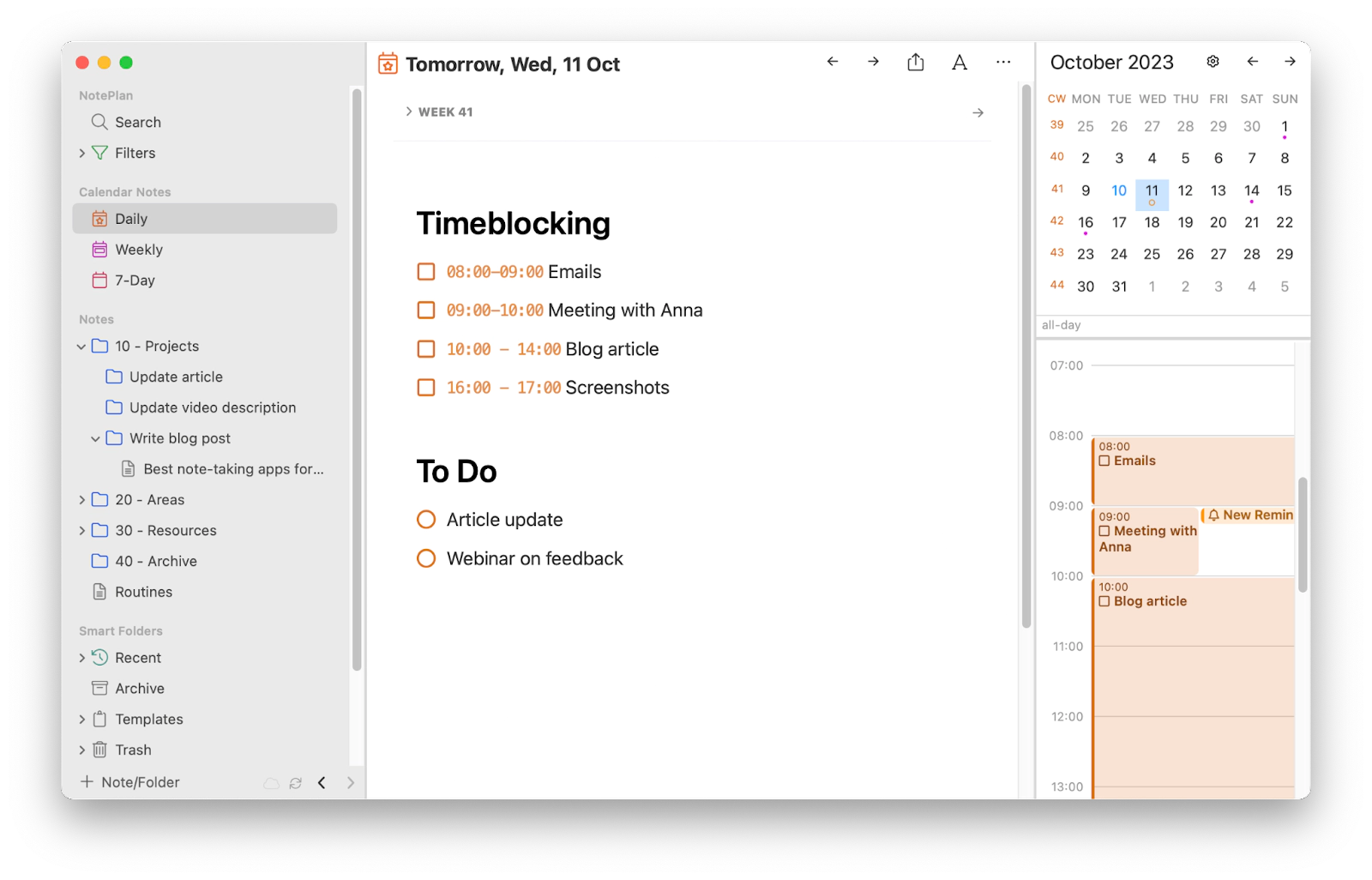 Although Notion is a popular general-purpose workspace, some users prefer a more focused tool to take notes and manage tasks. In this case, NotePlan, a calendar app for organizing your notes and tasks, might be a suitable alternative.
Helping you capture tasks quickly is the first job of a task manager. Unfortunately, Notion fails at this. According to several reviews, Notion buries your tasks, and it's almost impossible to get a bird's eye view of what needs to be done without customization and a lot of effort. This, combined with the slowness of adding new tasks, makes us not recommend Notion as a task manager.
NotePlan allows you to manage notes, a calendar, and tasks. For many users, this is the most convenient combination.
At the heart of it all are notes. Compared to other setups available in to-do managers, they give the user more freedom in organizing projects.
By creating notes in NotePlan, you will be able to unify your tasks and reminders and add them to your projects. Notes are stored in a Markdown format. This has become very convenient for many users. The point is that the Markdown syntax is quite simple, and you can create complex hyperlinked documents if you want to. In addition to links, you can also use #hashtags and @mention other users. Another great thing: Markdown text can be easily moved between apps, allowing you to combine NotePlan with other tools that support Markdown.
We also like that NotePlan is compatible with various extensions that will help you automate tasks, improve search, make the interface more usable, and more.
Structured – an uncomplicated way to track tasks and remember appointments
Some people plan their days, weeks, and months to create well-rounded routines, build habits, and achieve goals. With Notion planner templates, you can easily map out the events, tasks, and goals you want to accomplish and return to them whenever you need a reminder.
If it's your case for using Notion, you might also want to try Structured.
At first glance, Structured's simple user interface makes it less intimidating to create tasks and plan your day than it would be in an app packed with overwhelming features. Open your inbox and get a quick overview of all your tasks. Also, you can add sub-tasks within a task, which is perfect for lists. For example, you can create a shopping task and enter the shopping list as a subtask.
One of its most notable features is its inclusiveness when it comes to both language and time. The app is available in over 30 languages. The language changes automatically with system settings. You can also change time zones during task creation, eliminating confusion if you have meetings with people located around the globe.
Structured integrates seamlessly with built-in apps on Apple devices, such as Reminders and Calendar. If an item from Reminders does not have a time or place associated with it, it's imported into Structured's inbox, where you can assign a date and time to complete it.
Final thoughts: is Notion still the best?
As you can see, it's hard to say for sure if Notion is still the best. Many users complain that the app is overwhelming for beginners and difficult to onboard. It also takes them too much time to set up tasks. In general, Notion isn't intuitive to navigate and can be quite slow at times.
After reading this article, you know some of Notion competitors. Some are all-in-one tools like Notion. Others are more focused on a specific task. Which one to choose?
If you want well-structured, beautiful documents with the option to collaborate on them and the ability to work both online and offline, choose Craft.
If your team is already using Jira, Jira Service Desk, or BitBucket, then Confluence will be a natural fit for your workflow. Although it's a little bit less flexible and versatile than Notion, it's much easier to use.
And if you use Notion to manage tasks, you might like Structured and NotePlan. Both are easy to use and do the job much better than Notion.
The good news is that you don't need to go all in and buy Craft, Structured, and NotePlan to see how they work. All three apps are available to you on a free seven-day trial from Setapp – a platform with dozens of hand-picked Mac, iPhone, iPad, and web apps, where each one is the best for a particular task.
Apart from Notion alternatives, Setapp has apps like CleanMyMac X to speed up your Mac, Nitro PDF Pro to create and edit PDFs, CleanShot X to take better screenshots, Bartender to personalize your menu bar, and many more.