Best Evernote alternative apps for Mac in 2023
Evernote is a note-taking and task organization app that has been around for ages. It allows users to create and manage notes, save text, images, and documents they need, keep track of tasks and plans, and sync all of it across platforms and devices.
You can use Evernote as an app on your laptop or phone or online via its web interface. The app has a limited free version along with paid premium and business plans.
Depending on your needs and preferences, you can either use Evernote to jot down ideas, plans, and tasks, as well as manage documents, images, audio, and web page clippings, or try an alternative that fits your workflow better.
Let's take a deep dive into the world of Evernote and then take a look at some of the best alternatives on the market. Scroll on!
What is Evernote?
Evernote is an app for your computer or phone where you can take notes of meetings, lectures, web pages you visit, and books you read. You can create lists, tasks, plan meals, reflect on your day, and develop project plans with the app's themed templates.
Evernote is suitable both for Mac and Windows devices. You don't need to be confined to desktop with Evernote though – you can sync devices and use it on your iOS or Android, as well as access your notes and work on them on the web.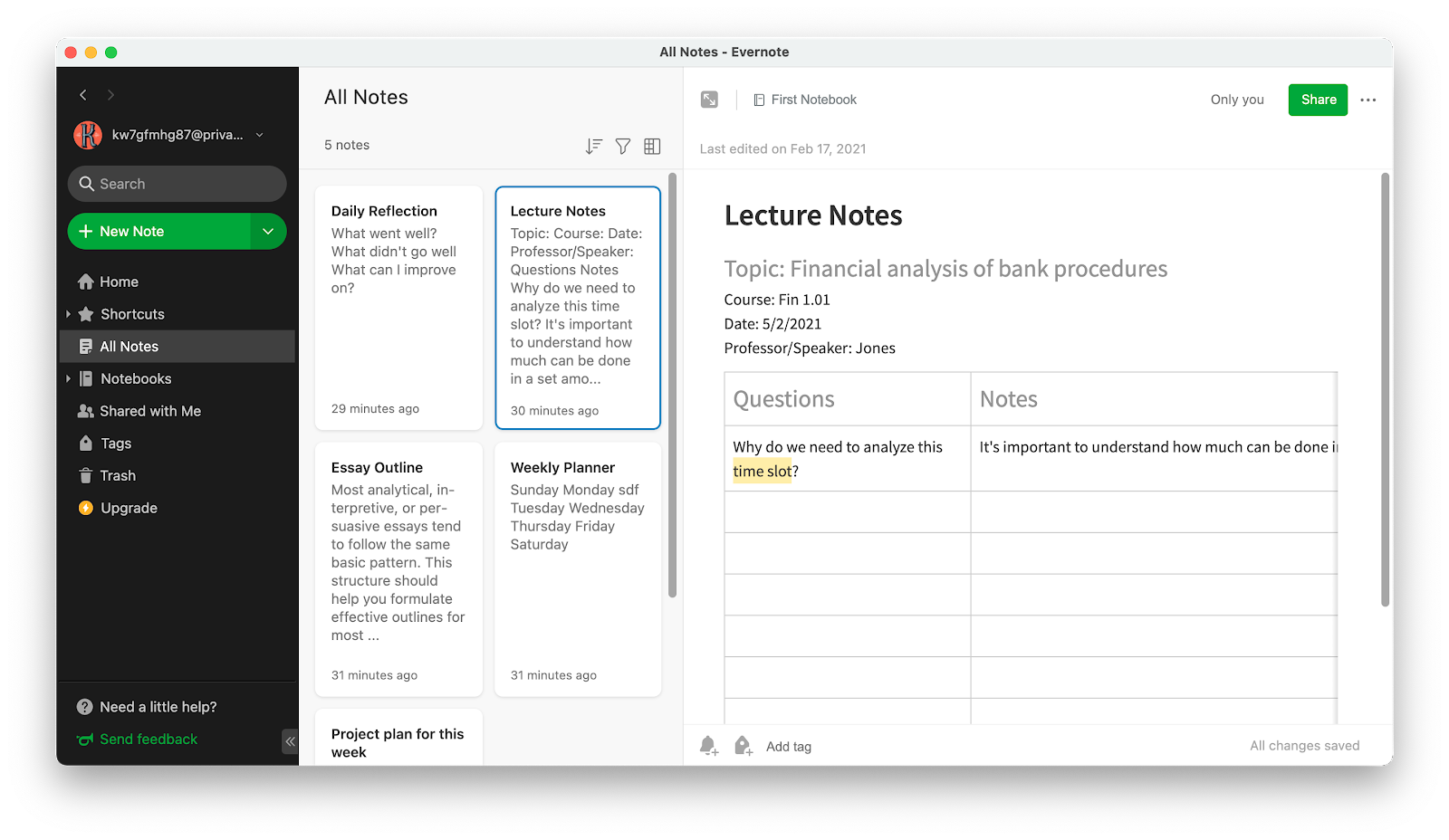 Pros of Evernote app
The app offers a collection of handy features to make your note-taking smooth and organized.
Evernote's top advantages are:
User-friendly design
Accessible on multiple devices
Works across platforms (macOS, iOS, Android, Windows)
Ready to go templates for to-do lists, project plans, meeting and lecture notes, and even meal planning and daily reflection
Tags for notes for easier search and grouping
App home page customization to better manage your notes
Sharing via email (edit and view access) and link (only view)
Offline access
Search in handwritten notes, PDFs, DOCs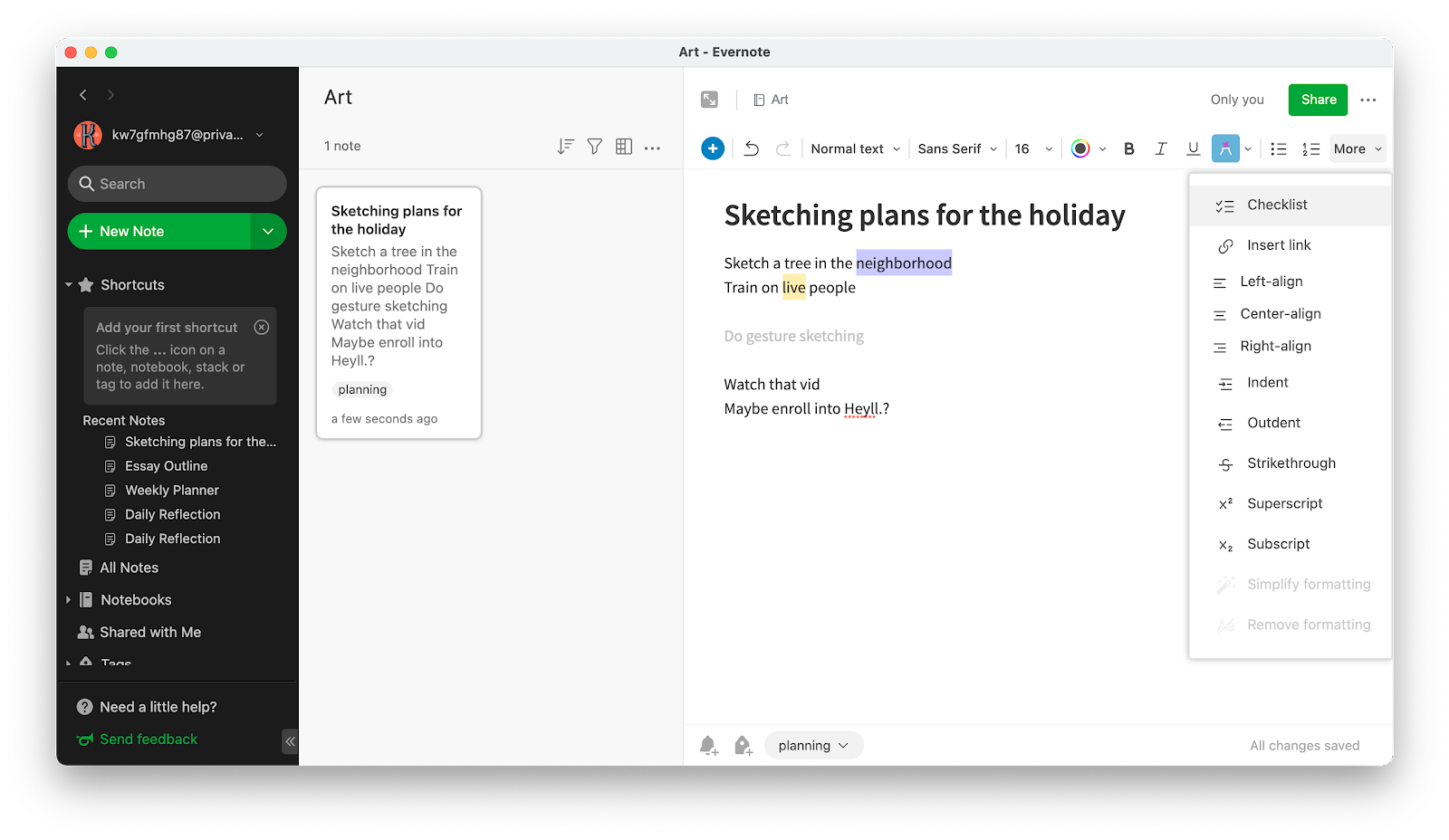 And if you feel nostalgic for the physical note-taking and highlighting, the app even has a colored highlighter option in its text formatting toolbar.
Cons of Evernote app
Nothing is perfect, so depending on your needs and preferences, you might find some needed features lacking in your Evernote experience. Some of the complaints we've heard about this popular note-taking app include:
Cost — the best features, like Home customization, offline access, notes on PDFs, and others, are under Personal or Professional plans
No tags within text available to make it easier to manage larger documents
Limited note organization tools – only two layers of folders can be created (Notebooks and Stacks)
No built-in calendar view for tasks and reminders
Notes cannot be exported as TXT and DOCX, only as PDF, HTML, and ENEX files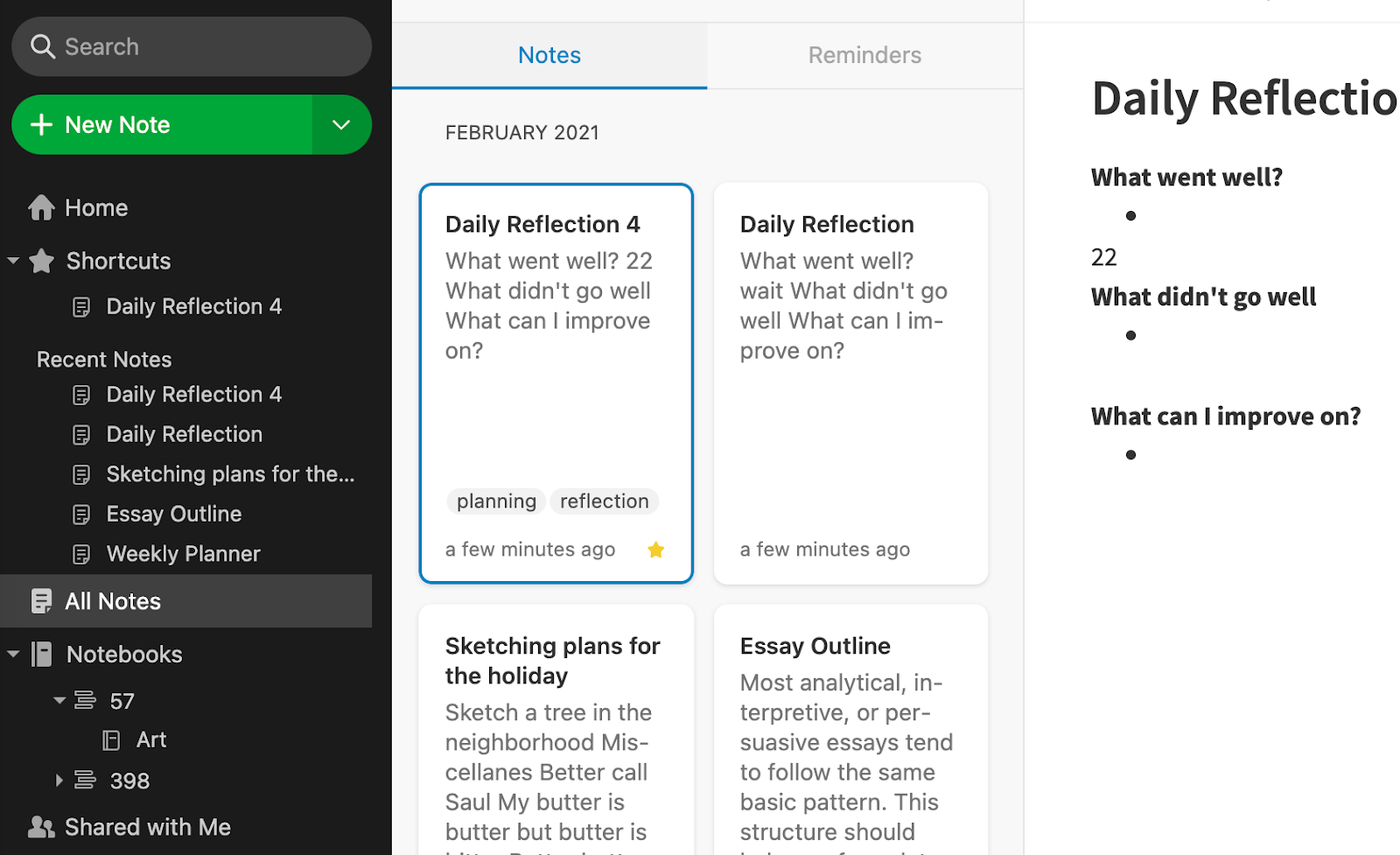 Evernote's Teams plan is especially pricey, and users have shared online that the cost can become prohibitive for smaller businesses.
Evernote download options
Evernote can be a great solution both for individual note-taking and task-tracking and for groups. Whether you are looking to download and use Evernote for just your own musings and planning or share them with friends or your team, let's look at how you can get the app on your computer or phone.
For your Mac, you can get Evernote in the App Store or on Evernote website evernote.com.
To get Evernote in the App Store, simply open the App Store on your Mac and search for "evernote". The app will appear at the top of your search results. Click Get to install the app on your Mac. You will need an Apple or Google ID to use the app.
To download Evernote from the official website, go to evernote.com and click Download: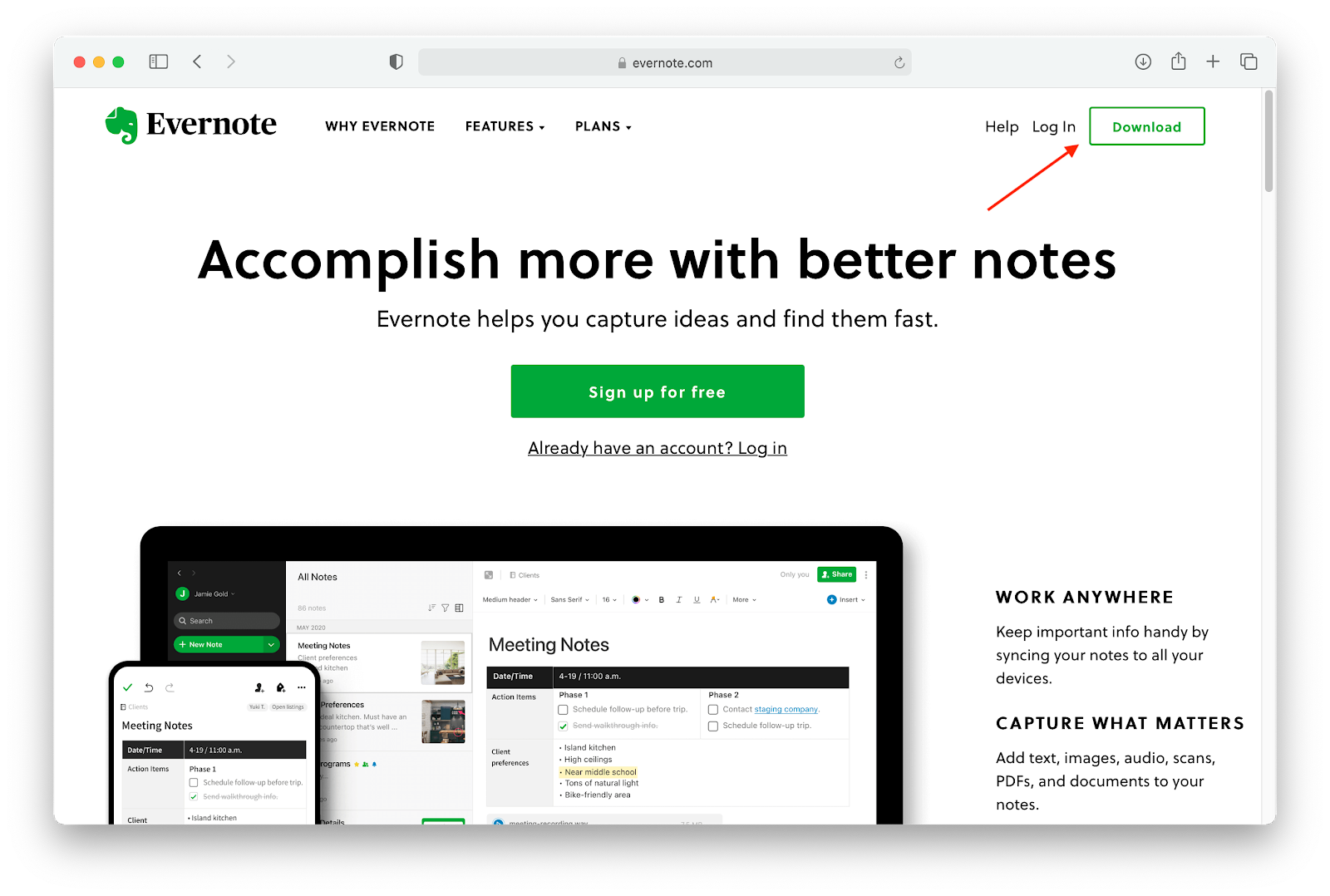 The app's install file will be saved in Downloads and you can install it from there.
You can also get the app from the Microsoft Store for your Windows computer – just search for Evernote and click the Get button: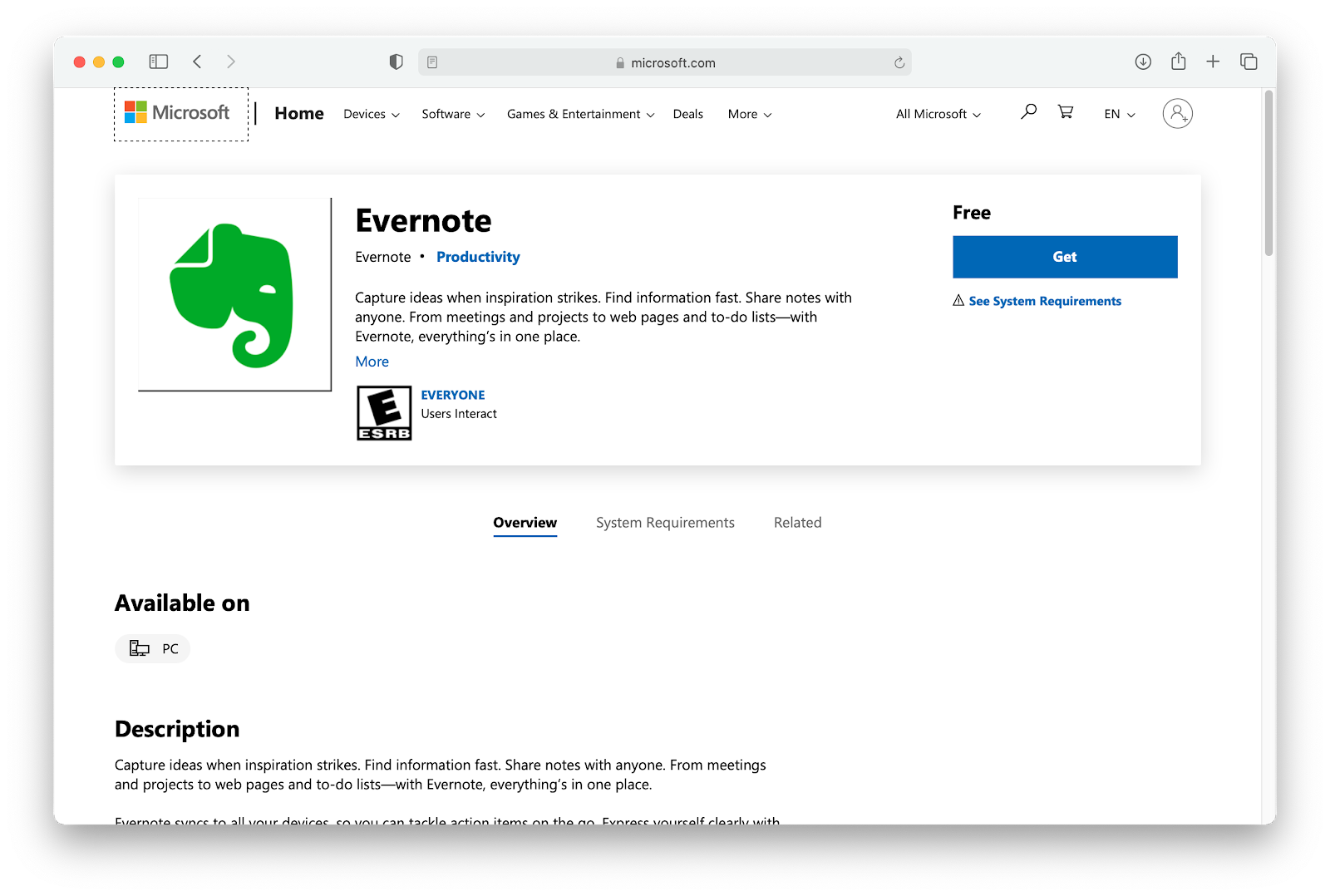 To download Evernote on your phone, go to Google Play or App Store on your phone and search "evernote". Click Install and your app will be automatically downloaded and installed onto your handset.
Evernote pricing
Now, let's talk about Evernote pricing.
The app has three plans – Free, Personal, and Professional. The Free plan allows individual users to create notes, track tasks, set reminders, and organize their day on the web, their desktops, and phones. The Free plan has limits on note size, the number of devices that can be synced (up to two devices), does not have the offline access feature, and a few others.

The Personal plan for paid Evernote subscription is $8.99/month and the Professional plan is $10.99/month. There's also the Teams plan for businesses at $14.99 per user per month (yes, if you are a business with smaller margins and have a larger team, you might feel the price is getting a little steep). Prices may vary across regions though, so check the prices on the Evernote website to be sure!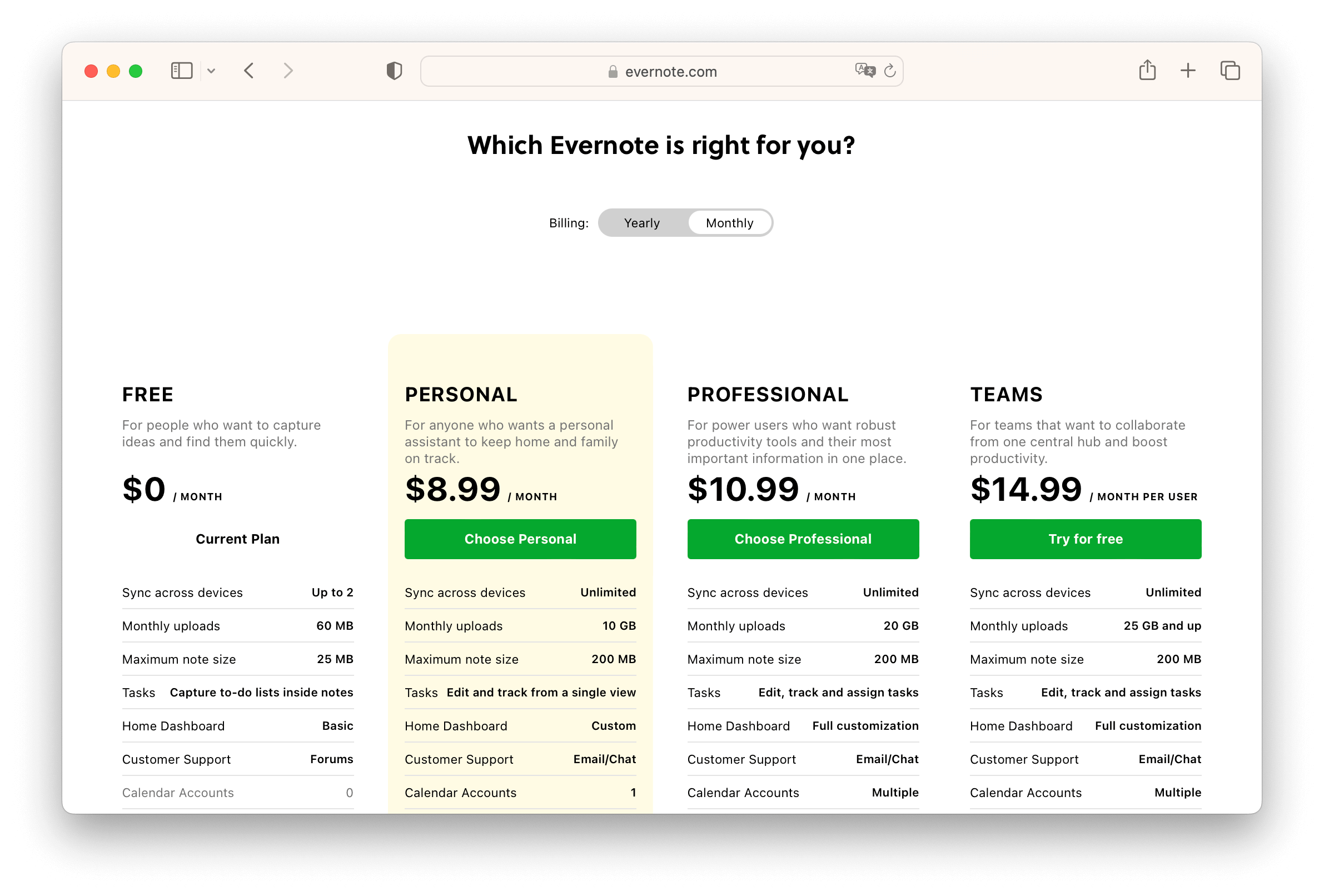 Best Evernote Alternative Apps for Mac
Whether it's Evernote pricing, lack of features you need in your daily flow, or simple desire for a change, we are not going to hold it against you if you feel like going for an Evernote alternative. In fact, you don't have to stick to one app with your notes at all! After all, it's 2023, and there's an app for everything.
Explore all the Evernote alternative options we've hand-picked for you below.
NotePlan
The first alternative that we can confidently recommend is NotePlan. It's our top choice when it comes to planning and organizing notes.
NotePlan provides a tool to create notes, tasks, reminders, and sync them with the app's built in calendar, as well as iCal or Google Calendar.
If you need a clear system for your notes and tasks, NotePlan is your solution.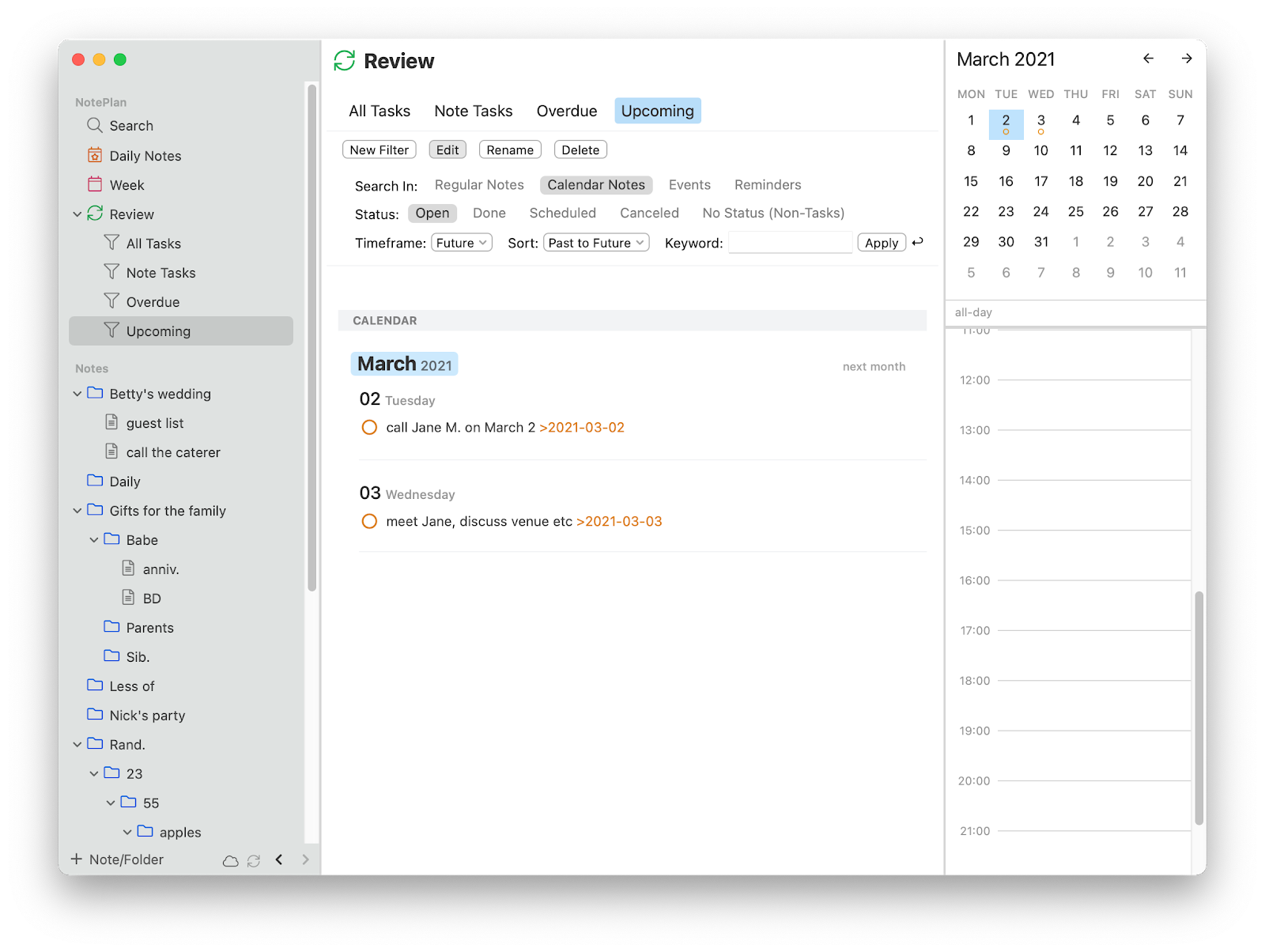 The app's comprehensive note management system allows you to create folders within folders within folders within folders, manage your notes, add tasks to your calendar, and get a bird's eye view of all your agenda.
NotePlan's responsive calendar is a lifesaver for keeping you organized, on task, and on schedule.
Here's how you create a new note in the app.
Click the +Note/Folder in the bottom left corner of the app and hit New Note: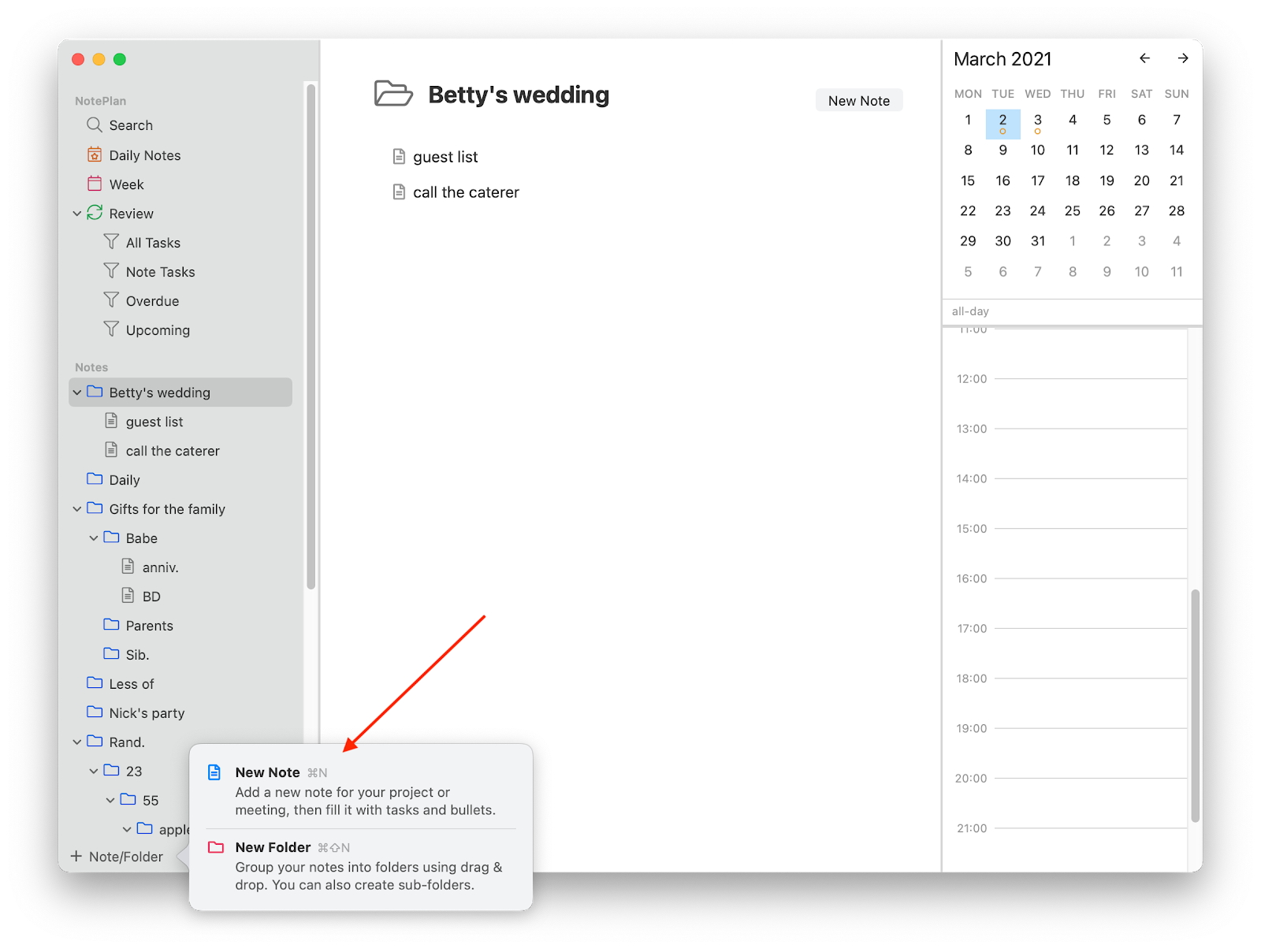 You can also create a note or new folder by double-finger clicking on one of the folders where you want to place your item or, even more conveniently – using direct keyboard shortcuts (as shown in the screen above).
NotePlan is excellent if you want a simple tool to organize your notes and tasks and track project progress. The app saves your notes as TXT automatically, and you can easily export them or email as TXT to your loved ones or team members.
The app does have a few shortcomings though.
Rich text formatting is pretty limited. You can use the basics, like italicize, choose among a few heading options, add bullet points, quotes, but not much else. The app's interface is also not immediately intuitive and it might take you a few tries to figure out how to use some of the menu options and features. The app is also not available for Android and Windows devices.
NotePlan has two pricing options available – Personal and Business Class. Personal plan is $6.99/month (cheaper when buying an annual subscription), Business Class is $8.33 ($99.99 billed annually).
Great news though – NotePlan is available on Setapp! You can get this and 240+ other apps with your Setapp subscription.
Google Keep
Google Keep is a free note-taking option from Google. It's available as a web version and apps for iOS and Android.
Its simple interface and the option to color code the notes makes everyday note-taking fun and instantaneous. Pinning items and rich link previews make the experience even more smooth and enjoyable.
On your phone, you can also record audio notes and take hand-written notes with Google Keep.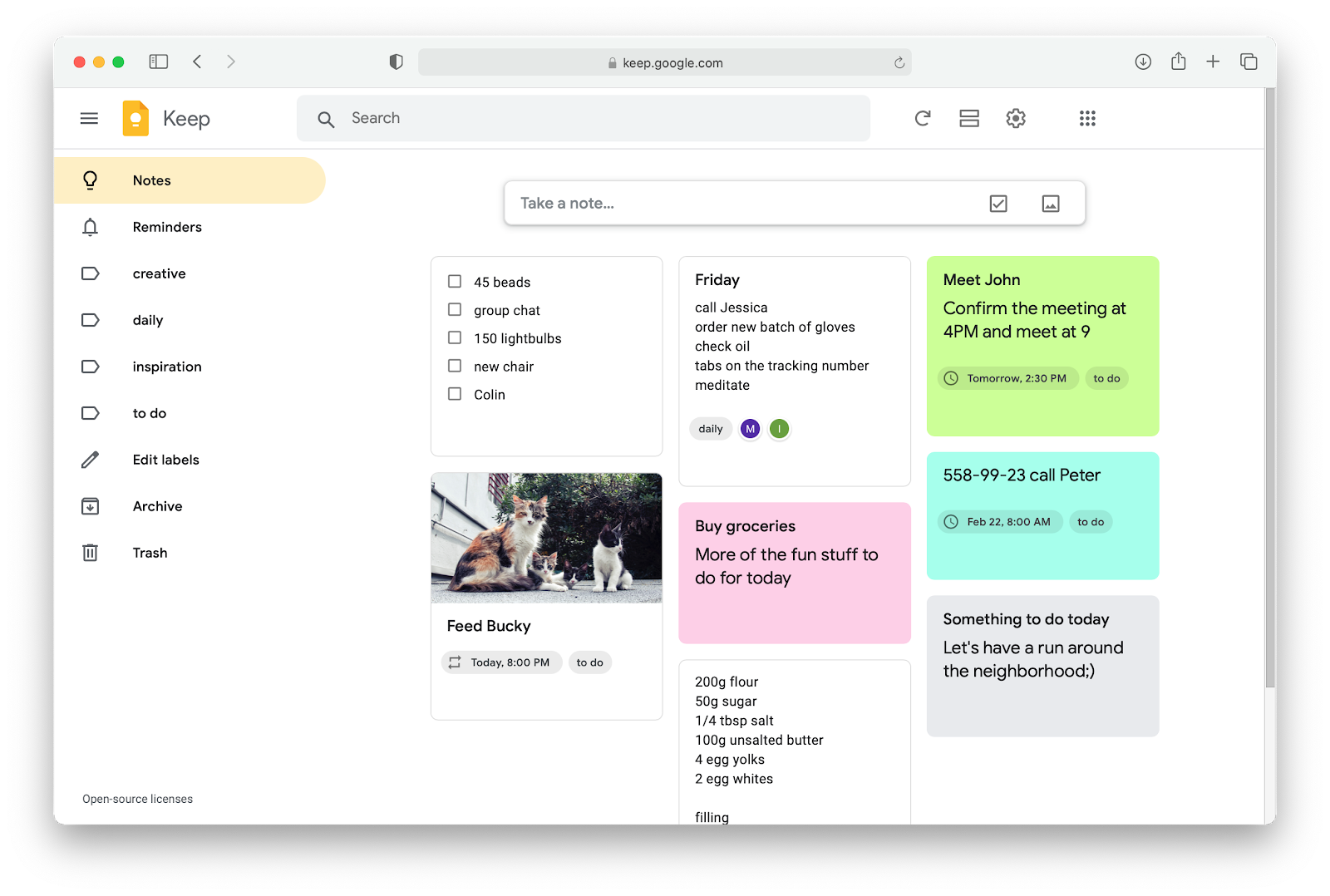 All Google Keep reminders are automatically added to your Google Calendar.
The main con to the app is that it does not make it easy to handle large notes, file notes in folders, or view tasks and reminders as a total list. You also can't export a note and sharing is limited to inviting people via email.
Ulysses
When it comes to Evernote alternatives, Ulysses is excellent at handling larger documents. Marketed as a writing app, Ulysses has a clean interface that fits right in with your Mac experience and provides convenient tools to manage larger notes, texts, and projects.
Designed for creating texts, Ulysses provides a clean interface and comprehensive organization for your longer notes and texts. Each item has a dashboard to the right of the text where you can find your outline to quickly browse through various parts of your text easily. You can add comments, edits, links, footnotes, images, and attached files to your text.
While Ulysses is great for producing polished texts, it does not have a calendar or reminders to manage your day-to-day tasks. Another drawback is that it is only available for Macs and on iOS. To share your notes, you can export them as TXT, PDF, HTML, ePUB, DOCX, or publish to Medium or WordPress.
Ulysses monthly subscription costs $5.99 (cheaper if bought for the year, price also varies by region). With your Setapp subscription, you can use Ulysses and more than 200 apps all under a single plan!
Conclusion
Keeping track of your notes, thoughts, ideas, and projects can be a little challenging. To make the experience fun and convenient, pick a note-taking app that fits your workflow and lifestyle.
Evernote is a staple when it comes to creating notes both for personal use and creating and sharing projects with others. If you are looking for Evernote alternatives, NotePlan, Google Keep, Ulysses are great options that each provide tools for taking notes, as well as collecting and structuring ideas.
While Google Keep is a completely free app from Google, NotePlan and Ulysses are part of Setapp app collection, meaning your subscription will cover these and 240+ more apps to choose from! You can try NotePlan and Ulysses for free for a 7-day trial period with your Setapp subscription.