The Best MacBook Camera Covers For Privacy
Every year, we become more and more connected. Our laptops, phones, and now even microwaves and toasters have access to the internet and are able to exchange data freely.
While such extra connectivity is meant to benefit us and make our lives easier, it also creates its own problems, especially when someone gains access to our network without our explicit permission.
A few recent scandals, for example, involved hacked webcams of unassuming targets, which led to lots of sensitive information being exposed. In 2015, a woman from Toronto was sent her own webcam-captured photos watching Netflix from a day before. Sounds like a nightmare, doesn't it? Luckily, there are a few easy ways to prevent this from happening.
How To Use Trustworthy Webcam Protectors
You might be wondering how does it even happen that hackers gain access to your laptop? Most frequently, they do it through the type of malware known as a remote administration tool (RAT), which lets them control the target's computer (including their webcams) from anywhere in the world.
Good news is MacBooks are much more resistant to RAT software than Windows-based laptops, due to their closed ecosystems. Still, hackers are able to infiltrate your Mac through downloaded scripts, phishing emails, and unsecured networks.
In an environment like this, the easiest way to maintain your privacy is to purchase a laptop webcam cover — a physical barrier to fend off any privacy intrusion. Hey, if even Mark Zuckerberg has one, then you know it's something you should seriously consider as well. Let's then go over the most popular ones on the market.
Top MacBook webcam cover sliders
Just look at the Amazon webcam cover category and you'll be flooded with choice. It seems like computer camera covers come in all shapes, sizes, and prices. Nevertheless, here are some of the webcam shields we recommend.
One of the original sliding webcam covers is a C-Slide 1.0 Laptop Privacy Cover. Its thin and lightweight design sticks easily to any laptop, doesn't scratch the camera lens, and makes sure your MacBook will close completely (at just 0.06 inches thick).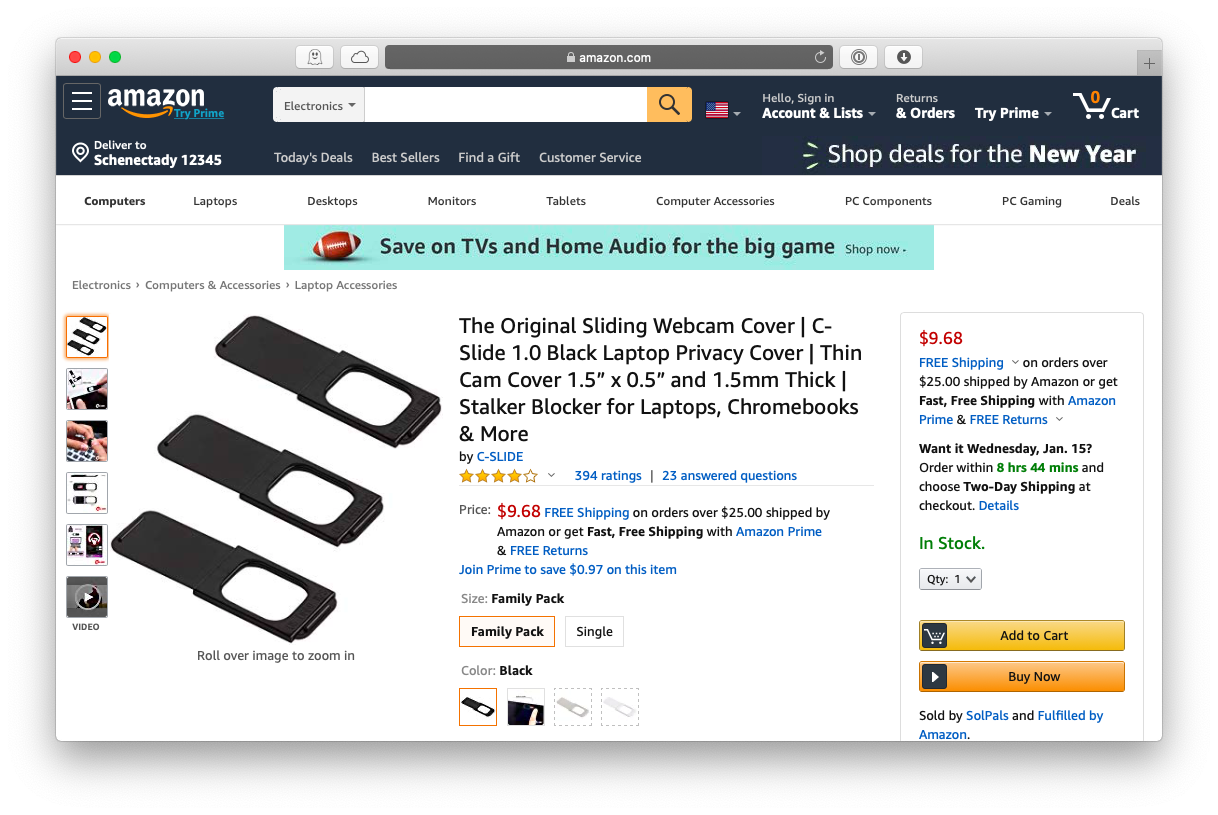 If you're looking for something more slick, try the Steagle Original Laptop Webcam Cover. Manufactured out of anodized aluminum, the cover is the perfect companion to any MacBook and measures just 0.03 inches thick. Additionally, it doesn't use the magnetic closure so none of your electronics will be affected in any way. The Steagle covers are, however, more expensive than most at around $10 each.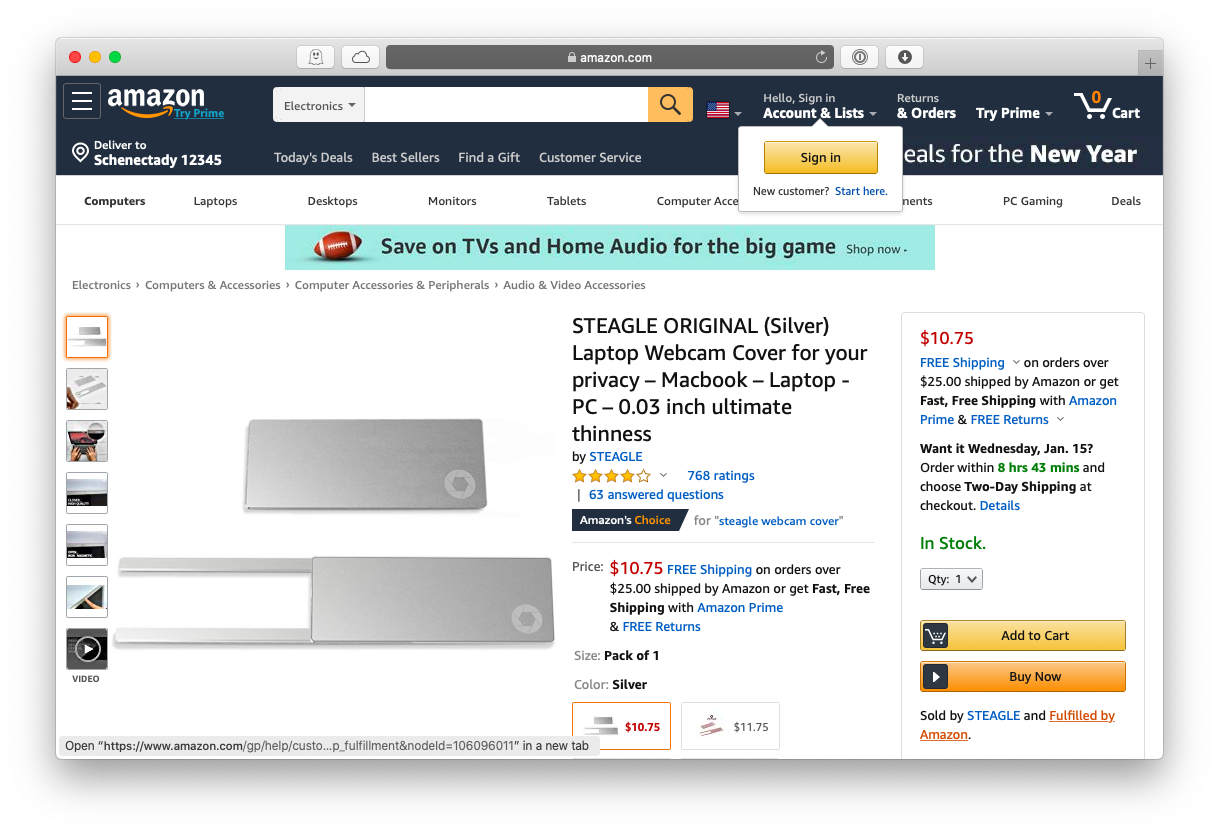 For someone on the budget, there's nothing better than the Cimkiz MacBook Pro Camera Cover. These super thin (0.02-inch) metal covers come in packs of three or six, and start at just $7. So if any get lost, you can just replace with another one from the pack, or gift a few to your friends, since they should be protecting their privacy too!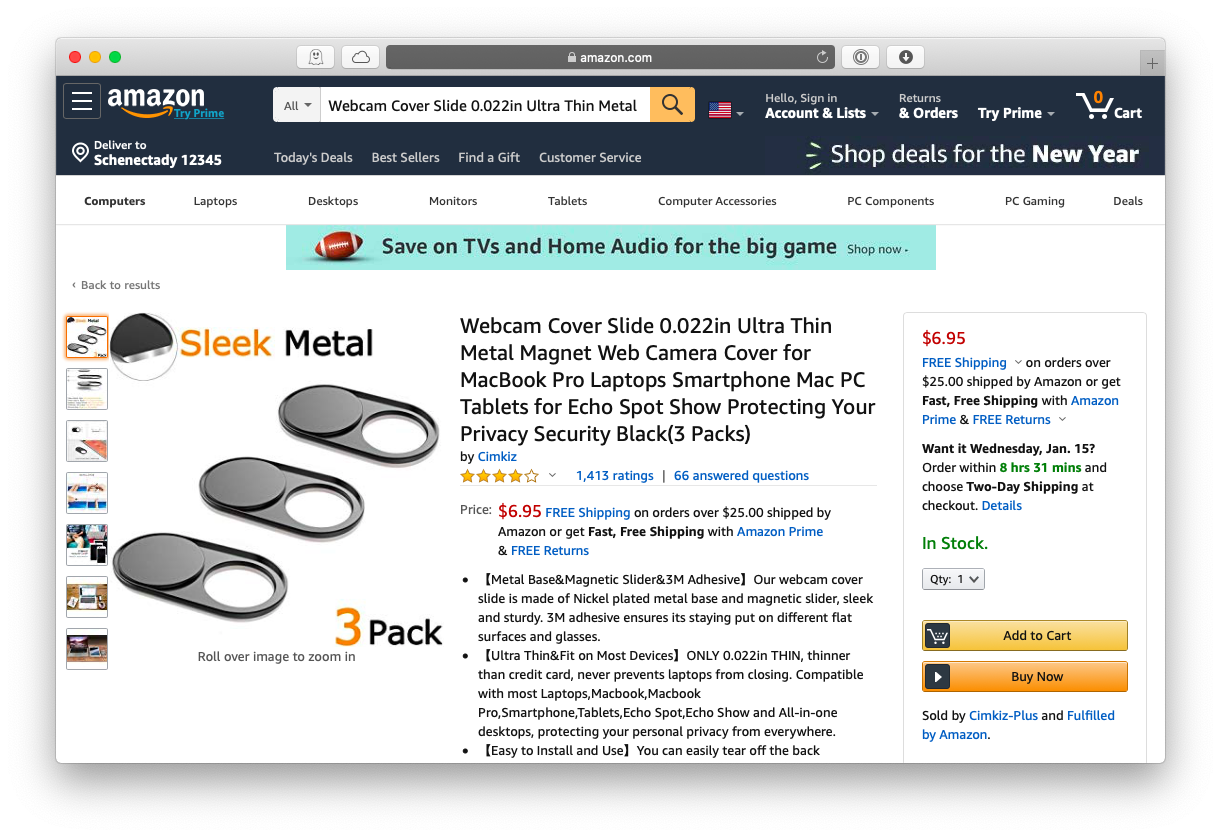 Those who'd like a Mac camera cover with some semblance of design and decent looks will surely appreciate Mosiso Webcam Cover. These aluminum sliders come as a pack of three in different colors (black, silver, and rose gold), are durable as well as ultra-thin (just 0.02 inches). Moreover, you can easily stick one on your iPhone or iPad.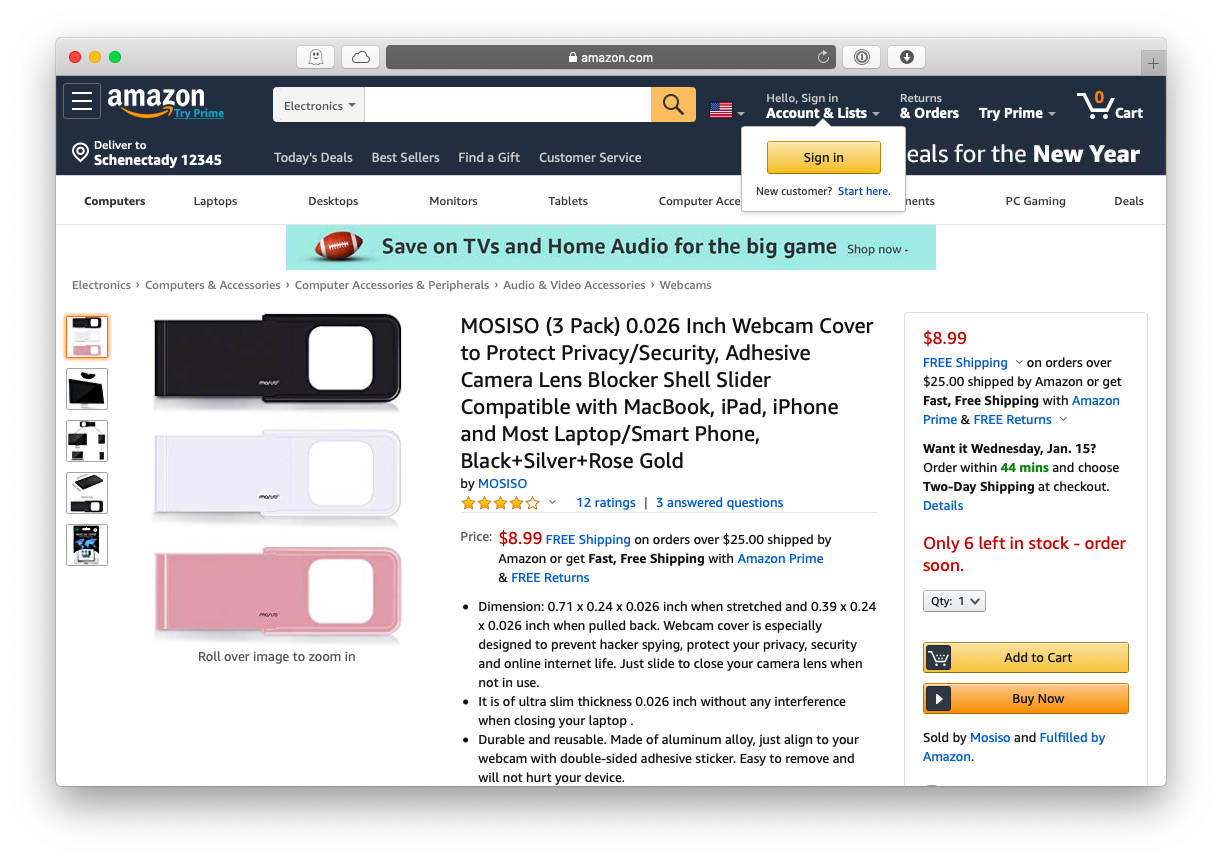 Finally, we can't omit the Wirecutter webcam choice of imluckies as the best webcam cover on the market today. Indeed, this webcam shield is made of metal, thinner than a credit card, and doesn't use magnets. It's also cheap enough, easy to install, and is gentle on your devices. Overall, a good no-brainer option and the official Amazon's Choice as well.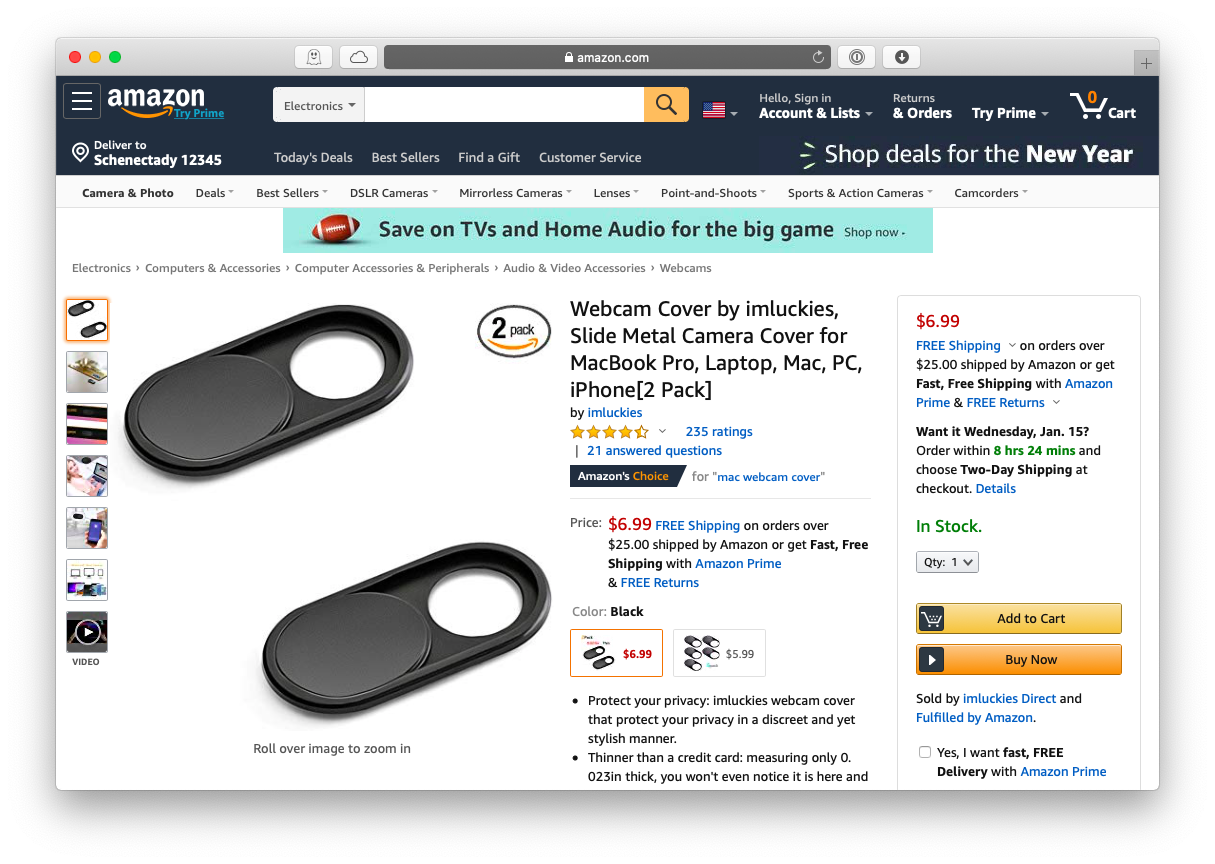 How to get rid of malware on your Mac
Even though having a computer camera cover is a foolproof way to protect your privacy in case you have a virus spying on you, it's also a good practice to check for those viruses in advance and delete them before they can do any damage. All you need here is a trustworthy malware scanner.
CleanMyMac X is the world's leading optimization software for Mac. It not only regularly scans your laptop against the most up-to-date database of viruses but also gives you options to monitor your privacy (trackers, cookies, ads, etc.) and optimize your Mac's performance overall.
To check your Mac for viruses with CleanMyMac X:
Navigate to Malware Removal under the Protection tab
Click Scan
Remove any malware found
Repeat every few weeks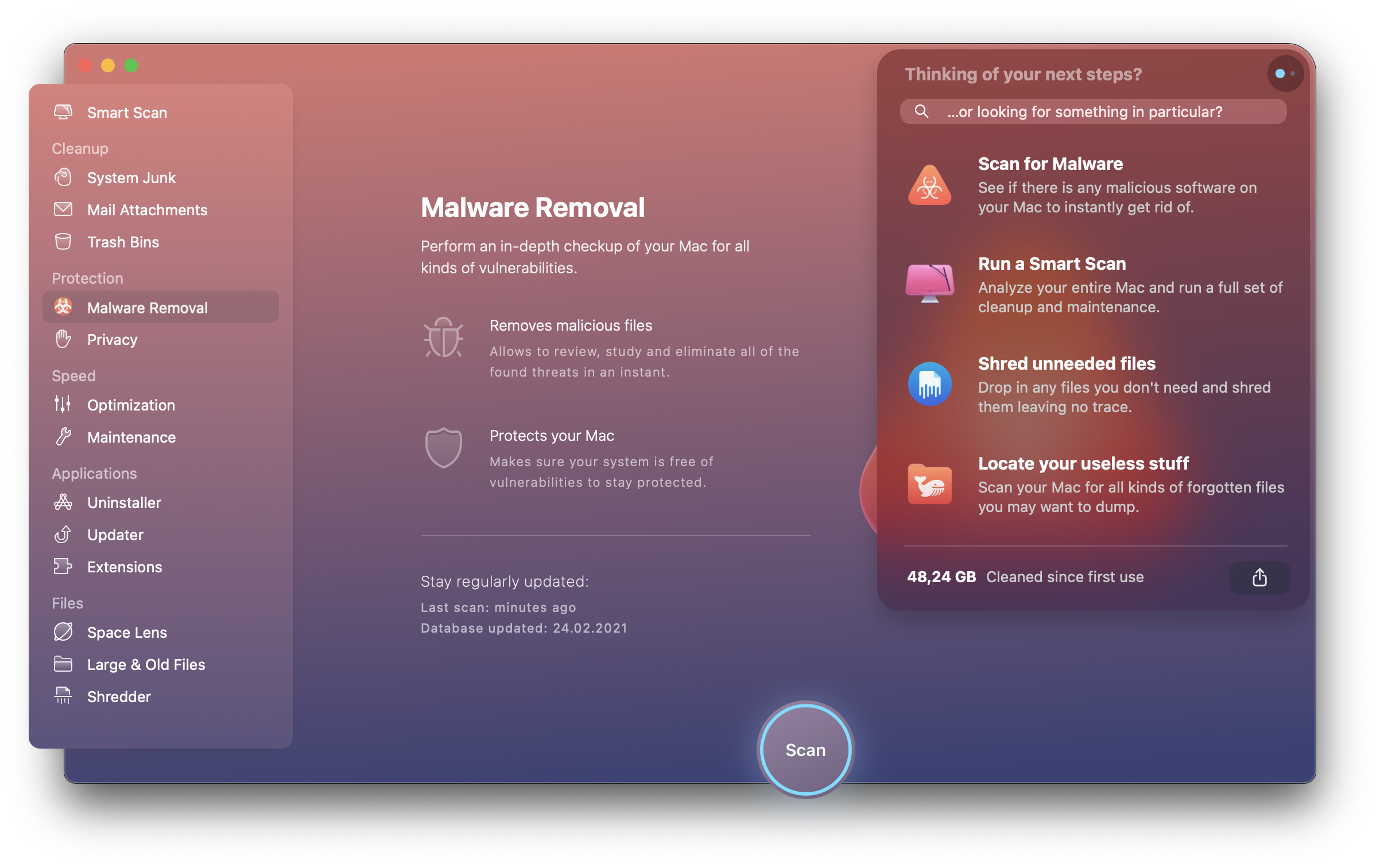 How to avoid unsecured networks
Every time you're in a public space and see a WiFi with no password, your first reaction is probably to connect. Don't! Or rather don't until you get a proper VPN (virtual private network).
Since public WiFi is not private, it's not secure either. Which means that essentially anyone with enough skills can gain nearly unrestricted access to your laptop. To protect yourself, you need a VPN, which encrypts the connection right from your laptop and makes it impossible to penetrate. Additionally, VPNs let you go around any geographical restrictions online (e.g. when your favorite sports game is not accessible to those outside of a specific continent or country).
Shimo is a top-rated VPN manager that supports multiple connection protocols to deliver the most comprehensive and safe coverage available. This app will choose the most appropriate VPN channel and send out everything from your Mac encrypted via 256-bit AES. In plain terms, it doesn't get more safe than that.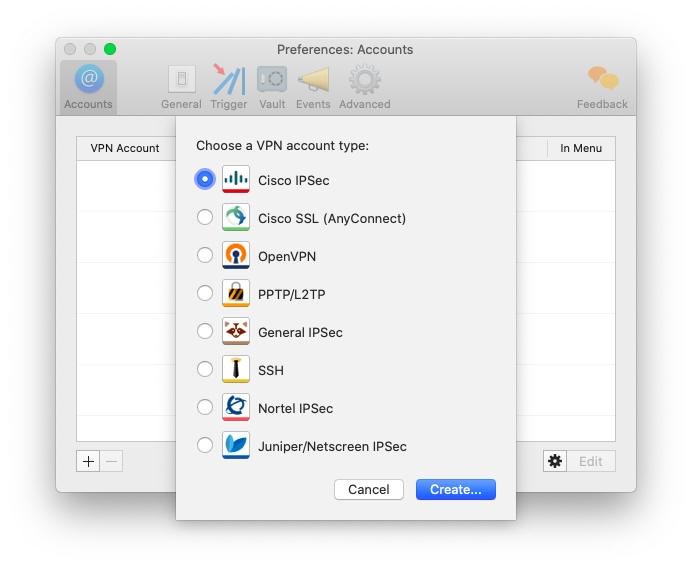 How to escape dangerous phishing emails
Most hacked webcams are the direct result of various phishing email tactics — when you get an email from a seemingly legitimate organization, such as your bank, which asks you to click on a link to confirm something, for example. The link turns out to be a script that gets downloaded to your Mac and could potentially take your webcam under its control.
Canary Mail is the best answer to any email threats. This secure email client is encrypted by default, which means that only you and your recipient can read the messages. Additionally, Canary Mail is able to send you read receipts, deal with emails in bulk (using actions such as snooze, star, pin, and archive), and even come up with frequently used templates. You also don't need to create new email accounts, since the app supports all the most popular providers right off the bat.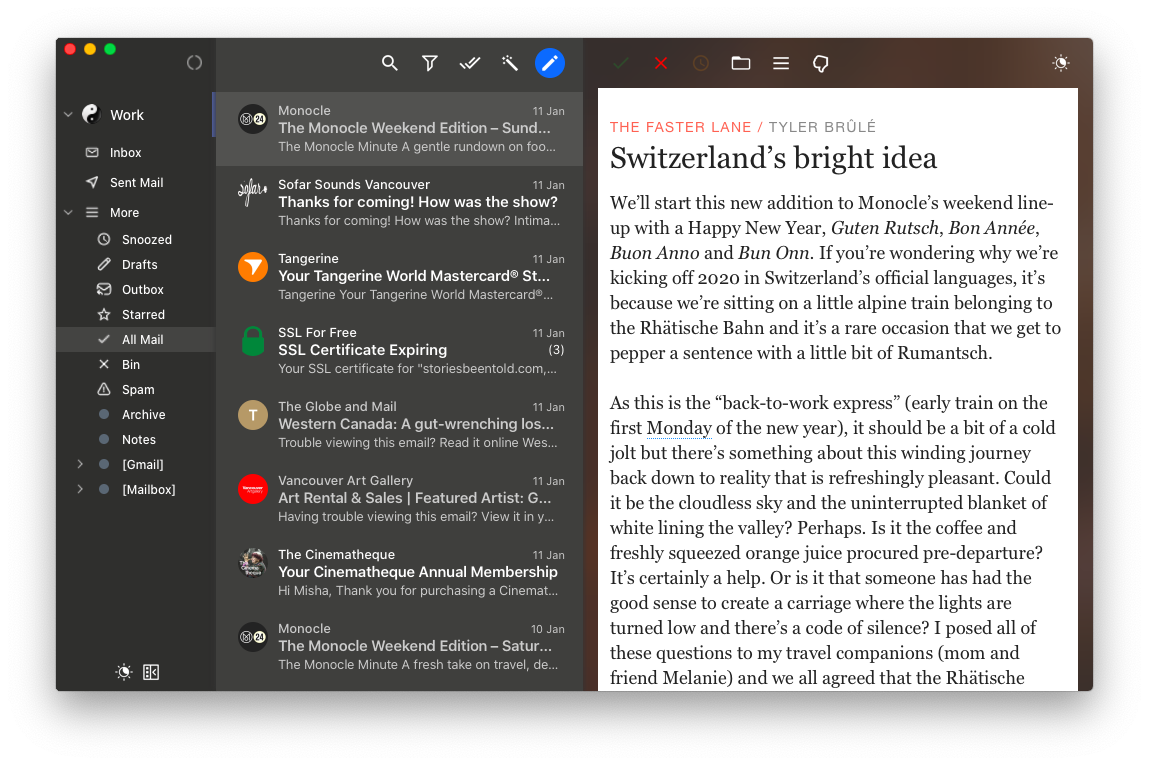 So once you select your go-to MacBook webcam cover, you can relax, knowing that no one will be physically able to invade your private space. But to be completely secure from any attacks, make sure to check your Mac for malware every few weeks using CleanMyMac X, always turn on a VPN in public spaces through Shimo, and strongly consider switching your email client to completely private Canary Mail.
Best of all, CleanMyMac X, Shimo, and Canary Mail are available to you absolutely free for seven days with a trial of Setapp, a platform for top-quality Mac apps (200 and counting), which can not only secure your computer but also help you with design, finance, management, productivity, and much more. Step up to a new level of privacy and peace, and see for yourself!