Best planner apps for Mac in 2023
Who needs a pen and paper to plan a vacation or a working day? Definitely not Mac lovers just like you.
In this blog post, we've gathered five planner apps for Mac that will help you keep track of your tasks and stay productive and resourceful during the day.
Structured
With hundreds of positive reviews, Structured is an attractive choice for essential day planning for individuals and teams. Although this planner app doesn't have a lot of integrations and features, its strength lies in its ability to plan a day or a week with simplicity and make it fun with its appealing design.
With Structured, you can create tasks in just a few clicks and check them off as you move through your day. Don't worry about missing anything on your agenda. With Structured, it's easy to do both, see what's already scheduled and add new tasks. If you have no time to structure your task, simply put it in Structured's inbox and sort it later.
And if you're a person who just doesn't like complicated tasks, you'll enjoy the feature that allows you to create subtasks for your tasks and split your larger challenges into smaller ones.
Got a busy day ahead? You don't have to stay glued to your planner app because Structured will remind you of your upcoming tasks in a handy way. Use widgets to put reminders of upcoming tasks right on your home screen.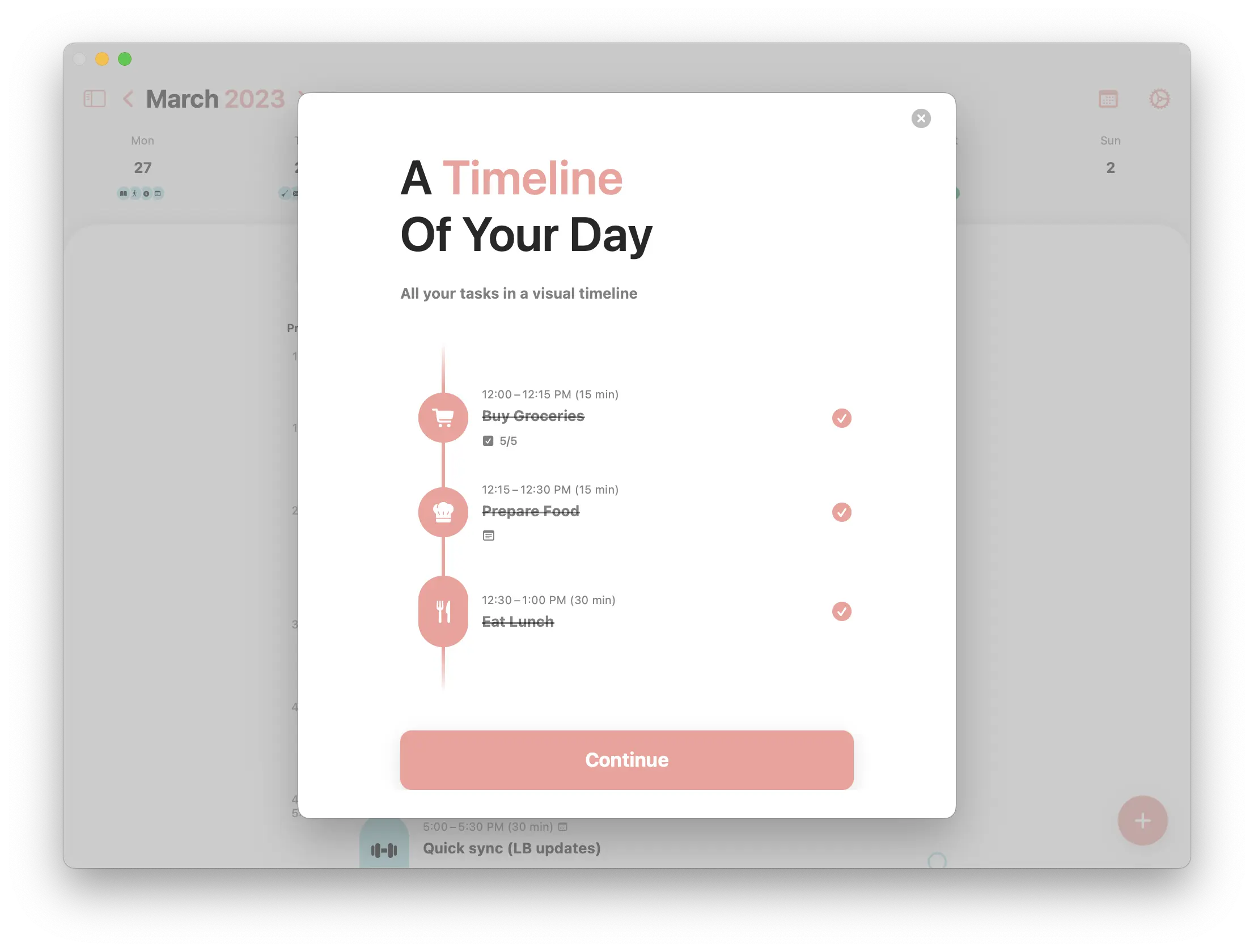 You can stay on top of your schedule no matter where you are by syncing your tasks across all of your Apple devices! The app seamlessly integrates with built-in apps, such as Reminders and Calendar.

What we love Structured for:
The small icons you can choose for each task are one of the most important parts of Structured. They make it easy to see what's going on at a glance, can help you organize your tasks, and just make the planning process fun.
On top of that, the app is available in over 30 languages. The language changes automatically based on your system settings. You can also change the time zone when creating a task, eliminating confusion when you are meeting with people located around the globe.
Any.do
The slogan of Any.do app is "A to-do list you'll actually use". Sounds promising, isn't it? We checked if this app is as good as its marketing.
Any.do is a classic to-do app that can be used personally and in small teams. In this review, we'll turn our attention to the Any.do Teams plan that has some cards up its sleeve.
Any.do provides a few subscription plans: Premium and Teams plan. The Teams plan includes Premium features along with kanban boards and administrative control. You can subscribe to Teams for $59.99 per year.
One of the core features, a to-do list, gives a 360-degree view of tasks that need to be done. Each task can be labeled with tags, geolocation-based reminders, subtasks, and more. You can also track the activity in each task.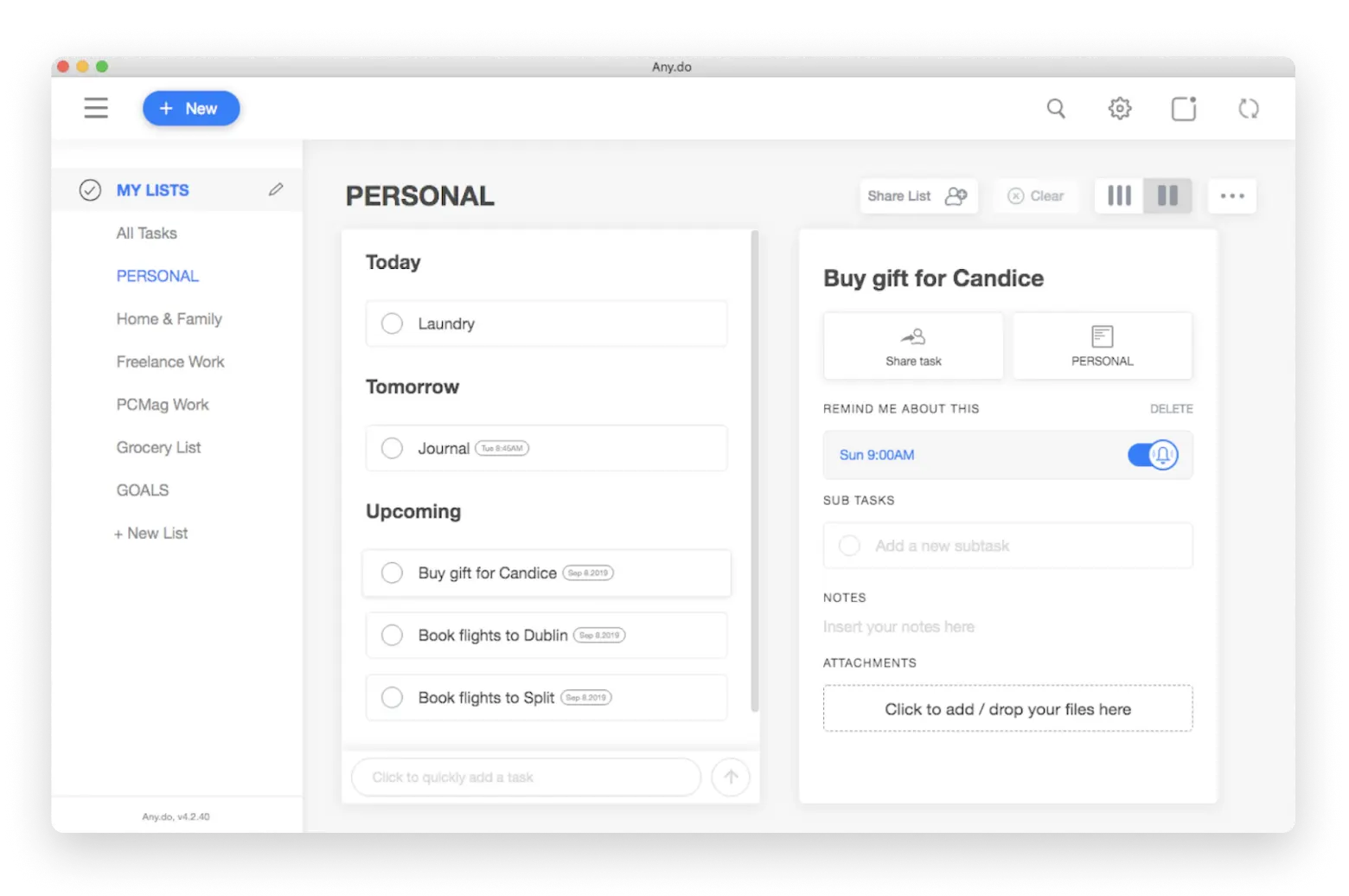 To keep your team synched anywhere, anytime is simple with Any.do because it's available on Windows, Mac, iPhone, iPad, and Android. In addition, there are plugins for Safari and Google Chrome and apps for wearables Apple Watch and Wear OS.
What we love Any.do for:
While Any.do markets itself as a to-do app for personal use and teams, we'd call it a neat project management tool for small teams. The app allows you to manage projects, communicate within an app, set meetings, and even onboard other team members effortlessly. If you feel like it's not enough, you can choose among 200+ third-party apps to integrate and improve your team collaboration.
Pagico
Pagico is a planner app for Mac that cares about visualization. Dashboards, timelines, checklists, colorful tags – this app makes tracking of a project's health status more visible.
Keep in mind that Pagico is a bit more than just a planner app for personal use. The app can be used as a powerful project management tool for small teams.
Want to create centralized storage for all of your projects, tasks, notes, emails, files, and contacts? Pagico is here for you! For project managers, it allows them to track project burndown with charts and dashboards and plan the team's capacity based on the received data.
Tasks within the app can be classified with tags. This means that routine tasks like calls, meetings, retrospectives, or demos can be classified with tags like @calls or @meetings. You can access the tagged tasks in a single place and review what must be done.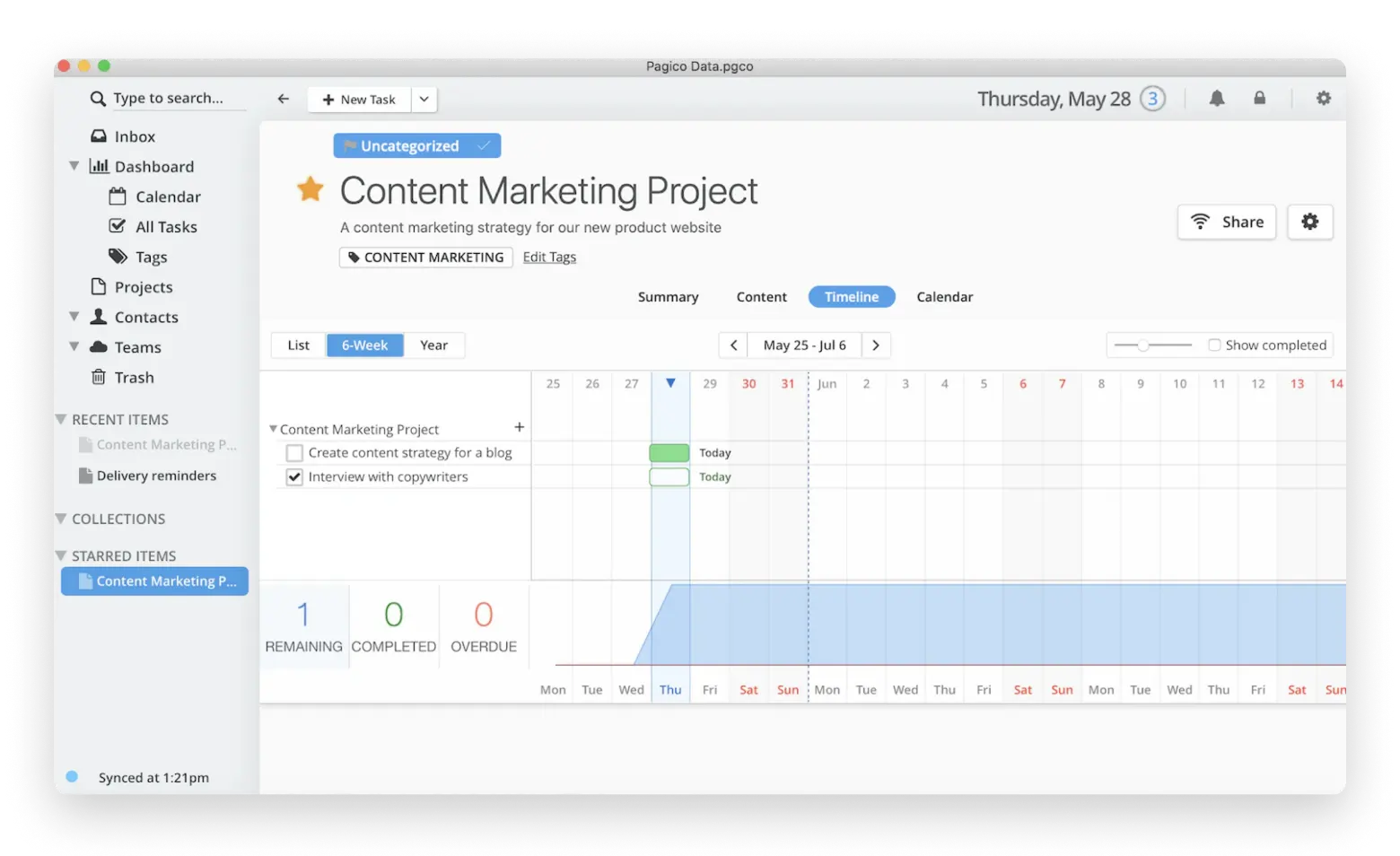 To share tasks with your family or colleagues, create workspaces that sync the data among devices, including tablets, mobile phones, and desktop computers.
What we love Pagico for:
We love the app for its minimalistic yet representative interface that efficiently visualizes the state of a project. Also, the app is optimized even for offline, so if you're stuck somewhere without WI-Fi, you'll always get access to shared data. Bingo!
SheetPlanner
It's like Excel spreadsheets, but better!
This app combines a task manager, a powerful planning tool, and project management software all in one place. Use SheetPlanner to:
Create personal to-do lists with start and due dates and track their progress with a calendar at hand. When a task is done, check the item off the list!

Create Gantt charts on a timeline by days, weeks, months, quarters, or even years.

Create custom to-dos with your own dates, dropdowns, and custom columns.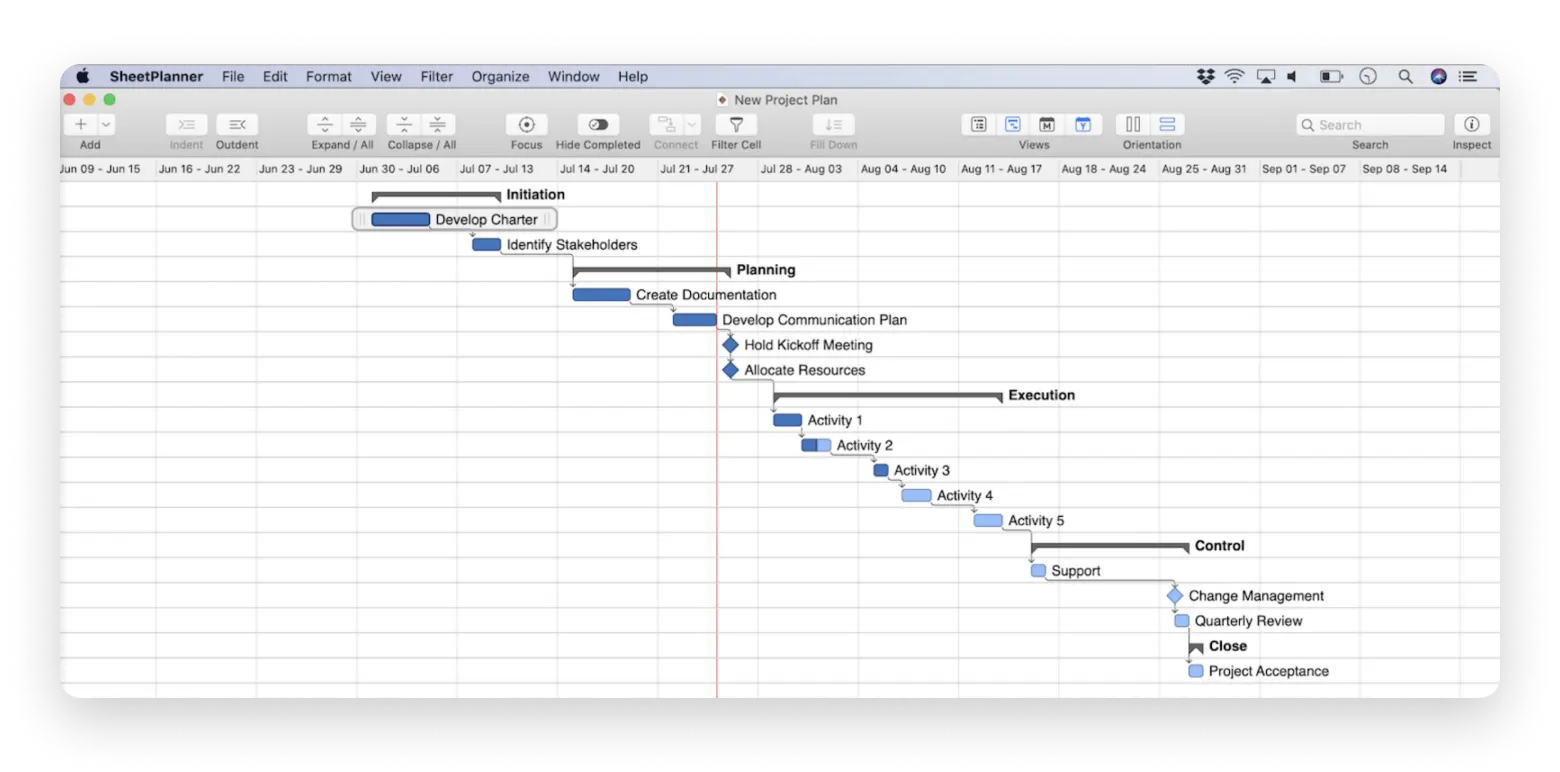 What we love SheetPlanner for:
For those who still use spreadsheets for their personal and business needs, this app can become a lifesaver. With SheetPlanner, you don't need to create timelines and to-dos from scratch, the app offers neat lists you can start using right away. There are templates for personal use like grocery shopping lists and business use like sales funnels. If you've already got a spreadsheet you'd like to transfer to SheetPlanner, it's not an issue with CSV and OPML files import!
Feel like testing some of the apps? Subscribe to Setapp and try the best planner apps for Mac, such as Structured, Pagico, and SheetPlanner, for seven days free. You'll also get access to dozens of apps for your Mac, iPhone, and IPad almost for any job. Give Setapp a try today and discover awesome tools that make your life easier.