Best daily planners for your goals and daily habits
Do you want to be organized and on track? How about trying daily planners? They help prioritize tasks, manage time effectively, track progress, overcome procrastination, keep you motivated, and even improve your mental health.
In this article, we'll review the best daily planner apps and help you find the perfect digital planner for your needs. Get ready to say goodbye to chaotic schedules and hello to a more orderly life!
Key features of effective daily planning
There are hundreds and thousands of visual planner apps available on the market. And you know, it's not an easy task to choose the right tool from such a wide variety of options. So let's take a look at the most important features of a good day planner.
Make sure it has the following:
Customizable to-do lists
Reminders
And the ability to prioritize tasks.
With customizable to-do lists, you can improve your daily planning and increase your productivity. For example, by customizing your list and breaking tasks down into smaller, more manageable pieces, you can feel a sense of accomplishment as you complete each task.
Reminders are a great way to make sure you don't miss important deadlines or appointments. They can help you stay on track with your goals and can be set for both short-term and long-term tasks.
Prioritization can also contribute to creating an effective daily plan. So a good daily planner should provide a way to sort tasks based on their importance and urgency. This way, you can focus on the most critical issues first.
Daily planner apps vs. paper
Once upon a time, many of us used to carry some sort of paper planner with us to stay organized. Then came computers and smartphones. With time, our devices have become our calendars.
Having a digital planner is certainly convenient because it comes with your iPhone or MacBook and is not bulky like a paper planner, so you usually have it with you when you're on the go. You also don't need to have a pen to enter information. If you need to change an appointment, just change the date or drag and drop. There's no need to cross anything out.
How to choose the right daily planner
If you want to choose a good planner app, be sure to follow the tips below.
Consider your needs. First, think about what you need a planner app to do. Do you want a simple planner to keep track of your daily tasks? Or maybe you need a more advanced tool to collaborate with your team?
Look for ease of use. Undoubtedly, a good daily planner app should be easy to use. Ideally, the app should have a free trial so you can see if it has intuitive features and customizable settings.
Check the syncing capabilities. If you use multiple devices, look for a planner that can sync across them. This is very convenient as you always have access to your planner, no matter where you are.
Evaluate the cost. Some planner apps are free, while others require a subscription. Consider whether the planner's features justify the cost, and choose a planner that fits your budget.
Read user reviews. Before buying a planner app, read reviews from other people to see what they like and dislike about the app.
Top daily planners for 2023
Finally, we get to the list of the best daily planner apps. Read, test, and start organizing your tasks better.
Structured – a multilingual digital planner
Structured is a digital planner with an easy-to-use interface that combines calendars and to-do lists. You can plan your daily tasks and track your progress as you complete each one with just a few clicks/taps. The visual timeline helps you stay on track and focused, and suggested icons and colors that you can change make it easy to organize work, school, and personal tasks.
By syncing your tasks across all of your Apple devices, you can keep track of your schedule no matter where you are. The app works well with Apple's Reminders and Calendar.
Structured also supports nearly 30 languages, making it a great choice for people who don't speak English.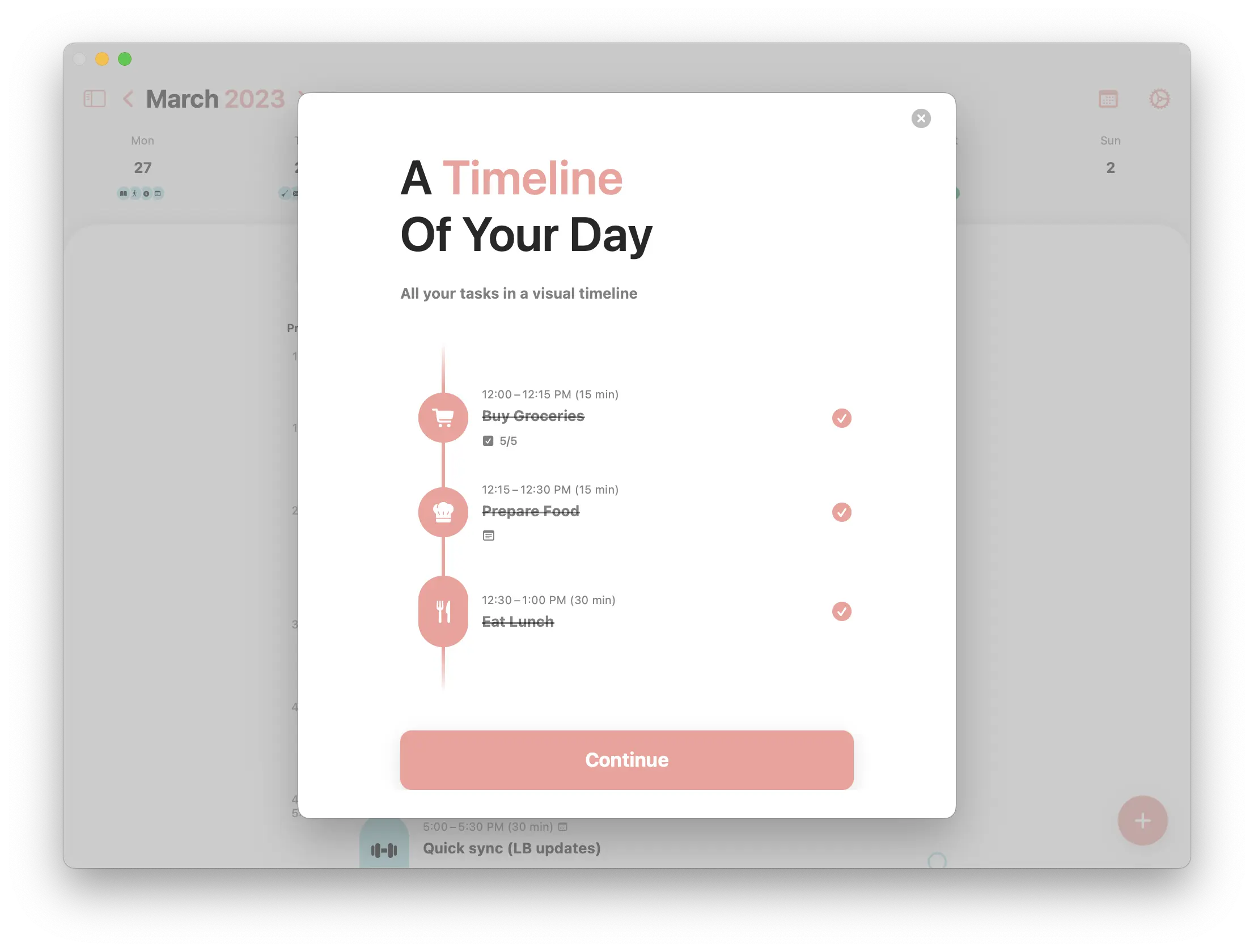 Best features:
Customizable reminders, recurring tasks, and timeline visualization
Ideal for organizing both your personal and professional life
Multi-language support.
Pricing: Available on Setapp, a platform with 240+ apps for Mac, iPhone, and iPad. Install as many apps as you want. Pay $9.99 once a month for all.
Free trial: Yes.
Todoist – a perfect balance of power and simplicity
Another good daily planner app that will keep you motivated and organized is Todoist. It's a great place to start if you're looking for a really customizable tool.
Todoist uses Kanban-style boards to help you visualize the tasks in your life. Within the boards, you can do things like adding sections, dragging and dropping tasks, inviting your teammates, and adding labels or filtering. You can also sort these boards by priority, date, and name to make finding tasks easier.
The app has a simple interface, and the separate tags and filters on the Kanban boards show how simple it is. What we like the most about this daily planner is that you can make planning more fun by putting emojis on the page.
In addition to customizing your boards, you can personalize the platform itself with more than 10 color themes. With these themes, you can match your mood and style to your planning board for a creative boost.
With various integrations for time tracking, communication, and automation features, you can turn Todoist into a planning machine. Some popular apps include Zapier, Time Doctor, Monday.com, and Slack.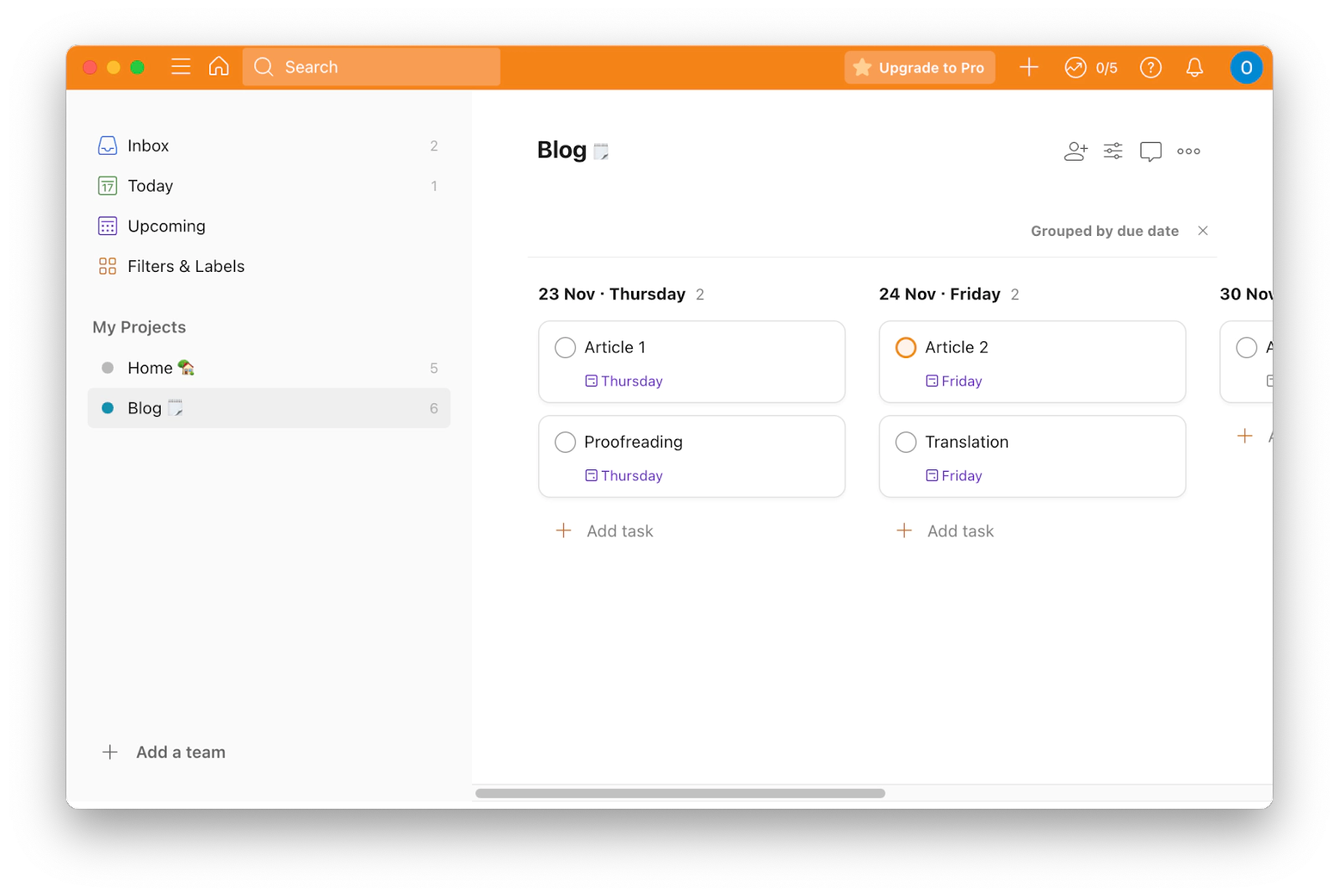 Best features:
Priority levels
The ability to delegate tasks
Personalization options.
Pricing: free or from $4 per month.
Free trial: Yes.
NotePlan – tasks, calendar, and notes in one place
NotePlan is an app that can help you find an efficient way to stay organized and on top of your daily schedule. It's designed to bring your tasks, notes, and calendar into one place.
You can easily manage your time now and in the future with a separate note for each day. Outline what needs to be done, write down and link the relevant notes, then schedule the tasks.
Your calendar updates in real-time as you add new notes and tasks with due dates. This makes it easier to see the big picture of your to-do list.
You can mark a task as done by simply checking it off the list. If you don't finish a task, NotePlan makes it easy to move it to another day.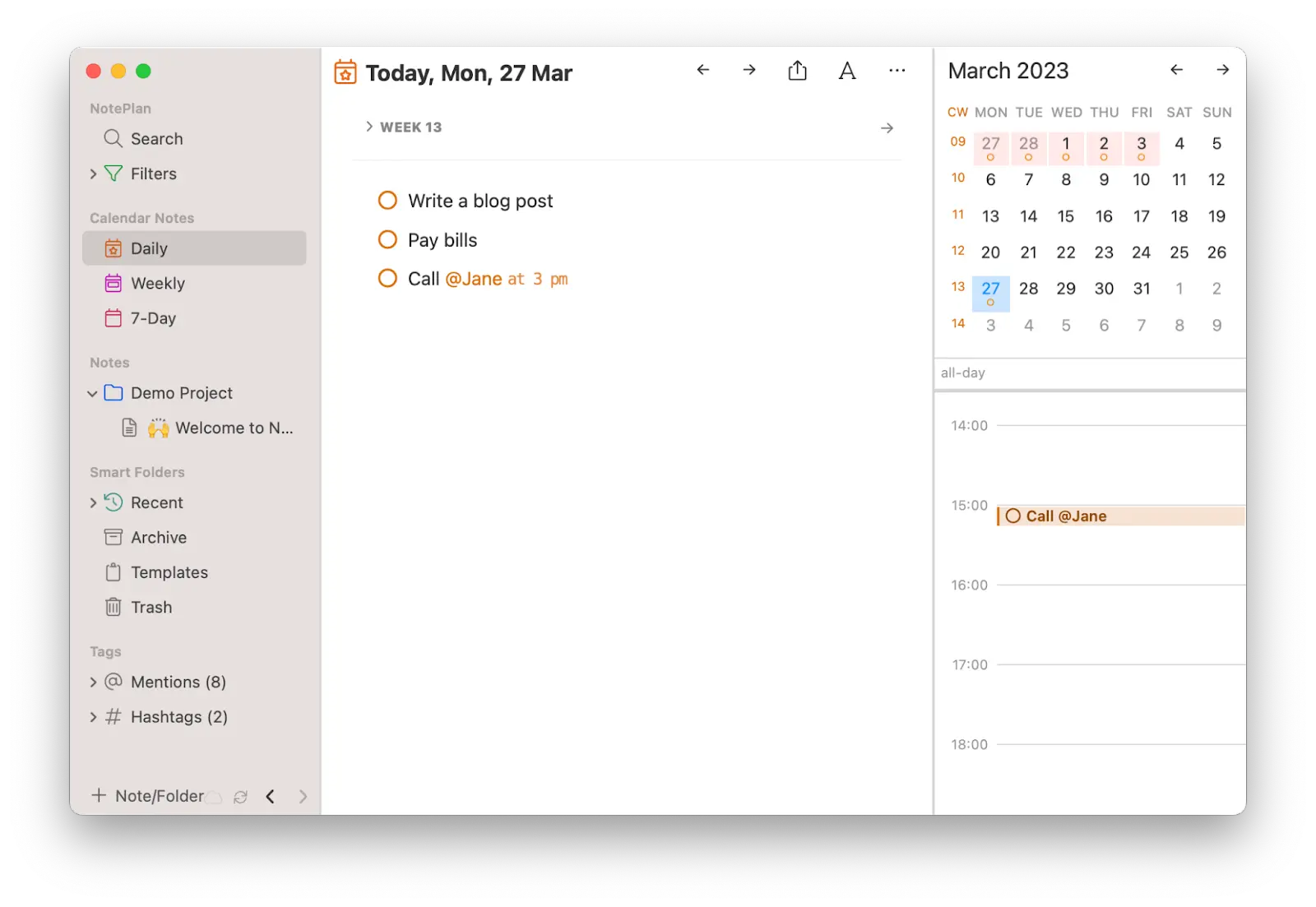 Best features:
The ability to create links between your notes
Search that allows finding anything inside your notes
The ability to create repeating tasks
Customizable filters.
Pricing: Available on Setapp, a platform with 240+ apps for Mac, iPhone, and iPad. Install as many apps as you want. Pay $9.99 once a month for all.
Free trial: Yes.
Any.do – a planner for those who forget about tasks
Any.do offers a really nifty mobile app that lets you quickly add tasks, organize them into lists, and add due dates. But where it truly excels is in its daily "Plan my Day" feature, which forces you to plan when you will complete your various tasks so that you actually remember to complete them. Any.do also integrates nicely with Google and Outlook calendars, so you can see your appointments and tasks in one place. If you're the kind of person who adds things to a list and forgets about them, Any.do is exactly what you need.
The desktop version isn't quite as smooth as the mobile one. It feels cluttered and a little confusing. So if you're more of an iPhone user, give the Any.do mobile app a try.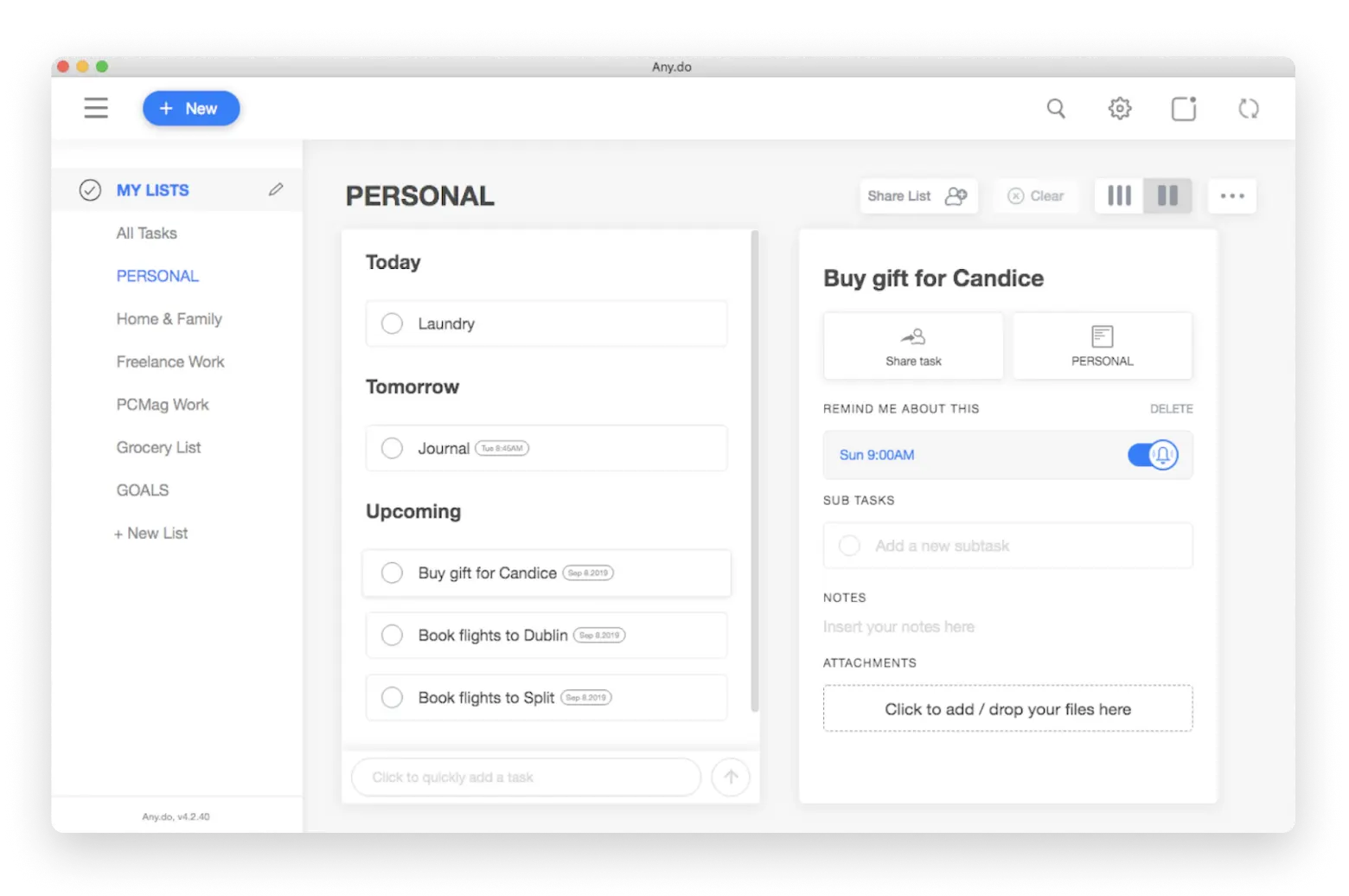 Best features:
"Plan my Day" feature that helps you to actually do things.
Pricing: free or from $2.99 per month.
Free trial: Yes.
Pagico – the app to make your big projects manageable
If you have a big project you can't get your head around, try Pagico. This planner app can help you turn smaller tasks into lists, and lists into actionable timelines day by day.
One of the greatest benefits of Pagico is the ability to keep all your notes, emails, photos, lists, projects, and more in one place. You can tag all your work so it's easier to find and return to when you have so much going on that no list can break it down enough for you.
Pagico can break down your entire day for you like a traditional planner never could. It lets you create minimalist daily schedules that show appointments, meetings, and anything else you need. You can even prioritize your tasks. There is so much about this app that just makes things easier!
And you don't have to worry about which device you're using because you can sync your computer and mobile devices.
On top of that, Pagico encrypts your saved data with 256-bit AES and transmits it over an SSL/TLS channel. Their servers will only sync your shared items. Unshared items are deleted from the systems instantly.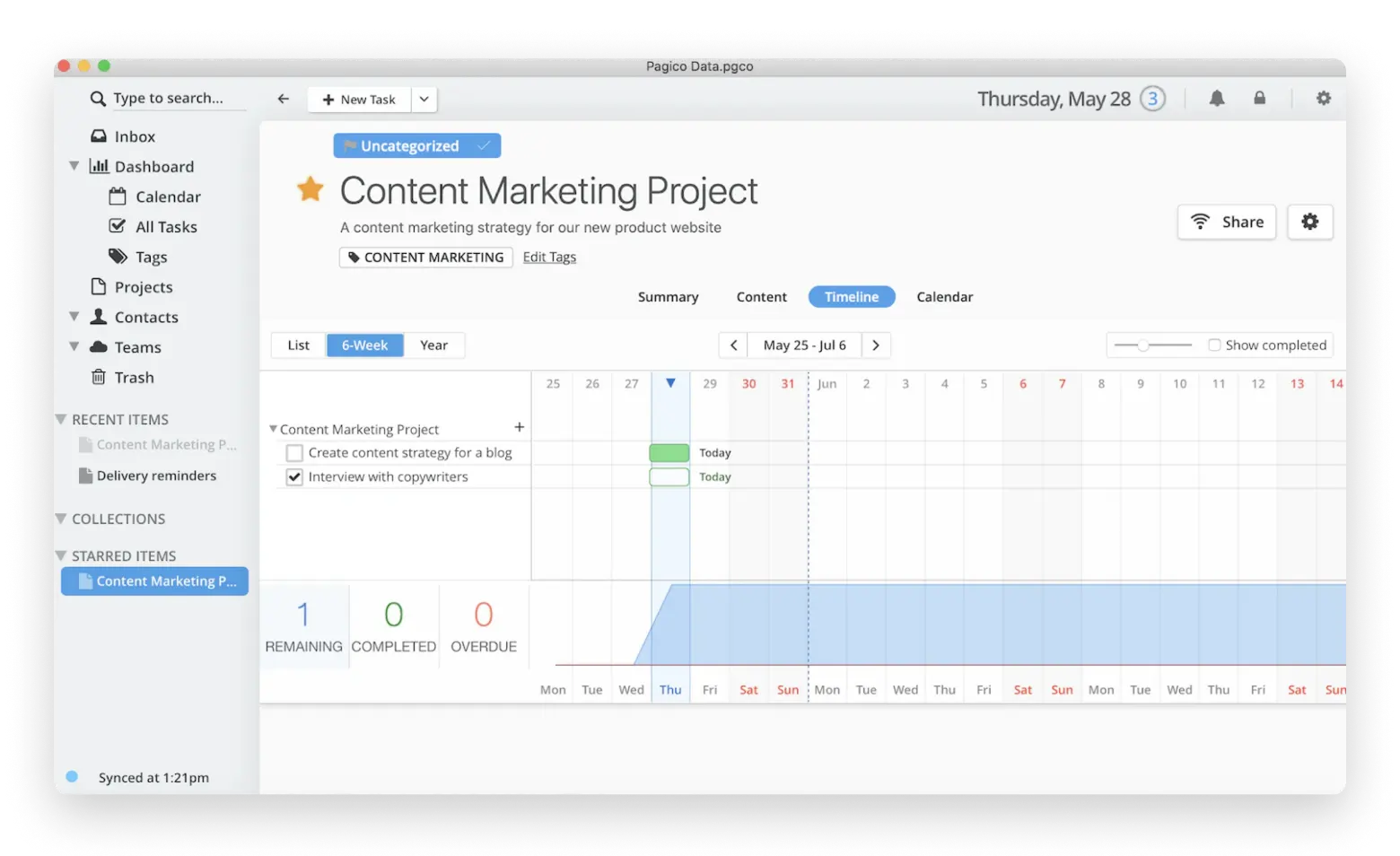 Best features:
The ability to turn to-do lists into meaningful timelines
Minimalist daily planning
Collaborative features
Great for big projects.
Pricing: Available on Setapp, a platform with 240+ apps for Mac, iPhone, and iPad. Install as many apps as you want. Pay $9.99 once a month for all.
Free trial: Yes.
ClickUp – the best app for team planning
As you can see, there are a lot of good apps for planning days on our list. ClickUp is one of them and is definitely worth your attention.
Whether you're a task manager, a student juggling assignments, or a person putting together your shopping list, ClickUp has something for everyone. However, it works best for teams.
The app offers multiple ways to view and manage your tasks and projects. These are a list view, a Kanban board view, a calendar view, a timeline view, etc. You can also take advantage of such features as time tracking, subtasks, due dates, recurring tasks, and even the "Watcher" function that allows you to see if your colleague has actually done their part of the project.
What we liked the most is that ClickUp lets you assign comments, share screen recordings, and receive notifications that bring everyone in a team together.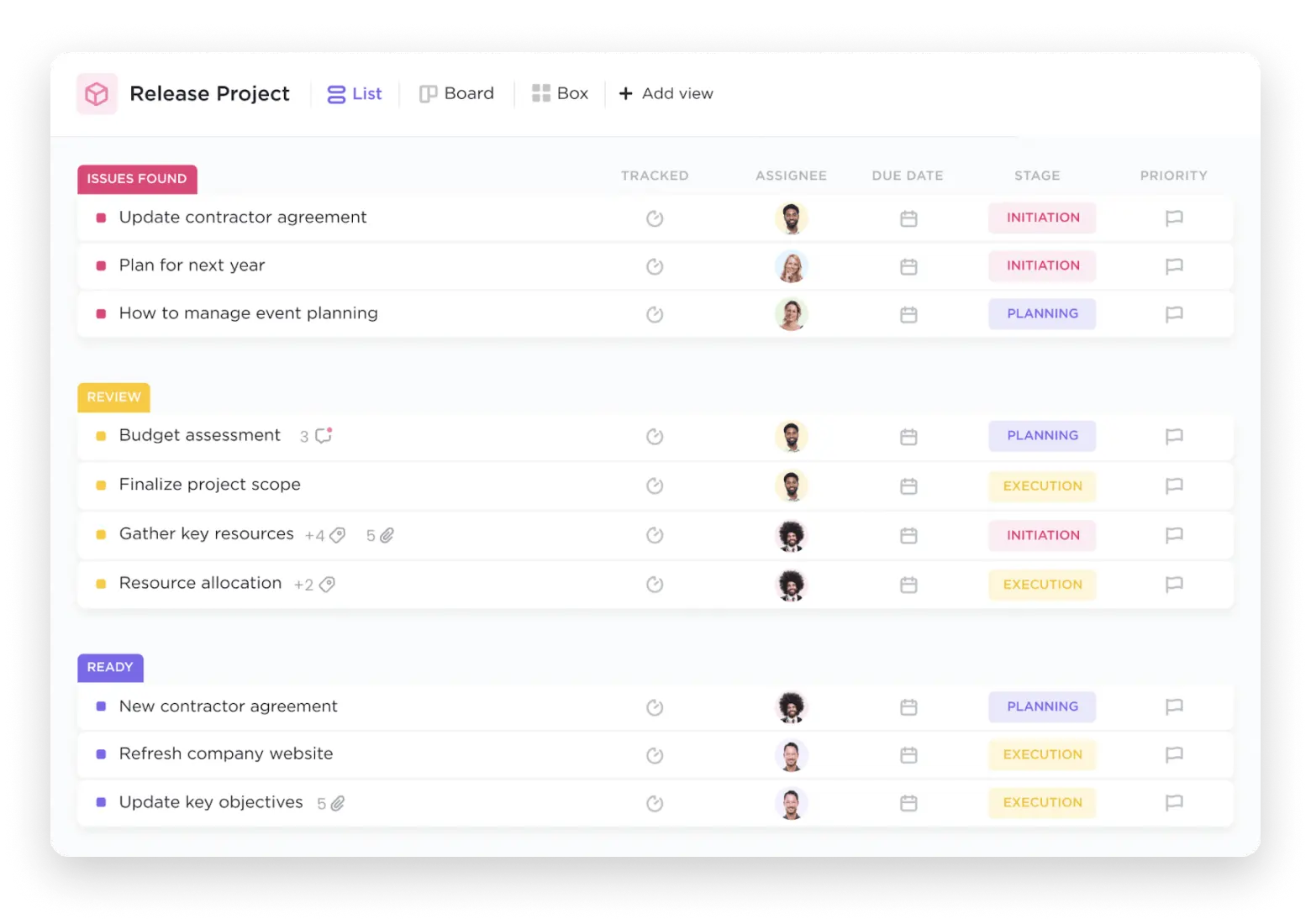 Best features:
Templates for recurring tasks
The "Watcher" function
Multiple integrations (Slack, Microsoft Teams, Zoom, Google Meetings, etc.)
Great collaboration features.
Pricing: free or from $5 per month.
Free trial: Yes.
Quarterplan – plan your day with no stress or burning out
For those looking for a minimalist and organized approach, Quarterplan is the perfect task management iOS app to try. With features like time blocks (you can break up your daily activity into 3-hour chunks, so you never miss a thing and can rest in between), specific time reminders, and an intuitive inbox, users can easily plan their day and stay on top of their tasks.
The app also offers a calendar view and daily/weekly stats to track progress, as well as customization options like dark mode, categories, and priorities.
Overall, Quarterplan has a minimalist look and is very intuitive. That's one of our favorite personal daily planner apps. Give it a try!
Best features:
3-hour periods feature
Minimalist daily planning.
Pricing: Available on Setapp, a platform with 240+ apps for Mac, iPhone, and iPad. Install as many apps as you want. Pay $9.99 once a month for all.
Free trial: Yes.
TaskPaper – plain text to-do lists for Mac
Our list of the best to-do list apps won't be complete without TaskPaper, which is probably the simplest and most minimalist tool in this review.
TaskPaper takes an interesting approach by allowing you to work on a plain text file with your own tags attached. What you may like about TaskPaper is that it looks like the normal paper lists we get used to making, and also lets us cross off completed tasks from the list, giving that good old feeling of accomplishment.
No reminders or beeps. The interface is distraction-free, so you can focus on the task at hand, not on complex settings. Neat, hierarchical lists and simple tags help you plan your life on a simple, text-based screen. That's it.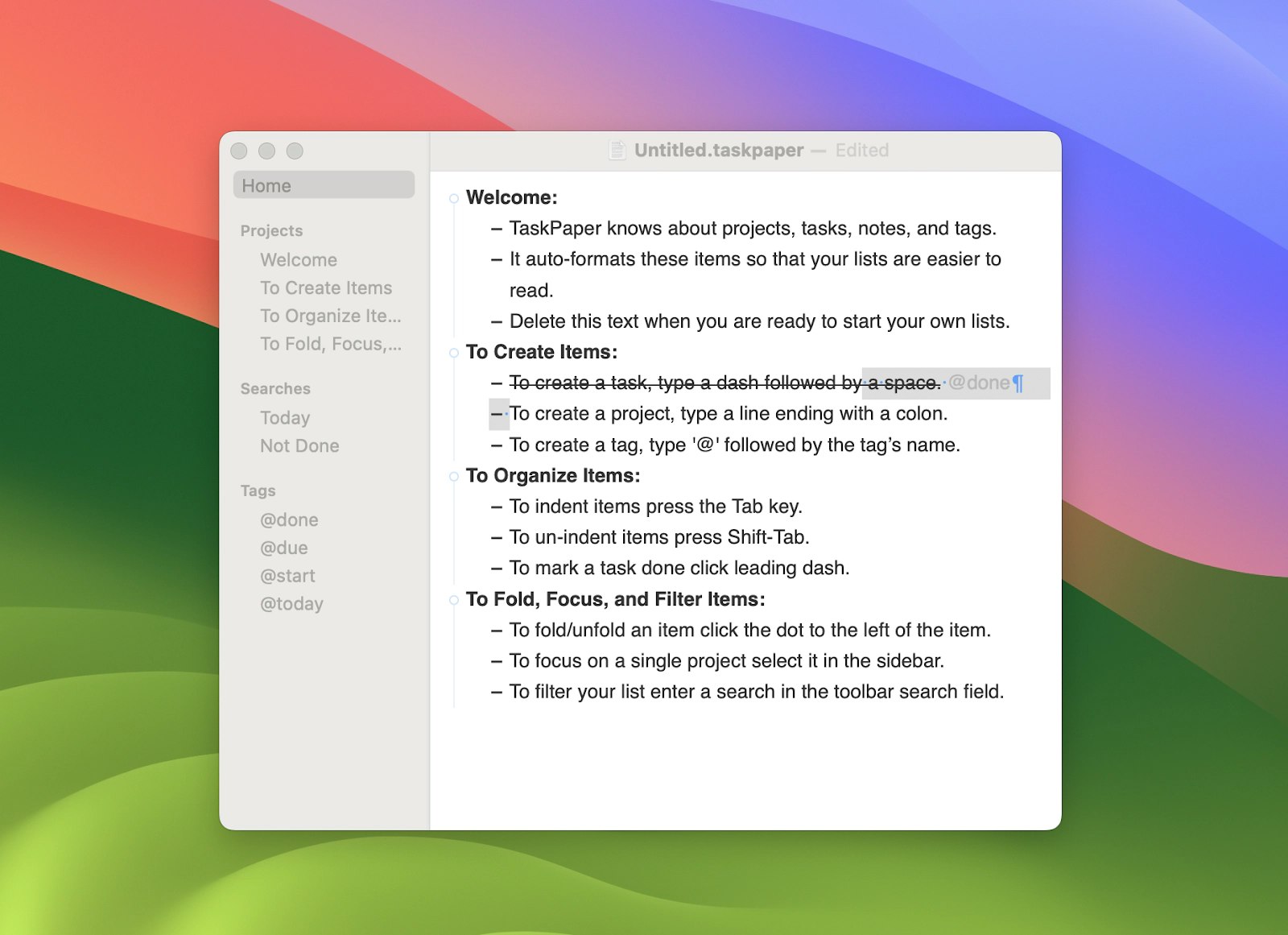 Best features:
Autoformatting
Powerful search.
Pricing: Available on Setapp, a platform with 240+ apps for Mac, iPhone, and iPad. Install as many apps as you want. Pay $9.99 once a month for all.
Free trial: Yes.
The best visual daily planners in one place
As you can see, it's not easy to choose one planner quickly because every app has great features worth trying. If you subscribe to Setapp, you'll get a chance to try the best planner apps we've mentioned in this review. These are Structured, Pagico, NotePlan, Quarterplan, and TaskPaper. For $9.99/mo, you can use all of them plus more than 240 other apps. No extra fees, no ads. The best part: your trial period lasts seven days, and all apps are free to try with no limitations.
FAQ: